I never liked being normal. I'm someone who always found beauty in uniqueness and expression. That's why I fell into the alt beauty scene. I started dyeing my hair at a young age — 10 years old! And I was wearing makeup for as long as I could remember. The au naturale look was never for me. I wanted to experiment with my appearance and make art out of beauty.
Alt hair was something that always appealed to me. There's no better way to express your unique self than with your hairstyle and color. My hair is naturally black/dark brown, but I've had every hair color under the sun: red, pink, purple, green, blue, silver — you name it, I've had it. I've been keeping my hair black for the past several years, but who knows when that will change! My hair is also long, which I prefer, though I've also had some crazy haircuts.
Are you ready to get a new hairdo? First, read my alt hairstyles guide. Here, I will describe everything you need to know about alt hair including my favorite looks on Instagram.
Bottom Line UpFront
Alt hair consists of any hairstyle or color that deviates from the norm. These hair looks are rare to see; I mainly see people with alt hair at concerts. There are so many alt hair looks — I suggest looking at my alt hair inspirations.
What Is Alt Hair?
First, let's look into the word "alt." Alt is a shortened form of the word alternative, which means anything that deviates from the norm. This means that alt hair is any hairstyle or color that isn't traditional. This can include wild hair cuts, unnatural colors, unique hair looks such as dreadlocks, and even shaving your whole head (especially for women). No matter what hairstyle or color you have, if it isn't mainstream, it's alt.
Alt hair first originated in the music scene. We can trace alt hair all the way back to the mid-70s. Looking at pictures of the earliest punk fans, you can see some of these hair trends coming to life. Mohawks and spikey hair were some of the first looks. There wasn't as much hair dye during this time, though most of the first punk fans had dyed black hair.
Metal music also emerged in the late-60s. Looking at old pictures of bands like Black Sabbath, you can also see the origins of metal fashion. The members of Black Sabbath took inspiration from the hippie movement with their long hair and mustaches. But Black Sabbath had a darker look to them, which inspired modern metal fashion.
Fast forward to the 80s. You can see bands like Motley Crue adapt the trending poofy hair and choppy cuts, yet continuing that dark look. Punk hair also got crazier during this time. With hair dye brands like Manic Panic becoming mainstream, you start seeing unnatural hair colors and even more extravagant cuts.
As a child, I first looked up to the singer P!nk as a fashion inspiration. With her short pink hair, she was a rebel in every way. I was also a Black Sabbath and Ozzy Osbourne fan, and I watched his daughter Kelly Osbourne continue her father's dark legacy with her dyed black and choppy hair.
I got into the music scene during the early 2000s, and that's when nu-metal was becoming mainstream. I saw dyed black hair everywhere, and I quickly adapted the goth-metal look.
But this style became more colorful in the 2010s. Manic Panic paved the way for other hair dye brands, such as Pravana, to make funky hair dye. I wanted unnatural hair colors for as long as I could remember, and I finally got a chance when I turned 18. I first dyed my hair purple, which lead to me dyeing my hair pink and then blue.
Today, you can see nearly every hair color on the market. Arctic Fox became another dominant force in the hair dye market. I still see many original punk and metal hairstyles, such as mohawks and spikey hair, still around today. I also see new hairstyles taking over the alt scene; for example, so many more women are shaving their heads for an edgy look and rejecting standards of femininity.
Why Get Alt Hair
First, I want to say that alt hair isn't for everyone. While these hairstyles are becoming more common, they're still eye-catching and turn heads. I love the funky look of alt hair, though I did get a lot more attention. I'm an introvert at heart, so that much attention was uncomfortable for me.
At the same time, alt hair is perfect for you if you want to stand out from the crowd. Plus, alt hair is the perfect way to express your personality and interests. Even if you're not into punk or metal music, alt hair is great if you just want something new. Plus, these hairstyles and colors are so much fun, and I love experimenting with new looks.
Best Hair Colors for Alt Hair
As you can see from my previous sections, unnatural colors are my favorite part of getting alt hair. But what are some of the best hair colors?
1. Red
As the rarest hair color in the world, red hair will always deviate from the norm. While there are natural shades of red, such as auburn, there are many more alternative red hair colors. Cherry red, flame red, apricot, and black-red are some good examples.
I first saw red hair trending during the emo phase, and the trend continued when scene fashion took over. Red hair looks amazing on both men and women. There are so many shades of red that will look amazing on nearly anyone. Plus, you can apply red hair to any alt haircut (which I will cover in the next section).
2. Blue
Blue is one of the most versatile alternative hair colors. You can opt for a dark navy blue for a super goth look or aqua for a mermaid look. There are both pastel and dark shades of blue out there, so you're bound to find a shade of blue that's right for you. Blue is also a great color for an ombre or balayage. I will discuss this more in another section.
3. Black
Black hair has always been my go-to hair color. My hair is naturally dark brown, but I prefer the way my hair looks when it's black. There are more shades of black than you think. You can opt for a natural black, dark black, or blue-black.
Keep in mind that not everyone looks good with black hair. While most with black hair are naturally tan, pale people can look great with jet black hair. It all boils down to your features. I have dark features, such as brown eyes and dark eyebrows. While I have an overall neutral overtone, my skin leans more toward yellow (those with cool undertones can also look good with black hair).
4. Pink
Pink is the quintessential feminine hair color, but it looks intense as a hair color. The shades of pink hair dye vary from cotton candy pink all the way to vibrant pink. While most pink hair dyes are semi-permanent, there are some shades of permanent pink hair dye. Rose gold is an example; rose gold is a mixture of pink and gold. It has warm undertones and can range from dark to light.
5. Purple
Purple is the best unnatural hair color I've ever had. It's chic, and anyone can pull off this hair color. There are so many purple hair dyes out there that range from bright orchard purple to dark purple. You can dye your whole head purple or apply purple to any hair dye technique.
6. Blonde
Natural hair colors can also be very alt, but blonde is likely the last color you would expect to see on this list. Certain blonde hair colors can look very alt. Any color mixed with blonde, both natural and unnatural, can turn heads. Blonde hair with the right haircut, such as bangs, will also look more extreme.
7. Green
I love green hair, but the green dye didn't like me! I tried dyeing my hair both dark green and teal, and the color stained everything. Either way, green is still an eye-catching color that I think looks great on both men and women. It's one that I didn't see take off until recently. Now, it's becoming a bigger trend. I also love the way green hair looks mixed with other unnatural colors. If you want serious mermaid hair, do a green and blue ombre or balayage.
Alt Hair Dye Techniques
More hair dye colors are available now than ever. There are also so many colorists and hairstylists that specialize in alt hair color. Instead of dyeing your whole head, consider any of these hair dye techniques to express yourself.
1. Balayage
A balayage is a highlighting technique where the stylist paints various colors into your hair. You can achieve a balayage with several of the colors I mentioned in the previous section. For unnatural colors, I love purple balayages, specifically black and plum balayages.
Any natural colors can also look amazing as a balayage, just be sure to make the contrast more extreme. Some examples include black and ash blonde balayage, platinum balayage, caramel and red balayage, multi-tone red balayage, and black and brown balayage.
2. Ombre
An ombre is when one color bleeds into another color. On hair, the top and bottom of your hair are different colors and both colors blend together in the middle. You can use any hair color in an ombre. Some of my favorite picks include a black and plum ombre, dark brown and caramel ombre, dark brown and blonde ombre (I had this look before), black and ash brown ombre, and black and caramel ombre.
3. Highlights
Highlights are sections of hair that are lighter than your base hair color. Highlights can be applied all over your head or focused on either the tops or bottoms of your hair. There are many ways to brighten up your complexion yet still look unique. Focus on colors with more of a contrast. For example, black with ash blonde highlights will look more eye-popping than brown and caramel highlights.
There are also plenty of alternative highlighting trends right now. Rainbow hair is a classic one. As the name suggests, you'll have multi-colored highlights in your hair, so your hair looks like a rainbow. Oil slick hair is an example; oil slick hair features various different colored highlights on dark hair, so your hair looks like oil in the light.
What if you have blonde hair? You can still add different colored highlights, just make sure your colors are light. Pastel colors are a perfect example if you want Easter egg colors.
4. Lowlights
Lowlights are similar to highlights; however, darker shades are added to the base color instead of lighter shades. The goal of lowlights is to add more dimension to lighter hair colors, but you can add some lowlights to make your hair more extreme. For example, you can add black lowlights to platinum blonde hair.
5. Babylights
Babylights are similar to traditional highlights except the streaks are thinner than highlights, which are typically chunkier. You can achieve babylights for an alternative look, the contrast just has to be more extreme. For example, you can add blonde babylights to red hair.
Trendiest Alt Haircuts
In addition to hair color, your haircut can also make you look less mainstream. However, alt haircuts do go through trends. Here are some alt haircuts I'm seeing more frequently now.
1. Shaved Sides
Shaving the sides of your head is a trend I see in both men and women. You can also shave one or both sides of your head or do an undercut, which is when you shave the back of your neck and leave the hair up top.
There are benefits to shaving the sides of your head. If you live in a hot climate, shaving the sides or shaving an undercut will make your hair maintenance-free when the weather is warm. Shaved sides and an undercut will also relieve some maintenance if you have thick hair. Even if you don't struggle with these problems, shaved sides are chic and edgy.
2. Mullet
The mullet is a hairstyle popularized in the 80s and is experiencing a resurgence. The style consists of short and poofy hair on top of your head, with the length of your hair thinner.
Today, the mullet is usually combined with another haircut to give it a modern look. For example, I see many mullet-wearers also shave the sides of their heads. Some mullets are still really long, but I'm also seeing shorter mullets. On women, I also tend to see them rocking bangs with choppy layers. I also see many alt girls sporting unnatural hair colors with their mullet. A mullet is a style you either love or hate.
3. Teased
Backcombing (commonly known as teasing) is a method where you comb your hair toward your scalp, which creates volume and a fluffy look. The style started appearing in the late 1960s and dominated the hair scene in the 80s. Teased hair made a comeback with the scene phase in the mid-2000s.
Fortunately, you don't need full 80s or scene hair to pull off this look. I think teasing is a cute way to add volume to short hairstyles. If you want to minimize damage, use a volumizing hair product instead.
4. Crimped
I'm shocked that crimped hair is trending again! I'm a 90s kid and remember wanting a hair crimper for the longest time. However, I notice that the trending crimped hair is curlier than fine waves. To make this look super alt, dye your hair in unnatural colors or do a cool look such as a balayage.
5. Bob
A bob haircut is a short-to-medium hairstyle that's straight. Even though this hairstyle is simple and low-maintenance, it's also unconventional. You can dress up a bob differently, such as adding unnatural hair colors, cutting short layers, or pulling off the "one-side-longer-than-the-other" look.
6. Bangs
Bangs are one of the easiest ways to turn your hair from drab to super stylish. For alt hair, focus on unconventional styles of bangs. Baby bangs are a good example if you want the Bettie Page look; these bangs are tiny, either falling halfway to your forehead or even brushing the root of your hair. Fringe bangs are also a classic example. These bangs are longer and hang straight.
7. Space Buns
I called this hairstyle "Minnie Mouse ears" for the longest time because it does look like round little ears on the top of your head. Space buns are similar to pigtails, but the hair is rolled up in a little ball placed on the top of each side of the head. This is an unconventional hairstyle but is still really cute.
8. Mohawk
I don't think the mohawk has ever gone out of style. You can do a mohawk with super short hair or even long hair. All you need to do is shave the sides of your hair and spike it up. Even if you don't feel like spiking up your hair, I always liked how a mohawk looks when it's down.
9. Pixie
A pixie haircut is a short hairstyle where the sides and back are shorter than the top. A pixie haircut can be as short as one inch or as long as three inches. There are also different variations of the pixie cut; you can get one that's spiky or shaggy to make your hair edgier. Otherwise, a pixie haircut is great because it looks good on nearly everyone.
10. Buzz Cut
Over the past several years, I've noticed more women have been getting a buzz cut. I think a shaved head looks good on so many women. If you want to make your buzz cut edgier, dye your hair different unnatural colors. You can also do cool color effects to a buzz cut, such as an ombre.
Alt Hair Inspiration
Are you ready to get alt hair but still unsure what you want? Here are some of the best alt hair looks I can find on Instagram!
1. Shark Mullet
If you want a subtle way to make your haircut look unique, I suggest this shark teeth mullet. If you look at the sides of the model's head, you can see jagged hair pieces that look like shark teeth. This haircut adds personality but isn't terribly difficult to maintain. You can either leave your hair naturally colored or dye it. I especially love the orange bangs here. Credit: @coiffeurstory.
2. Blue Hair With Bangs
As I said previously, bangs are a popular look in the alt hair world. There are so many different styles of bangs, and they look amazing with all cuts and colors. This model here has straight fringe bangs, and her hair is dyed bright blue. I can also see angled and side-swept bangs looking cute with this hair color and cut. If you're not a fan of this bright blue color, any unnatural color would look good with this style, especially pink! Credit: @greebogirl.
3. Futuristic Haircut
This haircut looks like something out of the future! The model has short and choppy hair, but with two really long strands at the sides. I would just suggest showing this picture to your stylist so they get the haircut correct. I also love the model's pale purple hair, but so many hair colors would look great. Some other color alternatives that come to mind include red, black, fuchsia, blue, and pink. Credit: @pinktaho.
4. Green Hair With Baby Bangs
If you want bangs and are feeling brave, I suggest trying these extremely short bangs. They make a statement, though ensure you'll love these bangs before cutting your hair. I've had baby bangs before and couldn't stand them. If you can pull them off, there are different ways to style baby bangs. I like what the model did here. The rest of her hair is long and dyed green. Some alternative hair looks include shaved sides or an undercut. Credit: @beetleyfae.
5. Colored Goth Hair
Who said goth hair has to be black? You can dye your hair different bright colors and still look goth, like the model's hair. She has different tones of blue and green in her hair. It still looks fun but isn't too crazy. The colors here also complement each other. Because of the combination of different colors, I suggest going to a professional to get this look. Some other great goth colors include dark pink, amethyst, and blue-black. Even some darker blonde colors can still look really goth. Credit: @greebogirl.
6. Red Streak
If you don't want to dye your full head a crazy color, add a pop of color like what this model did. I also love the way red hair looks with a dark base. Some other color suggestions include blue on a platinum blonde base or pink on a black base. You can also add more than one color to add more personality to your hair. As long as all of the colors complement each other well, your hair will have an awesome effect. This look is playful yet show-stopping, especially with her short hair and shaved side. Credit: @hayleyjvd.
FAQs
Question: I'm a guy. What are some good alt haircuts for men?
Answer: Many haircuts I mentioned here are also popular among men. Here are some of my other favorites:
 • eBoy
 • Faux hawk
 • Medium shaggy
 • Undercut
 • Side swept
 • Wavy fringe
Question: How is a death hawk different from a normal mohawk?
Answer: The main difference between a death hawk and a mohawk is a death hawk is volumized, not spikey. Most people style their death hawk by either backcombing or applying volumizing hair products. I started seeing this trend when the scene movement took off, but I'm also seeing this style more in metal culture.
Question: What are some popular alt hairstyles on TikTok?
Answer: Here are the most popular alt hairstyles I have been seeing on TikTok:
 • Wet mop
 • Mullet
 • Pastel colors
 • Anime hair
 • Fluffy/teased hair
 • Bun hawk
 • Emo hair
 • Crimped
Bottom Line
Are you sick of normal hair? If so, you should consider getting alt hair! Alt hair is any hairstyle or color that deviates from the norm. "Alt" is short for the word "alternative," and you mainly see these hairstyles in rock, punk, goth, and metal cultures.
I've had several alt hair looks, from different hair colors all the way to unconventional cuts. There are some colors and cuts I've had that I liked more than others. While alt hair isn't for everyone, there are plenty of styles and colors that look great on so many people. There are also various styles for both men and women. I suggest getting creative and knowing what look will work for you. That's why I suggest looking at my alt hair inspirations.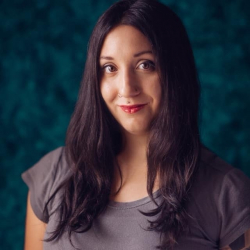 Latest posts by Stephanie Jensen, Hair Trend Spotter & Home Tester
(see all)