Rose gold highlights ideas and styles always make me a little giddy because I know how fun rose gold can be. I love how it can be effortlessly woven through blonde, brown, pink, purple, or copper hair. It's just like it belongs.
Each time I've had rose gold highlights, they were accidental but a pleasant surprise. I loved how they blended with my medium brown hair and looked like traditional blonde highlights that might be worth a second glance (is that really pink, or am I seeing things?).
I always appreciated how natural they could look since I didn't always work from home. Those days, I needed to keep my hairstyles and colors pretty tame. 
If you're thinking about adding some rose gold highlights and trying a new style, you'll love the inspiration I've found.
Bottom Line Up Front
I can't stop looking at the delightfully shocking rose gold and hot pink bob, but there's a place for a more natural look, too. Rose gold can be anything you need, from subdued to wild. 

My Top Picks
My top two picks for rose gold highlights ideas and styles are (and of course, they're complete opposites because that's just how I am): 
The rose gold highlights on a hot pink bob

The "unnatural or natural" rose gold highlights on brown hair
These two extremes demonstrate how subtle or outrageous you can go with a color as soft and potentially natural as rose gold. It'll work for any type of personality and most environments. 
My other favorite one is something I've had before and something I'll probably do again. It's not especially subtle or extreme, but it's lovely and flattering on many skin types. It's the Ribbons of Rose Gold style, featuring wider sections of rose gold highlights on medium-dark brown hair.
If you love rose gold highlights, you can get creative and make them work.
Selection Criteria
I wanted to show you how rose gold can look natural–or at least subtle–on different hair colors. It seems effortlessly woven through various hairstyles (it really does shine in waves and braids, though). 
I also wanted to show you how much it fits in with unnatural shades. 
The sky is the limit. My goal is to show you the possibilities so you'll feel inspired and get the rose gold highlights and hairstyle of your dreams.
What to Know before You Choose Rose Gold Hair
It doesn't last as long as you'd probably like it to–maybe a couple of months. However, it'll usually fade to a shade that can pass for a warm blonde. Nothing weird.
If your undertones are cool, choose a rose gold that leans pinker. If you have warm undertones, a rose gold that leans more peach/copper will be your most flattering option.
It'll likely take some bleach, so there will be damage. That said, options like Overtone don't require bleach (but will only give you a deep rose gold shade)–even for brown hair. You could try that, dip your toe in the water, and see if you think it's worth going for a lighter rose gold in a salon.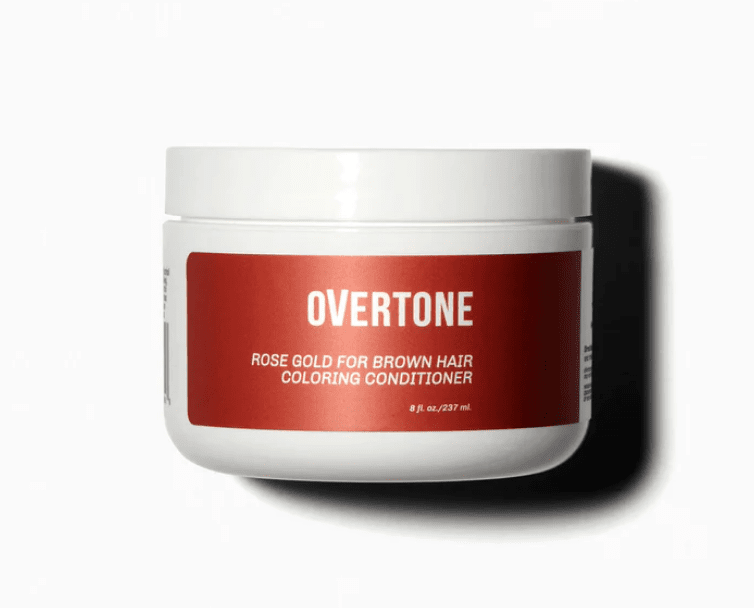 If you're wondering if rose gold hair will look good on you, it probably will. You just need to determine which options are most suitable for your features, lifestyle, and wardrobe.
Maintaining Rose Gold Hair
Rose gold highlights will fade no matter what, but there are a few things you can do to keep them as long as possible:
Wash as infrequently as possible. (Dry shampoo might become your new BFF. I like the one from 

Drybar

.)

Use cold water when you wash your hair. 

Heat style as little as possible.

Use products designed for color-treated hair.

Suppose the rest of your hair is pretty dark. In that case, a 

color depositing shampoo

, conditioner, or mask could help you keep the color of the highlights up without disturbing the hair around them (ask your stylist first).

How to Get Rose Gold Highlights
I don't recommend trying for rose gold highlights at home unless you have a lot of experience (and maybe an experienced friend to help you, too).
If you are going the DIY route, you can learn a lot from watching professionals' how-to videos before you start.
Either way, it's fun to watch the process. It might spark some ideas or give you the courage to DIY.
Learning online may just let you know what you should ask for at the salon or at least provide a general idea of what to expect once you get to your appointment.
Learn from a Pro
Take some inspiration from Guy Tang on YouTube. Watch as he walks us through how to do a rose gold balayage. I also enjoyed watching his Rose Gold Highlights for Hair in One Step video.
A DIY Option
If you already have balayage ends, Ariba Pervaiz's DIY tutorial might help you achieve the color you want at home.
The 17 Best Rose Gold Highlights Ideas and Styles
Whether you want them to lean more toward pink or peach, rose gold highlights look at home in blonde, brown, and even pink hair. You can make them as subtle or intense as you'd like.
Barely There
The rose gold highlights nestled between the golden blonde and brighter strands in this photo hiussalipiilo shared look like they could almost be natural. I love the way the rose gold weaves its way through the braid.
Unnatural or Natural?
These rose gold highlights shown by hairbymoniquecelene look so natural on brown hair. This is the perfect entry point for someone nervous about getting into unnatural colors but would love to experiment. 
Balayage Bob
This balayage bob _victoriaslade shared shows just how much good a healthy dose of rose gold can do for the complexion–it's just so flattering! This is an attractive option for someone who's toying with the idea of going pastel pink all over, but they're not 100 percent there yet. You may decide this is perfect for you and never go lighter. 
Just a Hint in Blonde Hair
Want a pretty low commitment? Try putting just a hint of rose gold near your face, as shown here by hairby_sara_caricati. It's enough to add visual interest, but it's far from over the top. When it fades, you'll barely be able to tell it was there. 
Rose Gold or Copper?
On some hair colors, like this medium brown with a hint of red, rose gold highlights look like they could be a natural shade. Mix the rose gold in with brighter blonde streaks, and you'll have the perfect natural-unnatural hair color balance. It's fun but not exactly unprofessional. 
Rose Gold Goes Bold
One of the perks of rose gold is how subtle it can be, but what if you love rose gold highlights and bold colors and styles? Enter: This inspiration from mvp_hair.
There's nothing subtle about it, and it encompasses all things rose gold can be–from pinkish to peach–because it's a range of shades, not just one. 
Blended in for Dimension
I see a lot of rose gold highlights on blondes, but not as many on dark brown hair. Deananthonyssalon on Instagram shows us just how much brunettes are missing out on with this gorgeous photo of dark hair that gets dimension from rose gold highlights. 
Rose Gold Voluminous Waves
Here, cheveuxbyanthonyanjoul shows us a dramatic look with rose gold highlights on dark hair. These voluminous waves are head-turners, for sure! 
Rose Gold on a Hot Pink Bob
Now, if you really want to go bold, you can pair rose gold highlights with a hot pink bob. I am in love with this look hairbykatie815 shared. It's so vibrant, and I just can't stop staring. 
Rose Gold and Amethyst with Shadow Roots
The blending between the rose gold and amethyst here is absolutely flawless, and I love how rose gold highlights are introduced to an unexpected unnatural shade here.
The overall look is soft and beautiful, and at first glance, the rose gold and amethyst combine to create a mauve shade. The shadow root technique grounds the whole style.
Rose Gold and Lavender
Rose gold and shades of purple complement each other well. Here's a lighter version than the last one, shared by bobbyhairartist. It features rose gold highlights on lavender hair.
It's softer, lighter, and more cool-toned than the amethyst version. Both are stunning. 
Rose Gold Partial Highlights with a Cooler Tone
The rose gold tones in this photo hairbyheatheravon shared have a mix of cooler pink and warmer peach tones. It's everything there is to love about the possibilities of rose gold. 
Rose on Copper
Redheads can have fun with rose gold accents, too! Overthemoonbeauty shared a photo of a gorgeous redhead rocking the rose gold face-framing highlights.
(Psst, be sure to click through to check out her before photo and be awed by the entire transformation!) 
Rose Gold Foilyage
This deeper shade is proof that rose gold highlights can work on dark hair to create a mesmerizing effect. This foilyage brightened her whole look, but it's not especially dramatic or unnatural. It's simply beautiful.
The overall effect in this photo sammi_situ shared is a rose gold balayage, but some strands lean more toward pink while others are closer to copper.
The finished look is stunning and anchored by the medium brown. It's definitely not a natural rose gold look. Still, it might be perfect for the person feeling a little adventurous.
Maybe you want something new, different, and a little unnatural, but you're not ready to bleach all of your hair and go all-in with a high-maintenance unusual color. I get it. This rose gold look could be your match.
Retro Vibes Meet Rose Gold
The long layers, the curtain bangs…the style says retro to me (of course, it's also trending now).
The rose gold highlights give this hair by sarahh.does.rainbows a modern update, though.
I love how the rose gold shade the stylist chose doesn't veer too far from the base shade. It's subtle but definitely out of the ordinary.
Ribbons of Rose Gold
I've had almost this exact style and color, and I still look back at it and think about doing it again. It's my favorite hair color and style combo I've ever had, so this one by bellarose.hairstudio is near and dear to my heart.
I also love it because it looks like the blonde highlights on brunette hair I usually go for, but the rosiness of the rose gold does so much more for my skin tone. I'm saving this inspiration for my next salon visit.
FAQs about Rose Gold Highlights and Styles
If you're still on the fence about rose gold highlights, the frequently asked questions about them might help.
Question: Do rose gold highlights last?
Answer: Not really. You could get up to two months with the rose gold highlights, but sadly, they don't last long.
Question: Does rose gold hair fade quickly?
Answer: Unfortunately, yes. All the lighter shades–especially where pink or red is involved–fade pretty fast. You can extend it by going longer between washes and using cold water when you do, but it'll still fade faster than most colors.
Question: Can I get rose gold highlights?
Answer: Why not? They'll be easier to get if your hair is light-medium brown or lighter. Still, with the skills of a professional, anyone can get rose gold highlights.
Question: What color does rose gold hair fade to?
Answer: You can expect your rose gold hair to fade to a peachy, warm blonde shade.
Question: Is rose gold hair still in style?
Answer: Yes, rose gold hair is still trendy.
Question: Can rose gold hair look natural? 
Answer: Yes, that's one of my favorite things about rose gold hair. It can look natural.
Conclusion: Yes, You Should Go for It
I'm in awe of all the rose gold highlights ideas and styles out there and hope that if you're considering rose gold for your hair, you go for it.
It's one of the most versatile shades you can use in your hair, going from soft and subtle–bordering on natural–to something more obviously eye-catching.
And there's still a whole range between those two extremes.
Make the rose gold highlights work for you and your personality, wardrobe, and lifestyle.
Looking for more interesting hair colors? Check out: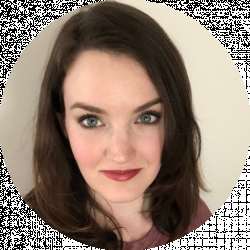 Latest posts by Crystal Schwanke
(see all)