Cinnamon hair color ideas and styles are the ones I keep coming back to, even though I know I shouldn't. I've loved the shade (and any red, really) since before I was allowed to dye my hair at 17 (even then, I only got blonde highlights a couple of shades lighter than my natural hair color).
Eventually, I tried cinnamon all over, and it wasn't my best look. Cinnamon highlights, though, were more flattering and looked a lot more natural.
These warm-toned looks are perfect for anyone with warm undertones in their skin (and some with cool or neutral undertones, but I'm not one of those lucky ones). "Cinnamon" can range from light to dark brown with strong reddish-brown undertones, but it's most often considered a warm, medium brown.
Bonus: This is one of the colors it's easier to get at home if you're a brunette. Unless your hair is very dark, you're unlikely to need bleach; you'll just be adding warm tones to your existing color. Always do a test strand first, though!
Bottom Line Up Front
Cinnamon isn't for everyone. If you're worried about your hair color complementing the undertones in your skin, you may want to go another direction. Sometimes mixing it up creates a lovely effect, though, so don't limit yourself without considering it! I can't pull it off, but I have tried.
As a cool-toned brunette who loves red hair, my personal favorites are the cinnamon highlights in dark brown hair (doable even for those with cool or neutral skin tones in some cases) and the reddest version of cinnamon all over.
However, all the examples of cinnamon hair color are beautiful. You just need to find the one that matches your personality, skin tone, style, and wardrobe.
If you're feeling sassy and sensual, maybe you want bright, light cinnamon waves.
If you want to spice things up as much as possible, go with an all-over medium cinnamon shade that veers red.
Love the natural, girl-next-door look with a splash of mystery? Cinnamon highlights could be the way to go.
Selection Criteria
It's all about the variety here!
I chose a range of cinnamon hair color ideas–light(ish), medium, and dark. I looked for traditional highlights, balayage, and all-over color.
There's really nothing cinnamon can't do or be. It's a stunning color that looks good on curls, waves, or straight hair, so I made sure to show examples of all the variations I could.
Cinnamon Hair Color Ideas and Styles
Is there anywhere cinnamon doesn't shine? It can accent medium or dark brown hair or stand on its own. Check out these examples of cinnamon hair at its finest:
Cinnamon Highlights in Dark Brown Hair
Here, adina_pignatare shows off a beautiful cinnamon balayage on brunette hair. It's perfect for fall, but I'd wear it all year.
Cinnamon Highlights in Black Hair
This look shared by jimmi_latherhouse is similar to the one above, but the cinnamon has a bit more red, and the base color is darker. It creates a natural, warm look that's great for fall and is especially pretty paired with a teal top.
Heavy Cinnamon Highlights
The highlighting is heavier on this look by lady_hajjam, and it's just as stunning. If you've always wanted to be a redhead but feel like you need some depth to your shade, this is one way to get what you want while still holding onto your dark roots. 
Cinnamon All Over
Mushabase_mbewe shows us how gorgeous cinnamon hair is as an all-over color paired with curls. The burnt orange shade is bright and fun, perfect any time of year. She's rocking it with a gorgeous golden highlight shade on her cheeks and bright red lips. The bold makeup beautifully ties her whole look together. 
Old Hollywood Cinnamon
This lighter cinnamon shade is another option that complements warm undertones. I love it here with the yellow dress and glamorous waves for an Old Hollywood vibe. 
Cinnamon Hair Color with Dimension
Here, artistryhaircompany shows us how cinnamon hair color looks with a lot of depth. You may love this one if you have medium or dark brown hair. 
More Red Tones
This is the cinnamon hair color and style I wish I could pull off. It's redder than average, applied all over, and those layers have plenty of volume and shine. It's such a mesmerizing look created by juarezhair_mua.
Summertime Cinnamon
Cinnamon hair trends each fall, but look at this gorgeous photo shared by hairby.aty, where it's glowing in the fading summer light. 
Long Cinnamon Layers with Curtain Bangs
Cinnamon layers and curtain bangs–glamourmelounge will have you wondering if there's any better combination. This photo is almost tempting me to try the cinnamon hair again.
Light Sprinkle of Cinnamon
If you'd rather have a lighter shade, check out this photo by hairxnails_bylee. It's lighter than your average cinnamon, but there's enough brown in the red to qualify as cinnamon rather than strawberry blonde. The whole look with the angled, wavy bob is sophisticated yet sassy.
Cinnamon Ends
Here, glashaus_friseure shows us another trick for adding cinnamon to your hair, even if you're not ready to commit to all-over color or even full-length strands.
The tips are cinnamon, but the rest of the hair is still dark brown. If rusty tones near your face aren't the best, but you'd love to be able to work that shade in somehow, this is the way to go.
It adds warmth but not a drastic change in the overall hair color.
Deep Cinnamon with Bright Sparks of Red
Here's another cinnamon that sizzles, this time from akreationsindia. I love the dimension–little sparks of bright reddish-brown glow against that darker cinnamon-brown base. You can still see the different tones inside, but it really sparkles in the sunlight. 
Blonde and Brown to Cinnamon-Brunette Ombre
Most ideas feature dark hair adding cinnamon in one way or another, but what about blonde?
Kenra Professional has a step-by-step video showing how to transition from dark blonde and brunette to cinnamon-brunette. You can find inspiration here if you're no stranger to dyeing your hair at home. 
From Black to Cinnamon Hair
I can't get over how gorgeous Jhanelle Jackson looks with her cinnamon hair. In this video, she walks you through how she went from black to cinnamon ginger hair. 
Cinnamon Curls

Letizia.serio shows off how fierce voluminous cinnamon curls can look, paired up with medium-dark brown roots. 
Cinnamon with Blonde Highlights
If you don't want to use cinnamon as your highlight shade, you can always make it the base and then top it off with some sunny blonde streaks, as hairjesser_ shows us here.
I love this option for transitioning from fall and winter hair to spring and summer hair without sacrificing the warmth and red tones. But who am I kidding? I'd wear this all year, too. 
Color Blocking
Who says you have to pick one color or choose highlights? Here's a creative use of cinnamon hair in the front and black hair in the back by rachaeldraperhair. 
This color blocking method is perfect for brightening the complexion and adds visual interest the way all-over color might not.
Amped-up Contrast
Here, samonpie shows us how gorgeous bright, light cinnamon tones can be on a dark brown base. It's not especially subtle how cinnamon highlights on dark hair can sometimes be, but it is especially pretty. This cinnamon borders on copper.
Subtle Cinnamon
Speaking of subtle highlights, this subtle cinnamon hair color and style, shown by hairchic_parrucchieri_, has such a gradual fade from dark brown to cinnamon brown, you almost don't notice it at first. You just see "beautiful hair" rather than color, and it looks completely natural.
The Perfect Match
Sometimes, an all-over color that matches cinnamon sticks as closely as possible is just what you want. There's nothing trendy about this cinnamon hair color or style, really. It's just medium brown with warmth, at home any year, any season.
Cinnamon Layers
Cinnamon hair looks absolutely lovely on gigi_gatson17. The overall look is a medium cinnamon brown, but the darker strands give it dimension. The layering frames her face beautifully, and the light reddish-brown sections complement her skin tone perfectly. Even her glasses tie in with the whole look. 
Cinnamon Bob with Bangs
I've seen a lot of cinnamon hairstyles with long layers and waves, but look how stunning this cinnamon bob with bangs is on mecyiaelaine. It's a blend of sophisticated and sexy and would look perfect in any setting, from the office to a romantic date night out.
Short, Spicy Cinnamon 'Do
Here's another example of shorter hair with cinnamon, though the reddish-brown is just as an accent shade this time. If you click through, you'll see that jesslarsonhair helped her go back from blonde to brunette but added a dash of cinnamon to spice things up. 
For Cool-Toned Skin
There's a bit less orange in this medium cinnamon brown shade dani.lotusbeautyco shared, making it perfect for cool-toned people who love cinnamon hair as much as I do. It leans more toward neutral undertones, so you might be able to pull something like this off, even if you were starting to think cinnamon hair color wasn't for you. 
FAQs About Cinnamon Hair
If you're still unsure about cinnamon hair, here are some frequently asked questions. Hopefully, they'll give you the green light, guide you toward the best version of cinnamon for your style and features, or redirect you to a better shade for you.
Question: Is cinnamon-brown warm or cool?
Answer: Cinnamon-brown is more warm-toned. If you're looking for something similar for cool-toned hair, consider auburn or chestnut, which are more neutral in their undertones. Plum or black cherry could also be gorgeous on you.
Question: Is cinnamon red or brown?
Answer: It's a little bit of both, but technically brown. It's a reddish-brown. The red tones in it lean orange. You can go more red or more brown depending on what you prefer. If you've always wanted to be a redhead, go redder but incorporate some brown in the shade for more comfort. You can go in that direction if you'd rather have brown hair but love a reddish tint. There's a range of cinnamon shades.
Question: What color is cinnamon hair?
Answer: It's a medium (sometimes medium-to-dark) brown with strong reddish-orange undertones. It's a warm shade, so it'll look best on people with warm skin tones.
Question: What are cinnamon highlights?
Answer: Warm, reddish-brown streaks through a darker base (usually dark brown or black). They're more universally flattering than all-over cinnamon hair color. They can add dimension to dark hair without introducing lighter browns or blondes. 
Question: What hair color is chestnut?
Answer: Chestnut is similar to cinnamon. It's also a rich, medium brown with red tones, but not quite as warm as cinnamon. It's more brown than auburn and more neutral than cinnamon.
Question: How do you make cinnamon highlights?
Answer: You may have to bleach sections of your hair if it's very dark (natural or previously colored). However, by choosing a medium-to-dark color for your highlight shade and only highlighting some of the hair, you'll minimize the damage from the bleach.
Conclusion: Should You Go Cinnamon?
Cinnamon highlights in dark brown hair have always been one of my favorite looks because when my hair is cinnamon all over, my skin tone doesn't look its best. I have cool-neutral undertones. 
However, with my medium-dark brown hair, I can work in those gorgeous reddish strands and enjoy the shade without the overall commitment. 
If your coloring is similar to mine, you could go for the highlights or just use cinnamon as an accent color. 
If you'd rather do all-over color, but you've discovered cinnamon isn't for you, try plum, auburn, or even an eggplant style.
If you have warm undertones and have been thinking about cinnamon hair for a while, what's stopping you? You only need to decide whether you want cinnamon all over, cinnamon highlights, cinnamon with highlights, or something else.
Use the creative ideas and looks above to narrow down your favorite
Looking for more interesting hair colors? Check out: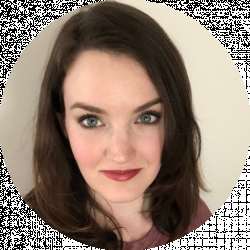 Latest posts by Crystal Schwanke
(see all)