In the early 2000s, hair trends were just as important as today. I tried to follow as many as possible with my untamable curls! But the early 2000s didn't have TikTok or Instagram, and we had to get our hair inspo from magazines and TV. From Lizzie McGuire's eccentric hairdos to the chunky highlight looks on American Idol, there were some pretty iconic styles that went under-appreciated.
You know what they say: what goes out of style eventually comes back, and that's true of the early 2000s hairstyles – but now they've caught up with 2022. Early 2000s hairstyles inspiration can up your hair game and let you embrace the old trends you love with a new modern twist!
First, let's go down memory lane and indulge in some nostalgia with some of the most copied hairstyles of the early 2000s!
Bottom Line Up Front
Some early 2000s hair trends were cringe-worthy and should never see the light of day again, but there will always be a soft spot in my heart for crimped hair! It's coming back to the red carpet thanks to Ariana Grande and Kim K, but there are some new takes on the crimped hairstyle that I love, so it will always be my favourite style to revisit.
Criteria for This List
I wish I could cover every trend of the early 2000s, but I chose some of my favourites and some that I sincerely hate. A few criteria I used:
Endurance: I chose trends that had real staying power throughout the decade and wasn't an isolated style.
Real Life Wear: The hairstyles on this list is likely a style you've tried before and rocked as your signature during the early 2000s, rather than something that was only on the red carpets.
Returning Trends: I chose styles and trends that are still applicable to today's fashion.
While the looks of the early 2000s were a little misguided looking back, there are new ways to pay respect to the old trends without looking stuck in the past.
Chunky Highlights
Striving for hair with dimension is nothing new, and we can see that in the bold highlights of the early 2000s. I never participated in this trend because I would be absolutely destroyed if I dyed my red hair, but this trend was everywhere around me.
It was fun to explore different colours with chunky streaks, but as far as hair colouring goes, the industry is advancing to make this technique a thing of the past (thankfully!)
Modern Twist: Balayage
Balayage is the 2020's response to chunky highlights. Blending colours to make hair look dimensional and full-bodied is a stunning style choice to deal with flat hair and uneven colour.
With balayage, I think creativity is limitless. It's infinitely more modern than the early 2000s version of hair colouring!
Edgy Clip-Ins
The dark clip-in trend reminds me of my angsty teenage days. After a breakup or a moody phase, I always gravitated toward dark elements to add to my hair. Unfortunately, looking back, these clip-ins were a style miss. They seemed obviously fake and like they didn't belong.
But despite their synthetic feel, it was the best way in the early 2000s to make a temporary drastic change to hair without dyes and colouring. It made me feel like a rockstar, so I'll never regret this early 2000s hair trend.
Modern Twist: Blended Extensions
Deep jewel colours, black, and blonde peekaboo extensions are the new, less permanent way to add a little something extra to your overall hair style. While I've never tried it, blending hair extensions is easier than ever – authentic hair can be dyed to any shade and installed by a professional or in a DIY method with a steady hand!
The result is an entirely personalized style that looks like natural hair rather than the synthetic plastic strands of the past!
Intricate Twists
https://www.pinterest.ca/pin/42573158969399652/
Pinning hair in twists in all sorts of different placements pulled double duty: it got the hair off the face and was more interesting than a simple half up half down style. With my curly hair, I damaged a lot of bobby pins in an effort to replicate these styles, and as a dancer, stage hair in the early 2000s always embraced intricate twists of some kind.
I don't know the origin of the mini bun looks of the 2000s, but they've definitely passed us by, and modern versions will never have this many twists again!
Modern Twist: Space Buns
Space buns are absolutely one of my favourite styles lately! Half up, half down styles can quickly get boring with just a simple ponytail. But space buns are a fun take on the style. In the summer, it's my go-to style to keep cool from the heat without defaulting to basic buns or ponytails.
I'm still perfecting my space bun preferences, but I hope this cute style sticks around so I can keep sporting this playful look!
Butterfly Clips
Unpopular opinion: I loathe butterfly clips and fully believe they should stay firmly in the past where we can look back on them fondly. Growing up, I had as many butterfly clips as I did bobby pins, and while I admit they were a big part of my early 2000s aesthetic, they were the least comfortable accessory to ever be a part of my hairstyle.
Pulling and pressure were some of the most painful side effects of this trend, and while some people welcome butterfly clips back just as they were, I will never accept them again!
Modern Twist: Claw Clips
Claw clips are the way to go in the 2020s! The clip still gets the hair off the face without ponytail holder pumps, and claw clips come in so many different styles, colours, and sizes to suit every hair type and personality!
You can even get claw clips shaped as butterflies if you want to embrace the nostalgia of the butterfly clip!
Spiky Half Up Half Down Strands
Spiky strands were everywhere in the early 2000s – from the Olsen twins, Hilary Duff, and Mandy Moore, if you had half up half down, pigtail loops, or buns, spiky pieces were always sticking up. Half up, half down with a fountain-like finish with my curly hair was tough to accomplish because it always looked like broccoli, but it was clearly the final touch for straight hair.
There's still a place for spiky strands in buns and other updos, but for the most part, after the 2000s, styles that stick up all but disappeared.
Modern Twist: Soft Half Up Half Down
Today, smooth styles are all the rage! By keeping hair close to its natural shape, it's a beautiful frame for your face. As soon as smooth styles came into fashion, I bought my first flat iron and embraced long, wavy, straight, and carefully curled styles that looked manicured in a subdued way.
In the 2020s, smooth half up half down styles are still going strong, from Ariana's iconic style and even Kate Middleton! More polished looks are going to keep going strong.
Snap Barrettes
Growing up, I had about as many snap barrettes as I did bobby pins and butterfly clips, and in the early 2000s, they were everywhere. For the most part, they were totally about practicality. They were metal – occasionally coloured – clips that helped pin hair back from the eyes.
The recognizable, iconic barrette shape brings back a lot of memories of my junior high and high school style! I will defend barrettes forever and loved them then and now!
Modern Twist: Dramatic Barrettes
I, for one, am cheering on snap barrettes' return! Except now, it's abandoning its utilitarian roots and becoming all about the aesthetic. From glitter to pearls, having a glammed-up barrette is the star of the style instead of a basic hair clip!
Now barrettes are for fancy events and casual ones, too – this throwback is feeling playful and brings out my inner teenager! But only in the good ways!
Bandanas
https://www.pinterest.ca/pin/318629742384491953/
Wearing bandanas as a hair accessory was trendy in the early 2000s! It was popular in the city styles and popularized by JLo, Aaliyah, and even glamourous queen, Beyoncé. The more bedazzled the bandana, the better, and while it wasn't a part of my style, I was always jealous of those that could pull it off.
Although it would've made me look like I was in a pirate costume, it made its way into the popular style of the early 2000s and will hopefully stay in the past.
Modern Twist: Scarves
Scarves replaced bandana styles, and I was absolutely thrilled when it happened! Scarves are more varied, and there are infinitely more styles and patterns to choose from than old bandanas. The way of wearing scarves isn't precisely the same as in the early 2000s, but this trend shows off hair far better!
Thanks to TikTok and Instagram, there are so many people who can demonstrate unique and cute ways to incorporate scarves into hairstyles. Even though I prefer my scarves to be tied to my purse rather than my hair, I can't deny this bandana-inspired style is eye-catching!
Swoop Side Bands
Sweeping bangs that grazed the eye were everywhere in the early 2000s. This was a trend that I indulged in – because of my curly hair, I blow-dried my bangs to one side while the rest of my hair stayed curly, but they looked perfectly on-trend!
Side bangs were cut to hit the top of the eye or cover the eye slightly and went perfectly with the deep side part of the early 2000s!
Modern Twist: Curtain Bangs
Side bangs may be gone, but swooping styles are still in! Face-framing bangs are coveted, and curtain bangs sweep across the brow to make the eyes stand out, just like the side bangs of the early 2000s.
Curtain bangs play off the centre part trend and make the style look more symmetrical. While I don't have bangs anymore, if I ever impulsively decided to cut bangs, curtain bangs are the best choice for the 2020s!
Crimped Hair
Crimped hair was and will forever be my favourite hairstyle of the early 2000s! There are many school pictures of me sporting crimped hair, and while the pictures aren't great, I will never fault the style. In the early 2000s, small crimps were everywhere, from magazines to television and red carpets.
Whether hair was entirely crimped or had certain locks left alone, when you look at old photos of celebrities with crimped hair, you can be sure they took the picture in the early 2000s.
Modern Twist: Crimped Hair 2.0
Back in style, crimped hair is everywhere again, and I couldn't be happier! While most crimpers on the market today have larger barrels rather than small crimping plates, both varieties are possible. The most on-trend version is the large crimped sections, which look dramatic and glamorous.
But the small crimps of the early 2000s are still copied, too! You can find flat irons with a removable crimping plate, so you can reminisce on the small bumps we all wore so many years ago. Crimping is going to be my new/old signature style for the season, for sure!
FAQs
Question: Were butterfly clips the accessory of the 90s or the 2000s?
Answer: Butterfly clips had a firm place in the late 1990s, but they were so popular they were brought into the new millennium's hairstyle trends, too! They made a firm home in the early 2000s until they finally faded out in favour of other hair accessories.
Question: Were scrunchies popular in the early 2000s?
Answer: The early 2000s were where the scrunchy trend went to die. They were mocked in popular culture and weren't appreciated as a retro style. Scrunchies were simply out of fashion in the early 2000s and didn't make their well-deserved resurgence until the late 2010s and early 2020s!
Question: Are 2000s styles coming back?
Answer: Styles in hair and fashion from the early 2000s are already here in the 2020s. For better or worse, throwback looks and modern versions of old styles will keep coming and remain popular in 2022 and beyond.
Bottom Line
Crimped styles are forever a favourite – I'm going to shop for a crimper to indulge in some nostalgic hairstyles very soon! But there are many returning trends from the early 2000s that I'm looking forward to embracing, and some I'm ignoring altogether.
I'm excited about the new and improved snap barrettes and can't wait to incorporate some of the most glamourous styles into my summer style!
Looking for more interesting hairstyles? Check out: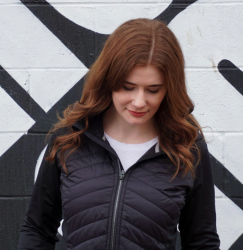 Latest posts by Kelsey Purcell, Hair Product Collector & Tester
(see all)