Just like that, almost overnight, the Balayage coloring style became so very popular that numerous women wanted to try it. Out of nowhere, online networks such as Facebook and Instagram were filled with photos featuring luscious blonde hair locks that had brighter and face-framing hairpieces. And, all of them were posted with the hashtag #balayage.
This trend turned out to be so appreciated and loved due to the fact that it transforms your hair into a low-maintenance lighter look while also maintaining the base of your natural hair color. In today's comprehensive guide, I have detailed anything related to this hair coloring technique, from what it means to different methods of doing it, pros, cons, and more.
What Is Balayage?
Although this hair coloring style might seem like a new trend, it isn't. It appeared for the very first time back in the '70s. The word originates in the French languages; it derives from "balayer" which is a French word that means "to sweep." This hair dyeing technique consists of sweeping a lighter hair color through small sections of your hair; it's done by hand, using a paddleboard and a brush.
It isn't an actual color but more of a color application method. The final result should feature lighter hair locks around your face, lighter hair ends, blended roots, and an overall effortless and natural appearance. Some even associate this look with the one a person could achieve after spending an entire summer basking in the sun, at the beach.
For that reason, many women like to describe it as a beachy, surfer, or sun-kissed look. In the US, the balayage style didn't become a popular choice until the 1990s.
The Balayage Hair Coloring Style – Main Benefits
Here are some of the most important advantages of the balayage style:
Compared to regular highlights, balayage looks a lot more natural, almost like that's how your natural hair looks after it got plenty of suns;
It's a low-maintenance hair coloring style because there are no harsh lines. So, when your hair starts to grow, the transition will be subtle;
During the application process, the hair dye has lower risks of bleeding because the colorist can get very close to your roots without damaging anything;
With balayage, you won't have to bleach your entire hair. Therefore, your locks will experience less damage than they would with regular highlights;
Balayage allows you or your colorist to get creative and customize the look;
It's great for women with thin hair because it makes it look fuller;
This technique is suitable for everyone, regardless of their age, hair type, hair length, texture, color, and more (obviously, if you have a pixie cut, balayage won't work on your hair).
The Balayage Style – Potential Drawbacks
Nothing in this world is perfect. Therefore, even the fabulous balayage look can come with certain disadvantages:
It won't cover grey hair. For that, you must dye your entire hair;
If you have a lot of grey hairs, you will need to go to the salon a bit more often for touch-ups;
For those who choose a red hair color, the toner, when and if it fades, can make the color more orange;
You might need to go through the process a few more times till you get your desired results – highlights as light as you wish them to be;
It isn't suitable for you if you have brassy hair.
The Balayage Process – How to
Here are the main steps that you'll go through if you choose to opt for the salon experience:
You will start by making an appointment at your chosen salon, with your desired hair coloring expert. Once you're there, the consultation will begin. You will tell the expert the way you want your hair to look and probably even show him or her some pictures as references. Then, the specialist will let you know what can be done with your hair type;
The application process is the next step of the balayage hair coloring technique. The professional hairstylist will group your hair into different sections before applying the color with either their hands or a brush. To keep those hair sections separated and avoid touching each other, the stylist will use pieces of foil;
Then, the color is left on your hair for a while to develop. This part of the process usually lasts between 30 and 40 minutes;
When the waiting time is over, your hair will be rinsed to remove all the excess hair dye, shampooed, and washed. After that, the colorist will assess the result to see how well it turned out;
An optional step that depends on the shade you want to achieve, the colorist may or may not apply a toner that helps you get the perfect hue;
Once your hair is blow-dried, you can ask the expert to style your hair the way you want it to look.
Balayage on Different Haircuts
Balayage is a versatile hair coloring method that suits a wide range of natural hair colors, hair types, and hair lengths. It's a flattering look for everyone who needs or wants to make a change. It is good for all the following hairstyles:
Bob – Balayage is a great way to add some extra excitement to your bob-cut hair because it places lighter highlights through your locks and moves the focus around the front part and the ends of the haircut;
Straight hair – According to experts, the best way to see how well balayage looks is when you have wavy hair, but this technique can also look stunning on straight hair because it's a sleek appearance;
Short hair – The combo between a shorter haircut and blonde balayage is an appealing and low-maintenance choice;
Hair with extensions – You can blend your hair extensions into the locks of your natural hair way better with balayage. This will lead to a seamless look;
Lob – This haircut is suitable for those who want to shorten their hair but aren't ready for a bob yet. Pair it with a flattering balayage to highlight your eyes and frame your face;
Curly hair – If your hair type is very curly, that doesn't mean you cannot wear balayage successfully. That's because this hair coloring technique works on everyone, regardless of their hair texture. Balayage will define your curls, making them pop;
Hair with fringe – Lately, more and more people get courageous and try fringe haircuts. This is good news for those who love balayage because it's a great way to achieve a retro look with some lighter highlights that appear and disappear throughout the fringe as well as from all other hair sections.
The Best Colors for Balayage
The most popular balayage features blonde hair. However, this technique works wonderfully on black, brunette, and red hair as well. Heck, it can even be done successfully on more unique hair colors such as purple or rose gold. Here are some of the most common balayage colors:
Blonde – If you're already blonde but you want your hair to become lighter, balayage is the perfect solution because it will make your hair look natural and you will stop worrying about roots showing when your hair grows;
Dark hair and black hair – Usually, darker hair looks a bit flat but balayage will give it texture and depth. It's a way to boost your hair color without doing a drastic change;
Brown and brunette hair – Brunettes will look even better with balayage because it adds some lighter tones to their locks;
Caramel hair color – If you want a warm and rich look, you should opt for the caramel balayage with mixes of lighter golden hues with chocolate hair color;
Ash-blonde – A cooler hair color that looks amazing is the ash-blonde balayage that's a combination of silver-grey tones and cooler blonde hues;
Copper – A more vibrant and striking look would be the copper balayage that stands out, especially around the hair tips;
Brown blonde – I love this balayage color combo because it offers the ideal blend between brunette and blonde. It's the perfect beachy look;
Red – Red hair requires a lot of maintenance, but through balayage, your salon touch-up appointments won't be so often because bright colors are better maintained when they're blended with your roots;
Dark brown – Enrich your natural dark brown color with this multi-dimensional balayage. Your strands will catch everyone's attention;
Rose gold – This is a very popular and trendy color nowadays and it allows you to be unique, bold, and make a statement through your hair color;
Dark blonde – Both natural blondes and those who have dyed their hair blonde can achieve greater depth by trying this dark blonde balayage;
Pink – This candyfloss pink balayage is perfect for those who love pink hair. You should give this a try, especially during the festival season;
Auburn – For a more autumnal look, you should consider the auburn balayage which gives your brunette roots more warmth and depth;
Beige blonde – The beige blonde balayage is suitable for those who prefer a sandy hair shade;
Ash brown – The ash brown balayage will result in a smokey hair color that's very trendy. Your hair will become more unique and more beautiful;
Purple – If you're a natural brunette, I would recommend trying purple balayage instead of pink because it's more suitable for your natural hair color due to your darker roots;
Honey – This balayage color will warm up your entire complexion and will add a golden and rich dimension to brunettes.
Main Types of Balayage
Balayage is a flexible and customizable technique that can help you achieve various looks.
1. Facelift Balayage
During this type of balayage, the hairstylist will use those well-known coloring moves that are called "sweeping motions." When done properly, this process will make you look fresher and your face will look more angular. So, it basically works similar to a facelift. The idea that the hairstylist should focus on is to color stronger highlights around your face's expression areas such as eye, mouth, etc.
2. Ombre Balayage
The main purpose of the Ombre technique is to notice a color change around the mid-section of your hair. However, an Ombre Balayage works even better because it ties the entire look together. The final result will be a sun-kissed glowing look and a more natural appearance.
3. Sombre Balayage
Unlike the Ombre balayage, the Sombre alternative is supposed to offer you a more subtle and softer look. This is a perfect choice if you want to make a change but don't want to make a statement. This style will reflect light through your locks. One of my favorite things about it is that you won't need foils to achieve this look.
4. Babylights Balayage
If you want to achieve some fabulous babylights, balayage is a great way to do that. Your hair will feature tiny and subtle highlights that will remind everyone of natural sun-kissed tresses. The hairstylist must use small foils to obtain this look and, each strand of hair must be covered with just a very small amount of hair dye.
5. Colormelt Balayage
You can also opt for balayage when you want to achieve the perfect color melt hairstyle. The color melt technique requires you to combine multiple hues and go from dark roots to light ends in a seamless manner. It's pretty complicated but when paired with balayage, the entire process becomes a lot easier because, for starters, you won't need foils anymore.
6. Ecaille Balayage
Ecaille is a beautiful multi-dimensional hairstyle that starts from an ombre mindset but then interacts with balayage. It is a stunning look that mixes both darker and lighter strands of hair.
Frequently Asked Questions About the Balayage Hair Coloring Technique
Question: Is Balayage a Hair Color?
Answer: No, balayage is the application technique of multiple hair colors to achieve a result. In France, balayage was a way to "paint" the hair but since then, the method has evolved and it's known synonym with a hair that's sun-kissed or beachy. It starts from natural roots and continues with cascades of fully-colored hair strands.
Question: Which Is Better Between Highlights and Balayage?
Answer: There's no wrong or right technique. One isn't necessarily better than the other. They're just different. And, to be frank, you should always allow your hairstylist to choose the right solution for your hair type. Balayage is often chosen by women who like their natural color and want something low-maintenance.
If you want another lighter color to shine through all the sections of your hair, then the ideal option for your might be hair highlights.
Question: Are There Different Balayage Types?
Answer: Yes. This technique is versatile, flexible, and customizable. While some specialists rely on hair dye and color to create this look, others will focus more on applying hair lighteners. Balayage can make your hair look lighter or it can boost its depth by making it look darker. Some even say that there are endless possibilities when it comes to balayage.
Question: Is Balayage Expensive?
Answer: The cost of this hair coloring technique varies, based on your location, the salon you go to, the person that does it, and more. But, yes, it is a pretty expensive service compared to normal hair dyeing. The result might look effortless but the process itself is complex and not easy. Several important steps must be carefully followed.
On the bright side, you won't have to go to the salon as often as before because balayage doesn't show that much when the hair grows.
Question: What's the Difference Between Balayage and Ombre?
Answer: Some people get these two techniques confused because there are certain similarities between the two. However, while the ombre style features gradually lighter hair that starts from dark roots and ends with lighter hair tips, balayage blends the two tones included in the hair coloring process. Therefore, in balayage, the transition is much softer.
Also, ombre is applied horizontally, whereas balayage is applied vertically.
Balayage Guide – Drawing to a Close
One of the most important reasons why the balayage style is so popular these days is because it's an elegant look. Balayage isn't the result but an entire complex process of using different coloring techniques to achieve the desired result.
Balayage is the perfect choice for those who want to look good but opt for a low-maintenance appearance. Unlike highlights, which require a lot of upkeep, balayage won't make you go to the salon that often. For those of you who live in a mild weather location, near the beach, paying to have balayage done might not be a wise investment.
But, for the rest of us who aren't that lucky, I recommend trying this hair coloring technique.
Looking for more interesting readings? Check out: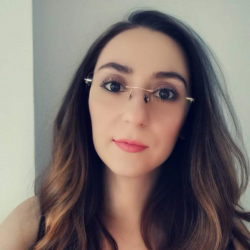 Latest posts by Alexandra Gavrilescu, Home Hair Product Tester
(see all)