Many beauty and skincare products contain alcohol. While natural-sourced alcohol is harmless, synthetic alternatives might damage your hair by preventing it from retaining its much-needed moisture. But you can stop stressing about this issue due to the appearance of numerous alcohol-free products.
In today's article, I have listed and detailed some of the best alcohol-free shampoo options available on the market that you should know about. They're all made of good quality and safe ingredients that will cleanse your locks without damaging them.
The Best Alcohol-Free Shampoo Options – Top 7 Choices to Consider
*I've listed the following shampoos in no particular order. They were selected based on their ingredient list, level of effectiveness, and consumer reviews. 
Argan Oil Repairing Shampoo by Hask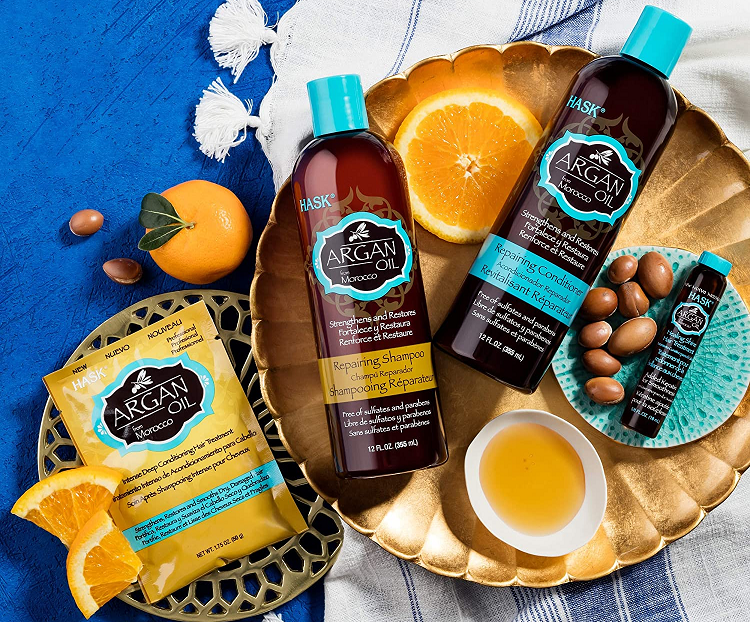 This Hask haircare product is a bundle consisting of two separate products: shampoo and a conditioner. They both contain argan oil that will repair and restore damaged hair locks. The Hask haircare kit will cleanse and moisturize your hair and provide a silky shine to your strands.
The formula is also enriched with natural antioxidants and fatty acids to repair split ends and boost hair manageability.
This alcohol-free shampoo focuses on two main ingredients: argan oil and soybean protein.
Pros
It's a safe and moisturizing shampoo
These products contain vitamin E, which is excellent for hair protection against free radicals
It doesn't contain parabens, sulfates, artificial colors, and silicone
This is a cruelty-free shampoo
It will lather your hair well
Cons
A few users have said that the scent of this shampoo is a bit unpleasant
Nourishing Coconut Milk Shampoo by OGX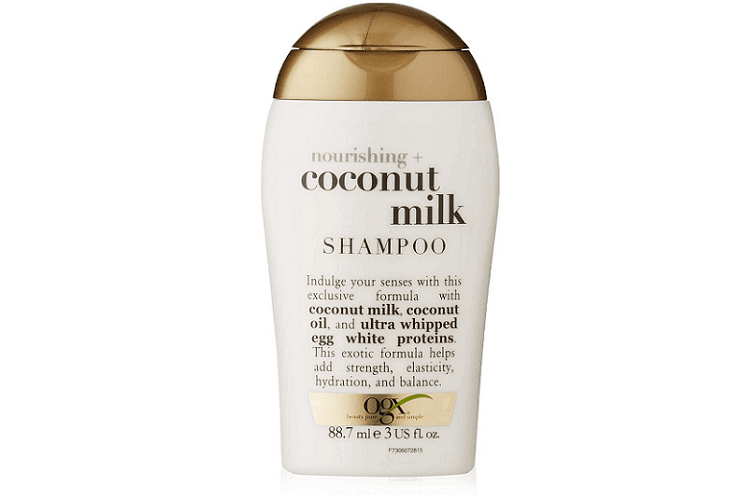 This OGX alcohol-free shampoo provides a creamy texture and a very pleasant scent. The formula consists of a blend of the following ingredients: coconut oil, egg white protein, and coconut milk. All these combined will hydrate and strengthen your hair. It's a product that's suitable for almost everyone, regardless of their hair type.
The delicious scent is an exotic Shea butter one. It also smells like coconut and white peach. I like the way this perfume lingers on my hair for hours after using this shampoo.
Pros
It will improve your hair's elasticity
Your hair will become healthier, more hydrated, stronger, lustrous, and more balanced
It softens and tames frizzy hair
This shampoo is free from harsh chemicals such as parabens, silicone, sulfates, and others
It has a lightweight consistency and a delicious scent
Cons
If your skin is highly sensitive, this shampoo might cause mild irritation
Free & Clear Shampoo by Pharmaceutical Specialties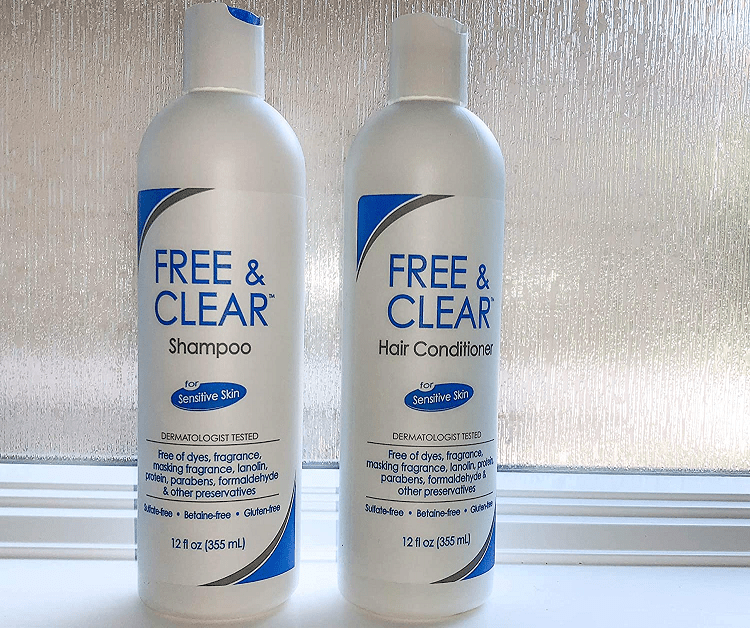 The Free and Clear shampoo was specially created for those who have a sensitive scalp. It is supposed to control scaling and flaking by getting rid of all excess sebum.
According to the manufacturer, this shampoo will rejuvenate your scalp. It's a very effective yet mild formula that helps you get rid of all the build-up created by hairsprays, conditioners, and other hair care products.
If you use this shampoo on a regular basis, you will notice how your locks become softer and more manageable. Its key ingredients are panthenol and glycerin.
Pros
It is safe and tested by dermatologists
It's free from chemicals and synthetic ingredients
This shampoo is suitable for everyone, including those with highly sensitive skin
It's pH-balanced and fragrance-free
Cons
One user said that this shampoo is a bit difficult to apply
Another customer said that this shampoo didn't really solve his dandruff-related issue
Black Vanilla Moisture Shampoo by Carol's Daughter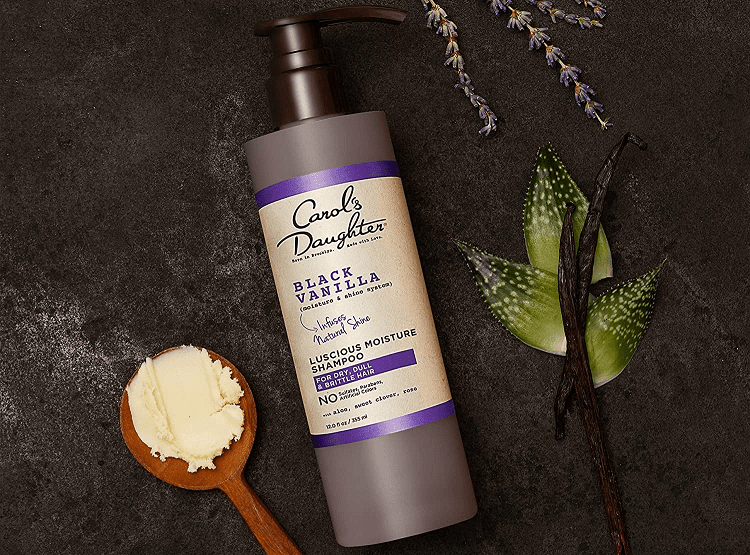 This Carol's Daughter shampoo is a great choice for those who have dull and coarse hair locks. It will make your hair clean, shiny, and luscious.
Moreover, if you're having a hard time trying to manage your hair, this shampoo will tame it and make it healthier and a lot softer. It seems that all those benefits are seen after the very first use.
It deeply hydrates dry hair and soothes your scalp. Your tresses will become easier to style due to this shampoo's content of Aloe Vera leaf juice. It also contains sweet clover and rose extract, both of which will make your strands a lot shinier than it currently is.
Pros
It doesn't contain any artificial colors
It's free from parabens, sulfates, silicone, mineral oils, and petroleum
This shampoo has a great fragrance
It will make your hair look healthier and softer
It provides good value for the money
Cons
It might lead to mild allergic reactions, especially if you have very sensitive skin
Fertile Roots Organic Shampoo by Laritelle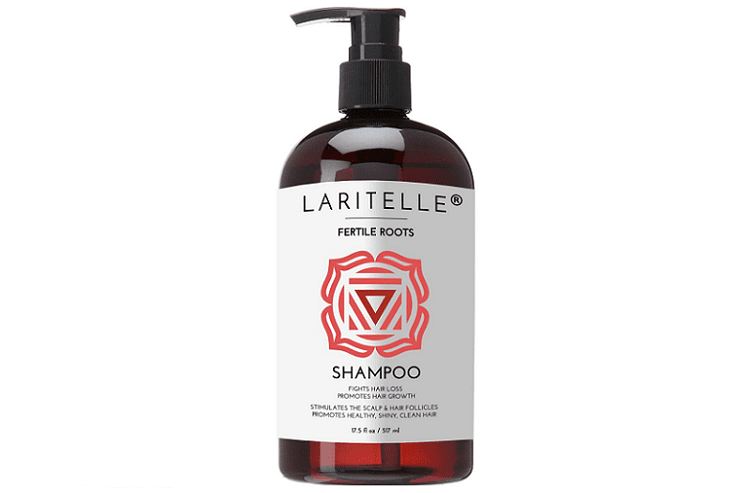 This Laritelle alcohol-free shampoo is an organic hair care product that's made by a trusted brand for everyone, especially vegan people. Not only is this shampoo good and effective for your hair, but it also protects the environment. Besides alcohol, this product is also free from sulfates and other toxins and chemicals.
This liquid shampoo prevents hair loss and boosts hair growth while also strengthening your hair follicles. It will keep your hair clean and shiny. At the same time, it stimulates your scalp.
Pros
It's a great alternative if your hair is thin and damaged
It's formulated with organic ingredients
Besides being a vegan option, this shampoo is also cruelty-free
Everyone can safely use this shampoo, including those who have dyed their natural hair
According to most users, you will notice significant results after using this shampoo for a couple of weeks
After rinsing your hair, you will see that this shampoo doesn't leave any residues on your scalp
It has a very pleasant scent
Cons
A few users have complained about the lathering power of this shampoo, saying it's pretty hard to apply it evenly all over their head
It costs a bit more compared to other alcohol-free shampoos
Thick and Full Shampoo and Conditioner by Derma Change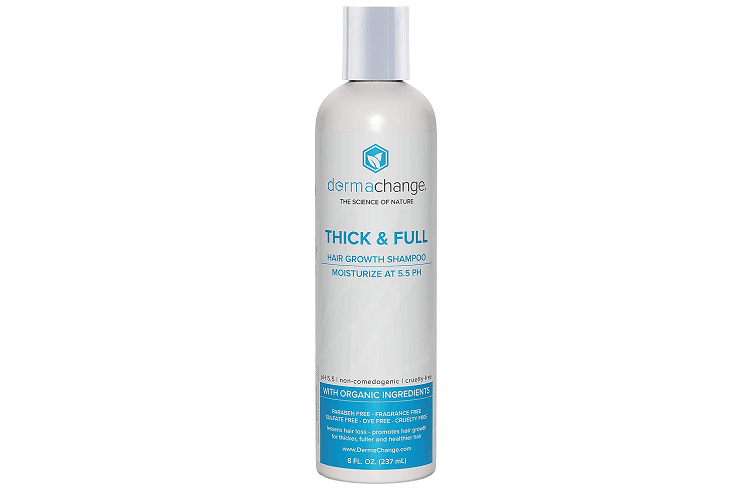 If you want your hair to grow thicker and healthier, the first step you should consider is repairing those damaged tresses.
This Derma Change alcohol-free shampoo does exactly that. This hair care set is formulated with safe and effective ingredients that have the power to reverse the effects of hair damage. It will rejuvenate your hair follicles and replenish their lost moisture and nutrition.
Basically, what this shampoo aims to achieve are healthier hair growth and stronger locks. It contains Aloe Vera juice, Tapioca starch, and coconut oil. Moreover, it contains cassava root extract, which nourishes and replenishes your hair, from the roots to the tips. Your strands will be protected, while your scalp will be clarified.
Pros
It is a safe formula that doesn't contain parabens, sulfates, and other artificial compounds
It doesn't have a scent
This is a cruelty-free product
This shampoo is a vegan option and it has a pH-balanced formula
Cons
Some say that this shampoo has a pretty greasy texture that doesn't feel lightweight on the hair
Regenerate Volumizing Shampoo by Mokita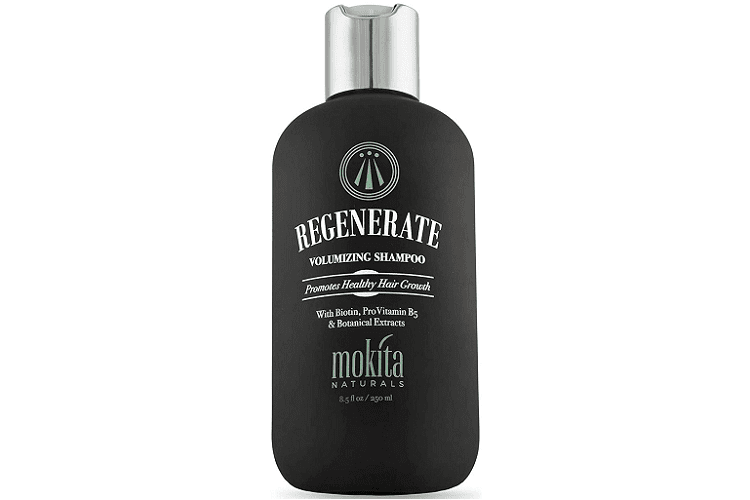 The Mokita volumizing shampoo is completely natural and contains no less than seven different botanical extracts as well as provitamins B5 and biotin, all of which are known to regenerate and nourish your hair tresses.
It is one of my favorite shampoos from this list due to the fact that it boosts the volume of my hair – I don't think you know this about me, but I have straight and fine hair so, I am a bit obsessed with finding hair care products that can offer me the volume I desire.
This product lowers hair fallout and prevents hair breakage. If you're using heavy hair styling products, this shampoo will neutralize part of the damages those products have done. Your hair will become bouncy and voluminous once again.
Pros
It's a great product that's vegan and cruelty-free
It comes with a money-back guarantee that can be used within 90 days since the purchase
This shampoo is natural and contains many beneficial ingredients such as cucumber fruit extract, Aloe Vera juice, green tea, rosemary leaf extract, and more
It's free from paraben and it's color-safe
Cons
Some users have complained about the unpleasant scent of this hair care product
The Best Alcohol-Free Shampoo Options – How to Choose the Right Product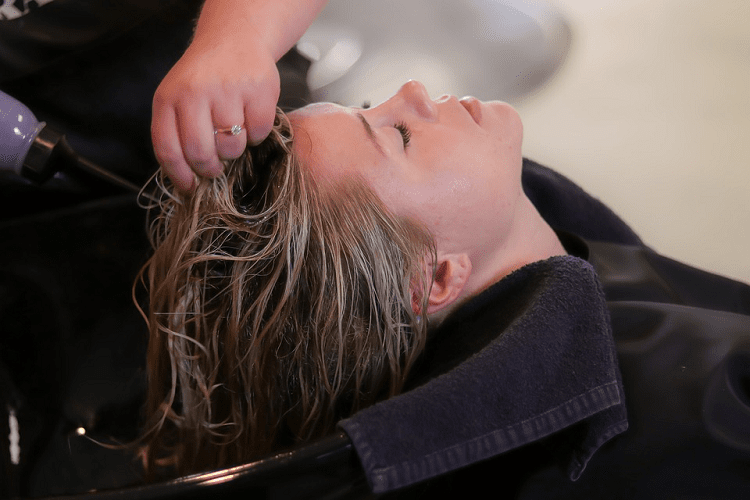 Now, let's see what the most important aspect is when you're buying alcohol-free shampoo.
Avoid Harmful Ingredients
When it comes to choosing an alcohol-free shampoo, you should avoid certain ingredients. Many people are surprised when they find out the number of ingredients that can lead to allergic reactions as well as other issues such as hair and scalp damages.
Besides being free from alcohol, a good and hypoallergenic shampoo should also be free from the following compounds:
Parabens
Sulfates
Silicone
Petroleum
Mineral oil
Ammonium lauryl sulfate, etc.
In case your scalp is highly sensitive, you may even stay away from certain natural ingredients like witch hazel which is known to cause irritations and allergic reactions.
Know Your Hair Type
Knowing the type of hair you have is essential when purchasing a haircare product. Therefore, you should always opt for those shampoos, conditioners, and other items that suit your hair type. Numerous products are specially created to target a specific hair type. Here's what you need to know:
For those who have colored hair, the best shampoo is a color-safe one that lacks harsh chemicals;
If your scalp is oily, avoid buying shampoos that contain a lot of essential oils because they will make your locks greasy and heavier;
If, like me, you deal with thin and fine hair, opt for strengthening shampoos and avoid those that will weigh your tresses down. The best solutions are volumizing shampoos that have a lightweight consistency;
For all of you who have dry hair, the best alternative is a product that's formulated with moisturizing, nourishing, and conditioning ingredients as well as enriched with essential oils.
Opt for a pH-Balanced Shampoo
Your hair cuticles can be damaged by shampoos that have either a low pH or a very high one. That's why it is so important to buy a pH-balanced shampoo because it will act gently on your scalp while moisturizing your hair locks at the same time.
Purchase Moisturizing Formulas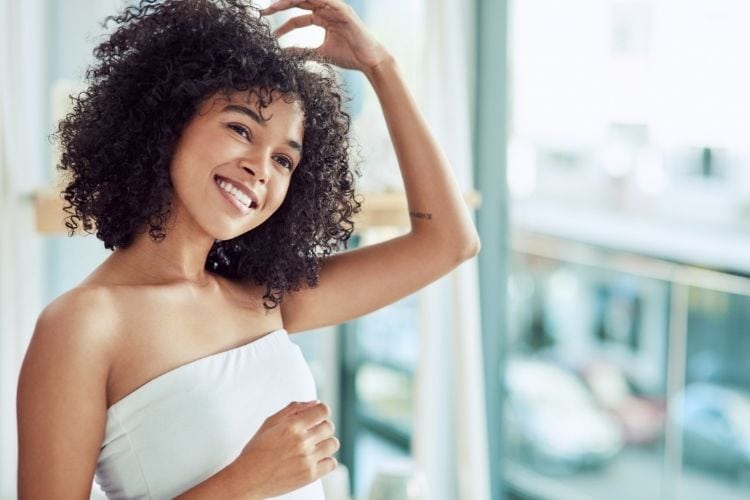 The best kinds of alcohol-free shampoos are the ones that contain moisturizing ingredients, such as the ones listed below:
Aloe Vera
Milk protein
Coconut milk
Keratin
Shea butter
Tea tree oil
Argan oil
Jojoba oil
Alcohol is normally included in shampoos to offer the hair an almost weightless inclination. However, when used in large quantities or too often, this substance can damage your strands because it makes your hair dry and removes all the oils from your scalp, even the good ones.
Types of Alcohol
There's a wide range of alcohols that are used in creating shampoos, but they're not all harmful. Here are the types of alcohol you should know about:
Short-chain alcohol – alcohols like these (ethanol, alcohol denat, propanol, etc.) evaporate quickly and they take good oils and moisture away with them;
Fatty-chain alcohol – these types of alcohols are found in veggies, fruits, and other natural sources and they're not harmful to your scalp or hair;
Other types of alcohol – alcohols that aren't included in the two categories presented above are not worth the mention since they don't really impact your hair's texture in any way.
The Best Alcohol-Free Shampoo Options – Frequently Asked Questions
Question: What Are the Alcohols Contained by Shampoos that You Should Avoid?
Answer: There are many types of alcohols that you can find in shampoo formulas, but the most common ones are ethyl alcohol or ethanol, methanol, benzyl alcohol, denatured alcohol, isopropyl alcohol, and SD alcohol.
Question: Are Children's Shampoos Free from Alcohol?
Answer: Yes, most of the shampoos made for children don't contain alcohol because this ingredient can sting the eyes of the child. If you are interested in this topic, you'll be glad to know there are alcohol-free shampoo options that contain only natural ingredients, and some are even organic.
Question: What Hair Types Are the Most Vulnerable to Shampoos with Alcohol?
Answer: Yes, unfortunately, certain types of hair are more likely to become damaged by shampoos that contain alcohol. For instance, one example could be coarse or curly hair, which is a lot dryer than straight hair.
The alcohol contained by the shampoo will leave it even drier than it already is, which will further lead to a lot of breakage and frizziness.
Another example is very thin or fine hair, which can also become damaged easily if one uses an alcohol-based shampoo. That occurs because fine hair is more fragile than thicker locks.
The Best Alcohol-Free Shampoo Options – Bottom Line
All the products mentioned above are worthy of your consideration since they provide many benefits for your scalp and hair. All of them contain moisturizing and hydrating ingredients and they lack harsh chemicals and artificial compounds.
But my personal favorite one is the Mokita Volumizing shampoo because I am always trying to apply hair care products that boost the volume of my locks since I have fine, straight hair.
But the final decision is yours, based on your hair type, budget, scalp-related issues, skin sensitivity, and other unique needs that you may have.
Looking for more interesting readings? Check out: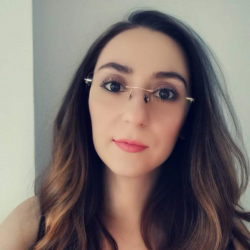 Latest posts by Alexandra Gavrilescu, Home Hair Product Tester
(see all)