Green tea has a host of positive health benefits. Drinking green tea regularly can benefit our bodies in incredible ways; it benefits everything from gut health to improving brain functioning and blood flow. It can help reduce the chances of developing Alzheimer's and Parkinson's disease. It also has antioxidants to help protect you against free radicals that can lead to cancer. But beyond drinking green tea, it's a powerful ingredient in many beauty and hair care products.
Green tea extracts are just as beneficial for our hair as it is our overall health. As an ingredient in your shampoo, the antioxidants in green tea help to strengthen hair, and the vitamin B found in green tea is said to help with the softness and overall health of your hair.
Here we'll walk you through the benefits of green tea shampoo along with some of our favorite formulas for every hair type, budget, and lifestyle, along with brands that are eco-conscious and ethical.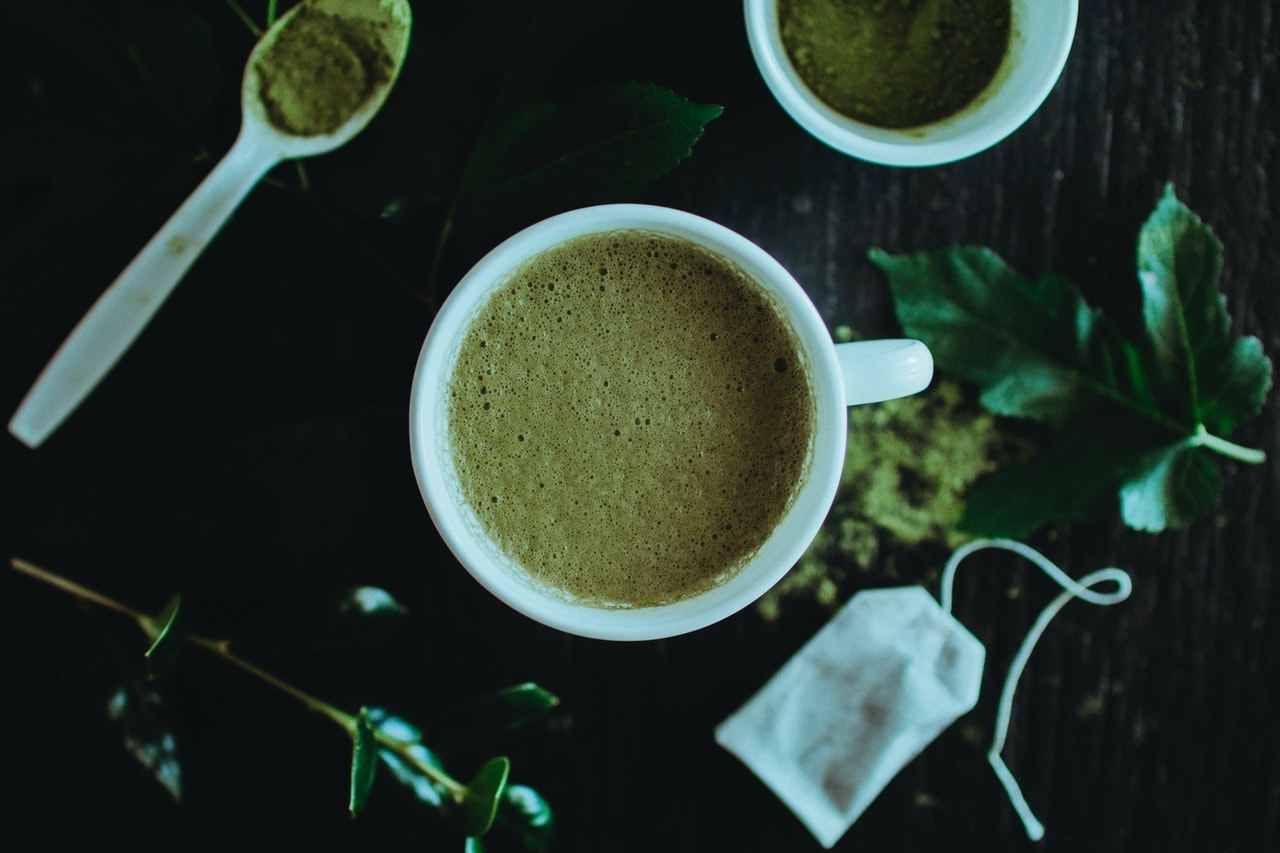 Benefits of Green Tea Shampoo
Green tea has been used medicinally for centuries. From its beginnings in China to its modern use today, green tea is typically thought of as a beverage that promotes wellness and relaxation.
But the benefits to your hair come not only from drinking a warm cup of green tea but its direct application on the hair. Its advantages are abundant, but some of the most unique features of green tea extract can profoundly impact hair growth and scalp health.
Promotes Hair Growth
Using green tea shampoo can help promote hair growth from the follicle. The vitamins and minerals in green tea – including vitamin B – help strengthen the hair from the scalp all the way down the strand of the hair.
Prevents Hair Loss
Green tea shampoos can also help prevent hair loss. Whether you're losing hair because of your diet, genetics, postpartum, or the regular ebbs and flows of hormones in your body, green tea shampoo can help. The hair loss prevention products that you're already familiar with have green tea extracts. Along with its omega fatty acids and vitamin D, green tea shampoo can be a helpful tool in hair loss prevention.
Improved Essential Nutrient Delivery
Washing your hair with green tea formulated shampoos gives your hair and scalp all the beneficial nutrients that are present when you're drinking your green tea. When the green tea meets your scalp and hair follicles, the green tea extract facilitates improved oxygen and blood flow to the brain and rest of your body. When there is improved blood and oxygen flow, there is more efficient nutrient delivery to your whole body.
Soothes Your Scalp
Just as green tea is soothing to your insides, your scalp can also be soothed by green tea. Its anti-inflammatory properties clean the scalp of oils while balancing the pH level of your scalp. Green tea is antimicrobial, meaning it can protect your scalp against bacteria and reduce any dandruff you may experience, leaving your hair feeling clean and healthy.
With these benefits in mind, this list includes green tea shampoos that seek to keep your hair soft, sleek, and soft without compromising the health of your hair and scalp.
Not Your Mother's Natural Green Tea Shampoo with Wild Apple Blossom offers a deep clean for damaged hair. It's formulated without silicones, parabens, or sulfates and has 98% naturally derived ingredients. This green tea shampoo boasts a rich clean that leaves the scalp feeling healthy and rejuvenated. It removes surface build-up without stripping the hair, leaving it feeling fresh but not dry.
Pros
Naturally derived ingredients without damaging additives.
Deep cleans the scalp of hair build-up and oils safely and without damage.
Cons
Some reviewers say that the scent is overpowering.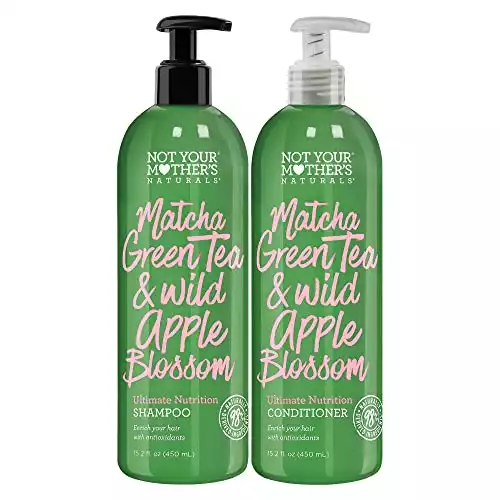 This OGX green tea shampoo option comes in traditional shampoo and a dry shampoo foam. It's a refreshing wash whether you're ending a workout or taking a long shower at the end of the day. Green tea shampoo is a particularly good idea for a post-workout cleanse because its vitamin B will keep your hair looking shiny and clean. If you're using the dry shampoo option, it will absorb the sweat and oil while still refreshing your scalp and hair strands.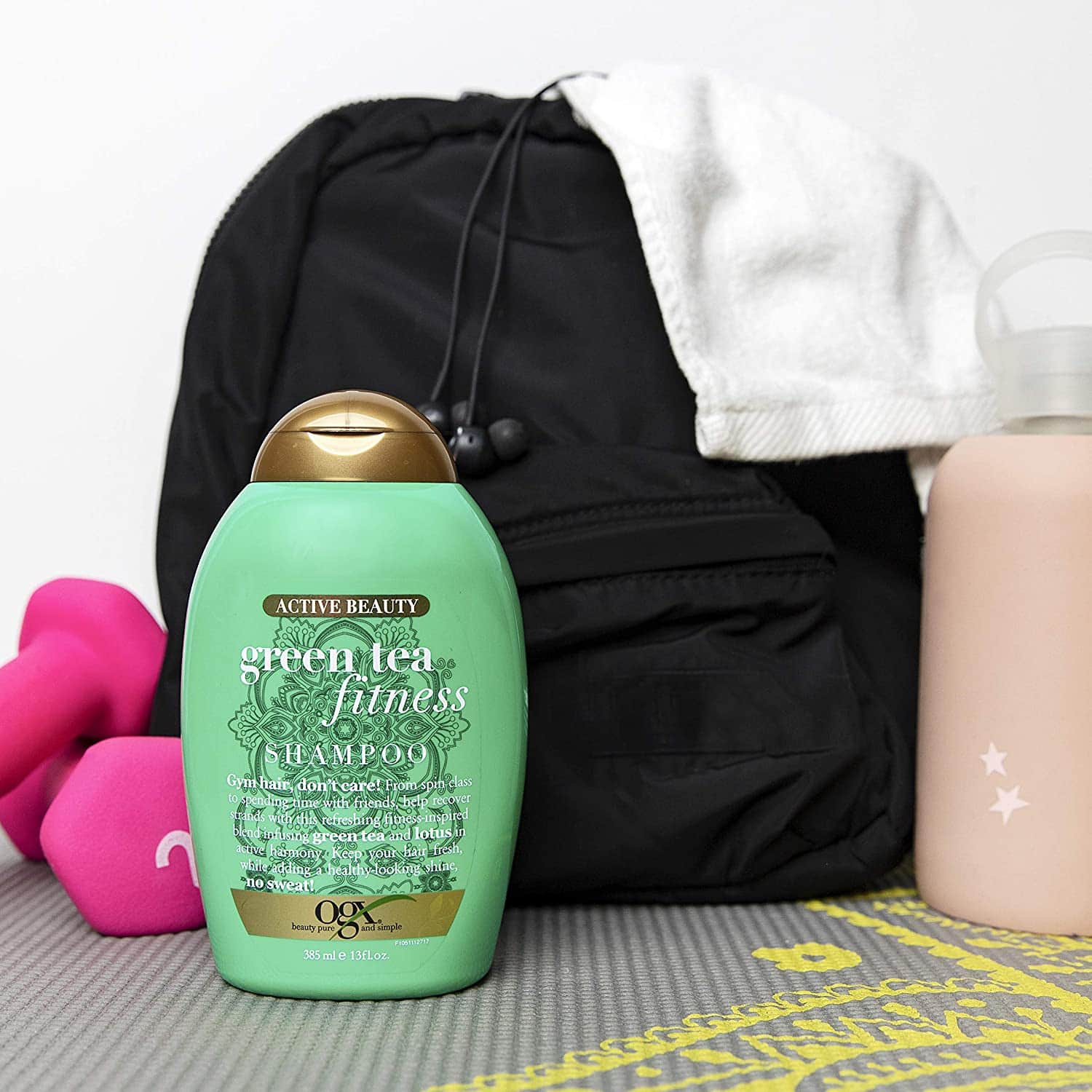 Pros
It has a refreshing scent that lasts.
It calms irritated scalp.
It's an affordable drugstore option.
Cons
If you opt for the dry shampoo option, some say the design of the bottle can be faulty.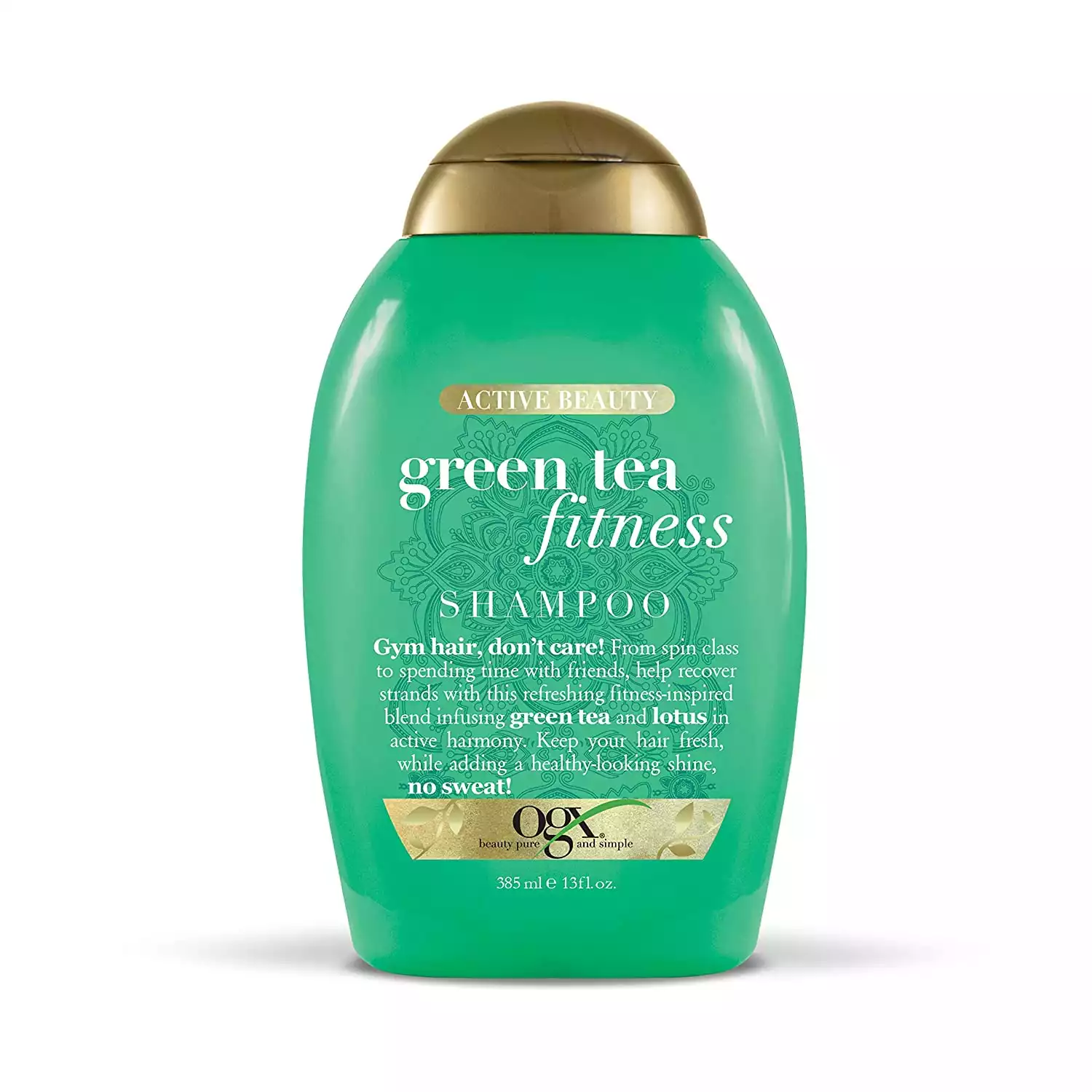 Aubrey Green Tea Shampoo acts as a clarifying shampoo that offers a deep clean leaving hair bouncy and shiny. Oily hair is best tackled with this shampoo. Its green tea formula includes ginseng to tone the scalp while protecting the hair. The sweet almond protein added into this shampoo helps add fullness and volume to your hair.
This brand is cruelty-free, sulfate-free, and paraben-free. They're also climate-conscious and lower their carbon emissions by compacting size and weight design to make their product shipment more efficient and gentler to the planet.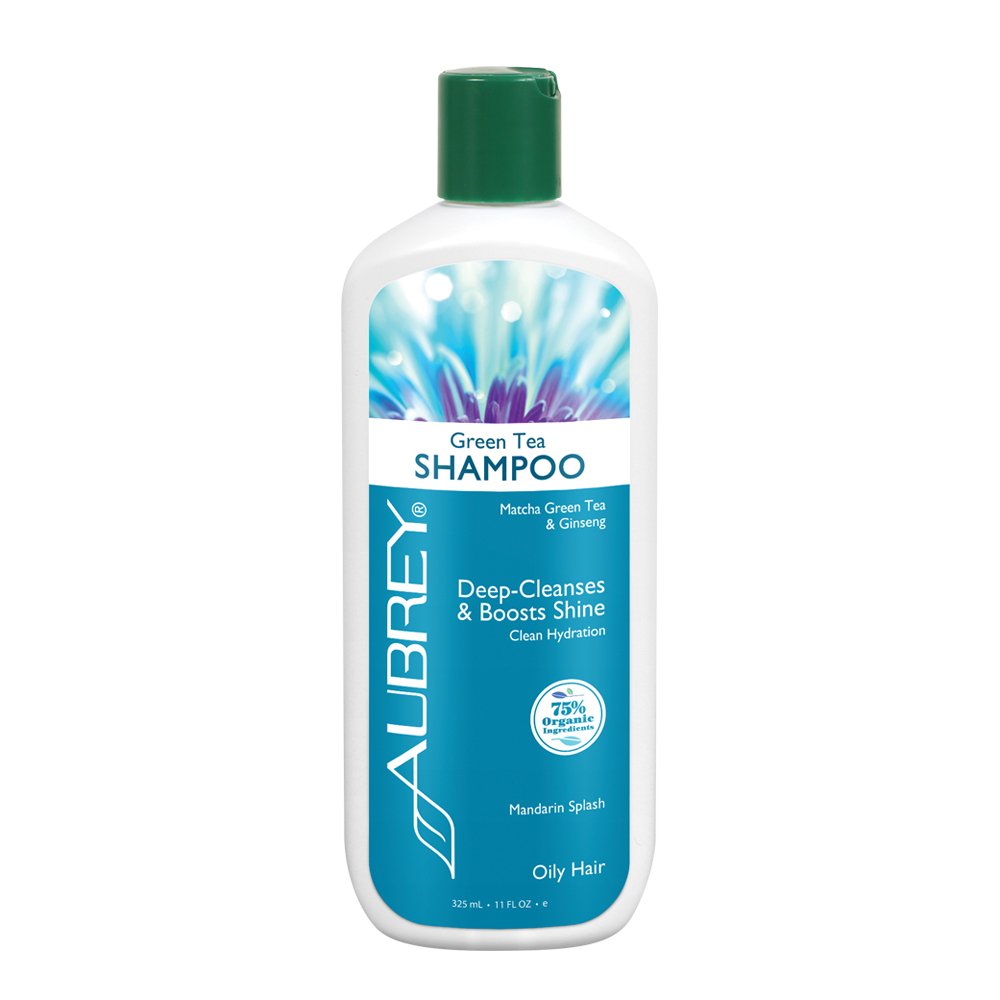 Pros
It has 75% organic ingredients, with ginseng, sweet almond protein, and plenty of herbs.
It has a Mandarin Splash scent with essential oils.
Cons
The product comes out rather thin, so it doesn't have the same thick consistency as some other shampoos.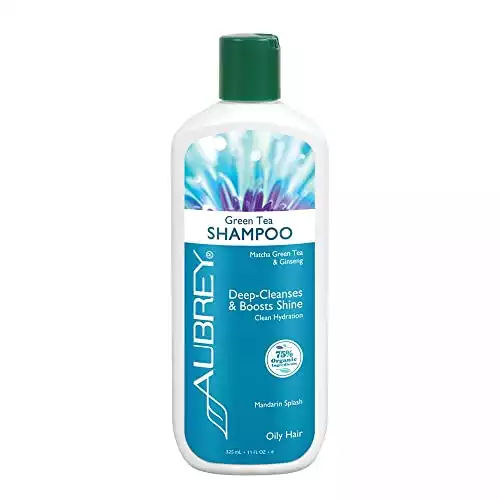 This Korean brand is targeted at people with oily scalp and includes refreshing mint in its formula. It uses white leaf green tea – or white matcha – which has three times the amount of amino acids to help support hair proteins. This formula, in particular, is excellent for supporting hair growth and preventing hair loss. With no silicone or oil added, this green tea shampoo doesn't weigh hair down and keeps your hair healthy and strong. Amos Professional makes three different solutions of green tea shampoo based on whether you have an oily scalp, normal or dry scalp, or sensitive scalp.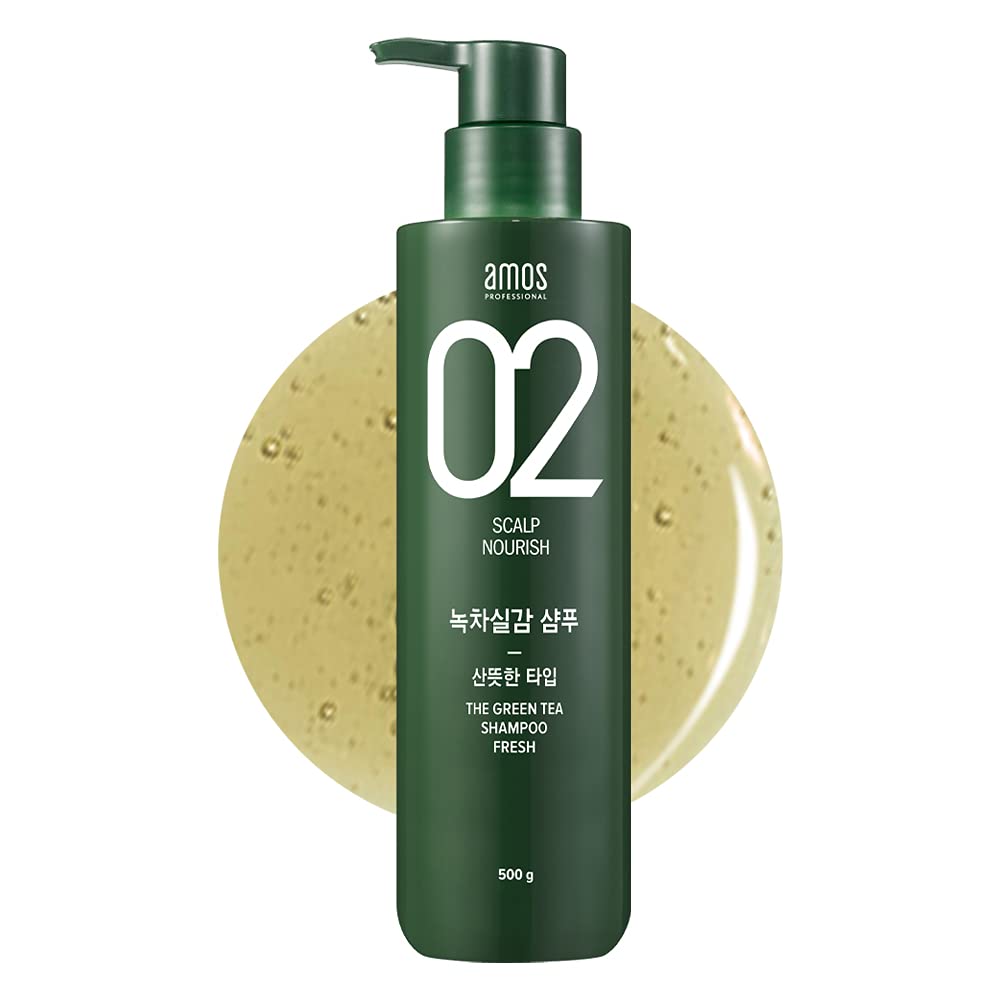 Pros
Has multiple formulas within this line to fit your hair type.
Gently clarifies hair and removes build-up from the scalp without harsh ingredients.
Cons
Works best as a part of their four-step haircare routine but can still stand alone.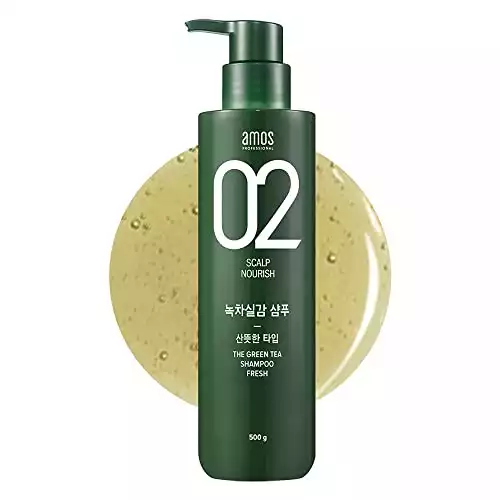 Amos Professional The Green Tea Shampoo | Amazon
The green tea from clean Jeju island fields' contains a number of amino acids that are the building block of proteins and necessary for hair growth.
Buy at Amazon
We earn a commission if you make a purchase, at no additional cost to you.
08/02/2023 06:28 pm GMT

If you have damaged or dull hair that needs a boost, THEORIE has a green tea shampoo with bamboo to rejuvenate your strands from the follicle. Its bamboo formula is full of amino acids to safely nourish your hair. It's a color-safe formula free from parabens, sulfates, and other harsh additives. Along with bamboo and green tea extracts, this shampoo has ginkgo Biloba leaf extract for extra antioxidants and nourishing grapeseed oil. It has the scent of green tea, bergamot, jasmine, and Cyprus that smells fresh and luxurious on your hair.
Pros
An excellent option for color-treated or Keratin-treated hair.
The added bamboo offers essential compounds to increase shine and the health of your hair.
Cons
It's a more expensive option, costing almost $20 for 13-ounces.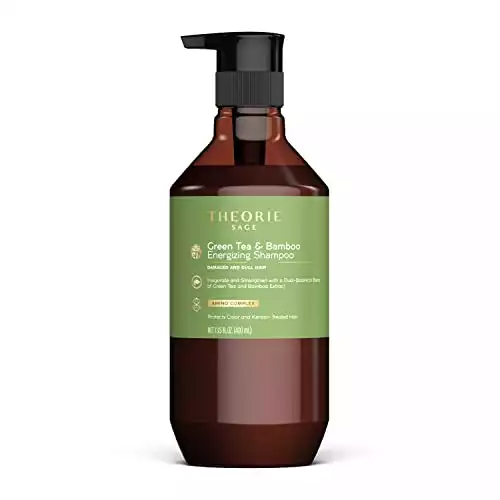 THEORIE Green Tea and Bamboo | Amazon
The Green Tea & Bamboo Energizing Shampoo Restores damaged hair with this invigorating blend of antioxidant-rich green tea and bamboo.
Check Price
We earn a commission if you make a purchase, at no additional cost to you.
08/04/2023 12:57 pm GMT

This green tea shampoo from OKAY is a budget-friendly option that offers the benefits of the antioxidant-rich tea extract. It's sulfate, silicone, and paraben-free and revitalizes the follicles of all hair types. Dry and brittle hair is best served with this green tea shampoo as it promotes new hair growth and leaves your hair shiny and soft. If you're environmentally conscious, OKAY is climate-friendly and actively works to lower its carbon footprint and lessen shipping emissions by making its product packaging more efficient. So you'll be helping out your hair while helping the planet.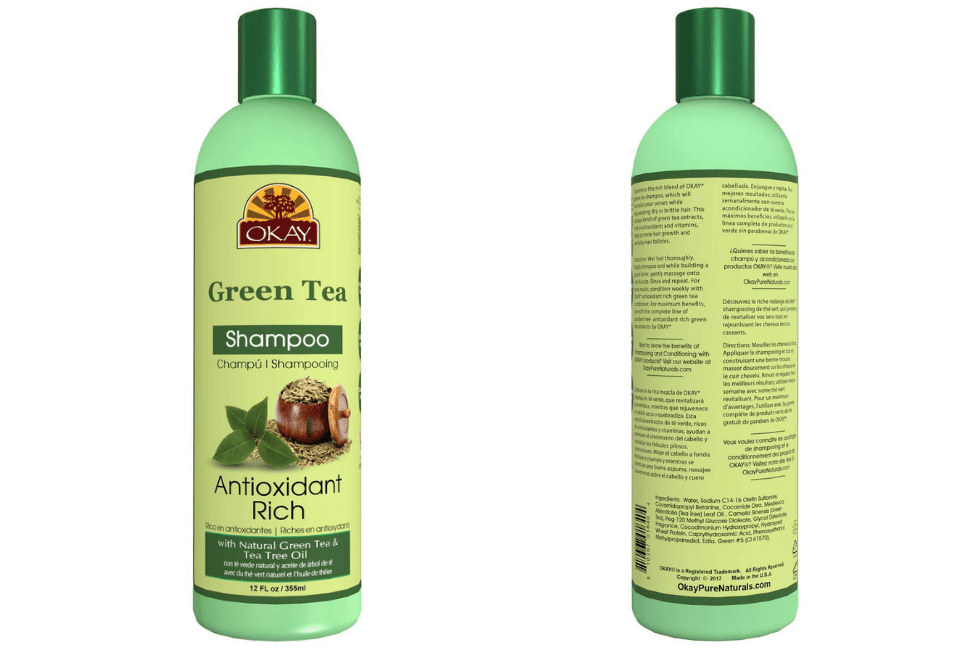 Pros
It's an incredibly budget-friendly buy, costing under $10 for a 12-ounce bottle.
Safe for color-treated hair.
Cons
It's the most basic green tea shampoo without any supporting ingredients to maximize the benefits.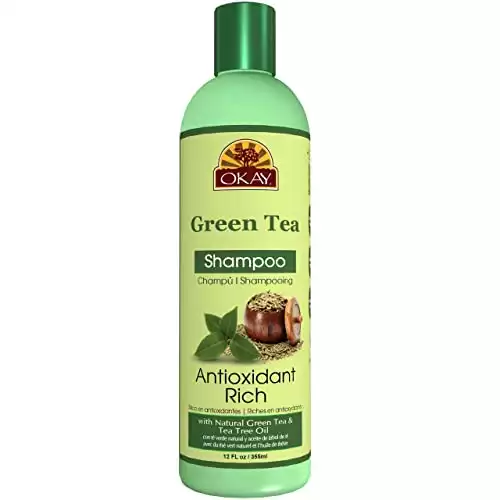 If you're looking for a drug store brand that you can grab off the shelf, this Garnier green tea shampoo is a gentle option to consider. This formula includes refreshing green apple to the green tea extract to help boost hair's shine and softness. It's a shampoo that's gentle enough for everyday use and rejects any harmful parabens from its ingredients.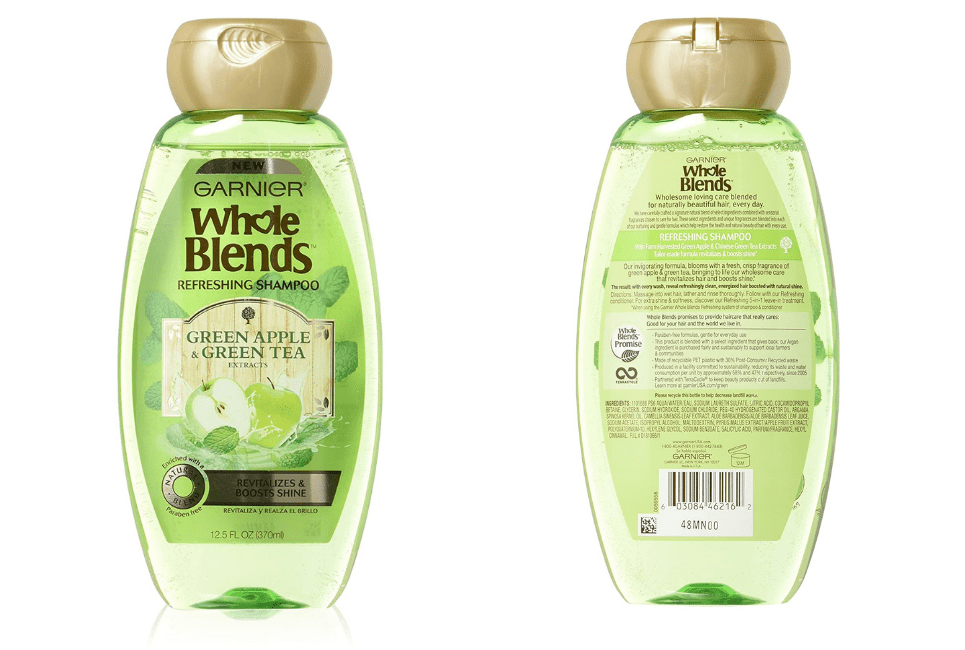 Pros
It's easy to find and an affordable option from a brand you're familiar with and trust.
It offers gentle cleansing so that you can use it for every wash.
Cons
It's not a clarifying shampoo, so this may not be the best option for you if you have really damaged or oily hair.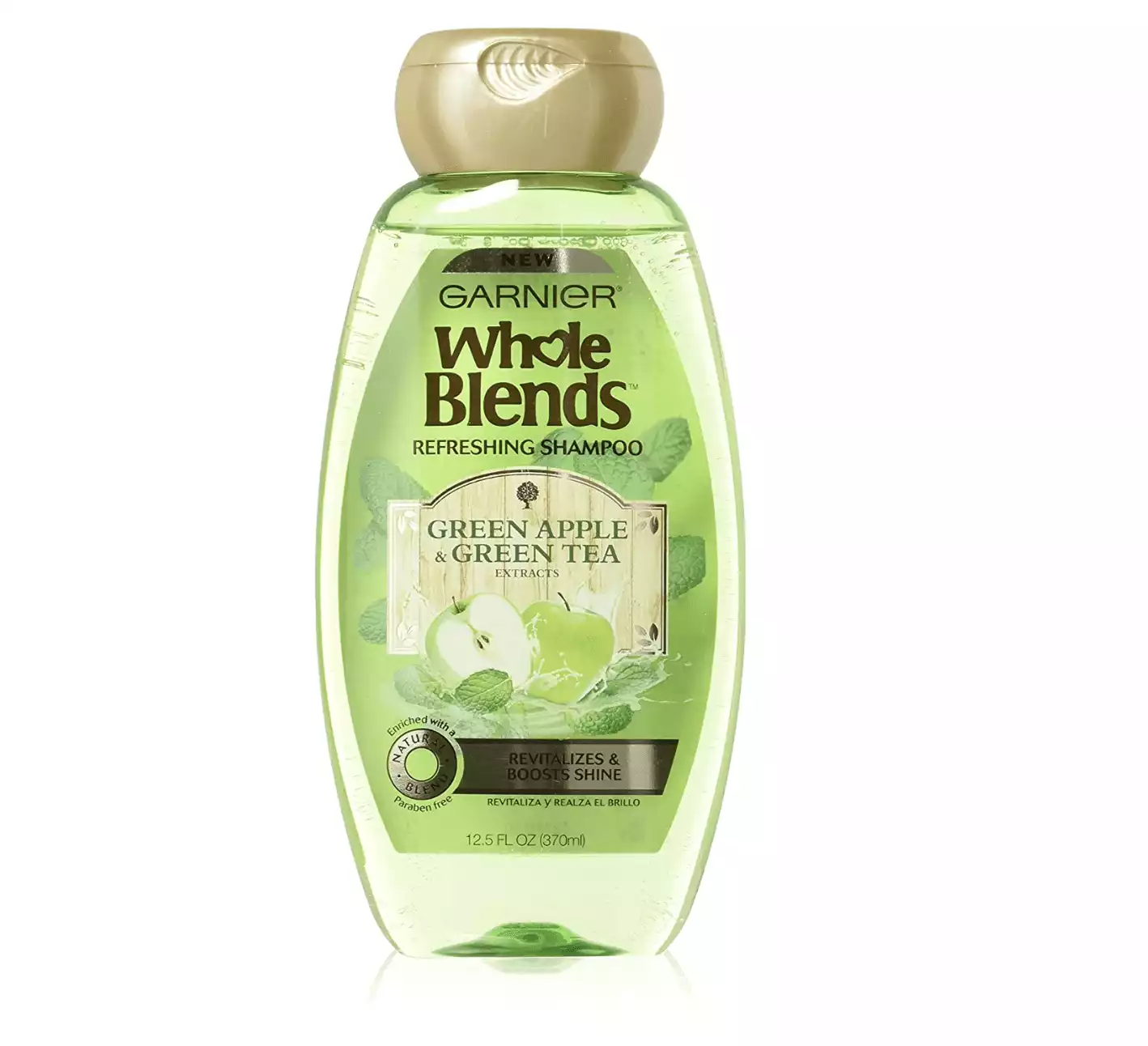 Another drug store brand that you're likely familiar with is Dove's cucumber and green tea shampoo—adding this formula to their nourishing rituals line made sense because the antioxidants from the green tea extracts will support your hair and protect it from dryness. They added cucumber to help moisturize hair without weighing down your hair. It's also an option that's gentle enough to use every day.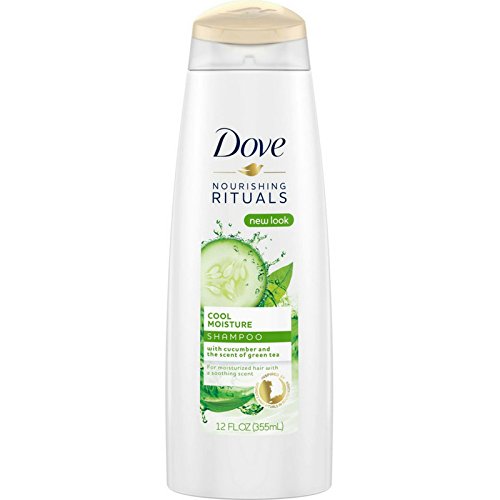 Pros
It comes from a familiar brand with a reputation for quality hair care.
It is safe enough to use for everyday wash and offers a gentle clean.
Cons
It is a very basic option that doesn't act as a clarifying shampoo.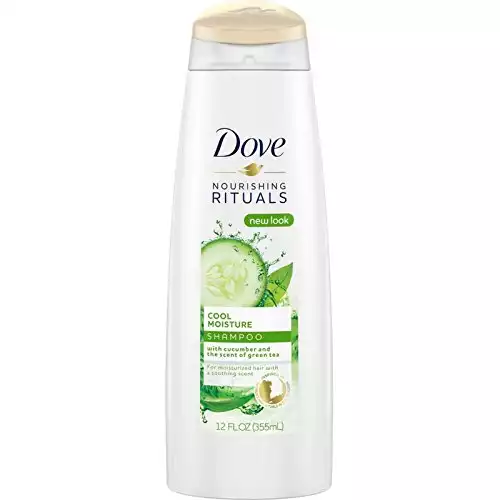 Dove Cool Moisture Shampoo, Cucumber & Green Tea | Amazon
Combining a soothing cucumber and green tea fragrance with our Nutritive Serum, Dove Nourishing Secrets Cool Moisture Shampoo is a nourishing, moisturizing shampoo that gives you smooth, silky hair after wash.
Buy at Amazon
We earn a commission if you make a purchase, at no additional cost to you.

Herbal Essences offers another green tea and cucumber combination. It turns its formula up a notch and is paraben-free and colorant-free, boasting 90% natural-origin ingredients. This green tea shampoo is a pH-balanced option that's completely safe for color-treated hair. The added cucumber offers an extra boost of hydration and has the refreshing scent of green tea leaves, water lily, and amber.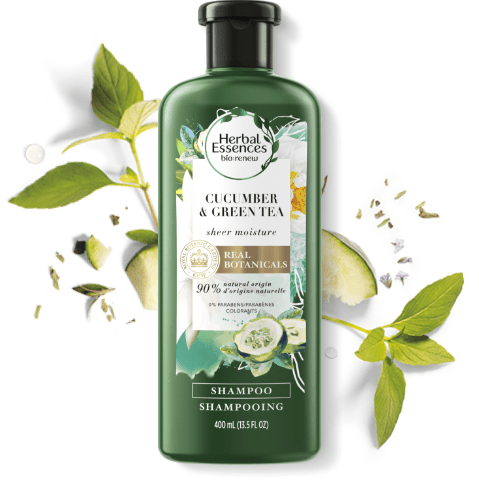 Pros
Herbal Essences is cruelty-free and endorsed by PETA.
Safe for color-treated hair and offers a gentle clean to keep the healthy oils intact.
Cons
Some reviewers say it's becoming more difficult to find in stores, but have no fear; you can always purchase online.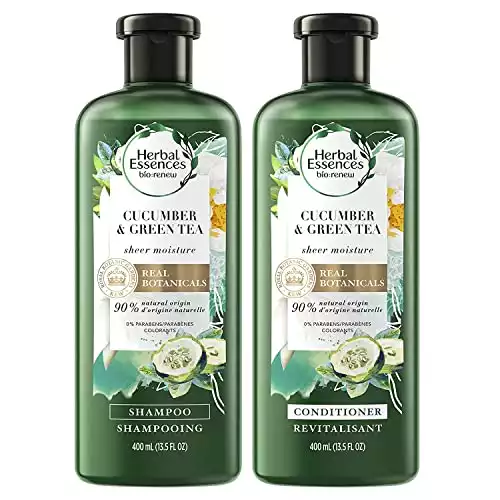 FAQs
Question: Is Green Tea Shampoo Good for Your Hair?
Answer: Green tea shampoo is an excellent clarifying shampoo. It will remove any unwanted build-up on your scalp and get rid of dandruff if you suffer from dry scalp. The antioxidants in green tea shampoo also do wonders for the fullness and volume of our hair. Green tea shampoo promotes hair growth, reduces hair loss, and stimulates blood flow on the scalp to benefit your hair right at the follicle. Just like it does for your body, green tea also does your hair a lot of favors.
Question: Does Green Tea Shampoo Thicken Hair?
Answer: Green tea shampoo is a powerhouse when it comes to preventing hair loss and promoting healthy hair growth. If you have naturally fine and thin hair, any dramatic thickening of your hair will depend on many factors. The benefits you will see from green tea shampoo are not only in the density of your hair. So, while you may not see thicker hair right away, you'll notice more shine, less damaged strands, and softer, healthier hair.
Question: How Does Green Tea Shampoo Reduce Hair Loss?
Answer: Green tea shampoo helps promote new hair growth by stimulating the hair follicles right at the scalp. The antioxidants in green tea help improve blood flow and oxygen flow in the body to positively benefit your hair. Green tea's epigallocatechin gallate (EGCG) can help prevent hair loss by influencing some hormones that contribute to hair loss – typically androgens like testosterone.
Final Thoughts
Green tea is a potent beverage in the wellness world. As an ingredient, green tea extract can benefit the body in different ways in the world of health and beauty. By using a shampoo with green tea extracts, you open yourself up to many hair benefits, including a deep, clarifying clean, supported hair growth, soothing properties, and a new way to deliver essential nutrients to the body.
Whether you're looking for a simple clean with some damage repair, a deep scalp treatment, or a refreshing way to boost hair's health and shine, the green tea shampoos on this list will meet your desires for a better head of hair.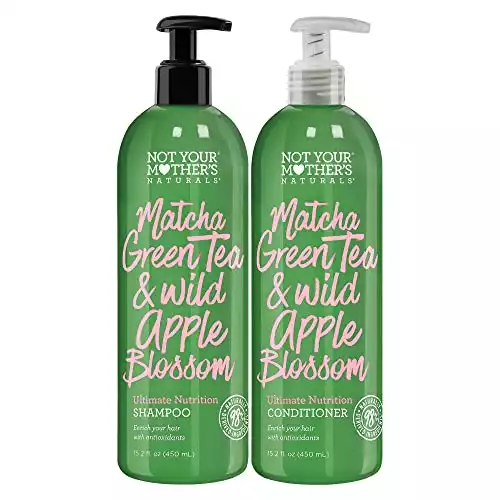 Looking for more interesting readings? Check out: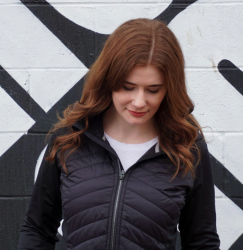 Latest posts by Kelsey Purcell, Hair Product Collector & Tester
(see all)