Women are always preoccupied with keeping their hair groomed, braided or clean. Yet there are times when it does not look the way they want. If you are one of them and you wish to have those hair goals you have been dreaming about for your prom night, party, or wedding, you are in the right place. 
The best way to solve the issue of stressing out with making your natural hair neat day and night to no avail is to have hair extensions. With the best hair extensions, you can achieve that look you always admire from your favorite celebrity. 
Whether it's your first time buying a new hair extension or you wish to replace your old hair extension, this guide has got you covered. You will learn everything about getting the best hair extensions and what to look for before getting one. So, relax and continue reading this guide to get all your queries solved.
What Are the Differences Between Clip-ins and Tape-ins Hair Extensions?
Hair extensions are always perfect if you want your hair transition to be affordable, chemical-free, seamless, and quick. Clip-ins and tape-ins hair extensions are the most commonly used types of hair extensions, and their difference is not easy to see at first sight.
However close these two types of hair extensions seem to confuse, it is good to know that they are two different hair extension types. They have many variations in terms of durability, ease of application, styling, and coloring.
You should wear the clip-in hair extensions for a day at a time, and you should remove them before you go to bed. This type of hair extension can last up to one year if cared for appropriately and depending on how often you use them. On the other hand, tape-ins can remain part of your natural hair for up to six weeks from the time of installation, and their lifespan depends on the materials used. 
Clip-in extensions come in human hair, and Remy human hair looks natural but requires a lot of maintenance than synthetic hair. They always hold their style after washing; hence you don't have to worry about styling every day while the tape-ins hair extensions are mostly made of Remy human hair.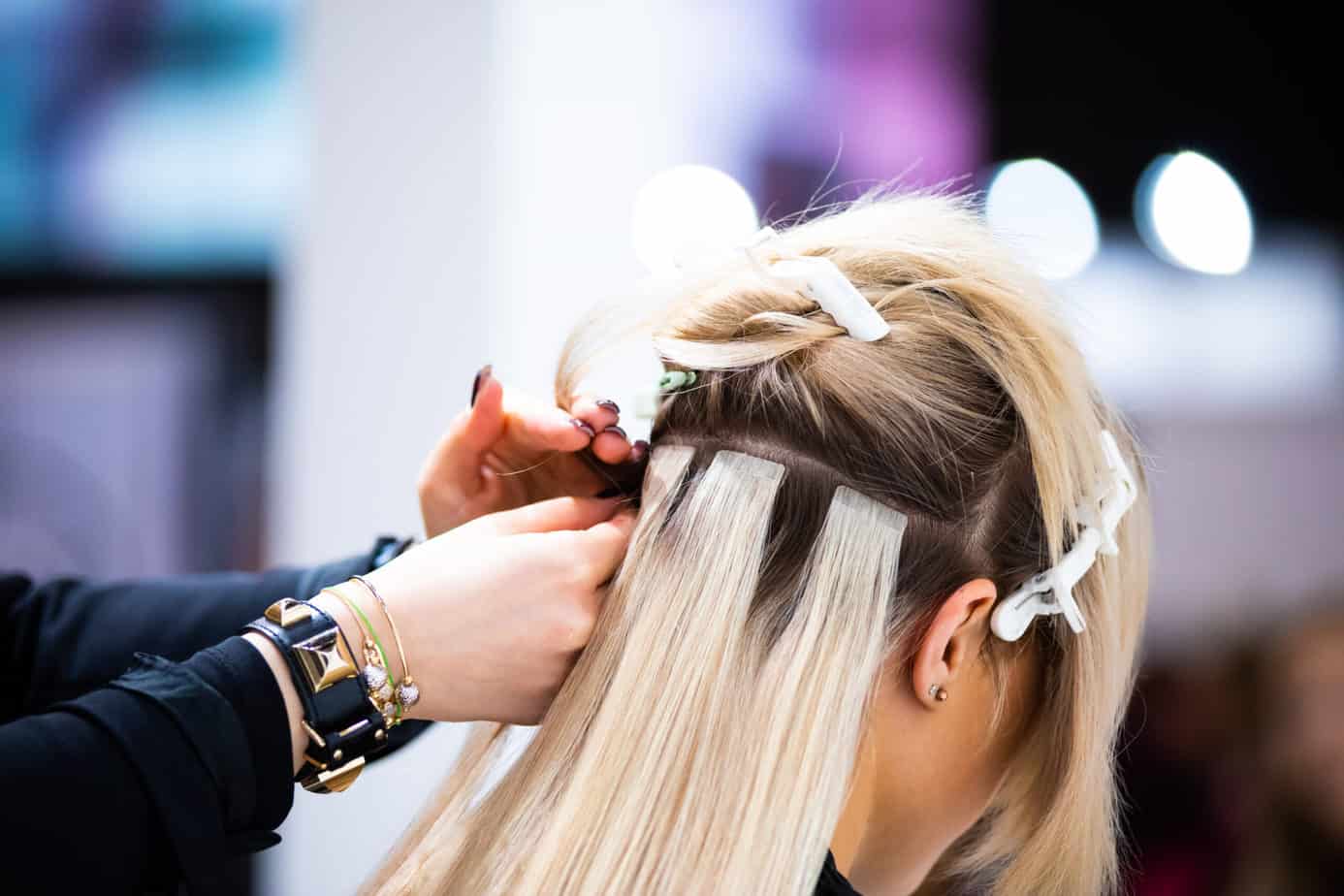 When it comes to ease of use, clip-ins do the magic. They are easy to apply, and you don't need to visit a salon for installation, unlike the tape-ins, which require an expert to install.
Why Do You Need Hair Extensions?
Do you wish to buy hair extensions but not sure if it is worth the plunge? Well, this segment will help you make a sound decision and avoid future regrets. Despite being great for volume and length, hair extensions are also an excellent way to hide a bad haircut.
It is fun how hair extensions can help you experiment with color with absolutely no damage. Below are the top reasons why hair extensions are worth investing in!
Easy to Use
Waking up earlier than everyone else or before to ensure you put extra effort into making hair is very tiresome. You certainly need the hair extensions to save you time since it is effortless to apply and look beautiful. You can clip in and set any style you wish quickly and with less effort.
Volume
Hair extensions come with a massive volume as compared to natural. If you have hair thinning or suffer from hair loss, the hair extensions can boost your confidence in front of people.
The extensions will help you get back the volume that you lost and feel comfortable. There are different weights for hair extensions that cater to various hair types. For instance, 160g sets are designed for women with medium thickness hair who wish to add some volume and length and still maintain a natural look effect. 
You just need to identify the type of extensions according to the thinness of your hair. If you are the kind who has lots of natural hair and wishes to add some length, or simply like a more dramatic voluminous effect, 220g sets are ideal for you.
Extra Length
There are situations where you find your hair fails to grow past a certain point regardless of how caring or gentle you are to it. If you get yourself in such cases of frustration, you can opt for hair extensions to save you some stress by offering you a lasting solution.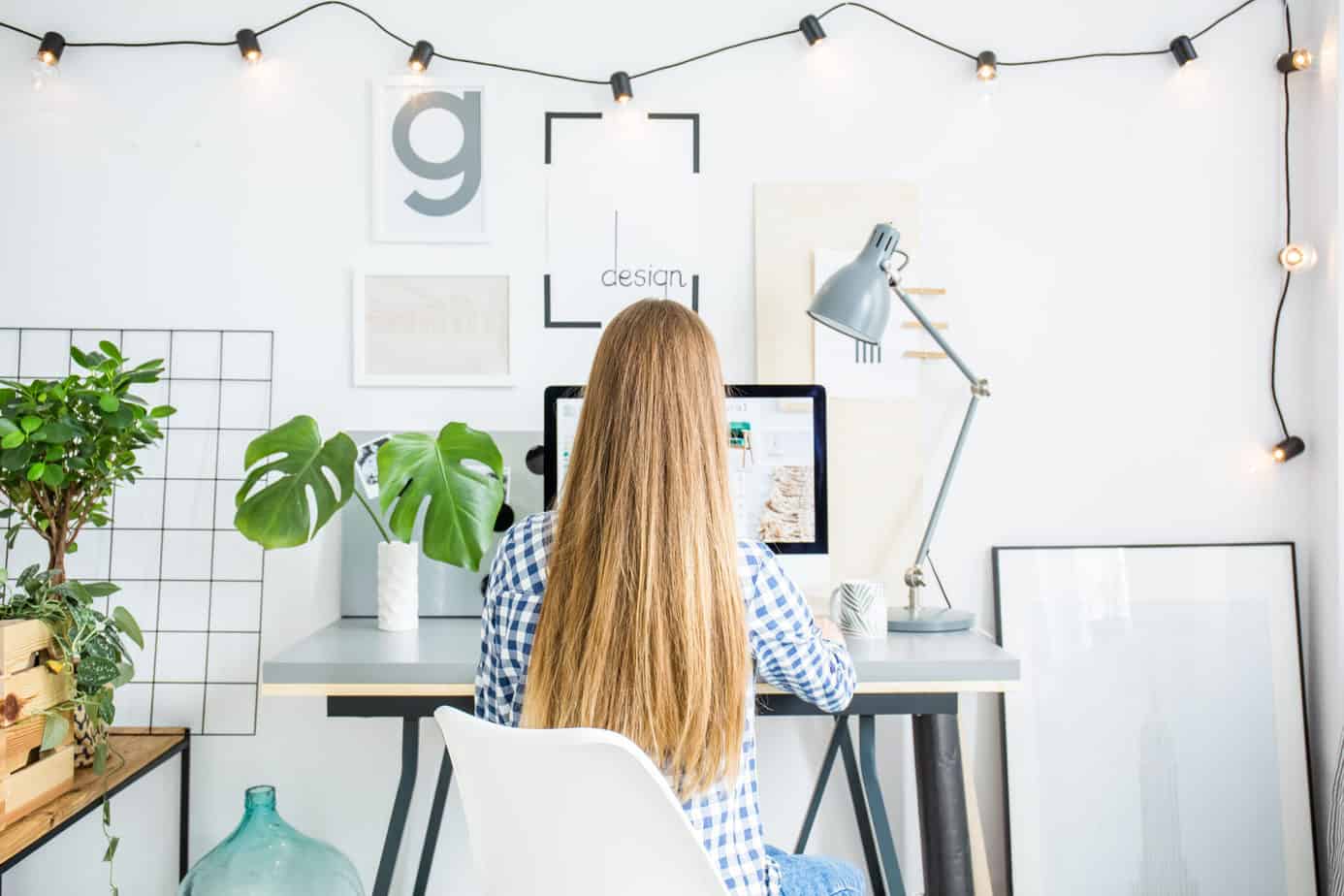 There are specific horror stories that we all might have about going to a barbershop to get your hair ends trimmed off, and at the end, you come out with a haircut that you did not expect. The good thing about hair extensions is that they can quickly fix the issue by hiding unwanted haircuts without anyone noticing. You can opt for clip-in hair extensions since it does not alter with hair growth as you wait for your natural hair to grow.
Color
Do you wish to experiment with various colors in your hair but get afraid that you might look bad or damage your hair? Worry less since hair extensions make that task easy for you. 
You can put on different extension colors and trends that you have been dreaming of with no stress until you get what you want. In case you feel you are not comfortable with the results, you can always feel free to remove them without causing any damage to your hair.
Change Up Your Look
The truth of the matter is, hair extensions make any hairstyle look more beautiful and admirable. You can quickly make a simple bun or braid more voluminous with the added volume, color, and length.
With so many options presented by hair extensions, you quickly get the perfect volume and length of your choice using a few wefts. You can use your hair extensions as accessories in your hair. During summer festivals, you can braid a 3-clip weft and customize a braided headband.
Hair extensions do not go wrong when it comes to spicing up your look for graduation, birthday party, Mothers day, wedding, among other special events. To achieve those hair goals you have been envying, get those long luscious locks for prom night or the voluminous dream curls for your dream wedding.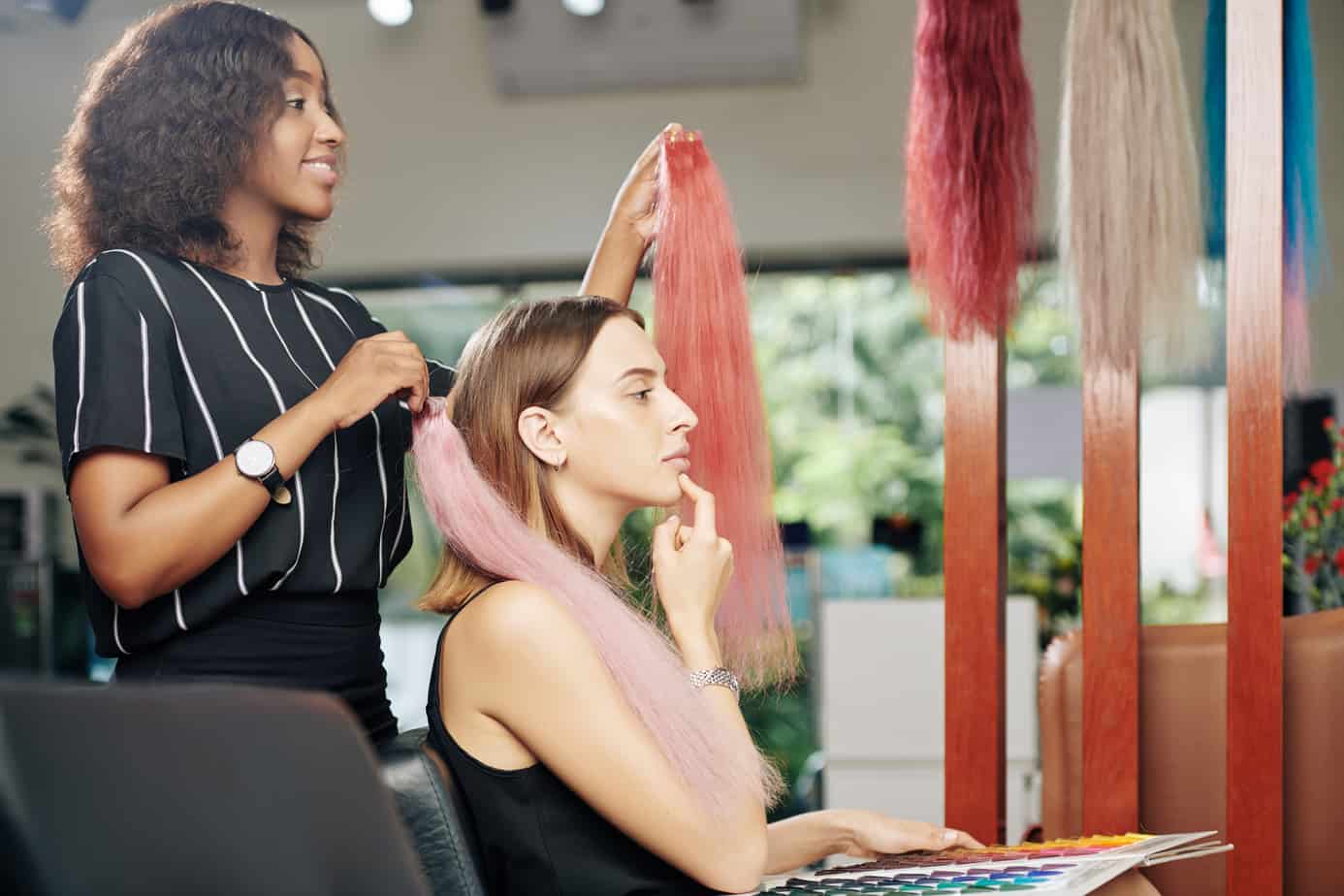 Which Hair Extensions Types Are Available?
Before analyzing the types of hair extensions found in the market, it is good to make sure you are getting natural hair extensions. You can use many hair extensions made from human hair as well as those made from synthetic hair.
For synthetic hair extensions, they are very scarce since you cannot apply heat to them, making them hard for you to style. If you are new to the world of extensions, it is essential to note that there are various types of hair extensions. Some of the most common hair extension types include: 
Tape-ins
As the name suggests, Tape-in hair extension involves taping each weft of the hair onto your natural hair. They are simply segments of hair attached to two-inch thick double-sided keratin tape. The tape between strands of your natural hair is sandwiched to secure the extensions.
You need the hairdresser to apply this extension for you since the method involves aligning the extension with the roots, and that is done using a heated tool that heats the glue. When you want to remove the tape-ins, you need a glue remover and then reinstall. 
The process of applying this typ[eof hair extension takes up to one hour. Whenever glue or heat is applied to hair roots, you expect it to cause damage to your hair, and that's what this extension does.
Clip-ins
Clip-ins are arguably the fastest and most affordable type of hair extension in the market. You can install them yourself in about 10 to 15 minutes by using toupee-like clips to secure the band of hair to your scalp. 
The clip-ins are temporary pre-clipped pieces of hair applied around the head to create a fuller look as you utilize your natural hair. Also referred to as clip-in weft, this extension arrives with a strand of contoured pieces attached at the base with their silicone or fabric. 
This hair extension is easy to install since you just need to clip the pieces to your natural hair. Despite them being very cheap, clip-ins are a minor permanent style of hair extensions. That is because they are designed to be removed quickly and put back at your wish within 5-15 minutes only. 
Another unique feature of this extension is that it is the least damaging because it doesn't involve any pressure, chemicals, and heat. That explains why it is the most popular hair extension. The longevity of clip-ins depends on the care given, but they can last up to one year on average.
Halo extensions
Halo hair extensions are the least invasive to your hair roots. The extension entails a transparent wire that sits around the crown of the head like a halo. The fact that the extension is not secured to any strands makes it very easy to do it all by yourself since there is less weight pulling on your natural locks. Typically, the top half of the extension remains bare to quickly hide it under your natural hair, while the bottom half contains the hair.
Sew-in extensions
Sew-in hair extensions are one of the older types of hair extensions you can find. Here, the hair is braided tightly into cornrows throughout the head, and extensions are attached using a thread and a needle. 
The extensions are secured to the scalp by braiding the natural hair horizontally from ear to ear then sewing the weft of hair into the braid. You can apply the weave hair by braiding the natural hair into several cornrows and then sew the weave into the cornrow or braid using a needle and thread. 
If you are blessed with thicker hair, then this hair extension can perfectly fit you due to its application. This classic weave takes several hours to fix since it entails a long process. The tight fixing method usually puts a strain on the scalp and can make you uncomfortable or become heavy. That makes it unsuitable for people with very thin or lighter hair. 
Due to the technicality of the installing process, the sew-in hair extensions require an experienced hairdresser. They also arrive in wig form that is sewn into the cornrows, and the hair comes in one piece.
What Factors Should You Consider When Buying Hair Extensions?
Hair extensions are known for their precious additions to your hair. You can improve your hair appearance and density with the extensions and achieve that look of your dreams. Yet, the most confusing part is when looking for the best hair extensions to help you meet your desires.
Many folks complain it's hard to identify the best hair extensions due to a lack of information. Ensure you don't fall victim and live in frustration. You can put the following factors into account whenever you are looking for new hair extensions.
Certified Stylist
This is one of the crucial factors to consider before buying new hair extensions. If you wish to have semi-permanent extensions, you need to visit a certified hair extension stylist. When you go to a professional stylist, you can be sure to have a seamless and proper installation since they are learned and have skills in what they do. 
When an expert does your hair extensions, you can avoid slipping or other problems that might cause more inconvenience to your daily life. Before you buy the best hair extensions, ensure you find out about a stylist who will be fixing your hair. If you are not sure about your salons near you, you can contact your hair extension brand to have them find a certified stylist in your area.
Choose The Right Color
Color plays a vital role when it comes to getting new hair extensions. Ensure you pay much attention to the extension color to avoid instances where you add blonde curls to brown hair. Always compare the hair extension's color to your natural hair to ensure you get a perfect match. 
Although some colors may be confusing, you can compare during the day to reveal all the shades and make the right decision. You can look for dual-blended or tri-blended colors for your hair extensions if your natural hair is not one-dimensional.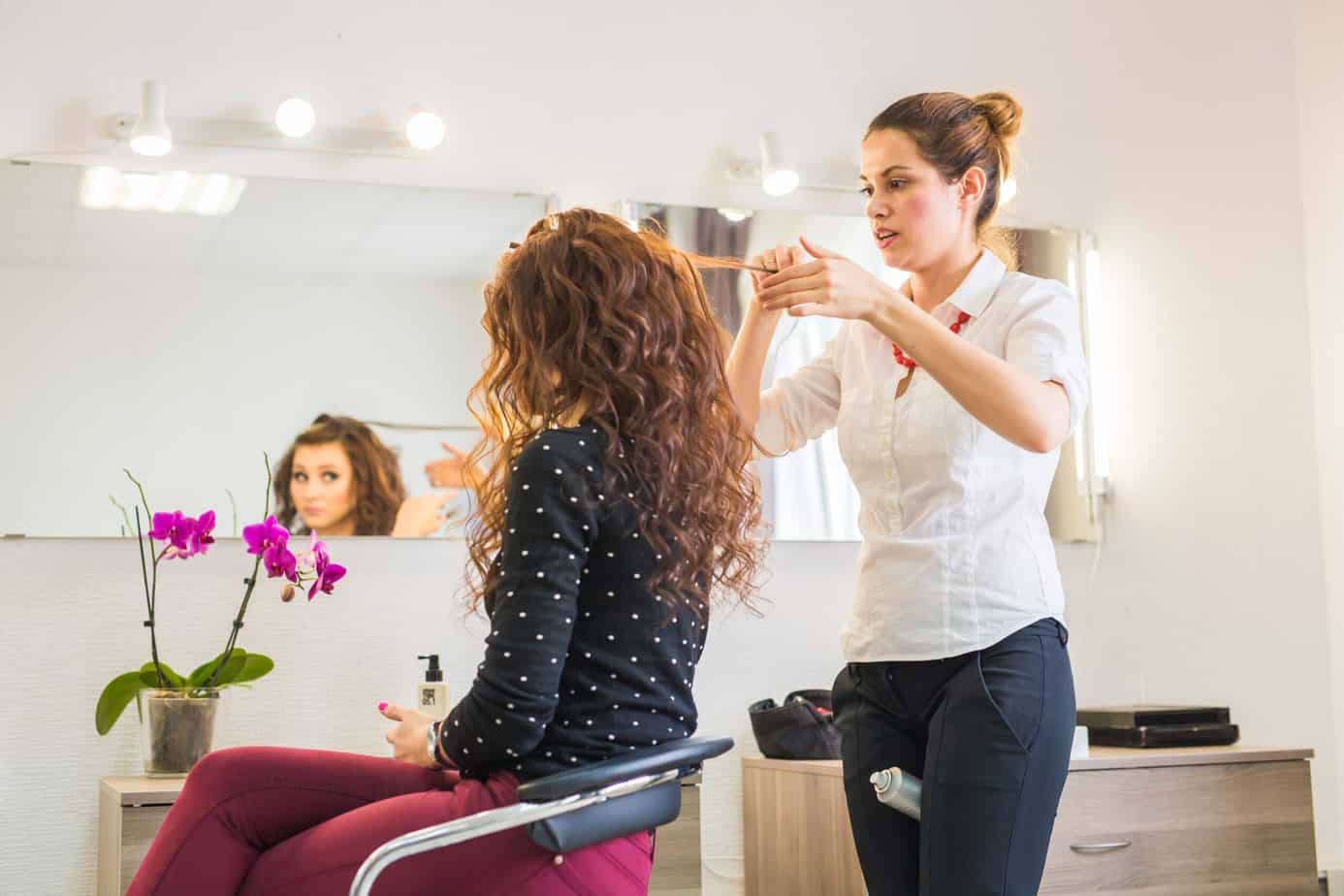 The Length and Occasion
Typically, not every length will fit everyone. When buying hair extensions, put into account all your priorities first and choose what makes you comfortable. If you like long hair, do not buy concise hair extensions and vice versa. 
Stick to what you always wished for before getting hair extensions since sometimes buying without a plan in mind can affect the budget and priorities. Before you purchase hair extensions, make sure you imagine all the places and occasions you would like to wear your hair extensions.
Your Lifestyle
Lifestyle is a major determinant when choosing hair extensions. Extensions require a lot of maintenance, and if you are willing to invest in them and spend some time having fabulous hair, you are good to go. If your schedule is hectic to keep hair extensions, don't worry. 
Clip-ins are perfect for you since they do not take much time to install and need less maintenance. You can wear them on special occasions or when you have extra time to style and remove them at night. For semi-permanent hair extensions, you have to adjust your hair care routine. Wearing hair extensions that match your lifestyle helps to retain your everyday lifestyle. 
You can choose the easy to install and still have time for your sports and hobbies. There are particular ways of protecting your hair extensions, like putting your hair into a low braid before working out to prevent tangling.
Hair Texture
It is good to research the origin of hair extensions and check which hair extensions are suitable for you. The most common sources of hair extensions include Indian, Chinese, and European. Each hair extension type is ideal for different hair textures.  
For instance, Chinese hair is more fit for medium density hair, while European hair has a finer denier.  If you wish to have a hair extension that looks very natural or matches your hair, choose a hair texture that blends with your natural hair. 
Choose 100% Remy Human Hair
Hair extensions come in a variety of hair, such as non-Remy, Remy, and synthetic. No matter the method you like, the best hair extensions are made with 100% Remy Human Hair. Remy human hair has the highest hair quality that you can find on the market. It also aids in determining how long your extensions will last and will also look the most natural.
Those hair extensions made from non-Remy hair or synthetic hair don't last long and tend to tangle and shed quickly. Do your research and check which brands use 100% Remy human hair since most companies lie about making sales. You can go through the customer reviews or stylists and ensure you buy from the most reliable and reputable source with superior quality hair extensions.
7 Best Hair Extensions
If you wish to buy a new hair extension, don't worry. The list below consists of the seven best hair extensions you can look at before making your decision. We do not seek to promote any particular brand, but our list is based on customers' reviews. 
ROSEBUD Clip in Hair Extensions can be curled or straightened freely using heated tools. You can also dye and bleach this extension to the color of your choice, such as brown, blonde, and black.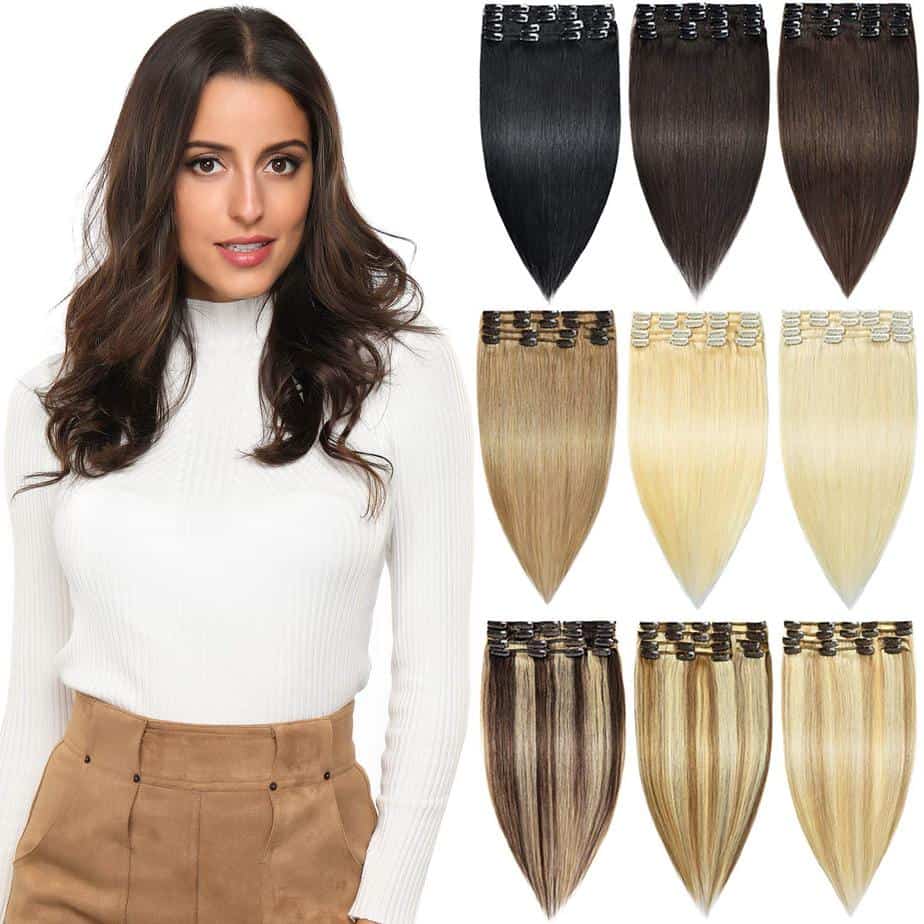 This clip in human hair extensions stands up to events like parties, holidays, weddings, dates, and other daily moments. It is designed for frequent everyday use and does not mess up after a few applications. That makes it last longer and does not knot easily.
This model can be cut, washed, dried, and perfect for adding thickness and volume like your natural hair. If you want it for lengthening, you can buy the more extended size and change your look seconds. This clip in hair extension utilizes visible snap clips for easy installation and removal.
Pros
It has a good blend and looks natural, with easy maintenance 

100% human Remy human hair, freely styling

For long time use, no knot, no tangle

Odorless natural hair with more flexible volume

Superior quality hair extension

It is pocket-friendly
Cons
Some reports claim that the hair is fragile and not suitable for people with thin natural hair.
Wennalife clips in hair extensions are made of 100% Remy human hair, silky salon professional human hair, soft just like your natural hair. It has thick and healthy ends that make Wennalife stand out in the market.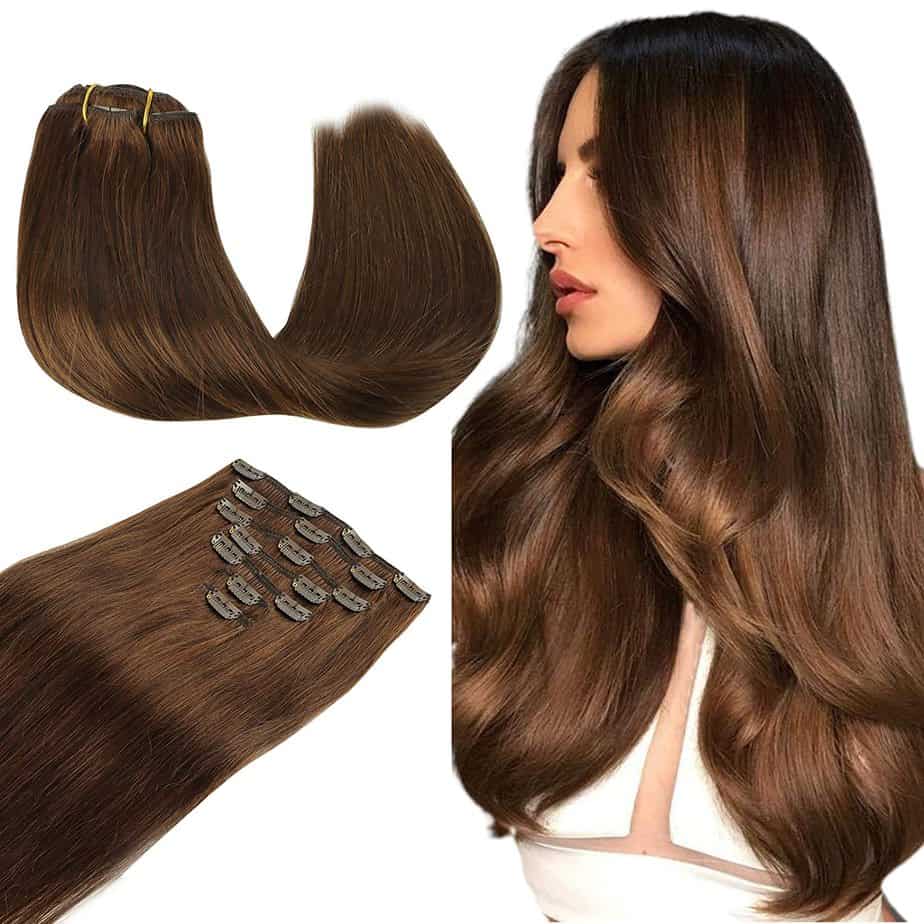 There is no tangling or shedding when it comes to Wennalife clip hair extensions. The discrete silicon-backed clips are strong, hidden, and lightweight. This hair extension is designed to protect your natural hair and ensure your hair sits well when wearing our clip-in hair extensions.
Wennalife clip-in extensions blend well with your natural hair, and therefore, you should color through your roots hair. The chocolate brown base with warm golden hues and painted dirty blonde highlights aid in creating a sun-kissed effect.
Pros
Fast delivery and lifetime after-sale service

Clip In Human Hair Extensions comes with quality assurance.

Quick and durable wear

Clip In Hair Extensions has a great specification and mysterious gift
Cons
Remy hair clip extensions can be dyed to match your color and be curled into a gorgeous hairstyle. Consider choosing a hair color based on your natural hair root color for a perfect match.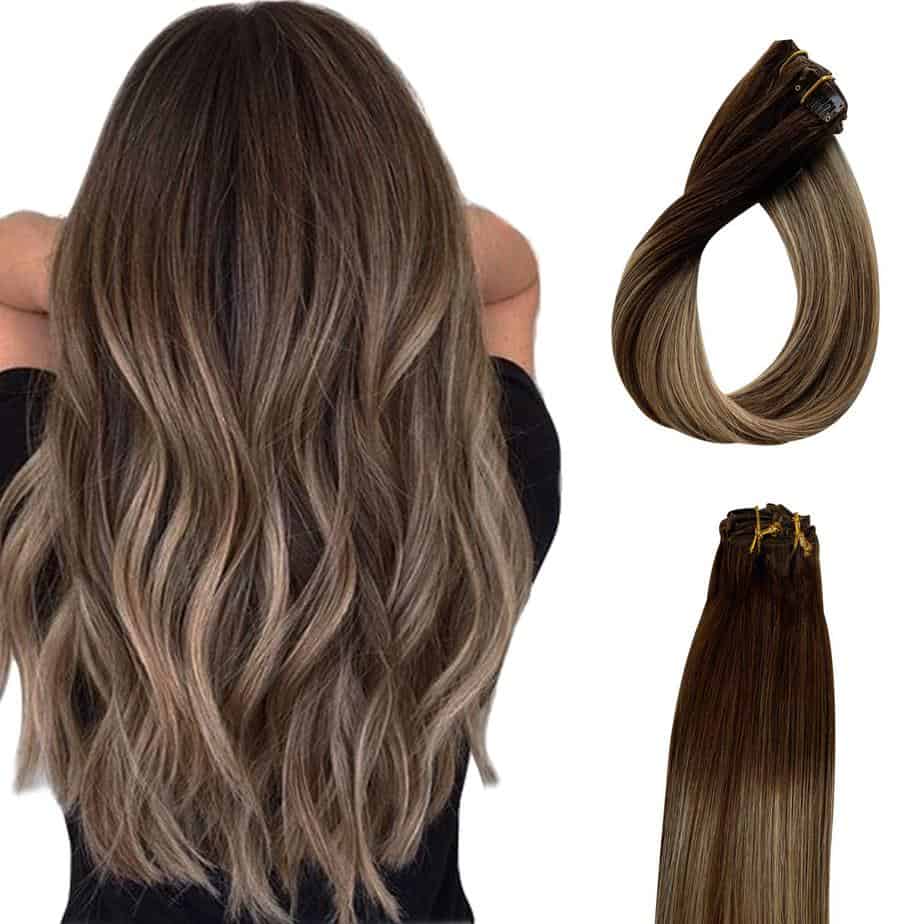 These durable clip-in hair extensions are easy to style to your taste without and tangling or melting. It is a Remy human hair extension with no frizz and knots. You can use it for weddings, dates, parties, to mention but a few.
Pros
Fast delivery 

Styles easily without tangling or melting

Super easy to apply 

Natural human hair with no frizz and knots.

Durable hair extensions
Cons
Some people say that you are forced to buy two sets since it is fragile.
14″Remy Human Hair Clip in Extensions for Women is suitable for women with fine hair and needs to add some volume and length. You need to buy two to three packs with 70 grams and 14 clips in each package.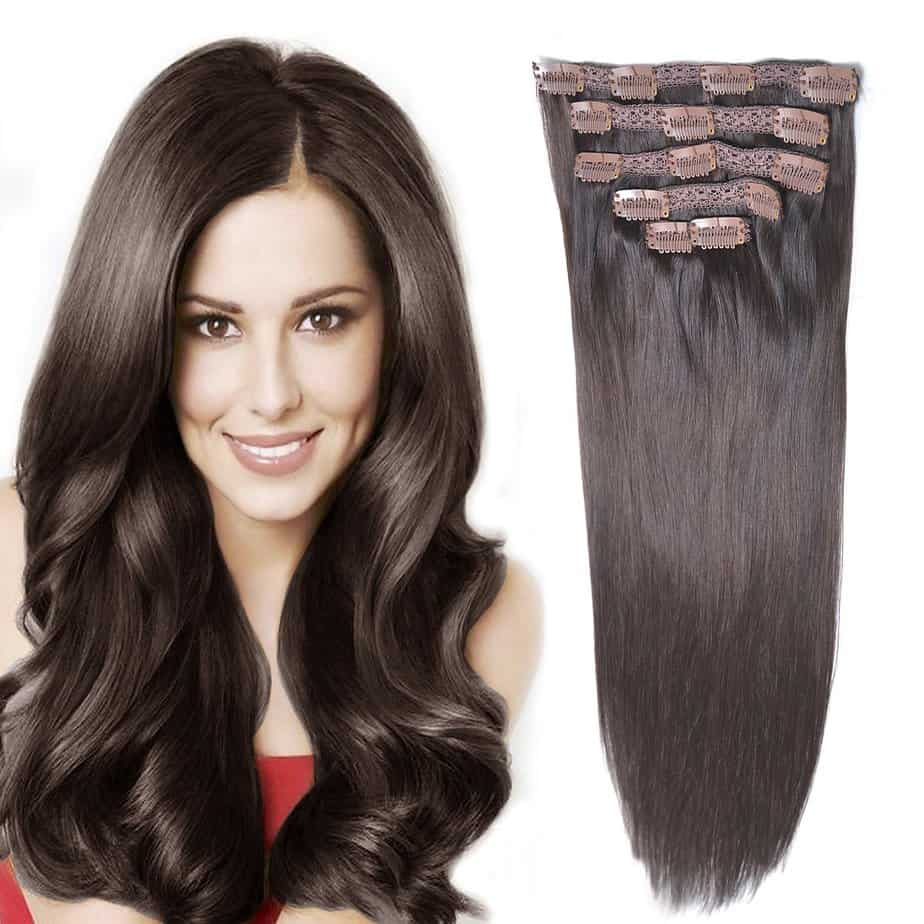 The Dark Brown hair extension is a classic and rich shade, which blends with most mid-tone brown hair colors. You need to note this shade comes with some red undertones. You can change your hair with dark brown clip-in hair extensions natural human hair and feel more confident with thicker, longer hair.
Pros
Tight weft and no shedding

Elegant and rich dark brown shade

It can be dyed and styled as you wish

Secure and comfortable to wear
Cons
One of the packs is kinked, so it doesn't lay flat when you clip it in
This Human Hair Clip in Extensions is strong, ombre, and has colors that match naturally with your natural hair. You easily dye and curl it to fit a gorgeous hairstyle.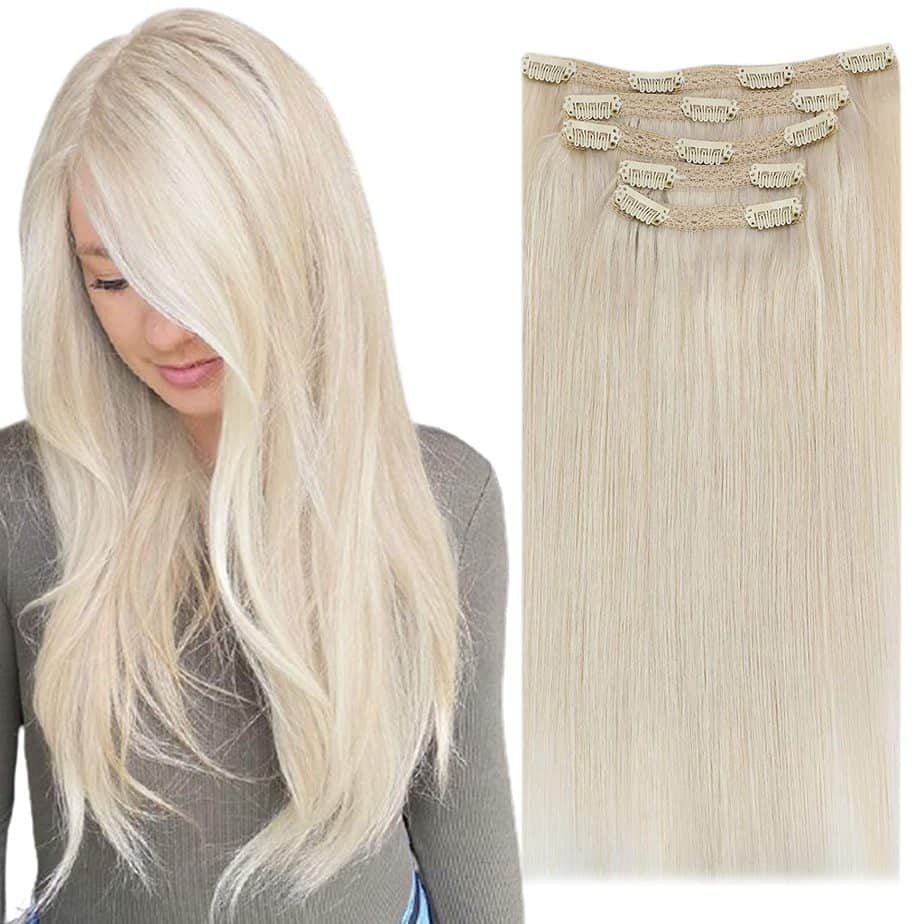 When heating this type of hair extension, you use temperatures below 180℃. If you take great care of this human hair extension, it can last up to 3 months. The hair is suitable for women with thin hair since it is very thick from top to bottom. You can add the length and volume and enjoy the flexibility and comfiness that comes with human hair extensions for up to two-three months.
Pros
Silky softness, durable, reusable.

Easy to clean and care

Easy to install or take out

It does not have mixed animal or synthetic hair

Superior quality and value
Cons
This Mixed Bleach Blonde Extension is 100% natural Remy human hair, and you can treat and style it to match your liking. It has already gone through a chemical process, and therefore, it is not recommended for bleaching and dying.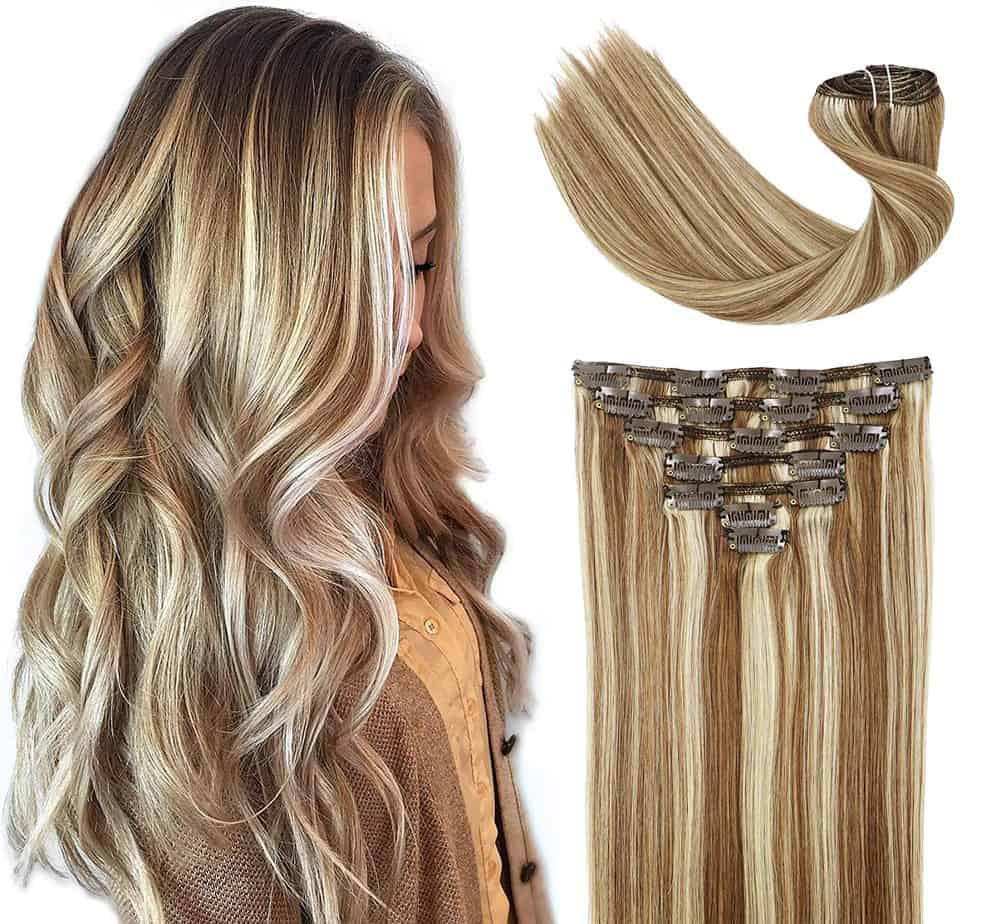 You can look for a certified colorist to help you color. If you do not know what shade you want, you can tell the colorist to first test the hair with a small piece before coloring the entire set. The best thing about Clip In Human Hair Extensions Mixed Bleach is that you can get a refund and exchange within 30 days of payment if you don't like what was delivered. 
The clips are sewed stably and covered with a layer of soft rubber to protect your scalp and natural hair gently. For the application and removal of this extension, you can do it yourself with ease. You can rock with human hair extension on different occasions like dating, make-up parties, prom, and weddings.
Pros
Unconditional returns, refunds, and exchanges within 30 days of payment

Ideal for women who have a thin type of hair 

Comfortable and secure to wear

Enjoy free and fast shipping
Cons
GOO GOO Hair Extensions is a 9A grade, 100% Remy human hair extensions, salon-quality, soft like your natural hair. You can use this hair for up to three months. Great for thick hair, but you can buy two sets if you have thin natural hair.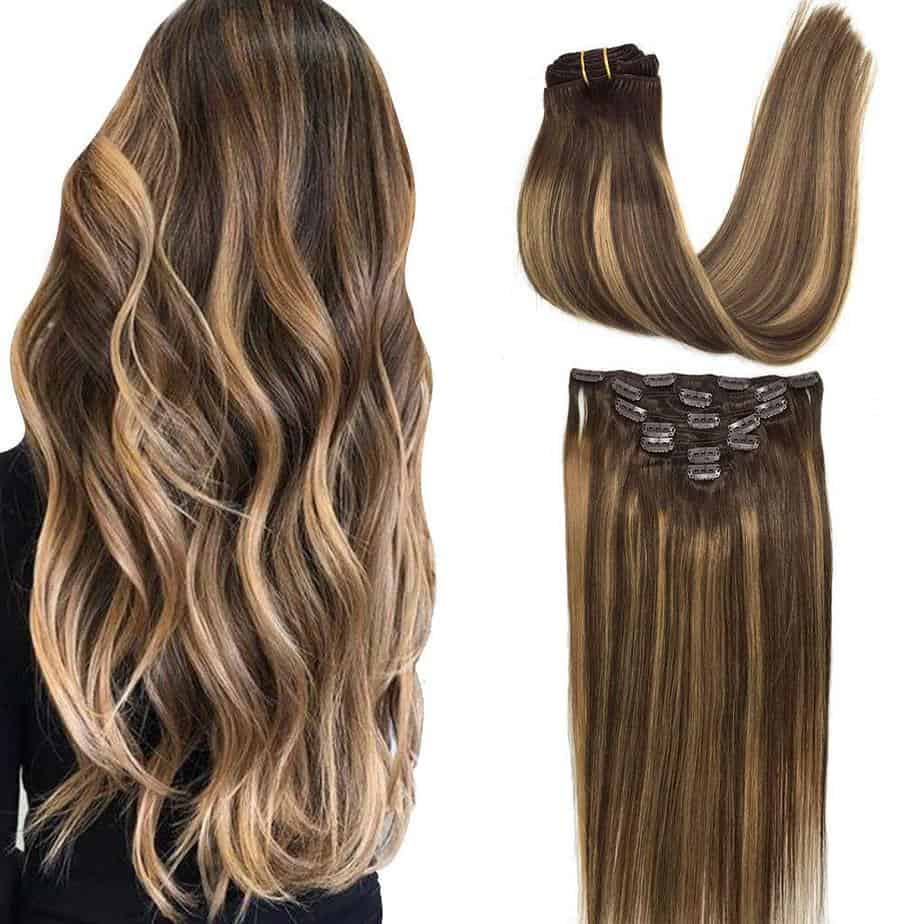 This hair extension comes with a natural design warm tone that blends well with your real hair. You dye and curl it to gorgeous hairstyles and achieve a natural soft look.
Pros
High-quality hair extensions

Fast delivery time

Quick money-back guarantee

Most fashionable ombre color
Cons
Some customers say it has a bad smell
Frequently Asked Questions
If you have looked at the reasons, types, factors, and some of the best hair extensions you can find but are still not sure about them don't stress too much. There might be something missing that is limiting you from making up your mind. Below are some of the most commonly asked questions with answers to help you make the right decision.
Question: What are Human Hair Extensions?
Answer: As the name suggests, human hair extensions are made out of natural human hair from top to bottom and collected from the donor's head.
You can also clean it out if there is a lot of product buildup to a certain point that is hard to manage. If you want to clean it, the process is the same as washing your natural hair. You need to brush, shampoo, and condition the hair extensions and leave them to dry in the air.
Question: Do Extensions Damage Your Real Hair?
Answer: No. If you wear it correctly and take great care of your hair extensions, there should be no damage to your natural hair. But, once you leave your hair extension too long, it can cause hair fall.
Question: How Do I Maintain My Extensions at Home?
Answer: Just like the way you take care of your natural hair, hair extensions demand the same attention. The process of cleaning is like a walk in the park. Wash gently and avoid any tugging at the root where the extensions are attached to the head.

Ensure you use a quality hydrating hair mask and a premium detangling brush for fine hair extensions. It is recommendable to keep treatments away from the extensions' bonding method and focus more on the hair's shaft to keep the bond strong. You can braid your hair at night into two loose braids to keep it safe from tangling.
Question: How Long Do Hair Extensions Last?
Answer: The durability of hair extensions depends on the type of extension you chase, how often you use it, and the care given. Halo hair extensions can last up to one year of usage, while the other types like tape-ins come with an earlier expiration period. Ensure you use the hair extensions correctly to avoid damaging your hair by using them for too long.
Conclusion
Are you in the mood to change your hairstyle? You can add instant body, length, and volume with the best hair extension. With so many options out there, it might be hard to make up your mind and achieve your desired look and budget.
The good news is, there are various ways to narrow down from the get-go to help you make an informed decision on the best hair extensions. According to our list, GOO GOO Hair Extensions Clip in Human Hair Ombre Chocolate Brown to Caramel Blonde is the best in the overall winner. That is because it has premium quality, a money-back guarantee, and quick delivery.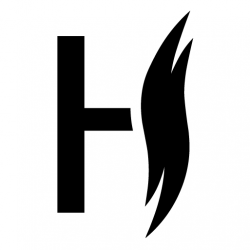 Latest posts by Hair Kempt Team
(see all)