As someone with long and thick hair, I've used plenty of different shampoos throughout my life. But, one type of shampoo I'll always love and trust is rice water shampoo. Nothing else makes my hair as beautiful as rice water shampoo does.
And I know I'm not the only one who feels that way either.
Rice water shampoos have been around for a very, very long time. Where the trouble comes in is finding rice water shampoo. I know I've gotten frustrated trying to find rice water shampoo at the grocery store.
It only took a couple of weeks' worth of searching to make me realize one thing: rice water shampoo is pretty hard to find. There aren't a lot of companies out there that make rice water shampoos. But there's no need for you to worry.
Since I spent so much time searching around for rice water shampoo, I figured it would make sense to list the best rice water shampoos out there! You don't have to spend as much time searching around as I did.
Without any further hesitation, here are the best rice water shampoos!
Bottom line up front: My favorite rice water shampoo is the Shea Moisture Purple Rice Water Shampoo. I love the smell of this shampoo, plus it's such an excellent option for people looking for an incredible 2-in-1 shampoo. I've never had a problem with brassiness with this shampoo, and it's super affordable.
Selection criteria
Before I get into listing my all-time favorite recommendations, I think it's essential that you understand how I made the product recommendations I've listed below. I've chosen all of these rice water shampoos based on a few different pieces of selection criteria.
Factors To Consider When Buying Rice Water Shampoo Products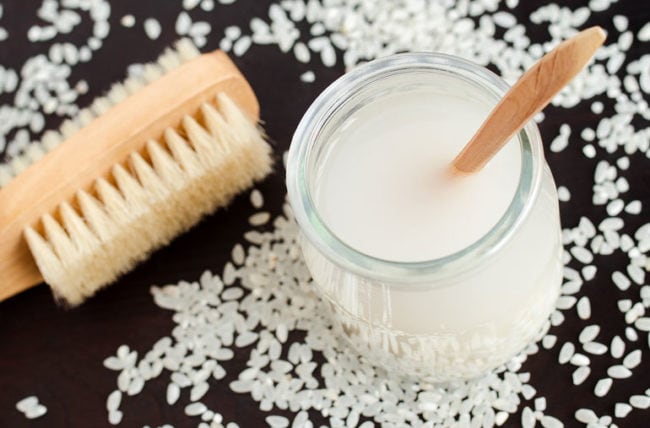 Before you go to the shop to purchase these hair products, you must understand that what works for your neighbor or your friend may differ from what works for you. Your needs, preferences, tastes, and financial capabilities are not similar to those of any other customer.
Therefore, you must embrace the following factors to ensure that the purchase you make fully and satisfactorily suits you:
Price
One of the most effective strategies manufacturers use to lure prospective clients is offering their products at affordable prices. Industrially manufactured rice water shampoo products come at varying prices, depending on the brand, size, and ingredients.
Before you step out, you must ensure you have the exact amount you are willing to spend on such items. Different people have varying financial capabilities, meaning that you can only take home what you can afford. Having a set budget is a complete solution to overspending on one item.
Consider how much different manufacturers charge for their products to ensure you get the best value for your money.
Brand Reputation
If you want to know the quality of a particular brand and its products, it is recommended to consider what their rate is among previous customers. The internet has offered a convenient platform to get different customer reviews on various products.
This implies that you must be ready to carry out intense research to find the best supplier for these hair care products. Besides reading online customer reviews, you can talk to friends and family who might have used rice water shampoo products before to get a glimpse of their thoughts.
Side Effects
Different individuals get varying results when using these products on their hair and scalp. Many people have seen the benefits of using rice water shampoo products on their hair. In the same vein, another lot has experienced less than favorable results with these products.
It all boils down to your scalp's sensitivity and your hair type. Some hair types will break, become dry, and have protein overload on their cuticles when rice water products are used on them. People with dry scalps may experience flaky buildup.
Therefore, be keen on how your hair and scalp react to such products.
Ingredients
Some of the ingredients printed on the shampoo containers may confuse you as a customer. However, health professionals, such as dermatologists, recommend that you know and understand each ingredient in the product you choose.
The elements present in the shampoo help you know whether it is meant for dry or oily hair. Although rice water shampoo products are nutrient-filled, they may sometimes contain too much protein, leading to the hair looking and feeling dry and brittle. So, watch out for that.
Type Of Your Hair
Shampoos are designed to meet the stipulations for different hair types. Before you step into a shampoo shop, experts advise that you understand your hair type.
Oily hair requires just the washing shampoo to remove the daily oils which harbor dandruff. Dry hair needs a clarifier shampoo for moisture and oil addition. Rice water shampoo is safe for all hair types, including hair that's been colored treated.
Best Rice Water Shampoos
Without any further hesitation, here are the best rice water shampoos on the market: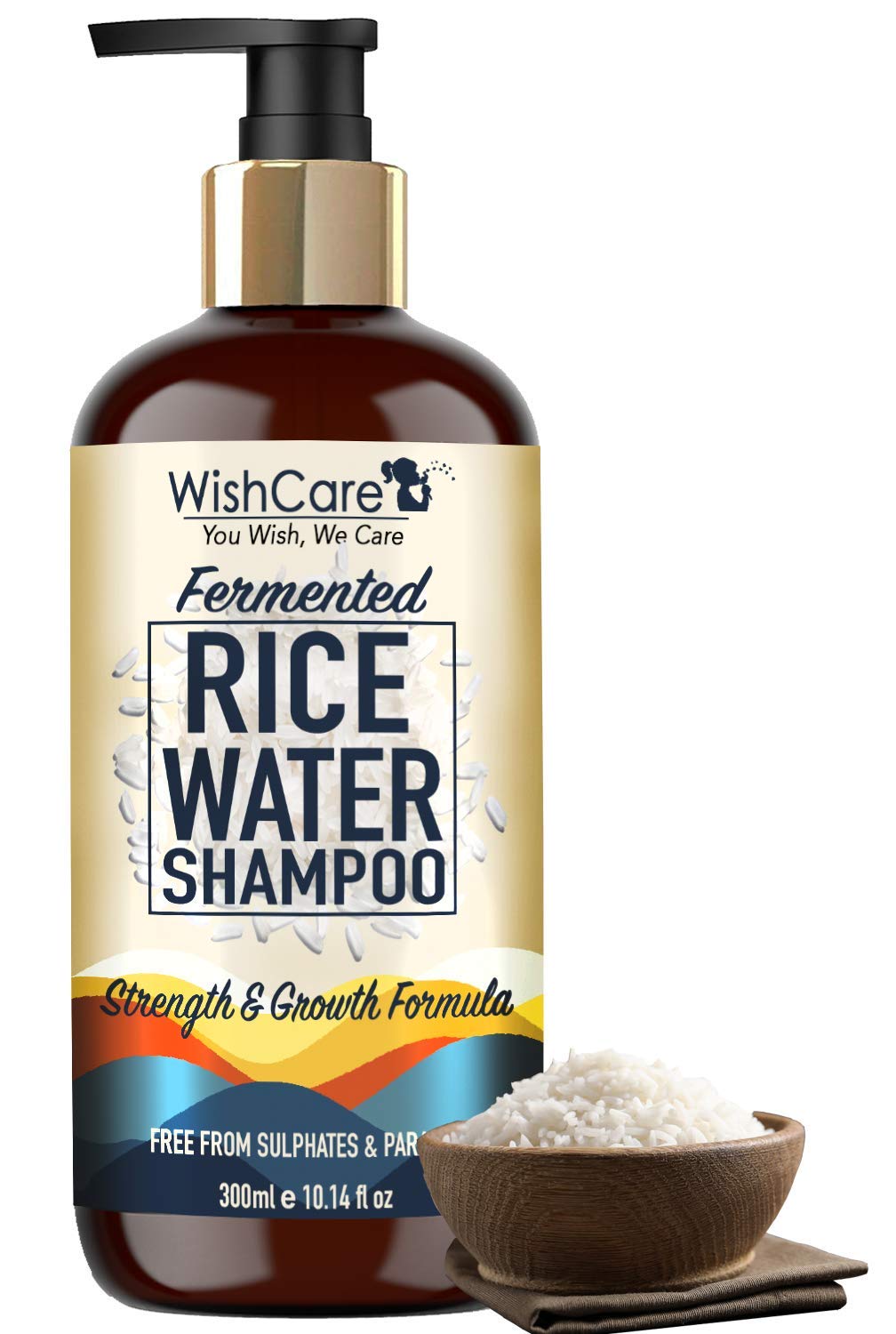 Say goodbye to hair loss, brittle, damaged, and weak hair, thanks to this yet another fantastic rice water shampoo from the WishCare ® brand. The natural ingredients used for this shampoo work on weak, brittle, and damaged hair and effectively promote hair growth.
Moreover, the ingredients clean your hair and scalp and set them free of any toxics. For the best results, WishCare recommends that you use this shampoo regularly, say three to four times a week. The head is the most vulnerable part when it comes to the effects of the sun's UV rays.
However, the fermented rice water blended with the other ingredients penetrates, softens, moisturizes, and strengthens your hair while protecting your scalp from the dangerous UV rays and styling heat.
Additionally, the product is safe to use on both men's and women's scalps as it lacks harmful chemicals, such as sulfates, parabens, and mineral oils. WishCare Fermented Rice Water Shampoo comes packed with natural ingredients, including coconut oil, rice water, black pepper extract, Olive oil, and rosemary extract.
Such components are responsible for restoration, hydration, moisturizing, and rejuvenating your hair, giving you manageable silky hair. One thing to remember is to use more water than the product for effective activation and spreading of the shampoo.
On the downside, the shampoo's foaming is much less compared to the other shampoos that contain sulfate. You are advised to accompany this shampoo with WishCare Conditioner and WishCare Hair Oil for the perfect results.
These two accompanying products are bought separately, meaning you have to incur more costs. Using the shampoo involves applying it on wet hair and massaging gently but thoroughly using your fingertips.
Spend a few minutes working on the lather to give the natural ingredients time to work their miracles, and then rinse with cold water.
Pros
Protects scalp from UV rays
Detoxifies scalp and hair
Easy application
It gives you easily manageable hair
Cons
No much foaming
Hair Oil and Conditioner bought separately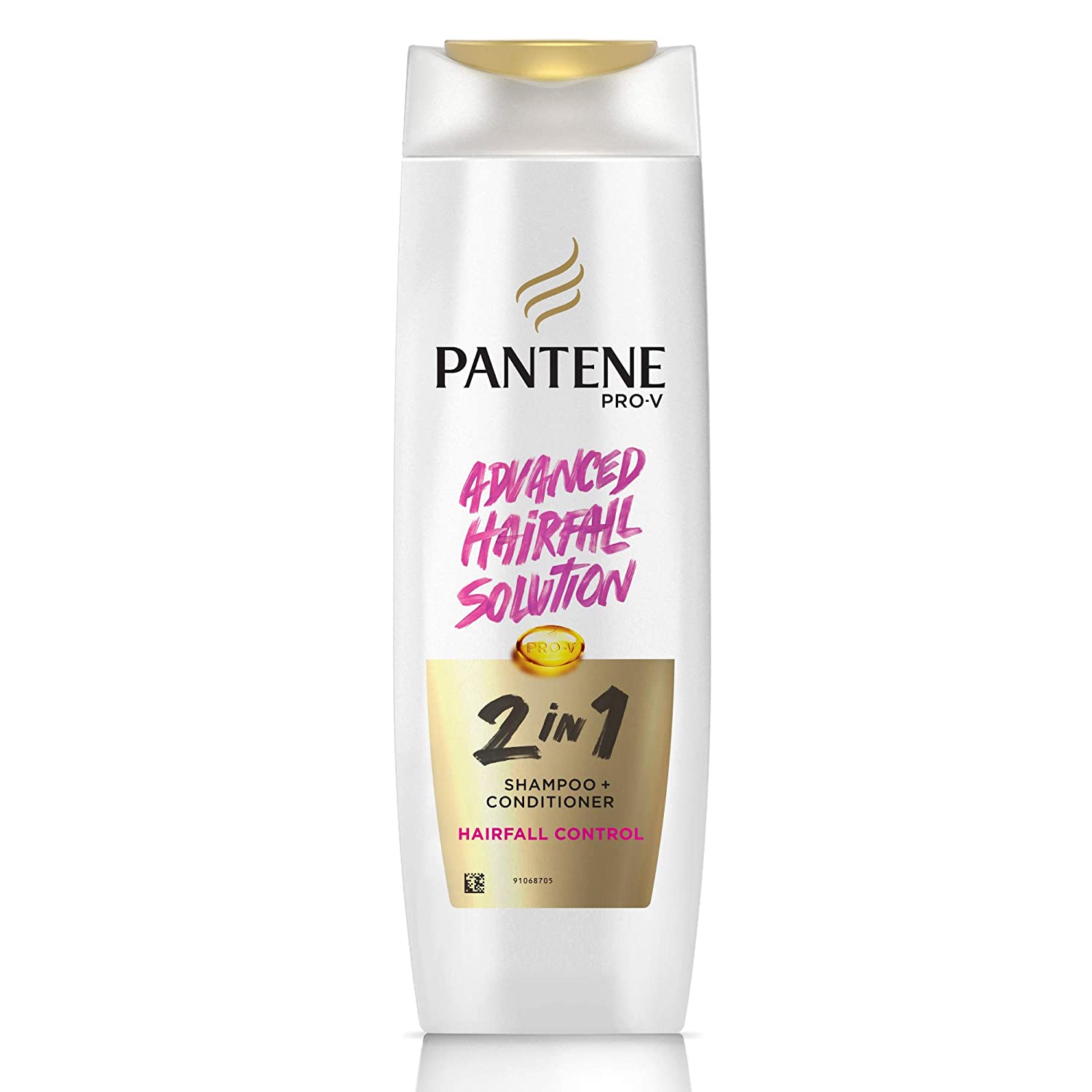 The Pantene Advanced Hair Fall Solution shampoo contains vitamins as well as fermented rice water to strengthen your hair. With their hair strengthening formula, you'll notice a huge difference in how much less hair damage (and fallout) you have.
Pantene claims that their fermented rice water shampoo also has eight amino acids inside of it, which contributes to less hair damage and hair fall than any of their other shampoos. Plus, you'll find your hair looks and feels nourished from the roots of your hair, all the way down to the tips!
Pros
Guarantees to work within fourteen days
Easy to find in store
Contains a lot of extra vitamins to help strengthen your hair (and improve your hair's health)
Cons
The bottle is a little small and doesn't contain a lot of product
Pantene isn't vegan, nor are they cruelty-free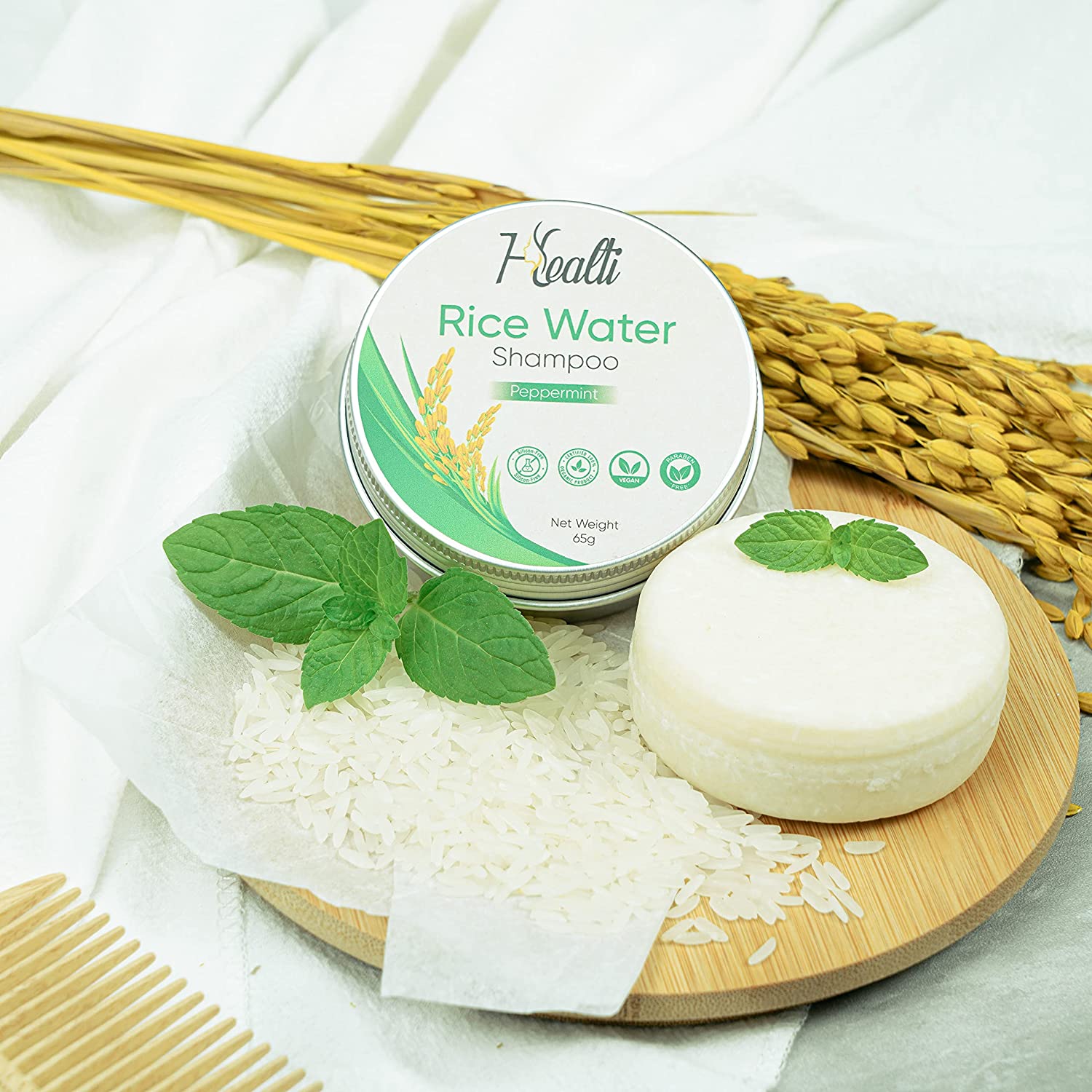 The Health Rice Water Shampoo with Peppermint also comes with a matching conditioner to amp up your hair re-growing game. But my favorite part about this rice water shampoo is that it's in a bar! I love using bar shampoos. There's something so relaxing about the hardness of the bar rubbing against my scalp, almost like a deep massage. It really gives me that spa-like experience.
Plus, it smells wonderful. Who doesn't love the smell of peppermint to wake you up in the morning? I know a lot of bar shampoos tend to break up into pieces, but I didn't have any problems with this shampoo doing that. And I love that the conditioner comes in a bar too! Whenever I use this Healti rice water shampoo bar, my hair feels nice and smooth. Not to mention, it takes up so much less space in my shower!
Pros
Peppermint scented, super yummy
Comes with a matching conditioner
Bar form, so you aren't taking up as much space in your shower as you would with bottles
Vegan
Cons
I wish it lathered a little more
Bar form may be difficult for people with smaller hands or a grip disability to hold onto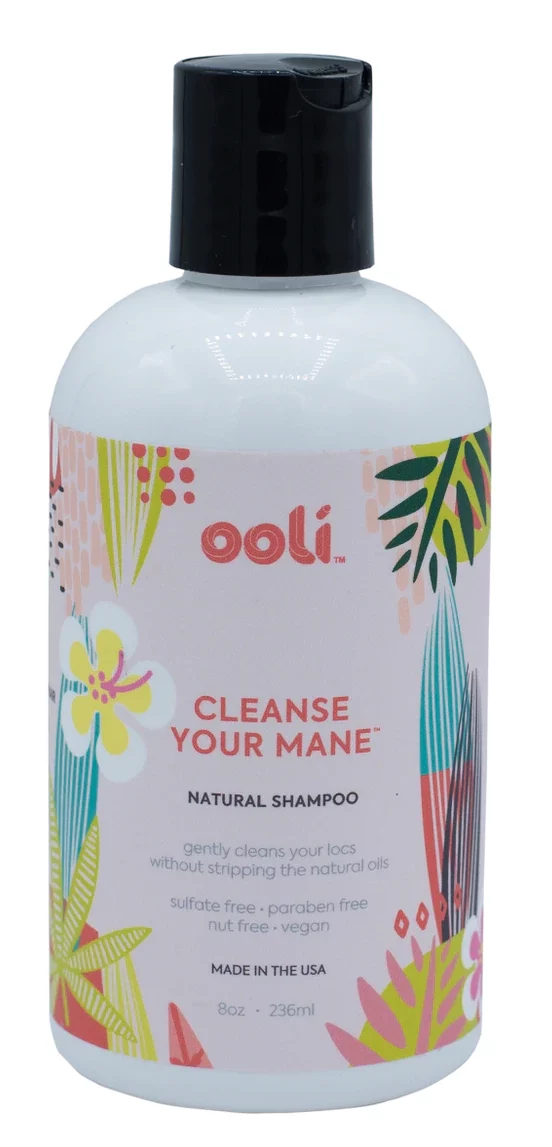 This is a clarifying shampoo (in case you couldn't tell by the title). It works to remove dirt and debris buildup in your hair strands and on your scalp. Ooli claims there's tea tree oil inside of this shampoo, which is my least favorite part. I personally don't like the smell of tea tree oil; it reminds me of the smell of a musty basement.
However, there is fermented rice water inside this shampoo! I love using this shampoo when I've used hair spray all throughout the week. IT really helps me feel like I can deep clean my scalp while also still utilizing all of the benefits I get from using rice water.
Pros
Sulfate-free and paraben-free
Super cute packaging
Makes your hair feel very clean
Vegan
Cons
A little pricey
The directions on how to use this shampoo aren't very clear
Not readily available in store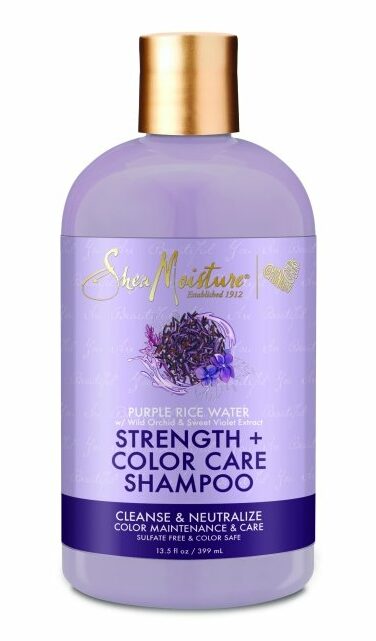 Yes, you really can get the best of both worlds with this Shea Moisture Purple Rice Water Shampoo! If you've noticed you're struggling with managing your hair loss after you've gone ultra-blonde, this Shea Moisture Purple Rice Water Shampoo will help to restore what you've lost. Also, it'll help to keep your ultra-blonde brass-free, thanks to the purple treatment in this shampoo.
I've gone ultra-blonde a few times, and I always go back to this shampoo. It only takes a couple of washes for my hair to feel healthy, strong, and not so dead.
But, the extracts in this shampoo are *chef kiss*. I love the Wild Orchid and Sweet Violet extract! They not only smell amazing, but I feel like they also do a great job of making my hair feel clean (instead of bogged down). If you're interested in this shampoo, I would highly recommend you take a look at the Jojoba oil, Argan Oil, and Shea butter ingredients, too; that way, you'll know you're getting your hands on amazing quality shampoo.
Plus, it's so affordable too!
Pros
User instructions are clear
Smells great
Very affordable
Easy to find
Makes my hair feel great (soft, even after extensive damage)
Cons
The formula is kind of thin, so it's a little runny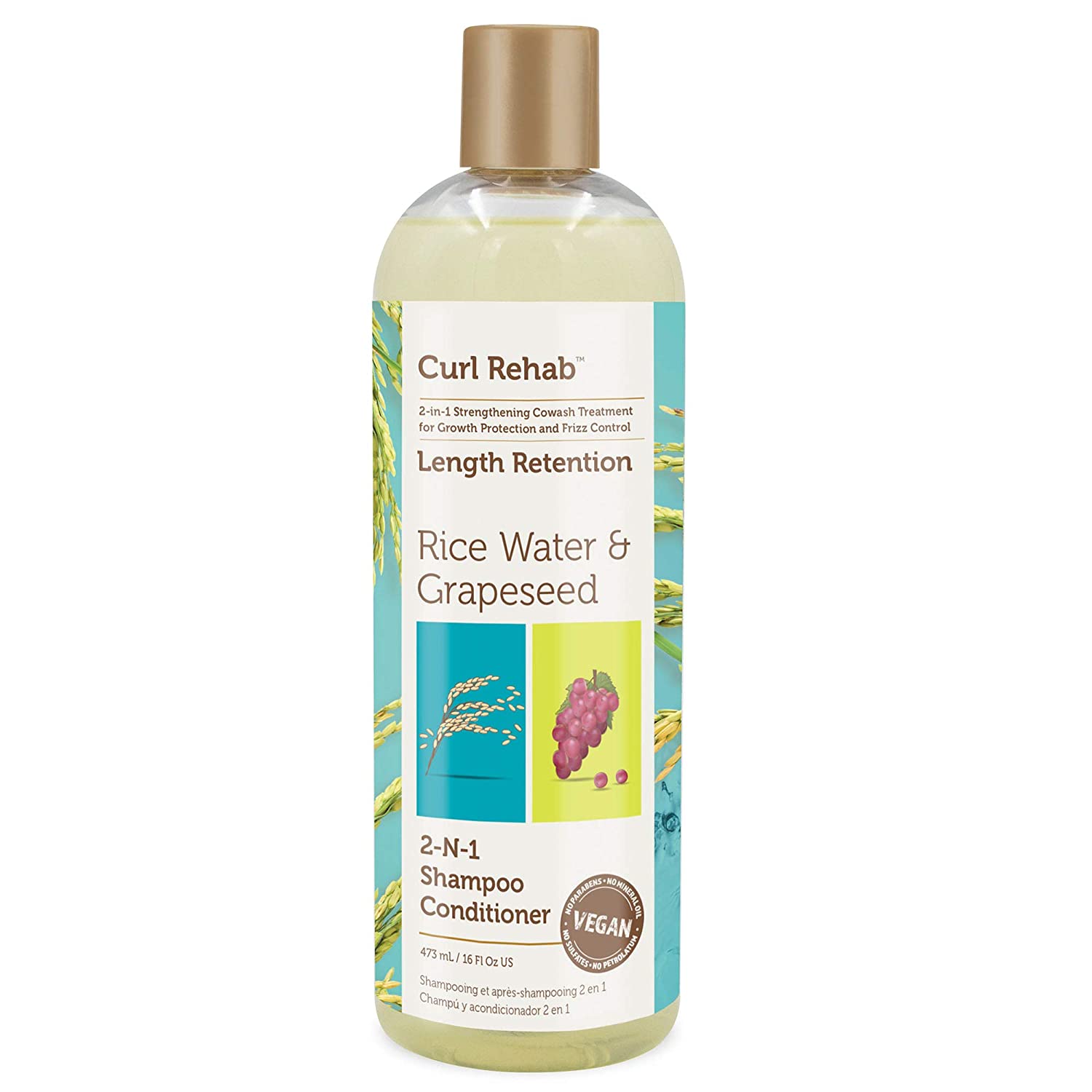 This rice water shampoo was specifically made for people who have curly hair. Curl Rehab knew what they were doing when they made this shampoo too! I have a few friends who always talk about how difficult it is to maintain the strength needed for length retention with curly hair. And just from watching my friends try to maintain their curly hair – I know it's a difficult process.
I love the ingredient list found inside of this shampoo conditioner dup. There's also grapeseed oil inside, which helps to support the overall health of your curls. If you're worried about the rice water causing your URLs to dry out and shrink, the grapeseed oil will add an additional boost of Vitamin E to keep your hair healthy and glossy.
Not to mention, it's a 2-in-1! That means you don't have to worry about extending your shower routine to wash and condition your hair. You're getting the best of both worlds with this Curl Rehab Strenght Treatment 2-in-1 Shampoo Conditioner!
Pros
Vegan and cruelty-free
Helps to keep your curls long, strong, and healthy
A 2-in-1 combo, meaning you won't have to worry about buying an additional product to keep your hair healthy and happy
Made specifically for curly hair
Cons
I wish it had a better smell to it
FAQs
Question: Is rice water shampoo effective?
Answer: Yes, rice water shampoo is effective! It's helped a lot of people to re-grow their hair. If it wasn't effective, shampoo companies wouldn't still be producing rice water shampoo to sell.
Question: Can I use shampoo after rice water?
Answer: It is not recommendable to use shampoo after washing your hair with rice water. Instead, you should use cold water to rinse it thoroughly.
Question: How long can rice water last in a spray bottle?
Answer: Three days.
Question: Is it wrong to leave rice water on my hair overnight?
Answer: The recommended time to leave rice water on your hair is about 15 minutes before you rinse it off. However, there is no harm in leaving rice water on your hair overnight.
Question: What makes fermented rice water not suitable for hair?
Answer: Rice water could make the hair feel stiff and have an unwanted smell. It is recommendable to rehydrate your hair after applying fermented rice water to prevent it from becoming fragile.
Final Thoughts
Using rice water on hair has been a common practice since the old days, and the current generation has taken up that exercise. Today, inventors have even gone further to develop hair treatment products that contain rice water and other essential ingredients, such as coconut and olive oils.
From the above list of six of the best rice water shampoo products, my best pick is Shea Moisture Purple Rice Water Shampoo.
However, you may not feel like this is the best option for you (and that's totally okay). But, out of all of the options on this list, the Shea Moisture Purple Rice Water Shampoo is my favorite!
Looking for more interesting readings? Check out: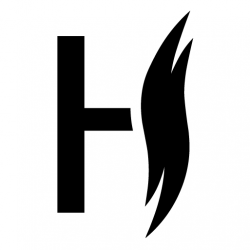 Latest posts by Hair Kempt Team
(see all)