What could be critical when finding the best conditioner product for your hair? Indeed, having the correct information makes your journey easy and fulfilling. A hair conditioner is a great agent made up of several ingredients for replenishing hair moisture and strengthening hair strands. In the end, you need to have healthy hair free of certain impurities and anomalies. 
One of the benefits of using a hair conditioner is that it adds a layer of protection to the hair and sets up a defense mechanism against elements of destruction.  Furthermore, it treats it to tame fly-ways and provide frizz defense. Also, a hair conditioner softens your hair and keeps a glowing shine. 
Here, in this review, we will be unveiling six hair conditioner products and assisting in finding the best results option that works well. They have unique features with a specific purpose to treat your hair to the desired level. Let's get started.
How to Buy the Best Conditioner Products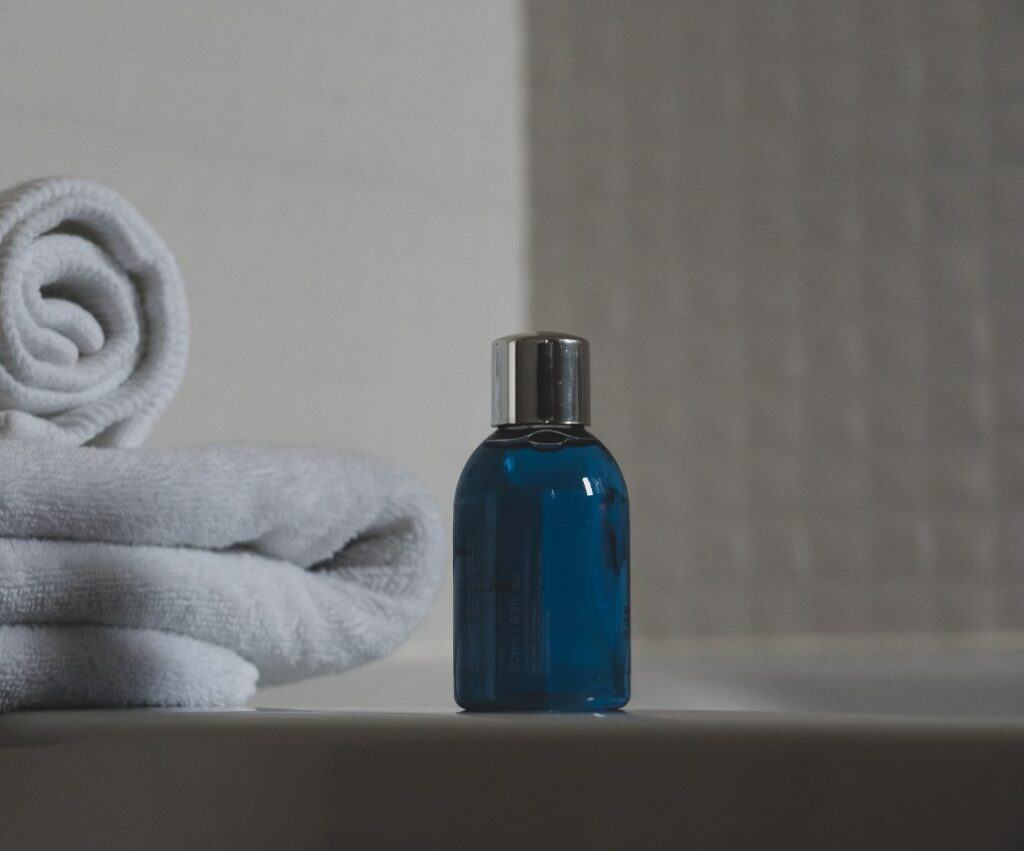 Are you at a crossroads in determining a good hair conditioner for you? Whether you are a beginner or an expert in using hair conditioners, you must locate the right product that restores magic to your hair. The sad truth is choosing a suitable hair conditioner product is never a walk in the park. You will encounter marketing campaigns that promise frizz-free and smooth results only to discover that it was only much-hyped. 
Before you decide to spend your hard-earned cash, here are a few points to keep in mind: 
You should understand the nature of your hair so that you do not mismatch your intentions. If the hair is dry, look for conditioner labels that promote hydration, moisture, balancing, and smoothening. Such products are ideal in balancing hair moisture without placing additional weight on it.
If you have damaged hair, you should consider a conditioner that requires a harder punch. You should check for the labels that promote frizz control, repair and protect it from heat damage. For intense heat damage, you can use coconut oil. Alternatively, you can involve deep conditioners for dry and damaged hair. 
Read Labels
Protein treatment differs from product to product. As such, you should be careful in following instructions from the given product. Improper use of the product might lead to abuse of the purpose given. Hair usually consists of 70% Keratin proteins, and therefore you should use protein-based products to assist in strengthening the shaft and strands. 
Ensure that you use the product well as the frequency might break or make the results. It would still be reasonable to experiment before figuring out what your hair requires. As a rule of thumb, protein treatment requires proper analysis to understand the hair and its needs. 

Hair Goals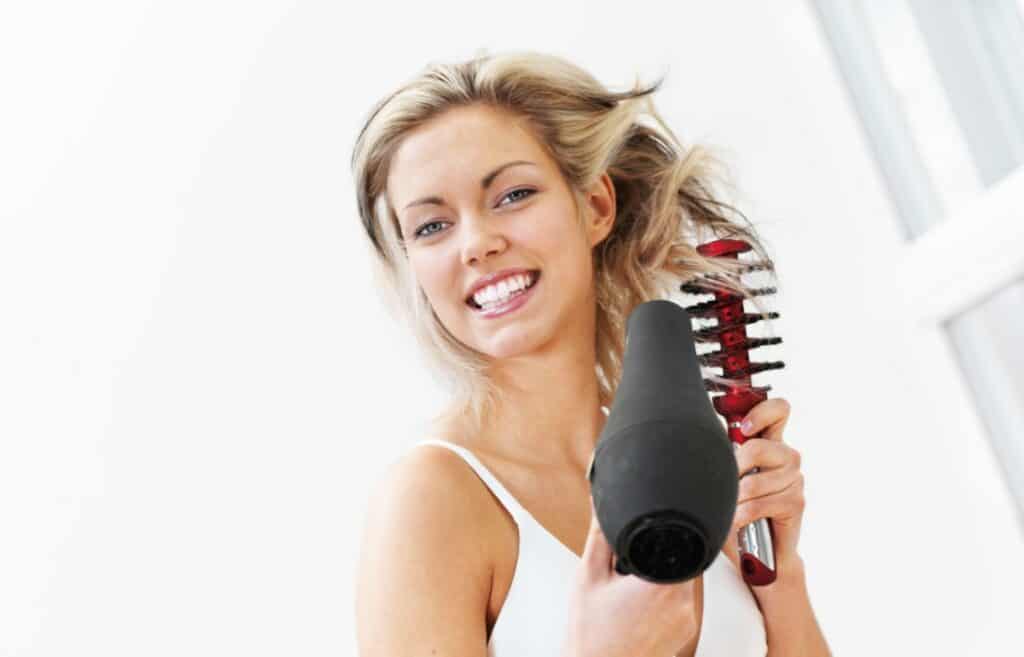 Different users have varying hair goals. For instance, some individuals may need a particular hair conditioner to achieve a different hairstyle. Caution is key as you must invest in a product that will not cause damage to your hair. Rather, you should settle for that particular conditioner that protects the hair from the dangers of heat styling tools. 
If found prone to heat elements, it would be reasonable to buy a hair heat protectant. Moreover, it would help if you got yourself a hairdryer diffuser which is key in reducing heat styling. 
Types of Damage 
Coloring your hair more often will cause damage because chemical changes in the strands can weaken the hair structure, making it appear not very interesting. You should consider the right hair conditioner that deals with the hair that underwent several color treatments.  
Another form of hair damage comes from over-styling. Some styles look well in the short term but may have long-term damage. You should go for the right hair conditioner that can repair such complications. Last but not least, there is also a split end which is a sign of struggling hair. You should buy a damage repair conditioner to remedy such anomalies. 
Ingredients 
It is necessary to read the ingredients on the label of the hair conditioner. For instance, you should avoid those products with a sulfate or Paraben formulation since such compounds are not skin-friendly. The best way is to read and understand the role of each ingredient in the product. For instance, that hair conditioner with salicylic acid is useful in exfoliating the scalp, while zinc pyrithione is great for preventing inflammation. 
That aside, perfume is another form of ingredient. Everyone has a taste of the type of fragrance to use. You should taste it before deciding to buy your ideal product with a specific fragrance.  
Price
You should consider quality over price since some brands use a price tag as a clever marketing way. Economically priced hair conditioners may not offer you a guarantee of quality. We advise that you should read the customer reviews from online platforms to gauge the relevance of the product before investing in it. You can still find refuge in popular brands since they have a record of maintaining high-quality products. 
Benefits of Hair Conditioners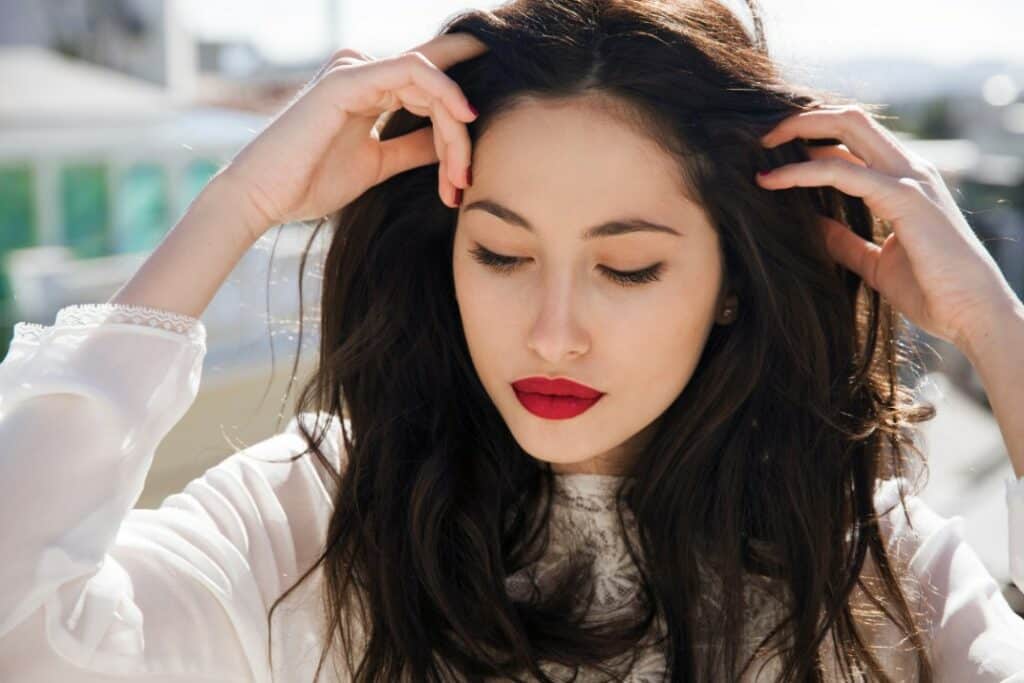 Instant Shine
A hair conditioner can impart instant shine to your hair. In the same vein, they help minimize the frizz and neutralize negative charges resulting in the hair. You only get better results by applying a hair conditioner for three minutes to get instant smooth and shine. 
Protects Hair Cuticles 
One of the major benefits is protecting cuticles is by building a layer around the same hair cuticle to protect against any effects of polluted environment and styling products. 
Balances PH
Authoritative research suggests that if the hair conditioner has a high PH, it increases friction between fibers, leading to cuticle damage. By correct application of shampoo, it assists in neutralizing PH levels while keeping it frizz-free and moisturized. 
Moisturizes Hair
The shampoo has the role of washing away any impurity on your scalp. Any surfactants in the shampoo eliminate essential oil from the scalp and hair. More importantly, a shampoo assists in infusing lost moisture into your hair strands. As a result, such actions help in reducing hair fall and strengthen hair strands. You have an option to select a shampoo that keeps your hair hydrated to the deeper layer of hair strands. 
Detangle Hair Strands
A conditioner has the role of detangling your hair strands. After the cleansing process, the hair can be dry and rough, placing a demand on you to use a conditioner to make it smooth. In turn, it brings hair downwards by detangling it. 
Reduces Damage
As you use the towel to dry the hair, you subject the same hair to a particular amount of stress as you rub. Unfortunately, if the hair is at the wet stage, it becomes prone to damage, split ends, and breakage. Conditioning your hair prevents such cases as damage. 
Easy to style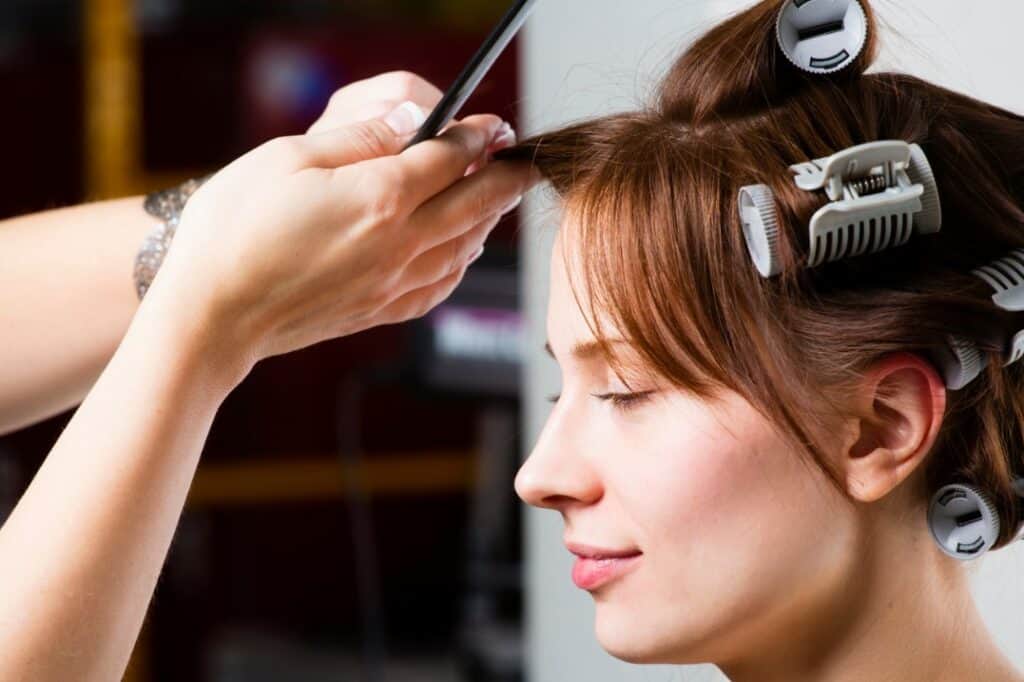 After completing a conditioning process, the hair becomes shiny and smooth hence becoming easy to style. Again, you will not find it necessary to undergo post-shower treatments, and the hair strands will be full of life. 
Important Tips before Using Hair Conditioner
Know your hair type before using a particular conditioner

Avoid applying the conditioner on roots of the hair and the scalp

Avoid using conditioners with Paraben and sulfate since they can damage your hair 

Never leave a conditioner in your hair for more than 5 minutes

Rinse thoroughly after applying the conditioner
Types of Hair Conditioners
Several types of hair conditioners exist to serve various needs, as listed below:
Thickening Conditioner
Thickening conditioner uses collagen and protein ingredients to enable the hair to look as healthy and full as possible. It is a suitable conditioner for thinning hair. A good thickening conditioner should have certain ingredients like green tea, caffeine, and biotin. 
Moisturizing Conditioner
A moisturizing hair conditioner boasts of more oil to smoothen and soften the hair. One of its major uses is on curly, moderately dry, and thick hair that requires extra moisture. It may not be the best bet if you have oily hair. You can apply it best by massaging this conditioner to the air tips to prevent breakage and split ends. 
Deep Conditioner
A deep conditioner is suitable for curly, color-treated, or oily hair since such hair tends to be damaged or dry. For the best results, you should use a conditioner several days a month. 
Instant Conditioner
Instant conditioner or a rinse-out conditioner comes as a spray or cream for application after post-shower showering. The good news is this conditioner leaves key ingredients to the hair and strengthens it. It can be the right option for curly, dry, or oily hair since such hair types are vulnerable to split ends and frizz.
Cream Rinse Conditioner
Cream rinse conditioner is the best option to use when you want to achieve strong and healthy hair. It detangles fine to medium hair that is wavy or straight. You should avoid using such a product on coiled or curly hair because it is not thick enough to supply enough moisture to such hair. 
Protein Conditioner
A protein conditioner is a powerful hair product with keratin, a suitable protein to strengthen your hair and prevent breakage. Moreover, such a conditioner helps thicken fine and straight hair and provides necessary nourishment to curly, wavy, and dry hair. Only apply it when your hair becomes weak at least once or twice a month. 
Leave-In Conditioner
The role of such a conditioner is to smooth out frizz, detangle strands and keep flyways out of the bay. Such a product is suitable for oily and curly hair. One should apply it to wet hair after showering. Avoid rinsing it out in the shower. 
Review of the Best conditioner Products 
Getting the right shampoo for you is a great achievement since they contain oils, vitamins, botanicals, extracts, and minerals to stimulate hair follicles. Furthermore, they wash the hair to eliminate dirt and oil. You will find such a service from the below products.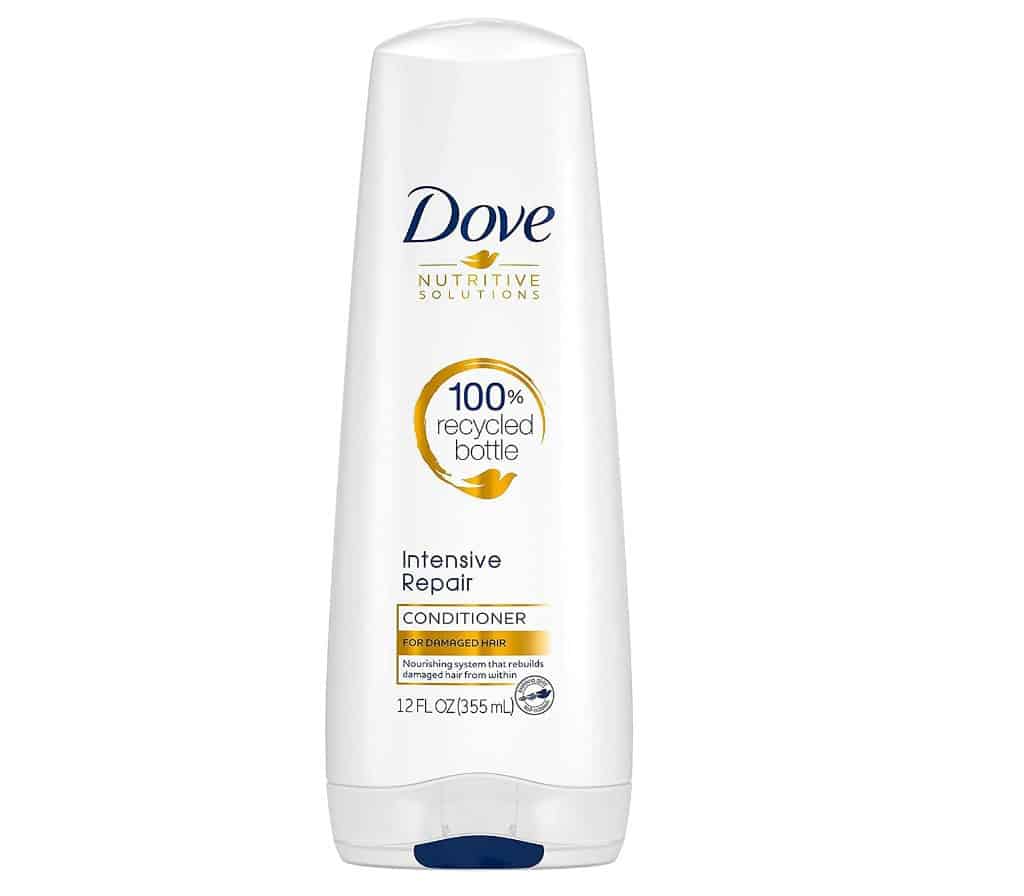 Dove Nutritive Conditioner has a rich formula to repair any visibly damaged hair and leave it healthy and strong. Specifically, it is the right product to use for dry and damaged hair. This hair conditioner works by deeply nourishing damaged strands to give your hair a beautiful shine. 
Some of its best ingredients are Keratin actives which restore the appearance of damage on the hair surface. Furthermore, Keratin helps in reconstructing it from within.
This nourishing conditioner makes your hair feel smoother by reinforcing it to remain strong against compromising forces of your daily routines. Dove Nutritive Conditioner is safe for color-treated hair as it assists in counteracting color fade. 
This product is a wallet-friendly option as it delivers equally well as pricier options. It has suitable relevant ingredients like Lactic Acid that transforms hair strands from inside out while bettering the condition of your hair.
The right way to use it is by applying it to clean, wet hair and massage it into mid-lengths as you rinse thoroughly. If you want to procure the best results, use it after cleansing it with Dove shampoo. 
Pros
Penetrates hair strands to offer progressive nourishment and enhances the beauty

Formulated with Keratin which strengthens weak hair to make it withstand breakage

Has anti-frizz control oil leaving your dry hair soft and manageable

Safe for use on color-treated hair without sacrificing the color quality

It is a budget-friendly option.
Cons
Its fragrance may not favor all people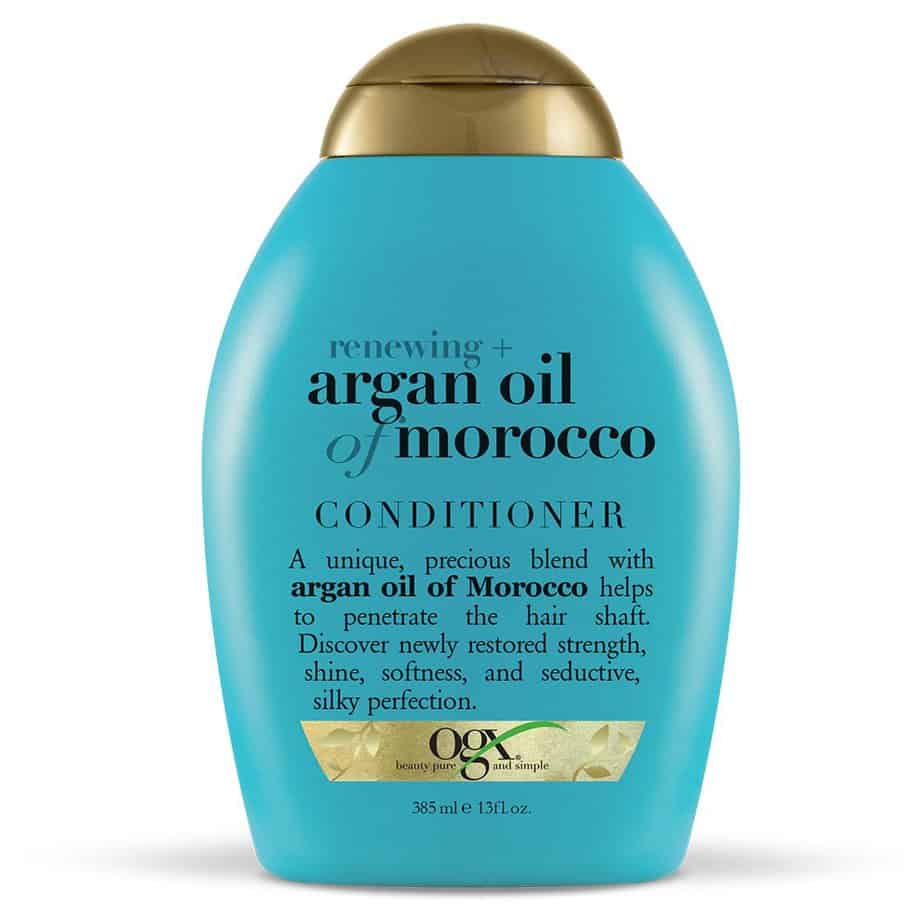 Hydrating your hair keeps it healthy and strong, creating a reason for you to look for this product. You can repair and renew your dry hair by using this Moroccan hair conditioner and get breathtaking results.
Precisely, this hair conditioner leaves your hair feeling smooth with a silky appearance. The cool thing is it lacks harmful chemical components such as sulfated surfactants and Paraben. 
This Moroccan hair conditioner gives dry, damaged, and brittle hair a radiant shine while leaving it detangled. Among its nutrients is Argan oil which penetrates the hair shaft to restore strength seductive, and silky perfection.
Furthermore, it has a thick and creamy formula to smoothen, improve on electricity and soften your entire hair. This product is ideal for daily use on all hair types such as straight, curly, thick, dry, and damaged. 
It has cold-pressed Argan oil, which moisturizes and revives strands to give it a natural look. Moreover, it has a citrus-fresh and woody scent that leaves your hair smelling irresistibly great. Each bottle has a liquid volume of 0.39 ounces. Affordability is what makes this hair conditioner popular.  
Pros
Has Argan oil which gives damaged hair, brittle and dry hair a silky perfection

No harsh elements such as Paraben and sulfate to protect the hair from styling

Works on all hair types such as dry, colored, curly, and damaged

Penetrates hair strands and locks in moisture to renew and soften it

Helps is strengthening and improving on elasticity 
Cons
May cause hair loss when used for long on some users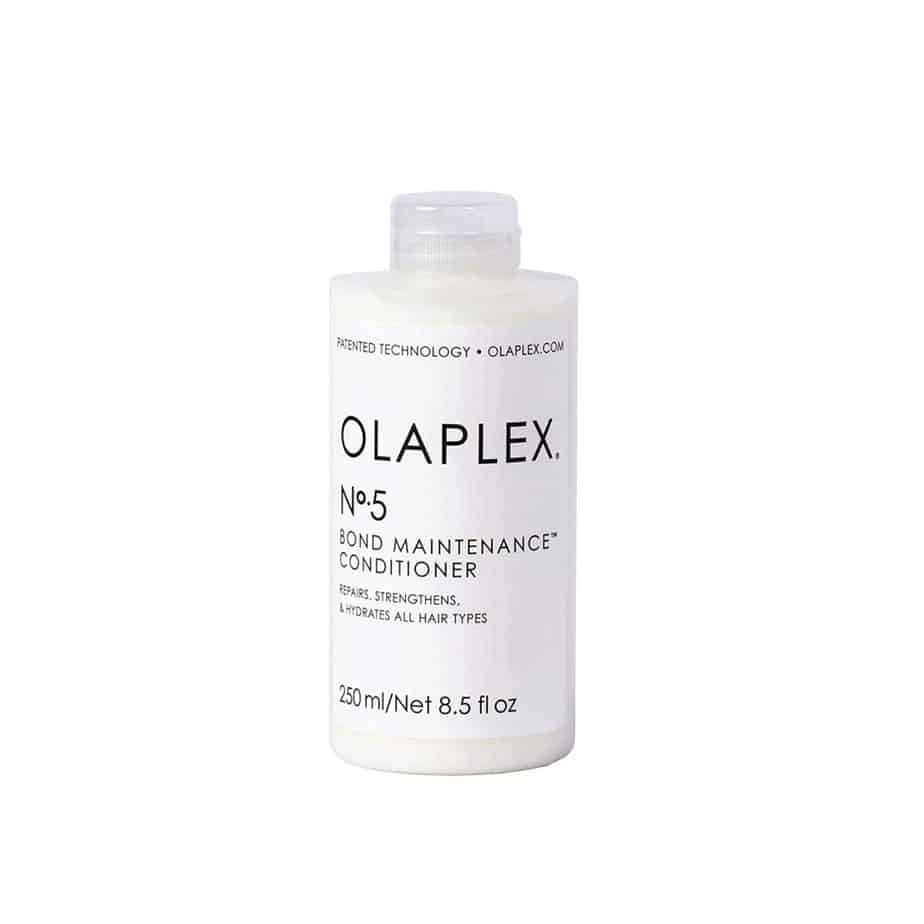 Having a flexible hair conditioner comes with several advantages, which Olaplex never lacks. First off, this hair conditioner can repair and maintain bonds within the hair and split ends due to coloring and chemical processing.
This hair product comes in a liquid volume of 250ml, and it suits all types of hair. It is a color-safe product that repairs protect damaged hair and eliminates frizz and flyaways.
Olaplex has improved texture, shine, luster to enhance better manageability. You begin by applying a generous amount to the hair and leave it to settle for three minutes and then rinse thoroughly.
This hair conditioner can fend off damage from colored hair. It has a balanced PH and is free of sulfate, Paraben, and phosphate, which are harmful to your skin and hair. 
More importantly, this hair conditioner comes in cream form for daily use to gain better results. There is a rich formula to prevent hair damage and loss. Again, it has a sweet-smelling savor which makes the hair produce a nice scent. 
Pros
Has great ingredients to repair and maintain bonds within the hair

It is a moisturizing conditioner that works on all types of hair

The conditioner is free from harmful elements such as phosphate and sulfate

Protects damaged hair and prevents the occurrence of frizz

Contains a nice perfume to prevent any bad odors from the hair 
Cons
It contains silicone which shows the poor result on curly hair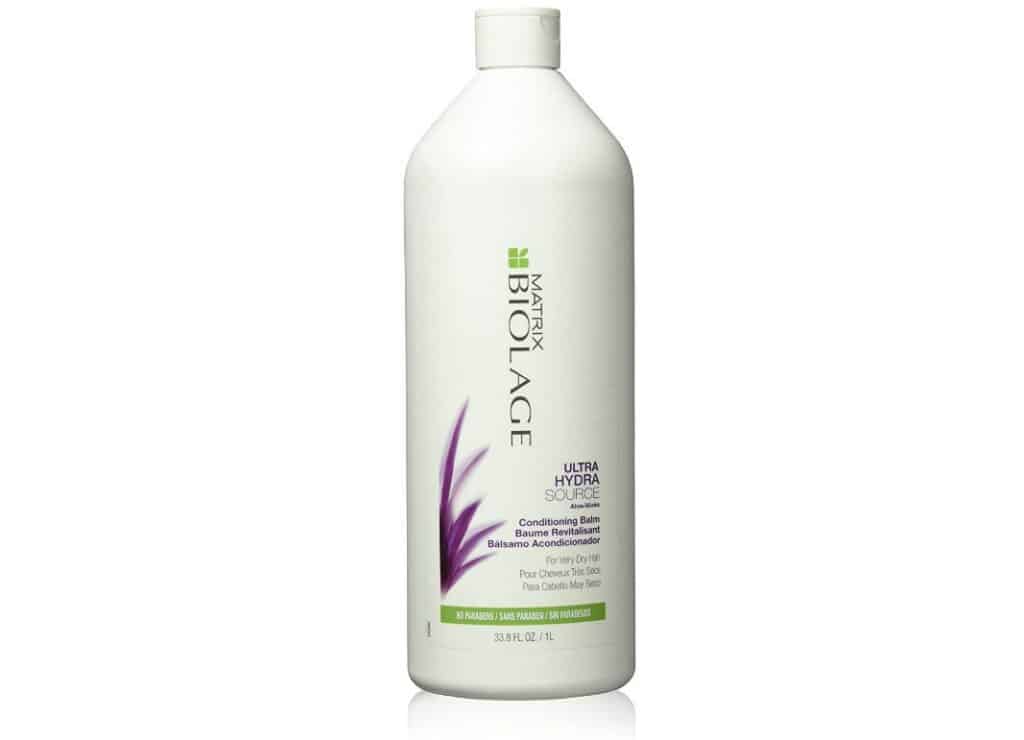 You can settle for this conditioner if you want to get the healthiest hair state. Biolage cleanses your hair, leaving it highly moisturized and shiny. This conditioner has better ingredients for deep treating and nourishing your hair to give it a healthy appeal.
There is an advanced formula that penetrates hair cuticles to procure softness, shine, and resistance to breakage. 
Biolage comes in a liquid volume of one liter, and it is suitable for dry, color-treated, and damaged hair. There is a balm ingredient that assists in moisturizing balance for healthy-looking hair.
Additionally, this hair conditioner has a nice perfume to offer the user a refreshing experience. You can apply it daily after a while to encounter professional results. 
This product meets all safety standards as it lacks cruel elements like sulfates and Paraben, which may cause skin damage. The content is color safe and has an anti-frizz formula to keep your hair ever beautiful. Furthermore, it lowers the chances of hair breakage as a result of your daily routines. Keratin additives are crucial in making your hair soft, smooth, and manageable. 
Pros
Seals cuticles to retain moistures leaving your hair hydrated

Has an advanced formula that balances the PH to enhance the user experience

Useful in repairing different hair types such as color-treated, damaged, and dry hair

Does not contain harmful compounds that hurt your skin or hair 

Has  iconic fragrance which improves user experience
Cons
The perfume may not impress all users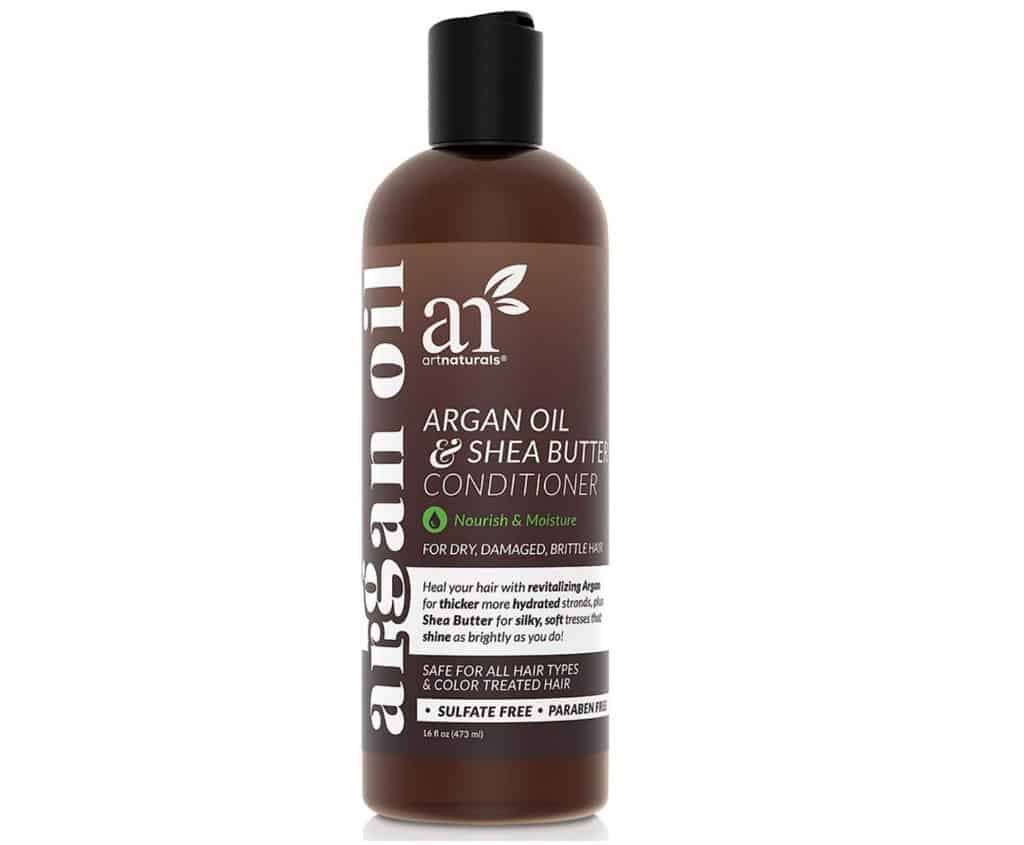 ArtNaturals has Argan oil as its ingredient, which is a natural moisturizer to keep your hair hydrated. The role of this oil is to repair brittle, damaged, and dry hair due to certain mechanical stresses like blow-drying, sun exposure, and flat ironing.
The cool thing is this hair conditioner has a rich formula to make it perfect for all hair types. Such hair types may include curly, blonde, frizzy, fine, bleached, and straight hair. 
Furthermore, the conditioner boasts of a restorative formula to enrich the hair to remain strong. Again, it makes your hair grow well while promoting a glowing shine.
There is a deeply moisturizing formula to wash away excess oil and dirt, thereby restoring shiny, beautiful, and lustrous hair. Being sulfate and Paraben free, the user does not encounter skin damage. 
The advanced formula allows some ingredients to get absorbed into the hair follicle to repair and protect it from sun rays. It promotes stronger shafts and prevents frizz as it nourishes them. Such protective and hydrating properties allow the user to blow-dry safely. It is also color-safe to crown your hair with glory.  
Pros
Contains better formula to moisturize and keep the hair hydrated

Designed for all hair types such as curly, blonde and colored 

Enriches the hair to strengthen it and promote a healthy growth

Powerful conditioning treatment to eliminate excess oil and damage

It is free from harmful elements like sulfates and Paraben.
Cons
Not effective on certain hair types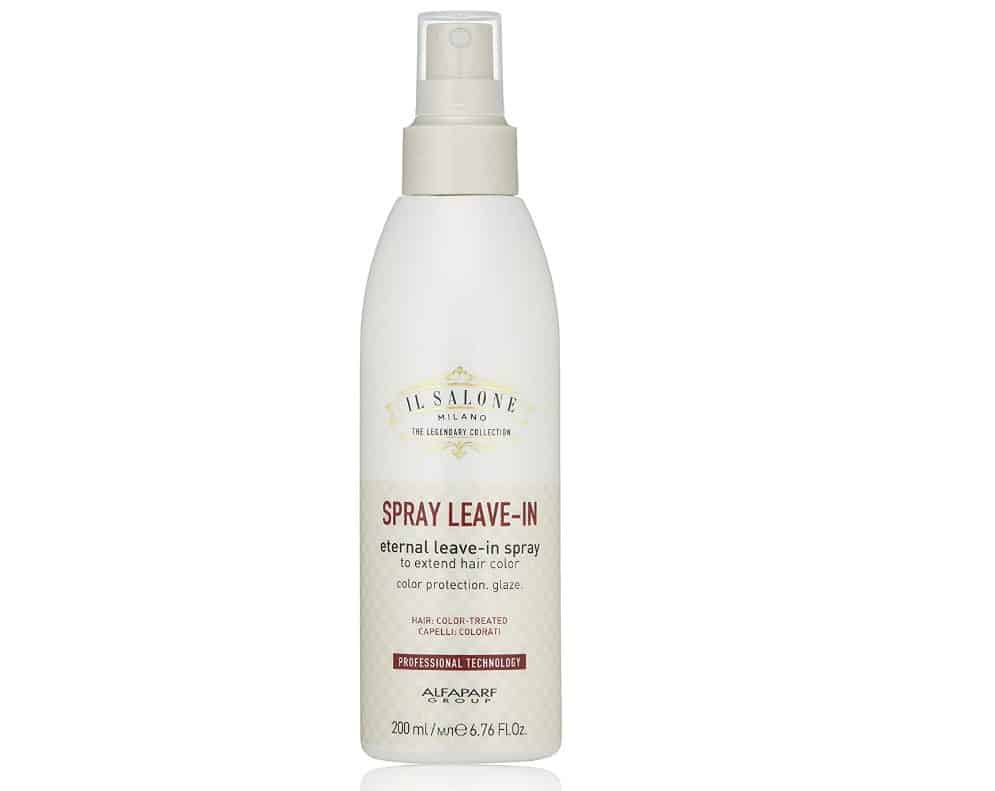 Salone Milano is an Italian-made hair spray conditioner that is easy to use. This hair conditioner provides outstanding color protection. It provides a reliable hair treatment to add softness, gloss, and intensity.
Since it is color-safe, any radiant color can last up to eighteen washes. Salone hair conditioner has a rich formula damaged with rice extracts to seal the color in the hair fiber and make it silky, soft, and shiny. 
This conditioner spray revitalizes, strengthens, and protects the hair from sun rays. Furthermore, it nourishes and strengthens chemically treated hair leaving it soft.
There is an element that adds to its volume and enhances manageability. It is advisable to test it on the skin by rubbing a small amount inside the elbow to determine an allergic reaction. Avoid any contact with eyes.
It is noteworthy that this conditioner is suitable for all hair types, such as dry and curly. The conditioner has a formulation that works well on greasy, oily, frizzy, and coarse hair. It remains gentle for daily use because there is no cruel stuff like iron oxides and SLS sulfates which are not skin-friendly. 
Pros
An effective spray conditioner that is easy to use 

Works well to improve the health of all hair types 

Strengthens and protects the hair from sun rays

Hydrates, moisturizes, detangles, and controls frizz.

Lacks harmful compounds to damage your skin 
Cons
Forms sticky build up on the hair 
Frequently Asked Questions
Question: Can you use a conditioner on thin hair?
Answer: A good conditioner offers several advantages to your thin hair. The conditioner works by coating and penetrating your strands and shielding them from dangerous, damaging elements like pollution, UV rays, and heat. 
Question: Can a conditioner thicken your hair? 
Answer: Yes. There is a thickening conditioner that causes the hair to swell and offers a lush and full appearance. Thickening conditioners have natural ingredients which promote healthy growth and stimulate cell appearance for dense hair appearance. 
Question: How can I frighten frizzy-thin hair? 
Answer: You can use water-based smoothing products which are lighter and can tame frizz on fine hair. Such conditioners have proper ingredients to protect them against heating elements. Furthermore, you can perform a weekly hair treatment to gain better results. 
Question: Can hair grow after undergoing thinning?
Answer: It is possible to regrow hair, but professional help is key here. Some factors affect growing, such as genetics which may cause it never to grow again. You should use the right hair conditioner that has proper nutrients to assist in re-growing your hair well. 
Question: What is the role of coconut oil in your hair? 
Answer: Coconut oil stimulates protein build-up and restores the right moisture for a healthy shine. Additionally, coconut oil makes your hair soft, smooth, elastic, and strong. It also shields your hair against some heating elements and prevents damage and breakage. 
Wrapping Up
The role of a hair conditioner is to fortify your cuticle with a protective coating for healthy growing hair without breaking. For instance, a dry conditioner has oils that help the hair in hydrating and adding shine without wetting it. 
Our top choice among the six products above is Dove Nutritive Strengthening Conditioner, a wallet-friendly option. This hair product penetrates hair strands to offer progressive nourishment and enhances beauty.
The producer formulated it with Keratin which strengthens weak hair to make it withstand breakage. Furthermore, it has an anti-frizz control oil leaving your dry hair soft and manageable. It is safe for use on color-treated hair without sacrificing the color quality.
Further Read: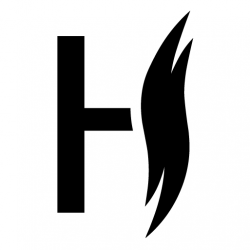 Latest posts by Hair Kempt Team
(see all)