Are you looking for the best toning shampoo products? The best toning shampoo products are shampoos that contain the purple pigmented formula used to condition and cancel out the brassy tone that can appear in between salon appointments. For the best toning results, consider the shampoo with purple pigmented formula as well as the right ingredients responsible for toning your hair.
Several products in the market currently are hyped about how they are best in toning your hair, only to realize they are a bunch of crap products after several rounds of use without any significant results.  They fail to include the key ingredients that are undoubtedly important when it comes to toning your hair. In this article, I will be informing you of the best toning shampoo products and what to look for when buying these shampoos to ensure you get the best, depending on what you want. However, before we get to that, let's first familiarize ourselves with some of the factors we should consider when buying a toning shampoo.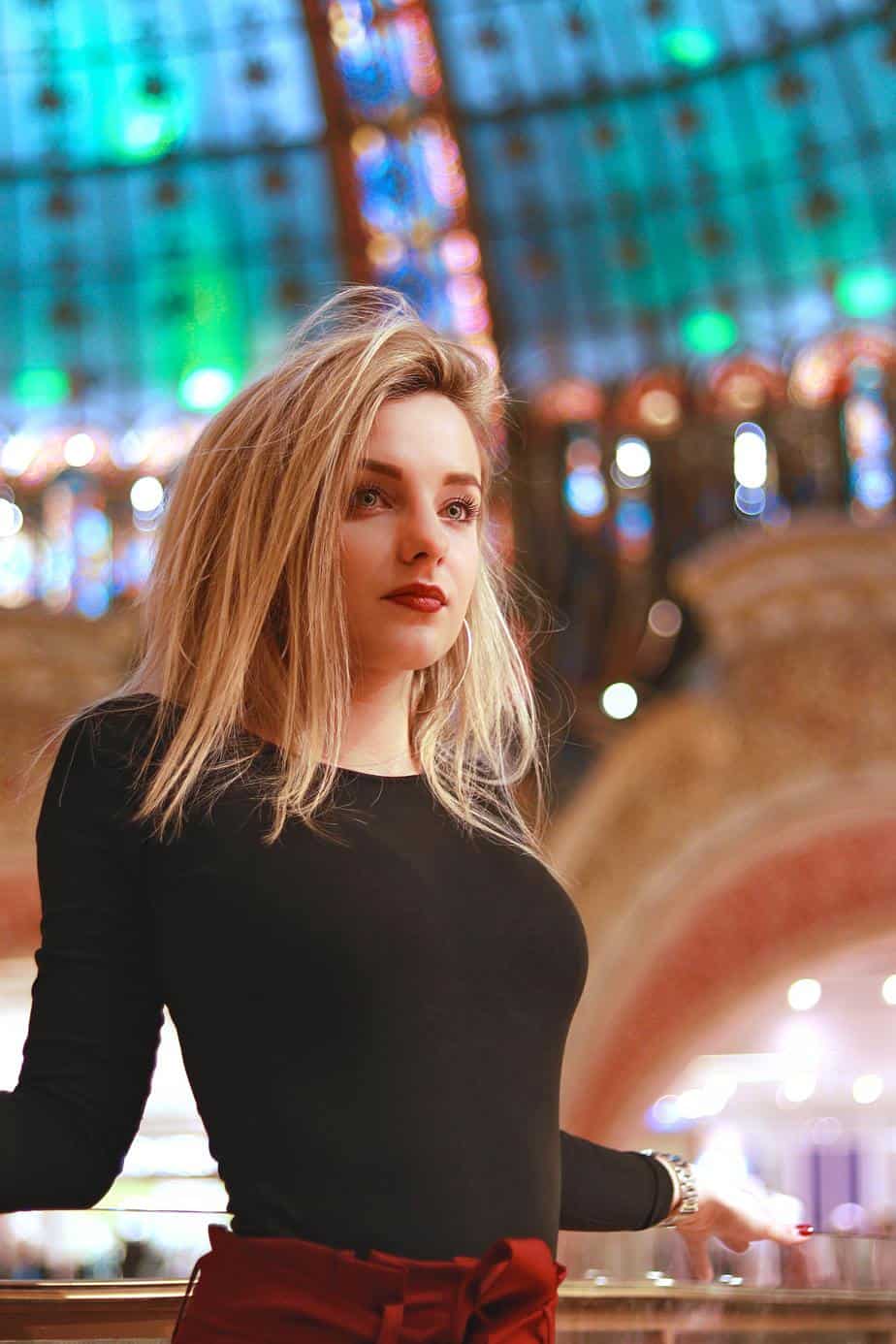 Sulfate Shampoo
Sulfate shampoos are usually cheap agents like sodium Laureth sulfate and sodium Lauryl sulfate, regarded as harmful by drying hair and skin. These toxic agents can be found in anything, starting from dishwashing liquid to automotive degreasing. This makes them overkill for our curly tresses. They also strip oil from our scalps and hair, which hair needs to thrive. Naturalists have been discouraging the use of shampoos with sulfate, and when choosing a shampoo, most likely sulfate-free one will do just to you and maybe your family.
Do You Have Product Build-Up?
It is a common thing to have product remains even after shampoo or conditioning your hair. Manufacturers have designed them that way to leave a coating on the hair. Many other products also have ingredients, such as the mineral oil that coats the hair shaft. Such a product that covers hair needs stronger shampoo to remove the product build-up. This is where clarification of the shampoo comes in. The shampoo you choose will depend on how quickly the product builds up in the hair.  Also, note that toning shampoos are not for daily use, but occasional treatment to build up.
Shampoo Infused With Peppermint
Shampoos infused with peppermint or tea tree oil are of great benefit to the scalp. They are known to create a tingling sensation that lets more blood flow to the scalp, translating to admirable hair growth. So shampoos with peppermint are recommendable compared to their counterpart, which misses this essential element.
pH Balanced Translates To Less Breakage
Shampoos with balanced pH clean hair without having to strip away too much moisture from the hair. It means that you can significantly reduce the tangles, dryness, and frizz and finally end with less or no breakage. Therefore, shampoos with a pH between 4.5 to 5.5 are optimal for cleaning and maintaining the PH of both the scalp and the hair. Be careful when buying shampoo as some of the soap-based are sulfate-free, but with a high PH level, when you are treating your hair, they leave your hair tangled and unmanageable.
What Are The Ingredients Used?
One more thing that we need to consider when buying shampoo is the ingredients used. Ingredients and how they interact with each other determines how your hair will look. It is always advisable to read the label around just to know what the shampoo is made of. Again, choosing the product with favorite ingredients will go a long way in bringing the anticipated results. Regardless of what you prefer, listen to your hair and pay close attention to its overall health to ensure you get the right shampoo for effective treatment and washing.
Lists Of The Best Toning Shampoos Products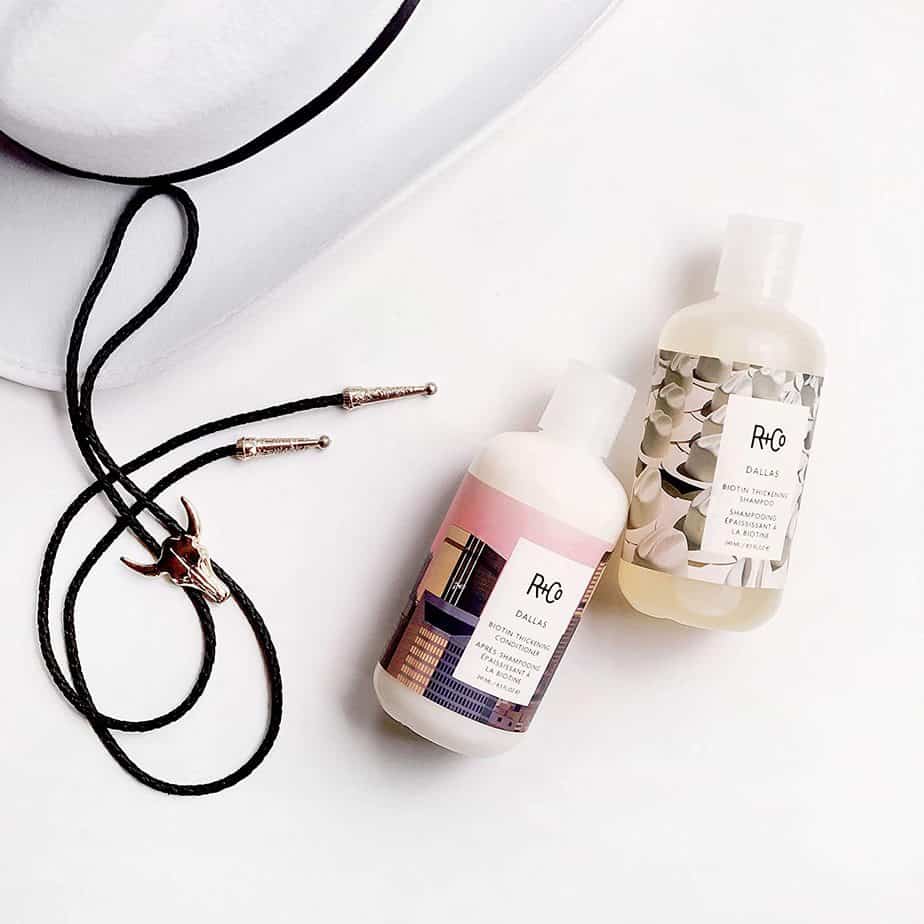 R+Co Dolla biotin thickening shampoo is designed with a formula that is proven for human use.   It is made with a low amount of purple pigments to enable even beginners to use it without turning their hair into bright violet. R+Co Dolla biotin thickening shampoo is also said to soften your hair and boost your hair's shine following the presence of vegan pearl. In our list, this shampoo is the only shampoo that seems a little more lavender in a good way. It can be applied more often than traditional purple shampoo. It's cruelty-free and gluten-free, paraben and sulfate-free, and petroleum and mineral oil-free. 
The key ingredients in this shampoo include biotin for strength, pro-vitamin to hydrate, saw palmetto berry extract to add body coconut for conditioning, and loquat fruit extract fullness in maintenance. Apply the shampoo at the midpoint of your hair and work it through your roots and ends. You can use R+Co Dallas Biotin Thickening Shampoo daily and watch as your hair locks consistently look smooth, shiny, and fuller than they are. If you have fine hair and all you want is a restoration of volume and shine, this shampoo is worth a trial. It may take more time to restore, but one thing you can be sure of is, it continues to grow your hair.
Features And Specifications
Increases hair strength and vitality

Provides proper hydration and adds a natural sheen

Adds body hair and helps it to appear thicker

Strengthens and conditions hair and also adds luster, shine, and softness to prevent hair breakage and split ends
Pros
Increases hair strength and vitality

Makes blondes brighter 

Preserves and prolongs your shade for up to 10 washes

It smoothes the look and feels of your hair

Protect your hair and scalp from free radicals and UV ray with an antioxidant complex

Provide intense hydration, revitalizes dry hair, and restores moisture and shine.
Cons
It might not work as fast on darker brass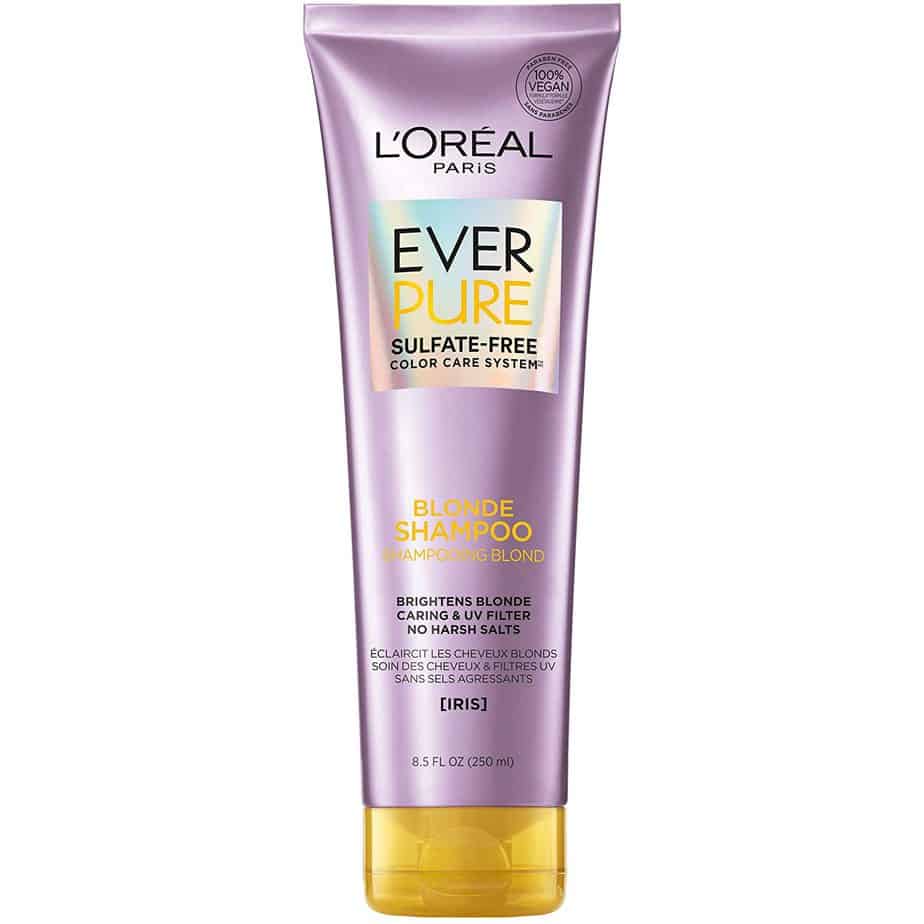 L'oreal Paris Everpure blonde sulfate-free shampoo neutralizes brassiness in just one time of use due to iris' presence. It deeply dehydrates over processes or highly damaged hair to make it shiny, soft, luxurious, and touch. Its formula is gentle, especially on color-treated hair. With this shampoo, you don't have to worry about anything negative that might negatively impact your hair. There are no harsh sulfates, salts, or surfactants fond of stripping, dulling, and damaging hair.
Get to experience a purely sensorial rich, creamy formula and fresh aromatic fragrance that blooms. You can also condition your hair, treat banishes by neutralizing brassiness by applying to wet hair, and massage gently till you have thick lather. Rinse thoroughly. You will realize that this shampoo makes a lush lather, rich conditioning that gives a gentle experience with a luxurious lather, rich conditioner, and a fresh, aromatic fragrance with hints of violet that blooms.
Features And Specifications
A sulfate-free shampoo for blond hair

Everpure blond system neutralizes brassiness and hydrates over-processed hair, restoring shine and protecting your color.

Validated and proven by the colorist

Premium level formula

Purple iris extract to tone brassy yellow and orange tones

Lush lather and rich conditioning

Paraben-free
Pros
It does not fade hair color 

Pleasant and nice scent

Lathers fine

It makes a lush conditioning

Moisturizes your hair greatly

Cleanses and brightens blonde

Neutralizes brass

Pocket friendly
Cons
Can recycle the packaging

You might not keep your hair brassy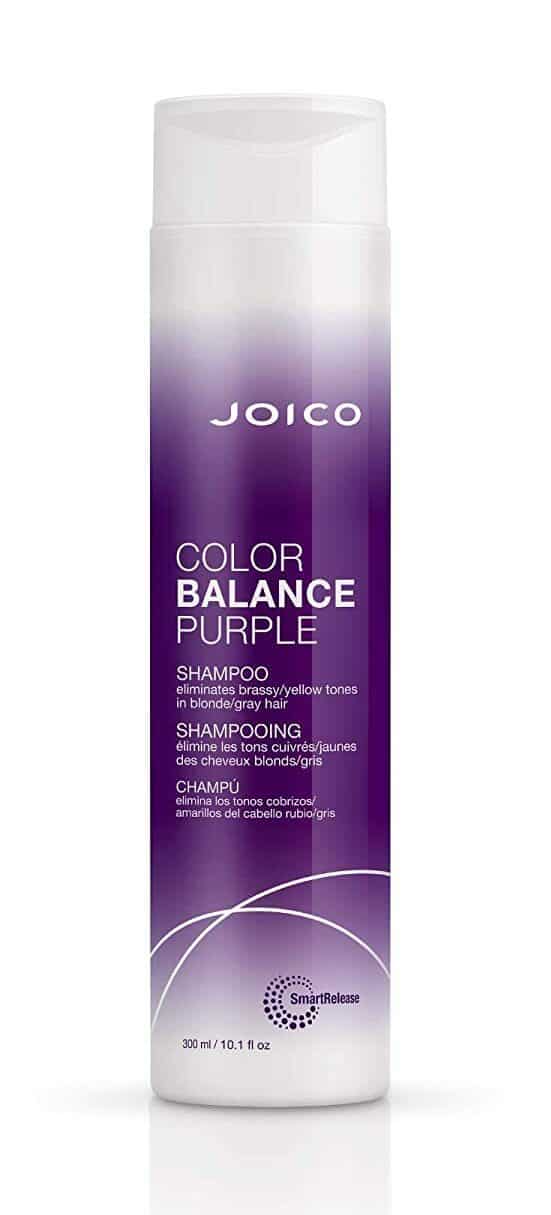 If you are looking forward to having better and instantaneous results, go for Joico balance purple shampoo. It is one of the pigmented shampoos, and users are advised to use it once every week. Not only will this shampoo tone balance your hair, but it also boasts a complex that works to repair the hair and fight frizz. If you want to avoid blonde hair damage caused by damaged hair from chemical processing, reach out to shampoo like Joico's balance purple shampoo. It is a shampoo that will keep your strands hydrated, strong, and healthy all through.
 This shampoo boasts of a unique color-correcting formula meant to preserve those cool, Icy blonde, and silver grays while taking care of the vibrancy of the color-treated hair. With Joico balance purple shampoo, you can banish the nasty yellow tones and unwelcome warmth and protect strands with powerful ingredients that strengthen and guard hair against elements.  The gentle cleansers boost your hair's shine; reduce static and flyaways to make hair incredibly healthy and controllable. It also features green tea extract, ultraviolet absorbers, antioxidants, innovative release technology, a delivery system that continuously releases rosehip oil, Arginine, and keratin for repairing, strengthening, and protecting hair from the effects of daily styling.
You may get excited by the endless benefits that come with shampoos and forget your hair. Always ensure you pay close attention to your hair. If you have more damaged hair, it is more porous, meaning it will slurp more pigment.
Features And Specifications
Smart release technology

Violet pigments that attach to the hair and instantly neutralize yellow tones

Green tea extract for color protection against pollution and elements

UV helps to fight fading and tonal change.

The color-correcting formula for preserving cool blondes

Power ingredients for strengthening and defending hair against elements
Pros
Instantly neutralizes brassy and yellow tones

Repairs and protect color-treated hair

Long-lasting results through 12 washes

Boosts shine and smoothness

Two times stronger air

Paraben-free
Cons
It might not bubble up so well

It might irritate sensitive skins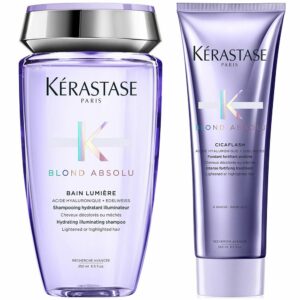 If you have to look for a remedy to your damaged blondes, Kerastase's blond Absolu is the real deal. It is made with an absorbing formula to correct unwanted tones while treating your hair. This formula comes with cocktail ingredients like edelweiss flower responsible for filling and strengthening fiber damage and hyaluronic acid for softening sensitized strands. Also, this shampoo has an ultraviolet hue for neutralizing brassy and yellow tones in your hair.
Kerastase's blond Absolu is a lightweight conditioner ideal for nourishing, repairing, and reconstructing hair. It is also used to neutralize unwanted tones in the hair while hydrating and nourishing the hair fiber. It can protect your hair from heat and can be used on all shades of blonde and grey hair regardless of the hair type.
Features And Specifications
It really hydrates fiber and removes impurities to illuminate hair

Provides hair with the light feeling

Durably hydrates fiber

Improves and illuminated natural shine.

Leaves your hair feeling light

Maintain a perfect and calm tone

Boosts hair color luminosity
Pros
Nice scent

You can mix the heavily purple shampoo with regular once

Ideal nourishing

Neutralizes brassy hair

Unifies damaged areas
Cons
It might not be better for people with lighter blondes

If you are sensitive to fragrance, this might not be best for you
This is revitalizing blonde shampoo for correcting brassiness and yellow tones. It brightens the natural highlights for hair that is healthier, shinier, and lit from within. This shampoo also offers protection of hair against ultraviolet lights, vegan-free and gluten-free.   Again following the Oribe signature, it defends your hair from oxidative stress, photoaging, and deterioration. Additionally, with Oribe shampoo, you can comfortably protect your hair from drying, damaging, and color-deflecting effects of the elements. The pearl treats brassiness, tones of highlights and imparts luminescent brightness and shines.
You can also optimize shade, tone, and luminosity by brightening complex- composed of lemon, ginger root, and chamomile extracts. It can provide gentle yet efficient cleansing following the presence of coconut and corn-derived cleanser elements. Get to repair the damaged hair, condition, and prevent moisture loss.
Oribe shampoo is also made to champion your hair's color vibrancy through the Swiss garden sprouts- highly rich in nutrients. It also detoxifies and protects hair from environmental factors, pollutants, and natural oxidation that can affect your hair. One more vital role played by Oribe is the conservation of melanin in the hair follicle and multi ultraviolet that guard your hair against color-depleting.
Features And Specifications
Illuminate blond hair and silver hair

Corrects brassiness and yellow tones while brightening natural highlights

Gently cleaning

Visibly brightens and eliminates brassiness

It can be used to brighten and tone blonde your hair

Coconut, lemon scent
Pros
Cruelty-free

Ideal for all types of air

Nor greasy

Lightweight

Free from harsh chemical additives

Stylist recommended
 Cons
Slightly expensive

Heavy scent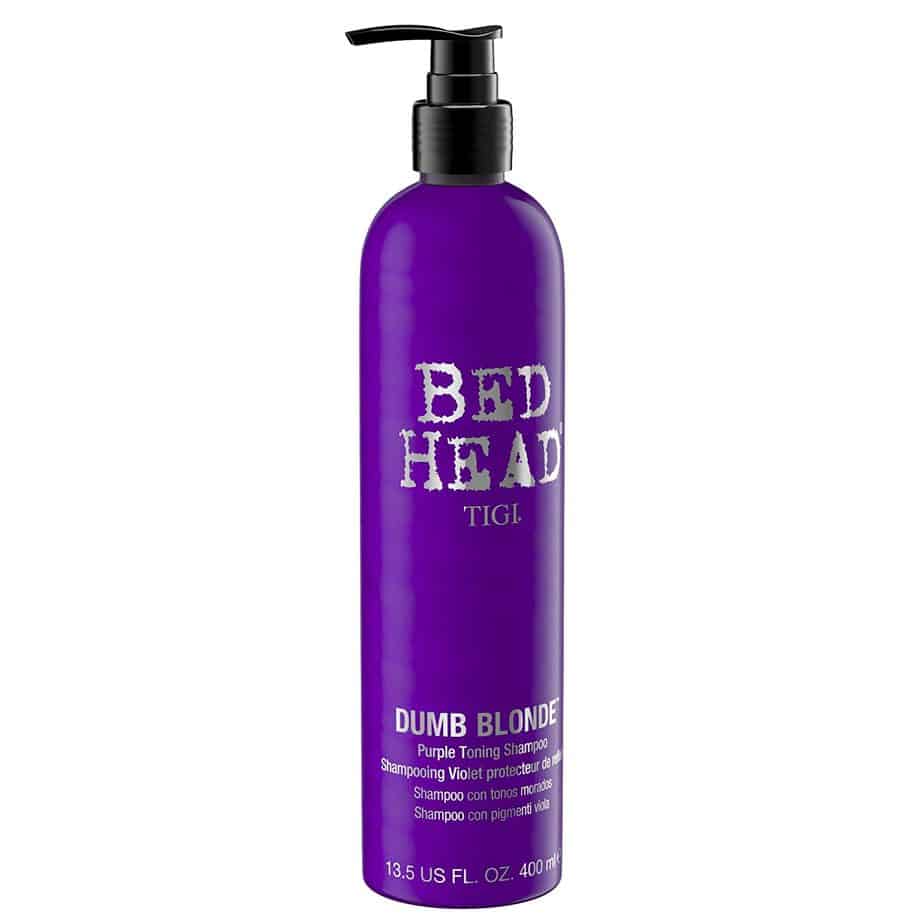 TIGI Bed Head Dumb Blonde shampoo is a tone correcting shampoo for blonde hair. If you have been looking for a way to clean your blondes gently while refreshing and conditioning your hair, you have all the reasons to try this one. It contains the purple toning elements purposely meant to neutralize brassy tones in blondes and facilitate cool tones. This shampoo also contains blended polyquaternium 10 for the prevention and control of frizz, static and flyaway.
You shall also get an opportunity to enjoy an improved blonde vibrancy and imparts shine. Factually you will be amused to realize that it leaves your hair soft, smooth, and easy to manage. It is one of the excellent shampoo foot treatments of chemical hair.  It is color-safe and should be used once a week for admirable results. You can always apply when your hair is wet, lather and rinse well and ensure it is thoroughly clean. After you lather, you can have it on dry hair for ultimate results and leave it for around 30 minutes. After rinsing, you will be surprised to realize that your hair is significantly more blonde. However, note that you will use a lot of shampoos, but it is worth the results.
Features And Specifications
Perfect if you want blonde hair

Purple toning pigments help increase cool tones and banish yellow and brassy tones in blonde hair.

Improves and cultivate blonde vibrancy and adds shine

It makes hair look and feels smooth and soft with reduced flyaways and frizz

Recommended to be used once a week

Color safe

Paraben-free
Pros
Nourishes and moisturizes hair

Nice scent

Leaves no stain

Completely free of sulfates

Ideal for mild discoloration problems

Provides a long-lasting and pleasant papaya fragrance

Color-safe formula
Cons
Relatively priced

It can be very drying to hair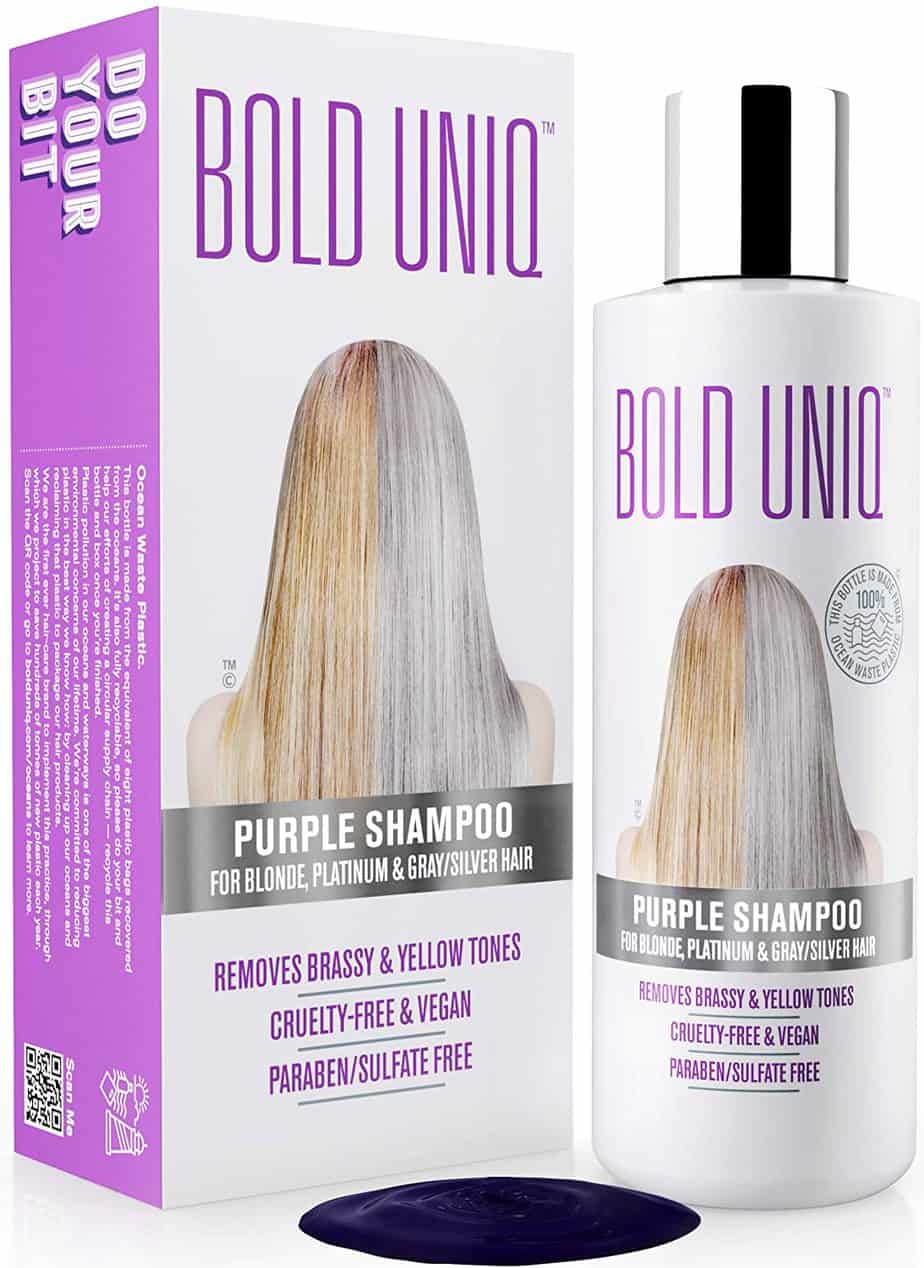 This is a paraben and sulfate-free purple shampoo that is PETA approved. It is cruelty-free and vegan-friendly. It is made with some intense violet elements to fight and eliminate the unwanted yellow hues. Purple toning shampoo is ideal for silver, grey, blonde, bleached, and highlighted hair for a radiant and brighter color. If you are tired of visiting your favorite salon, you can minimize the visits in a given time by trying this shampoo. It practically enhances color for ice incredible blonde or dazzling silver or ash toned. This is one of the recommended shampoos by hairstylists worldwide as it can literally neutralize the brassiness in the blonde shade for high-quality at-home hair care.
This shampoo is also formulated with vitamin B5, which is the derivative of soft hair strands while adding shine to natural and color-treated blonde hair. It protects your hair color against all odds with the innovative UV filters, including fading brought about by damaging ultraviolet radiations to keep your perfect shade or blonde hair. Besides, the container on which it is packed is recyclable. This makes it possible for you to put the container into another use in the spirit of maintaining the environment. Thanks to the company for such a bold move.
Features And Specifications
Ideal for blonde, platinum, and gray or silver hair

Parable and sulfate-free

PETA approved

Innovative UV filters

Recyclable packaging container

Perfect for color-treated hair
Pros
Ultra potent formula

Brighten and refresh your look

Instant results

Extend time between salon visits

Great in moisturizing your hair

It makes your hair brittle and dry

Vitamin B5 softens hair strands and adds shine
Cons
Frequently Asked Questions
Question: How quickly does the toning shampoo work?
Answer: Toning is not really good as too much toning in these products can make your hair look dull and over-toned. This finally causes over toning, murky, khaki, dull-looking blonde hair.
Question: How quickly does the toning shampoo work?
Answer: It should take you between 3 and 5 minutes. This is after you lather the toning shampoo and leave for the toning pigments to penetrate your hair. Check for the directions to see the do's and don'ts and act accordingly.
Question: Can one use shampoo every day?
Answer: You should keep in mind that you don't use the toning shampoo to replace your regular shampoo. You should only use it once a week. If you wash your hair more than once a week, remember to use the toning shampoo once, and then use your regular shampoo from there.
Question: What happens when you leave tone shampoo on your hair for too long?
Answer: The first thing to happen when you leave the toning shampoo on for long; you will find yourself with a bit of lilac hue. It is not a permanent color, but it happens to those people with light blonde hair. It can also occur if you have damaged or dry hair. You can switch to regular shampoo for a few weeks to remove the purple hue color.
Question: How long should I wait to tone my hair again?
Answer: You should stay away from toning your hair for a minimum of four weeks for your strands to recover. This is because toning is a chemical process that affects your hair. If you have brittle and dry hair, it would be ideal to wait for around seven to eight weeks before you tone in again.
Conclusion
We have analyzed and informed you of the best toning shampoo to guarantee and give you the optimum results. However, according to our editors, who went ahead and did a more comprehensive analysis, R+Co Dolla biotin thickening shampoo stands out as the best on the list. The reason they term it as the best is R+Co Dolla biotin thickening shampoo is proven for human use, made with a low amount of purple pigments for easier use even by the novice, softens your hair, and boosts your hair.
It is a little more lavender in a good way. It can be applied more often than traditional purple shampoo. It's cruelty-free and gluten-free, paraben and sulfate-free, and petroleum and mineral oil-free. It is made of biotin for strength, pro-vitamin to hydrate, saw palmetto berry extract to add body coconut for conditioning, and loquat fruit extract for fullness maintenance. It also restores the volume and shine of your hair. It may take more time to fix, but one thing you can be sure of is, it continues to grow your hair.
Looking for more interesting readings? Check out: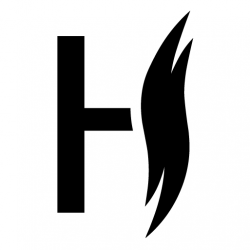 Latest posts by Hair Kempt Team
(see all)