Peppermint is a great ingredient in your toothpaste and breath mints. But did you know peppermint shampoo offers many benefits for your hair?
For example, peppermint oil is a non-toxic ingredient that can promote hair growth and more. Peppermint can also relieve an irritated, dry, and itchy scalp. This is all thanks to menthol, which is found in peppermint.
Don't worry, you don't have to put peppermint oil into your normal shampoo. Many hair care brands are aware of the peppermint benefits on hair, and they formulate shampoos to contain this key ingredient. But what are the best peppermint shampoos?
The Benefits of Peppermint Shampoo
We already covered some of the benefits of peppermint shampoo, but there are so many more to know.
First, let's cover that ingredient we mentioned: menthol. Menthol has natural cooling and healing properties. This is why a peppermint shampoo is a great option if you have an itchy or dry scalp. And if you love the refreshing scent of peppermint, you can also thank menthol for that scent.
Peppermint shampoo works by cleansing your hair thoroughly, removing dirt and any product residue in your hair. However, peppermint shampoo is gentle enough to not strip your hair of its natural oils.
In addition, peppermint is a very moisturizing ingredient. When you use peppermint shampoo, your hair won't feel weighed down. Instead, your hair will feel bouncy and will look shiny.
As stated previously, peppermint can also entice hair growth. That's because peppermint improves blood circulation in the scalp.
Some additional benefits of peppermint shampoo include:
Anti-inflammatory properties
Antibacterial
Aromatherapy, can decrease pain and irritation
How We Chose These Shampoos
Before we get to our favorite peppermint shampoos, it's important to know the factors we used to determine the best peppermint shampoos. These factors include:
Hair type
Gentle cleansing
Vegan/cruelty-free
Free of harsh ingredients such as silicones, sulfates, and parabens
Safe for those with allergies
Our Favorite Peppermint Shampoos
Without further ado, let's begin!
Design Essentials Peppermint and Aloe Therapeutics Anti-Itch Shampoo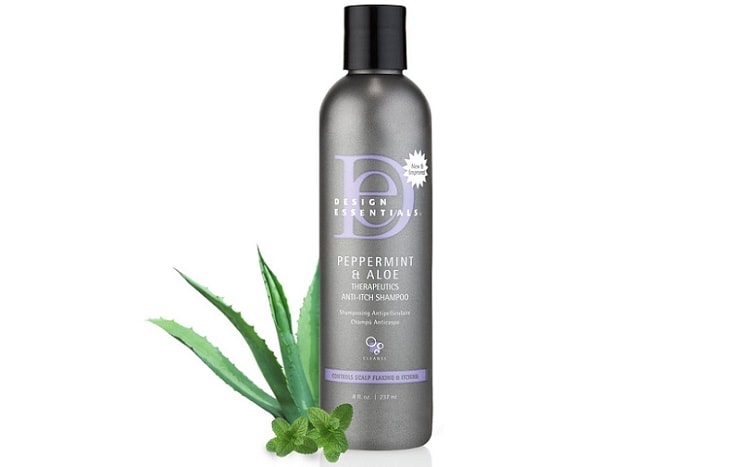 If you struggle with an itchy scalp, this is the shampoo for you. Peppermint and aloe work together to relieve any itchiness and moisturize your scalp. In addition, it offers gentle cleansing power to prevent further irritation.
This is also a great shampoo if you have seborrheic dermatitis and even dandruff since it prevents skin flakiness. You can thank the ingredient pyrithione zinc for that since it minimizes flakiness.
Pros
Gentle cleansing
Ideal for all hair types and textures
Offers immediate relief
Moisturizing
Cons
It may be too intense for a sensitive scalp
Expensive
Botanic Hearth Peppermint Shampoo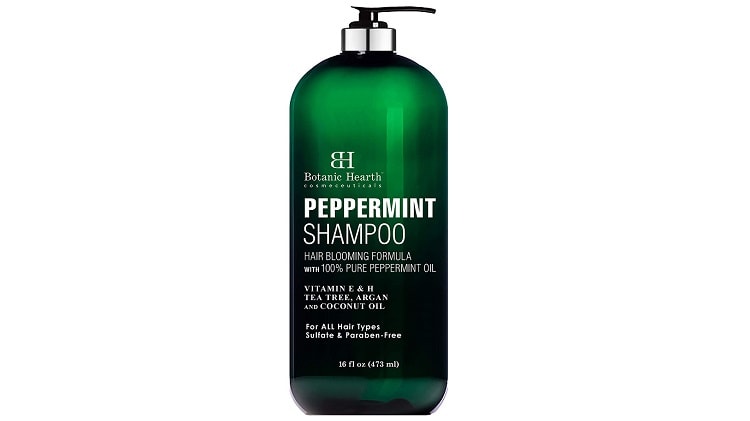 If you need intensive shampoo, you should choose this product. It's made with 100% peppermint oil to give your hair a gentle yet effective cleansing. The peppermint can promote hair growth, in addition to other powerful ingredients such as tea tree, turmeric root extract, coconut oil, and argan oil.
This is also a great shampoo if your hair is fine and brittle. While this is a deep cleaning shampoo, it's gentle enough for daily use and doesn't cause breakage.
Pros
Free of sulfates, parabens, and other harsh ingredients
Safe for all hair types, including color-treated hair
Cruelty-free
Moisturizes the scalp, ideal for daily use
Cons
OKAY Peppermint Shampoo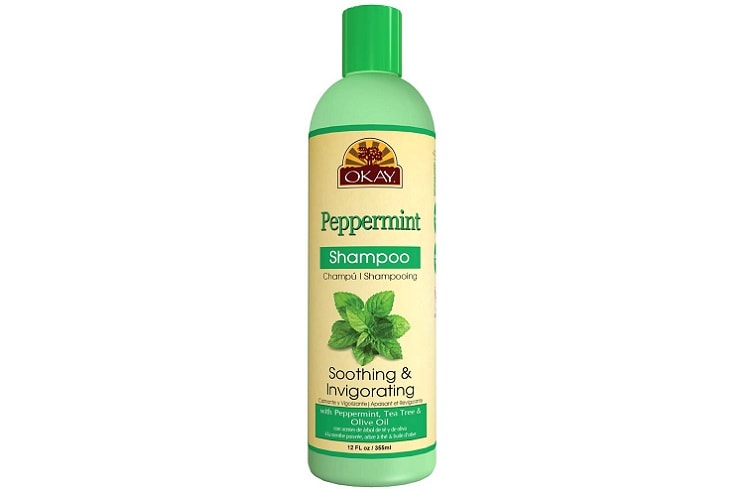 This is another good option if you need a good deep cleaning shampoo. It removes even the most stubborn dandruff while still nourishing your scalp. In addition to peppermint oil, this shampoo is also made with other nutritious ingredients that reverse hair damage. These ingredients include olive oil and tea tree oil.
Unlike the Botanic Hearth shampoo, the fragrance isn't too strong. Instead, it's very refreshing and you'll feel pain-free and alert after shampooing your hair.
Pros
Free of parabens, silicones, and other harsh ingredients
Cruelty-free
Cons
Not ideal if you have thin hair, can weigh it down
Expensive
Avalon Organics Strengthening Peppermint Shampoo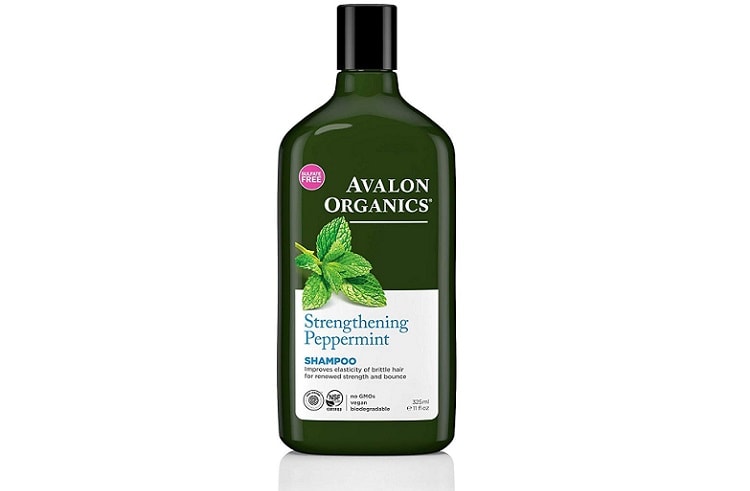 If you need a gentle cleansing shampoo that reverses hair damage, you should choose this shampoo by Avalon Organics. Botanicals such as peppermint essential oil, calendula, quinoa protein, aloe, babassu oil, and vitamin E nourish the hair and seal your hair's cuticle. This replenishes weak hair and your hair will feel healthy and bouncy.
Pros
Free of harmful parabens and sulfates
Vegan and cruelty-free
No synthetic fragrances and colors
Non-GMO
Cons
Doesn't produce a good lather
Tree to Tub Awakening Peppermint Shampoo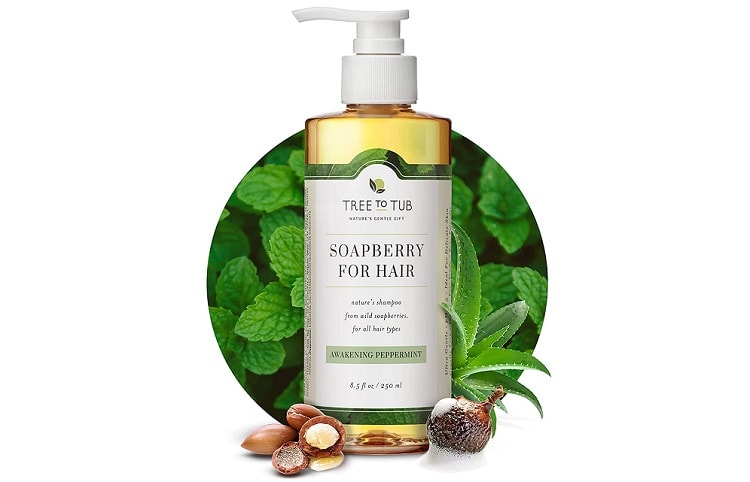 If you want smooth and shiny hair, then definitely use Tree to Tub's Peppermint Shampoo. In addition to peppermint, this shampoo contains soapberry to moisturize your scalp. Other nourishing ingredients, such as aloe vera, argan oil, olive, and chamomile, will also soothe your scalp and hair.
This shampoo also maintains your hair's acidic pH balance of 5.5. pH balance is crucial to prevent dryness, frizziness, tangling, and breakage. In addition, pH shampoos keep the hair cuticle sealed.
What if your hair is oily and greasy? Don't worry — it won't weigh down your hair. In addition, this shampoo will also clean out any excess oil buildup.
This shampoo is also great because it works up a great lather and the fresh peppermint scent will perk you up.
Pros
Vegan and cruelty-free
Doesn't contain silicones nor parabens
Gentle cleansing
Cons
May need to use lots of product, especially if you have thin hair
Honeydew Tea Tree Peppermint Shampoo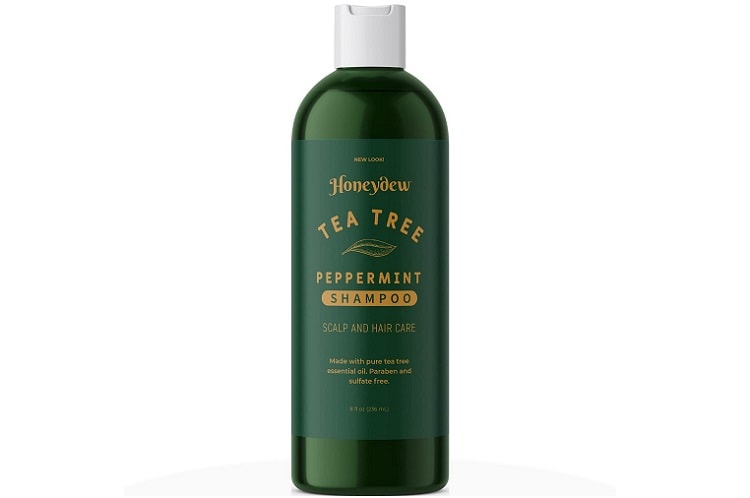 There's no better combination than tea tree oil and peppermint. Honeydew proves this with this effective shampoo. Peppermint hydrates and soothes your scalp while tea tree oil eliminates dirt, dandruff, and oil. This hair also promotes hair growth, not only with peppermint but also with lavender and rosemary essential oils.
This shampoo tackles everything. It moisturizes while also adding volume and shine. That's not only thanks to these ingredients but also the essential vitamins A, B, and E. It's also suitable for all hair types, including color-treated hair. Another plus is this shampoo is 97% natural!
Pros
Cruelty-free
Free of parabens
97% natural
Hypoallergenic
Ideal for all hair types, including color-treated hair
Cons
Doesn't have a good lather
Natural Essence Peppermint and Rosemary Strengthening Shampoo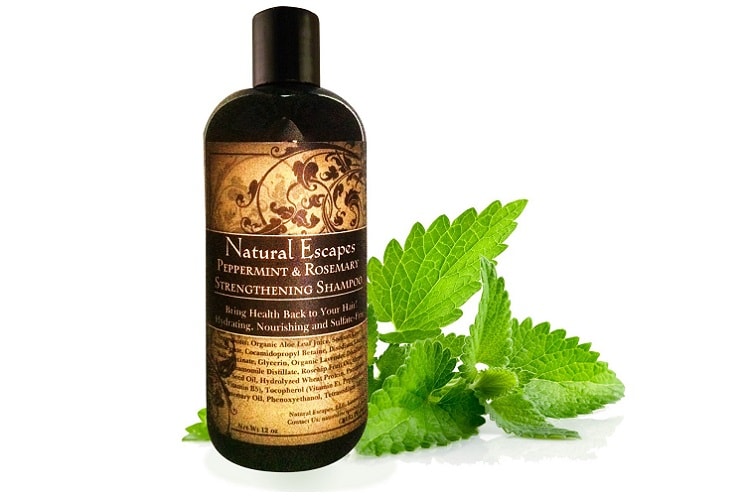 This is another all-in-one shampoo. Peppermint and rosemary work together to improve overall hair health, soften, and restore volume.
In addition, peppermint and rosemary can both stimulate hair growth by increasing blood circulation to your scalp. This shampoo is also made with rosehip seed oil, jojoba oil, chamomile, lavender, and vitamins E and B5. These ingredients moisturize and protect your hair from future damage.
Pros
Doesn't contain parabens, sulfates, or petrochemicals
Safe for different hair types, including oily and color-treated hair
Vegan and cruelty-free
No synthetic colors
Cons
It may be harsh for certain hair types, specifically 4A hair
Not the best option if you have dry and damaged hair
The Sauce Beauty Intense Repair Shampoo With Mint and Peppermint Oil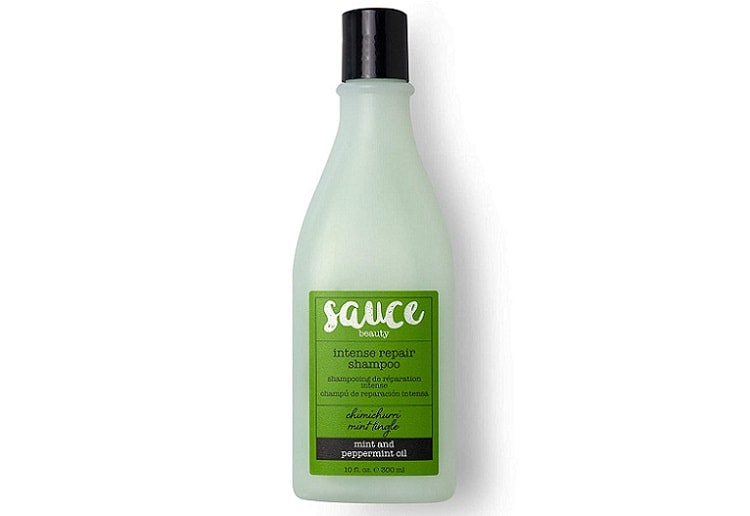 Do you love the tingling feeling of using peppermint shampoo? If so, you'll love this shampoo by The Sauce Beauty.
The tingling sensation invigorates your scalp. However, it's still a very moisturizing shampoo — even if you have dry and damaged hair. This is thanks to additional ingredients such as macadamia, mongongo, aloe, and argan oil. These ingredients also strengthen your hair and protect it from damage.
Peppermint isn't the only type of mint you'll find in this shampoo. Spearmint is present here, and this ingredient has antibacterial and antifungal properties.
While this shampoo is ideal for just about everyone, you'll get the most benefits if your hair is medium-to-coarse in thickness. You'll especially love this shampoo if your hair is damaged.
Pros
Free of parabens, gluten, and sulfate
Great for dry and damaged hair
Extremely moisturizing
Smells great
Cons
Might be too moisturizing for fine and oily hair
Aquableu Peppermint Oil Shampoo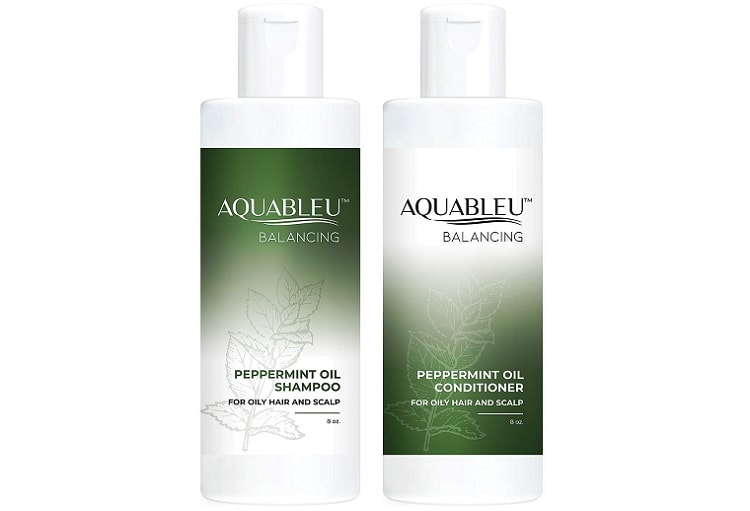 If a gentle cleanse is what you're looking for or if you have a sensitive scalp, this is the shampoo for you. It doesn't contain harsh ingredients, only effective ingredients that clean and improve your hair. The peppermint works by thoroughly cleansing your hair without stripping any oils.
It's also a very nourishing shampoo but doesn't weigh your hair down. Many people love the cold, tingling sensation of this shampoo.
The best part? This shampoo isn't only for women. Men and even kids can use this shampoo, too. It's also safe to use if you get regular keratin treatments or if you dye your hair.
Pros
Good for all hair types, as well as men and kids
Moisturizes but doesn't weigh hair down
Free of sulfates, gluten, silicones, and parabens
Cruelty-free
Cons
Some reviewers complained about the fragrance, that it doesn't smell like peppermint
FAQs
Question: Is Peppermint Good for Natural Hair?
Answer: Peppermint is good for all hair types, including natural hair. That's because peppermint combats itchiness, dryness, and other scalp issues. Peppermint also improves blood circulation, so more oxygen and nutrients are delivered to the scalp.
Question: How Long Does Your Hair Take to Grow When Using Peppermint Shampoo?
Answer: We covered the fact that peppermint can entice hair growth. But how long can you see results? Well, scientists had the same question. They did a study on mice and found that the mice that were washed with peppermint shampoo experienced rapid hair growth in only four weeks! Keep in mind, a mouse isn't a human, so these results may vary.
Question: Is Peppermint the Only Oil That Makes Hair Grow Longer?
Answer: While peppermint is effective at enticing hair growth, it isn't your only option. Other great oils for hair growth include:
Almond
Coconut
Onion
Argan
Lavender
Castor
Sesame
Grapeseed
Question: Can I Leave Peppermint Oil in My Hair Overnight?
Answer: Yes — however, don't apply the peppermint oil directly to your head. Instead, dilute it with a carrier oil, such as coconut, almond, or jojoba oil. Apply the mixture all over your hair and use it as an overnight treatment. Or, you can use this as a hair mask. Leave it on for 20-30 minutes and rinse out.
Question: I Hate Oil in My Hair. Can I Dilute Peppermint Oil in Water?
Answer: I hate oil in my hair, too, so I understand. The best part is you can certainly dilute the peppermint oil in water. There are actually a few benefits to this. One, you don't have to wash your hair. Two, you can apply this mixture to dry and wet hair. Three, this mixture not only helps encourage hair growth but also prevents scalp itchiness.
To dilute peppermint oil in water, take a spray bottle and fill it all the way up with water. Put in a few drops of peppermint oil. Close the bottle and shake it up well. Spray over hair and use it whenever it's necessary.
Question: Can Peppermint Oil Cause Hair to Fall Out?
Answer: Nope. Peppermint oil actually does the opposite — it entices hair growth. If your hair is falling out or thinning, it's best to check with a professional on the underlying cause.
Question: Is Peppermint Oil Good for Alopecia?
Answer: The treatment may help and there's no harm in trying. But understand that peppermint oil isn't a miracle cure if you have alopecia or similar ailments. To try a peppermint oil treatment, follow the advice mentioned previously. Mix peppermint oil with carrier oil and put it over your scalp.
Other oils you can try instead of peppermint oil include lavender, cedarwood, rosemary, and thyme. These oils are scientifically shown to be effective and have been used for more than 100 years to treat conditions such as alopecia.
Question: How Do You Use Peppermint Oil for Hair Growth?
Answer: There are a couple of ways you can do this:
Use any of the shampoos we recommended
Use the peppermint oil and carrier oil treatment/mask
Question: Are There Any Side Effects of Using Peppermint Oil Shampoo?
Answer: Peppermint oil can cause an allergic reaction, but it's rare.
Question: Can I Use Peppermint Shampoo on My Dog?
Answer: Absolutely not. Peppermint, as with many essential oils, is toxic to dogs. Even when only applied topically, your dog can lick up the shampoo and ingest it. Only use a shampoo formulated for dogs when washing your pooch.
Bottomline
Peppermint is an ingredient you'll see in many products, including shampoo. That's because peppermint offers many benefits for the hair. Peppermint gently cleanses the hair, restores moisture, and entices hair growth. If you're looking for peppermint shampoo, be sure to look through our recommendations!
Looking for mote interesting readings? Check out: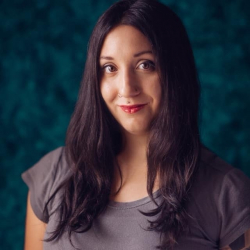 Latest posts by Stephanie Jensen, Hair Trend Spotter & Home Tester
(see all)