I remember when I got braids. I was on vacation years ago and saw a woman advertising braiding services. Her portfolio was amazing, and she offered so many styles. I got braids with various colored beads, and she even braided in multiple hair colors. It looked so beautiful! But if I ever get braids again, I'm doing ombre braids.
I wrote another ombre braid guide, and I'm quickly falling in love with this style. There's so much versatility in ombre braids. You can add limitless colors to your ombre and wear your braids in different styles to accentuate the colors. Knotless braids are also one of my favorite styles; the ombre colors look amazing on braids with the flowing hair base.
Are you interested in trying an ombre on your knotless braids? Here are my favorite ombre knotless braids ideas.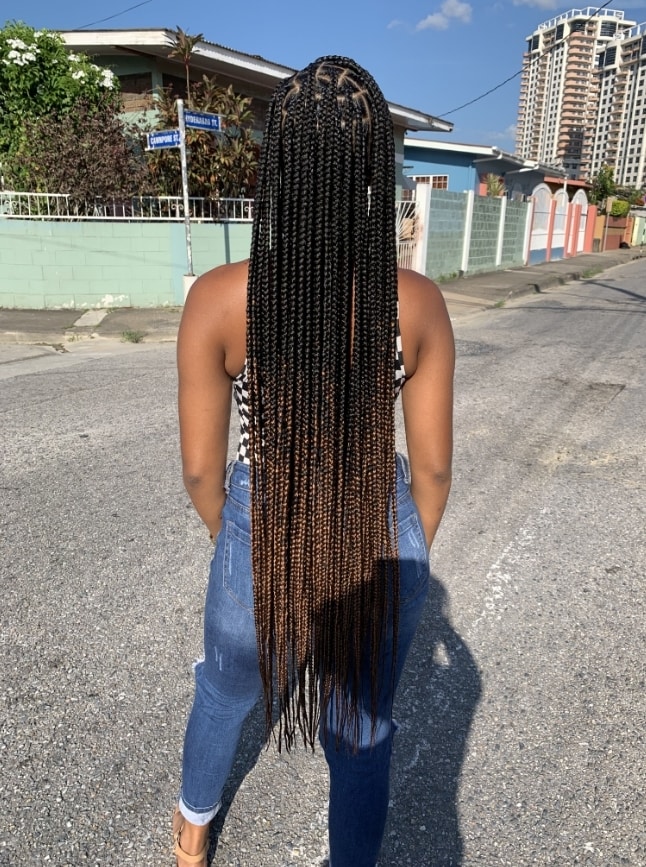 Bottom Line Up Front
Of all these knotless braid ombre looks, I love mermaid hair the best. This look is my favorite because of the different shades of blue in her hair. The combination of electric blue on top and light blue on the bottom makes her look like an undersea princess. If you love mermaid hair, I suggest choosing this look. But you can also add other colors to your ombre, such as green and purple. I suggest going to a professional for this look to get the best results.
How I Chose These Ideas
Because knotless braids are so versatile, I tried to include as many different looks as possible. But I considered three factors: the option to get DIY or professional braids, low maintenance levels, and various style options.
DIY and Professional Options
First, I will always suggest you get knotless braids done by a professional. Knotless braids are not only complex but take an extremely long time. Every time I've gotten braids, I always went to a pro.
However, I understand that not everyone can pay a pro. During the pandemic, many people learned how to do their braids because of COVID restrictions and mask-wearing.
I included looks that are best for professionals and also ones that are simple enough to do DIY. At the end of the article, I will also include a tutorial to do both one-color and ombre knotless braids yourself.
Maintenance
Knotless braids don't come with the most complex hair maintenance, but it's integral to keep them fresh. First, avoid getting your braids wet. Instead, use dry shampoo to keep them fresh and clean. Use leave-in conditioners two or three times a week to keep your hair and scalp moisturized. Wear a silk scarf when you go to bed. Silk keeps your braids preserved and prevents frizziness.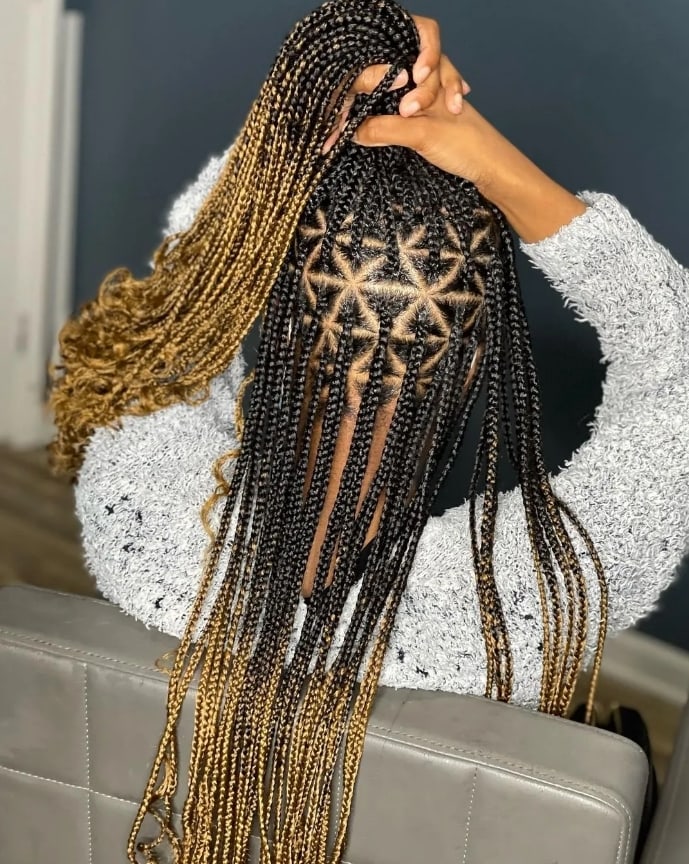 Style Options
There's so much you can do with knotless braids! You can wear them down, in different ponytails, buns, and more. The ombre colors will give your hair the coolest effect, no matter your hairstyle. You can also find knotless ombre braids in different lengths. Most of the looks use long braids, but I tried to find as many short braids as possible.
My Favorite Ombre Knotless Braid Ideas
Are you ready to get the ombre knotless braid look you always wanted? Here are some ideas for your inspiration!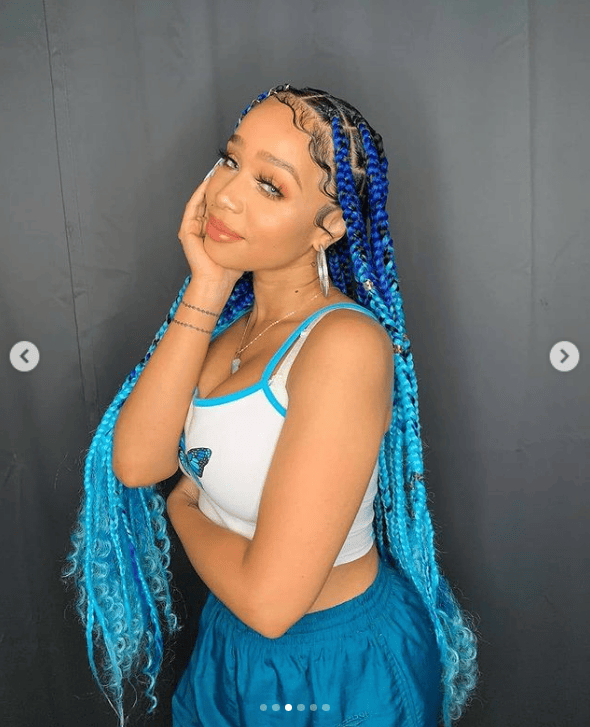 If you're looking for a fun knotless ombre look, this is my favorite! The model has two shades of blue, electric blue on top and baby blue at the bottom. With the gold accents and curls at the base, her hair gives me mermaid vibes. You can also choose to do this same style but with straight ends. You can also play up the mermaid look more by adding additional colors, such as teal and purple. You can also replace the gold gems with seashell accessories for super beachy vibes. Credit: @justbraidsinfo.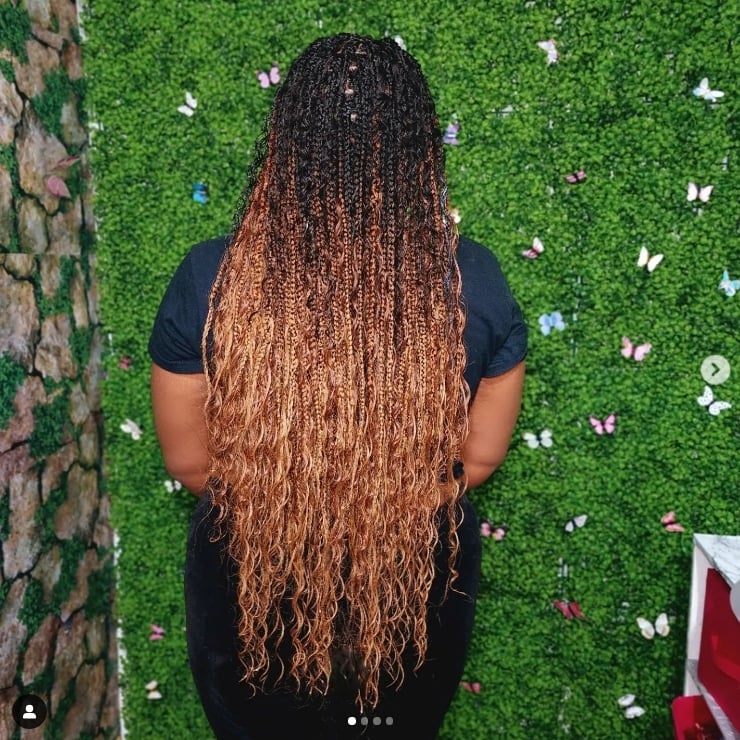 I understand that not everyone likes unnatural-colored mermaid braids. That's why I also want to recommend a natural-colored one. The model has black hair on top that fades to a copper-brown at the bottom. The look is eye-catching but still simple. This hair look should also work with most businesses' dress codes. If you want to liven your hair up, choose a fun hairstyle such as a side ponytail or a bun. Credit: @braidingicon.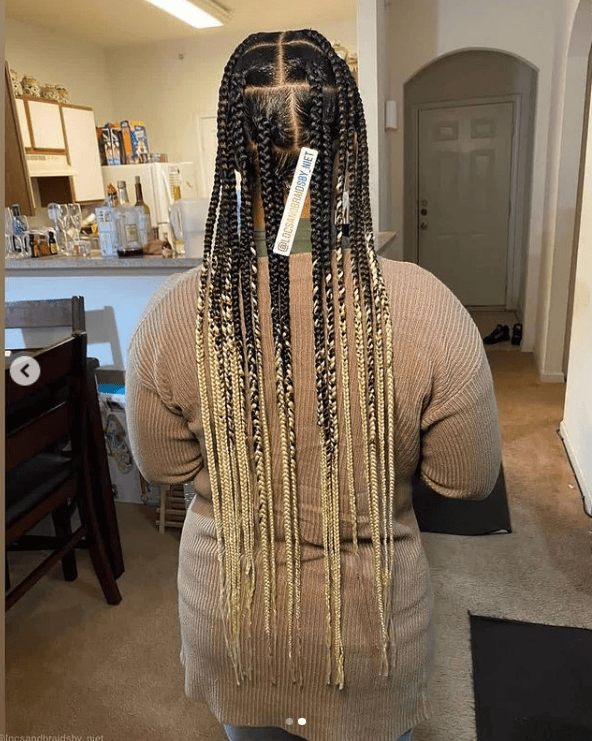 Out of all of the ombre colors, black and blonde is the most popular combination that I've experienced. I had these colors for many months. On braids, this color combination looks especially eye-catching.
The model's hair looks fantastic when down, especially since she has a straight and subtle base. But you can also wear your hair in a ponytail, and the ombre will still look vivid. Black and blonde are still natural colors, so most workplaces will allow these colors. Credit: @justbraidsinfo.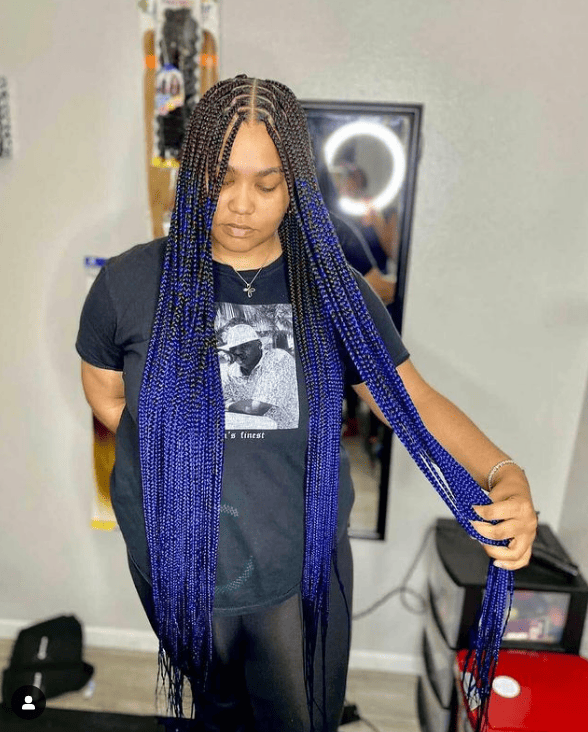 Black and blue are one of my favorite color combinations, especially with the shade of navy blue that the model has. The darker tones of black hair blend so flawlessly with navy.
You can do this look DIY, but I would be careful with the shade of blue you choose. For example, be mindful of your undertones. The model has warm undertones and chose the perfect warm shade of navy that looks amazing with her complexion. But there are cooler varieties of that same shade. You can keep this look or go crazier by adding other shades of blue. I also love how the braids are so long with the subtle loose hair at the base. Credit: @justbraidsinfo.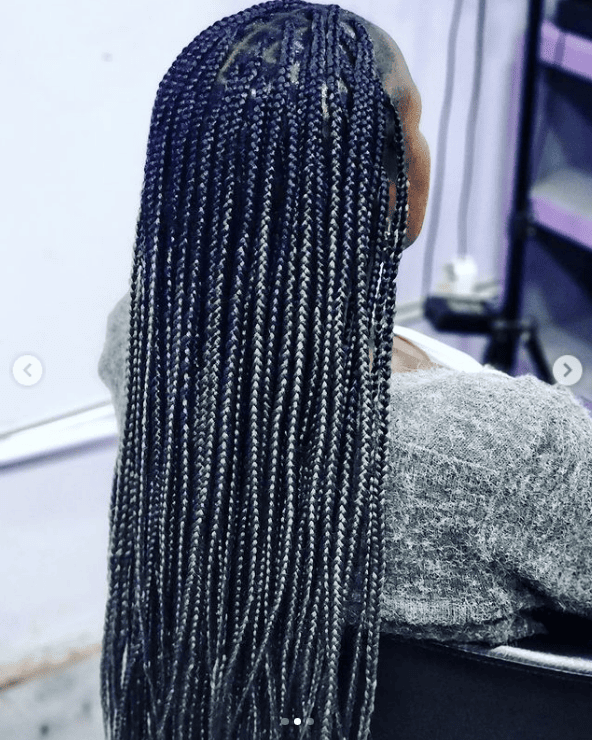 Gray hair is a big trend right now, making me so happy. I love the gray hair color, and it looks especially amazing as an ombre. The black and gray color combination is perfect for wanting to leave an impression but not wanting a look that's too crazy. Her ends aren't too loose, making this look easy to maintain. Her braids are long, but you can also wear them shorter. Credit: @lizzickysalon.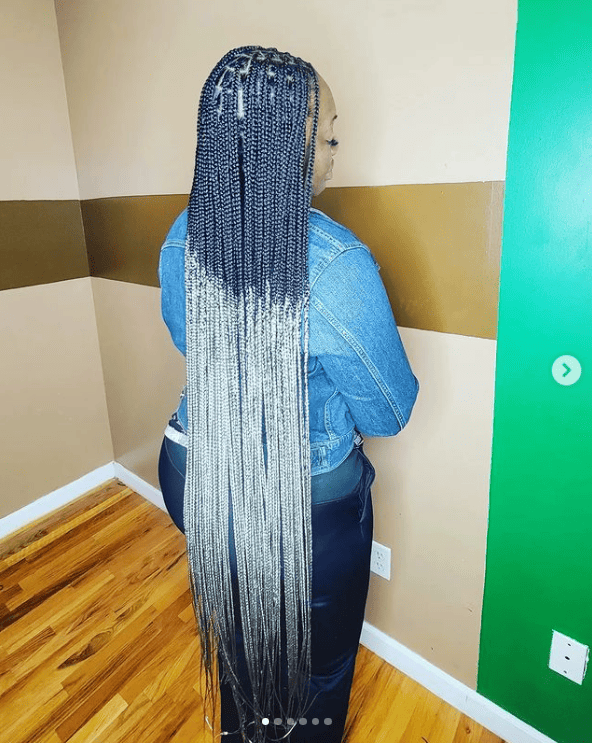 If you want to take the gray hair trend a step further, try achieving this two-toned gray ombre. The model has dark gray on top and light gray on the bottom. Her braids are extremely long–down to her ankles! But you can get your braids shorter and still achieve this same ombre. The colors are drastic but aren't too crazy, so I still see this look working in an office setting. Credit: @sharon_braid.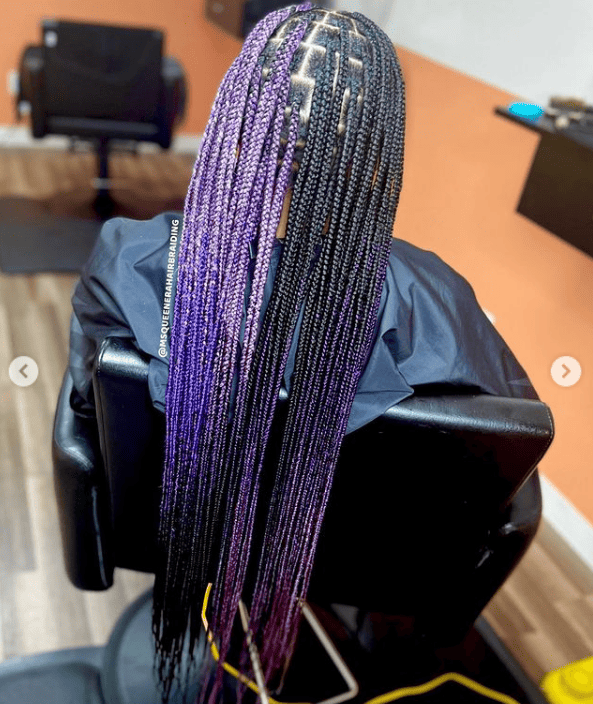 Other than black and blue, black and purple are my favorite color combination. That's why I love the model's black and purple braids. The model has extremely long braids, and the space buns look adorable. While it will take a long time to get this look, it will be worth it. But if you want something simpler, I suggest getting shorter braids. Credit: @msqueenhairbraiding.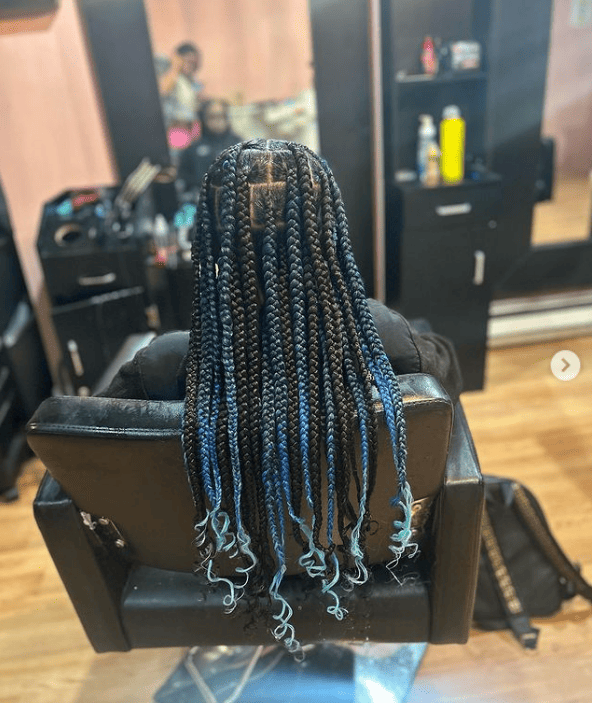 If you love the mermaid hair look but want some natural color in the mix, I suggest this black and multi-shade blue ombre. This look is more similar to a balayage, with the dark blue color mixed with the black. But dark blue blends into light blue at the ends, resulting in a unique ombre.
When you wear your hair up, the blue ombre would look even more intense. But this look also works when worn down–I especially love the loose curls at the bottom of her hair. At the same time, you don't want to overdo the curls and risk damaging the look. I would only curl the ends when you're going out.
The model's hair is long but not crazy long, so this look would work for anyone. But these colors would also look amazing on extremely long braids. Credit: @stylesby.ess.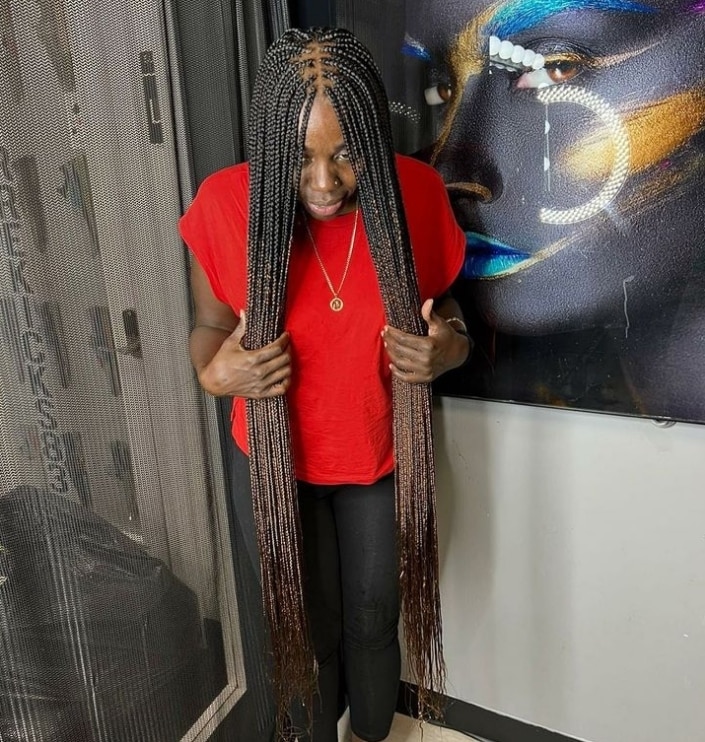 This ombre is so subtle since the two colors are similar in shade. But if you look closely, you can see the difference in color. This is the perfect ombre if you want to try an ombre but aren't sure how you will like it. I also like the slight wave on her ends; it draws your eyes down the length of her braids. You can always play up the ends by curling or straightening them. Since her braids are so long, I recommend you get this look done by a professional. Credit: @stylist.carol.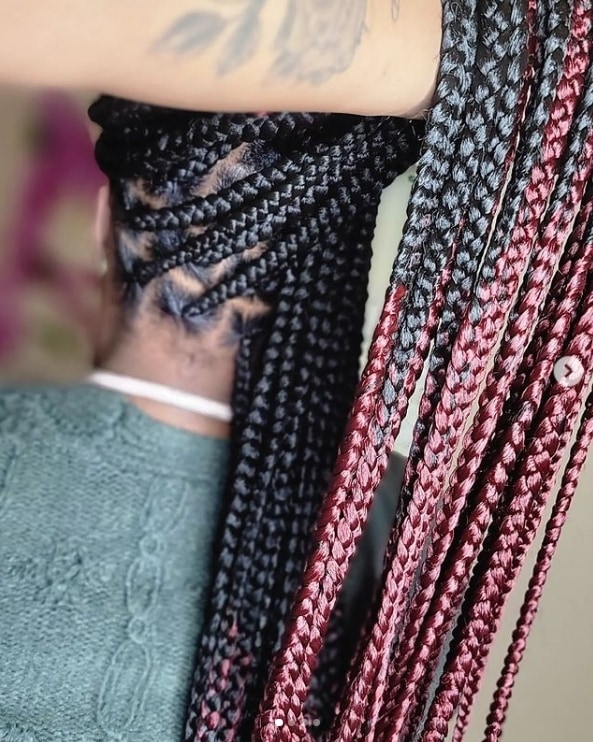 Black and red is another classic ombre color combination. The model here combines her natural black hair with a pretty red-wine color. I also like how the stylist combined these two colors. While most braided ombres blend, these are cut more and make the distinction more intense. These are long braids, but I can see these two colors working together on medium-length braids. You can't see the loose ends too well, but it looks like they're straight. Credit: @csreflections_is_me.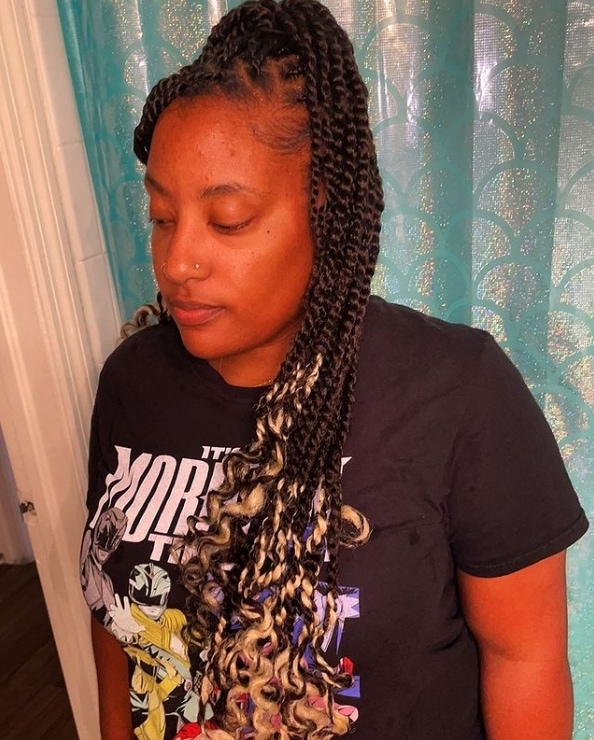 I love how curly knotless braids look, and the model's hair is the perfect example! Her black, twisted braids transition to blonde curls at the bottom. It doesn't look like all of the curls are loose, but the blonde curls will be more extravagant if all of the ends were loose.
When choosing the best shade of blonde, focus on your undertones. The model has yellow undertones, so she has a golden-toned blonde. If your skin has neutral undertones, use ash blonde.
I especially love twist braids, and they have become my new obsession. But you can rock normal box braids with this look. I also love how she's wearing her hair half up. To accentuate the braids more, I suggest putting in some accent beads. Gold beads would especially look gorgeous with the blonde hair. This look is eye-popping but is also versatile enough to work with nearly any work dress code. Credit: @yapah_haircare.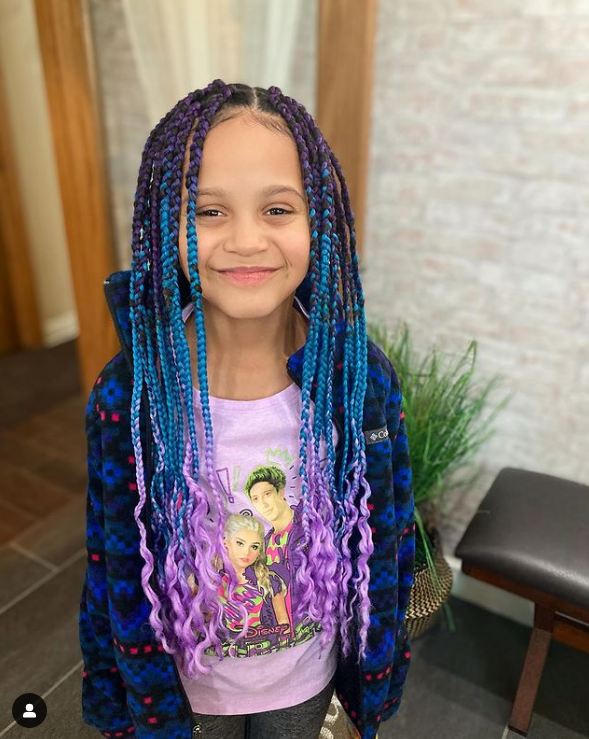 Aw, she looks so adorable with these braids! Her braids start purple at the top, transition to a baby blue, and end with loose pastel purple ends. She's wearing her hair down, but I can see these colors working great as pigtails or a high ponytail. Her braids are long but are the perfect length. If you want this look, I suggest going to a professional since mixing the different colors may be difficult. You'll also need to maintain it well, so the colors look amazing for a long time. Credit: @serriaaliiciia.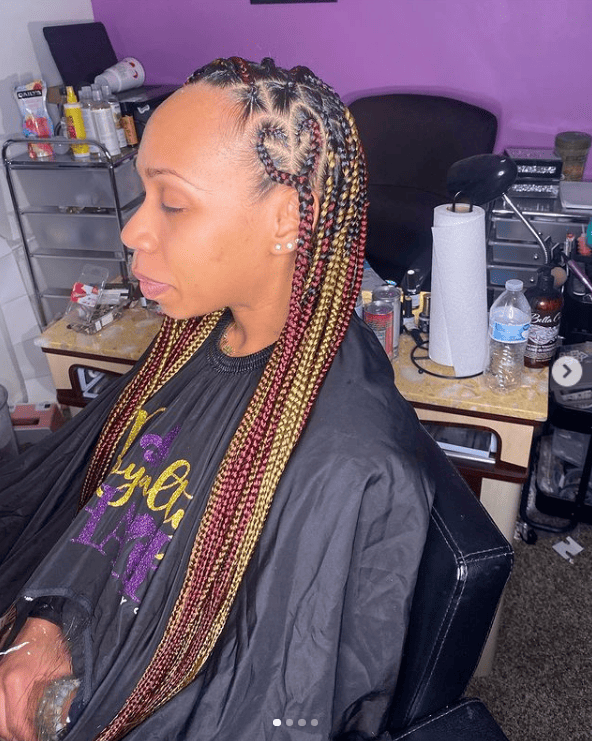 This look would be perfect for a Valentine's Day hair look! As you can see, the stylist put a heart in her knotless braids. With her hair half-up, you can see the heart perfectly. I also suggest putting your hair up in a bun or all of the hair up in a ponytail for something different. The stylist parted the model's hair to the side; even without the heart, this is a chic look.
I also love the colors she used; she kept the model's natural black hair color and blended it in with a blonde and pink balayage. If you don't like both colors, you can always choose one color. Credit: @royaltyhair_byce.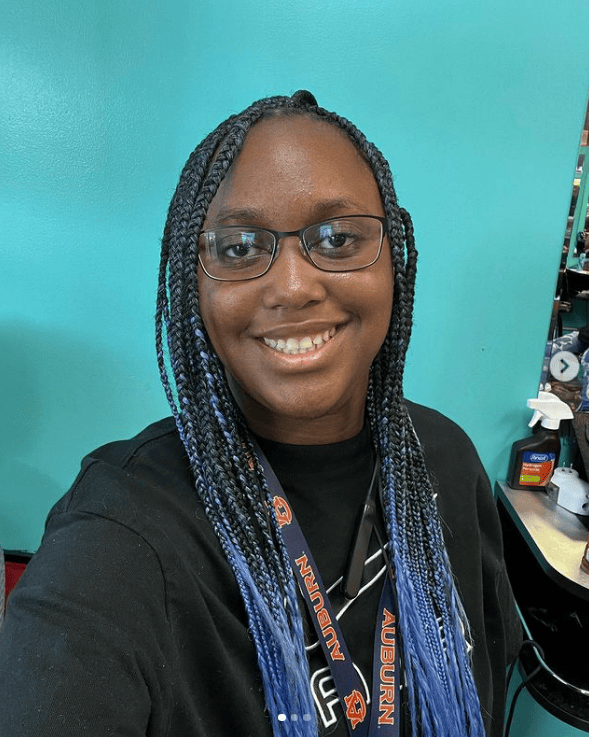 That ice blue is one of the most unique hair colors I've ever seen! The ice-blue color blends in with her black hair so flawlessly. The look is striking and unique, perfect for anyone who wants to try a different shade of blue.
Keep in mind I don't think finding this shade of blue is easy. You or your stylist will have to dye the braids that shade of ice blue. Fortunately, this is easier than you think. If you're using synthetic hair, you can't use traditional hair dye. However, acrylic ink will work, and you can combine different colors (depending on the brand). Combine the acrylic ink with 70% rubbing alcohol. Put it in a spray bottle and spray it on the hair. Let it sit for 12-24 hours. Credit: @leahdenisemayfield20.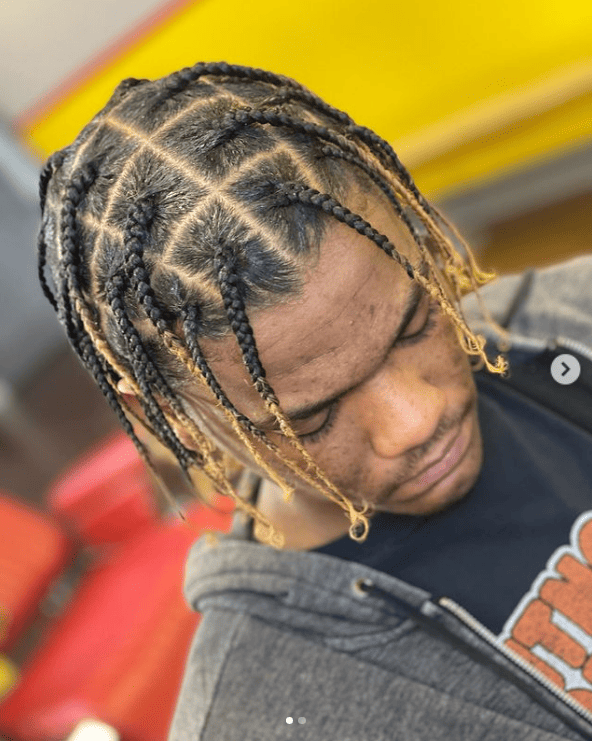 Men can rock the knotless ombre trend, too! He has short braids that are very thin, starting black and fading into blonde at the ends. This is perfect if you don't like your braids too long or are new to the ombre look. Women who prefer short and thin braids can also use this look as inspiration. Plus, these braids are super easy to maintain. However, there are many other ways to wear these colors, so feel free to get creative. Credit: @andreaaamariee.
Your ombre doesn't only have to feature two hair colors. I'm starting to see this black, brown, and blonde ombre look more, but it's still really unique. The model's hair starts with black, fades to brown, and then fades to ash blonde at the ends. The ombre stands out but is still natural, perfect for someone who wants to take their ombre to the next level without introducing unnatural colors. If you want to add something else to this ombre, I suggest having fun with accessories. Credit: @thebraidmechanic.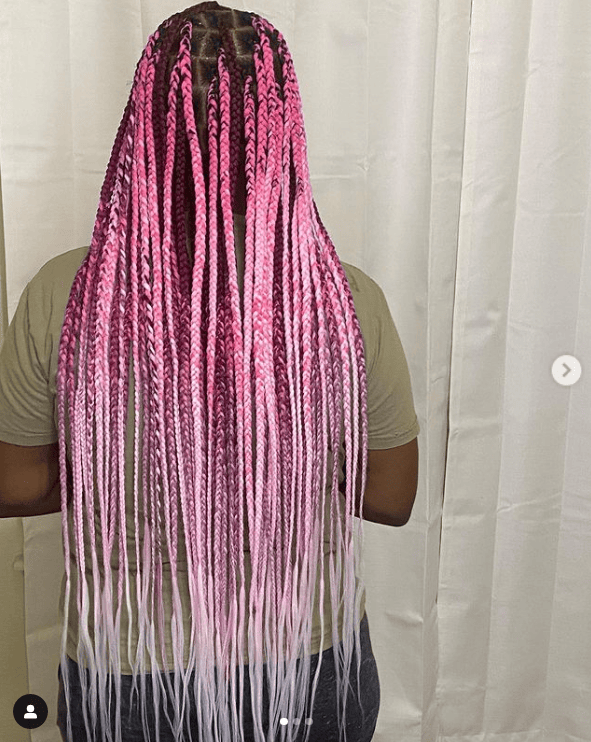 Is it just me, or does this ombre remind anyone of Strawberry Shortcake? The different shades of pink that transition to white at the bottom is hair I would have loved as a child! The model's hair starts as black at the roots and fades to Barbie pink, then light pink. Her hair looks fantastic when down, but I can see an updo, such as a bun, showing off all of these colors. Credit: @braidsbytoks.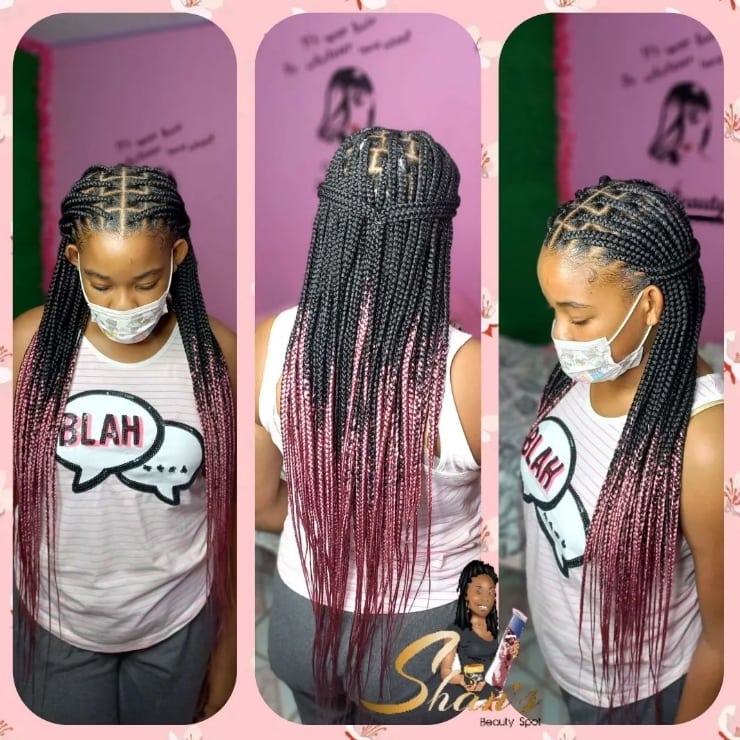 One of the best parts of a black and purple ombre is there are so many shades of purple, and all look amazing with black. Take this pretty shade of light purple as an example. Her hair is black and fades to a pretty purple color, left feathered at the ends. You can also opt for dark pink or a cool-toned shade of red and get similar results. Her updo in the back looks neat, though you can add more volume by putting your hair up in a bun. Credit: @shansbeautyspot.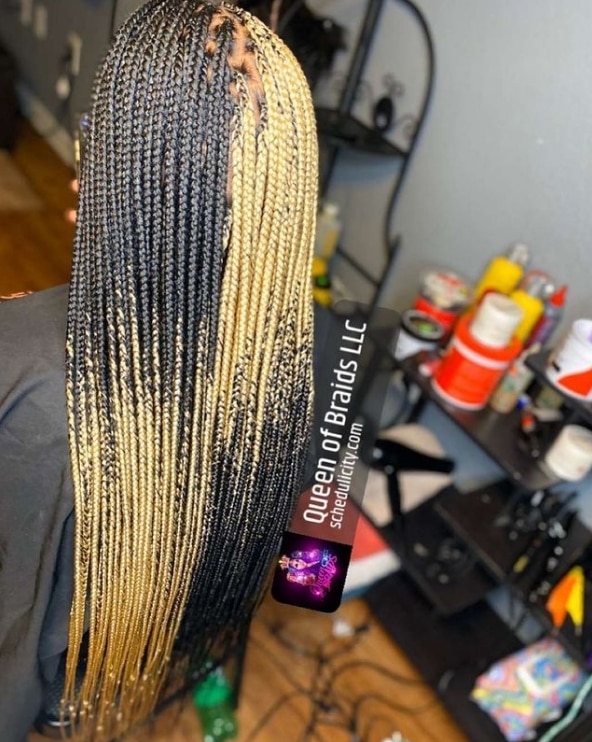 I don't even know what to call these, so I'm saying they're checkered ombre braids. Her whole head is a blonde and black ombre, but the ombre is flipped on both sides of her hair. It also looks like there are beads at the ends of her hair, but I can't tell. This is one of the boldest braided ombre looks I've ever seen. The best part of this look is its flexibility. You can achieve this look with any shade of blonde or another color. Credit: @queenofbraids_llc.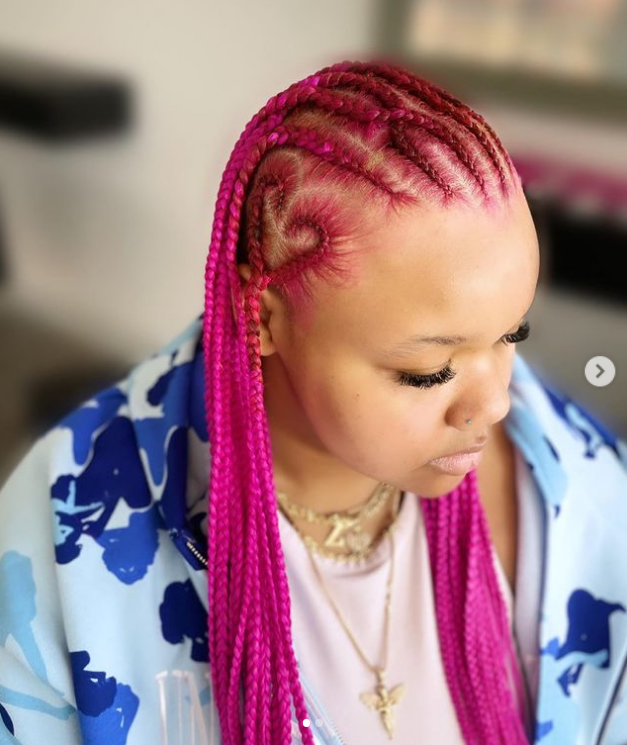 Here's a more vivid Valentine's braid option. The model's braids are bright Barbie pink. If you look closely, her roots are dyed red. The red blends so well with the pink that you can't tell they're two different colors. There's also a heart design in her cornrows. If the Barbie pink is too bright for you, I can see a rose gold or light pink looking amazing. Credit: @thekyailaeffect.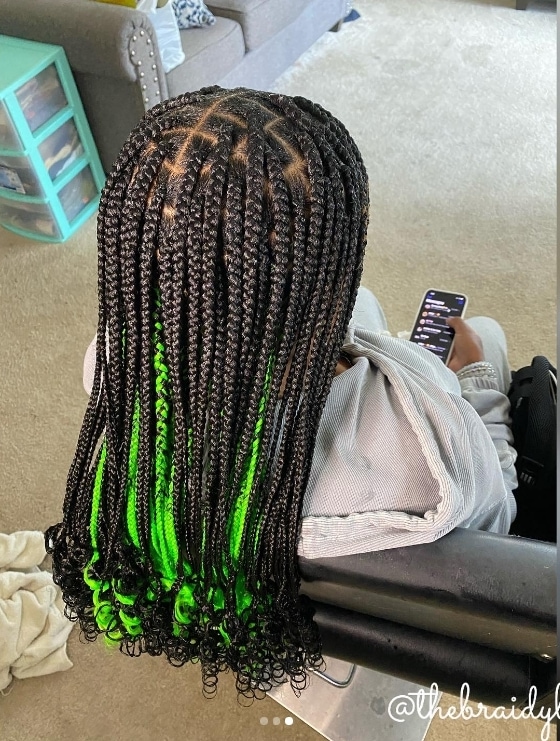 Black and green are another one of my favorite color combinations, especially that bright lime green. I love the combination of these colors and the style of the braids. The braids aren't too long, and they're left unfinished at the ends. The ends are also curly, giving a feminine flair to this look while making the green pop even more. And since you're not washing your hair, the lime green will last a long time.
There are various shades of green you can choose if the lime green is too bright. I love dark green and black. Teal-green is a really pretty and trending color. Credit: @thebraidybunch___.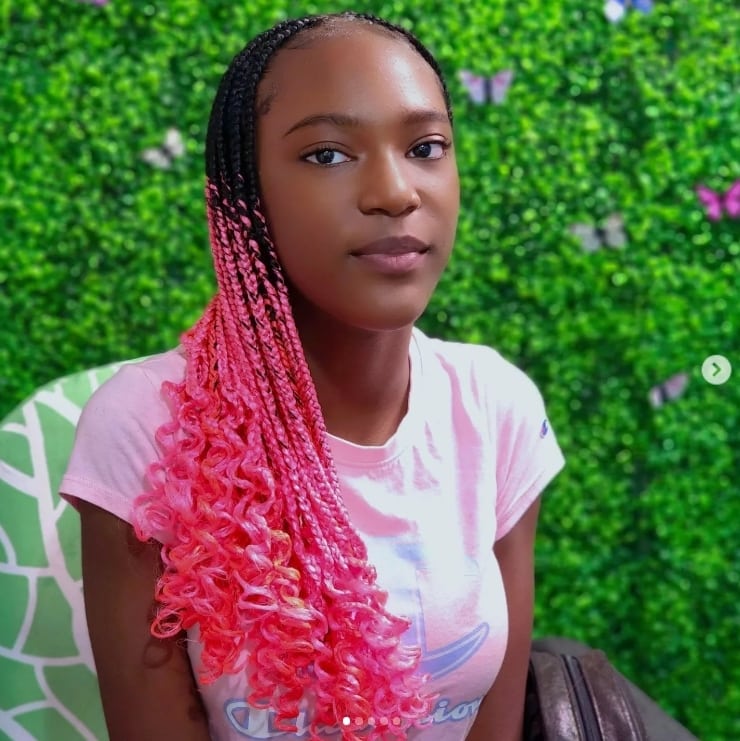 I love this watermelon pink color! If you're looking for a summer ombre look, I suggest this color. This is also a great shade of pink for those with warm undertones. I love her unfinished and curly ends, giving her hair even more playful vibes. I love the length of her braids, but you can always go longer for a more extravagant look. You can also add some beads or other accessories to make your hair stand out even more. Credit: @braidingicon.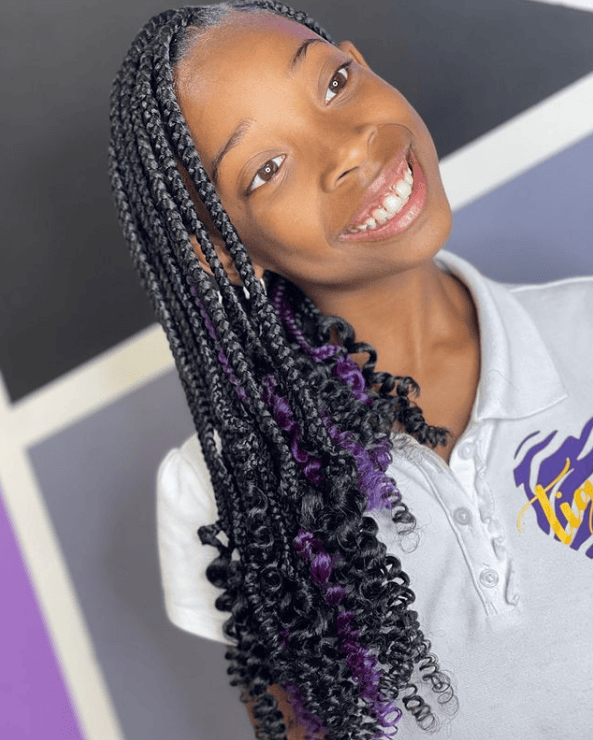 Last but not least, I want to show another black and purple ombre. Even though nearly every shade of purple looks great with black, this dark purple is one of my favorite colors. Only a few pieces are purple, so this is perfect for a kid. But if you want a more extravagant look, you can always add more dark purple braids. Credit: @andreaaamariee.
FAQs
Question: Why is it essential to have knotless braids?
Answer: Knotless braids are a protective hairstyle. Like other types of braids, knotless braids protect your natural hair strands, which can entice hair growth. But knotless braids are better than box braids since they protect against traction alopecia. Traction alopecia is a hair loss condition caused by huge, tight knots. Knotless braids take longer because you're braiding the fake hair into your natural hair, but your hair will be healthier.
Question: How long do knotless braids last?
Answer: It depends. On average, knotless braids can last three months, but they may last shorter for some clients. When I had braids, they only lasted about one month on me.
Question: This is my first time getting knotless braids. Do they feel heavy?
Answer: Braids feel heavier than your natural hair, that's for sure. But they're not so thick and heavy to where they're uncomfortable.
Bottom Line
Of all these ombre knotless braid styles, I love the mermaid look the best. I could be biased because I love mermaid hair, in general.
Her hair starts with dark, electric blue and fades to light blue. The different shades of blue made the model look like an undersea princess. The model also has gold beads in her hair, accentuating her braids even more. Mermaid hair is so versatile. You can also add shades of green and purple to your hair to convey the different colors of the ocean. While I recommend getting this look done by a professional, the result will be worth it.
Looking for more interesting readings? Check out: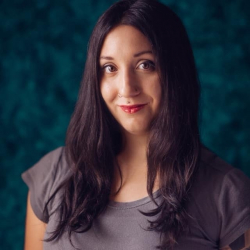 Latest posts by Stephanie Jensen, Hair Trend Spotter & Home Tester
(see all)