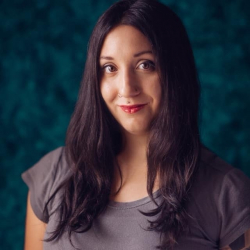 Latest posts by Stephanie Jensen
(see all)
Unnatural hair dye is all the rage, and blue hair is one of the biggest trends. I would argue the best way to get blue hair, in addition to any hair color, is to go to a professional. But if you prefer the DIY method, there are more blue hair dye options than ever.
With that being said, you may be wondering how to find the best blue hair dye. There are a variety of shades of blue as well as a myriad of styles you can do with blue hair. But first, let's focus on hair dye quality and best practices to know when finding blue hair dye.
Tips When Dyeing Your Hair Blue
Before we get into the advice on finding blue hair dye plus our recommendations, it's best to know a few key tips before dyeing your hair blue. This way, you'll know if blue hair is right for you.
Maintenance
Blue hair dye, as well as other unnatural colors, require a ton of maintenance. I also find that blue is the color that fades the quickest — and I had just about every hair color under the sun.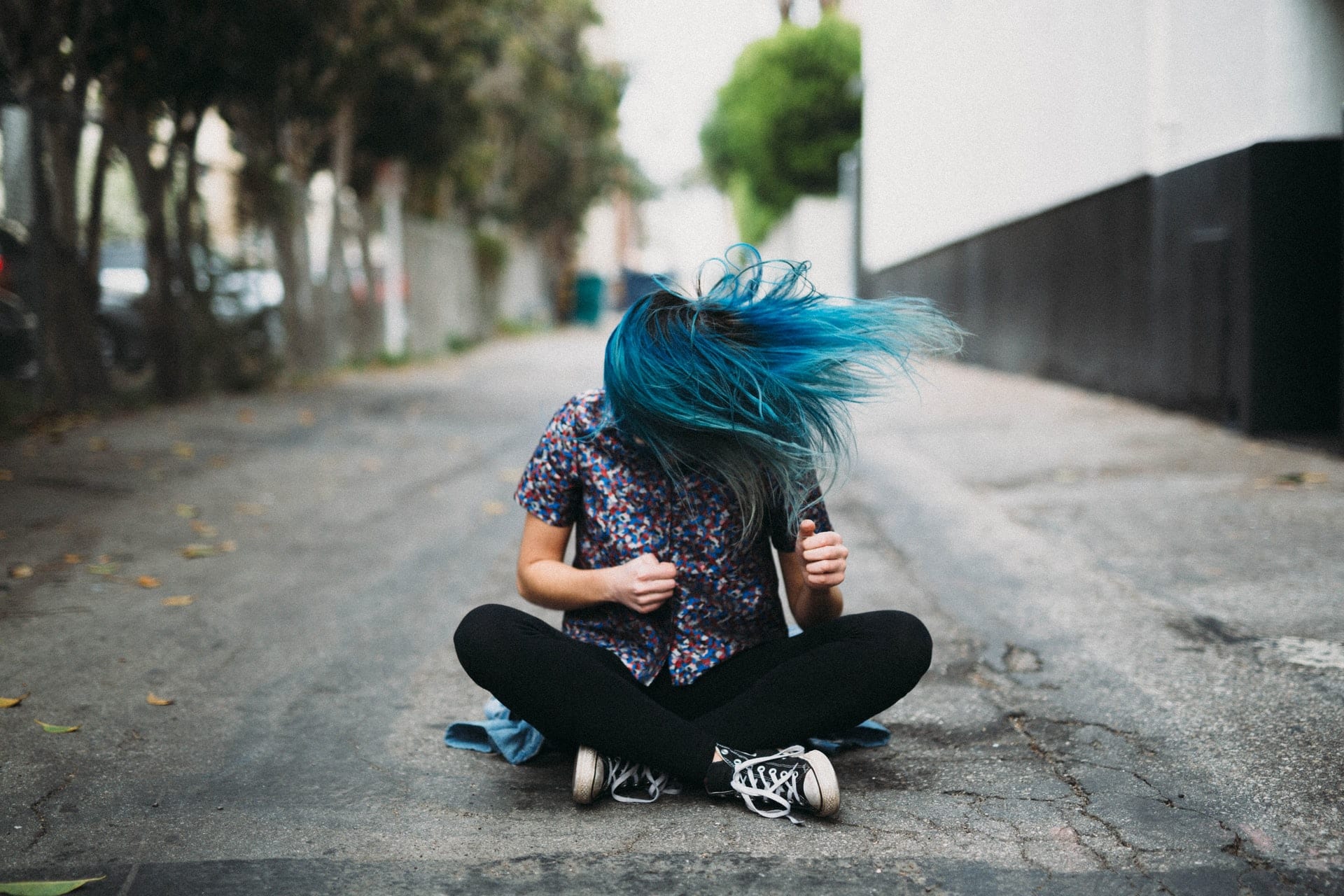 Most unnatural colors last a few weeks with proper maintenance, even as long as six weeks. In order to get the best results, only wash your hair a couple of times a week (ideally once a week) under cold water. Use color-safe shampoo and conditioner. Avoid heat styling products and the sun, too.
Unnatural Dyes Are Semi-Permanent
Why don't unnatural dyes last as long as other hair dyes? That's because most are semi-permanent. Semi-permanent dyes don't penetrate the hair strands, which means they wash out rather easily. In addition, you can find temporary dyes, but these usually fade after one wash. Semi-permanent dyes usually last for 12 washes.
You May Have to Bleach Your Hair
Unless you want a blue tint, brunettes will have to bleach their hair before dyeing their hair blue. While you can do this DIY, I don't recommend it because of the damage risks involved. With that being said…
There's a Risk of Damaging Your Hair
Any type of hair dye can damage your hair, but especially unnatural colors. Bleaching will especially weaken your hair, making your tresses vulnerable to damage.
There are ways to reduce your risk of damage. Instead of bleaching your hair down multiple levels, bleach your hair gradually. Opt for a darker shade of blue and then lighten your hair over time. During this time, use a shampoo and condition that will repair your hair.
Find the Best Shade of Blue by Looking at Your Skin
One of the best aspects of blue hair dye is there are so many shades of blue. You'll likely find a blue that suits your skin color and undertone.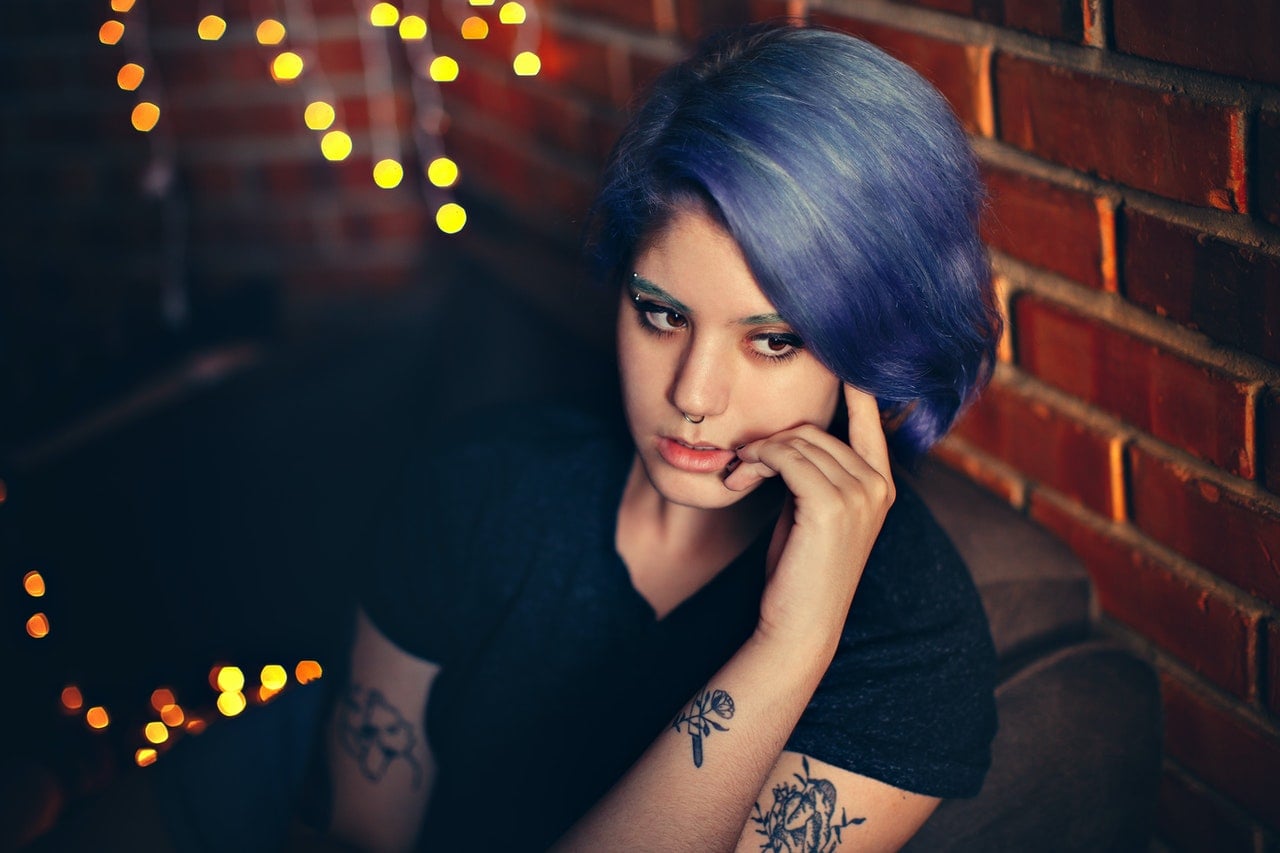 There are three undertones: cool, warm, and neutral. Cool undertones have pink in the skin, warm undertones have yellow in the skin, and neutral has a combination of both cool and warm undertones.
Which shade of blue works for each undertone?
Cool: any type of icy blue will work. Pastel blue and rich blue will also look good. Even purple-blue will work great for you.
Warm: dark blue, such as cobalt
Neutral: any blue will work for you, but consider other factors such as your natural hair color and shades of blue that look good on you
In addition to your undertones, your overall skin color will also impact which blue you should use.
Fair: you can pull off light or dark. Ocean blue looks the best on fair skin, but teal also looks pretty on light skin colors.
Medium: dark blue, especially cobalt blue
Deep: deep navy, especially midnight blue. If you want a lighter color, opt for denim blue and chambray.
If you're unsure which color to pick, opt for navy blue. This shade is universal and will look amazing on you, regardless of skin color and undertone.
Your First Dye Job May Not Look Good
Getting bright blue hair won't happen overnight, especially if you're transitioning from brown to neon teal. You may need to dye your hair a couple of times, as we mentioned previously, to get that bright and rich color that you want. This is why you should buy multiple blue dyes as well as different shades, just in case the blue dye you use doesn't work.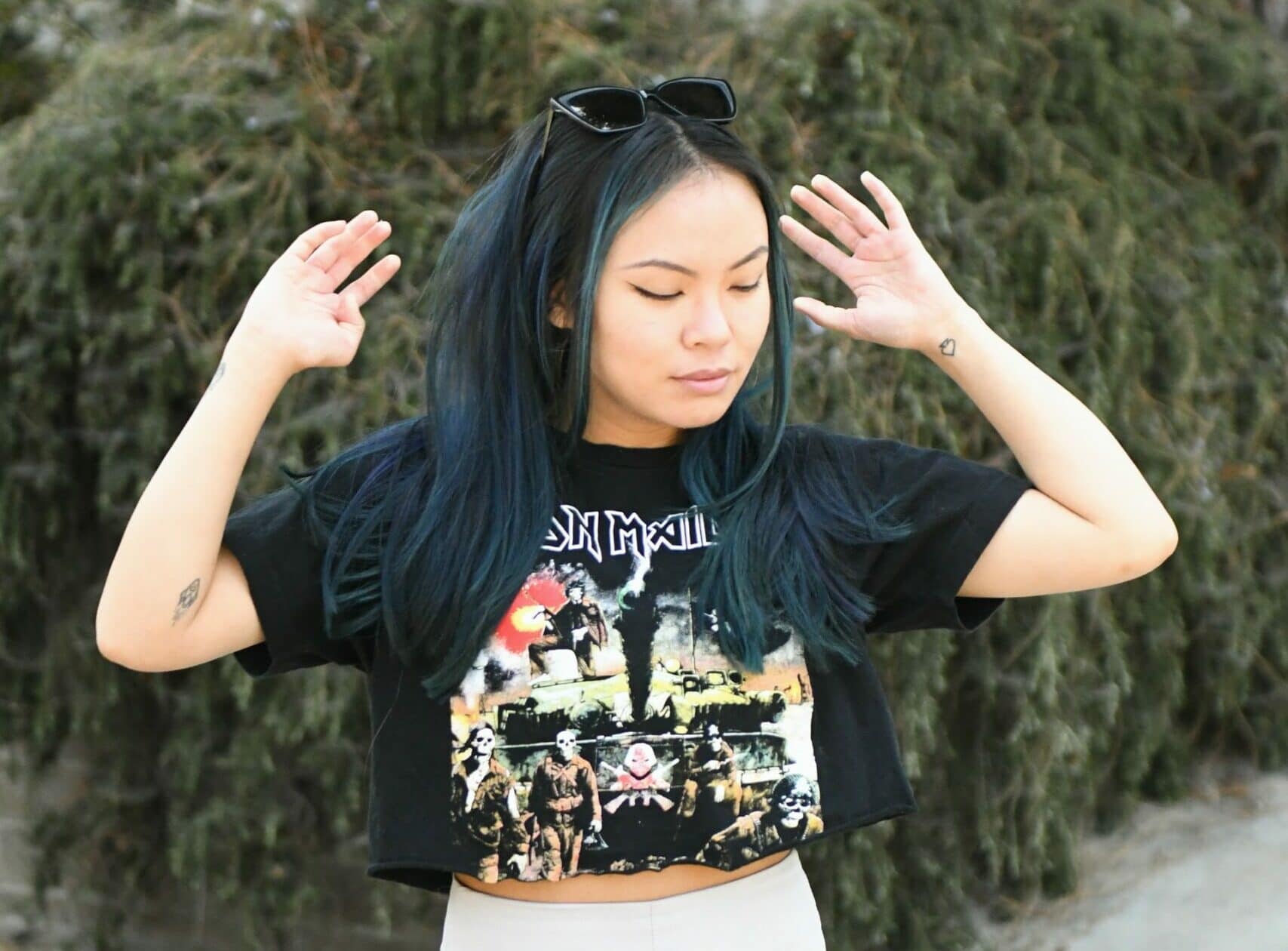 How to Find the Best Blue Hair Dye
Shade of Blue
As stated previously, you should choose the shade of blue you want before dyeing your hair. You can use the guide we compiled previously or simply use your preferences to choose the best shade of blue. You can find blue hair dyes in various shades, such as:
Midnight blue
Cobalt
Electric blue
Dark blue
Navy blue
Teal
Ocean blue
Ice blue
Cloud blue
Longevity
As stated previously, just about all unnatural dyes are semi-permanent, meaning they won't last as long as permanent hair dyes.
But every semi-permanent dye has its own strengths. Some last as short as seven washes while others last for over 12 washes. We will recommend some long-lasting blue dyes here, but it's recommended that you conduct your own research when finding long-lasting blue dyes.
Blue Hair Dyes We Love
Even though we mentioned that those with dark hair must use bleach first, there are some exceptions. Punky Lagoon is one of them. They make dyes so those with brown and red hair can achieve colored hair without bleach. The secret comes from its vivid shades in all colors, including blue.
The dye is formulated with keratin to strengthen hair. Keratin will also help make your hair feel soft and shiny. This dye is also made without sulfates, parabens, and other toxic ingredients. The formula is also completely vegan.
Keep in mind, this dye does have a fragrance. The scent is best described as grape, so it gives your hair a subtle sweet scent. In addition, this dye does stain, so be sure to wear black t-shirts when dyeing your hair and for a few days after using the dye.
Pros
Vivid color
Hair is shiny and feels soft afterward
Cons
This dye stains
Has a fragrance, which many people won't like

If the color intensity is what you're looking for, then use Celeb Luxury Colorwash. Colorwash is unique because it's a color depositing shampoo. That means it will preserve hair color with each wash.
To use the Colorwash, use the shampoo after coloring hair and every time you wash your hair after dyeing your hair. The Colorwash will hold the vibrancy of the color without fading. In addition to pigment, this shampoo gently cleanses hair while maintaining shine. The formula is completely vegan and won't stain.
We recommend just using the traditional blue color, though they offer multiple color options.
Pros
Increases color vibrancy
Vegan
Stai-free formula
Cons
The dye may not work on all hair types. For example, it won't enhance your natural hair color, only dyed hair.

Adore's formula is liquid as opposed to cream; however, the liquid formula is easy to apply and works quickly. The formula also doesn't stain and doesn't strip hair.
Adore offers several colors, but we recommend Indigo Blue. This color strips all brassiness from hair, giving your hair a pretty cool-toned indigo color. The color is very vibrant but also fades well.
Keep in mind, the dye does have a scent and it won't work on all hair types. For example, other reviewers complained it doesn't work on unprocessed hair and doesn't cover grays. Because of the liquid formula, it's not the best dye for thick hair.
Pros
Doesn't stain
The liquid formula is easy to work with and dyes quicker than cream-based dyes
Eliminates brassiness for a cool-toned indigo
Cons
Not effective on unprocessed and thick hair, as well as anyone who needs to cover grays
Manic Panic is arguably the most famous name in unnatural color hair dye. They're known for their extensive range of hair colors, and you'll likely find the shade of blue that you're looking for. Blue Moon is a navy blue that's absolutely beautiful.
Not only that, but Manic Panic is very gentle on the hair. It's also made with vegan ingredients. Manic Panic dyes are known for not only giving you bright colors but are also very affordable.
Keep in mind, this dye is the only pigment and it won't lighten the hair. You'll have to bleach your hair first in order to achieve an intense color payoff. There are also other dyes that are better quality than Manic Panic. Manic Panic is known for not lasting a long time and that's because it's a temporary dye.
There are a few other downsides, such as how the dye stains so badly — including on surfaces and fabrics.
Pros
Vegan formula
Very affordable
Cons
Stains badly
Doesn't last as long as other brands
Arctic Fox dyes are not only affordable but the color payoff is bright and the dye lasts a long time. Reading the reviews, some people reported the color lasts as long as eight weeks (though they don't explain how often they wash their hair and any other maintenance they do). Not only that, but it fades really well. It will be less vibrant but fades to a pretty dusty teal.
There are a few shades of blue you can choose from. We're recommending Aquamarine because it's very versatile. If your hair is dark and you bleach it a few shades lighter, you can achieve a pretty dark teal. If your hair is lighter, the color will look richer and paler. We do recommend you bleach your hair for the best results.
Keep in mind, this dye has a fragrance. It's best described as a green apple. While some people may like it, others won't.
There are also some ethical concerns with Arctic Fox. The owner has been accused of using homophobic slurs and creating an overall toxic workplace. Other users have reported allergic reactions to specific ingredients, specifically the two preservatives Methylchloroisothiazolinone and Methylisothiazolinone.
Pros
Color is long-lasting and fades well
Cons
Recommended to use on bleach hair, even if you only lighten your hair a few levels
Strong smell
Ethical concerns with the company
Allergies have been reported from preservatives found in the ingredients
FAQs
Question: Do You Really Have to Bleach Your Hair?
Answer: If you want vibrant hair, it's recommended. But if you just want a tint, bleach isn't necessary. Some hair dyes, such as the Punky Color dye, make bleach-free unnatural colors for those with dark hair.
Question: I Have Dark Hair and Want Vibrant Blue. How Light Do I Need to Bleach My Hair?
Answer: Ideally, your hair should be stripped of all color. But that causes intense damage. Instead, take a look at the specific shade you want and see how light your hair should be.

If you want a vibrant yet dark shade of blue, try bleaching it to a 7. Your hair will turn a copper-blonde color. If you want an icy cool-toned blue, bleach your hair to a level 9 or 10. Your hair will look extremely light, almost white.
Question: Which Shade of Blue Is the Perfect Shade?
Answer: This depends on preference and which shade of blue works for you. However, lighter blue colors tend to be the most coveted. Frosty/icy blue and blue pastel are a couple of the most popular shades.
Question: Is There a Blue Dye That Doesn't Bleed or Stain?
Answer: Out of all of the dyes on this list, the Adore colors is the one that won't bleed or stain.
Question: What If I Accidentally Leave the Dye in for Too Long?
Answer: If you leave the dye in for too long, the color will turn darker. If you want a bright shade of blue, make sure to follow the manufacturer's directions.
Question: How Do You Get Rid of Blue Hair Dye?
Answer: Did you dye your hair blue and don't like it? The best way to get rid of blue hair dye is to dye over it. Choose a dark brown to remove the color quickly. You can also shampoo it daily with a clarifying shampoo or dishwashing liquid, use a color remover, and spend time in the sun or pool.
Bottomline
Blue hair is a serious trend, but you'll have the best results when you know how to find the right hair dye. Follow our advice and try some of our dye recommendations.