Did you know that 75% of women dye their hair before they reach the age of 50? And unnatural colors are becoming more popular than ever.
Unnatural hair colors are ones that, well, you won't find on hair naturally. Popular colors include pink, teal, green, purple, and blue. It's debated if red and silver are in this category, but I personally won't include these colors.
Do you want to dye your hair an unnatural color and aren't sure where to start? Here are some of our favorite unnatural hair color ideas.
My Favorites Up Front
There are so many unnatural hair color ideas, and I love them all. However, if I have to say a few are my favorite, they would have to be the pastel vivids, the half neon green look, and midnight blue hair. Can you tell I like a wide range of colors yet?
What to Know Before Dyeing Your Hair an Unnatural Hair Color
If this is your first time dyeing your hair an unnatural color, there are many things you have to keep in mind before you dye your hair.
You May Have to Bleach It First
For some people, the only way that vibrant color will appear is if you bleach your hair first. The only people who don't need to bleach their hair are those who naturally have light blonde hair. Anyone with a hair color darker than this should bleach their hair.
Should you bleach your hair DIY or at a salon? I advise going to a salon, so you don't do a lot of damage to your hair. If you insist on bleaching your hair DIY, make sure you follow the package instructions.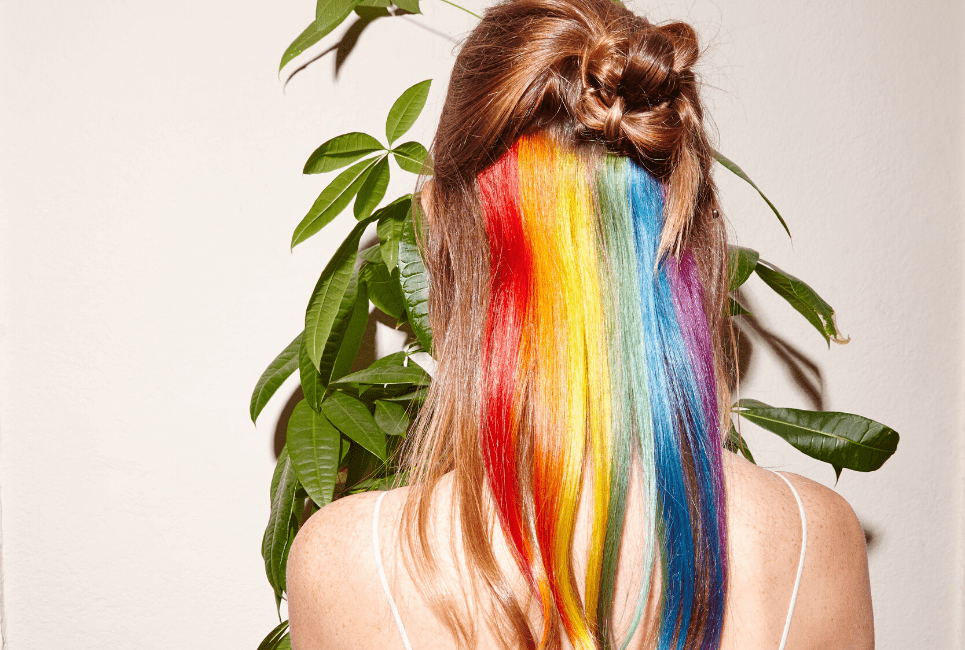 Regardless if you bleach your hair DIY or at a salon, make sure your hair is strong and healthy before bleaching. This will prevent long-term damage.
What if you have dark hair and don't want to bleach your hair? You can settle for a tint instead of dyeing your hair. You can also opt for unnatural colored hair extensions.
Use Apps to See How the Color Will Look on You
A good way to see if a hair color will look good on you or not is by using certain apps. These apps use augmented reality (AR) technology to change your hair color on your phone or another device.
Some recommendations include:
Most Unnatural Colors Don't Last as Long
Since most unnatural colors have to use semi-permanent dye, expect to retain the color vibrancy for no more than three weeks. The color will also fade little by little every time you wash your hair. This brings us to our next point.
You'll Have to Keep up the Color
Maintenance is key when dyeing your hair an unnatural color. Don't wash your hair as often (only a few times a week or even once a week is recommended), wash your hair in cold water, use color-safe hair products, and avoid using heat tools.
The reason why upkeep is vital is that your color will lose vibrancy. Maintaining your color will put off dye touch-ups, which can get costly.
How to Choose an Unnatural Hair Color
Now that some basic facts are out of the way, you can start dyeing your hair an unnatural color! While we're showing you our favorite unnatural hair color looks, choosing a hair color according to these best practices is important.
Consider Your Preferences and Personality
Other than choosing a color because you like it, find a color that reflects your personality. Certain colors give off different vibes, which can affect how people feel when they're around you.
If you're creative, choose a color that will entice your artistic side and inspire others to be creative. Blue, green, and purple are great options.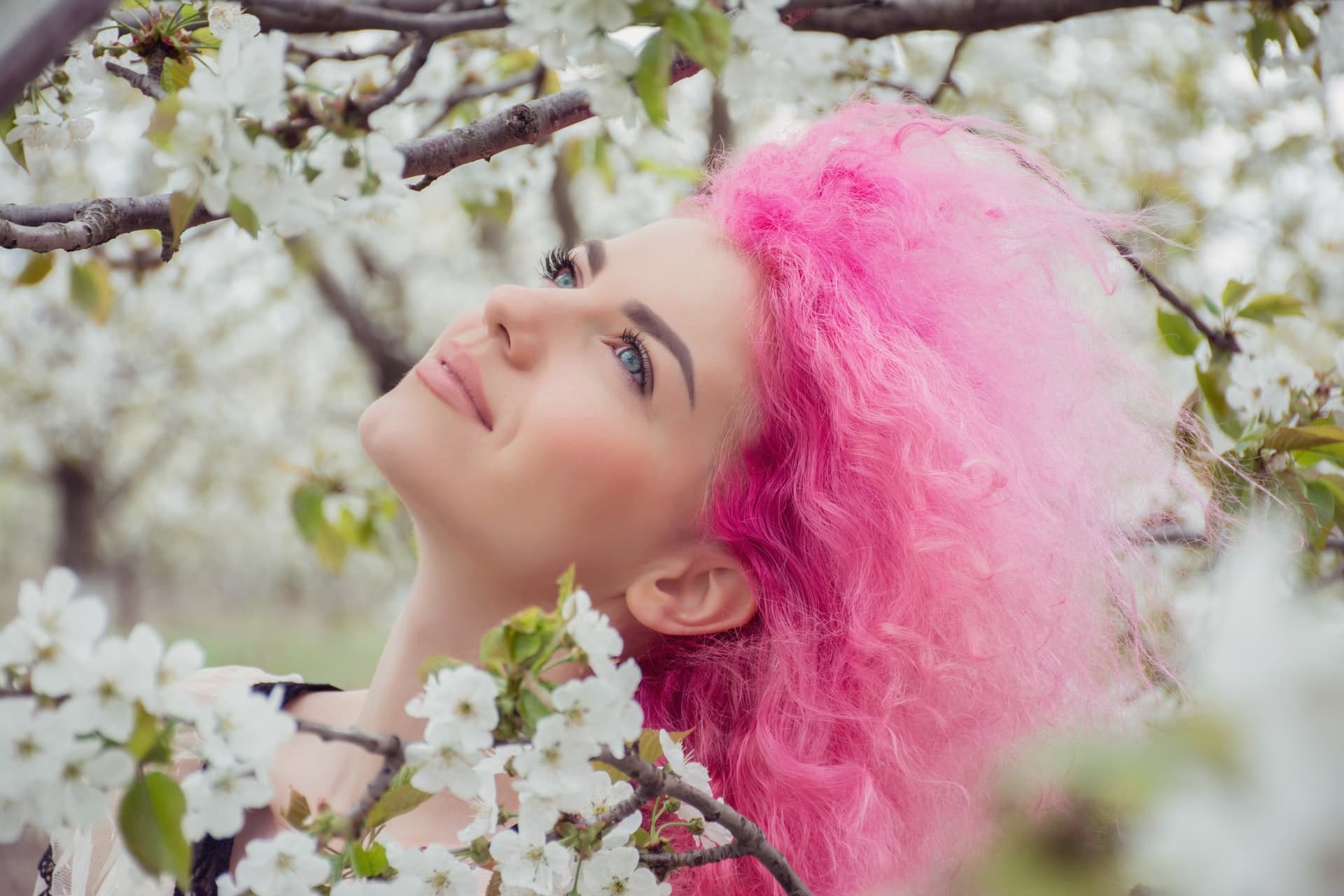 If you're an extroverted and bold person, you should choose a color that inspires you to be social and make those around you happy. Orange is a great example.
What if you're a calming person who wants an unnatural hair color? You should not only choose specific colors but also certain shades. Good examples include pastel blue, yellow-green, Barbie pink (also known as Baker-Miller Pink), and violet (a bluish-purple).
Here are a couple of options to consider if you're planning to color your hair at home:
Best Creamtone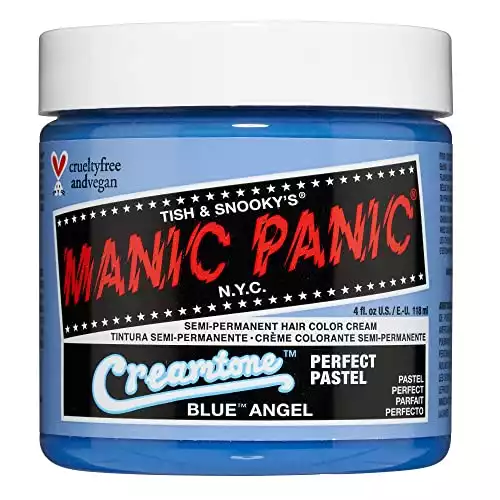 MANIC PANIC Blue Angel Hair Dye Creamtone Pastel | Amazon
Blue Angel is a light sky blue hair dye in our Creamtones Perfect Pastel collection. For best results, it is required to lighten hair to the lightest level 10 blonde or lighter and toning hair that has yellow tones before use to avoid undesired hues.
Buy at Amazon.com
We earn a commission if you make a purchase, at no additional cost to you.
08/03/2023 09:17 am GMT

Best Vegan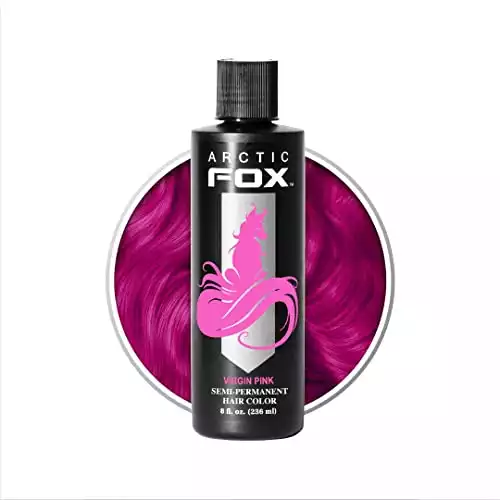 Choose a Color That's Flattering
We don't look good in every color. That's why you should make sure your chosen color is very flattering.
First, take your eye color into consideration. Here are great colors that correspond with specific eye colors:
Brown eyes: just about any color will work, though violet and blue look the best
Green eyes: purple hair dye
Hazel eyes: purple or pink dye
Blue eyes: strawberry pink, orange, or icy blue hair
Grey eyes: bright blue
Next, you'll want to look at your skin tone, specifically your undertones. There are three types of undertones:
Warm (yellow/olive undertones)
Cool (red/pink undertones)
Neutral (a combination of both)
If you have a warm skin tone, violet, orange, and strawberry pink are the best hair color. The same thing with a cool skin tone. You want a color that complements your undertones. Some unnatural hair colors for cool skin tones include blue, purple, and green.
With neutral skin tones, you want a color that won't make you look more pink or yellow. Choose in-between colors such as pink and turquoise.
Take Season Into Consideration
The warmer the weather, the brighter and lighter the colors you should wear. And with colder weather comes darker colors. Take season into consideration when dyeing your hair.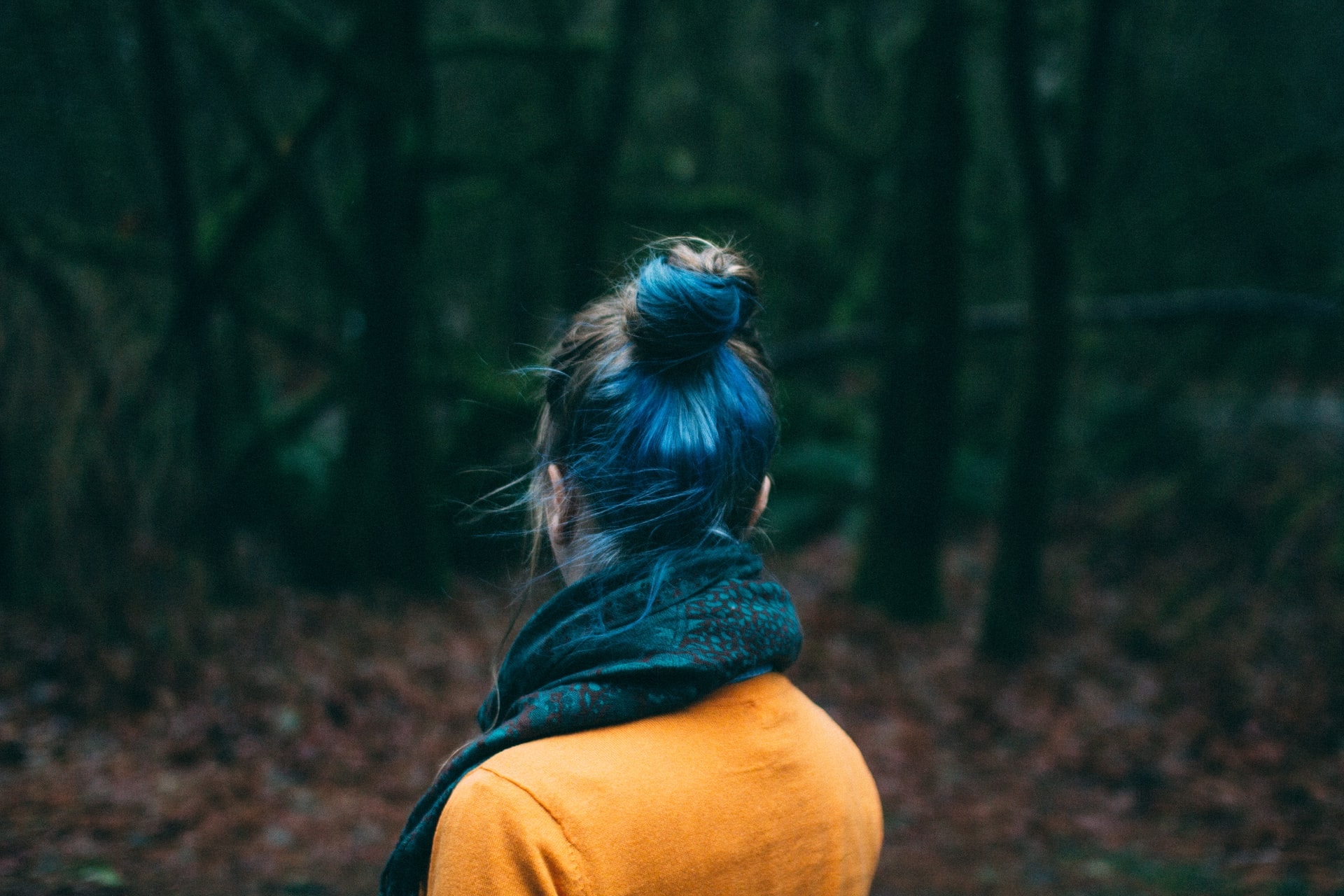 Pastel colors look best in the spring, such as turquoise, coral, cobalt blue, peach, and lavender. Bright colors look best in the summer, such as pink, magenta, bright blue, and bright green.
For the fall, choose warmer colors such as rose gold, dark coral, pumpkin orange, dusty mauve, and purple. Winter is icy, and your hair should reflect this. Smoky blue, princess pink, strawberry pink, and teal are great examples. Do a lemon-orange color if you want something warmer.
Consider Your Lifestyle
Unnatural colors may also not work for certain workspaces. Consider your lifestyle before choosing an unnatural color.
Can you still dye your hair an unnatural color if you work in a strict work setting? Every office is different. Ask HR or take a look at the dress code. You may be able to get away with some unnatural colors.
For example, instead of dyeing your whole head an unnatural color, opt for subtle colored streaks, tips, balayage, highlights, or lowlights. You can also add "peekaboo colors" under your hair so your boss won't see the color when your hair is down.
Muted colors usually work, too. For example, instead of bright blue, opt for an icy grey-blue or black-blue. Rose gold is also a great alternative to bright pink. Certain colors, such as sea green, can be done to make them subtler than other colors.
Unnatural Hair Ideas You'll Love
With these basics out of the way, take a look at the unnatural hair ideas to try!
Unicorn Hair
 

 

View this post on Instagram

 
One of my favorite color combinations to do is bright purple and pink with splashes of blue. I like to call this unicorn hair because anytime I think of the fairytale creature, these are the colors that come to mind. Through some glitter on that hair, you got yourself full-on fairytale hair.
Short Pink Hair
If you have short hair, you might as well go bold. Take this look from @maddie_mic as an example. Their hair is bright pink. Even the eyebrows are pink! The pink is also very bright and eye-catching. The look is very lovely and goes with the icy blue eyes.
Yellow Hair
 

 

View this post on Instagram

 
Yellow hair is for those that want to make a statement. I find that yellow hair color looks best on those naturally pale, warm skin tones, and I love to pair it with a darker orange root. Beware, this hair color is difficult to get back to a blonde shade from it. For more yellow hair inspiration, check out "Yellow hair Ideas."
Pastel Vivids
 

 

View this post on Instagram

 
Pastels are all the rage and can give you a color that will stand out. You can choose just one pastel color for your entire head or mix many different pastel colors, as pictured above. I love pastel colors on everyone, but they do not last quite as long as other vivid colors.
Subtle Teal Space Buns
Returning to the office's subtle hair looks, this is the perfect example. @theroundkicklolita has teal in her black hair. Her space buns disguise the color even more and give her hair a cute look. This is also a simple color look you can do at home DIY.
Silver Fox 
 

 

View this post on Instagram

 
Mimicking the silver fox has become quite a trend over the years. I'm not a huge fan of grey hair color, and it only looks good on those with dark skin complexions because it will wash out fair skin tones. This color is also very difficult to achieve because your hair must be lifted to a platinum blonde for it to become silver. If you want to find the best silver hair dyes, check out "How to Find the Best Silver Hair Dye."
Peacock Vivids
 

 

View this post on Instagram

 
The best way to become the peacock that you are is to use the colors you will find on the animal itself. Peacock colors include teal, blue, purple, and sometimes even magenta. I like to use darker tones mostly with this color palette, but it can also be done with lighter, brighter colors.
Half Neon Green and Half Black
The half-and-half colors are really popular. This is one of the coolest I've seen. Half of the model's hair is bright, alien green, and the other half is black. The slight curls make her hair look even more stylish. She definitely looks out of this world! Credit: @thehairbyjess. Check out our other article here to see which neon green hair dye is best for you.
Rose Gold Definition
 

 

View this post on Instagram

 
Rosegold is a difficult color to achieve because the metal reflects different colors depending on the light it is in. The best way to mimic this color is through multiple pinks, coral, and orange tones. That way, it seems more iridescent. I like to mix these colors together in a balayage technique.
Lavender Hair
 

 

View this post on Instagram

 
Lavender is one of those colors that can be interpreted in different shades. As pictured above, there are silvery shades, pink shades, and brighter cool shades. For more lavender hair inspiration, check out "Best Lavender Hair Dye."
Bright Magenta
If you want a bright hair color without going too light, choose magenta. I love magenta hair. I've had it before, and it looked amazing. I'm not even the biggest fan of pink! The color especially looks amazing on @amberavkearney, especially with her matching lipstick! For some more magenta inspiration, check out these magenta hair color ideas.
Midnight Blue Hair
 

 

View this post on Instagram

 
If you look at the night sky, you'll notice that it is not actually pitch black and has a slightly blue hue to it. This vivid color matches that midnight blue you see in the sky. The best way to get the night sky effect is to do a shadow root with black hair color and melt it into the darkest blue you can find.
Orange Hair
 

 

View this post on Instagram

 
I love orange hair because it is so close to a ginger natural color that some people may not be able to realize that it is actually a vivid color. Unfortunately, people with cooler, dark skin tones most likely won't be able to pull off an all-over orange color. However, there are many different ways you can incorporate orange into your hair. For example, red hair with orange peak-a-boos. For more orange hair inspiration, check out "Best Orange Hair Dye."
Green Ombre
I had green hair before and was so-so about it. But I absolutely love this green ombre on @chaelieansleymedia and wish I would have done something like this with my hair. The green blends perfectly with her black hair, too.
Rainbow Hair
 

 

View this post on Instagram

 
For those who want to get wild, try a whole head of vivid rainbow colors. You can do any type of rainbow you want, from a pastel rainbow to a traditional rainbow of red, orange, green, and blue. The choices of color are pretty much unlimited with rainbow hair.
Strawberry Pink
Strawberry pink is a great color because it's not too red and not too pink, a perfect in-between color. It's also a bright and fun color, perfect for the summer. @mash.potato.egl looks lovely with this dyed hair look. Check out these pastel pink hair color ideas for some more pink inspiration.
Fiery Red Hair
 

 

View this post on Instagram

 
Bright red hair has been popular for decades, and I don't see it going away any time soon. One of my favorite ways to style red hair is to make it look fiery. By fiery, I mean going from a deep red to bright red to orange. Check out "Short Red Hair ideas" for more red hair inspiration.
FAQs
Question: What Is the Best Unnatural Hair Color?
Answer: There is no answer to this question. The best unnatural hair color is based on preference and what looks best on you.
Question: Which Unnatural Hair Color Lasts the Longest?
Answer: Unnatural colors don't last long at all, but unnatural dye longevity depends on several factors. These include your hair and the type of dye you're using.
Question: What If My Parents Won't Let Me Dye My Hair Unnatural Colors?
Answer: Hey, I was your age once. I was 14-15 and wanted to dye my hair bright pink. Given, this was long before unnatural colors were as accessible as they are now, so a typical hairstylist didn't have the crazy colors I wanted. That and my mom wouldn't let me bleach my hair.

If my mom was wary about me dyeing my hair, I would wait and ask during the holidays or my birthday. I would ask to get my hair dyed as a gift.

If they're still not budging, I also bought hair extensions instead. Buy a wig if you want to dye your whole head.

You can find them online and at just about any beauty store, like Sally's Beauty Supply. I also found them at Hot Topic. Just about all Halloween stores have crazy wigs and extensions. This way, you can get unnatural colors without dyeing your hair.

Another way I talked my mom into letting me dye my hair crazy colors is by asking for a tint. If you have dark hair like me, any stylist can mix a purple or blue tint into dark hair dye. This way, you get a bit of color without damaging your hair. It's also subtle enough for work and school.
Question: What's the Best Unnatural Hair Color That Won't Wash Me Out?
Answer: I love unnatural colors with pale skin, but there's always the chance they may wash you out. Pink and magenta are always safe bets because they're warmer-toned than blue and green.
Question: I Struggle With Face Redness/Rosy Cheeks. Which Colors Should I Chose?
Answer: Green is opposite red on the color wheel, so green hair would cancel out your facial redness. But I understand if you don't want to dye your hair green, so blue would also work.

Warmer colors, such as pink, would accentuate the redness in your cheeks. The warmest I would go is purple.
Question: I Plan on Getting a Tan. What Color Should I Choose?
Answer: If you plan on tanning, dye your hair after your tan. You'll not only ensure you pick a great color but the UV rays from the sun or tanning bed will fade your color quickly.

Otherwise, the same advice sticks. Your skin undertone never changes, no matter how tan you get. But those who tan best usually have a warmer skin tone, so I would suggest pink or violet.
Bottomline
Unnatural hair colors are only becoming more popular. If this is your first time dyeing your hair with an unnatural color, you may not be sure which hair color to choose or the style that you want.
We wrote this guide to help you easily choose the best unnatural colors. Be sure to look through our favorite colored hair looks for inspiration and know the basics of dyeing and maintaining your unnatural color.
Unnatural colors don't last as long as natural colors, so be sure to skip out on a few washes and stay away from heat.
This article was updated on 08/08/2022 by the Hair Kempt editorial team. Our goal at Hair Kempt is to provide the most up-to-date, relevant hair information, ideas, and inspiration. We updated some of our ideas to give you better hair care information.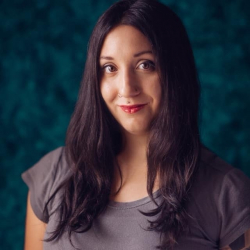 Latest posts by Stephanie Jensen, Hair Trend Spotter & Home Tester
(see all)