Pastel pink seems to be having its moment right now, and pastel pink hair ideas and styles are no exception. Experimenting with pink dye is one of my favorite ways to play around with unnatural hair colors.
I love the range of shades you can try, so if you want pink hair, there's something for everyone–you can go subtle with highlights or bold with all-over color or pink mixed with other colors.
Like with pastel purple hair, you can flatter your skin tone by playing around with rose gold, bubblegum pink, or something in-between. 
Bottom Line Up Front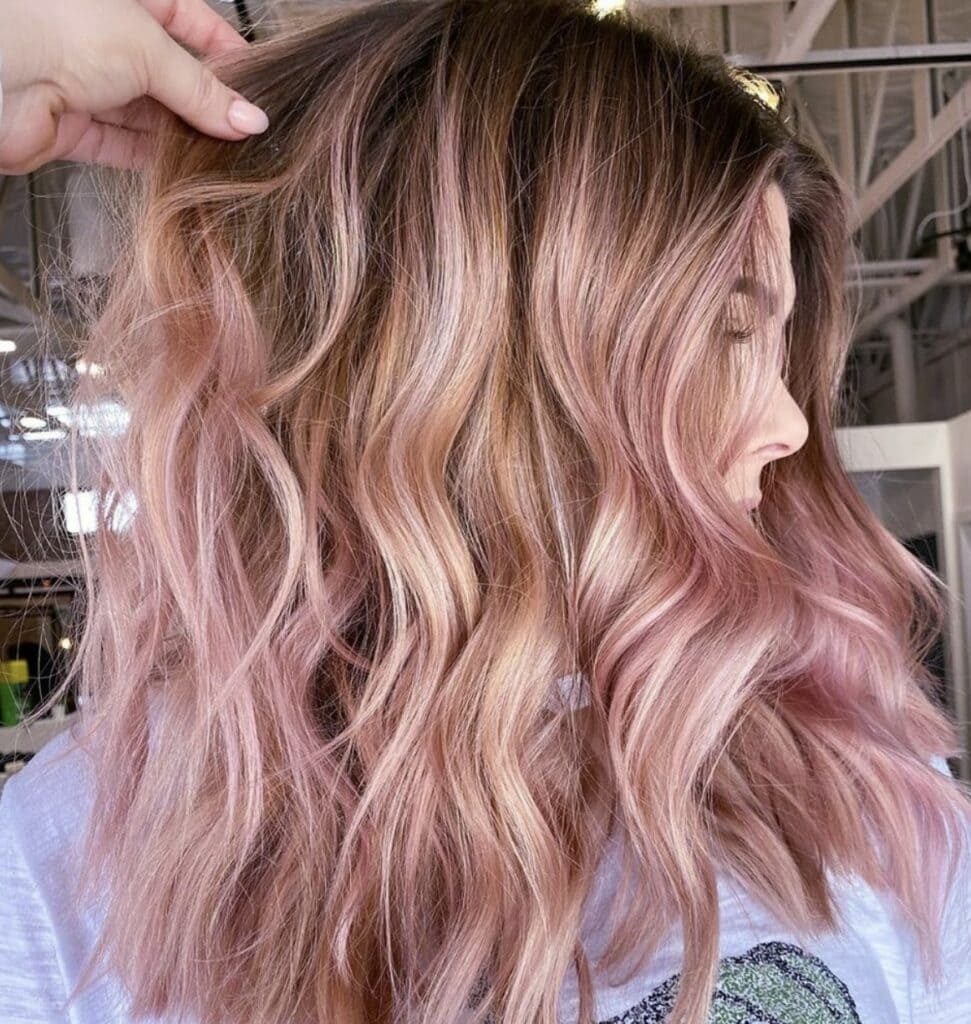 Pastel pink hair ideas and styles are so much fun. They can fade fast, though, so be prepared for that.
Getting to the pastel shade you want could also require a lot of time and money- both during the appointment and maintenance.
As long as you have a plan and keep that in mind, there's no reason not to go pink. 
If you're worried about damaging your hair or want to keep it subtle, pastel pink highlights or peekaboo pieces will be perfect.
Pale rose gold is trending, and highlights in that shade won't look too out of place in most work settings, so they could be a good option if you're worried about balancing work and play. (If in doubt, ask first.)
If you have no reason to hold back, consider a full head of pastel pink or blend it with other pastel shades, with a focus on the pink. 
Selection Criteria
Because there are so many skin tones and hair color starting points, I wanted to show you pastel pink hair that falls on the warm and cool ends of the spectrum.
I also love how you can go subtle or all-out with the pastel pink hair–from low-key highlights to hair inspired by cotton candy and all things whimsical. I included a range of styles to cover all your needs.
Maybe a few pink highlights are okay for your job, but you'd raise eyebrows (and break some rules) if you showed up with pale pink, lavender, blue, and green waves. 
The bottom line: I want to show you all the options.
Pastel Pink Hair Ideas & Styles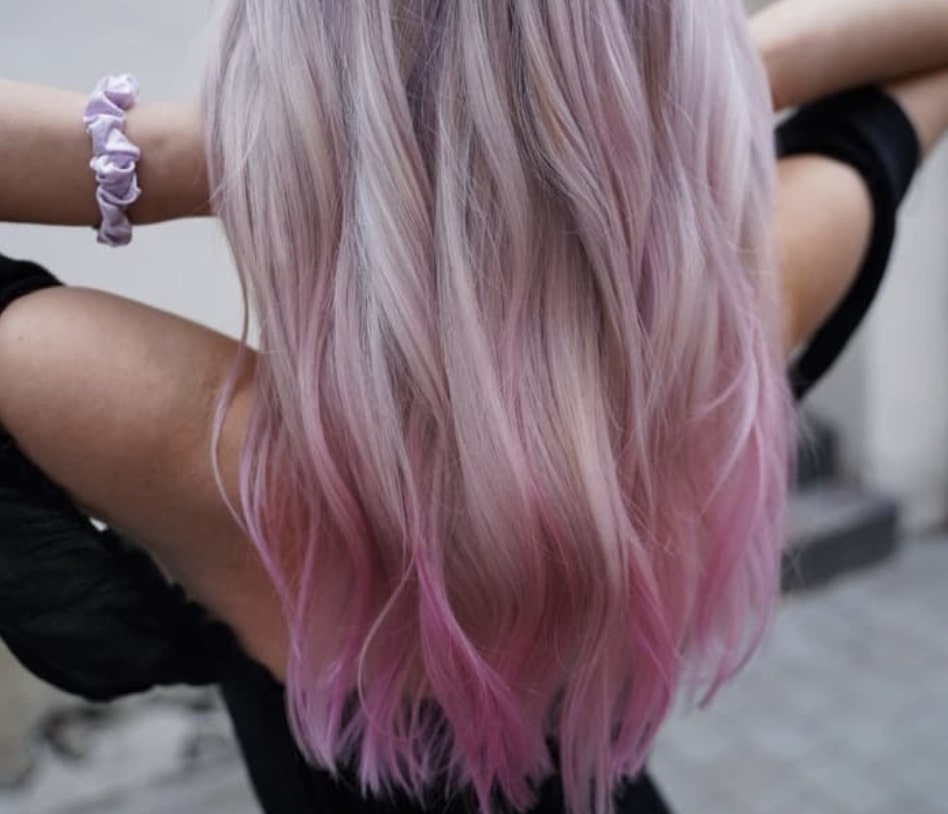 Let's get to it:
A Blend of Shades
I love the way pastel pink works with other colors and different shades of pink.
I don't always think "dimension" when I think about pastel pink hair. Still, I'm obsessed with how this pastel pink and magenta hair turned out, shared by cherylhuddhair. 

If you'd prefer to use a lot of pink but branch into a pastel rainbow, take this style from packedparty as inspiration. I love how the blues, greens, purples, and even some of the pale blonde base work together. With its woven pieces and waves, the hairstyle itself exaggerates the color in the best possible way. 

If your hair is dark and you don't want to jump through the hoops to bleach it all and then deal with the damage from root to tip, try a pastel pink along the ends, demonstrated here by sophiahrosenberg. It's a low-commitment, less damaging way to go pink. 

You can use pastel pink in reverse ombré style, as shown here by allcutupsalon. The natural hair color slips into pink, then a muted violet. 

This split dye combo, shown by the.neon.blonde, is fantastic. The cool-toned pastel pink on one side is the perfect complement to the pale blonde (almost white) hair.

Peekaboo Strands
If you're not ready to commit or want to add a little oomph to your natural color, pale pink peekaboo strands like the ones shown by hairstylist_junelim are the way to go. 

Here's an even more subtle option: just a few barely-there pink highlights, carefully placed on blonde hair, as dyehard2022 shared. 

You could really have fun with the pink and place a slightly darker shade underneath a paler pink that fades to blonde. Take inspiration from eorganicsalon on this one! 

I love this bob with the pink bangs and peekaboo sections everywhere else, shared by hairoinsalon. This is such a fun–and kind of edgy–way for dark hair to get in on the fun without the commitment of bleaching all over. 

Here's another example of just a few pink strands shining through natural color, shared by ashleylynn.hair. Again, pink like this won't be a significant commitment, especially on a blonde. 
Subtly Pink
Sometimes a subtle pink looks almost natural–is the hair reddish-blonde…or pink? This type of shade can also bring a rosy glow to fair complexions. Look how gorgeous it is on this bride in a photo shared by amydaviesphotography. 

Here's another example of a subtle pink, shared by hairby_jillian_. The pink is there, so it's fun, but it's not incredibly obvious. This is perfect for people who feel intimidated by pink but really want to give it a try. 

At first glance, you may not even notice the pink in this photo shared by hairbyronjaleva. That makes this version of pastel pink hair a little more versatile for people who work in environments where the more obvious pink hair options wouldn't fly. It's also perfect for people who are intrigued by the idea of pink hair but feel nervous about it. 
Go All Out with the Pastel Pink Hair
I love the two shades of pink shown in this picture misti_loves shared. You don't have to overthink the pink hair–just pick your ideal shade and go all-in. These best friends look amazing. 
You can go all out with a silvery shade of pink amethyst, as shown here by wellahairuki. It's a cool-toned pink that's different from the usual warmer pink shades we see. 

This pastel pink is lighter than others, but I wouldn't call it subtle. The all-over icy pink shade is stunning. 

I love how there are shades of muted pink here. The combination of light, bright pastel pink at the front, rose gold near the roots, and iced mauve along the ends mimics the natural dimension so well. It almost looks like her hair grew this way, then she spent some time in the sun for natural (pink) highlights.

This transition from cool-toned pink to warm, rosy gold shared by _off_with_her_hair gives me serious 1980s (or was it 90s?) Sun Magic Barbie vibes and I am here for it. 
What Shade of Pink Hair Is Right for Me?
Generally, pastel pink hair is most flattering (and looks more "natural", as much as pink hair can) on lighter skin tones, and the darker and brighter shades of pink look most flattering on deeper complexions.
If you're fair-skinned and blonde, it'll be easier to achieve pastel pink with your natural hair color, too. You won't have to go quite as light to apply a brighter, more vibrant pink, which is good news for people with dark hair who want to give pink hair a whirl.
As far as undertones go, aim for yellow-toned pinks if your skin tone is warm. If your undertones are cool, you'll look best in blue-toned pinks. Neutral? Either one will work.
All that said, I'm a fan of breaking the rules when it comes to fashion and beauty, so choose the pink shade you'll feel most confident and joyful rocking. If you have warm undertones but live for that blue-toned, cotton candy pink, enjoy it! Have cool tones but crave some pale pink strands that border rose gold? You'll look beautiful.
Just make sure you're prepared for bleaching and maintenance before you dive in. 
How Do You Maintain Pink Hair Color?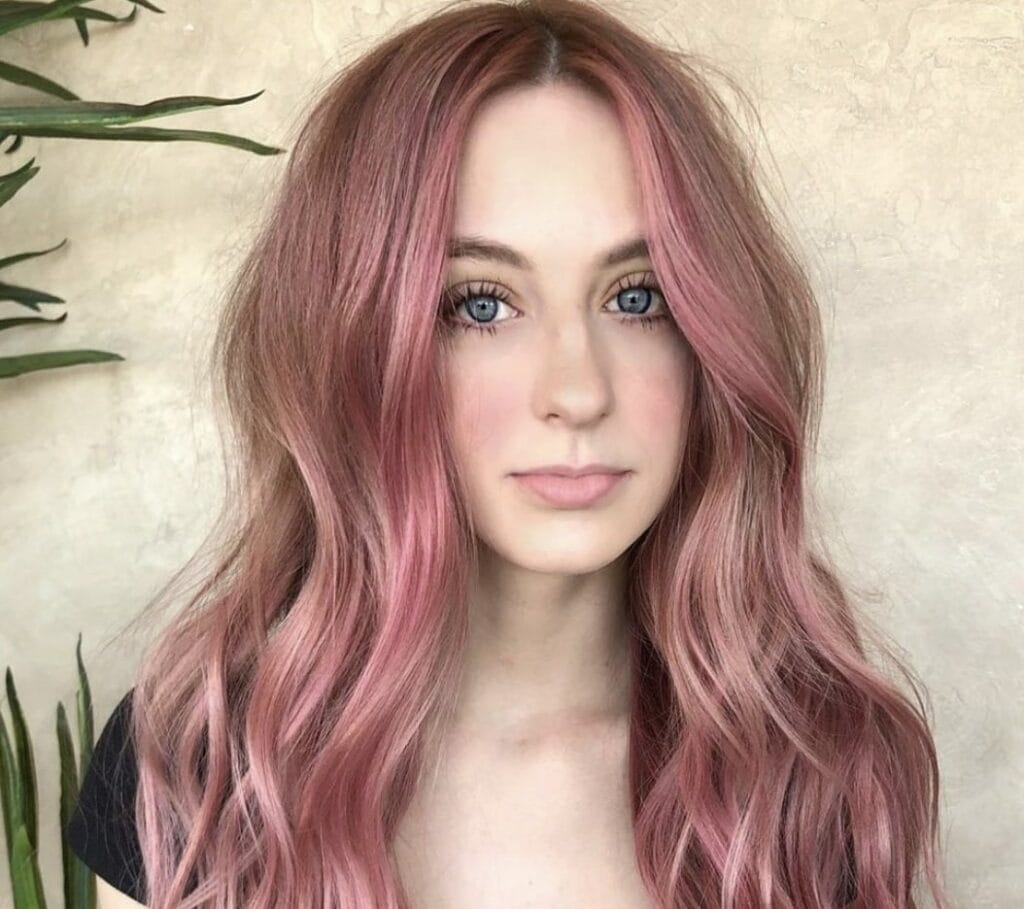 Pastel pink hair will fade fast, no matter what. However, there are some things you can do to slow it down:
Pastel Pink Dyes to Try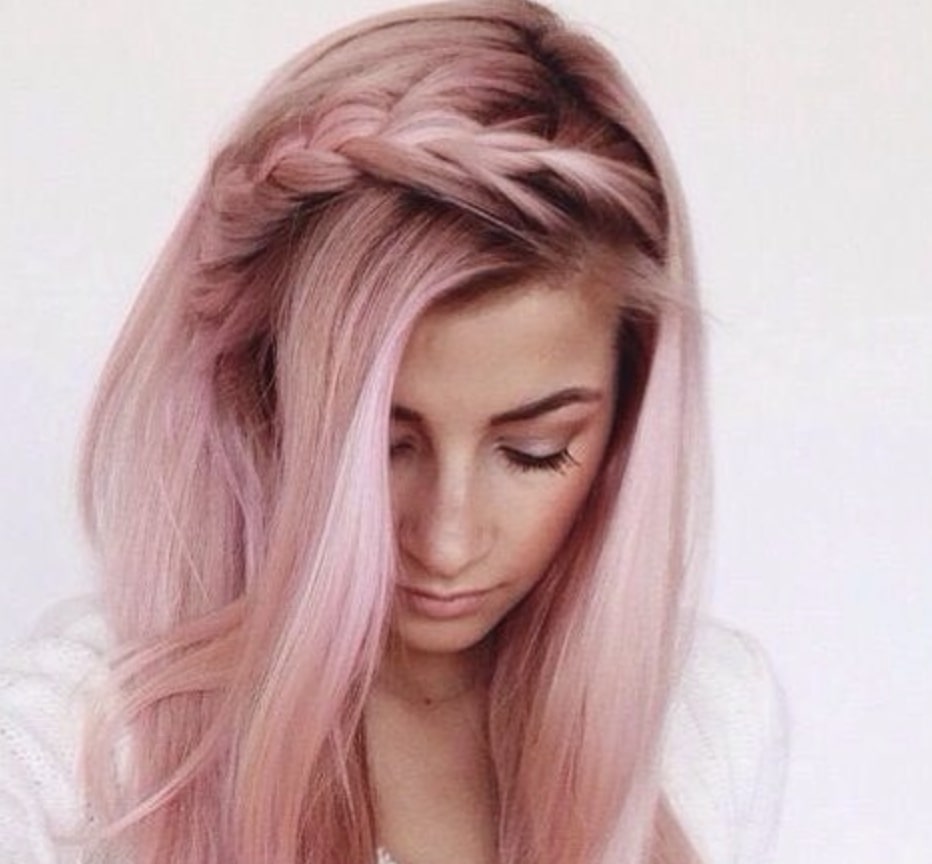 It's nice to see that there are so many pastel pink hair colors that are out there. I don't recommend starting your pastel pink hair adventures as a DIY project. However, these are good options for maintenance (or if your hair is already very light).
FAQs
If you want to dye your hair pastel pink, you probably have many questions! Here's an overview of some of the most frequently asked ones:
Question: Does pastel pink hair fade fast?
Answer: Sadly, yes, pastel pink will fade fast. The less often you wash your hair, the better. Using cool water when you rinse is also helpful.
Question: Is pastel pink hair hard to maintain?
Answer: It can be a pain, honestly. If your hair grows fast and it's dark, you'll have roots to touch up quite often (or you can leave them if you like that look–it's cute, too!).
You'll need to use a special shampoo to keep the color in check, wash your hair with cool water, and you may find that you need additional products to address the damage from the bleach.
Pastel pink hair is gorgeous and totally worth it to many people, but it's important to know what you're getting into before you go down that path.
Question: What is pastel pink hair?
Answer: A very light shade of pink. It can have yellow or blue undertones, which will work with warm or cool skin tones.
Question: Can you wash pink hair with purple shampoo?
Answer: It should be fine to use purple shampoo to correct the brassy tones that can pop up in pastel pink hair over time.
However, suppose you wanted a warmer pink tone (similar to pale rose gold) to begin with. In that case, the purple shampoo may shift the tone too far into the cool-toned territory (pink with blue undertones).
Question: How do you get pastel pink hair?
Answer: The first step is bleach. Though you technically could bleach your hair at home, I never recommend making a drastic change on your own-especially when it involves bleach.
You'll need to get your hair to be almost white (or at least a very pale yellow) for the pastel pink to show up the way it should. Once your hair is light enough, you can apply the pink dye.
To get the most out of the dye, you can start with a deeper shade than you want (just a little deeper), so it'll fade to pastel and hang around a little longer.
Question: What does pink hair say about you?
Answer: You're a bit off-beat, sweet, and romantic.
Question: Can you use blue shampoo on pink hair?
Answer: Blue and purple shampoo can tone down orange, golden, or peachy tones that may start to show through the pink.
However, I would prefer a color-depositing conditioner designed with pink hair in mind. I worry that the blue could shift the tone of the pink too much (especially if the pink is extremely light). If you want to try it, do a test strand first.
Question: Can I dye my hair pastel without bleach?
Answer: Unless your hair is already extremely light, pastel pink won't show up. You'll have to bleach it. (Sorry. As a brunette, I don't like that answer either.)
Conclusion: Go Pink
Pink is a flattering shade for hair color. It can liven up your complexion and add interest to your overall look. You can go as subtle or all-out as you'd like, with all-over color, dimension, or just a few streaks here and there.
I've never seen pink hair look bad on anyone. It's a rosy, happy, optimistic color you can tweak to fit your skin tone, wardrobe, and lifestyle. As long as you know the commitment you're making when you're adding pink to your locks, I want to encourage you to try it.
Looking for more interesting hair colors? Check out: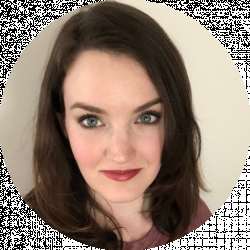 Latest posts by Crystal Schwanke
(see all)