Pastel purple hair ideas and styles have a special place in my heart because my daughter has spent about a year with purple hair.
We started out with a professional's help going from medium brown to platinum blonde.
He then painted on purple roots and a periwinkle shade through the rest. It was stunning and shockingly flattering for unnatural hair color. It looked like it should've been her natural color.
We kept up the color with Arctic Fox dyes in Periwinkle and Purple AF, using ideas like these as inspiration.
Bottom Line Up Front
Unless your hair is light blonde, pastel purple hair is a commitment. It takes a lot of time and money to get from almost anything else to pastel purple hair. If you love the shade, though, it's completely worth it. 
My personal favorite is the combination of dark purple roots melting into a lavender or periwinkle shade. I also love to see pastel purple mixed with other colors for a sweet, cotton candy effect.
Selection Criteria
I aim to inspire you to get from "I want pastel purple hair" to a game plan. I want to show you pictures that you can take straight to the stylist, point to them, and say, "I want my hair like that."
If you can't find exactly what you want in the list, I want you to be able to pull things you like from a few photos. Then, you can piece together your next exciting hair-coloring adventure. 
I'll be giving you variety so you can see a little of everything involving pastel purple. From there, you can imagine–and go get–your dream hair.
What to Consider Before Going Pastel Purple
The pastel purple is unbelievably fun and head-turning, so I don't want to discourage you. The experience was worth it. You should know what to expect, though, just so you're making an informed decision.
If your hair is dark, it will be damaged by bleach, even if a professional does it for you. (I don't recommend going dark to light in a dramatic way at home, anyway.) That means it'll get tangled more easily, break more quickly, and be harder to brush. You'll probably need to pick up a few extra products to care for it.
The bleaching and color application process can take hours (my daughter's appointment took five or six hours from start to finish). 
You will need a tinted shampoo to keep the pastel purple shade in good shape. That'll be an extra expense.
If you're going to a professional (which, again, I recommend if you're going from dark to light hair), expect it to be expensive. Have a consultation first, if you can, so you and your stylist have a better idea of what to expect. 
Pastel Purple Hair Ideas and Style Guide to Inspire You
Take these ideas and make them your own. You can use different shades of purple–or pastel purple combined with entirely different colors–to create the perfect hairstyle that expresses your personality. Pastel purple hair can become part of your signature look (if you want it to).
Blue-Tinged Purple
This periwinkle style starts with a rich, royal purple at the roots and fades to a pastel bluish-purple shade. It looks great straight, but it's incredibly gorgeous when it's wavy. It highlights the way the purple shades melt together.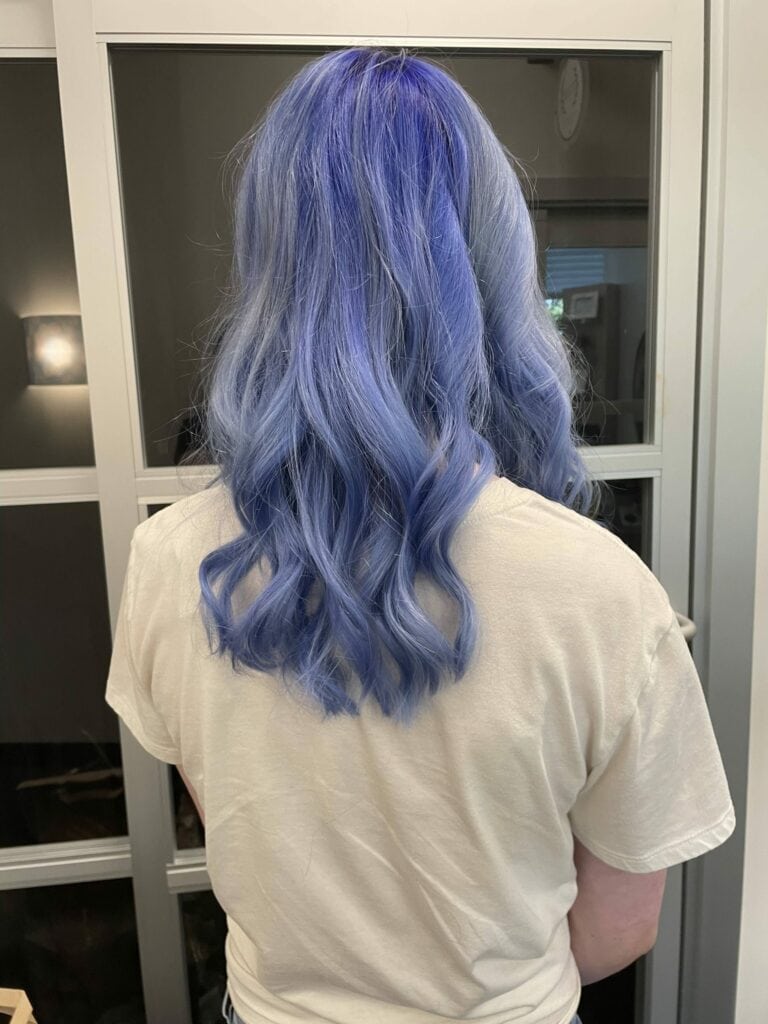 Fade to Pink

Pulp Riot Canada shared a post that features pastel purple in the middle, between a deeper purple and a soft pink.
I love this ombré effect because you can't tell where one color ends and the next begins. Everything is just so soft, and the pink on the ends is unexpected.
Make It Art

Beautylaunchpad shared a post that shows us how to go beyond the hair color in our creativity. Turn the pastel purple hair into a character for an extra bit of fun and whimsy, as kraftykacen did here.
Match It to Your Makeup

Speaking of kraftykacen, in this post, she shows us how to go the opposite direction–a simple hairstyle with amped-up makeup that features lavender (and orange, for contrast). 
One thing I love about this is how she used Splat hair dye and chalk to temporarily get this color. It demonstrates the possibilities for those who don't necessarily need or want a considerable commitment (though if your hair is dark, you'll still probably have to bleach it first, sorry!).
Try a Wig

If you really don't want any commitment or damage done to your hair, take a cue from sylveon.bunbun and use a wig to complete your look.
This will allow you to switch it up every day if you want to. There's no commitment past the money it costs to purchase the wig, and it's a way to test drive the color before you go all-in with the dye.
I love how the wig looks like a mix of lilac and pink, so it finishes off this head-to-toe pastel look perfectly.
Barely-There Pastel Purple Balayage

Another low-commitment option is pastel purple balayage that brings the color up high around the face and mostly stays lower everywhere else. That's what chloe.rootscollective shows here.
These are pastel purple highlights, not all-over, too, so it's less in-your-face color, less commitment, and more minor damage overall.
More Lilac Highlights

Here's another example of pastel purple highlights that aren't exceptionally noticeable at first glance, courtesy of bellehairboutique. This is perfect for someone who wants a more subtle version of pastel purple hair. 
Purple Dreads

Love the idea of purple dreads? Here's some inspiration for you from hdpsyhair.
I like this shade because it's not the usual blue-toned purple. Instead, a reddish undertone will flatter a different set of skin tones than the periwinkle.
It blends well with her naturally light-medium brown hair, too. If you look closely, you'll see that not all of her hair is purple.
Stunning Rainbow Hair Featuring Pastel Purple

I could stare at hair color like this forever. It's mesmerizing. I love how the pastel purple seems to be the main event here, but it's dancing with hot pink, teal, turquoise, royal purple, and yellow. 
This is the halo prism technique, using Pulp Riot hair color, shared by meganrosecolors.
Two-Toned
Do you love the idea of multi-colored hair but want something less involved that you might be able to keep up with at home? Consider something with just two shades, like this gorgeous platinum and lavender style from morito_toshiki. It could be perfect.
Inspired by Clouds

For something between the last two ideas, there's this one from kims_hairdesign_, inspired by a painting of clouds. There are different shades of purple (including pastel) and pink for lots of dimension.
Peekaboo Color

This pastel purple hair idea from may__noh is one of my favorites because I love a good surprise.
The purple is mostly hidden from sight by a layer of black hair. It peeks out along the bottom and more becomes visible when the model moves her head.
This option allows you to play around with different hairstyles that expose more or less of purple hair.
Split Dye

Can't decide between two colors? No problem–try the split dye technique, where one shade of your hair is the pastel purple, and the other side is another color you love. lrg4hair demonstrates this style with pastel purple and pink.
I really love this one because sometimes I'm too indecisive to choose one shade. It's been a long time since I had purple hair, but I would've loved to use pink at the same time.
Dip Dye: Just the Ends

If going purple all over seems scary, or you prefer to do something different, consider the dip dye version, like this one seen on itsalltheragehairdesigns' Instagram account. I love this color technique paired with soft curls and waves. 
DIY Bleach and Pastel Purple
If you're feeling brave and want to attempt to DIY it, check out rari kari's YouTube video. In this video, she bleaches her dark roots to match the length of her already-lightened hair and then dyes it pastel purple. It's not a step-by-step tutorial, but you may pick up a few tips.
Soft Purple and Pink
YouTuber Camille shows off a gorgeous blend of pale pink and purple hair she got using Garnier Color Sensation dyes. It's barely-there color that gives a soft, angelic look.
Mermaid Hair
Jess Lemos Tester on YouTube demonstrates how she gets her pastel pink, blue, and purple color melt style by mixing dyes and white conditioner, which she says gives her mermaid vibes. She's starting out very blonde, so there's no bleaching required or shown in this one.
Pastel Purple Hair for Guys

Men can have pastel purple hair, too! Check out this lavender hair by sfsalonstyle. I love how it's pastel purple on top and still his natural color everywhere else. 
Incredibly Subtle
If you're not ready for a full head of pastel purple hair, you can dip your toe in with a few strands of pale lavender near your face and through the ends, as shown here by vanityhairseattle.
Once you get started, you may feel like going bolder and bolder every time you visit the salon. 
Silver and Lavender

I feel like the pastel purple hair trend started shortly after the silver hair trend came on the scene, and this creation by laila.wella is a mesmerizing marriage of the two. The expertly applied colors melt so seamlessly into each other that she won an award (congrats!).
Icy Lavender

Here's one that's similar to the last photo. In this case, it features a bluer shade of purple and a brighter, icier shade of silvery-white. This pastel hair inspiration is by kristajbeauty using Pulp Riot products.
Simple, Straight Purple Bob

Most examples of pastel purple hair seem to be medium-to-long length and wavy. If your hair is straight and short, you'll also look incredible in lavender, lilac, periwinkle, or something in-between. This straight, chin-length bob by hairby.breanne is chic and fun.
A Splash of Periwinkle Curls

Arcticfoxhaircolourau shows just how impactful a splash of periwinkle can be when just applied to bangs and face-framing layers.
This is yet another example of how cute pastel purple hair color can be on hair that's not especially long or wavy. The model's curls look fantastic this way.
FAQs
Since it's such a commitment in every possible way, you probably have more ideas about purple hair ideas and styles and if they're even suitable for you. Here are some of the most frequently asked questions that might help you decide.
Question: What does purple hair mean?
Answer: It doesn't necessarily have to mean anything other than the fact that you like the color or thought it'd be fun to try. However, purple is associated with royalty, mystery, creativity, introspection, and deep thought.
Question: How do I know if I will look good with purple hair?
Answer: If you look good in purple clothes or makeup, you'll probably look good with purple hair.
Pastel purple usually looks best on light skin tones with cool undertones, but don't take that as a hard rule you should follow.
Suppose you love purple and the way lavender, lilac, and periwinkle look on you in general. In that case, you'll probably love purple hair.
Question: How fast does pastel purple hair fade?
Answer: It doesn't last all that long, but if you can wash it less often and use a color-boosting shampoo (ask your stylist for suggestions), you can get around six weeks, maybe up to eight. 
Question: What color does pastel purple fade to?
Answer: It depends. It can take on a silvery hue if your hair was already light without a lot of warm undertones. Grayish is another possibility. If your hair has some warm undertones, it could take on a greenish-grayish hue. 
Conclusion: Is Pastel Purple Hair For You?
If you love the color purple, think it looks great on you, and don't mind the commitment and maintenance, go for it! Pastel purple hair is attention-grabbing, soft, and an otherworldly kind of beautiful. 
Use the pastel purple hair ideas and style guide above to narrow down the best option that expresses your personality.
For more interesting Purple Hair Ideas check out: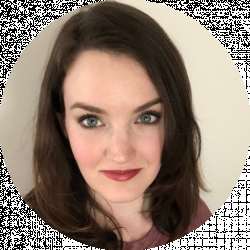 Latest posts by Crystal Schwanke
(see all)