Blue and purple hair is a cool-toned hair color that uses various hues and intensities of blue-purple hair. This combination of bright, cool colors creates a beautifully balanced contrast that isn't too loud – perfect for females who want to make a significant change to their appearance! 
These hues will make you feel like a mermaid or a unicorn; they are unique and lovely. You can get highlights, ombre, or even a solid color; the possibilities are endless.
Coloring Ideas 
Looking at these purple and blue designs is like gazing at the night sky. When it comes to such vivid hues, you may come up with a lot of different ideas. You won't find more gorgeous hues than these. 
Pastel blue and purple
Don't overlook the lighter side of color trends! Although we're used to seeing blue and purple hair colors on darker bases, breaking the mold is necessary to see things in a new light. So, meet a white blonde foundation with a pastel blue to purple ombre. To be honest, we've never seen such a delicate shade of blue and purple before.
Blue roots to purple 
Bright colors bring hair hues to life in a whole new way. They help bring life to dull hair and they also help to establish harmony even when the tints are dissimilar. While you might be put off by the thought of combining bluish-black and lilac, once you see the vivid version, you'll be hooked.
Metallics have recently been such a big trend in the hair business that we can't overlook them when it comes to colorful hair inspiration. Blend a few delicate hues, such as light, blue, pink, and purple, with a dark metallic tone. An intriguing tip that will undoubtedly alter your hairstyle.
Purple roots to blue 
Each hair color tells a different tale about a woman's inner self. What would be the plot of your story? Do you want it to be interesting, thought-provoking, and appealing? If that's the case, you can't go wrong with purple and blue, which are recognized for their magical ability to keep people engaged. To make heads turn, start with purple at the roots, then transition to light blue to grab the eye, and finish with some smoothly blended streaks of purple. 

Purple balayage with blue contrast lowlights 
Who said balayage had to be boring? Take a peek at this bright one! It appears to be both uncommon and adventurous. It will be a piece of cake for you if you think yourself gorgeous and unique. The combination of pinks and blues is simply beautiful. 

Bright purple with deep sea blue ends 
Are you a lover of subtle color transitions? Then this concept is ideal for you. Take a look at how well-blended colors appear, even though they have such a stark contrast. The combination of purple length and dark blue ends is stunning. That is what we like about nicely styled colored hair. 

Blue with neon purple highlights 
The eyes are drawn to neon hues like magnets. Such concepts may often be so rich and gleaming that they appear to be neon lights in the dark. If you want to accomplish that appearance with your color change, go for it: the purple and blue highlights give a lot of individuality to the dark roots. 

Mermaid mane 
Mermaid's hair is designed to resemble the ocean's many hues. Many people like vivid green hair, while purple and blue hair conjure up images of the moon dancing over water at night. It's dark and vibrant all at once.

Twilight layers 
Twilight isn't only a sultry vampire novel; it's also a stunning display of colors in the late-evening sky. Purple, pink, and blue combine to create a beautiful splash of color that works equally well as a hair dye. The varied hues in the style will be highlighted through layers.

Pretty pearl
Silver adds an iridescent sheen to purple and blue hair, simulating the hues seen when light touches a pearl. It is everything but simple and appears distinctive from every angle. For females with short hair, a tiny top knot is a wonderful weekend appearance.
How to keep your blue and purple hair maintained 
When you dye your hair, it can be a bit hard to maintain the color. After about two to three weeks that color can start to fade. So we're going to discuss the best way to keep your hair color maintained. 
Wash less 
If your hair is brightly colored, such as blue and purple, you need to only wash it every two to three days and use dry shampoo the days you don't. Spray dry shampoo on your roots to use. You don't need much, and you just need to spray a few times on your roots. 
If you have thick or lengthy hair, you may need to separate it to reach the roots. Then massage the ingredients into your roots and scalp with your fingertips. Last but not least, comb it out. Any residue should be removed by combing.
Using the correct shampoo 
Shampoos containing sulfates will remove the color from your hair, therefore it's critical to use a sulfate-free shampoo. Kerastase Reflection Chroma shampoo is one of the finest shampoos for vivid colors. It's pricey, but it might help you retain your color for a longer time.
Argan Oil Shampoo and Conditioner is a less priced alternative, however, it does not perform as effectively as the Kerastase shampoo. Avoid using clarifying or dandruff shampoos since they will rob your hair of its color.
Avoid washing in hot water 
This is the most difficult for me, however, try washing and rinsing your hair with cool water. The cuticle is opened by hot water, allowing pigment to escape. Wrap your hair in a towel and turn up the heat once you've finished washing it. 
Only wash your roots 
To protect the color on your ends, wash the roots of your hair, as your scalp is generally the only portion that has to be cleansed. Because my purple is hidden beneath, I only wash the roots and thoroughly rinse. 
Try to avoid chlorine 
Swimming in chlorine pools will cause your color to fade, so avoid them. If you wish to swim, you may protect your hair by wearing a swimming hat. 
Conditioning 
Add some bit of the color/s you use into your conditioner. Once you finish shampooing, lather some of your colored conditioner on. This will help color last longer in your hair and give it a refreshed look. 
Protect your hair   
Use a heat protection spray if you use a hairdryer or flat iron. 
The sun's UV radiation might cause your color to fade. Use a sun protection product on your hair. It's light, so it won't weigh down your hair. It also keeps your hair moisturized and prevents frizz. 
Avoid using hair masks 
Because you thoroughly conditioned your hair before coloring it, avoid using hot oil or oil-based hair masks for a time thereafter. It has the potential to fade the color. Use a hair mask while you're near to your touch-up appointment. 
What to do before dying your hair 
It's reasonable to say that dying your hair has become a major form of personal expression, whether you're dreaming of a delicate and natural ombre or yearning after daring rainbow locks. While the prospect of attaining your perfect color goals is thrilling, dying your hair for the first time can be challenging. 
Do your research 
Whether you color at home or at a salon, it's important not to go right in without any preparation. It's critical to choose the proper equipment or colorist for your unique head of hair. It's critical to select the proper person to color your hair in the salon, especially someone who specializes in color. Make sure to look over their work as well. 
Consider what type of color change you want when you're researching. Some extreme dye treatments need many salon visits, so take expense and maintenance in mind before making any coloring selections. 
Book a consultation 
Consultations help you and your stylist to communicate effectively, letting you to better grasp coloring terms. Dimension, highlights, lowlights, foils, and balayage single process are few words to be familiar with.
 However, bringing in some images to assist in better express your desired appearance can make your appointment go much more easily. This will help your stylist understand what type of work has to be done on your hair. 
Being specific 
If you give a general idea of what you want, your stylist could think of one hundred things to do. So being specific will allow you to get what you want with your hair. 
If you like bolder appearances, choose a single process or double process coloring, since both coloring processes are necessary to lift hair and will provide a high-impact finish. 
Several appointments 
Keep in mind that some color treatments need a lot of hair maintenance, which may necessitate monthly visits to the salon. Furthermore, extreme hairstyles (such as changing from brown to blonde) may need many salon visits to get the desired hue. Keep in mind that after you've dyed your hair, the only way to get it back to its original color is to grow it out. 
Right tools for at-home dying 
While going to a professional nearly always yields the finest results, coloring your hair at home is achievable provided you take the necessary measures. Begin by choosing hair colors that are safe and won't harm your hair. Boxed dyes, in particular, may be very strong, resulting in chemical damage that you don't want to deal with. 
Selecting the appropriate tools is particularly important when dying your hair at home, so you'll want to be especially cautious about what you choose. Pick up supplies like a dye brush, a bowl, and latex gloves to assist you in getting the task done right. 
Aftercare 
The most essential thing someone can do after dyeing their hair, whether at home or at a salon, is to take care of their new color at home. It's critical to invest in color-preserving products, especially because basics like shampoos and masks may help prevent color fading and damage. 
FAQs 
Coloring your hair can be a difficult decision to make. If you still have more questions about coloring your hair with blue and purple hues, keep reading to find the answers to the commonly asked questions. 
Question: What skin tone can pull off blue and purple hair? 
Answer: According to Godard, this hair color is a great way to liven up any drab 'do, and fair complexion tones rock it particularly well. Violets are usually colder, so they look best on skin tones that are well-balanced. That is, there are neither pink nor cold undertones, nor are there any yellow or warm undertones.
Question: How can you fix purple hair?
Answer: If the purple residue in your hair isn't too bad, a clarifying shampoo could be all you need! Apply the clarifying shampoo to your hair as you would normal shampoo, lather it up with your hands for a few seconds, and then rinse it out. Repeat this process 2-3 times to ensure that the tint is removed. 
Question: What color does blue hair fade to?
Answer: It will ultimately develop a bluish-green color. This is due to the fact that the only method to achieve blue hair is to have light hair, such as blonde. Mixing the yellowish base with blue dye produces a green hue in color theory. 
Have Fun Experimenting with Blue and Purple Hair!
This fun two-toned hair color has a variety of different possibilities for you to try out. You can go for delicate pastels or join the dark side for rich, night sky colors. Blue-purple hair color may be applied to all lengths of hair, from long locks to a short pixie. 
Having ultra-pigmented hair takes dedication! Washing your hair with color-safe shampoos and conditioners, limiting your wash days, pampering your strands to hair masks, and seeing your favorite hairdresser for touch-ups on a regular basis are all necessary rituals to keep those lovely hues. What do you think? 
Looking for more interesting readings? Check out: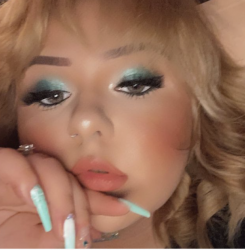 Latest posts by Annalise Swain, Hair Trend Spotter
(see all)