The best purple highlight ideas and styles are near and dear to my heart.
The first time I ventured into unnatural hair color, I used a purple from Manic Panic to put streaks through my medium brown hair. The dye sat on my hair for at least three hours because I wanted to give the color the best chance at showing up that I could.
I didn't bleach my hair first, so those highlights were subtle, but I felt so cool.
If I were to do it again, I'd probably bleach it first and do heavier highlights. Maybe throw in some pink and indigo.
Bottom Line Up Front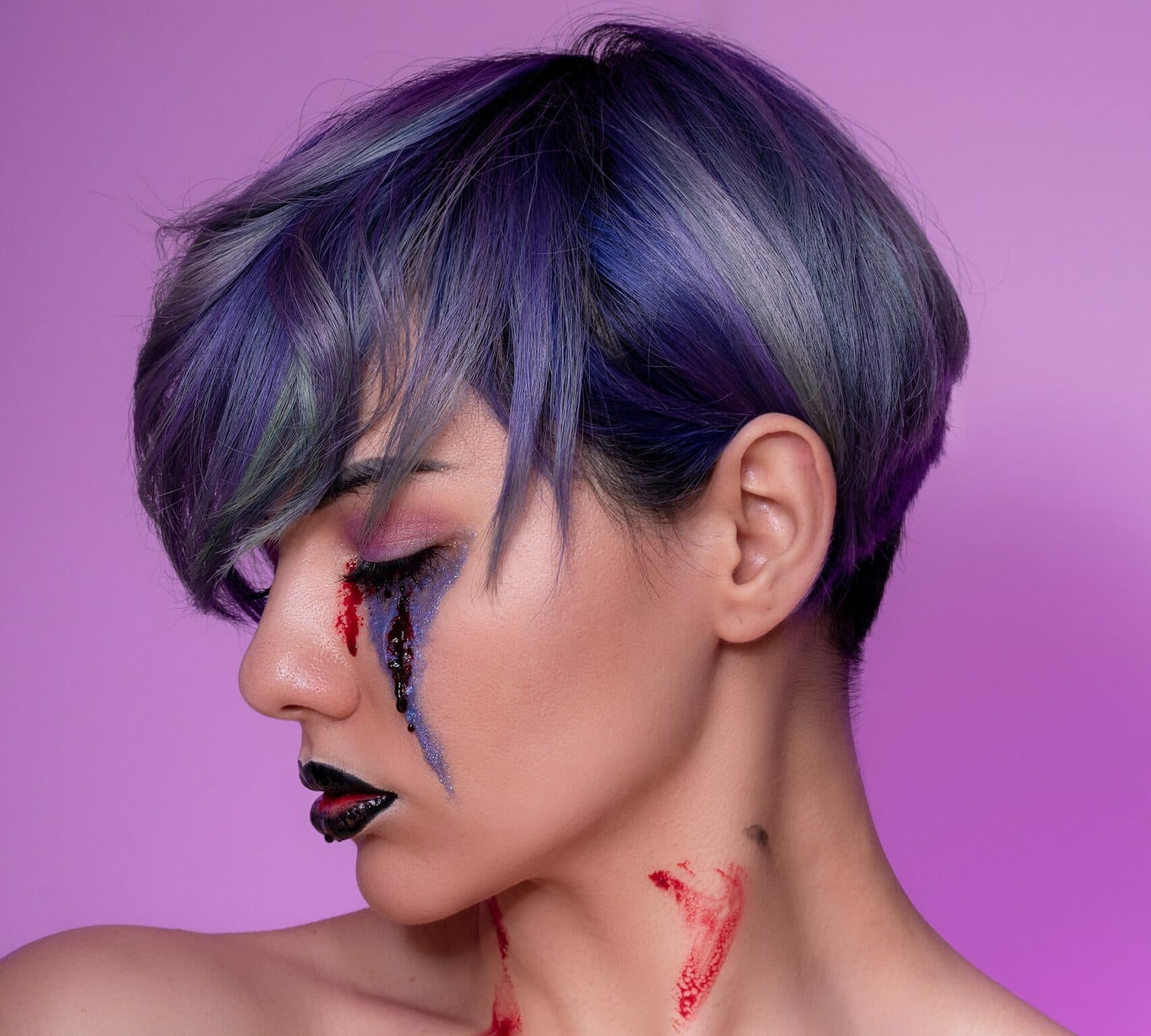 My two favorite options are the lavender on light brown and the combination of purple, royal blue, teal, and a pop of hot pink.
These are two very different looks. One is soft and whimsical, while the other is bold and attention-grabbing. They give two different vibes, and it's hard to pick just one. 
Selection Criteria
While I was on the search for the best purple highlight ideas and styles, I was looking for:
Creativity

Variety (in purple shades, placement, hair length, and base hair color)
There are so many different versions of purple highlights, thanks to creative minds and talented stylists.
Use purple highlights with your natural color, flirt with a few pastel strands near your face, or embrace unnatural colors all over and use purple to add visual interest. Go as heavy or subtle as you'd like with them. 
The 17 Best Purple Highlight Ideas and Styles
Time to mix things up and add a dash of purple to your hair color.
You might even decide to add purple and another color or two–it's up to you to get your perfect, creative style in mind.
Use these purple highlight ideas and styles to guide you. Take what you like from one, mix it with what you want from another, and get your unique take on purple hair.
Lavender on Light Brown
I am obsessed with this color shared by wowcoolwow on Instagram. The base shade is a little lighter than mine, but it's giving me serious inspiration. I love the pastel purple shade.
Keep in mind, that you'll need to bleach to a very light, almost white, color to get the purple to show up this way. It may be best to leave this look to the pros. 
Plummy Purple on Very Dark Hair
If you can't decide between pink and purple highlights, but you only want to add one color, consider this shade that sits between plum and magenta. This color can brighten the complexion. It looks gorgeous against any shade of brown, but it pops against the darkest brown hair, as traceyhairstyles shows us. 
Barely There Lilac
If you're unsure about unnatural hair color or there's a reason (work or school) that you have to keep it toned down, consider something like this lilac-on-brown option shared by number_76. It blends in, so it's barely noticeable, but it still gives brown hair exciting little strands of fun color. You'll probably get a few second glances–"Is that purple hair, or is it just the light?" 
Purple Highlights on Icy Blonde
Who doesn't love a good purple balayage? This one pops because the base color, an icy blonde, is so light and cool-toned. I love how these two colors work together. It's so interesting to see the deeper, vibrant violet tone here instead of a pastel, which seems (to me) like the more obvious choice. 
Muted Purple
These heavy muted purple highlights by coloredby.angel is getting close to the mauve territory for an exciting twist. However, they're not quite there (but that's another shade to consider!). They do have a fascinating, muted look, though, that will work well with ash brown or gray hair.
Red and Purple on Blended Brown
That title is a mouthful, but there's much to cover here! I love how this balayage by val.bibeau.pro turned out, with purple woven through cool brown, trickling into warmer brown mixed with red. This is one of the most creative versions of purple highlights I've seen! 
Purple on Gray
Think your days of rocking the purple hair are over? Not a chance! If you want purple highlights and have gray hair, you will be able to pull them off incredibly well. Purple and gray are an absolute dream together, as you can see from this purple partial by deeandmakeup. 
Purple and Royal Blue with Pops of Hot Pink and Teal
If you think the more color, the better, this is the purple highlight style you need. The base color still dominates, as there's not a ton of brightly colored hair, but that purple, blue, teal, and pink look electric on top of the model's darker hair.
If I were to go in for something vibrant right now, this look by stylist_rachel would be at the top of my list. 
Peekaboo Purple
This look is such a delight because the purple is less obvious. The darker shades are on top, blending in with the black hair.
Then as you get closer to the face (and probably all the way around, underneath that top layer), the purple gets lighter and more apparent. This isn't your standard purple highlight look, and I love it.
You could tweak this one to hide the brightest bits of purple well and then transition from a more office-friendly look to a style that's ready for a night out–simply by changing your part or pulling sections of your hair up. 
Just a Few Ribbons of Purple
These purple streaks aren't what I'd call subtle, but they don't take over the whole look, either. They're just the update you need if you're happy with your hair color but want to add a dash of playfulness to your style. 
Purple, Caramel, Copper, and Dark Brown
What a combo! lunarlooo calls this "peanut butter and jelly hair," and I love it. What would otherwise be a simple, natural (albeit beautiful) color and style combination gets an exciting update when the purple streaks are thrown in.
Sometimes a few different shades–but only one an unnatural color–is just what you want. I had something similar once and got more compliments on my hair than ever before. 
Sprinkles of Lavender on White
Ready to spice things up on white or light gray hair? A few strategically placed streaks of lavender will take a simple bob and make it extra-sassy. 
Lilac in the Front
I love A-line bobs anyway, but it takes them up a notch more when the front sections are a lovely lilac shade. Placement like this can brighten up your complexion.
If you don't want them right next to your face for some reason, they're easy to tuck behind your ears or pull back with a clip or barrette. 
Deep Purple on the Ends Only
Sometimes you don't want the commitment that goes with bleaching from root to tip. That's when purple highlights only on the ends come into play. Here's an option shared by alexxajoleen that shows how purple and teal woven into the ends of dark blonde or light brown hair can be the perfect solution. 
If you're planning to cut your hair short soon but want to have fun before you do, this is one way to do it. Any damage from the bleach will be cut off in a few weeks or months, whenever you decide to return to the salon. 
Purple on Teal
If you're not one to shy away from color, you'll love this look shared by whitstodyefor. Two shades of purple highlights seem effortlessly blended with teal to create this jewel-toned hair masterpiece that would make a mermaid jealous. I'm utterly obsessed with it. 
More Subtle Purple and Teal on Black Hair
It's not every day you see purple and teal hair in a bridal-style updo, but snatchedbyjoey shows us just how gorgeous that can be. The subtle purple and teal highlights add dimension, weaving in and out of a darker base in a natural shade. 
Purple and Rose Gold Highlights
I love seeing that I'm not the only one who has difficulty choosing just one shade for highlights. This combination of warm purple and rose gold on black hair, shared by hairbyedithvielma, is just stunning. These colors remind me of a beautiful sunset. 
Purple Highlight FAQs
Still not sure whether you want to go with purple highlights or something else? Ready to do it, but just want to know what to expect? No problem. These frequently asked questions about purple highlights might help you decide.
Question: Do purple highlights fade fast?
Answer: Somewhat, but not as fast as red or pink, for example. The lighter the shade, the more quickly it's likely to fade.
Question: What are purple highlights?
Answer: Pops of purple–any shade–through your hair. You can put them on your natural color to spice things up without much commitment, or you can go all-out and put them on top of blue, pair them with pink, etc. There's so much opportunity to get creative with purple highlights.
Question: How do I put purple streaks in my hair?
Answer: Unless you're using a darker shade of purple (and sometimes even then), you'll need to bleach your hair first, then apply the color. Fernettays has an excellent video to show you how to do it if your hair is dark and you need to bleach sections.
Jamie Genevieve's video demonstrates how to go from lighter (ombre) hair to intense purple highlights.
Question: How do you maintain purple highlights?
Answer:
• Wash as infrequently as you can.
• Use cool or cold water and shampoo and conditioner designed for color-treated hair.
• Skip the heat styling as much as possible.
• You can add some of the dye to your shampoo or conditioner for extra oomph. I only recommend this tip if your hair is dark; you probably wouldn't want to do this to maintain streaks in light hair. 
Question: How do I go from dark brown to purple?
Answer: There's a chance you'll need bleach unless you want subtle streaks. Once your hair has been lightened, apply the purple dye and let it stay on for a while. I always do over an hour for intense color. Then rinse and style. Air-drying your hair is best for the color.
Where color like this is concerned (especially when there's bleach involved), I recommend going to a professional, then learning how to maintain it well at home. 
Question: Is purple hair high maintenance?
Answer: I'd say it's higher maintenance than brown hair but not as high-maintenance as pink or red. It will surely fade, and I wouldn't expect to get much past four to six weeks before needing a refresh of some kind.
Once the hair has been bleached once, I've been able to maintain the color without damaging it further by putting more Arctic Fox Purple AF on top of those areas. No additional visit to the salon is necessary until the dark roots are too long. By then, you might be ready to switch it up anyway.
Question: How long will purple highlights last?
Answer: It will depend on the shade, your hair, how you care for your hair (products for color-treated hair, if you're washing with cool or cold water, how often you wash your hair, whether you heat-style it, etc.). Purple highlights could last anywhere from two to eight weeks. 
Question: Does purple look good with brown hair?
Answer: Yes, purple is beautiful next to brown hair–all shades!
Conclusion: Purple Highlights, Yes or No?
You know what I'm going to say, right? I'm obsessed with purple highlights of all kinds, so if you want them, I'm going to tell you to find a way to make them work.
Make them work for your lifestyle (unless you'll be getting kicked out of school or fired for any purple hair at all, of course). Make them work for your skin tone, wardrobe, personality, and comfort levels. Purple highlights can be as subtle or bold as you want them to be.
Keep maintenance in mind when you're deciding which way to go. Maybe you just want a few ribbons under the top layer of hair, so growing the bleached part out won't be as much of an issue. If you love playing with color, maybe the bleaching and maintenance won't bother you. 
Looking for more interesting hair colors? Check out: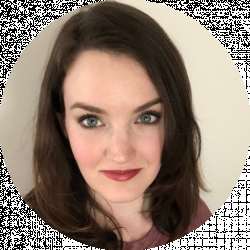 Latest posts by Crystal Schwanke
(see all)