Figuring out how to find the best lavender hair dye can be tricky because they are all so different. Some brands last longer, some are lighter than others, and some require a lot of work to make your hair lavender. I've used a lot of different vivid hair color brands in my time doing hair, and they are all so different. Below you can find out how to make your hair lavender and the best color brands to do it with. I used to play around with vivid colors a lot on my hair, from pink to neon green. One of the most difficult vivid colors I ever put on my hair was lavender. I used three different brands of lavender color, trying to get it to that perfect shade. I eventually used Pravana on my hair, and it worked great! I have also used other brands, like Pulp Riot, to create beautiful vivid colors.
Bottom Line Up Front
Pulp Riot Lilac is a color that I have used on clients and friends, and it never disappoints. It is super bright right off the bat and fades much prettier than other lavender colors I've used. The color is also highly conditioning, leaving your hair moisturized and smooth after use. It is more of a warm lavender color but can be easily turned into a cool lavender by adding a bit of Pulp Riot Blue Muse.
What Is Lavender Hair Dye?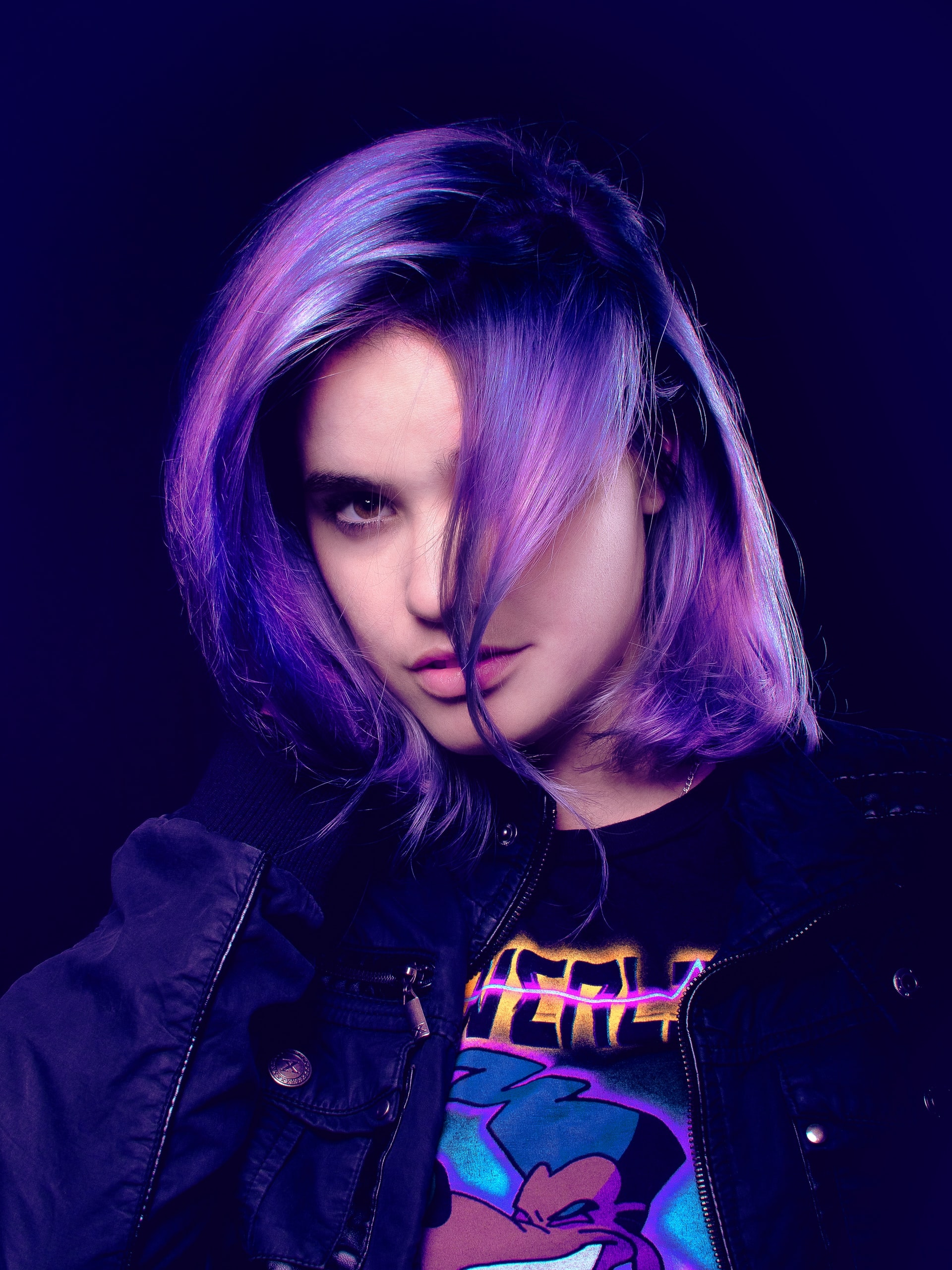 Lavender is a lighter shade of purple that usually has a blue undertone. Vibrant hair colors, like lavender hair dye, are typically done with a direct dye, a type of hair color that has a large enough molecule to create an incredibly vibrant color but sits on the outside of the cuticle, making them temporary. There technically are no permanent lavender hair dyes out there, but there are ways to make it last longer.
What Lavender Shade Is Best For You
Sadly, lavender is not a color that everyone can achieve because it is challenging to execute. In order to get a true lavender, your hair must be blonde and utterly void of warmth, which is not an easy task. There are variations of lavender that you can get without completely bleaching your hair to white. Below are the different shades of lavender you can try for varying levels of blonde.
Lavender naturally has a bit of a blue tint, but you can take it a step further to make it almost a light royal color. This shade of lavender is excellent for those that have successfully removed all of the warmth from their hair, but it is not as light of a blonde as it should be for a standard lavender. This is because blue is a more potent pigment than purple so it will be more vibrant on darker blonde.
I think this is usually referred to as lilac instead of lavender, but I have seen some lavender flowers on the pink side as well. Therefore, this is a lighter lavender color and must be done on people who have successfully lightened their hair to a very pale blonde. You would do this over a regular lavender if you could not remove all of the warmth. Honestly, this is the color your hair will turn out if you put a traditional lavender over your hair with remaining warmth.
Dark lavender is more of a true purple, but has a bit of smokiness to give it that lavender feel. This lavender color is suitable for those that could not lift their hair to a light blonde or get the warmth out. Ideally, you want your hair to at least be a yellow color to achieve any purple color, but if there is a bit of orange still in there, the dark lavender will simply be smokey.
Light lavender is most likely the color you aspire to be, but is the most difficult to fulfill. In order to have a light lavender, your hair must be lightened to a platinum blonde and possibly toned to a neutral color before applying this color of lavender. If you put a light lavender over hair that is not platinum, it will do nothing but maybe tone the yellow out of your hair.
How Do You Dye Your Hair Lavender?
Lavender hair is one of the most challenging colors to accomplish because your hair has to be so light before it takes to lavender color. If your hair is not lightened enough, the lavender color will only tone the warmth out of your hair, leaving you with a neutral color. Below I will give you the steps to properly color your hair lavender so you don't end up with a neutral blonde color.
Materials Needed
Your chosen lavender hair dye
Bleach Your Hair
How to bleach your hair can be tricky to explain, but mix bleach with a 20 or 30-volume developer and generously apply it to all of your hair in small sections. Make sure your hair is healthy before starting this process to not further damage your hair. Leave the bleach on with a shower cap covering it for 45 minutes or until it looks pale yellow to white. You may have to bleach your hair a couple of times to get to a pale yellow or platinum color. Before repeating the bleaching process, check my other article, "How Many Times Can You Bleach Your Hair". The goal is to get your hair to a blonde no darker than a yellow tone.
Tone Your hair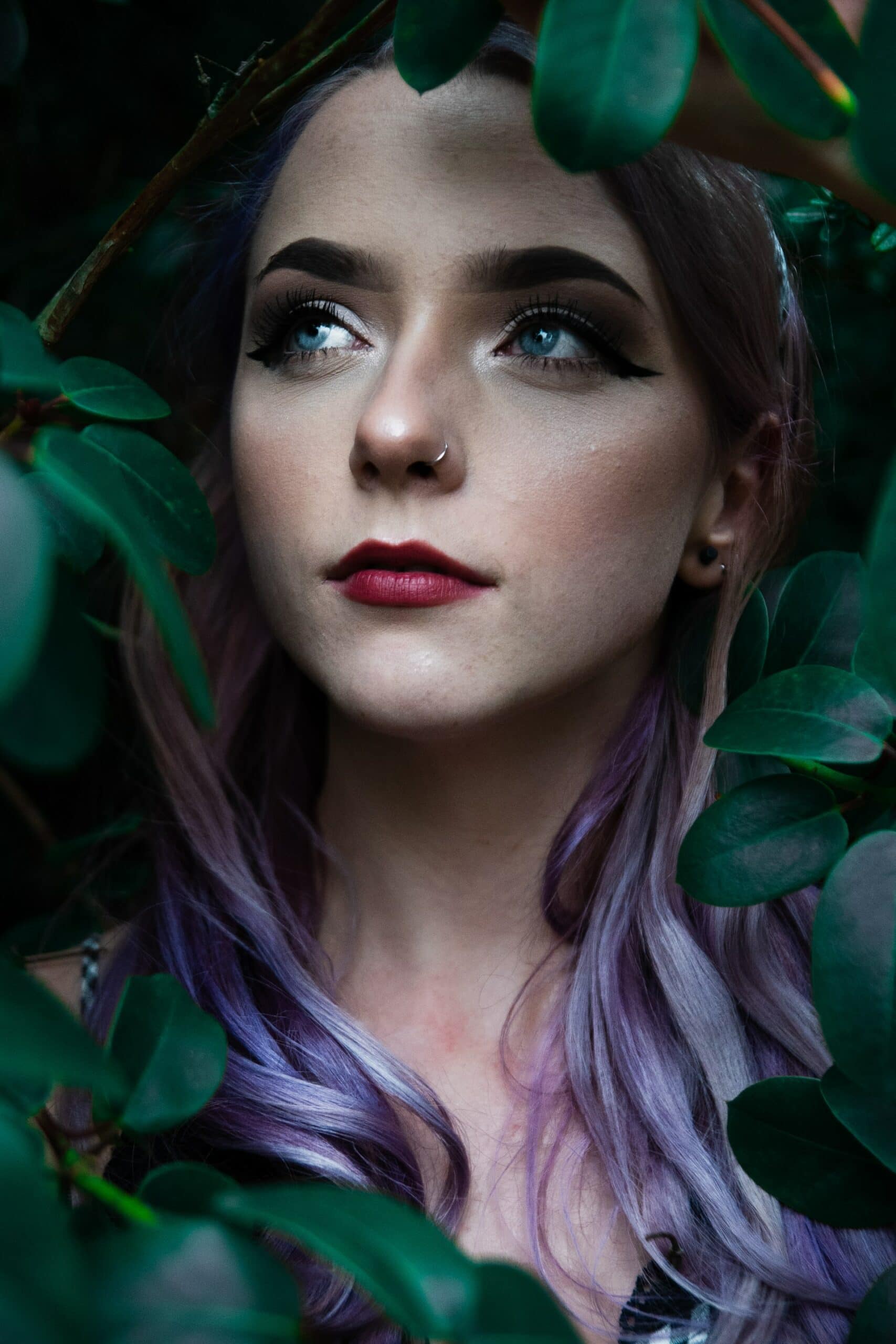 Once you feel your hair has lightened enough, shampoo the bleach out and towel dry your hair. Apply toner with a ten-volume developer on your slightly damp hair to remove as much warmth as possible. This should sit on your lightened hair for ten to twenty minutes, but watch it to make sure it does not become too ashy. If your hair is lifted to a platinum blonde before this step, do not tone it.
Apply Lavender Dye
Shampoo and blow-dry your freshly toned or bleached hair, and start applying your lavender hair color. Like the bleach, you want to thoroughly saturate your hair, painting it on in small sections. If you've finished applying and some spots feel dry at all, reapply the lavender dye to those sections. The goal is to have this stuff dripping off of your head. Leave the lavender dye on your hair for twenty to thirty minutes after application, and the longer you leave it on, the more vivid it will be. However, leaving it on for longer than thirty minutes does not make any difference, contrary to popular belief. Rinse your hair with cold water to lock it in, and apply a conditioner without shampooing.
Selection Criteria for Lavender Hair Dye
Long-Lasting
Lavender can be a difficult color to keep in your hair, so all of the colors on this list are some of the longest-lasting on the market. If appropriately maintained, you should get at least four weeks out of these colors, but you can get up to a few months out of some of them. Remember that all lavender color is temporary and will fade over time.
A Color for Everyone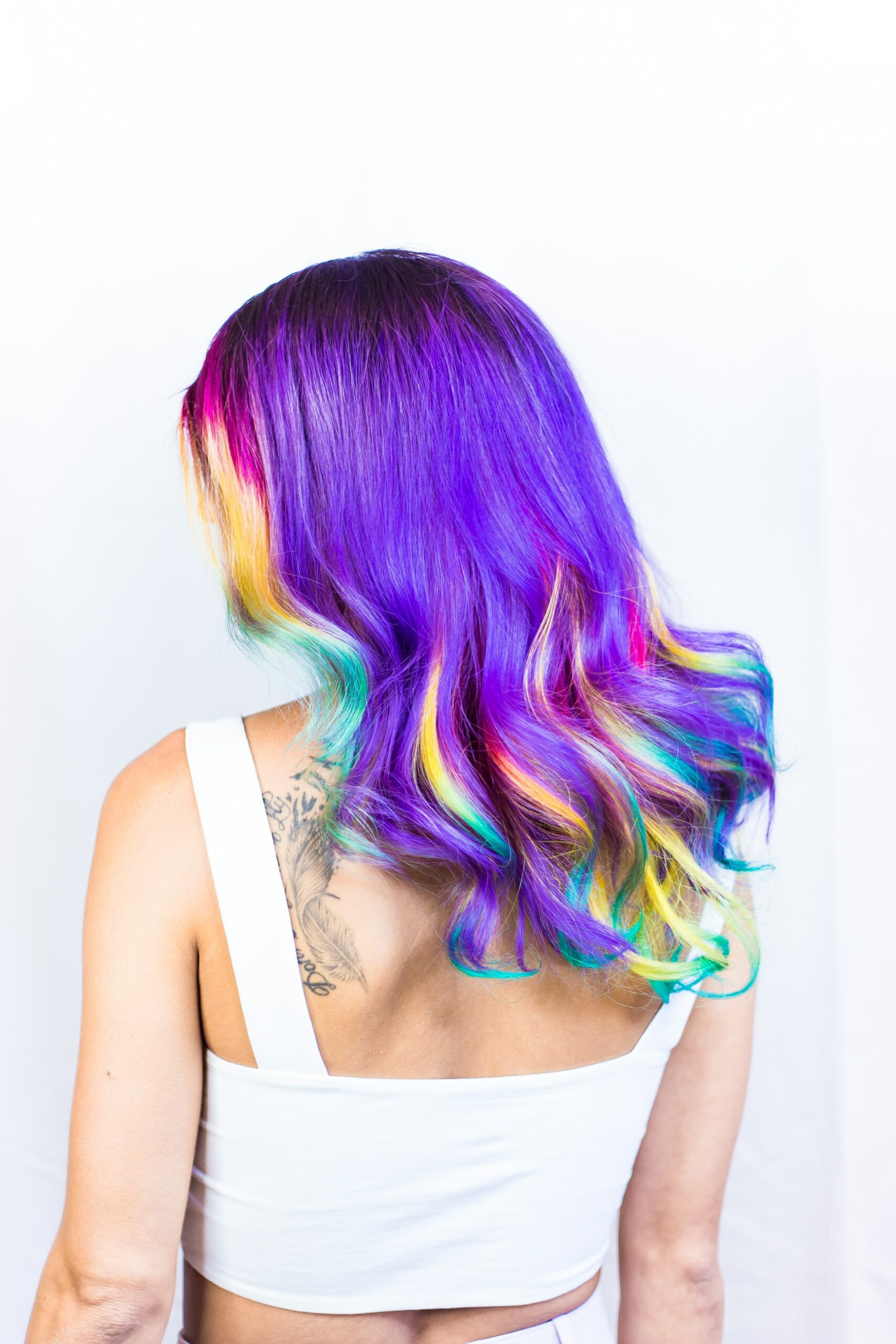 Each of these brands has different brightness levels and slightly different shades of lavender. Whether you have fair, warm skin or darker, cool skin, these colors will work for you. There are also some colors on this list that work for those who couldn't lift their hair color all the way to platinum.
Shiny, Conditioning Formula
Most lavender hair colors are direct dyes, which can be added to almost any conditioning base. A conditioning formula moisturizes your hair while it is dyeing your hair lavender. After coloring your hair with any direct dye lavender, your hair should feel soft, shiny, and smooth.
The Best Lavender Hair Dyes

Pros
Nice, smokey lavender
A lighter lavender
Super shiny
Thick consistency
Cons
Hair has to be extremely light for this one
Pravana Vivids is the brand I used whenever I was doing all of those crazy colors on my hair, and I have actually used the Pravan pastel in Luscious Lavender. It is more of a smokey, light lavender and works great on those that can get their hair to a very pale blonde before applying. It is a direct dye, so it does not need to be mixed with a developer, and it has a thicker consistency that spreads easily. Since this color is a lighter lavender, your hair has to be as light as possible for it to take to your hair. If it is not light enough, it will do nothing to your hair color. Pravana vivids are also a line that has to be really worked into the hair to make it take evenly. Pravana's Lucious Lavender creates a beautiful, shiny color if you massage the color into your hair.

Pros
Bright
A darker lavender
Conditioning consistency
Long-lasting
Cons
Colorista makes direct dyes that work well on darker hair colors. To get the purple shade, you will still need to be lightened to at least an 8 (yellow-orange) before applying this color, or else it will not show up. The darker your hair is before applying the lavender, the darker the lavender will turn out. This color feels more like a conditioner than hair dye, so it is effortless to spread evenly all over your hair. Even though Colorista claims to be a semi-permanent color, it can be challenging to remove from very light hair. It will fade as fast as any other vibrant color but leaves a pink-purple tint that lasts a long time. When it comes to removing this color, you may have a problem completely removing the purple hue.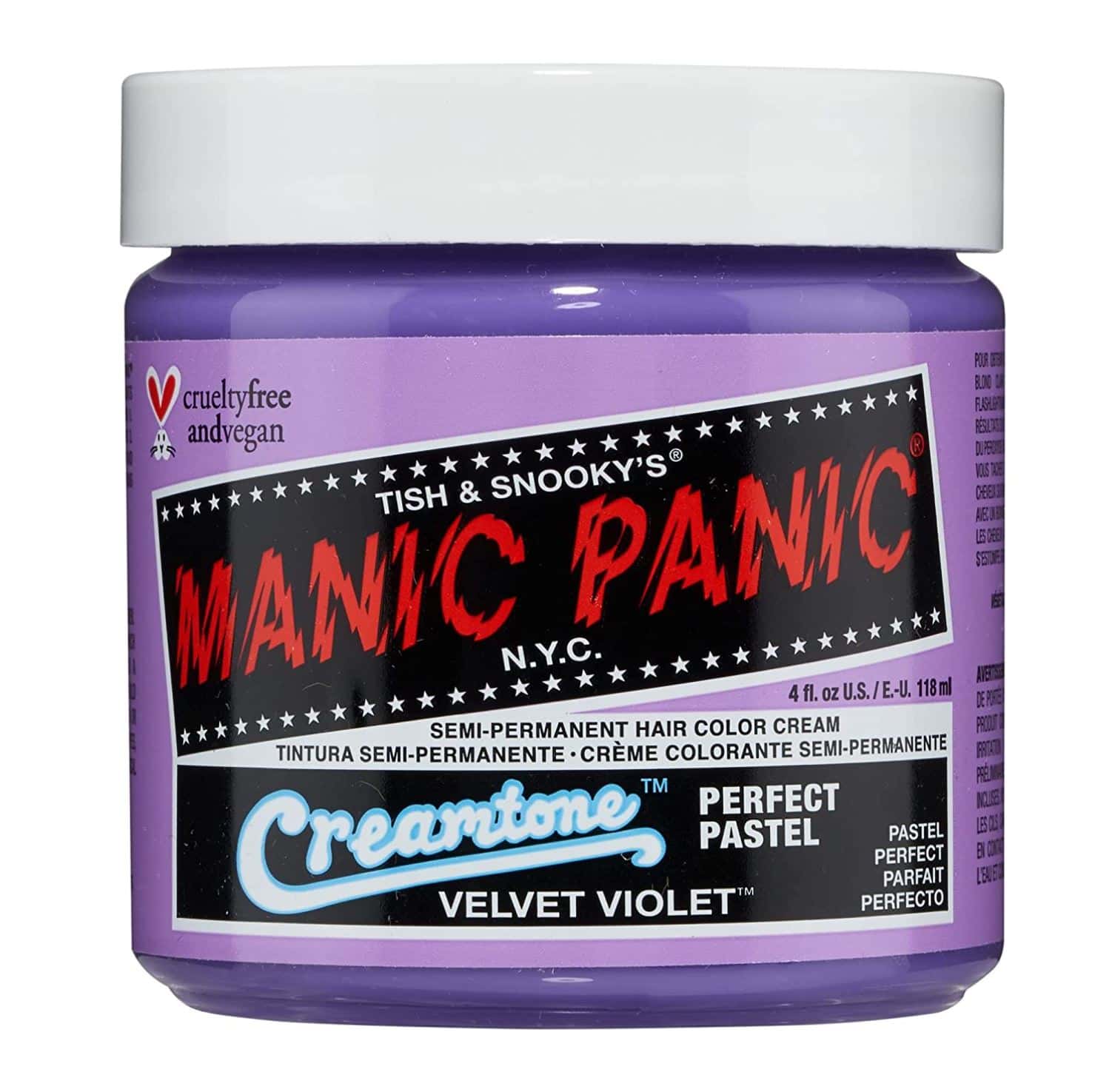 Pros
Long-lasting
One of the first vivid color brands on the market
Conditioning consistency
Cruelty-free and vegan
Cons
Manic Panic was one of the first vivid color brands to hit the market in 1977 and is still very relevant to this day. These are some of the brightest and longest-lasting vivid colors that you will find, with them being able to cover the most resistant hair and last months on some people. Manic Panic also comes in a jar that you can dip your gloves or color brush right into, and the product is very conditioning, so it spreads easily. With this brand being one of the longest-lasting of them all, comes difficult removal. Whenever someone with Manic Panic on their head comes into my salon wanting to remove it, I panic a little. This stuff can be quite the process to remove, usually trying two or three different methods to remove it. However, Velvet Violet does tend to be one of the easier colors to remove.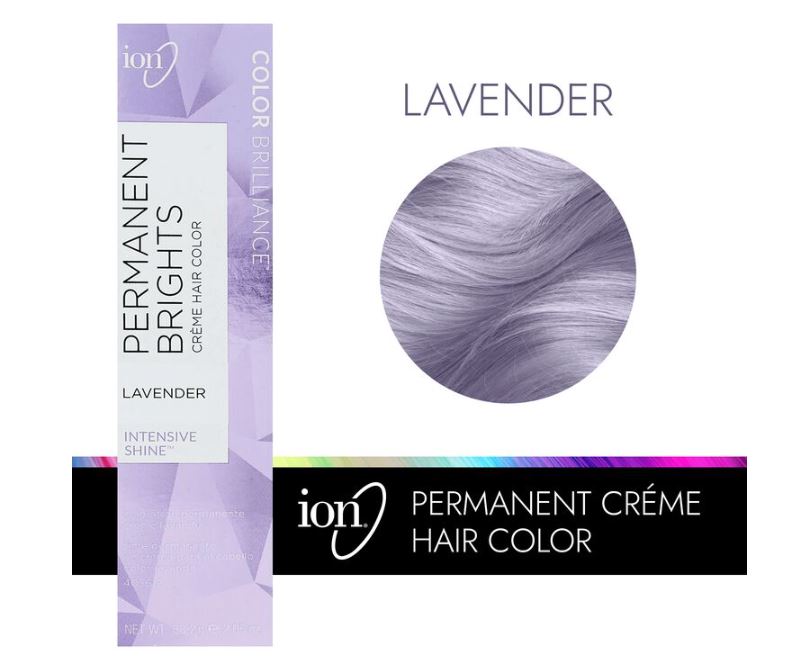 Pros
Permanent
You don't have to massage it in
Can cover grey
More even color
Cons
This lavender color is actually a permanent color! That means it covers more evenly, can cover grey, and is easier to apply. Unfortunately, that does not mean it will last longer or can be done without lightening the hair first. Ion's permanent lavender is excellent for those who couldn't lift their hair color quite as light as it should be, the color didn't lighten evenly, or those who have grey hair that direct dues won't cover. Ion's lavender will be more of a smokey, subdued lavender because the color molecule has to be slightly smaller than normal vivids for it to enter into your hair strand. Other lavender colors that are direct dyes will be brighter because they have larger color molecules that sit on the outside of the cuticle. You also have to be careful with how many times you overlap this because permanent colors will damage your hair over time.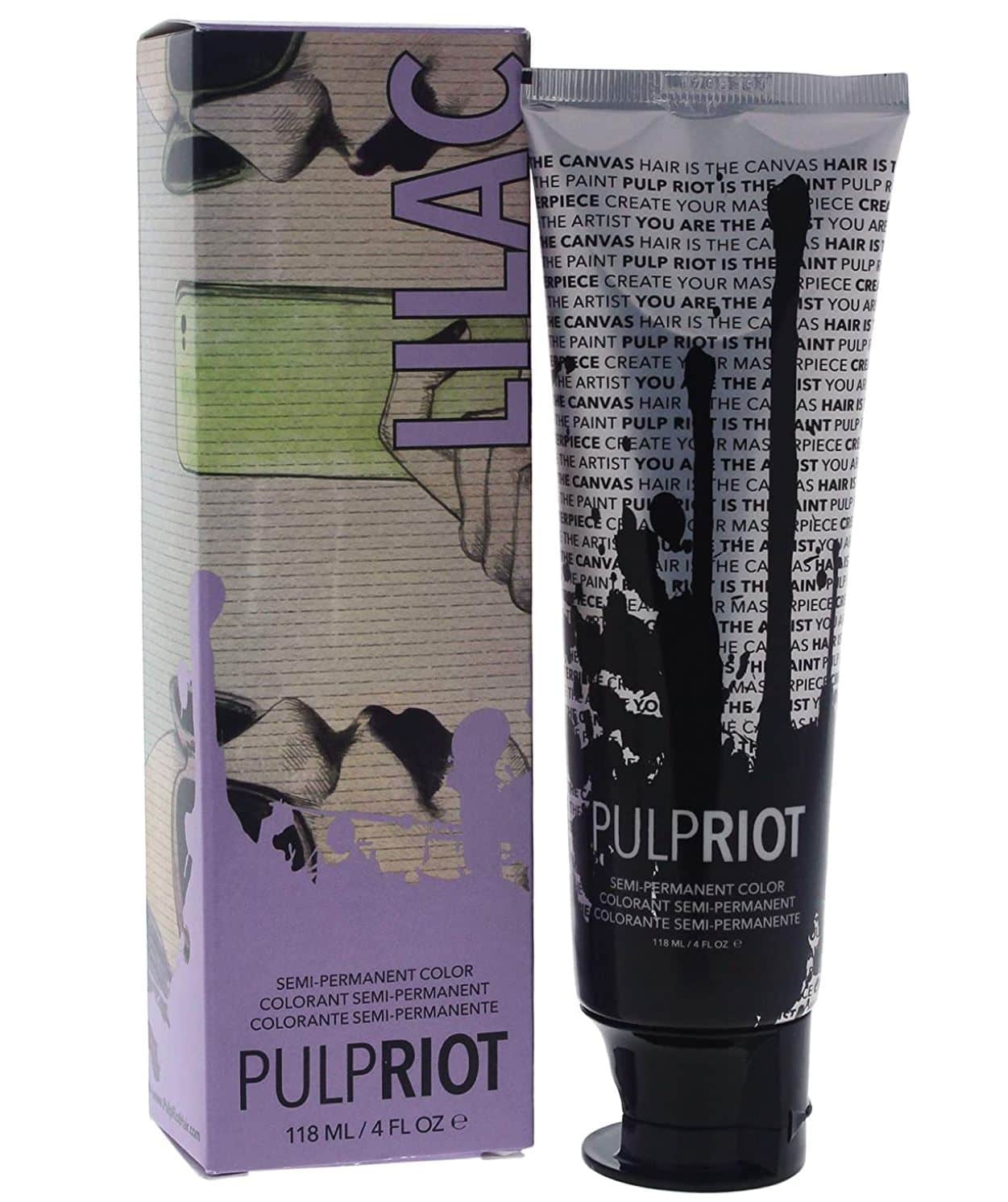 Pros
Bright
Conditioner base
Fades nicely
Pinker lavender color
Cons
It fades faster than other brands
Pulp Riot is another brand that you can find in the salon that I have used on my own clients and friends. These colors tend to spread evenly on the hair and fade into a nice color rather than a muddy color like some other vivids. This lavender is also more on the warmer side of lavender, so it looks great on those with warmer skin tones. Even though Pulp Riot fades prettier than some other brands, it may start fading faster than others as well. Make sure you follow all of the maintenance steps listed below to get the best longevity out of this color. On the plus side, it is very easy to remove when you don't want the lavender anymore.
Maintaining Lavender Hair
Cut Back on Shampoos
The more you shampoo your hair, the quicker your lavender color will fade. This is because vivid colors, like lavender, sit on the cuticle of your hair rather than penetrating it. Each time you shampoo your hair, it takes some of those color molecules with it. When I cut back on shampoos, I like to do it gradually, starting with one day longer in between and adding a day in between each wash.
Rinse with Cold Water
Warm water opens the cuticle layer of your hair where vivid colors sit, so when you rinse with warm water, you let some of those color molecules leave the hair easier. Rinsing with cold water can be challenging to get used to because who likes cold showers? I like to lean my head back into the cold water for shampooing and conditioning, put my freshly washed hair into a shower cap, and then continue my shower with warmer water.
Use Purple Shampoo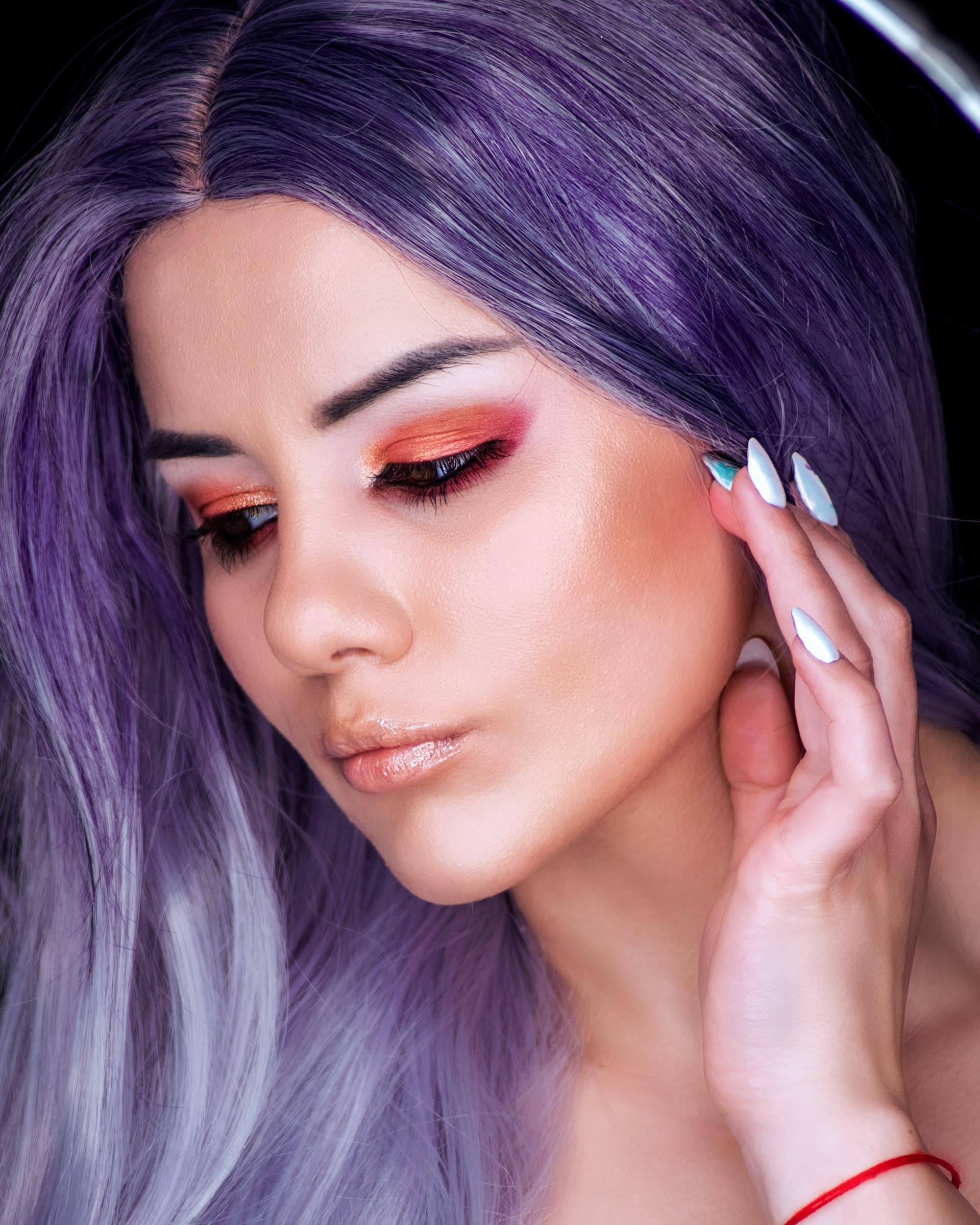 Purple shampoo is usually used to keep blondes an ashy color but works excellent for lavender hair as well! Purple shampoo is simply a low or sulfate-free shampoo with purple pigment, so it does a great job of keeping it purple. Instead of using it once a week or every other week like blondes would, I recommend using this shampoo with every hair wash.
Use Heat Protectants
Heat is another thing that will yank your vivid color right out of your hair. Using a heat protectant layers a protective coating around your hair to ensure that the heat doesn't take anything out of your cuticle. Using a leave-in conditioner with a heat protectant is a good start before you blow-dry. Then if you use any hot tools, like a straightener or curling iron, a spray heat protectant is good to use on each section.
FAQ's
Question: How light does my hair have to be for lavender?
Answer: Your hair should be at least a level 9 or 10 before attempting to color it lavender. That is lifted to a yellow or pale yellow without any orange left in the hair. If only lifted to a level 9, you should tone your hair before coloring it with lavender dye, or else the lavender color will only tone your hair to a neutral color.
Question: How hard is it to maintain lavender hair?
Answer: Lavender hair is relatively difficult to maintain. It is a vivid color, which usually only lasts four to six weeks, and it is a vivid pastel color, which takes off even more longevity. A few mandatory things to make your lavender hair last are purple shampoo, rinsing with cold water, and using a heat protectant. You could also purchase conditioning masks with lavender direct dye inside of them.
Question: Can I turn my black hair into lavender?
Answer: You can not go from back to lavender in one sitting. Lavender hair requires you to be bleached to a very light blonde before applying the lavender color. Black hair does not typically get to a light enough blonde within one bleach session and can take two to three bleach sessions to get light enough. This requires a lot of tender love and care, but if done correctly, it could be achievable in the long run.
Question: Can I get lavender hair without bleaching it first?
Answer: The short answer is no, you can not. Lavender has to go over very light hair to show up, so unless your hair is naturally platinum or is already bleach blonde from previous services, there is no way to get lavender hair. The closest thing you can get to lavender hair without bleach is a dark purple color using high-lift hair dyes.
Question: Who looks good with lavender hair?
Answer: Lavender hair is a cool-toned color, so it typically looks good on those with cooler skin tones. The color will also stand out more on people with darker complexions since it is such a light color. You could make this color work with warmer skin tones by doing more of an actual purple color or lavender with pink undertones.
Should You Try Lavender Hair?
As long as you can get your hair light enough with bleach to make it lavender, I think there is a lavender color out there for everyone. It does take quite a bit of maintenance to keep and still only lasts four to six weeks, but so does any other vivid color that you could try. If you are up for the challenge that comes along with lavender hair, you should definitely try it out.
Looking for a new hair color? Check out: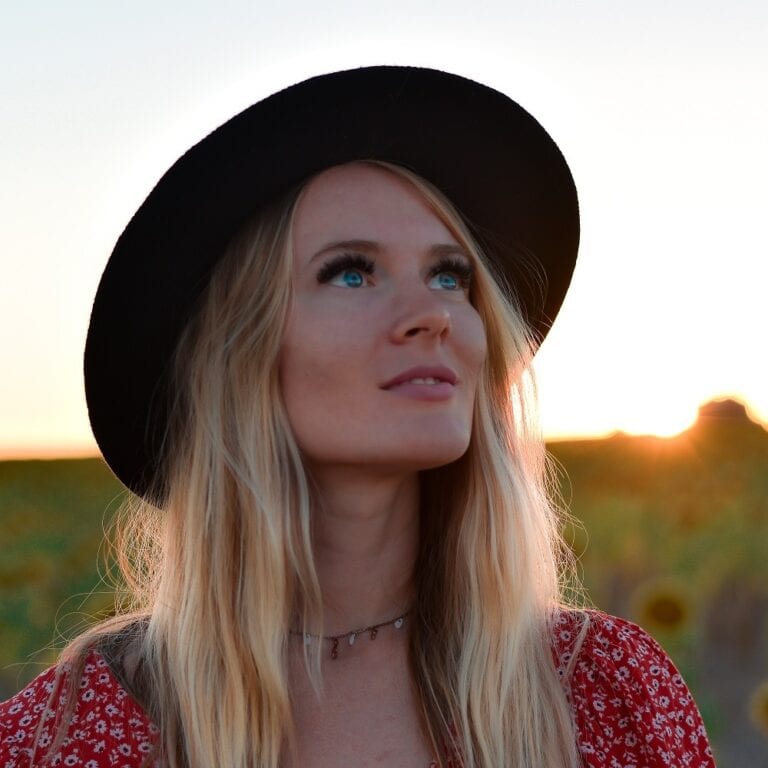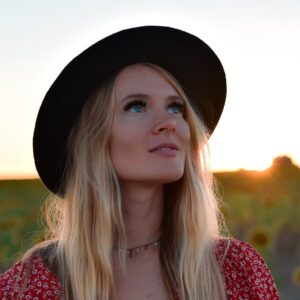 Latest posts by Haley Parker, Licensed Cosmetologist 10+ years
(see all)