For her Oscar-winning role in Les Misérables, Anne Hathaway chopped off her luscious long locks to play Fantine. The role was a long way from my favourite movie of hers, The Devil Wears Prada, but it really showed off her range as an actress and convinced us all that she could take on serious, powerhouse roles and with comedic ones with the same intensity.
Another thing this hair transformation showed us is that Anne Hathaway is one of the lucky ones – she can easily pull off short pixie cuts as glamorously as she can long hairstyles! I wish I could be that lucky. She embraced her short hair for months, which is how we have so many Anne Hathaway short hair ideas to choose from!
I've always had long hair – with the exception of a bob style in my young adulthood – and I've always been intimidated by short cuts. Hair texture and face shape can make or break a style, so my curly hair worries me. But even if I don't embrace the short hair trend myself, I live vicariously through celebrities and icons that rock these styles flawlessly – Anne Hathaway is at the top of the list of inspiration.
Bottom Line Up Front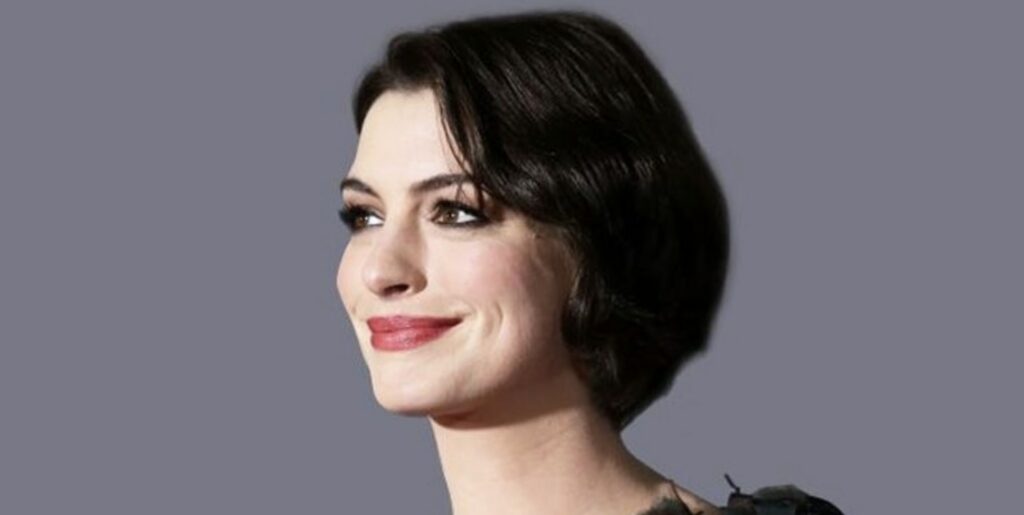 Anne Hathaway gave us a variety of short styles to draw inspiration from, but one of my favourites is the in-between style – the short textured bob cut. Not too long and not too short, this style appeals to even the long hair lovers like me! This length shapes the face beautifully, and the texture looks bouncy and timeless.
Criteria for this List
During the 2013 awards season and beyond, Anne Hathaway has a variety of red carpet moments worth mentioning on this list. I included several different styles based on a few different criteria.
Different Phases of Regrowth
Anne Hathaway's short hair journey began with completely shearing off her head, so her regrowth journey was intensive and covered every length. We saw the whole journey, so I incorporated snapshots of every length on this list.
Different Levels of Styling Effort
I know I'm not alone in my appreciation for low-maintenance styles. There's nothing better than a quick and easy two-step hair routine that looks great for busy days. Anne Hathaway's styles have it all, whether you want to invest a lot of time into your look or simply wish to blowdry and go.
Trendy Styles
Anne Hathaway has a timeless style, but her short hair looks had an air of trendiness too! I didn't include any looks that can be characterized as dated or out of fashion on this list. Every cut and style on this list is totally suitable for 2022!
Anne Hathaway's Face Shape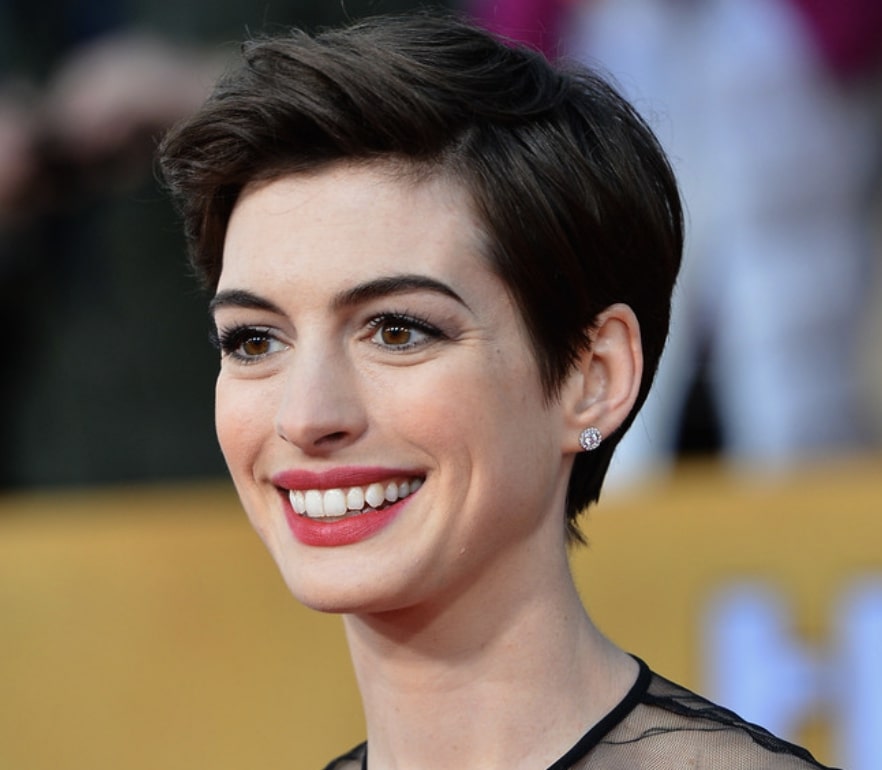 Your face shape is a great tool to tell what cuts and styles will suit your face. Finding a celebrity with a similar face shape and drawing inspiration from their styles can save you regrettable hair moments – I've learned this lesson the hard way.
Anne Hathaway is blessed with an oval face shape! The oval face shape is the universal face shape where anything and everything looks fantastic! Oval face shapes are versatile and forgiving, so this is the best face shape to have when you want to experiment and play around with your hair.
Short styles look amazing on oval face shapes, and Anne Hathaway proves it. She has tons of red carpet looks that show off the variety of lengths and styles that short hairstyles can take!
Pixie with Wispy Bangs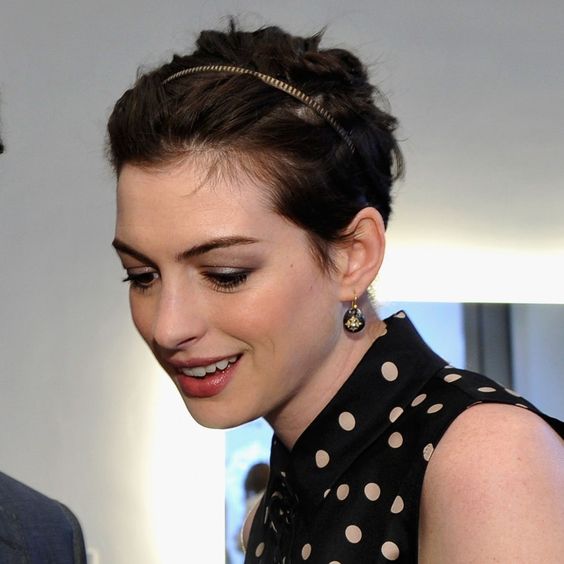 These wispy side-swept bangs never go out of style, and they're super low-maintenance while still looking stunning enough for a fancy event like the Golden Globes! With just a blowdryer and a little bit of serum, you can emulate this look effortlessly.
Sleek Pixie Cut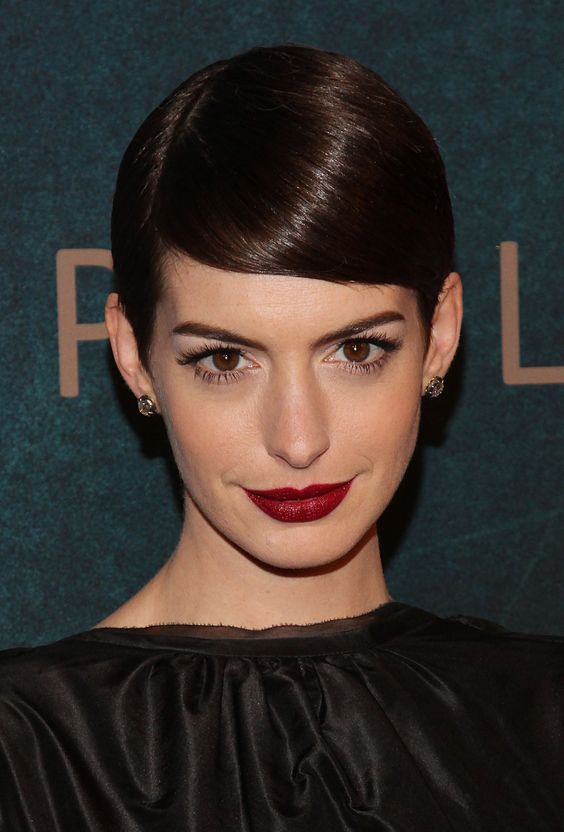 Glamorous and modern, this sleeked pixie screams attitude! She channels a dark look with a deep berry lip and beautifully framed eyes to create an air of mystery that's completely captivating. The whole style is chic and alluring, with a crisp pixie with no hair out of place. You'll need a pomade to make this style look light while still holding firm – preferably a product that can offer a little extra shine.
Pixie with Short Bangs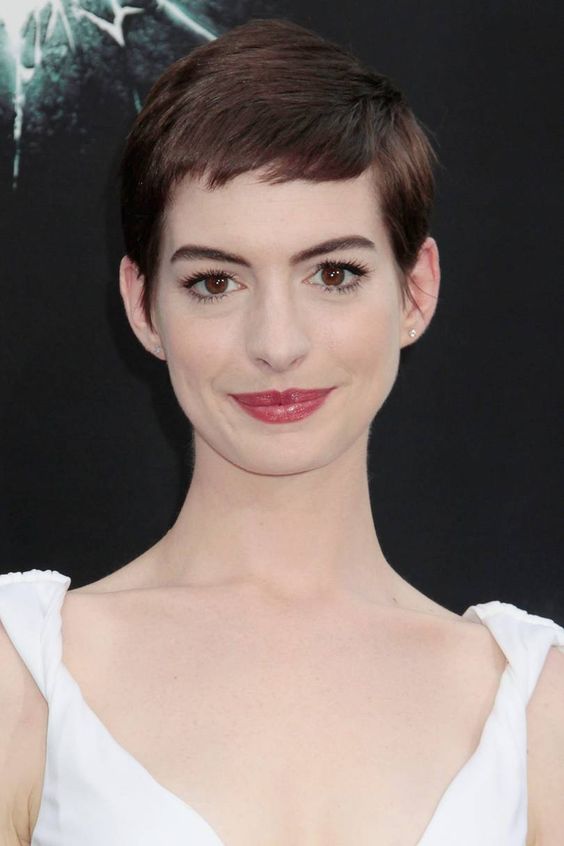 In its initial regrowth phase, Anne embraces the in-between length with short, feminine bangs that remind me of a fairy's style. This is a low-maintenance style that pixies are known for and looks light a wispy – perfect for the summer heat! With just a simple blowdry and styling cream, this style is complete.
Pixie Swept Off the Face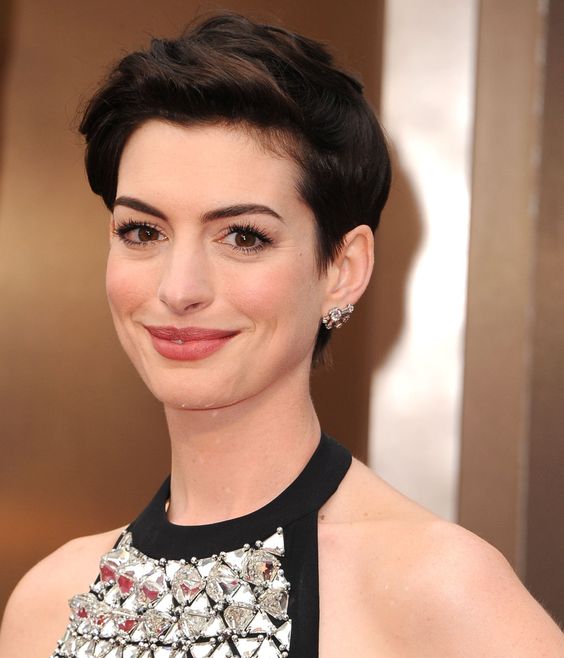 Getting hair in the eyes is frustrating regardless of the length of your hair. With a pixie, hair falling on the face is a genuine concern because there isn't enough length to pin the hair back effectively. I love this style because it stylishly lifts the hair away from the face while still looking soft. A round brush and some styling products are everything you need to achieve a solid hold.
Heavy Pixie Style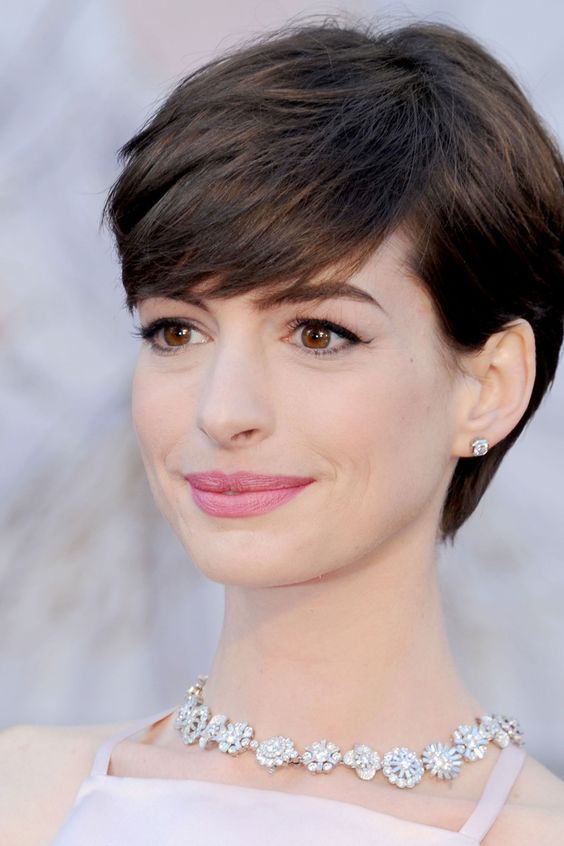 With regrowth comes more hair density, and on someone like Anne Hathaway with voluminous hair, this creates a heavy pixie style. These Tinkerbell-like heavy bangs in a side-swept style look feathery and soft and don't look harsh despite the long length. The stunning layers help balance the style and help the regrowth look more balanced.
Edgy Pixie Style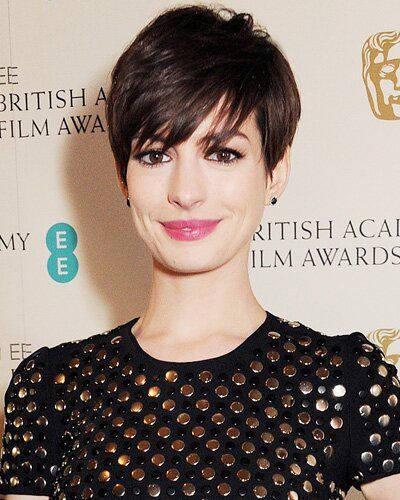 This edgy pixie style is swoon-worthy! The piecey, well-defined strands in the bangs will channel your inner rockstar. This is one of my favourite looks from Anne's short hair era. With just a touch of pomade, this texture is attainable for any short style and chic bangs.
Pixie Style with Accessories
Clips and hair ties are tough to introduce to a pixie cut. With little hair to grab onto, they're ineffective – but headbands are not only practical, but cute headbands can be another accessory to add some fashion to your strands. You can choose to style your hair before you adorn your headband or make it a messy hair staple, but headbands can complement your outfit and make your hairstyle a little more luxurious.
Spiky Pixie Style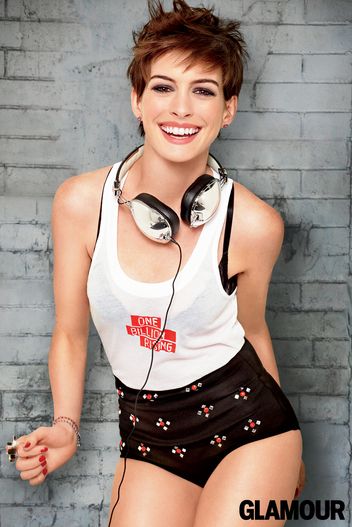 Add some spikes to add some chic, wild vibes to your pixie cut inspired by this Anne Hathaway style. A casual, messy look that's fun and playful, these strands are light and airy! I love this feminine twist on what's typically thought of as a masculine style. Mixed with the right makeup and clothes, this effortless hairstyle makes an edgy statement. With just a little styling pomade, you can create a style that looks like you just rolled out of bed and ran your fingers through your hair!
Pixie with Curtain Bangs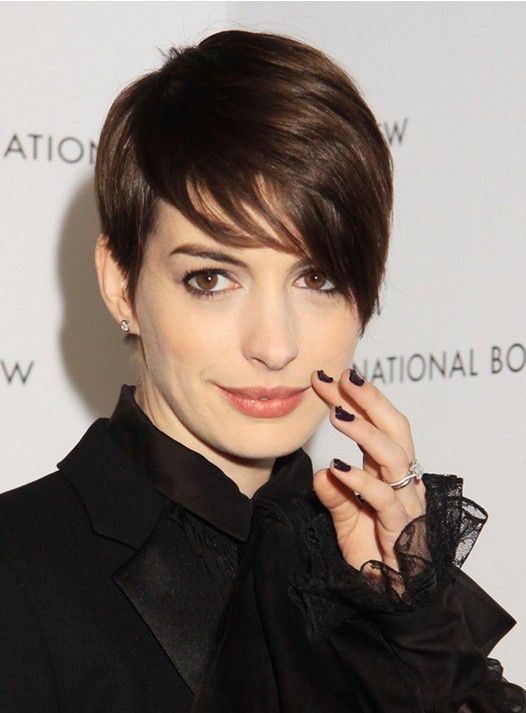 This isn't a boring pixie! Asymmetrical curtain bangs draw the eye, make a style look exciting, and create a swooping style that looks soft and sophisticated. I love the simplicity of this style – how it frames the eyes and really makes them pop! This look is easy to copy for yourself with a round brush, some styling cream, and a deep side part.
Bleach Blonde Cropped Style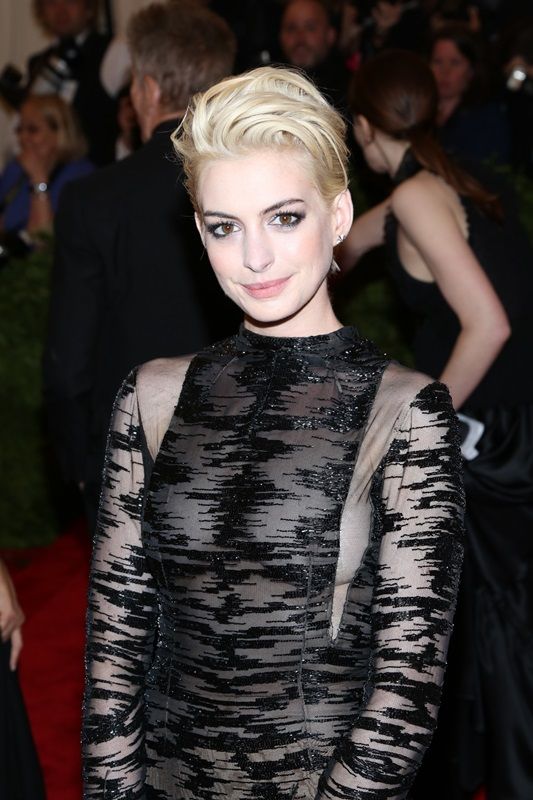 At the 2013 Met Gala, Anne debuted a blonde version of the mid-length pixie style that's ultra-edgy and bold! The piecey style looks like she ran her fingers through her hair and left for the red carpet – in the best way. Pomade will be your best friend when recreating this style!
Closely Cropped Ultra-Short Bob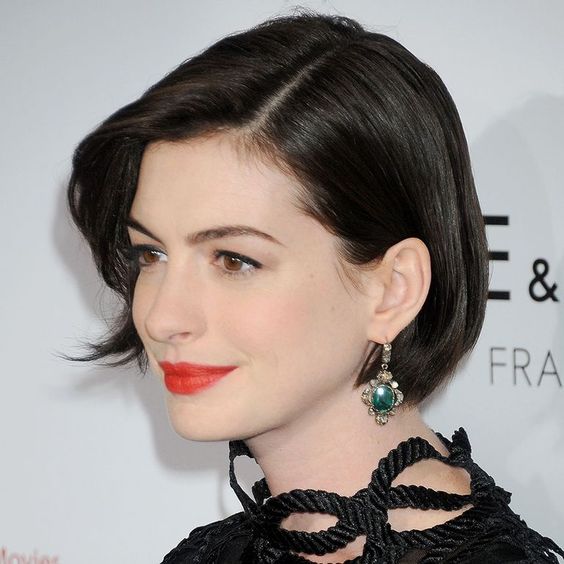 A closely cut short bob with a deep side part looks elegant and timeless! Leave it to Anne Hathaway to make an otherwise awkward length look stunning and chic! The smooth, sleek, straight bob frames the face perfectly. Copying this style is easy with a flat iron and some hair oil or serum for some shine.
Short Textured Bob Cut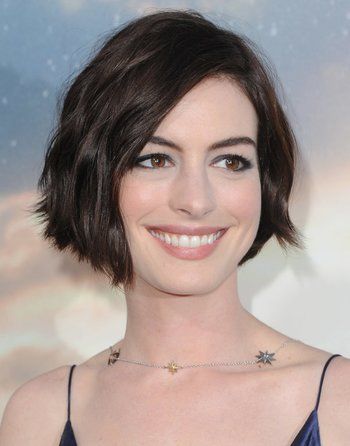 Adding some movement with some gentle waves softens this short blunt bob. This is the perfect style that's incredibly casual and attainable while still fitting into a formal event. With a curling iron and some products, you can copy this style during the in-between growth phase – the end result will be an effortless and trendy texture.
Messy Bob Cut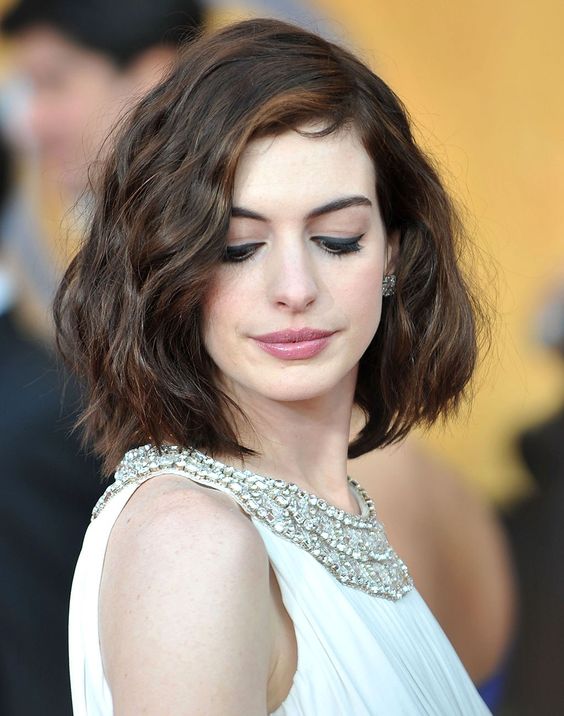 Bobs are always in, and Anne Hathaway always pulls them off! This short textured version embraces beach waves that still belong on a red carpet. Barely grazing the shoulders, this short bob is the real starting point to getting long locks back. If you're lucky enough to have a naturally wavy texture, then this style is easy to copy, but if not, a hot tool and some styling cream will do the trick!
Smooth Short Bob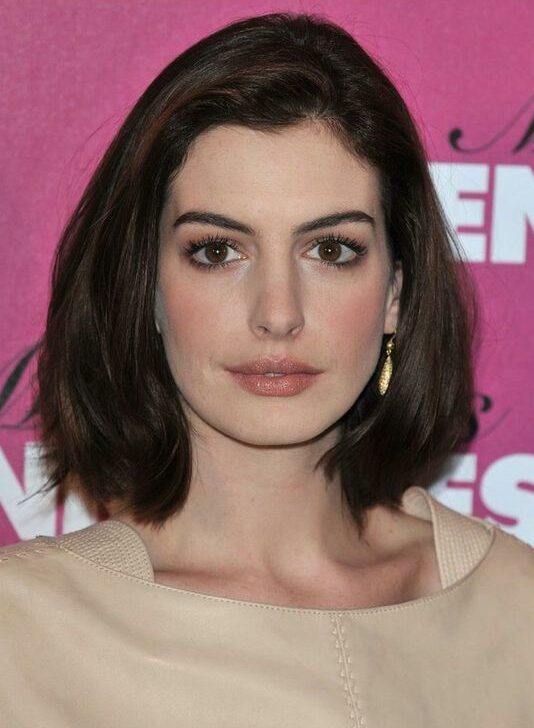 A straight, smooth bob is always on-trend, and this short, voluminous version is graceful and elegant. I love that this version still has enough volume to frame the face and create body – it doesn't hang down limply beside the face. This style is easy to recreate with a simple blowdry and finishing cream for any bob, whether you're heading to a casual outing or somewhere a little more elegant.
FAQs
Question: Why did Anne Hathaway have short hair?
Answer: Anne Hathaway chopped off her signature long locks in 2012 for the role of Fantine in Les Misérables. Fantine is an impoverished mother who sells her hair to support herself and her daughter. She completely shaved her head for the role, and she actually cut it on camera!
Question: Did Anne Hathaway like her short hair?
Answer: Immediately after shaving her hair off, Anne Hathaway admitted that she cried over it – having never had short hair, she said it was hard for her to lose all her hair. Once she got off set and back to her real life, she started to embrace her new short hair and its possibilities.
Question: Does Anne Hathaway have straight hair?
Answer: Despite the majority of her red carpet appearances where she sports straight hair, it's all an illusion. Anne Hathaway is a curly girl but uses flat irons to straighten her locks most of the time.
Bottom Line
Anne Hathaway is a style icon, and her hair is no different! When she sheared off her hair for Les Mis, she opened up a whole new body of hairstyles to draw inspiration from. Even though I'm a fan of long hair and style my own hair that way, I love Anne Hathaway's sleek pixie cut – it's modern, edgy, and ultra-fashionable.
You can pull off any of these hairstyles if you're lucky, like Anne Hathaway and have an oval face shape. Styles tend to be universally flattering, but if your face shape is different, look closely at the features that you want to minimize and avoid styles that will highlight them.
No matter what Anne Hathaway short hair ideas you gravitate towards, they're super low-maintenance and give you tons of options for personalization. Say whatever you want about short hairstyles; their versatility and classic cuts are unmatched in the hair industry.
Looking for more interesting hairstyles? Check out: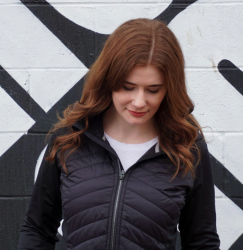 Latest posts by Kelsey Purcell, Hair Product Collector & Tester
(see all)