We're all obsessed with reversing the signs of aging wherever we can. From anti-aging skincare, drinking plenty of water, and avoiding the sun, we adopt some serious lifestyle routines that are healthy and make us look good at the same time.
Haircare is no different. Coloring over grey strands has been possible since the early 20th century, and huge varieties of box dye take up several shelves in every supermarket or drugstore. Today, most hair color is marketed to cover over grey hair.
My mom found my first grey hair when I was five years old, and while I'm still in my twenties, I have a few grey strands popping up that I've been embracing. Once they start to outnumber my auburn strands, I may dive into hair color to cover them up. I don't know if I'd stray too far from my copper roots, but the dark shades also draw me in.
I think grey, silver, and white hair can be beautiful, but I also understand the appeal of covering it up with rich, vibrant shades to make you appear as youthful on the outside as you feel on the inside. Some hair colors help you appear younger more than others – sorry to spoil, but neon colors aren't making my list – and choosing timeless shades that are stylish regardless of current trends is the key!
Bottom Line Up Front
Even though my auburn strands are coveted by many, I love the look of dark hair – I'm obsessed with Julianna Margulies, so her rich, near-black strands are a dream to me. As I age, if I get some guts, I'd make a radical change – otherwise, I'm really glad copper shades are a youthful option as I develop more greys.
Selection Criteria
I chose the shades on this list by considering a few factors.
Achievability. I wanted to choose shades that are easy to find in box dyes for those who love a simple approach.
Natural Shades. Colors found in the wild tend to be more universally flattering, so the selections on this list are stunning hues that appear authentic.
Every Colour Family. Light shades, dark hues, and highlights are included for whatever vibe you want to adopt for your youthful new hair color.
The Photo References are From Mature Women! It's essential to see how these shades will look on you – fine lines and all! So, the actresses and celebrities in these examples are women who are proudly in their late thirties, forties, and above.
How Can Hair Colour Make You Look Younger?
You don't need a major transformation to make yourself appear more youthful. Adding highlights or going for a different hue can revitalize your strands, make your face look refreshed, and flatter your style.
Signs of Aging Hair
As you age, your hair begins to show it. I'm still in my twenties and have a few grey hairs – I wear them with pride, for now. But it's not all about the look of your hair, it's about the feel of it too.
Thinness. Your hair will lose density as you age – hair follicles shrink, making strands grow out thinner over time.
Brittleness. Hair has elasticity when you're younger, but as you get older, your hair becomes more prone to breakage and damage.
Dryness. As you age, your scalp and hair follicles get increasingly dry, leading to dryer strands that lack the natural oils and moisture your body produces.
Greyness. The obvious effect of aging on your hair is the loss of pigment. Whether your hair turns white, grey, or silver, slowly, your hair will stop producing pigment leaving you without your natural color.
Hair Colours to Make You Look Younger
Whether you're a natural blonde, brunette, or redhead, you can still go to the radically opposite end of the spectrum with hair color. Amy Adams is known for her red locks, but she's actually a natural blonde, and Jennifer Aniston's signature golden blonde is only an illusion – she's a natural brunette beneath. There are no rules, and as you age, it's the perfect time to play around with different shades.
Caramel Highlights
Caramel highlights add the ultimate warm dimension to hair. Halle Berry, JLo, Jessica Alba, and many more stars use these warm tones to frame the face and make their skin glow. While these examples concentrate on darker skin, even those with a fair complexion can rock caramel highlights. You and your stylist will just have to choose a shade that will complement your skin's undertones.
I love the warmth and freshness of the caramel tones. It breathes life into your strands and makes you appear more vibrant. No matter what your age, the caramel tones will add bounce and texture to your strands for a youthful glow. While lately, Halle Berry loves her grey strands, the caramel highlight look on her is so stunning that I had to include it. Her hair, skin, and energy shine through!
Strawberry Blonde
Strawberry blonde is an underrated shade of the blonde family! As someone with auburn/red hair, I hated when people called my hair orange, which I know is something strawberry blondes deal with a ton. But the rose gold hue looks regal and is the perfect pop of color if you're trying to get away from neutral blondes and browns. Jessica Chastain is the queen of the strawberry blonde look.
The all-over color is easy to get from a box dye if you're coming from the blonde end of the spectrum, but if your natural hair is darker, it's best to consult a professional to lighten your strands before diving into strawberry blonde. It attracts the perfect amount of attention to your face and acts as a spotlight to brighten up your skin!
Bronze-Blonde
Lauren Conrad is a pro when it comes to sporting the bronze-blonde look. With darker, bronze-ish roots blending out into a golden blonde, she's the ultimate millennial icon and is still deep in today's trends. The appeal of the root transitions makes the hair look more natural – it makes grow-out easier, too, since the color is a little less maintenance. Beach-ready, fresh, and vibrant, this is a simple but ageless look that you'll see people rocking at every age.
Since the color blending is so delicate, I wouldn't try this one on my own! I would take this color adventure while leisurely relaxing in a salon chair and hand over the reins to the color professionals.
Honey Blonde
Blondes have a ton of fun, and they do it while looking ageless! There are several blonde shades on this list, but this classic honey blonde is enduring for any age. It's Kate Hudson's iconic hue that's followed her whole career. Why mess with what works? As she ages, she clearly still loves her blonde strands!
With blonde hair, any greys that grow blend less visibly than with darker strands. And depending on where you are on your greying journey, white strands can pop up faster than you can cover them – so blending them into your hair becomes the next best thing. Blonde hair would look atrocious on my translucently pale skin made for reddish hair, but I love when my friends dye their hair blonde, so I can live vicariously through them.
Copper Tone
I'm so glad this color is on this list because as I get more and more greys, it'll be nice for me to cover it up with my natural shade. As far as copper-haired celebs go, Julianne Moore is one of my favorites! It's hard to believe she's over sixty when her hair color is so vibrant! She covers the grey so naturally that I forget her age and just see lush locks that defy aging.
The perfect copper tone is hard for people to achieve from a box, so this is a dye job I'd leave to your stylist to get the boldest shade you can imagine. Sadly, copper tones don't suit everyone, so a professional can see your skin, its undertones, and your existing hair color to determine if copper is a hue you'll love or if there's a darker shade or a strawberry blonde option to try!
Rich Dark Brown
I believe deep dark brown looks fantastic on everyone, no matter what your skin tone, hair texture, or personal style. It's incredibly adaptable! Julianna Margulies is the perfect example of how classic dark brown hair can look elegant and sophisticated as you mature. Dark hair is the perfect frame for your face and makes your skin look radiant. This would be the shade to go with if I were brave enough to color my hair.
Dark hair can't hide regrowing greys as much as lighter hair, so if you hate the look of rogue silver strands, dark hair can be a little high-maintenance. But in my opinion, it's so worth it for the luxurious dark hue. It's bold in a different way than blondes and can portray a more severe and serious look, which is something to consider when integrating your hair decisions into your overall style.
Embrace the Grey
Jane Fonda is bringing back her white hair with no apologies. Grey hair offers a sense of wisdom – Meryl Streep hasn't covered her greys, and neither has Diane Keaton, or Jamie Lee Curtis. While these established icons are not trying to hide their ages, grey hair is a fashionable choice.
This may be a controversial opinion, but I don't think you should shy away from grey to look younger. During the What Not to Wear days, Stacy London had a streak of grey that was simply a part of her aesthetic. People in their twenties and thirties are lightening their locks to silvery-white shades or cool blondes that are an ode to the traditional grey. Of course, when you're greying naturally, it's out of your control and feels like it's aging you, but embracing grey strands can be liberating.
FAQs
Question: What hairstyles make you look younger?
Answer: The best thing you can do to your hair as you age is add movement and avoid shapeless styles that fall limply. When hair gets weighed down, it draws your features down, too – layers and face-framing pieces will give your look a lift and make you appear more vibrant and youthful!
Question: Do bangs make you look younger?
Answer: Love them or hate them, bangs can actually make you appear younger! Face-framing bangs work with any hairstyle and highlight all the facial features you love, like your eyes and cheekbones. If you have an inherent hatred of bangs, curtain bangs are on-trend and can be adapted to suit your desired length.
Question: Can darker hair make you look younger?
Answer: A lot of hair advice argues that you should go lighter rather than darker as you age. But soft black and dark brown shades can make the skin look smoothed and bright. Some harsh blacks can wash out certain complexions, so when in doubt, start subtle.
Bottom Line
Taking care of your hair is important as you mature – it, like your skin, can say a lot about your hydration, sun exposure, diet, and vitamin and mineral deficiencies. By taking care of your body, your hair will follow. Whether you embrace the grey or choose to embrace a color on this list to cover them up for a little bit longer, you can still hold onto your youth on the inside and reflect it on the outside.
Julianne Moore's vibrant copper is always going to pull at my heart. I'm used to seeing it when I look in the mirror, so as I age, I'm sure I'll still gravitate towards the gorgeous hue.
Looking for more interesting readings? Check out: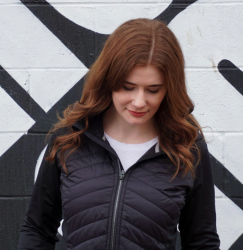 Latest posts by Kelsey Purcell, Hair Product Collector & Tester
(see all)