There are many different hair colors that get their inspiration from nature. Such as icey blonde, strawberry red, honey blonde, and raven black.
A newer color inspired by nature that seems to be sticking around for the long haul is mushroom brown. There are many different ways to achieve a mushroom brown color, and we will be giving you every example here.
My Top 3 Best Mushroom Brown Hair
Mushroom Bronde: This has quite a bit of cool-toned blonde going through the ashy brown tones.
Balayage Mushroom Brown: Balayage is one of the biggest trends of the decade, and mushroom brown has the perfect colors for it.
Dimensional Mushroom Brown: The key to a perfect mushroom brown is adding multiple tones of ash, and this embodies that.
What is Mushroom Brown Hair Color?
Mushroom brown is a newer color that started trending about four years ago. This hair color was given its name because it is inspired by the colors of mushrooms.
There are many colors that draw inspiration from food, plants, and other things in nature, but mushroom brown seems to be an inspired look that stuck.
With undertones of violet and being very matte, mushroom brown is a difficult color to achieve. It usually has some sort of dimension in it to give your hair the layered coloring that a mushroom has.
This color also requires a bit of maintenance to keep your hair from becoming warm over time.
Best Mushroom Brown Colors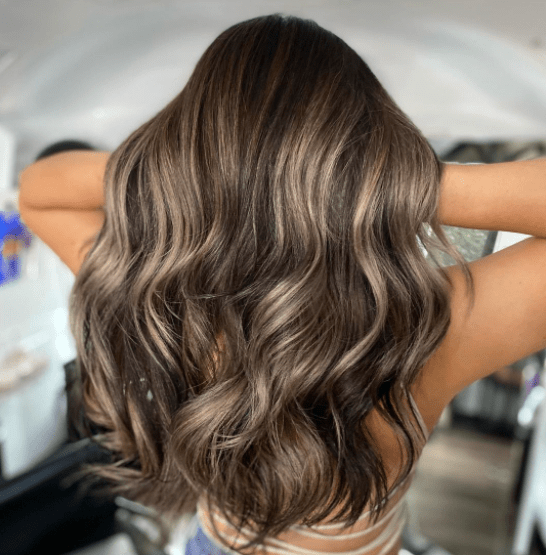 Like any other color, there are many different ways to achieve a mushroom brown hair color. Depending on how much maintenance and the money or time that you want to put into it, one type might be better for you than another. Listed below are different types of mushroom browns you can achieve.
Dimensional Mushroom Brown

This is the mushroom brown that most people picture in their head when someone says they want mushroom brown. Just like a mushroom, it has layers of different shades of brown that are matte and ashy. Dimensional brown mushroom is the most natural-looking and requires little maintenance.
When this mushroom brown color is done, there are two to three different colors used. They should all have an ashy, violet undertone and only be one shade lighter or darker than the next.
It is wise to make the lightest shade the same lightness or darker than your current hair to prevent it from lifting warm.
These colors are layered into different sections. Usually, the darker color being at the roots and dragged through to the ends in every other section. The other color or two colors are blended into the root color and applied through the ends, alternating in sections.
Dark Mushroom Brown
Dark mushroom brown is very similar to dimensional mushroom brown but more focuses on a deep ash brown with flickers of a medium-dark ash brown. This color requires the least amount of maintenance and is great for darker completions.
You should not use more than two colors when doing a dark mushroom brown. Unless you are starting with black as the deepest color but I wouldn't advise that. If you start using too many shades of ashy color, you will most likely be incorporating lightness into your dark hair.
Like the dimensional mushroom brown, you should start with your darkest color at the roots. Drag this dark color down through the ends for about three-quarter-inch sections. Every third or fourth quarter-inch section, apply your other shade of ashy brown by blending it in with the root color and dragging through to the ends.
Light Mushroom Brown
Light mushroom brown is done similarly to dark mushroom brown in that you don't use more than two ashy colors. I love this color for those that were previously blonde and looking for something slightly darker and cooler-toned. The nice thing about doing this lighter version is warmer, lighter skin tones can pull it off.
I love doing this color with a slight balayage or baby lights. It gives it the perfect amount of dimension without making it too dark. This will give it more of an all-over color look while keeping it in the mushroom brown family. If you start as a blonde and transition to this color, you may need to touch it up sooner because it can fade faster than other mushroom browns.
Mushroom Bronde
The color bronde is another hair color trend that was around for a very short time recently. It's a word mash-up of "brown" and "blonde" and is exactly what it sounds like.
It's a mixture of brown lowlights and blonde highlights, giving you a nice in-between color. When you add the term "mushroom" to it, it basically means a violet-based bronde.
To achieve a bronde mushroom, you'll need to use at least two colors in your hair. A medium to light, ash brown is best to use for the lowlight so that it has enough contrast with the blonde color that you will be using. Your blonde color will most likely need to be highlighted with bleach and then toned with a violet-based toner.
The best way to do this color is by going into the salon and asking for an all-over color with highlights. Even if you like your natural brown or the color it is right now, it will greatly enhance your color to get an ashy gloss in between the foils. Make sure your highlights are toned ashy as possible to get the perfect mushroom bronde.
This type of mushroom hair color requires the most amount of maintenance. You will most likely have to touch up your roots every 6 weeks and get the highlights done either every time or every other time. You will also want a good purple shampoo to keep your hair in a cool, ashy tone.
Highlighted Mushroom Brown

If you don't feel ready for all-over color, highlighting in some mushroom brown color is a great alternative. Especially if your hair is already a darker shade of brown.
If your hair is naturally a lighter brown or blonde, you may want to consider low lighting in mushroom brown. This will give you a less dramatic mushroom brown than coloring it all over.
When choosing the color you want to be highlighted or lowlighted in, you want to choose a shade that is only a few levels lighter or darker than what you already have.
You also want the color to be extremely ashy to counteract your natural warmth. If you're starting with darker hair, you will need to highlight with bleach, then tone to the mushroom color.
The nice thing about highlighting in your mushroom brown is you can choose how much and where you want it in your hair. It will be applied the same way you would highlight your hair. This means it can be face-framing color, baby lighted in, or chunks underneath that show when your hair moves.
Another great thing about highlighting in this color is, depending on how natural you make your highlights, you can go longer in between touch-ups without noticing. However, you will need to use a purple shampoo or tone your hair every once in a while to keep it nice and ashy.
Mushroom Brown Balayage

This is the trickiest of mushroom browns to achieve. Balayage tends to run warm so you can't simply do a normal balayage technique to achieve this look. However, balayage is about the trendiest thing you can do right now. Doing it with a mushroom brown color gives it that extra drama.
To avoid your balayage becoming warm, you'll have to do a mixture of teasy lights and ombre to keep the color evenly lightened. The normal blend you get from painting on color with balayage causes warmth at the blending points in the hair.
This will make it so all of your lightened pieces can be toned evenly while keeping that blend that everyone loves about balayage.
Once your balayage is done, tone it with a violet-based toner until it almost looks greyish, violet. When it's rinsed and blowdried, it will blend in with your natural hair to make a beautiful balayage mushroom brown. Make sure to shampoo with a purple shampoo at least once a week.
Mushroom Blonde
While this isn't technically mushroom brown, I had to add it! I love when the mushroom color is morphed into a platinum blonde look. It's also a great way to transition those die-hard blonde fanatics to slightly darker hair color. You just pop in some mushroom brown hair dye at the roots, comb it down into their platinum blonde hair, and you have an entirely new look.
You can also lowlight the mushroom brown color into previously blonde hair if you aren't quite ready for as much dark hair throughout. Mushroom blonde hair color is great for those with lighter skin tones as well. It tends to look more natural and a little less striking.
What to Ask For in the Salon
Most stylists will know what you mean when you say you want mushroom brown. Even so, make sure you show your hairstylist lots of pictures of what you do and do not want in your mushroom brown. Pictures are a great way to help your hairstylist understand exactly what you're wanting when wording might mean different things to both of you.
Generally, you need to let your stylist know if you want all of your hair colored or if you want to leave some of your hair natural.
You may want to see how a dark or bronde mushroom brown would look on your skin tone so ask to see swatches next to your face.
Use words like "ashy", "cool", and "violet" when explaining your desired color. Make sure that your stylist adds dimension to your color as well.
How to Color at Home
Mushroom brown is a difficult color to achieve since it does require some sort of dimension to get the full effect. If you must do this color at home, make sure you have a friend there to help you. It will make it easier to get the back of your head since you can't just mesh it all in like you can with an all-over color.
Determine Your Starting Color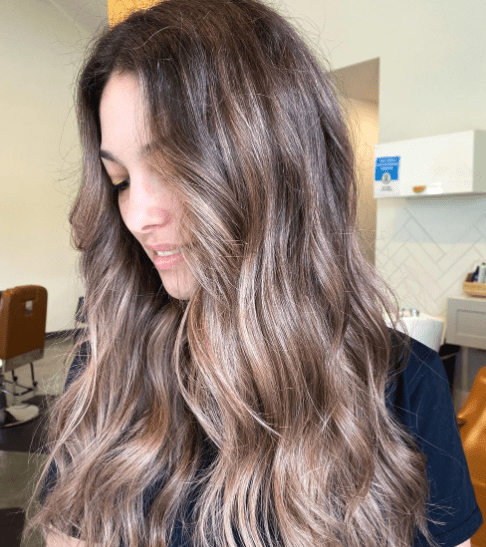 The color you start with can affect the outcome of your mushroom brown hair. For example, if you are starting with fire red hair, there's no way you're getting a super ashy brown. You'll need to counteract any warm tones in your hair with an ashy, blue-green-based gloss or toner. You can then color over it with your desired color.
The same goes for if your hair is already very ashy or blonde. If you put more ash on it, it will either turn it darker or a nasty green color. Putting a nice neutral over your hair color will let the ash already in your hair come through. You could also put a golden toner on your hair before coloring it.
Also note that if your hair is black or darker than your desired hair color, you are going to have to do a bleach bath to remove that dark color first. Color does not lift color! If you have naturally black or darker hair, I would also recommend doing a bleach bath first or else your hair will lift warm.
Determine Your Goal Color
Rather it is a super natural-looking mushroom brown or a high contrast mushroom bronde. Although all these options come out to a similar goal, they use very different techniques to get there. You'll have to determine the slight differences in each one to choose a technique.
If the mushroom brown almost looks like all over one color, it's most likely a dimensional or dark mushroom brown. Using a one-shade difference in color interchangeably gives it the look of being all over one color, except with that extra oomph that mushroom brown has.
Mushroom bronde or maybe even highlighted mushroom brown is going to have a little more distinction in its dimension. You'll be able to tell that there are multiple colors in the hair and you'll see a super ashy blonde in it. Even if it's very blended highlights, you should be able to tell the difference in colors.
Choose the Right Color
In almost every single instance, you'll need to choose ashy colors. The only time you don't choose an ashy color is if your hair is already very ashy or has a green tinge. Then you'll need to choose a neutral or golden color so it doesn't become darker or greener.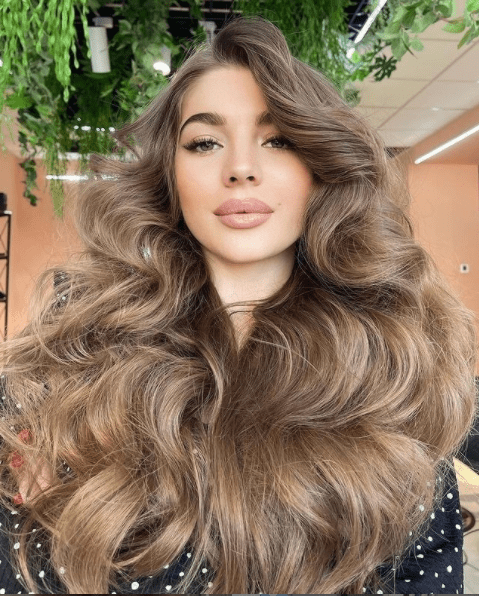 Here are some good color choices:
Ion Color Brilliance 4A Medium Ash Brown with Ion 10 Volume Creme Developer

Ion Intensive Shine 7NA Medium Ash Blonde with Ion 10 Volume Creme Developer

L'Oreal Paris Excellence Creme 6A Light Ash Brown

Wella Koleston Perfect Color 6/1 Dark Ash Blonde with Wella Welloxon Perfect 3% 10 Volume Creme Developer

Wella Color Perfect Light Ash Blonde 8A with Wella Welloxon Perfect 3% 10 Volume Creme Developer
Another variable to account for is if your hair is darker than the color you are going for or you want that bronde color, you'll need some bleach to lighten your hair. You will also need an ashy toner for the highlights to counteract any warm tones that come when lightening hair.
Here are some good bleach and toner options:
Schwarzkopf BlondMe Color Powder Bleach with Schwarzkopf Blondme Premium Developer 20 volume or 30 volume

Wella Color Charm Powder Lightener with Wella Welloxon Perfect Creme Developer 20 volume or 30 volume

L'Oreal Quick Blue Powder Bleach with Loreal 20 volume or 30 volume Creme Developer

Tone with Ion Semi-Permanent Hair Color Titanium and 10 volume developer

Wella Blonder Permanent Liquid Toner in Pale Silver and 10 volume

Color Charm Hair Toner T18 Lightest Ash Blonde with 10 volume developer
How to Maintain Mushroom Brown Hair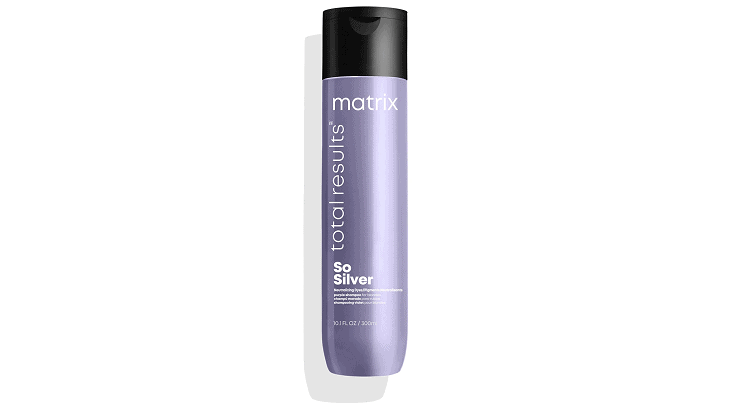 Colored hair always becomes warm over time. It does not matter how ashy you make it in the first place. There are always factors that fade it into a warmer than wanted color, like the sun, chlorine, hard water, shampoo, and anything else that touches your head.
The best way to keep your hair that nice mushroom brown is to do a few different toning techniques. I think everyone has heard about purple shampoo. If you haven't, it's a purple-tinted shampoo that counteracts warm tones and keeps your hair nice and ashy.
Here are some purple shampoos that I would recommend: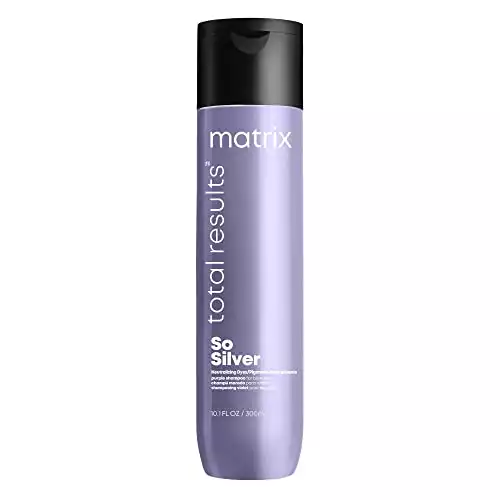 If your purple shampoo fails you, you can go over your color with a semi-permanent toner. This actually shoves large color molecules into the outside layer of your hair.
It doesn't change your hair color drastically like a permanent color. It simply layers your hair color with an ashy cover. Apply it to your whole head after shampooing and let it sit for 15-20 minutes.
Here are some ashy toners that I would recommend:
FAQs
Question: Is Mushroom Brown Hair Hard to Maintain?
Answer: It is more difficult than most colors to maintain, but not impossible. Hair naturally likes to pull warmth over time. If you use a good purple shampoo and tone it every once in a while, it will keep its cool, ashy tone. You will also need to do a touch-up every 6 to 8 weeks.
Question: Is Mushroom Brown Hair Warm or Cool-Toned?
Answer: Mushroom brown is a very cool tone. It is a dimensional color made of super ashy browns and silver to white blondes. You can counteract warmth in your mushroom brown by toning it with a demi-permanent color or using purple shampoo.
Question: Can You Go From Dark Brown to Mushroom Brown?
Answer: In most cases, you cannot. Lifting dark hair with color will cause warmth. It is best to highlight your dark hair and tone it with a super ashy brown or silver blonde. Mixed in with your dark hair, it will make a beautiful cool mushroom brown.
Question: Does Mushroom Brown Hair Have Highlights?
Answer: Yes. The highlights aren't always super blonde though. The highlights can simply be a few dimensional pieces of a light ash brown, which can sometimes be achieved without bleach. You could also take them all the way up to a silver-white blonde mixed in with ash brown lowlights. 
Question: What Skin Tone Does Mushroom Brown Look Good With?
Answer: Mushroom brown tends to look better with people that have more olive to beige skin tones. If your skin tone is very pink, it may look unnatural. However, that doesn't mean you shouldn't try it out. Most people can pull off whatever they feel confident in.
Conclusion
Mushroom brown is definitely not the easiest color to achieve and maintain. However, it is sure to stand out in a crowd and make others envious of your hair.
Remember, dimension is key with this color only some sort of highlights and lowlights are a must. Don't forget your purple shampoo to maintain this color and you'll have ashy, dimensional mushroom brown hair for as long as you would like.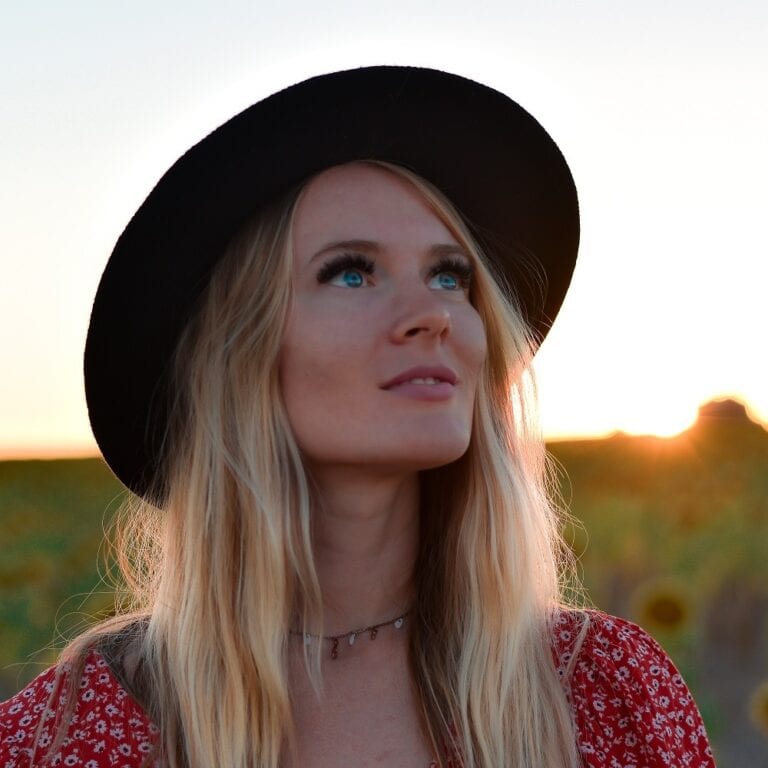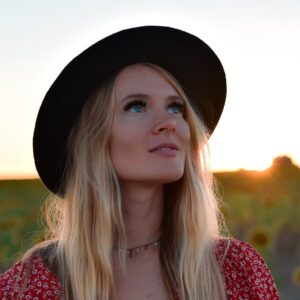 Latest posts by Haley Parker, Licensed Cosmetologist 10+ years
(see all)