In the 1950s and 1960s, French actress and overall blonde bombshell Brigette Bardot was a style icon for embracing her femininity and not shying away from her sexuality. Like many stars of Hollywood's Golden Age, Bardot has signature beauty and style elements that are immediately recognizable, or like Brigette Bardot, bear her name!
Bardot bangs ideas and style guides are relevant in 2022 because while the bang style is enduring, we always need a modern cut to keep it current. If you want to embrace your inner French glamour girl or use the style as inspiration to make it your own, Bardot bangs – otherwise known as the French fringe – are a go-to style in the 2020s that is a timeless homage to the 1960s hairstyle we love!
I spent many years rocking side bangs in the early 2000s, and then decided to cut a blunt bang impulsively with questionable results – (I looked British and twelve years old), so I figured bangs weren't a good look. But this universally flattering fringe is changing the bang game in the 2020s and giving hair a whole new life.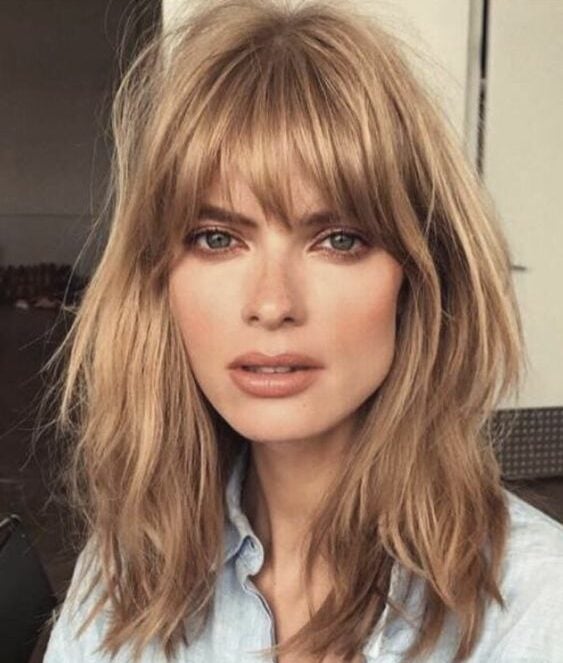 Bottom Line Up Front
Every hairstylist knows the Bardot bang! But if you want to try it out, take some of your favourite photo inspiration to your stylist to make your Bardot bangs your own – as you'll see, there are tons of takes on the Bardot bang that can be as sleek and feminine or as messy and grungy as you'd like! It's all about finding what best suits your style!
I'm so glad Bardot bangs are becoming more common, and we're moving away from the blunt bangs and side bangs! Bardot bangs are universally flattering, and while I usually have a no impulsive bangs policy, I'm considering breaking it for Bardot bangs!
I love the styles as close to the original as I can get, so while I love looking at Brigette Bardot herself for inspiration, I love the more contemporary cut of Copycat Bardot Bangs for a 2020s take on the iconic style.
Selection Criteria
The Bardot bangs of the 2020s don't copy the original exactly – what makes them so fun to try is that you can use the basic shape to create a unique version of the Bardot bang that suits you!
Originality
I love all the different interpretations of the Bardot bang. Even though Brigette's signature style is iconic, there are tons of different Bardot-infused styles to choose from that I'm representing on this list!
Hair Texture
As someone with thicker, frizzier hair, I've learned the hard way that bangs look different on my hair than on straight, smooth textures. My mom used to cut my bangs as a kid without knowing how to make them work for curly hair, so I'm always dedicated to finding bangs that work for thicker hair textures. While styling bangs every day is a necessary evil, I've included some other hair texture inspiration so you can picture the bangs on thick, thin, and medium strands.
Ease of Styling
The singular annoying thing about bang maintenance is the constant need for styling. Rarely can you simply forget your bangs – whether you're blow-drying, flat ironing, or curling, bangs are rarely get-up-and-go styles. There's always something to do. But these Bardot bangs are low-maintenance and simple to style because they follow the natural movement of your hair, cutting down styling time.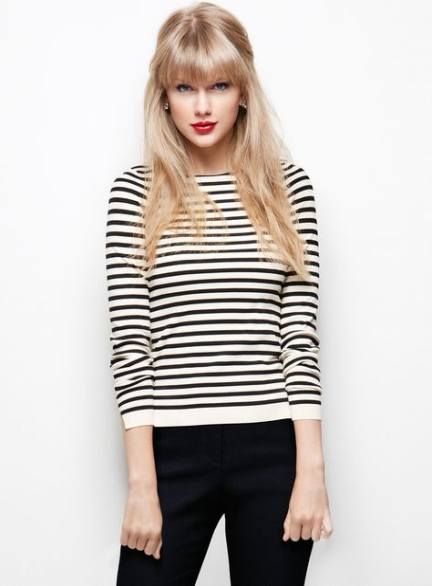 What Is the Bardot Bang?
Long adored by celebrities like Alexa Chung, Chloe Grace Moretz, and Sienna Miller, Bardot bangs are not just now coming back into style, but the French fringe is being newly embraced by celebrities again.
The Bardot bang is an enduring style designed to be effortless and sexy. With shorter strands at the front of the forehead blending into longer layers at the temples, these bangs can be as messy, shaggy, or smooth as you want. Whether you want an unkempt roll-out of bed look or blow-dried polished strands, this bang style is super versatile!
The Original Inspiration: Brigette Bardot
If you've never been blessed to see the original iconic Bardot bang, here is the classic signature style rocked by Ms. Bardot herself.
The blonde bombshell started this trend of ultra-feminine, soft, face-framing strands that accentuate your face shape and make your eyes pop. Strands that brush the eye create a spotlight on the bone structure.
This fringe shows how she played with different lengths around her face to create more volume and strands that seamlessly blend into the hair's lengths! I love how girly and soft she styles it with her soft curls and endless volume – there's no wonder that these bangs are so enduring. There's a perfect jumping-off point for experimenting with different bang lengths, textures, and weights in the Bardot style!
Face Framing Bardot Bangs
The beauty of Bardot bangs is that they make your eyes the centre of attention! This version has more weight to the bang and melts into the lengths of the strands – it makes the whole style look soft while still giving off a more shaggy style cut for some edge!
This bang is ideal for you if you don't want your hair to appear perfect all the time. This cut is super forgiving, so if you're rocking a messier look, these bangs won't look out of place!
Messy Bardot Bangs
Another messier style I love is this longer Bardot bang – it's styled with more lift at the root for volume and doesn't emphasize hair falling on the forehead. Instead, it wants to create a curtain effect with a long, loose cut on the bangs! It's vital that bangs don't look limp and flat, especially for longer hair – it can cause the length of your hair to look weighted and heavy.
This version that doesn't create a dense bang on the forehead is ideal for thin and fine hair. It establishes a wispy finish that looks as light as air.
Sleek and Smooth Bardot Bangs
Unlike the shaggy, messy styles, this pristine Bardot bang is one of my favourites! It follows the typical Bardot-like centre part while focusing on the smoothness, frizz-less, and full-bodied nature of the strands. I'm a curly-haired girl, but I will make styling tools my best friends to copy this style to the letter.
I love ultra-sleek and put-together styles, so, to me, this is the ultimate feminine version that I would adopt as my signature! It's professional, playful, and great for medium-weight hair!
Pixie Bardot Bangs
Having short, pixie-cut hair doesn't mean you can't rock the current bang trends! Short hair makes your bangs stand out and draws the eyes to your face and bone structure. I love this version because it plays with some layers, and even though the hair isn't long, it looks like there is a lot of softness and movement to the style.
The minor shag that melts into face-framing strands doesn't overwhelm the face and feels playful and youthful! Add in some of Brigette Bardot's signature winged liner for a completely glamourous finishing look.
Rockstar Bardot Bangs
Not only for girly girls, but Bardot bangs are also for those who embrace angsty vibes, too! With a slightly heavier bang that is messier and piecey, this style of Bardot bang is totally concert-worthy – whether you're on stage or rocking out in the crowd. This tousled texture is full of movement and fits even the darkest attitude.
I love that the length brings the bangs slightly over the eye! It makes a beautiful frame to the face and is a touch mysterious. If you have naturally curly hair like me, this style can look incredibly natural with the texture.
Thick Hair Bardot Bangs
If you have curly hair or a lot of thick strands, Bardot bangs that lead to choppy layers keeps thick hair voluminous while removing weight from the length. Whether you keep your thick hair long or chop it off, the Bardot bangs change the way the lengths of your hair fall. The perfectly crafted bangs shape your hair and keep it from being too "pouffy."
This version keeps the hair lifted and not weighed down while looking sexy and teased to perfection! As a bonus, I always find layers like this grow out in a more forgiving manner than polished styles.
Accessorized Bardot Bangs
Bardot bangs alone are stunning, but I think they're the perfect canvas for gorgeous accessorized hairstyles to shine! From giant early 2000s-inspired clips, intricate updos, and more, Bardot bangs can elevate any style beyond just blowdry-and-go looks.
Without bangs, I find that I don't like the look of certain styles – sometimes bangs boost a look for the better! Bardot bangs make updos look softer and give accessories a new life. This alone is a reason to try out Bardot bangs!
Retro Bardot Bangs
For a low-maintenance, versatile style, this spin on Bardot bangs is a blast from the past. Leaving your hair in its natural texture makes it look effortless, but with a blowout, this smooth style will help you channel Brigette Bardot herself. The classic bangs sweep over the eyes beautifully, and the short layers leave a lot of room for growing out!
As an undone style, this is the perfect bang style for those who want to spend the least amount of time on hair styling as possible. On my lazy days, this is the Bardot bang cut that I would gravitate to!
Copycat Bardot Bangs
As close to the genuine original as possible, this touseled 2022 take on the Bardot bang is my absolute favourite! If the 1960s Brigette were living in the 2020s, this is how I imagine she'd represent her signature hairstyle. The playful emphasis on face-framing layers is the contemporary copycat of the iconic look – add full-bodied waves, and you're left with a ton of movement in your locks!
This is one of my favourite iterations of the Bardot bang. My favourite detail about this Bardot bang is the perfect balance of hair density in the bang – it's an almost universal weight. It's not too heavy to completely take over the face, and it's not too delicately light either. It's just right!
Heavy Bardot Bangs
For extreme definition, heavy Bardot bangs make a statement. Better suited for thin or fine hair, having a heavier bang turns up the drama. With thicker hair, this can be weighed down and overwhelming, so it's not an ideal choice for everyone, but this stunning version of the Bardot bang can emphasize long layers and create a more complex look.
If I had thin hair, I would try this version with long hair, but my thick hair is a little too much for this – even if I thinned it out beforehand, it would be a nightmare to regrow.
FAQs
Question: Are curtain bangs the same as Bardot bangs?
Answer: Curtain and Bardot bangs are incredibly similar! With centre-parted bangs at the front that wisp over the face to act as a frame, these two terms are used interchangeably to refer to the effortless, chic fringe that's all the rage.
Question: Can I pull off Bardot bangs?
Answer: One thing I love about Bardo bangs is that they can suit anyone. Bardot bangs can be manipulated to suit your face shape and hair texture with just a few tweaks to length or weight. Even if you never like the look of bangs, Bardot bangs are a completely different style to try. Because they're cut to be effortless, the regrowth isn't as annoying as blunt bangs or side-swept bangs would be.
Bardot bangs show off your eyes, your bone structure, and your favourite facial features by having little wisps or locks of hair frame the temples. Bardot bangs help bridge the gap between having fantastic hair, and having fabulous hair that shows off your face, too!
Question: Are Bardot bangs still in style for 2022?
Answer: Bardot bangs, or the French fringe, are everywhere in 2022 so far – for summer, in particular, it's looking like the top choice for an effortless look that needs little styling help. For girls with medium to thick hair, it keeps volume without feeling weighed down and for girls with thin hair, it adds some movement and body without drastic measures. They're definitely going to endure as a trend for the foreseeable future!
Bottom Line
I'm never one to jump on any hair bandwagon – hair, especially bangs, is a personal style choice that depends on your overall look, face shape, and hair texture. But with Bardot bangs, there is so much versatility, and the cut works on so many different face shapes, so it's tempting to follow the lead and try out the trend myself.
After many failed bang attempts and questionable choices for my curly hair, it's refreshing to find a style of bangs that is flattering, modern yet classic, and grows out more organically than side bangs or blunt styles!
I'm definitely going to have to partake in this style if only to experiment and try out different lengths, weights, and styling options! When I get my Bardo bangs, I'll find all the inspiration from accessories and pull out all my favourite clips, headbands, and scrunchies from the early 2000s hair resurgence to transform my usual styles into something a little more interesting!
Looking for more interesting readings? Check out: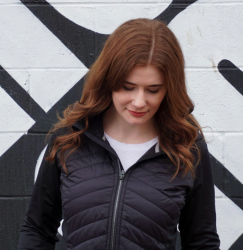 Latest posts by Kelsey Purcell, Hair Product Collector & Tester
(see all)