Did you know you can create just about any hairstyle out there with different types of hair clips and use hair clips for a variety of functions? Having the different types of hair clips explained can make your life drastically easier when deciding what clip to use for what application. After years of playing with different types of hair clips, I think I have mastered which clip works best for every style or function.
A clip's primary function is to hold the hair in a particular place on the head. I have used various clips in the past ten years working in the salon, and each has its own function that I like to use for certain situations. For example, I once styled someone's entire head with curls solely using hair clips, which would have only been possible with curl-setting clips.
However, there are so many other things that I like to use specific clips for, like quickly pulling all of my hair back into a quick updo, sectioning large amounts of hair, and adding cute pops of fashion to any hairstyle.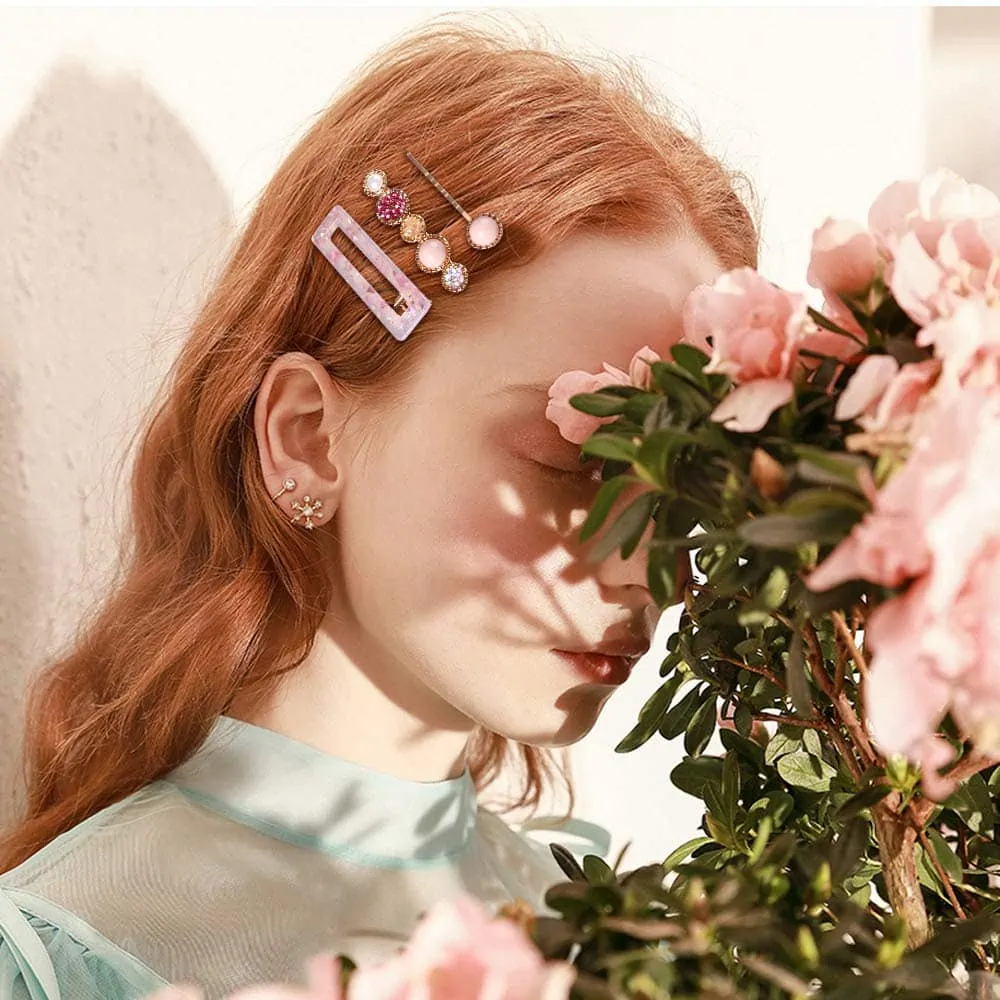 Bottom Line Up Front
The number one clip I go to most of the time in the salon is alligator clips. These clips do a fantastic job of gripping the hair and securing it where you want it while sectioning for color, updos, styling, and whatever else you want your hair moved away from. If you are looking for a hair clip as an accessory, I love claw clips because they come in many different shapes, sizes, and styles and do a great job of holding your hair where you want it all day.
Uses for Hair Clips
Hair clips are used in today's world in a few different ways. Depending on what you are using your clips for will make a huge difference in which type of hair clip you use. Below are a few different situations you will want to consider when choosing which hair clips are best for you.
Accessories
Most people in the general public who aren't hairstylists or makeup artists use hair clips as an accessory. Hair clips used for accessories have some embellishment that makes it look like you have jewelry in your hair. This could be a pretty pattern, jewels, pearls, or simply bright colors. Accessory hair clips can also be functional, such as butterfly clips, pearl barrettes, and resin french barrettes.
Sectioning
Sectioning clips are used for hair coloring, styling, updos, and holding back hair while applying makeup. These clips are all about functionality and would not typically be worn out and about. Some clips that you could use for sectioning are duck bill clips, alligator clips, and claw clips.
To Put Back Your Hair
Sometimes you only need a clip to keep back or up those pesky little hairs that fall out of a ponytail. You can also use some clips, such as bobby pins, claw clips, and banana clips, to put all your hair back. A few other clips that you could use to keep troublesome flyaways back are barrettes and hinged clips.
To Create Curls
Clips can also be used to create specific curl patterns or to set curls so they last longer. This is a highly vintage technique used back when roller sets and finger waves were all the rage. These clips are usually petite and flexible, so they do not create bends in your curl pattern. I also like to use clips when doing a bouncy blowout to help each section cool in place before letting it fall.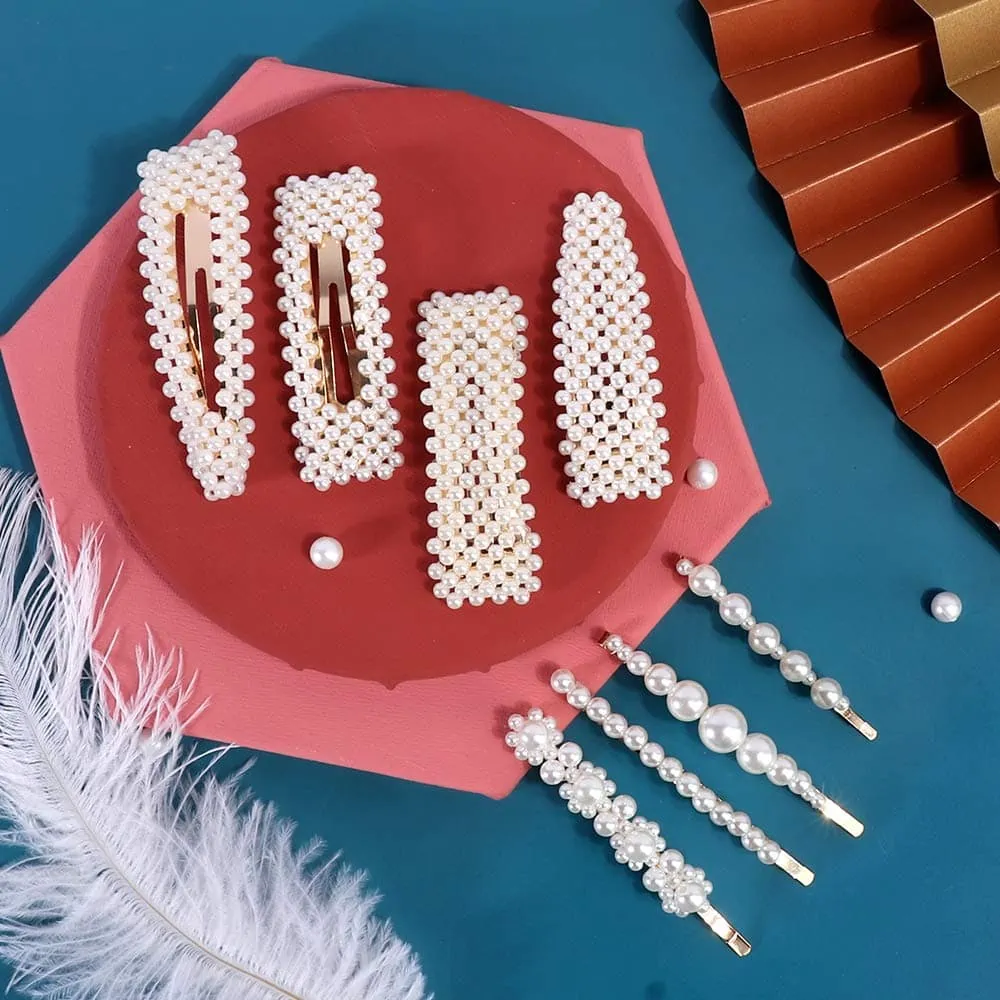 Types of Hair Clips Explained
There are many different types of clips, but these ten are the ones most commonly used in day-to-day life. Below you will find any clip you could need for any hairstyle or function.
Alligator Clips
Alligator clips are the clips that I most often use as a hairstylist because they are the best of the best for holding tight sections while coloring, cutting, and styling. These clips are a type of hinge clip that has long, curved arms with teeth-like groves on them. The teeth do a fantastic job of securely holding your section where you want it without worrying that it will fall.
Alligator clips are also very ergonomic, with large fingertip handles and a double hinge arm, making the clip easier to open when placing and removing the clips in the hair. They are made to handle a lot of hair, so they are great for large sections or people with a lot of hair. Alligator clips don't work for sectioning if the sections are tiny with little hair in them or if the hair has a lot of flyaways because the fine hairs will slide out between the teeth a bit.
Duck Bill Clips
Duck bill clips are long, skinny metal clips on a hinge opener. I like to use these clips for extremely clean sections and to hold up any flyaways that may fall into your section. They have curved arms to follow the head's natural curve and clasp tight along the arms of the clip. This makes them perfect for foiling hair for highlights or lowlights, doing extensions that need extremely straight sections, and holding back baby hairs around the face while doing makeup.
Because duck bill clips are made of metal, there are certain chemical services that you should not use them with due to the possibility of a chemical reaction. Some of these services include smoothing services, relaxers, perms, and even some types of hair color. These clips are also unsuitable for substantial sections or thick hair because the clasp is too tight for many hair types, and the smooth metal will not hold it in place.
Curl Setting Clips
Curl setting clips are very similar to duck bill clips in that they are hinged metal clips, but they are much smaller and sometimes have double prongs or flat plastic pieces under the arms. These are used to create finger waves, set curls, and set blowouts. You can't use them for much else because they are too small to be helpful and aren't the cutest accessory.
For finger waves, you make your S shape with your fingers in wet hair and then clip the curves to hold it in place while it dries. For setting curls and blowouts, once the hair has been wrapped around the iron or brush, slowly remove the tool so that the hair stays in a cylinder and clip the cylinder in place to cool for fifteen minutes. Doing curls this way helps them stay bouncier longer.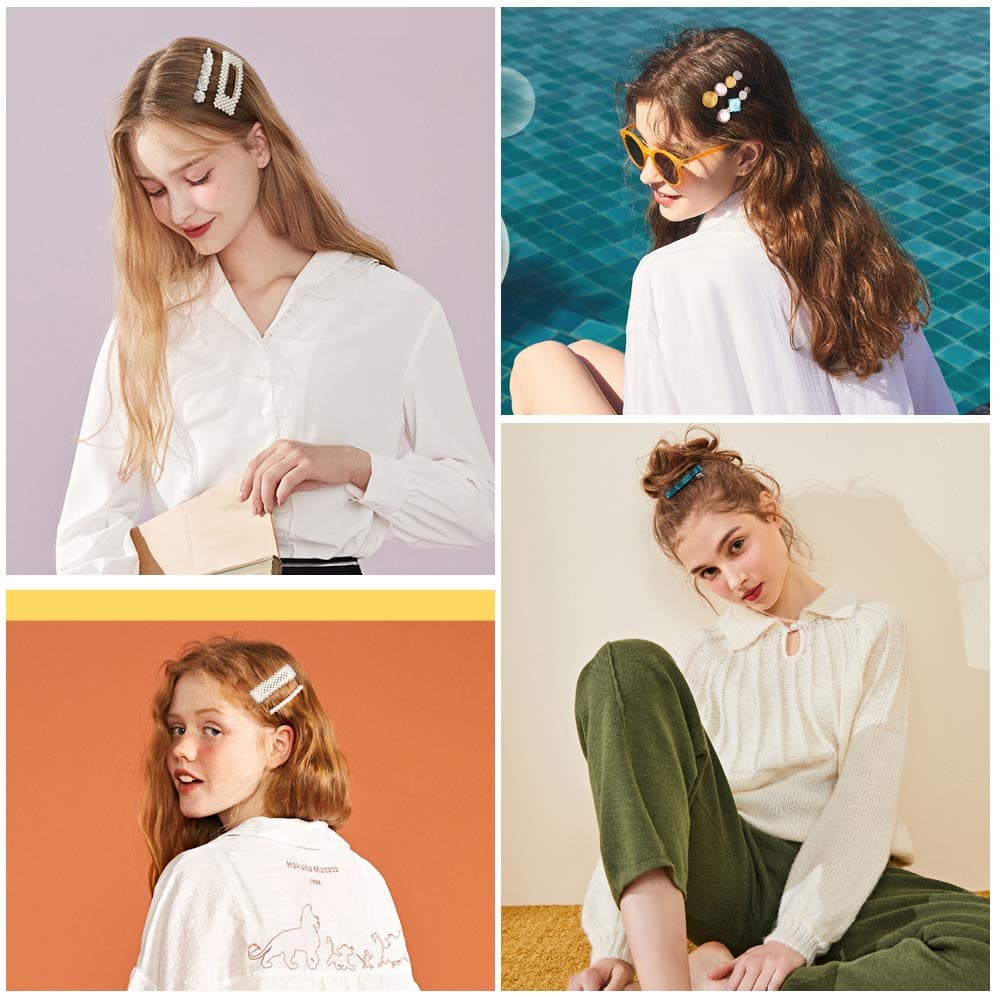 Claw Clips
Claw clips are a type of hinge clip with arms perpendicular to the hinge and have teeth or claws on them instead of the arms coming straight out from the hinge. Like alligator clips, these are great for holding up a large amount of hair in a very secure manner. You can find claw clips mainly used for sectioning and claw clips that are stylized as accessories.
Claw clips you use for fashion were extremely popular in the 90s, with butterfly and tortoise shell clips that you could twist your hair into. This style has recently made a comeback, and you can do a ton of cute styles with a claw clip. Some fun styles you can try are an all-up clipped twist, a half updo upside-down twisted bun, and small twisties around the front secured with a tiny claw clip.
Snap Barrettes
Snap barrettes are long teardrop-shaped clips that snap open when you press the center and close when you push down the outsides. These were another type of clip that was super popular in the 90s with bright colors and sparkles. You don't see these clips as much today, but they are out there, especially in those large clips covered in pearls.
I like to use these clips to hold back bangs or flyaways around the face and to clip up any hair that falls below my ponytail when I have shorter hair. You do have to be careful with snap barrettes because they are very tight clips. That is great for securely holding back hair but can cause too much tension if you put too much hair in them, causing your hair to break.
Bobby Pins
Bobby pins can create beautiful updos, pin back pieces or hair, and as an accessory. They are thin, flat metal clasps that grip the hair securely by hugging it and can come in many colors. They are usually made to match natural hair colors, such as matte gold with blonde hair and black with dark hair, but some are painted in bright colors if you want to use them as a fashion piece.
Bobby pins can also come with jewels on the outside or geometric designs to be used as a hair accessory. You can also place bobby pins in the hair to create shapes, such as using three bobby pins to make a triangle shape. Most people misuse bobby pins, placing the wavy side on top of the hair. It would be best to set the wavy side of the bobby pin on the underside of the hair with the flat side showing on top to grasp the hair securely.
Hair Pins
Hair pins are mainly used to create updos and can even be embellished with jewels and designs to quickly add accessories to your updos. These are great for pinning in large chunks of hair without indenting the hair too much, and they hide away better than regular bobby pins. I like to use hair pins for french twists and updos with a lot of wrapped curls.
The downside to hair pins is they are not super secure on their own, so you may need to use bobby pins in your updo alongside the hairpins. I like to use the hairpins to pin the hair where it is not visible and then go in with a bobby pin and cross it over one of the hairpin arms to secure it. Hair pins are also very flexible, so you can easily bend the arms to wrap around hair better or form to the head.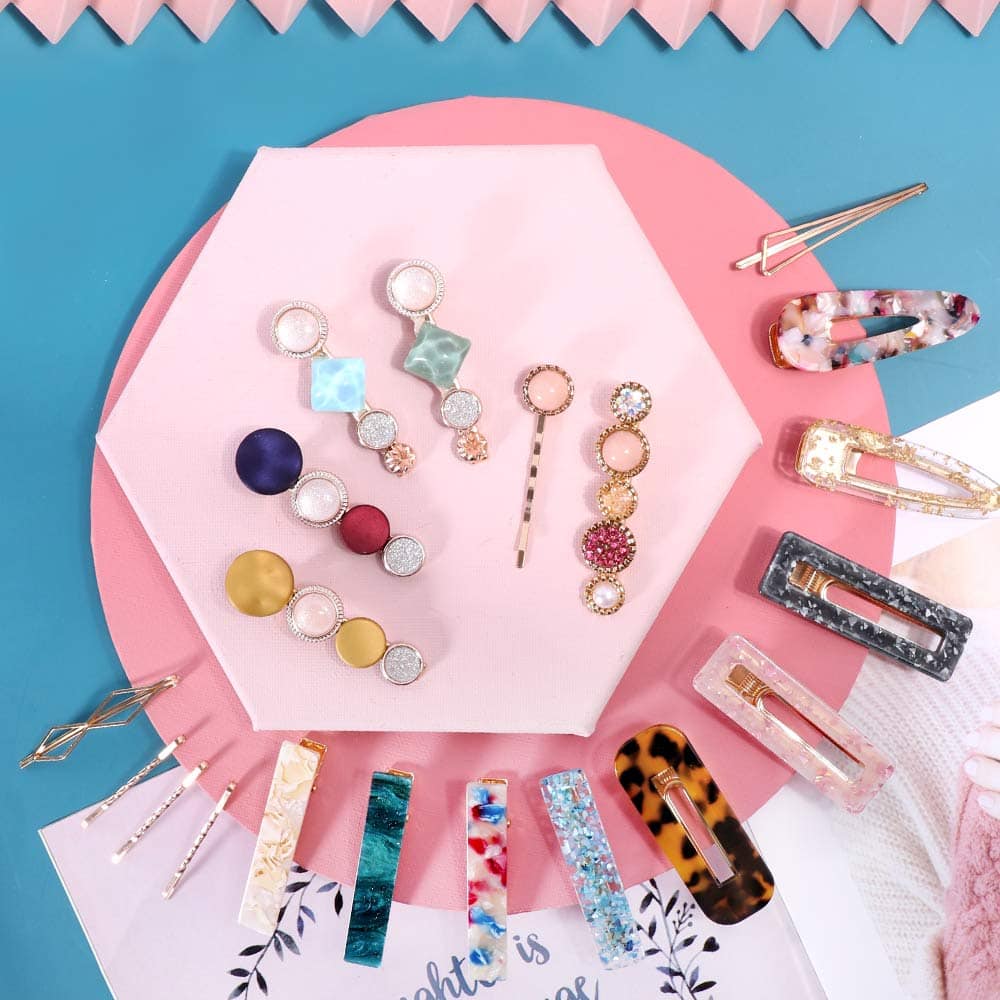 French Hair Barrettes
French hair barrettes are those long clips with an arm that swings down when you squeeze together the clasp on one end. These barrettes are great if you are trying to keep back a large chunk of hair without falling out on one end of the clip. Unlike standard barrettes or clips, french hair barrettes surround the hair, leaving no opening for hair to slide out.
The one thing I do not like about french hair barrettes is that they can be bulky on the head, sticking out more than other types of hair clips. This is because the mechanism that clasps the arm together comes out from the decorative art of the clip quite a bit. The arm is also curved into a unique shape, which is excellent for holding a large amount of hair tightly but causes the clip to lift off your head more.
Hair Combs
Hair combs aren't much of a clip because they do not clasp your hair in any way but securely hold your hair back and can create unique styles quickly. These look exactly like a regular comb, except the teeth are usually longer, the comb is shorter, and the handle has some design on it to embellish your hair. To use a hair comb, you slide it into the hair in the opposite direction that the hair is moving.
Most of the time, hair combs are added to updos to embellish them with jewels or designs, but you can also use them to quickly hold up french twists or keep hair back over your ears. Hair combs can get your hair where you want it quickly because they are large and can hold a lot of hair at once but aren't the most secure type of clip. I like to add a bobby pin to each side of the hair comb once it is in place.
Banana Clips
Banana clips are like a cross between a claw clip and a hair comb. They are long and have teeth like a hair comb but hinge shut like a claw clip. Instead of the claws being across from the hinge-like a claw clip, they are in line with the hinge, like scissors. Banana clips also clasp shut, completely enclosing the clipped hair, making them very secure.
The primary use for banana clips is to hold all of your hair back like a ponytail, but because of the shape of a banana clip, you get a ton more volume and length than a standard ponytail. To use a banana clip, first, pull all of your hair to the back of your head and then surround it with the banana clip open and clasp it shut around the hair. The hair should naturally spread out along the length of the banana clip, leaving some hair lower to create length and poofing the top hairs upward for volume.
Hair Clips I Love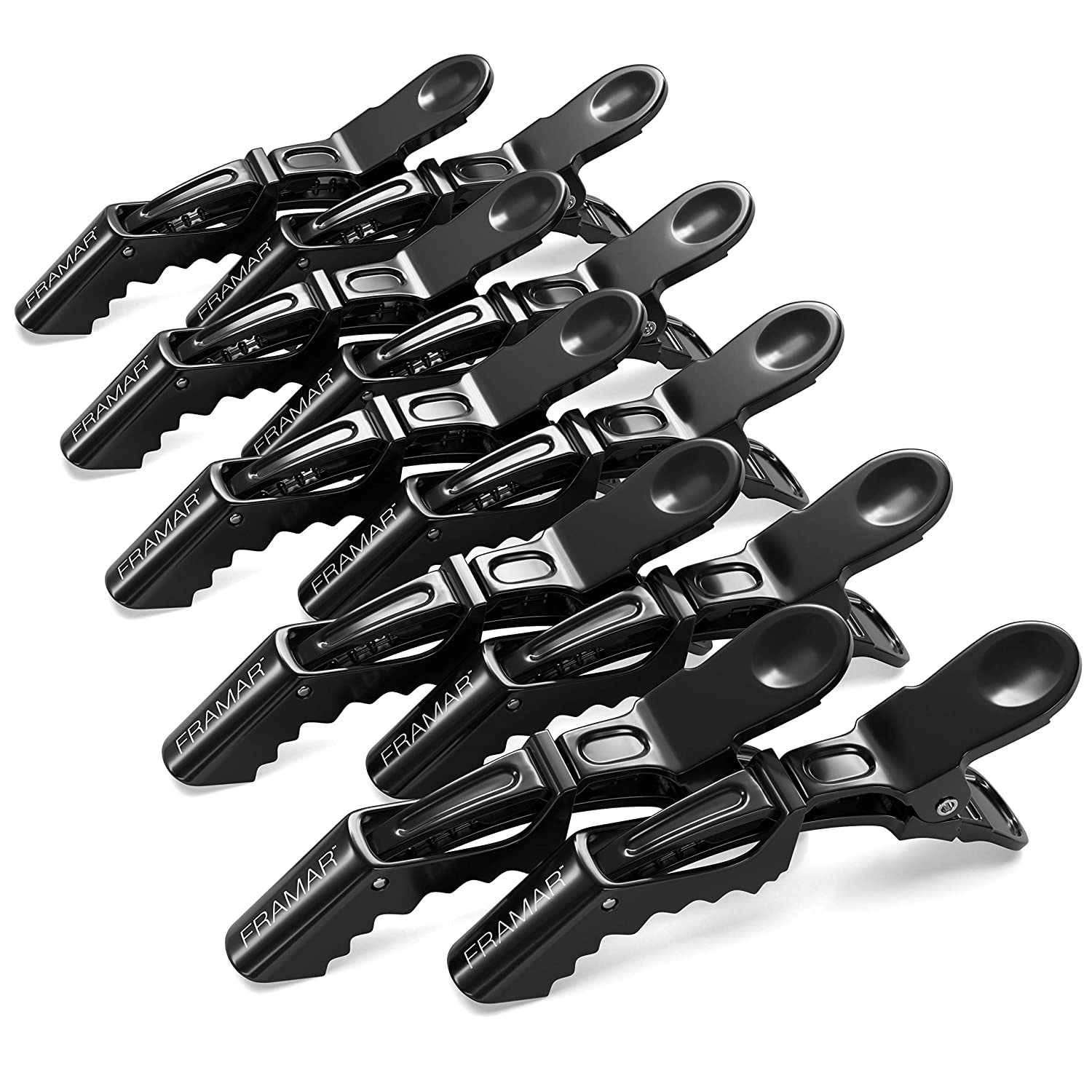 Pros
Durable
Super secure
Finger grips to make them easier to open
Double hinged
Cons
Can snag hair when removing
Framar makes a wide variety of professional hair tools and accessories, and it is a brand that I use and trust in the salon. The most challenging part about finding clips to use for hair coloring and cutting is finding ones durable enough to withstand constantly being wet and opened and closed repeatedly. The springs don't get rusty, and the plastic is solid and flexible enough to last a long time.
The one thing I absolutely love about these clips is how secure they are and how they can hold a lot of hair in one clip. It does this by having a unique double-hinge design that makes the clip wrap around your hair better than a straight arm clip. There are also teeth on both the hinged and bottom arms that work together to tightly grasp the hair without slipping.
The only bad thing about these clips is that the teeth on the bottom arm of the clip are small and pointy like a comb, so they will snag your hair when removing the clip if you don't take proper care. I prevent this by ensuring there are no tangles in the hair before the clip is put into it by brushing it first. You can also gently wiggle the clip as you remove it instead of pulling it straight out of the hair.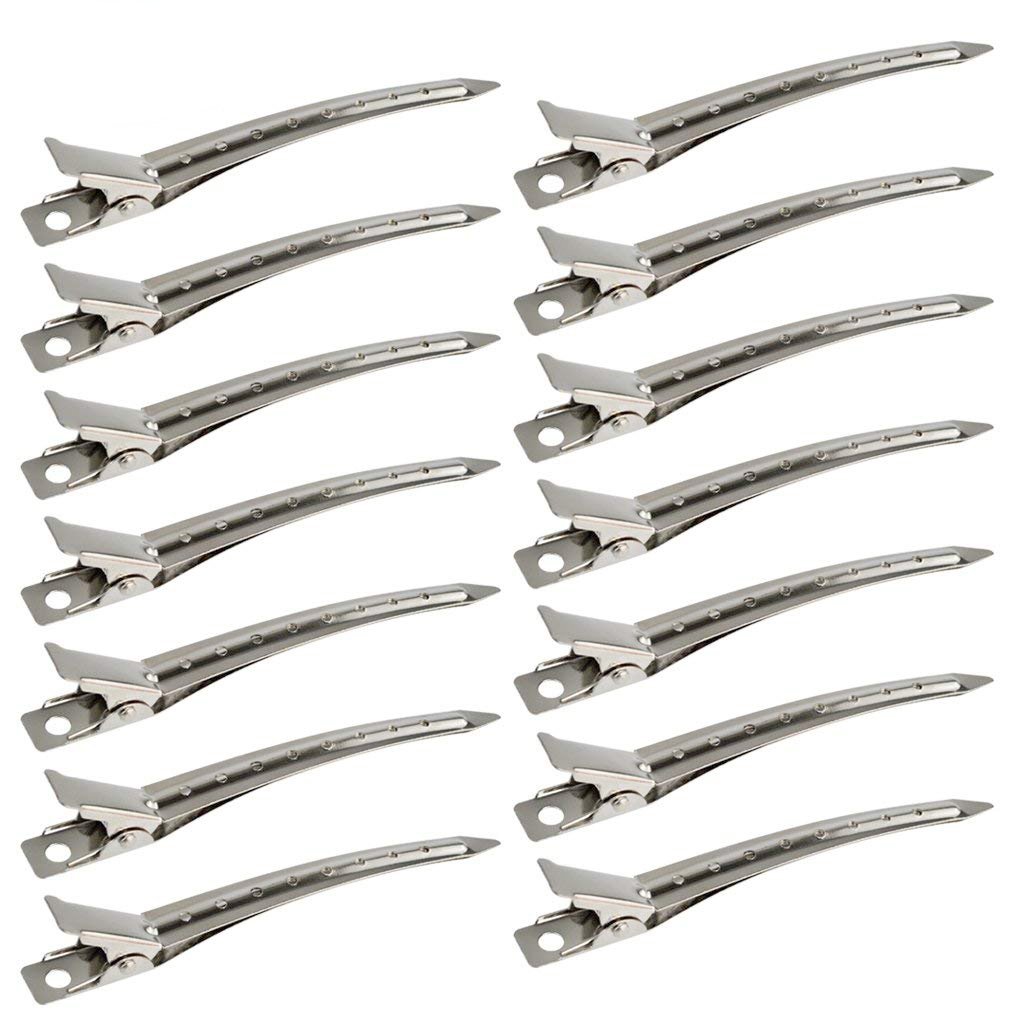 Pros
Great for clean sections
You can use them as curl setting clips as well
Won't rust over time
It comes in ten colors
Cons
You can not use them with certain chemical services
Duck bill clips are great when you need clean sections, such as foiling, dry cutting, and extension applications. The main problem with most metal clips is that they can rust over time, especially if you use them in a salon where they are constantly wet. These specific duck bill clips are nickel-plated and do not rust over time, lasting you years.
Most of the time, duck bill clips only come in their natural metal color, but this brand makes them in a wide range of colors, including black, gold, green, purple, blue, orange, pink, red, rose gold, and silver. I usually like to get the basic metal colors because the bright colors do chip off over time. I also like to use these clips as curl setting clips better than the tiny ones because they stretch over more hair and are easier to use.
Since these clips are made of metal, I do not recommend using them with specific chemical applications because they can cause a reaction that damages the hair. These chemical services include perms, relaxers, smoothing treatments (like keratin treatments), and even some hair colors with metallics. There are plastic duck bill clip alternatives that you can use for these applications.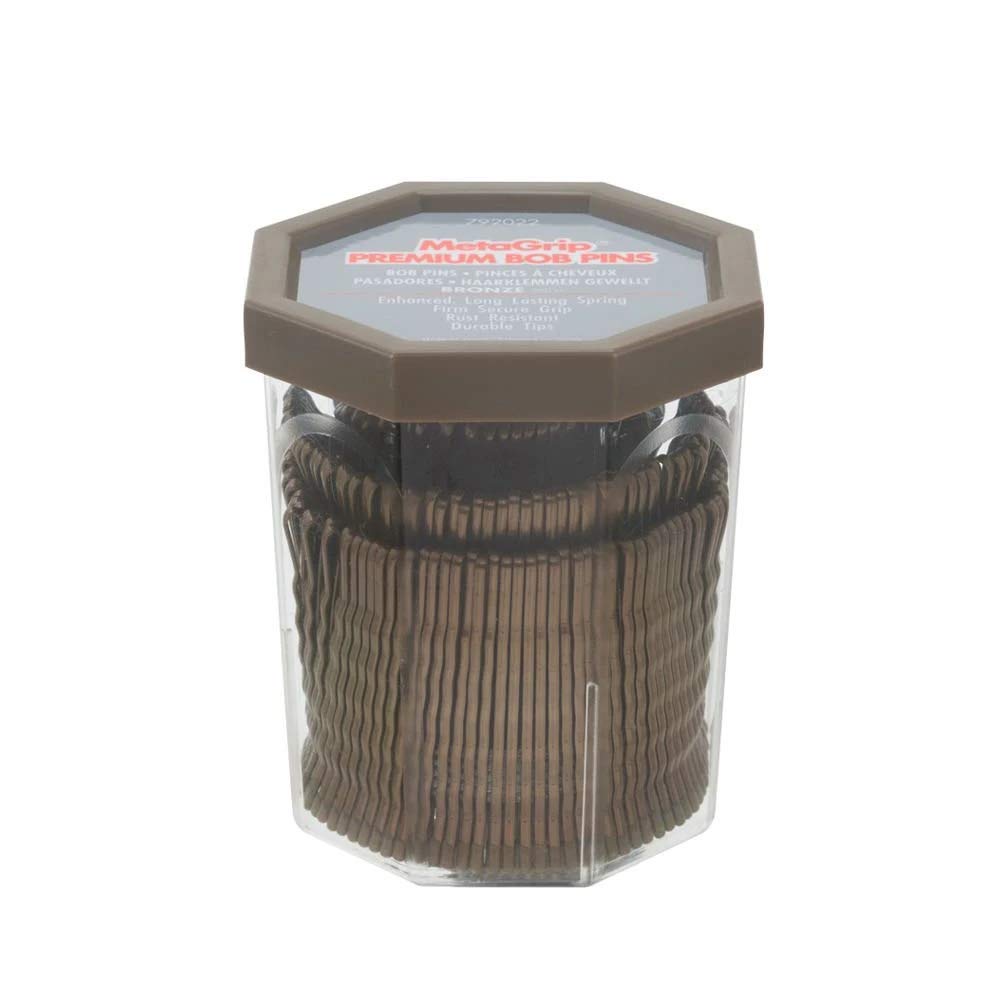 Pros
Easy to grab packaging
Matte finishes
Durable rubber tips
Holds their shape well
Cons
It can be tight on the hair if improperly used
The thing that I like most about these bobby pins is the packaging that it comes in. Usually, bobby pins come on a floppy piece of cardboard that you can't reuse once the bobby pin is removed. These come inside a reusable plastic cup attached to a plastic strap that keeps the bobby pins separate. I don't typically put the bobby pins back on the plastic strap and throw them back in the cup, but they still sit nicely in the cup to where they are easily grabbable.
I also like the matte finish on these bobby pins rather than the shiny metal because they blend in with the hair better. They come in a few different colors so they can match your hair color as closely as possible, such as beige, bronze, and black. The rubber tips on these bobby pins match the pin's color and stay on the bobby pin instead of falling off over time.
These bobby pins hold their clasp shape well compared to some other brands, making them super secure throughout extended use. However, if misused or put around too much hair, these bobby pins can be too tight on the hair and cause breakage over time. Make sure you place the bobby pin with the wavy side closest to the scalp and the flat side on top of the hair.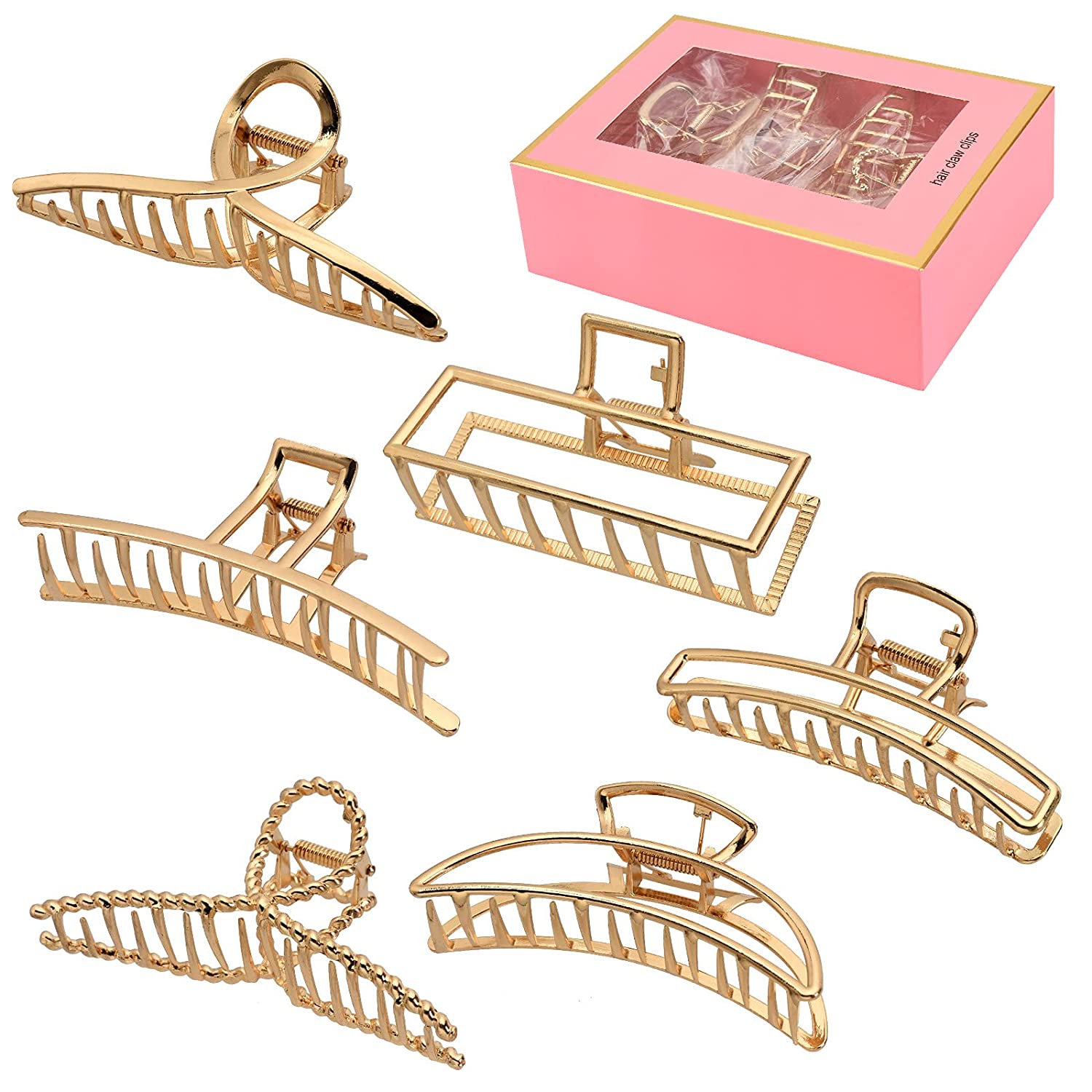 Pros
It comes with six different designs
The simple design can go with anything
It clasps onto all hair types well
Lightweight for a metal clip
Cons
My sister has this package of claw clips, and I always steal them from her until she notices one of her clips is gone. It's an easy way to put my hair back that stays put all day and looks cute. I love that these clips look stylish while being minimalistic enough to go with any outfit or hair color.
These metal claw clips look heavy and luxurious but are made to be very lightweight with a thin metal design. They also come in a range of different large sizes from 3.5 inches to 4.5 inches long, making them work well for all amounts of hair and other styles, including full updos or half updos. The teeth on these clips are also long and thin, so they grab onto your hair very well without moving around.
It would be best if you were careful using these clips in super humid or wet conditions because they will tarnish quickly. I haven't seen them rusting, but the golden color becomes matte and dinghy where the fingers touch them a lot or inside the claws. I would not use these to work out or keep my hair back in the shower.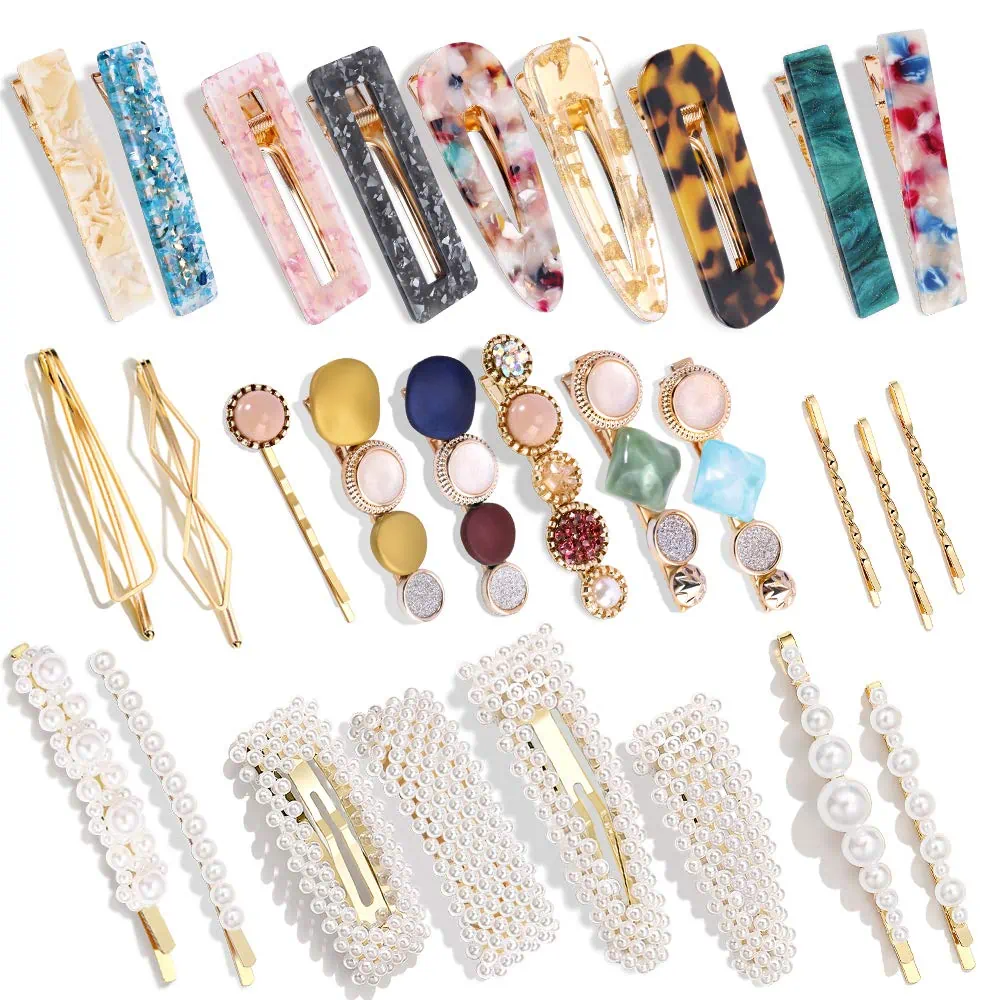 Pros
It comes with three different types of clips
It comes with 28 different designs
Quickly adds a pop to your hairstyle
It has many different uses
Cons
This package of accessory clips comes with 28 designed clips that you can use for various functions and styles. The various designs go onto three clip types: bobby pins, snap clips and duck bill-type clips. I also love all the different designs that come with this package, which are minimalistic to bright patterns.
You can quickly add these to any hairstyle to add an extra pop of style by adding one or two clips around your hairstyle. I like to use them to cover any bobby pins that may show in an updo or clip back hair over the ear. They are also very functional, reasonably secure clips that can hold back small amounts of hair, especially the snap barrettes.
The package of clips is very affordable, but it can show that it is cheap, with the jewels, pearls, and resin covers falling off over time. Luckily, these are easy to fix with some jewelry glue or fishing line, but it isn't very pleasant when something pops off during the day. I used to make resin clips, and most of them do not stay together very well no matter what you do, so you will most likely find this problem with many other brands.
FAQ's
Question: What can hair clips be used for?
Answer: Hair clips can be used for anything from sectioning for color to adding a bit of style to an updo. What you can use a hair clip for depends on what type of clip you have. Alligator and duckbill clips are used for sectioning hair when styling, cutting, or coloring. Claw clips, barrettes, bobby pins, and banana clips are used to keep your hair back in a fashionable manner.
Question: Are hair clips ok for hair?
Answer: Hair clips are ok for hair as long as you are correctly using the clip. You should not use a hair clip in any way that it is not meant to be used, and you should not overfill a clip with your hair. If you have a clip in too tightly, it can break your hair from tension.
Question: Where do you wear hair clips?
Answer: Hair clips have a wide range of use, so depending on what you are using them for will change where you wear them. Claw clips, banana clips, and french barrettes are usually used for holding back all of your in the back of your head. Snap barrettes and bobby pins can be worn around the front of your face or to hold up stray hair in the back of your ponytail or updo. There are also clips for sectioning your hair while coloring, styling, and cutting.
Question: Are clips better for your hair than ponytails?
Answer: Certain clips can be better for your hair than a ponytail. If you are someone who frequently wheres their hair back or up, I highly recommend using anything other than a standard pony holder because they can suffocate the hair and break it. Claw clips, banana clips, and french barrettes are much better alternatives if the clip is large enough to hold all of your hair.
Question: How do you use small hair clips?
Answer: A few types of small hair clips are usually used for the hair around your face or to hold up flyaway hairs that fall out of a ponytail. Snap barrettes are generally utilized to scoop back hair around the sides of your face and clip up the hairs underneath. Small claw clips, like butterfly clips, are typically used to clip back small twisties around the face.
You can do this by bringing back a couple of twists around the side of your head or doing a bunch of small sections of twists around the front hairline going back to the crown.

Final Thoughts
The hairstyling world has come out with just about any clip that can perform any function or style you want. I have used just about every single type of clip in this list, but there are a few that I find myself using way more than any others, including alligator clips, claw clips, and bobby pins. With these three clips, I can do anything I could need or want to do with anybody's hair.
Looking for more interesting readings? Check out: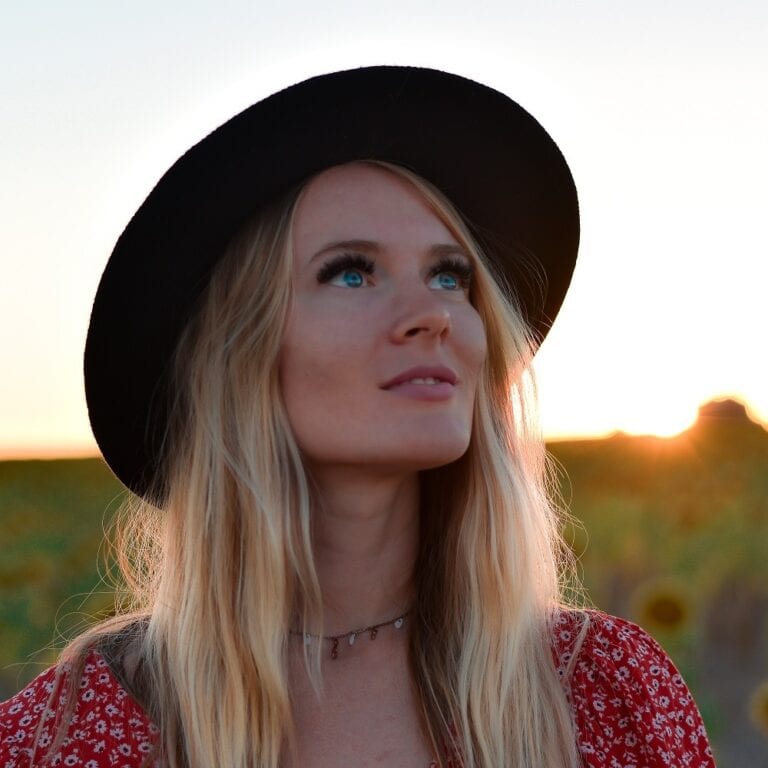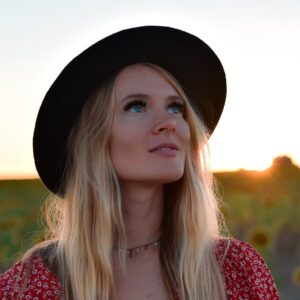 Latest posts by Haley Parker, Licensed Cosmetologist 10+ years
(see all)