If you haven't come across coconut shampoo yet, no worries because it's still a trending product in hair care.
 Like coconut oil, coconut milk, and coconut water, coconut shampoo has gained incredible popularity over the past few years. I started using it because I love the smell of coconuts, but I later figured out that it has so many benefits for my hair.
From the smell, and the texture, to the incredible effect on your hair afterward, everyone should consider coconut shampoos, no matter the hair type. 
Of course, not all coconut shampoos have only good ingredients. So even though it says "coconut," you should avoid some shampoos.
I've tried a ton of coconut shampoos over the years, but I'm here to share my favorite ones, and hopefully, they'll work for you too. So if you're looking for the best coconut shampoo, read on!
Bottom line up front: My favorite coconut shampoo is SheaMoisture Curl and Shine Coconut Shampoo. I love it because it is 100% natural, is quite universal, and benefits most hair types.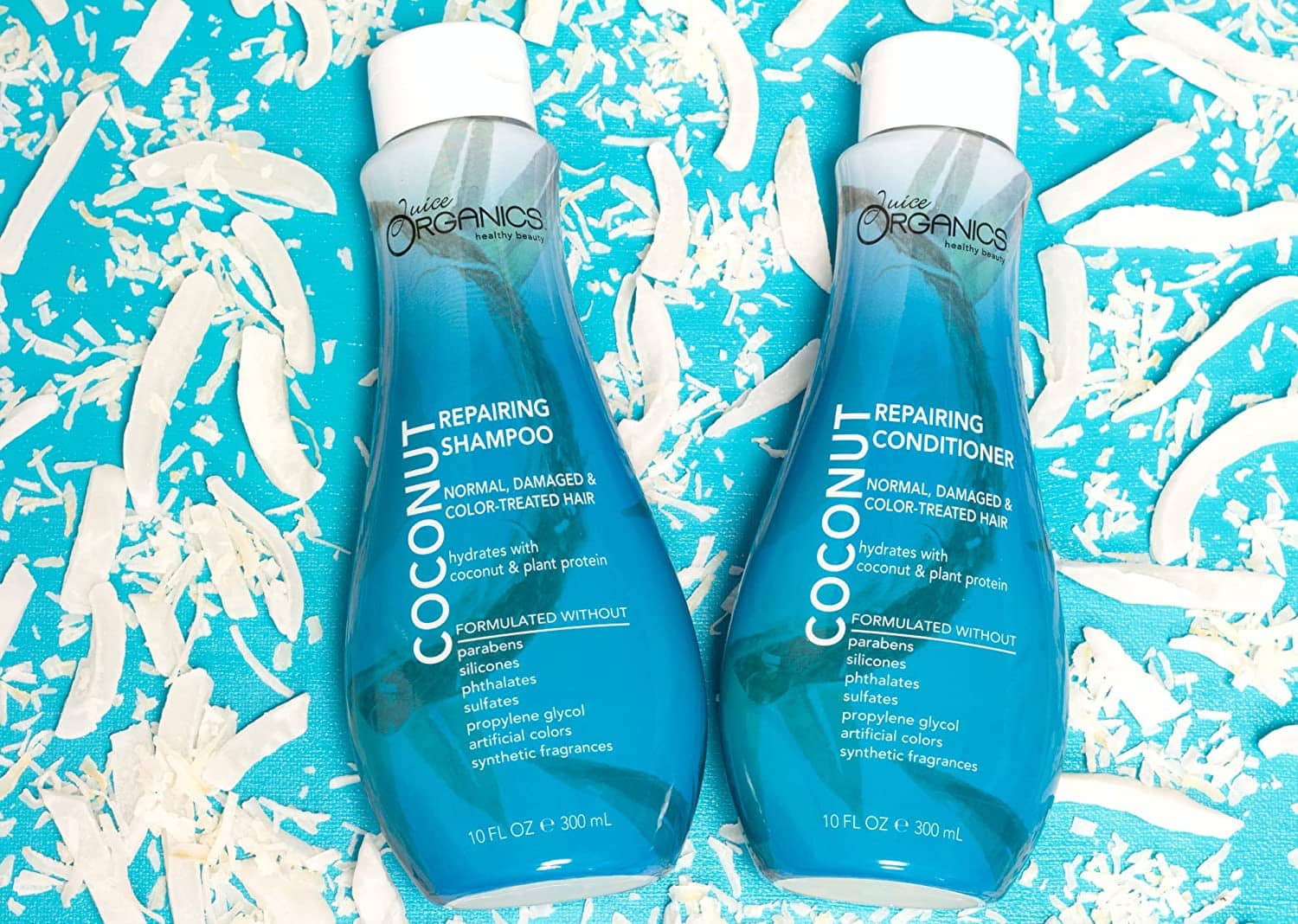 My Top Picks Up Front
SheaMoisture Curl and Shine Coconut Shampoo – A natural and safe shampoo for people with dry and irritated scalps.
Garnier Whole Blends Coconut Shampoo – A paraben-free shampoo that is great for frizzy hair.
OGX Extra Strength Damage Remedy + Coconut Miracle Oil Shampoo – Great for colored hair that needs volume and refreshment.
Alba Botanica More Moisture Shampoo –  A vegetarian cruelty-free shampoo that is an excellent choice for dry hair because it repairs and hydrates.
Juice Organics Coconut Repairing Shampoo – Great choice for people with curls who need elasticity and hydration.
Desert Essence Coconut Shampoo – A coconut shampoo that is great for oily roots and colored hair that needs volume.
Tips/ Advice
How to Choose the Best Coconut Hair Shampoo for You?
The best coconut hair shampoo should be organic with lots of nourishing ingredients that make your hair beautiful and healthy.
On the other hand, hair products that contain chemicals can harm your hair and cause dryness and breakage. Therefore, if you want to maintain your hair, you must avoid these products.
But how to do this?
There are many ingredients in many shampoos that can harm your hair.
Here is a list of ingredients that are very harmful to your hair and that you should avoid using:
Parabens
Fragrance
Sulfates
Phthalates
PEG (Polyethylene Glycol)
Paraffin wax
Sulfate-Free
Formaldehyde
Ethylhexylglycerin
Benzophenone-3

Why Is Coconut Hair Shampoo a Good Choice for Your Hair?
Coconut hair shampoo contains beneficial nutrients, which provide healthy hair and scalp. This shampoo also helps to improve hair and scalp conditions. You can use this shampoo to treat hair fall, dandruff, dry scalp, and frizzy hair. 
You can use also use this shampoo for natural hair, curly hair, and wavy hair.
Coconut shampoo also makes your hair soft and manageable. It will help to keep the hair healthy and strong. Coconut shampoo also helps to reduce frizz.
The main benefits of using coconut shampoo:
Contains rich nutrients and vitamins
Leaves your hair smooth and shiny
Gives soft and smooth hair
Reduces frizz
Is coconut Oil Good for Your Hair?
Coconut oil is one of the best natural and organic hair care products, which is good for your hair; it helps remove dandruff, prevent hair loss, and it also helps in reducing frizzy hair and hair loss.
What is coconut oil?
Coconut oil is a liquid that is extracted from coconut fruit. It is called the "oil of the Gods" as it has been used in many cultures and societies for centuries. 
Coconut oil is the best organic and natural hair care product as it has many benefits for your hair and scalp.
Coconut oil is rich in vitamin E, B1, B2, B6, and vitamin C, which are known to be very beneficial for your hair. It helps in the growth of new hair, prevents hair loss, and also protects your scalp.
My recommendation for good coconut oil is Coco&Co Organic Pure Extra Vergin Coconut oil because it is 100% healthy and good for your hair. You will notice a difference after a couple of weeks of using it.
If you have a sensitive scalp, I don't recommend massaging coconut oil into your hair because it can irritate your scalp. Instead, you can use a bit of avocado oil to massage your scalp, but don't overdo it.
Selection Criteria
I have selected these six Coconut hair shampoos because I have tested them, and I loved them on my and my client's hair. Some of the products are universal, and some are more for dry or colored hair.
All of the products smell like coconut and have their main benefits, so if you are looking into coconut shampoos, these six recommendations are great.
You should try the one that best describes your hair situation, but all of them overall does a really great job.
Product Recommendations
Juice Organics Coconut Repairing Shampoo is one of the best Coconut shampoos on the market that is 100% natural and sulfate-free. With this shampoo, you don't have to worry about harmful ingredients leaving your hair dry and irritated.
With Juice Organics, you can wash your hair, and it will feel smooth and shiny for days. I love its smell because it smells luxurious and feels good when you use it on your scalp.
Even though it is a natural shampoo, you can get your hair clean in only two washes, and if you don't have oily hair, it can last for days.
I recommend this product to those who have sensitive skin but want coconut shampoo. All others might give you some allergic reaction, with this one is 100% safe to use.
The only thing I don't like is the texture. It is a bit more watery, so it can slip easily. Yet, compared to all other pros, this is insignificant.
Specifications
Brand: Juice Organics
Organic: Yes
Age range: Adults
Best for Dry and irritated scalp
Pros
Natural and safe
Cleans well
Inexpensive
Cons
Hard to find
Watery texture
Final Mark: 9/10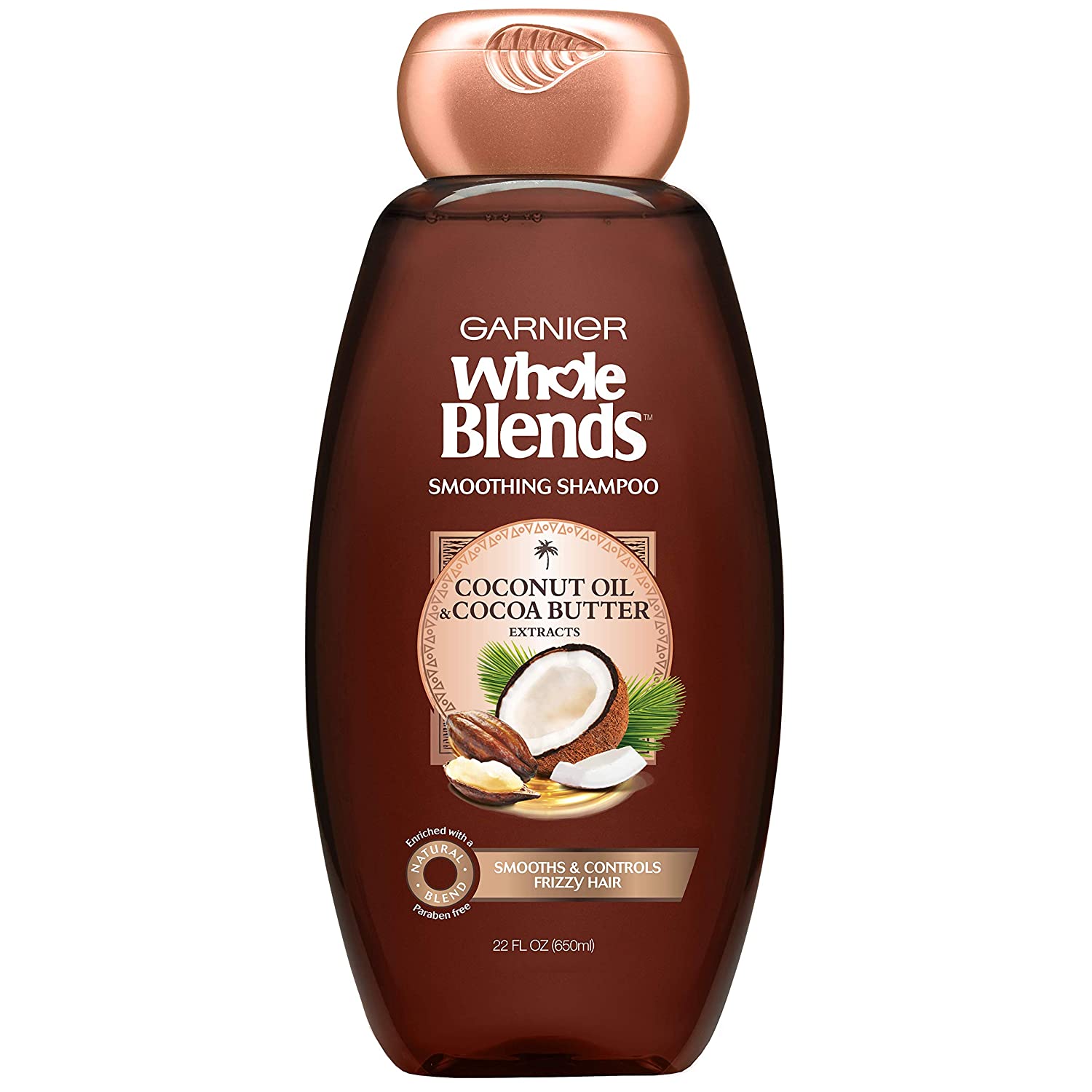 The Garnier Whole Blends Coconut Shampoo is one of the best coconut shampoos that manage frizzy hair and make it more manageable for you to style.
The scent is fantastic, and I love that it is paraben-free and without alcohol, so it won't leave your hair dry and tangled.
Hair feels smoother and fuller after a couple of washes, and it is best for people with frizzy hair.
You only need one pump to wash your whole hair; if it is not oily, it will leave your hair clean for days.
I love the scent and the packaging, but I don't like that it is not 100% organic, meaning it can cause an itchy scalp for sensitive skin.
Specifications
Brand: Garnier
Organic: Paraben-free
Age range: Adults
Best for Frizzy hair
Pros
Good for frizzy, tangled hair
Paraben-free
Leaves hair feeling shiny and smooth
Nice scent
Cons
Not 100% organic
Not for a sensitive scalp
Final Mark: 8/10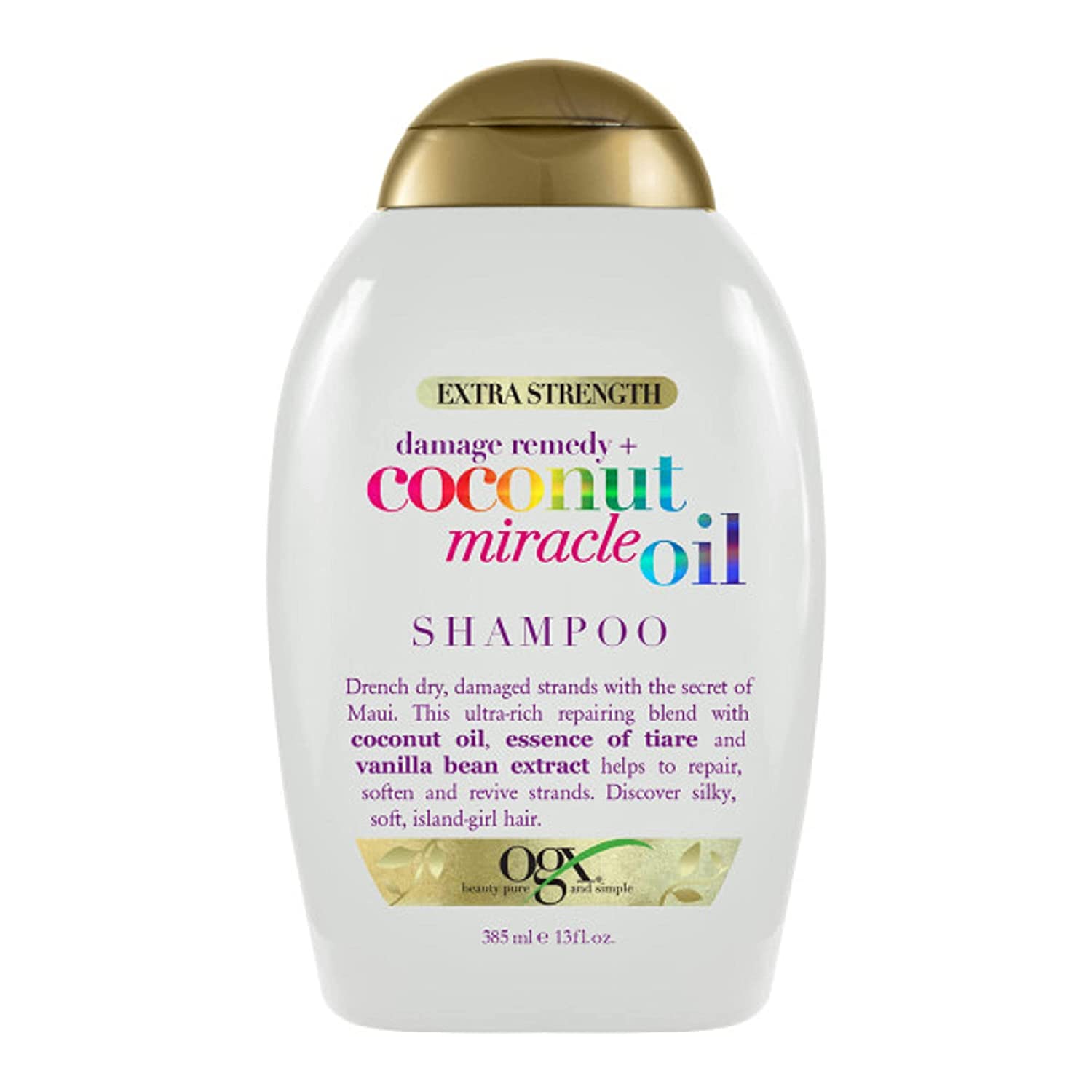 OGX Extra Strenght Damage Remedy is the perfect shampoo for all of you who have colored and damaged hair and need a quick solution. OGX smells fantastic, and it leaves your hair smooth and shiny after the first wash.
I love this product because it smells great and doesn't leave hair feeling dry. Still, the main thing is that it tames frizz, which is excellent for coarse hair and people who have problems with frizzy and coarse hair.
The only thing I don't like is that it leaves hair a bit flat, so I don't recommend it for curly-haired people. The product won't define and hydrate your curls, which is a big disappointment.
Specifications
Brand: OGX
Organic: Paraben-free, Sulfate-free
Age range: Adults
Best for Colored hair
Pros
Smells great
Good for frizzy hair
Cons
Not for curls 
Leaves hair feeling flat
Final Mark: 8/10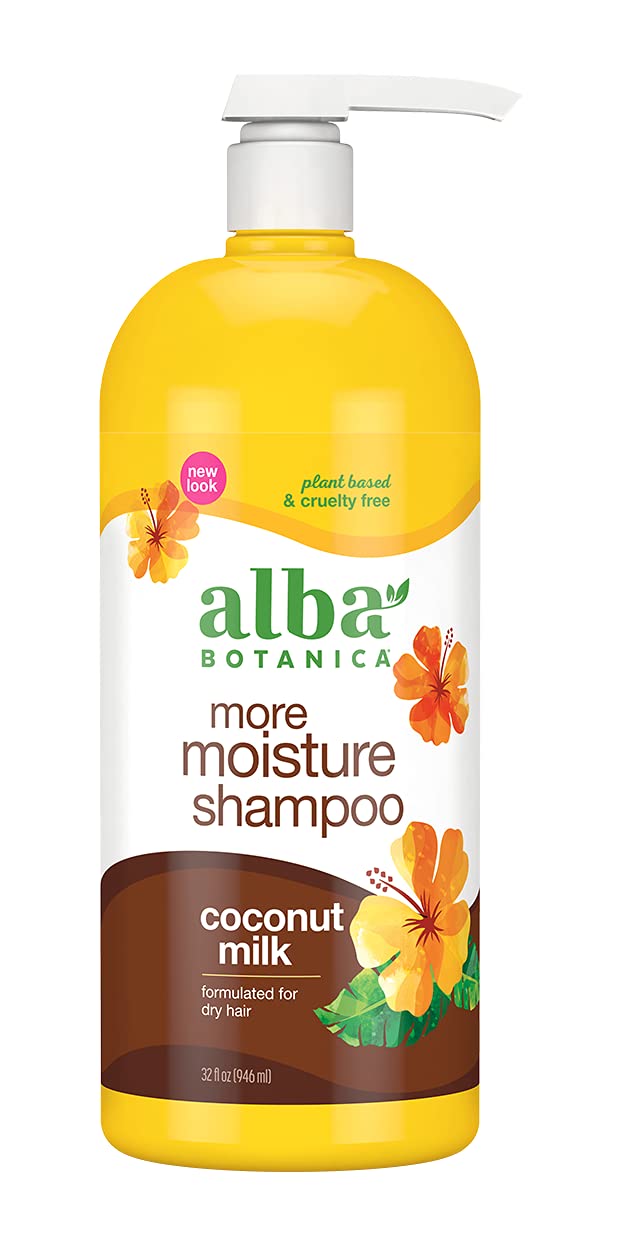 Alba Botanica is a cruelty-free vegetarian shampoo that provides great hydration while leaving your hair clean and shiny. No synthetic ingredients will damage your hair and leave it feeling dry and lifeless.
It has a nice tropical scent that is very light, which is excellent for those of you who don't like a strong smell.
What I appreciate about this product is that you don't need a lot to clean your hair and get out of the shower. One pump is enough for most people.
Plus, the conditioner in this line is also excellent, so it is excellent to buy and use them simultaneously.
The only thing that is not good about this project is the packaging. The cap can break easily, and your whole shampoo can spill. Also, once you open the bottle, the shampoo comes out very quickly, so I waste a lot of it.
Specifications
Brand: Alba Botanica
Organic:  Vegetarian
Age range: Adults 
Best for Dry hair
Pros
Smells good
Vegetarian
Hydrates
Ok price
Cons
The bottle is not high-quality
The liquid comes out easily
Final Mark: 8/10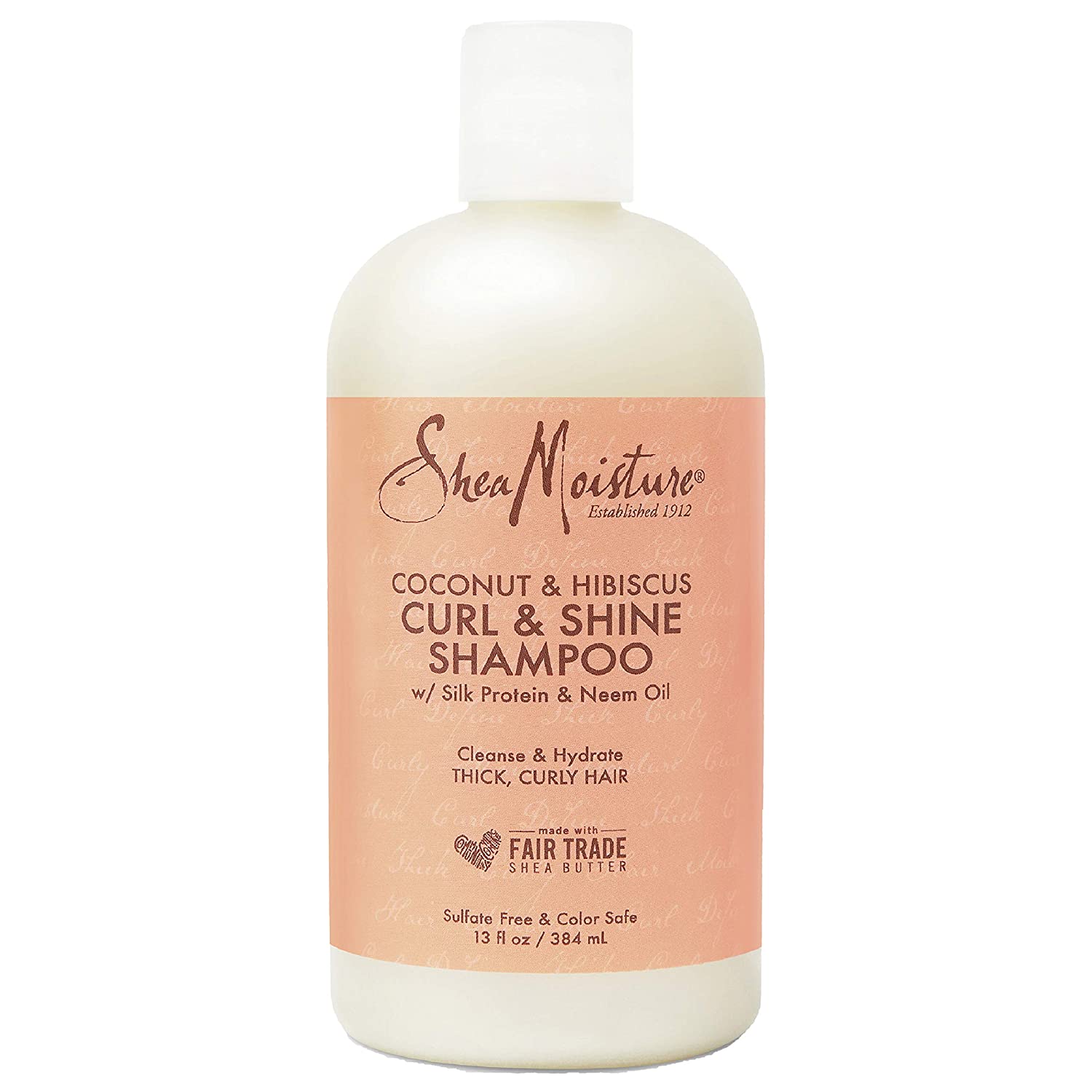 SheaMoisture is one of the best coconut shampoos for curly hair that doesn't only clean and smell good but gives elasticity to your curls.
This product is excellent for curly people who want to define and hydrate their curls without styling them. It leaves your hair defined and beautiful after every wash, making it easy for you to detangle and style.
Another thing that I appreciate is the extract of neam oil and hibiscus, which deeply nourish and take care of your hair. This is an excellent choice for anyone who wants healthy and beautiful hair daily.
The only thing that can be a problem is the combination of oils that can leave hair feeling greasy if your hair is naturally oily.
Specifications
Brand: Shea Moisture
Organic:  Yes
Age range: Adults
Best for Curly hair
Pros
Defines curls
Hydrates hair
Smells great
Cons
Too much oil for some hair types
Final Mark: 9/10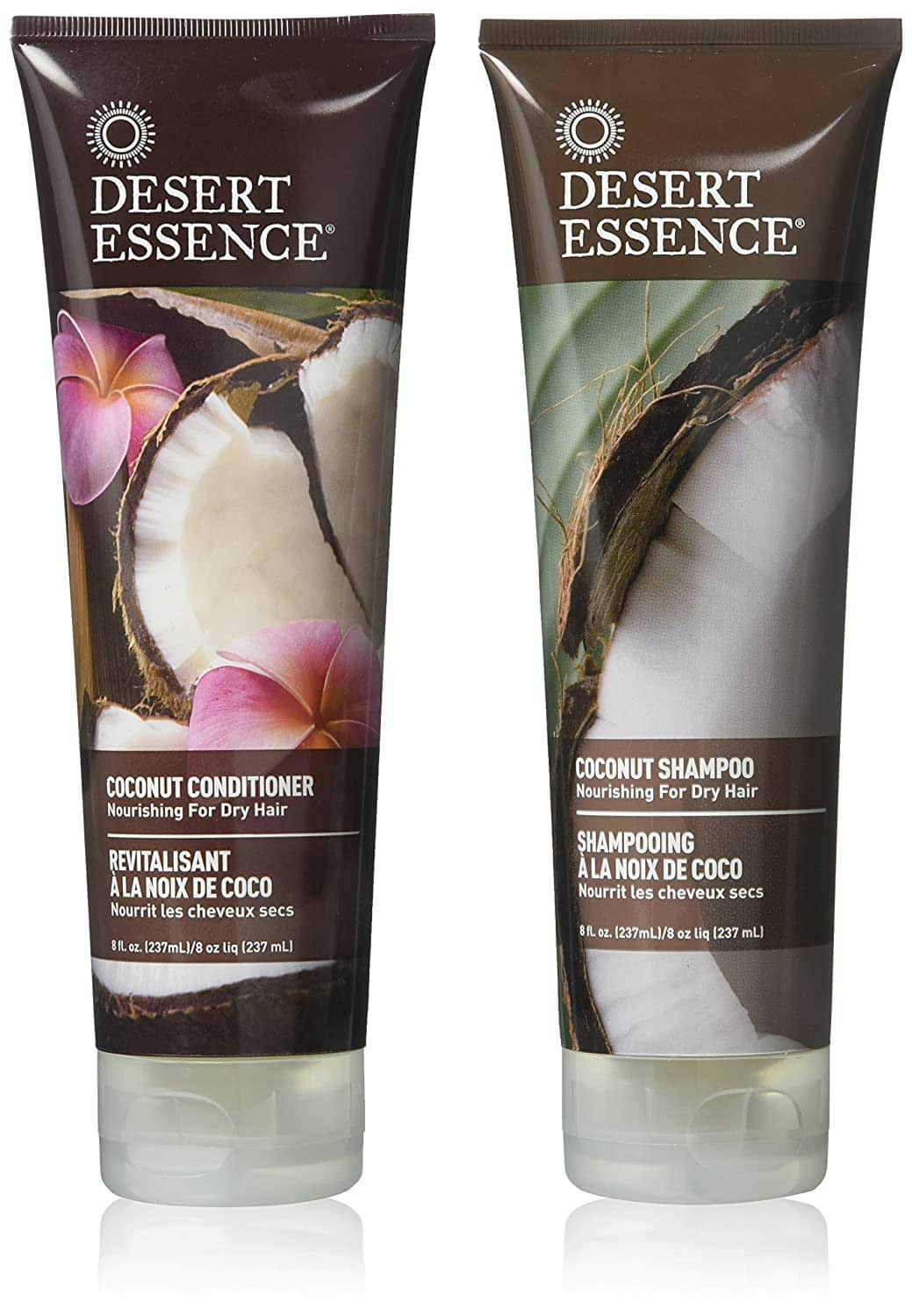 The Desert Essence Coconut Shampoo leaves your hair squeaky clean while smelling absolutely amazing. After two washes, your hair will be untangled, soft, and manageable, making it good for every hair type.
This coconut shampoo is fantastic if you color your hair because it will bring your roots back to life. In addition, it is so gentle on the scalp, giving your hair more volume, no matter the length.
This shampoo leaves no oily residue, which can be a lifesaver for some hair types.
Still, for some people, this shampoo can strip all of their natural oils and can be too much.
I don't recommend this to people with extremely damaged and dry hair because they won't be satisfied with the results in the end.
Specifications
Brand: Desert Essence
Organic:  Silicone Free, Dye Free, Phthalate Free, Paraben Free
Age range: Adults
Best for Colored hair
Pros
Smells great
Good for colored hair
Cleans hair deeply
Great volume
Cons
Strips all of your natural oils
Not for everyday use
Not for dry hair
Final Mark: 7/10
FAQs
Question: Is Coconut Shampoo Good For Hair Growth?
Answer: Yes, organic coconut shampoos are good for your hair growth because their enzymes improve your scalp's and hair's health, resulting in healthy hair growing faster.
Question: Which Is The Best Smelling Coconut Shampoo?
Answer: OGX Nourishing Coconut Milk Shampoo has a delicious scent for all coconut lovers that will stay there for a couple of days after washing your hair.
Question: Which Is The Best Coconut Conditioner?
Answer: The best coconut conditioner is Maui Moisture Coconut Milk Conditioner because its smooth texture hydrates the ends of your hair and makes it look shiny and healthy until your next wash.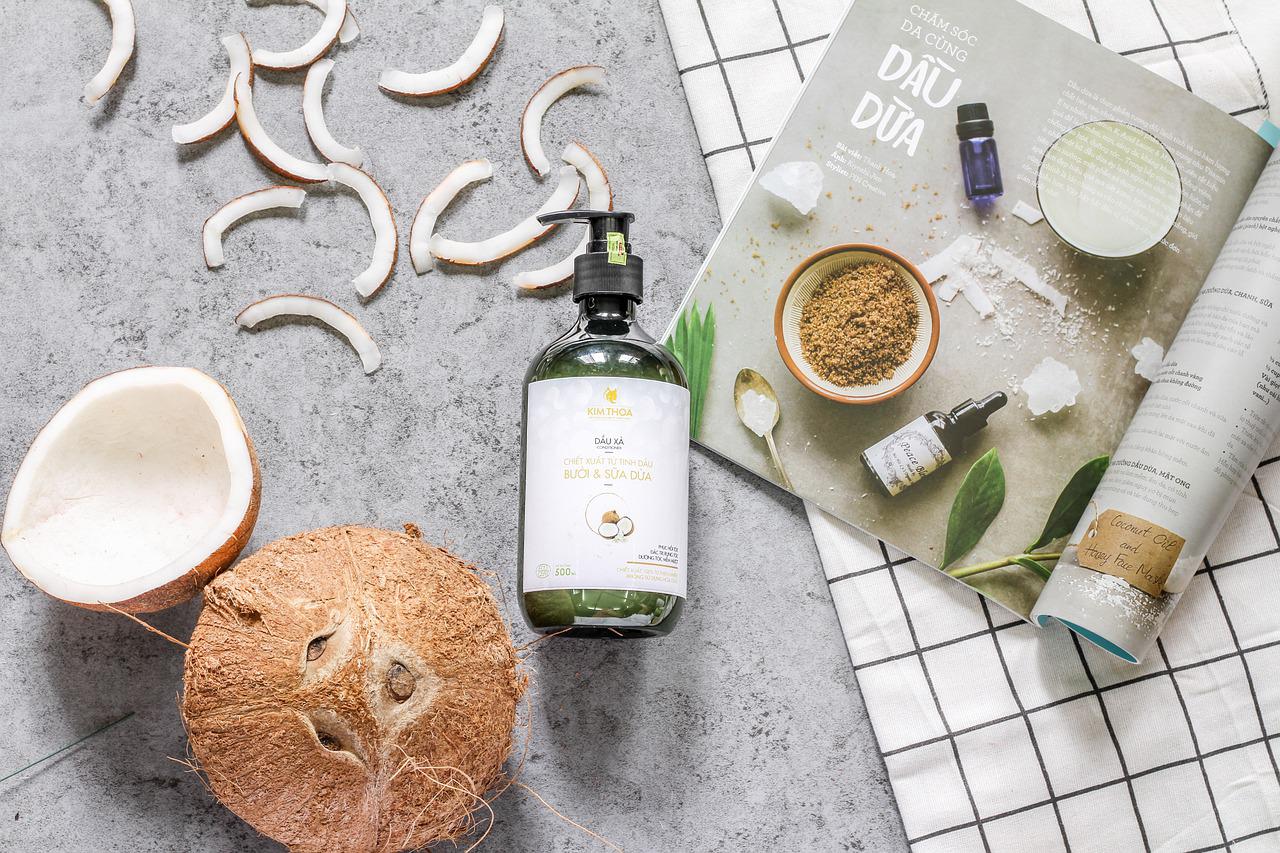 Conclusion
Finding a good coconut shampoo is not easy because you can get distracted by the beautiful scent. Yes, I have been there, and many people buy coconut shampoo just because it smells good.
Instead of smelling like shampoos, you should read the ingredients list and follow the right recommendations to buy the right shampoo.
How can you know which ingredients to avoid and which recommendations to follow?
This guide will show you precisely what to try out without damaging your hair.
I hope this guide for the best coconut shampoo helped you figure out what to put on your shopping list the next time you go shopping.
My final buying decision is SheaMoisture Curl and Shine Coconut Shampoo because you can only benefit from that purchase, and it is pretty universal and for every hair type. So to start your coconut shampoo journey, you should start with this product.
Looking for more interesting readings? Check out: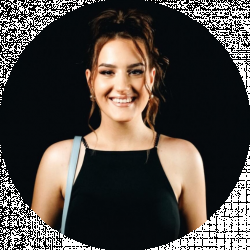 Latest posts by Milica Ugrenovic
(see all)