I wish I had a 2B hair type and let me tell you why. Having those wavy curls is like being born with hair that will always look styled. As a teenager, I've envied people with wavy hair because mine is so very straight. Even to this day, I am still trying to figure out the best method to achieve those curls and gain more volume.
People with this type of hair definitely enjoy their strong and thick hair strands and they cannot deny the fact that they were truly blessed with naturally beautiful hair. In today's guide, I will discuss more about this hair type such as its characteristics, tips on how to take care of it, the best products for 2B hair type, and many other insightful details.
2B Hair Type – What It Is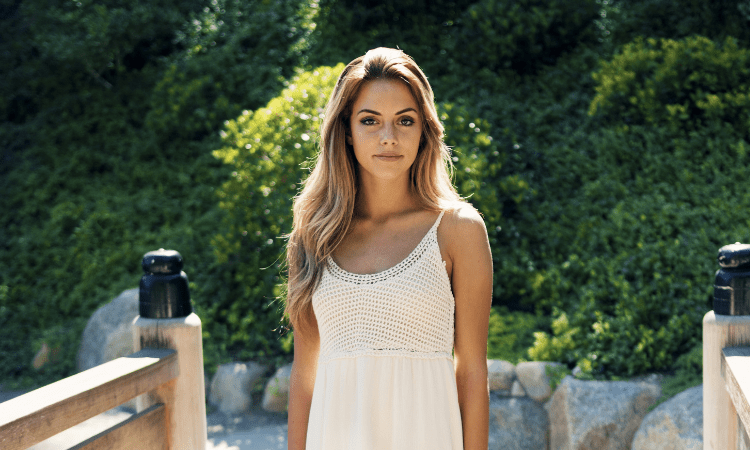 Most people would describe the 2B hair type as wavy hair. It isn't really curly but it isn't straight either. Women with this hair type feature straight hair roots and wavier hair ends. Now, let's discuss some more about its main characteristics, in more detail.
2B Hair Type Characteristics
Like I said, this hair is rather wavy instead of curly but it's not straight either. It looks gorgeous but sometimes it can also be hard to take care of it. 2B hair can get really frizzy, especially during weather changes. Wavy hair can also get dry and tangled. In some cases, the tangled part can be really hard to deal with.
Compared to really curly hair types, 2B is wavy which means it's a tad on the straighter side of hair types. However, it still features an S shape. There are three sub-categories of the 2B hair type but I will detail those later on, in one of the sections below.
How to Determine Your Hair Type
Here are some things that can help you figure out your type of hair.
For Men
Men can have four main hair types:
Straight;
Wavy;
Curly;
Afro-textured.
Each of these hair types has three subcategories (A,B, and C):
1A – straight fine;
1B – medium;
1C – coarse;
2A – loose;
2B – defined;
2C – wide;
3A – loose;
3B – tight;
3C – corkscrew;
4A – defined;
4B – Z coil;
4C – tight.
Your hair is straight if it's not messy or fussy and if it's closer to your scalp. This hair type is also silky and soft but it's also low-maintenance.
It appears that men with wavy hair are perceived as more attractive than those with straight hair. If your hair is more defined and has more volume as well as an S-shape pattern, then you have wavy hair. It's not very easy to take care of this hair type.
Men with curly hair are more than likely aware of the fact that they have curly S-shaped tresses. Curly hair has a higher level of puffiness than wavy hair. Sometimes, curls can get out of control when you're trying to style them. Curly hair is, normally, thicker as well.
Kinky or coily hair features extreme curls and an afro texture. The curls have the shape of spirals or corkscrews. This hair type is often seen in Afro-American men.
For Women
The same rules apply to women as well. There are the same four hair types, from straight to coily, and the same subcategories for each of the aforementioned hair types. In terms of texture, your hair could be fine, medium, or coarse.
To see your type of hair, you must wash it and leave it to air dry. Once it's fully dry, you can observe it. If your locks are completely straight and it doesn't have any curls or bends, then you have straight hair which is known as type 1.
If your tresses have slight curves, then your hair is wavy which is type 2. If once dried, your hair forms curls or loops, then your hair type is 3 or curly. And, finally, very tight curls, zigzags, and spirals are all considered to be part of type 4 which is coily.
In terms of structure, your hair can be fine, medium, or thick. You can find out your hair structure by placing a sewing thread next to one of your hair strands and see which one is thicker.
When it comes to hair porosity, both men and women can have oily, dry, or normal hair. A high-porosity hair absorbs moisture quickly and, in time, it makes it dry and brittle. Low porosity hair leads to product buildup.
The Best Styling Products for the 2B Hair Type
Here are some of the best products on the market that are made for your wavy hair. They should be an essential part of your hair care routine.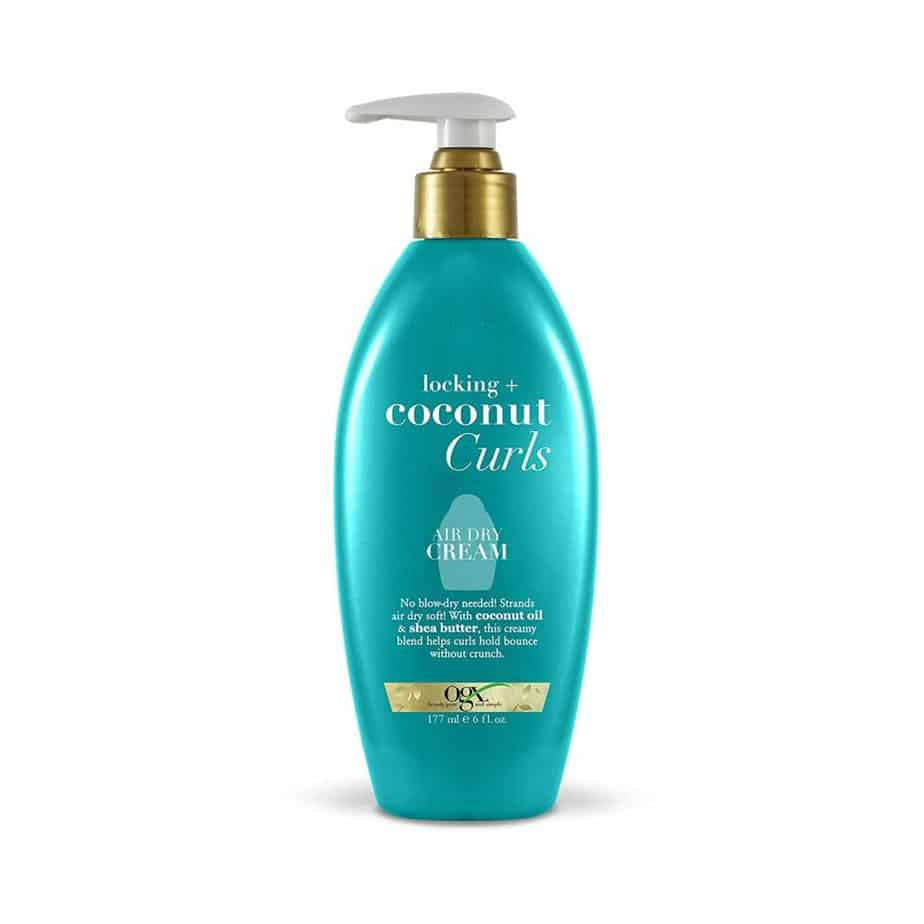 To get rid of the frizz and style your hair a lot easier, you should consider this coconut cream for curly hair made by OGX. It provides your locks with a volume boost and a natural shine. With the help of this product, you will achieve tight and smooth waves.
You can apply this cream every single day if you want to style your hair. The cream is very nourishing due to its Shea butter and coconut oil content. It will definitely hydrate your dry scalp. It also prevents breakage and you will certainly enjoy its refreshing scent.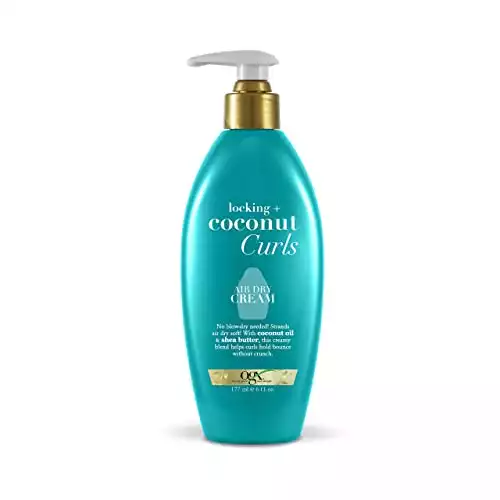 OGX Air Dry Cream | Amazon
With coconut oil & shea butter, this creamy, heat-free styling blend helps hold bounce without the crunchiness. Curls are hydrated & defined for the perfect smooth coil without frizz.
Buy at Amazon.com
We earn a commission if you make a purchase, at no additional cost to you.
08/03/2023 10:47 am GMT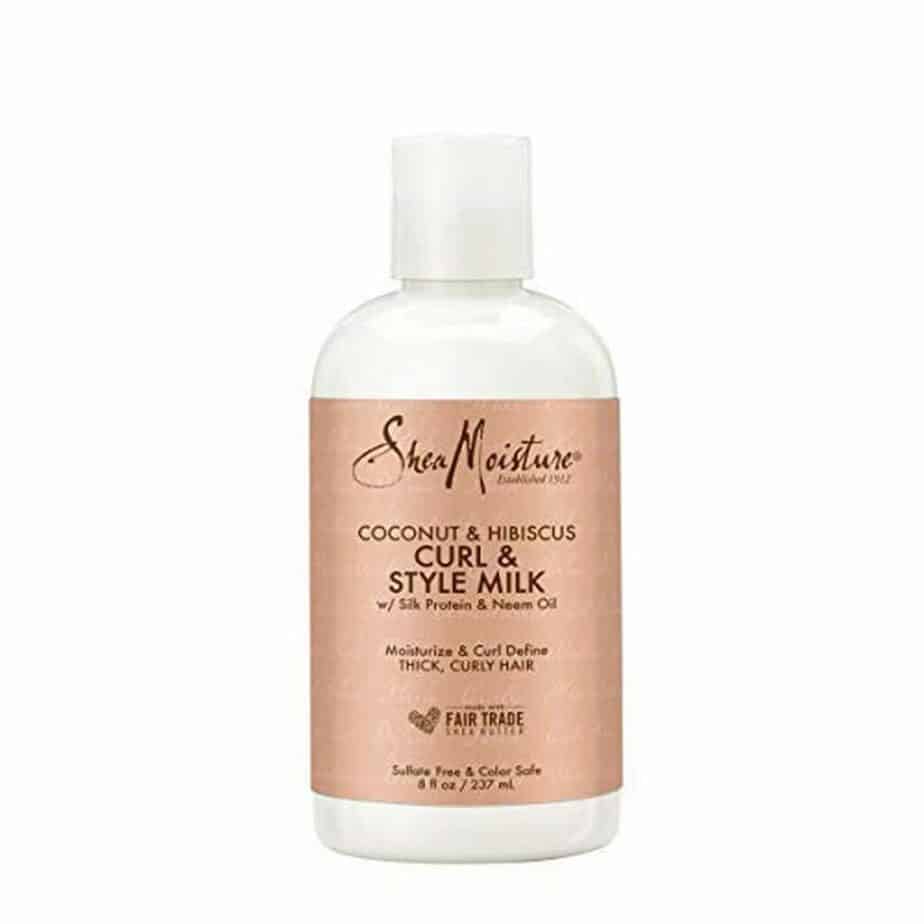 Many women who have wavy hair are constantly dealing with knots and tangles. To keep your hair from looking like it has dreadlocks, you should apply this styling milk that contains hibiscus and coconut. It will detangle your hair strands. It gently removes any knots your hair may have and leaves your locks bouncy and loose.
This milk is very nourishing due to its main ingredients: hibiscus, Shea butter, and coconut oil. These compounds will repair damaged hair and will offer definition to your waves. For those of you who don't like strong perfumes, this product is great due to its mild scent.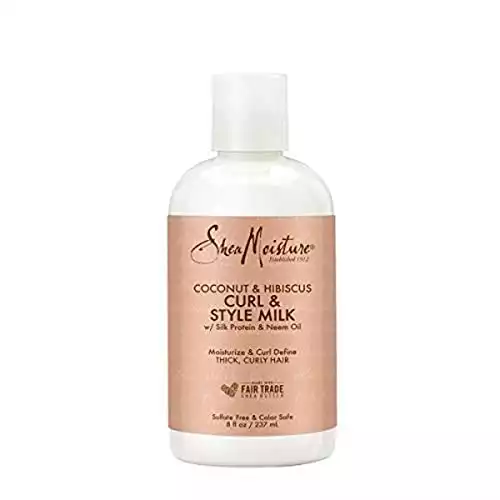 Shea Moisture Coconut & Hibiscus Curl & Style Milk | Amazon
Hate it when you run your fingers through your hair and find them all stuck in knots and tangles? SheaMoisture's Coconut & Hibiscus Curl & Style Milk with Certified Organic Shea Butter will transition dry, damaged, over-processed hair to frizz-free, detangled naturally beautiful curls!
Buy at Amazon.com
We earn a commission if you make a purchase, at no additional cost to you.
08/03/2023 07:18 am GMT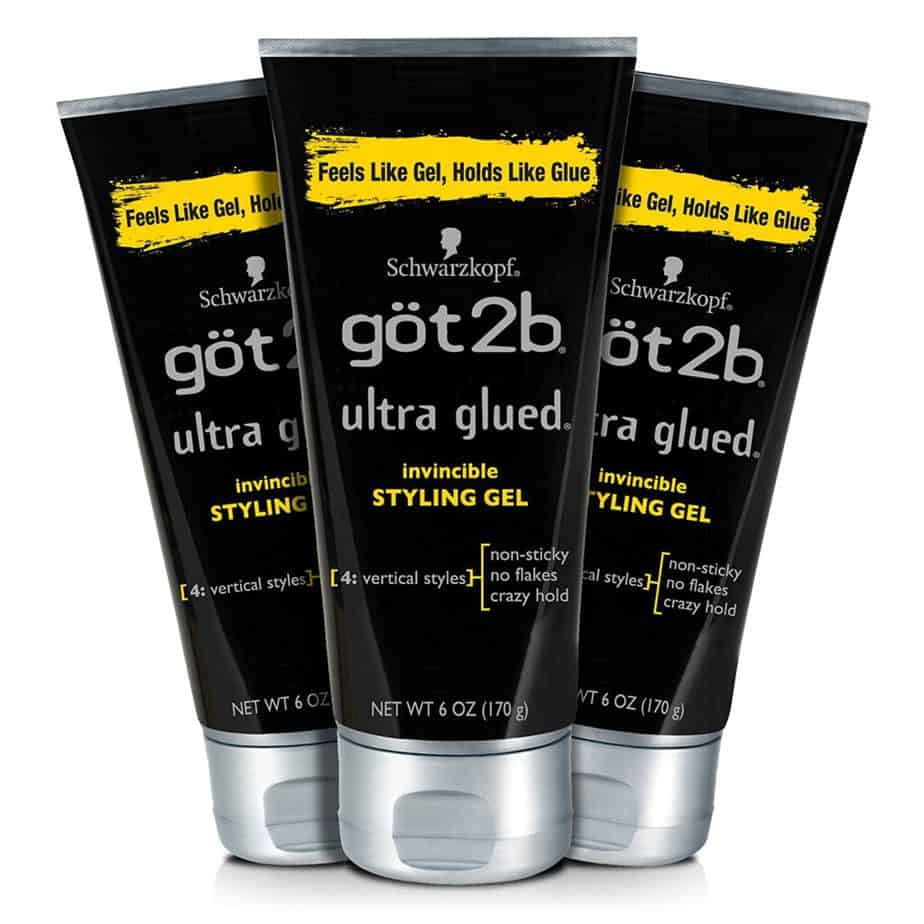 This styling gel is great for those of you who want to style your wavy 2B hair but are concerned about damaging your strands. The formula of this gel is flaky and non-sticky and it was specially created for wavy and curly hair. It will hold your locks in place while also being gentle on the roots.
With this hair care product, you can create numerous hairstyles. The gel can be easily removed with just a little shampoo. On the other hand, you shouldn't use it on a daily basis. Otherwise, your hair might get stiff.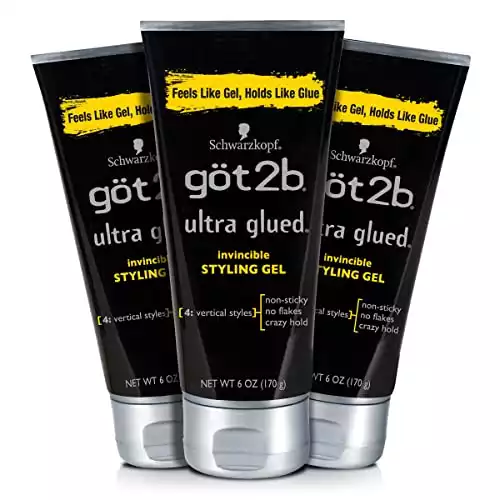 Got2b Ultra Glued Invincible Styling Hair Gel | Amazon
This Got2b gel's hold is no joke. This non-sticky, no-flake formula is powered by a high-tech styling agent - we call it Alpha XTR. Call it what you want, it lets you take your hair to new heights.
Buy at Amazon.com
We earn a commission if you make a purchase, at no additional cost to you.
08/03/2023 05:43 am GMT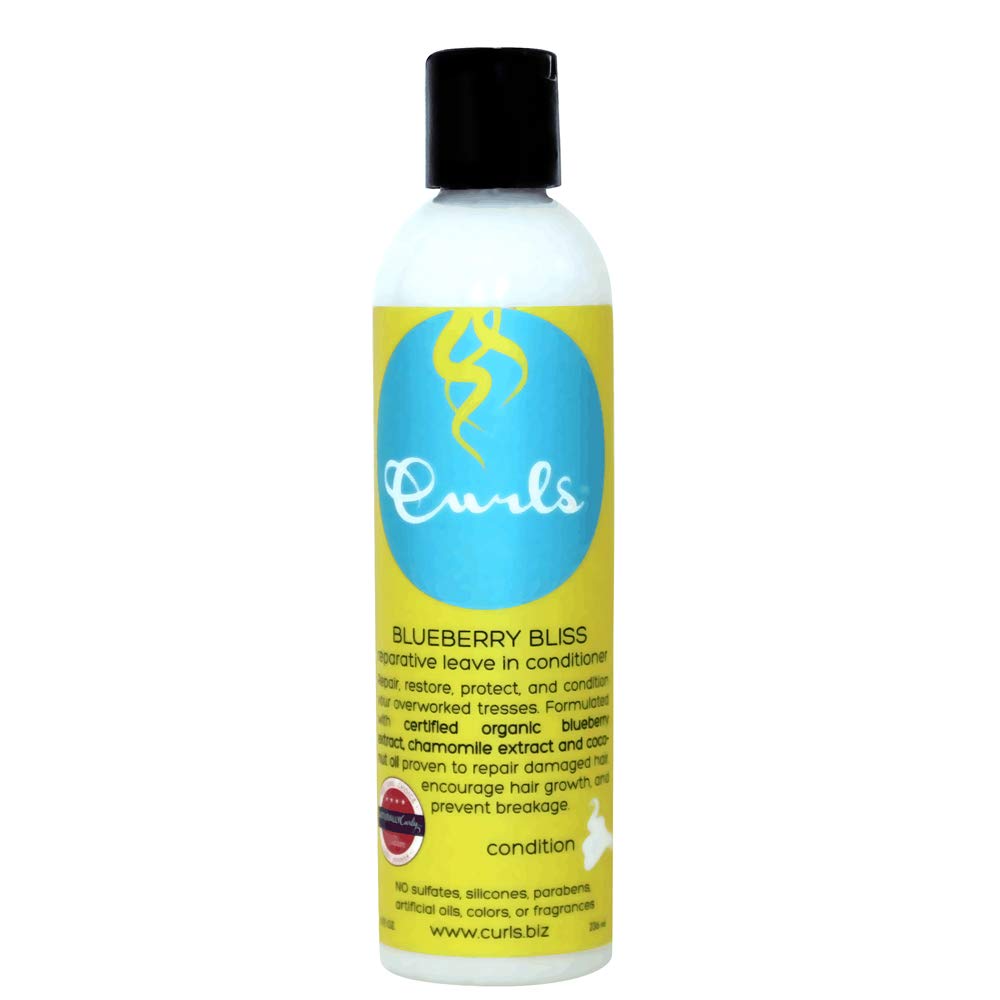 With this leave-in conditioner, your wavy hair will look naturally cool without getting frizzy. It will even improve your hair's texture. The formula contains many hydrating and nourishing ingredients such as blueberry extracts, grape seed oil, mango butter, and coconut oil.
It is a certified organic hair care styling product that won't damage your tresses. It's easily absorbed by your hair and features a refreshing perfume.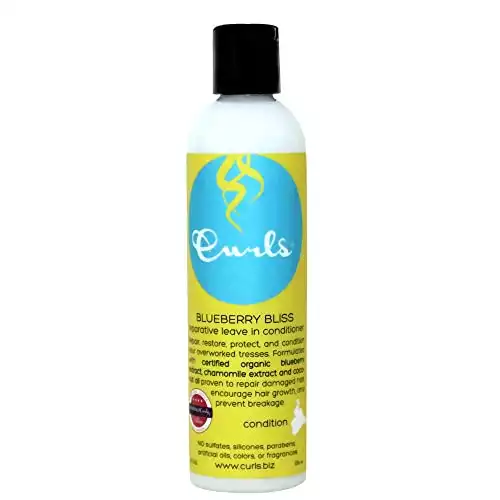 The Best Haircuts and Hairstyles for the 2B Hair Type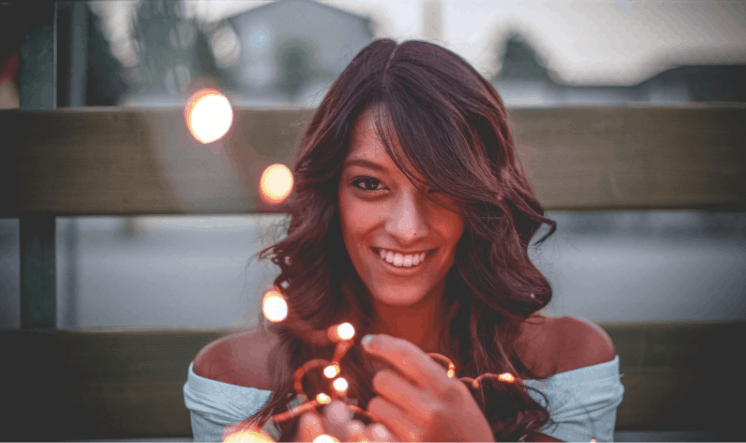 Wavy hair is neither straight nor curly. It's something in between those two other hair types. So, many people who have 2B hair type might get confused as to how to style it or what type of haircut to choose. Wavy hair is not the same for everybody in terms of porosity, texture, size, and thickness.
To keep your wavy tresses in shape, you need to pay more attention to your hair because of its growth patterns that are pretty irregular. You can wear it long, medium, or even short but you always must think about creating direction and purpose for your hair strands.
According to hairstylists, one of the greatest ways to style your wavy hair is to opt for longer tresses on top and shorter strands on the sides and the back to create shape and movement. A bit messy and textured should be your go-to style.
For Men
You can go short or long, based on your preferences. Most men with wavy hair opt for medium-length hairstyles. Others love messier hairstyles, whereas some prefer a shoulder-length haircut. All these possibilities are very cool and they look awesome.
For Women
As a woman, you'll look much more beautiful if you wear your wavy hair in a longer style or haircut. But, shorter styles will work too. Use the right products to give texture to your waves. Messy waves are also very appealing.
There are many available alternatives that you can choose from: cheek-length bobs, lobs, inverted bobs, pixie cuts, blunt cuts, beach waves, and curtain bangs, etc.
How to Take Care of the 2B Hair Type – Method Steps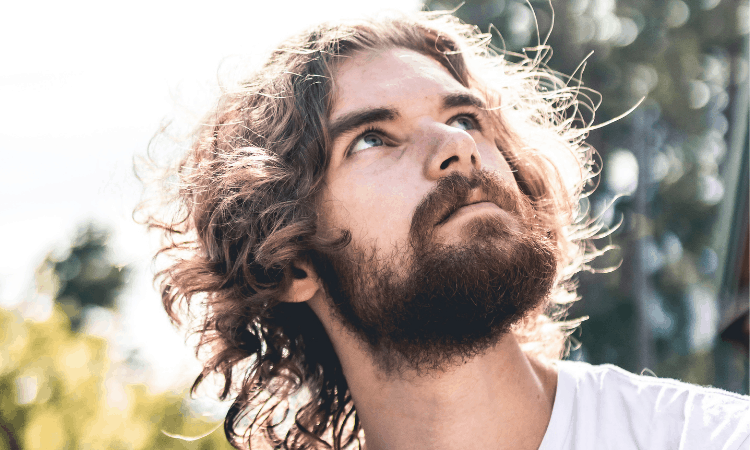 The simplest way to clean your 2B hair and maintain it nice and smooth is to follow these easy steps:
First, you must cleanse your hair with a shampoo that doesn't contain sulfates;
Secondly, you must use a conditioner that's free of silicone; leave it on your hair for a couple of minutes before removing it with water;
Before drying your hair, you should first apply a good-quality styling product that's free of silicone. Do that while your hair is still wet and use your hands to scrunch your tresses up. This way, you will encourage the formation and shape of the curls;
It's now time to dry your hair with either a cotton cloth or a used yet clean T-shirt. You can also use a special towel made of microfiber that is gentle on your hair. After that, you mustn't touch your hair strands until they become completely dry;
To maintain your hair the way it is (curly), I would recommend covering it with a smooth scarf made of satin or silk and keep that overnight. Also, it is best to sleep on a silk pillowcase.
You can always refresh your curls or wavy hair in the morning by using a combination of water and hairstyling products.
Hair Care Tips
Many times, women with wavy hair complain about problems like frizz, tangled hair, and the fact that their tresses become a total unruly mess. Dryness is also a big issue with this type of hair. But those of you who're dealing with these stressors can relax now because I've listed the most effective tips for you.
The following hair care guidelines are great for those with 2B hair type because, if you follow them, they will help you create those silky waves that you want so much.
How to Get Rid of Frizz
Battling hair frizz can be really daunting for those with 2B hair type. Being on the lower part of the curl chart, wavy hair can become quite unruly and difficult to tame. There are numerous factors that can influence your strands' texture and their level of frizz, from how you wash your hair to weather and more.
The battle against frizz begins in the shower. For starters, you will probably have to get rid of your current hair products and buy a new shampoo and a milder conditioner that are specially created to fight off frizz. These two products will work together and help you eliminate the unwanted frizz of your hair.
The best kinds of hair-washing products are those that contain Argan oil and elastin protein. These compounds protect your tresses from humidity and they make your hair a lot easier to style. To add one more layer of protection against frizz, you should apply a smoothing serum right after you finish your shower. This product will give your tresses a glossy finish.
Eliminating Knots and Tangles
Most women with this hair type also deal with knotting and tangling. Brushing tangled locks is dreadful, time-consuming, and even painful. The good news is you won't have to give up and live with that kind of messed-up hair forever. All you have to do are a couple of hair styling adjustments to achieve tangle-free curls.
The way you brush your hair is very important. You must be gentle and careful not to damage or break your locks because that will further lead to split ends. Wait until your hair is dry before brushing it because wet hair is weaker and prone to breaking.
Stubborn hair knots can be untangled quicker and easier with a brush that features strong wooden pins. They will also stimulate the scalp by massaging it.
Pros and Cons of the 2B Hair Type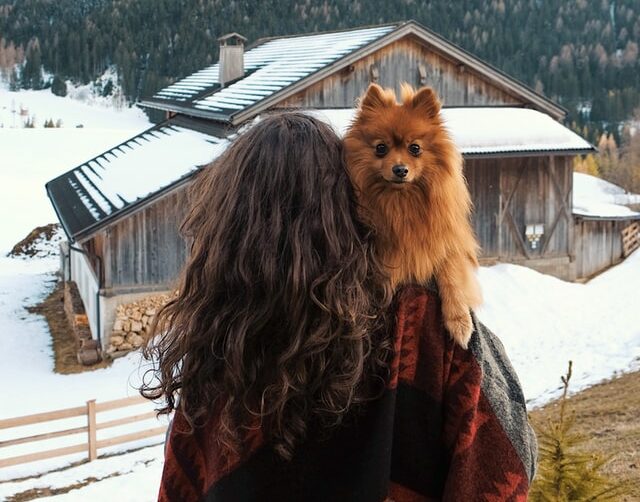 Let's discover some of the most important pros and cons of having a 2B wavy hair type.
Pros
It is a very versatile hair type and also a very beautiful one;
You will enjoy having beach waves all year round without spending time to create them like people with straight hair need to;
Due to its versatility, you can style it any way you want, from straight to curly without too much effort;
People with wavy hair enjoy more volume;
Each wave is a bit different from the rest so it will be easier to cut your hair or hide any imperfections in terms of length;
Straight hair gets greasy a lot easier and quicker than wavy hair. People with 2B hair type can go a couple of days without washing their hair because they don't have greasy roots in that timeframe;
Wavy hair can be worn in a wide range of lengths, from short to very long.
Cons
Many women aren't even aware that they have this type of hair because, in some situations, it can be hard to tell whether those strands are straight or wavy;
This type of hair might fall flat a lot easier than other hair types;
Frizz is a real problem for women with wavy hair so they will need to use frizz-fighting products as well as volumizing ones;
Wavy hair is less controllable than straight hair;
Styling this hair type is more time-consuming than taking care of straight hair;
Refreshing and caring for wavy hair takes more effort, more time, more expensive products, and more knowledge.
What Other Types of 2 Hair Are There?
Besides 2B, there are also 2A and 2C hair types. I will detail each one of them and I will tell you a bit about the best ways to style those hair types.
2A Hair Type
This is also known as the wavy swavy type of hair. The S shape of the strands is loose and the hair is pretty fine instead of thick. For this hair type, it is best to avoid applying too much styling product. 2A can also be a difficult hair that lacks both volume and definition.
On the other hand, handling this type of hair isn't that hard if you know how to do it. As long as it has the proper length and haircut, the 2A hair type can feature thick and full strands.
How to Style It
Celebrities such as Chrissy Teigen, Sofia Richie, and Emilia Clarke all have type 2A hair. Shoulder-length haircuts and longer bobs will work wonders for your appearance. Some might even be more courageous and opt for an above-the-lobe bob which is very chic and it shows your tresses in a positive way.
In terms of the best products, you should opt for a special shampoo that's created for fine hair tresses, and don't forget about a high-quality conditioner. Both of these products should aim to boost your hair's volume. To style your hair, you should try a volume mousse that must be applied while you're blow-drying your hair.
2B Hair Type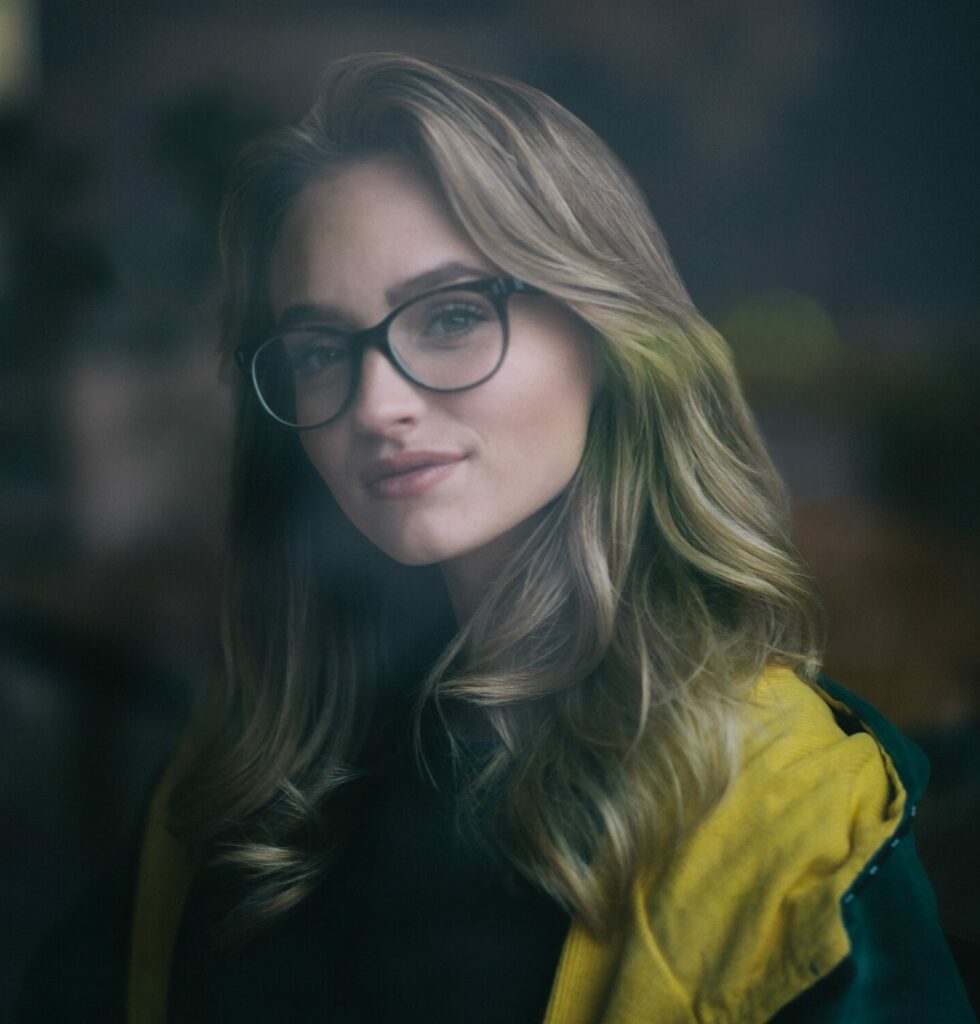 If your hair is wavy curvy, then you may be in the 2B hair type category. The S shape of your hair's ends is more prominent. It looks like something in between loose beach waves and loose curls that will never bounce up. The definition of the waves is clearer but this type of hair comes with certain issues such as frizz and tangle.
How to Style It
Some of you who have this hair type will be happy to know that the 2B style works well with longer haircuts. Those of you might even dare to try very long tresses similar to the ones displayed by the famous fairytale character, Rapunzel. Both Vanessa Hudgens and the singer Charli XCX have this hair type.
To prevent your hair from getting frizzy, you should apply a deep treatment hair masque; preferably, one that contains keratin. Due to this masque, your locks will become smooth and tangle-free. Then, if you want to style your hair and make it silky and even smoother, you should try a shine gloss serum.
2C Hair Type
This category is represented by the so-called "wavy whirly" hair strands. The S-shaped pattern is very distinct this time and this type of hair is more toward the curly type. A person with this hair type will have loose spiral curls. The tresses are coarser and thicker. Moreover, they're also harder to style and can get very frizzy.
How to Style It
For women with the 2C hair type, the best hair length is medium to long. Just look at how nice Salma Hayek looks with her loose curls. Being thicker than the rest of the 2 hair types might make you feel that your tresses are heavier. You can style it by parting it in the center or on one side.
But shorter hairstyles will also work. Rita Ora and J Lo have both pull off shorter haircuts even though their strands are in the 2C hair type category.
The best product to use is a deep conditioning shampoo. Then, you must apply a moisturizing conditioner. What your curls need to be smooth and easier to style is a significant hydration boost.
2B Hair Type Guide – Frequently Asked Questions
Are you trying to learn more about your 2B hair type? Check out these FAQs:
Question: How Can You Make Your 2B Wavy Hair Look Good?
Answer: For starters, you should always use a deep conditioner when you wash your hair. After five minutes, comb your hair using a wide-tooth comb to prevent breakage. A co-wash is also recommended to clean and scrub your scalp. You should apply a leave-in conditioner once or twice each week.
Once your hair is dry, you should apply a styling product that boosts your curls and gives definition to your hair.
Question: How Should You Dry Your 2B Hair with a Diffuser?
Answer: To make sure you don't lose your curls or waves, you should always dry your hair with a diffuser. Set the heat on medium to low. The speed should also be on the lower spectrum of available options. Dry your hair by holding the diffuser in an upright position. Your moves should be done vertically, pushing your curls up.
Question: What Are the Best Brushes for 2B Wavy Hair?

Answer: There are many options that will help you detangle your curls without breaking them. Here are some of the most effective brushes on the market:
– Denman D3 styling brush – this is a great brush for curly and wavy hair that will define your locks and you can use it on both dry and wet hair.


– Felicia Leatherwood detangling brush – it is one of the best brushes on the market due to its detangling power. This brush will change the way you perceive your curly hair.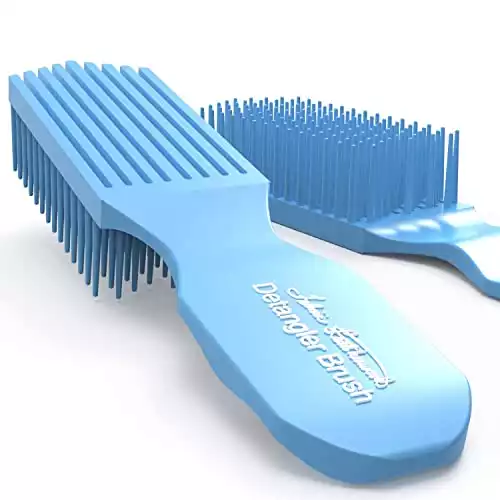 – Wet Brush Original for detangling wavy hair – hair is more prone to breakage when it's wet and this brush will help you prevent any hair damage. It is made for wet hair.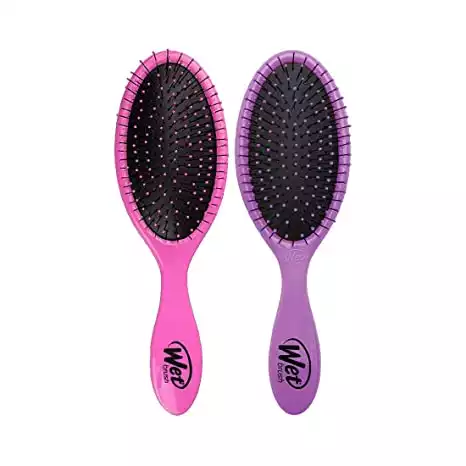 Wet Brush Original Detangler Hair Brush | Amazon
Unlike ordinary hair brushes, this brilliantly crafted Detangler does not rip or pull out the knotted hair. It glides through the hair to gently untangle even the toughest tangles with ease
Buy at Amazon.com
We earn a commission if you make a purchase, at no additional cost to you.
08/03/2023 10:59 am GMT

2B Hair Type Guide – Bottom Line
Let me make myself clear! Your hair is beautiful, no matter how straight, wavy, or curly it is. It may sometimes make you mad because you must spend a lot of time and money on styling products and taking care of your hair. Perhaps you wish you had thicker, longer, wavier hair.
Whether your hair is thick and glossy or straight and thin, it deserves your respect. Find out your hair strands' patterns, their density, and porosity to be able to style properly using adequate products. After all, a proper self-care routine includes taking care of your hair.
Want to learn more about how to style your 2B hair? Check out these hairstyling tips here!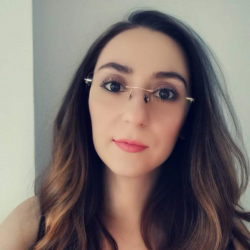 Latest posts by Alexandra Gavrilescu, Home Hair Product Tester
(see all)