Whenever I use a blow dryer, my hair gets tangled a lot. So, I've been looking for some practical solutions to this particular issue. And I might've found something that works. I've researched some of the best blow dryers with comb attachments and discovered their pros and cons. Moreover, I'll discuss the most important aspects to consider when purchasing this product.
If you also deal with tangled hair when drying your locks or simply want to style your freshly-washed tresses, you've come to the right place. Nowadays, due to fantastic tech development, you can try different hairstyles using one single product, in this case, a blow dryer, without damaging or scorching your strands.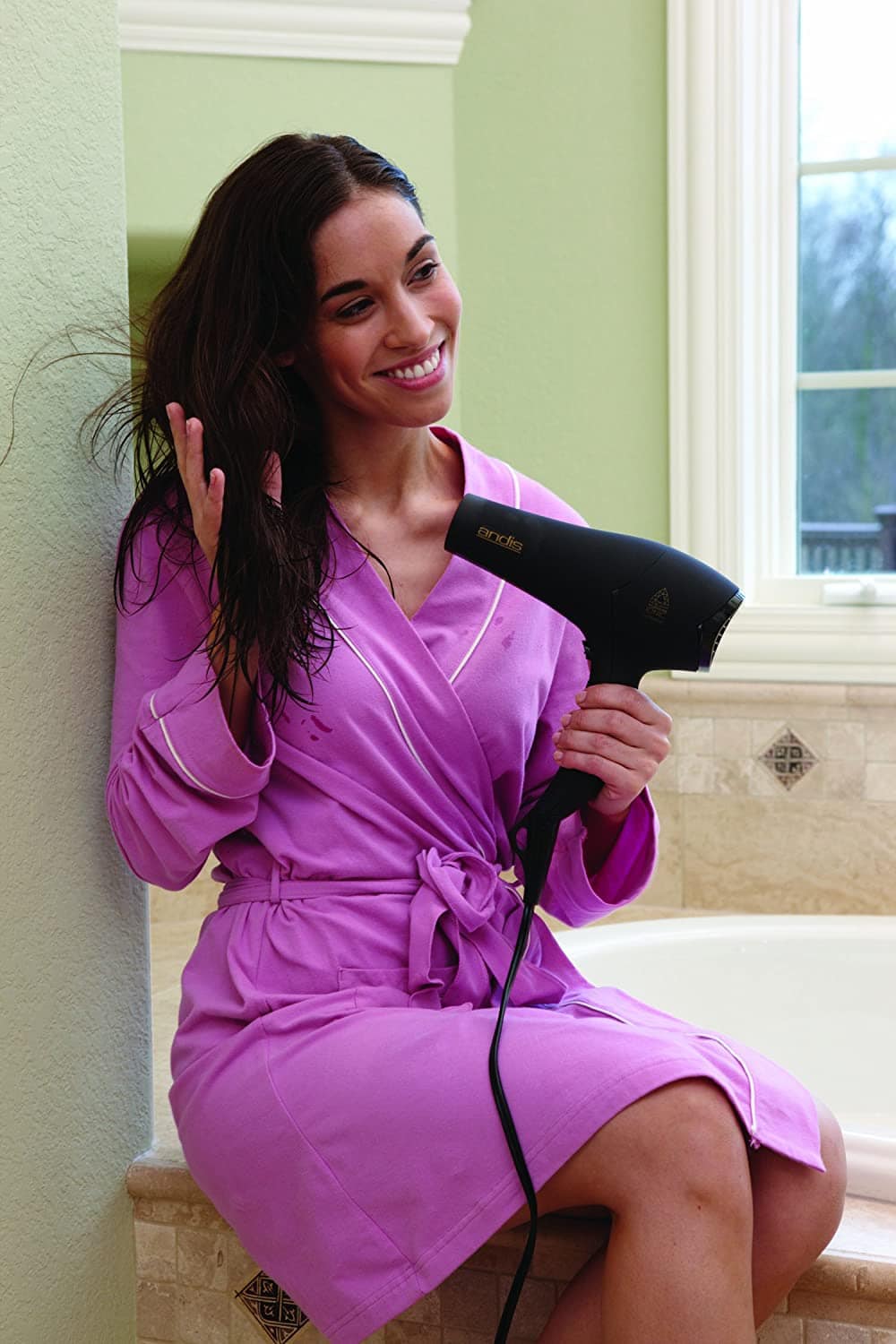 Bottom Line Up Front
I get it! Finding the perfect haircare product that's effective and matches your hair type is challenging. But that's why I'm here, to help ease that buying process. So, there's no such thing as the ideal blow dryer with a comb attachment. You should choose the one that matches your locks the best. Here are my top picks based on how your strands are:
Fine, straight, or thinning hair – Xpoliman Pro Ionic blower due to its effective straightening comb attachment;
Curly locks – the Nition ceramic hair dryer due to its wide diffuser;
Thick and frizzy hair – Conair 3-in-1 dryer due to its specialized combs and brushes attachments;
The most versatile and multi-purpose model is the Revlon Hatchet dryer, which is suitable for all hair types and comes with three different comb patterns.
In terms of things to keep in mind, you should consider the following aspects:
Choose a blow dryer with a comb attachment that matches your hair's needs;
The best types are those made with tourmaline or ceramic;
I would always opt for an ionic tech-based blow dryer;
If possible, look for a dryer that releases keratin every time you use it;
Consider other needs you may have: compact designs, portable and lightweight options, etc.
My selection criteria: I've picked those hair dryers with comb attachments that have shown effective results in terms of defrizzing one's locks and, more importantly for me, that helped me boost my hair's volume. Another aspect I've considered was the damage-free feature of these products because we all want to avoid breakage.
Best Blow Dryer with Comb Guide – Top 8 Options to Consider + BONUS!
As I said, these blow dryers are effective and popular, but they're not perfect (I will detail that in the pros and cons sections). However, I've listed them randomly.
Tourmaline Ceramic Hair Dryer by Andis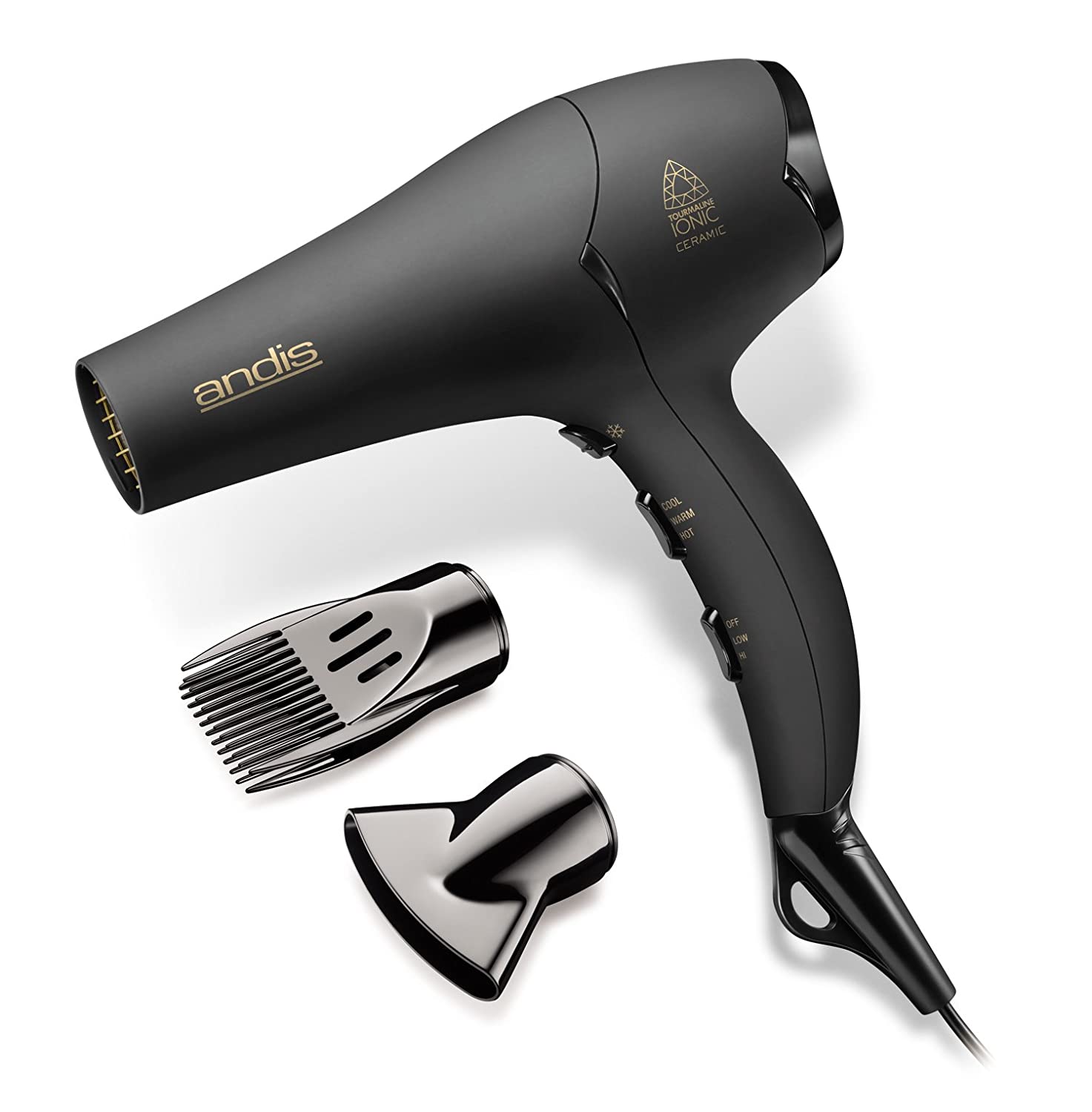 This Andis ceramic dryer has two primary attachments: a concentrated nozzle and a comb. I love this dryer's compact and portable structure, which makes it ideal for traveling. Its elegant and sleek design, while its attachments are easy to put on or remove. The Andis blow dryer is suitable for all hair types and has a soft, non-slip grip.
Pros
It's a ceramic tourmaline dryer that acts gently on your hair;
It has an ergonomic design which makes it easy to handle;
Quiet and effective;
Lightweight;
I love its available color choices: glamorous purple, passion red, and classic black;
You'll achieve a quick dry.
Cons
I find the buttons' placement a bit awkward since they're exactly where I keep my hand wrapped around the dryer;
The plastic outer body isn't the most durable.
Nition Ceramic Hair Dryer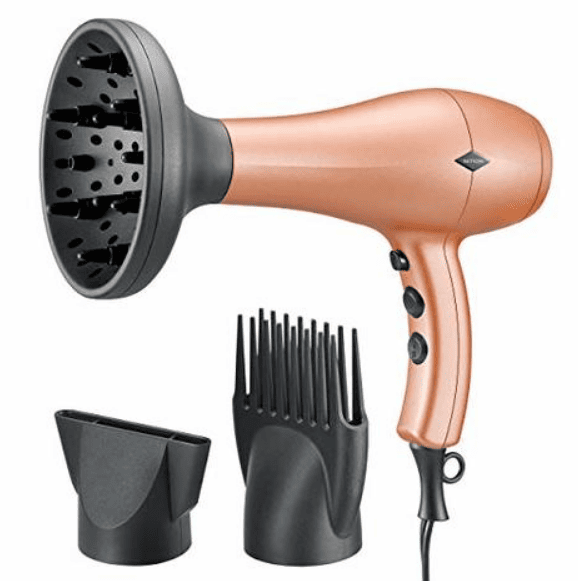 The Nition hair dryer has three interchangeable comb nozzles. Their most significant feature is the anti-static one. It provides quick drying and comes with three heat settings. I was impressed with its curved and ergonomic body and the blower's large diffuser. There are two speed options you can choose from. Moreover, this hair dryer relies on negative ions, which protect your locks and help you achieve defined hair strands.
Pros
Lightweight and ergonomic;
The comb attachment defines straight hair;
The most important advantage to me is the outlet grill coated with a mix of tourmaline, nano silver, and argan oil. These elements will make your hair smoother, healthier, and shinier;
Great for frizzy hair and curly, coarse locks.
Cons
The comb attachment works excellent on wavy or straight hair but is less effective on curly tresses;
You must handle it with care to prevent the accessories from falling off.
Kiss Tourmaline Ceramic Dryer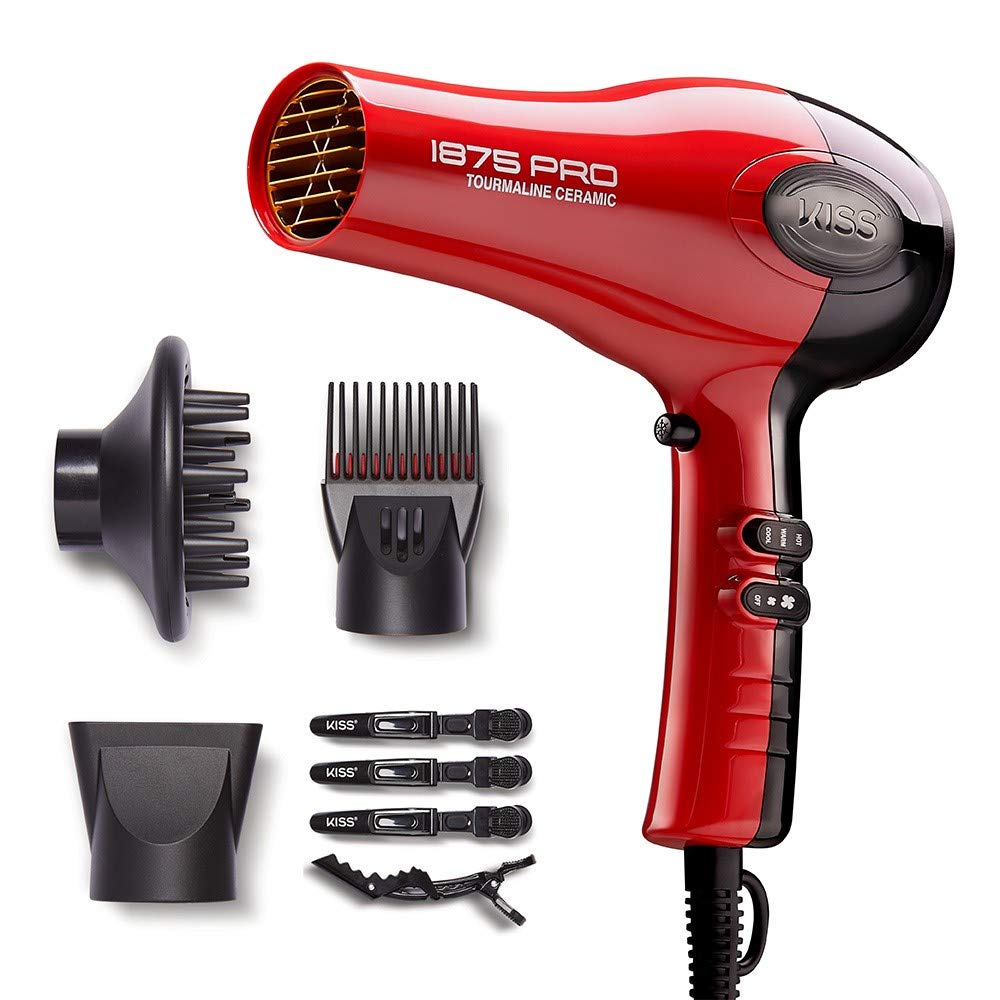 I love the passion-red color of this Kiss blow dryer. It has many wonderful accessories, including a diffuser for curly hair, a concentrated nozzle, hair-parting clips, and a detangling and straightening comb attachment. While the handle isn't as ergonomic as the ones of other models, I love this dryer's vibrant red color.
Pros
Suitable for all hair types;
It comes with many excellent attachments and accessories;
Cute design;
Ceramic tourmaline technology;
I am pleased with how the detangling comb works. It helps you obtain a silky hairstyle;
It eliminates frizzy hair and boosts shine.
Cons
Not as powerful as other blow dryers;
Poor button placement on the handle – your hand will go right over them, and you could press them by mistake;
Not that long-lasting.
Revlon Styling Hatchet Dryer
The name of this Revlon hair dryer and its particular design intrigued me, and I wanted to learn more about what it can do. It's small, compact, and lightweight, making it an excellent travel option. In addition, I love this dryer's two styling settings: volume and smooth. You can choose either of them based on what type of hairstyle you wish to achieve.
Pros
Affordable;
Compact and portable;
Modern, almost futuristic design;
Ions that will coat your hair strands for protection and strengthening purposes;
Three interchangeable hair combs, each with its own function: styling control, detangling, and smoothing;
Frizz-free results.
Cons
Not that long-lasting;
It dries my hair quickly, but the dryer's body overheats faster than expected.
3-in-1 Blow Dryer by Conair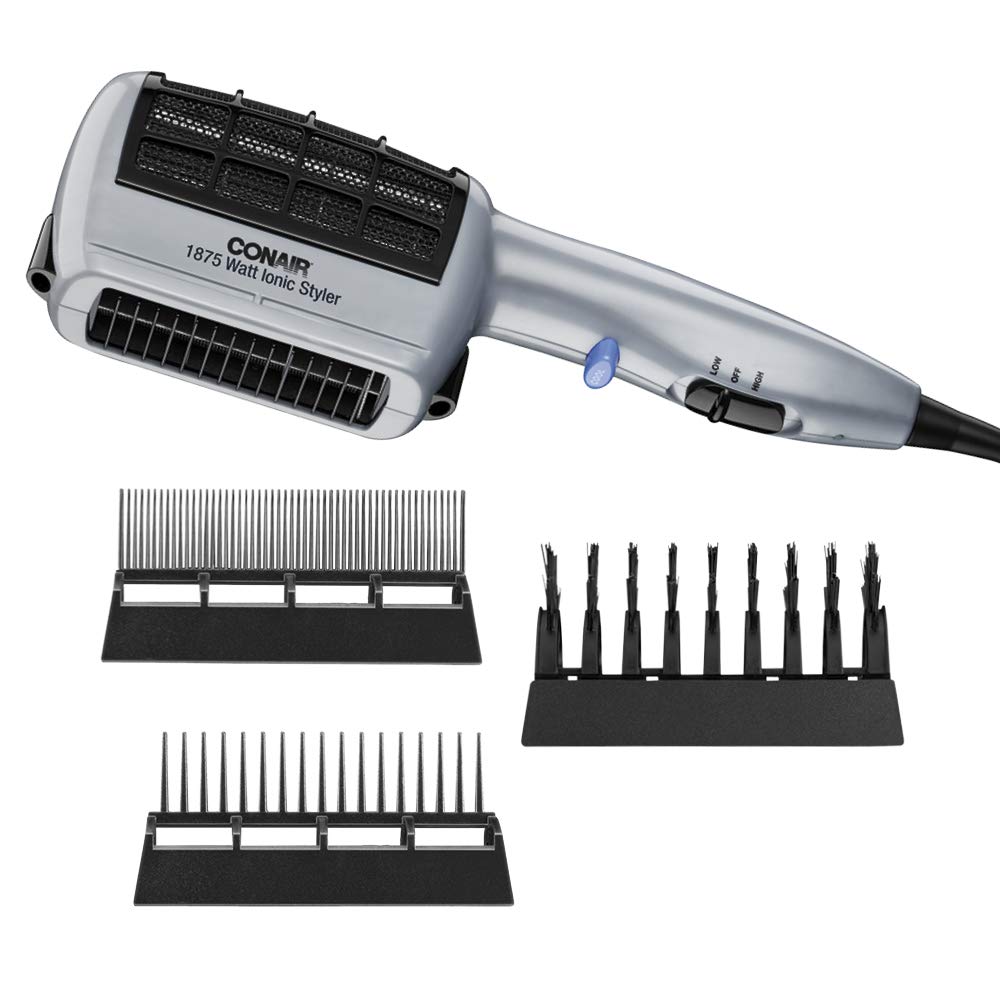 I really like the Conair 1875-watt dryer due to its versatility. It's a 3-in-1 type of dryer that fights against frizzy locks. I find it very similar to the Revlon Hatchet dryer in terms of design and attachments. You could say that this is Revlon's budget-friendly alternative. This is also focusing on the well-known ionic technology that tames hair flyaways.
Pros
Three comb-like attachments;
Shinier hair and easier styling;
Less frizz;
You can use one of the three comb attachments to either create wavy hair and boost volume, smooth and straighten your locks, or detangle your curls;
Great for travel.
Cons
You must make sure the attachments are well-fixed and in place. Otherwise, they tend to fall off quite easily;
Not suitable for coily hair since the combs aren't strong enough to detangle the 4C hair type.
Pro Ionic Hair Dryer by Xpoliman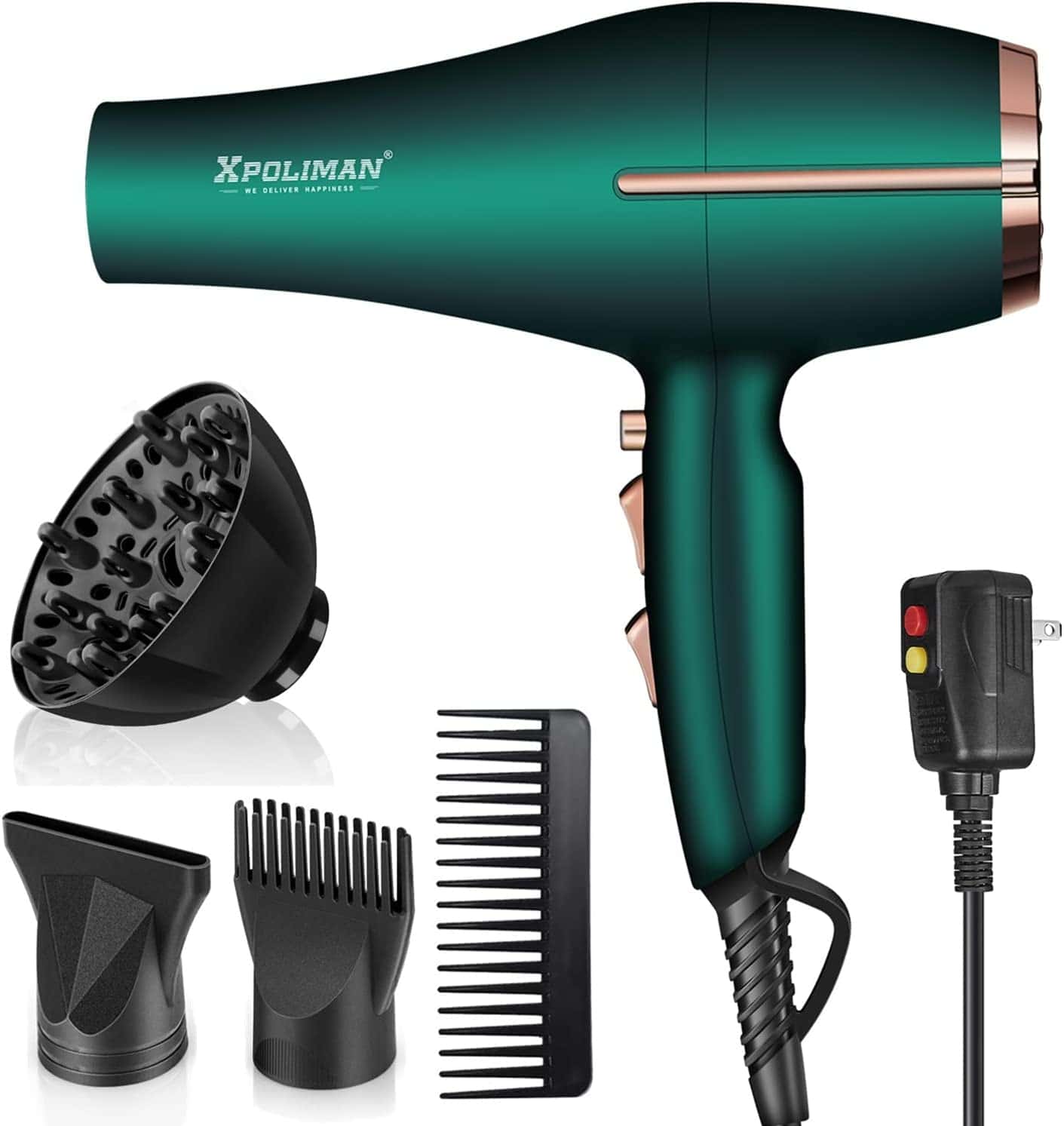 This Xpoliman hair dryer looks so glamorous with its satin green body and gold accents. It comes with both a comb attachment and a regular comb. The design and its functions are meant to help you achieve salon-grade hairstyles. Many hairdressers use this blow dryer on their salon's clientele.
Pros
One of my top favorite choices in terms of design and wide range of attachments;
Fast drying;
Quick styling;
Easy to clean due to its removable air filter;
Very long power cord – 2m;
Your hair will become glossy and supple;
Curved design for better grip;
Depending on your preferences, you can also opt for a grey or dark blue color.
Cons
The comb attachment might not be suitable for coarse hair;
The attachments might fall off during the hair drying if you have thick locks.
Funtin 1800w Blow Dryer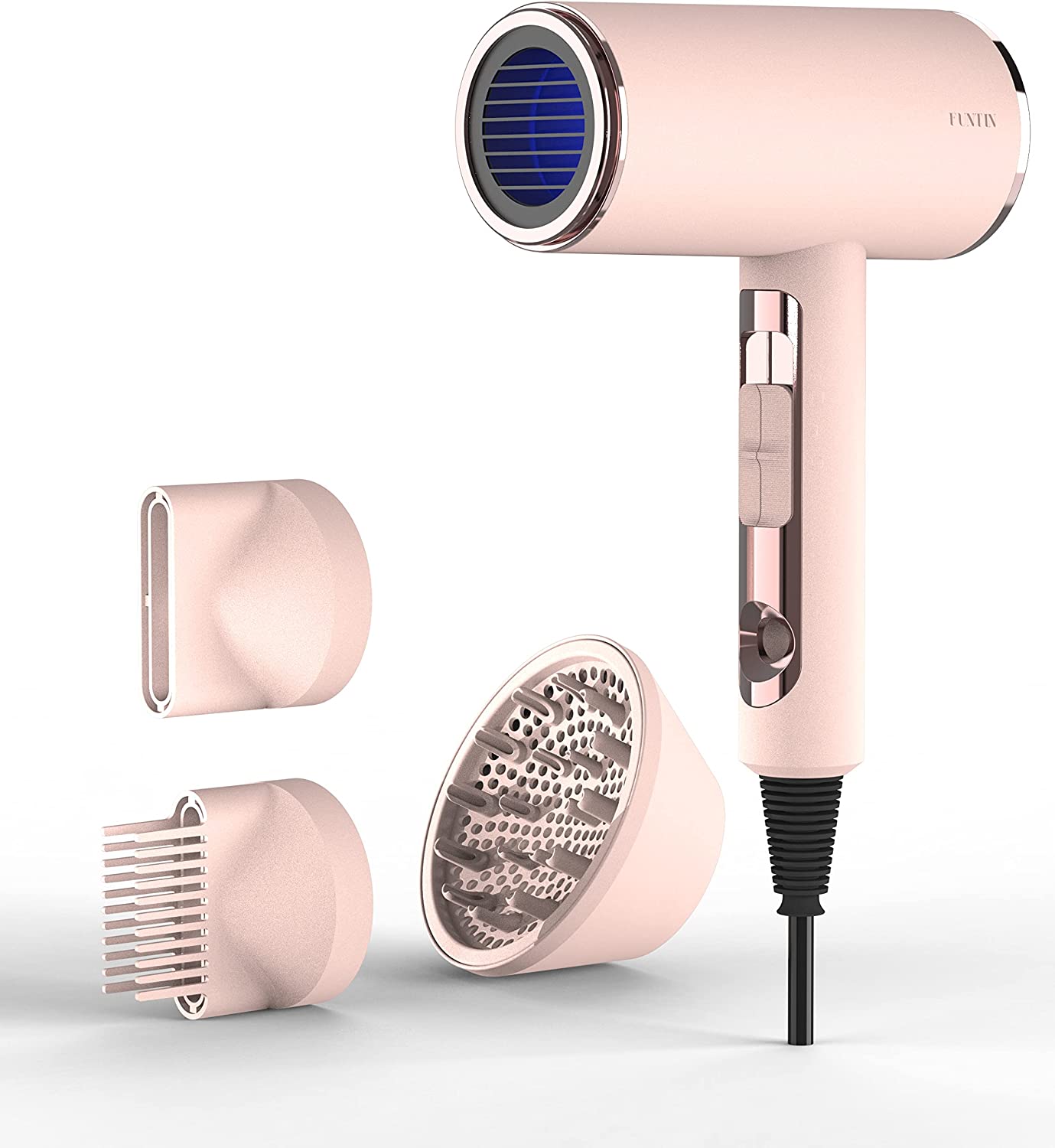 What's not to love about how this Funtin dryer looks like, with its baby pink color and its compact and appealing shape?! It's the perfect choice for thick, curly hair. I find this product so sweet and cute, not to mention it's lightweight and portable. This dryer comes with three attachments, and you can opt from three available colors: baby pink (my favorite), rose black, and tifunny blue.
Pros
Dries your hair quickly and effectively;
Great for thick and curly locks;
I love its minimalistic design;
Large air volume;
Powerful and lightweight;
Durable comb bristles.
Cons
It's hard to hold it since the finish is too smooth;
At first, it tangled my locks until I managed to hold them properly.
Hot Tools Hair Dryer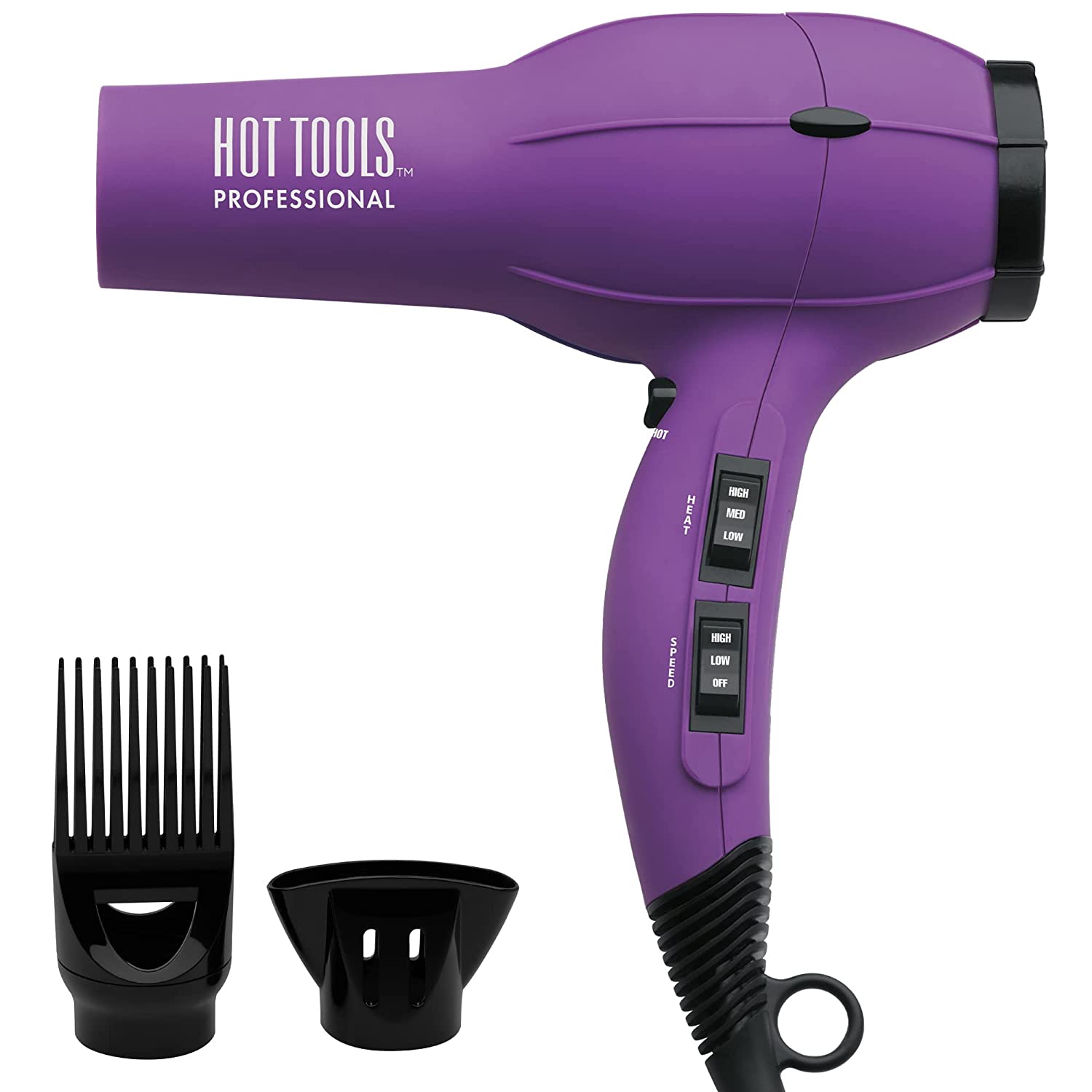 If you're a sucker for bold and vibrant colors like me, you'll definitely love this Pro Artist Turbo dryer made by Hot Tools. It features a lovely and magnetic velvet purple color. This dryer relies on well-known and safe ionic technology, which reduces frizz and improves your hair's health. It's a long-lasting blow dryer that many hairstylist use.
Pros
Excellent and effective regardless of your hair type;
Impressive design;
Less frizz, more shine;
Durable;
Long-lasting results.
Cons
I don't like where the control buttons are located;
The comb bends a bit too easily.
Bonus Option! SmoothStay Coconut-Infused Dryer by Revlon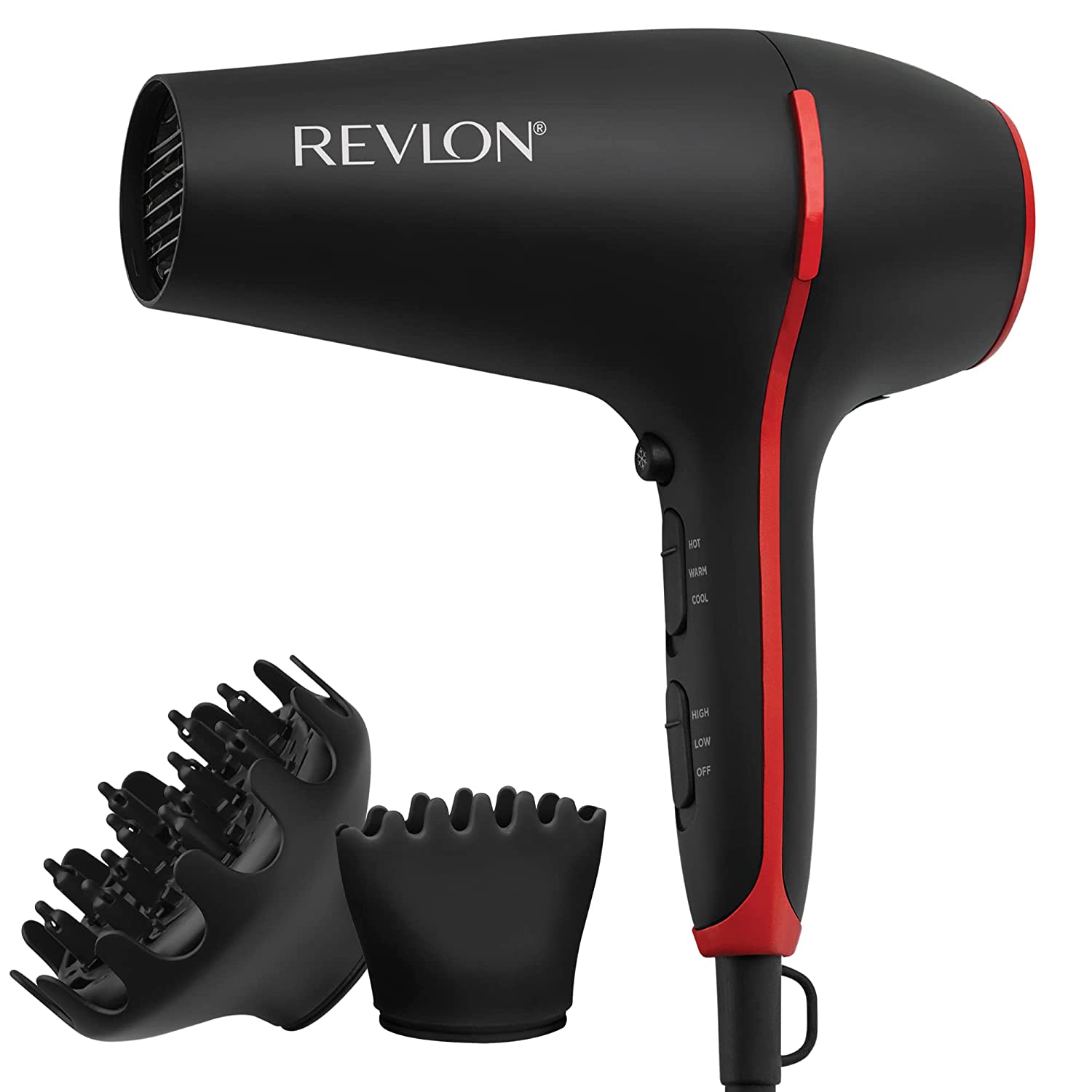 I thought long and hard about whether to list this product or skip it. But after I saw what it could do, I couldn't help but include it in today's list of the best hair dryers with comb attachments. This Revlon hair dryer makes my hair so much smoother and shinier. It almost feels like a moisturizing tool due to its coconut oil infusion.
I was impressed by the dryer's comb attachment, which is incorporated into the product's concentrated nozzle. It's practically a hybrid, a mix of both a comb and a concentrated nozzle.
Pros
Super cute and elegant design;
The comb-nozzle hybrid attachment is intriguing interesting – never seen one like it before;
Improves your hair's shine while taming frizz;
Provides plenty of styling flexibility and versatility;
Ceramic tourmaline ionic technology.
Cons
This comb attachment might not be strong and effective enough if your hair is very curly, coily, and coarse;
It's pretty loud, and the plastic feels a bit cheap.
Best Blow Dryer with Comb Guide – How to Choose One
You probably think searching for a blow dryer can be time-consuming and stressful. And you're right. It can be if you're not equipped with what it takes to go through all the buying phases like a pro. For that reason, I've detailed some essential aspects you should consider when looking for a blow dryer with a comb attachment.
Watt Power
A quick hair dry requires a powerful dryer, which translates into a higher watt power. However, those with brittle or dry locks should opt for a watt power that ranges between 1800 and 2000. If your hair is longer and thicker, you should choose a higher power than that.
Hair Comb Attachments
The more attachments a dryer comes with, the better. You'll be able to style your hair more easily and in more than one way. Most dryers come with a diffuser and a concentrator nozzle, but you should pick those with comb attachments if your tresses get tangled after washing them.
Quality and Materials
Quality is of the essence and mainly given by the dryer's materials. I bet many of you had had a blow dryer made of plastic that felt cheap when you were using it. Fortunately, nowadays, dryers feature more effective modern technologies sustained by high-tech fabrics that are truly revolutionary. Ionic technologies, ceramic, and tourmaline are the ones you should look for.
Ionic blow dryers are great for those with frizzy hair since they close the strands' cuticles and help you achieve a sleek blowout. For thick or frizzy hair, ionic dryers should be your to-go option. On the other hand, I couldn't achieve a significant and volumized blowout with this dryer type because it's not suitable for flat or thin hair.
The next level from ionic dryers is the tourmaline-based alternative, a semi-precious metal that enables boosted negative ion production. Ceramic hair dryers, also known as porcelain dryers, act gently on your hair, making the heat and airflow consistent. They also dry your locks quickly and are perfect for fragile ones.
Finally, dryers made of titanium optimize all the item's functions, including drying speed, temperature consistency, and heat distribution. Still, the airflow's temperature increases because of this metal. Therefore, titanium dryers are great for strong, healthy, thick hair, while those with brittle tresses should avoid them.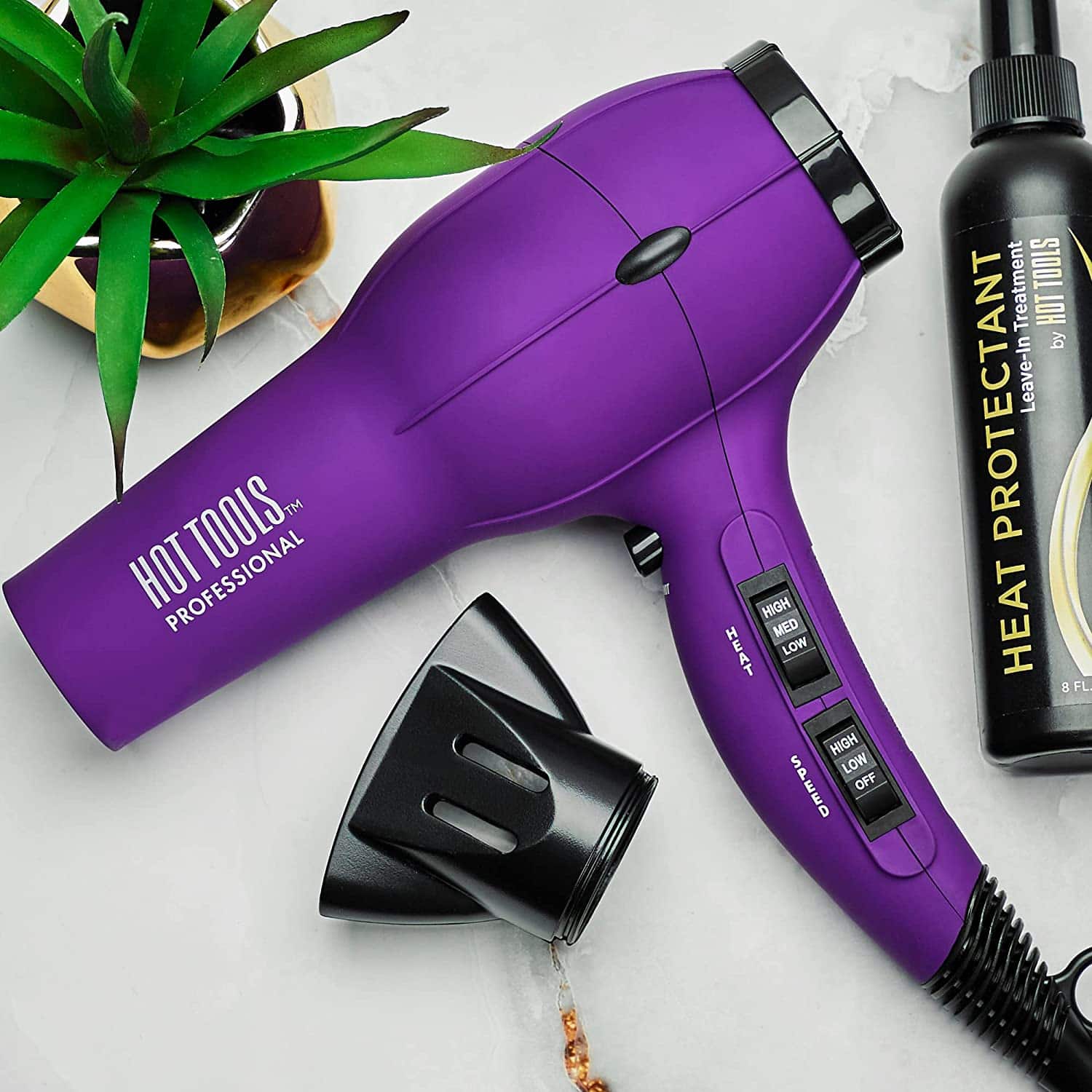 Ergonomic Design
It should be comfy and easy to hold and handle a blow dryer. That's the case with ergonomic-shaped hair dryers with curved handles and lightweight designs. The button placement is also essential if you want increased convenience. It should be easy for you to reach the control buttons while you're using the dryer. Foldable options and retractable power cords come in handy if you want a travel-friendly hair dryer or a product that's easy to store.
Hair Dryer Types
Your best friends in terms of blow dryer types are ceramic and tourmaline. These two technologies will make your hair smoother and frizz-free. Ceramic blow dryers allow users to control the airflow's temperature much easier than other models. Tourmaline seals your strands' cuticles by keeping moisture locked in.
Here are the main hair dryer types:
Ceramic – even heat distribution and gentle on your hair;
Titanium – faster dry, more lightweight, and less hair damage;
Ionic – hair health preservation, less wear, quick dry;
Tourmaline – infrared heat that seals your locks' cuticles, making them shinier.
Size and Weight
The best hair dryer is a compact, foldable one that's easy to store or pack when traveling. Obviously, the foldable part doesn't mean you should compromise on quality and effectiveness. Smaller and more lightweight dryers are preferable. Nowadays, small dryers don't necessarily mean less powerful items.
Heat Settings
A good dryer should feature at least three heat settings: high to low, with the medium option in between. Also, if your hair is thick and coarse, you can safely use the highest heat setting. But lower temperatures keep your locks healthier by preventing hair damage.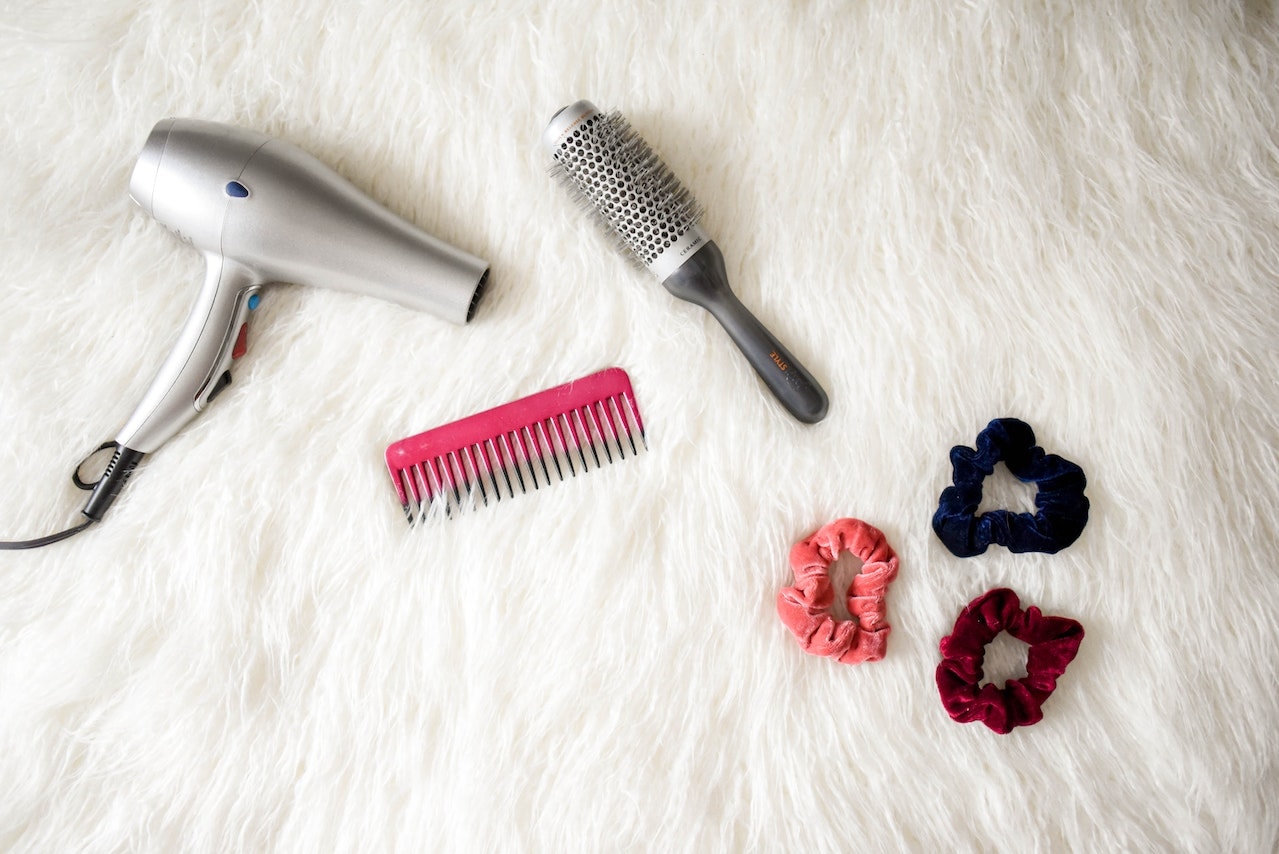 Best Blow Dryer with Comb Guide – FAQs
Question: Why Should You Buy a Hair Dryer with a Comb Accessory?
Answer: A comb attachment on an effective blow dryer helps you detangle your locks while drying them at the same time. It can also define curly locks and help you eliminate flyaways or frizz.
Question: Could Comb Hair Dryers Damage Your Tresses?
Answer: As long as you use them correctly, your locks will be just fine and damage-free. In fact, dryers with comb attachments are a lot safer and more gentle than other straighteners since they don't tug, break, or pull your hair.
Question: Can You Safely Use a Comb Blow Dryer on Wet Hair Strands?
Answer: I avoid using this item on my freshly washed and completely wet hair. Instead, I dry my locks a bit using the concentrator nozzle before replacing it with the comb accessory. So, it's best to use the comb attachment on damp hair rather than wet.
Final Thoughts
Choosing the best blow dryer with a comb attachment can be fun and less stressful if you know what to look for. That's why I've detailed a brief yet helpful buying guide and some of my favorite hair dryer options that are effective and most likely won't disappoint you.
Comb attachments on blow dryers come in handy if you want to style your hair, but you're new at this. The main advantage is that you won't need to use additional brushes or other styling items that are separate from the dryer. My hair gets quite tangled after almost every wash. So, I need a dryer with a comb attachment to detangle any kinks or knots I may have.
My favorite blow dryer with a comb attachment that's also suitable for my fine, thin hair is the Xpoliman Pro Ionic blower because its comb accessory helps me detangle my strands.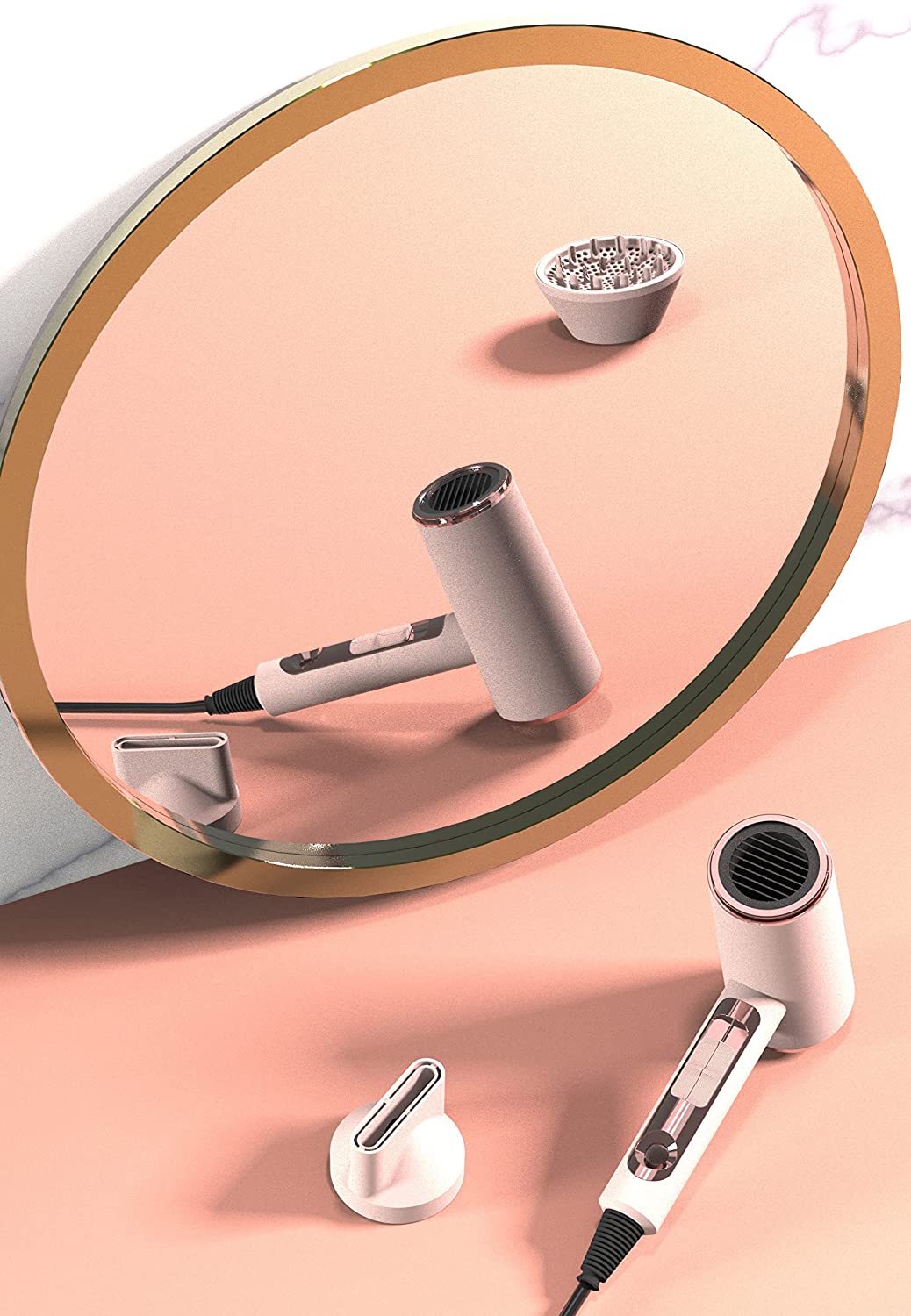 Other useful reads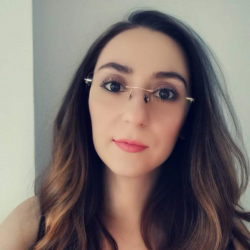 Latest posts by Alexandra Gavrilescu, Home Hair Product Tester
(see all)