E-girls have been around for quite a few years (notably, Doja Cat is the most prominent figure under this umbrella). While we're currently seeing a decline in the e-girl trend, as minimalism and colorful styles are coming in, the styles can still be rooted in the wildly popular e-girl of years past.
E-girls have changed from when we first were introduced to them. Rather than mimicking anime girls and their facial features, it's now a blend of pop punk culture: the makeup that ranges from crazy liners to soft angelic looks, the intense blush, and, of course, the colorful, unique hair at the center of it. The most important part of e-girls is their hair.
But why am I the one who's telling you this? Because I'm chronically online and follow everyone under the sun who's ever been birthed near a trend. But also because I've been doing my own hair in funky ways for seven+ years now, more recently getting all of my hair inspo fromTikTok. I've already done most of these styles on this list, and they're all fantastic and won't make you say in ten years, "yikes, why'd I do that?" Instead, you'll look back and think, "daaang, I should do that again," and that's the goal, right?
But You Still May Be Thinking: What Is an E-Girl?
It's hard to explain; even Google won't give you a straight answer. But basically, e-girls (or e-boy or e-them) are people who take inspiration from scene kids, goth styles, emos, and Japanese streetwear (streetwear in general, but especially Japanese) and blend it all together into this black and pink aesthetic. It's the modern emo, with more games and less music.
Bottom Line Upfront
You may look at popular e-girls and wonder how they change their hair so often. Well, they usually don't—often, they wear wigs to change up their hair a few times a week or month, so going forward in the article, don't feel pressured to try everything or feel like you need to. Protect your hair.
Other than that, today I'm covering the most popular or unique e-girl hair colors and styles, which will include a range from minimal damage dyes to hair colors that require more bleach and care, as well as styles for any hair type and length. Don't worry! There will be a color and style for you and your specific needs. I will also cover the basics of applying the hair dye and the best brands for each color and style.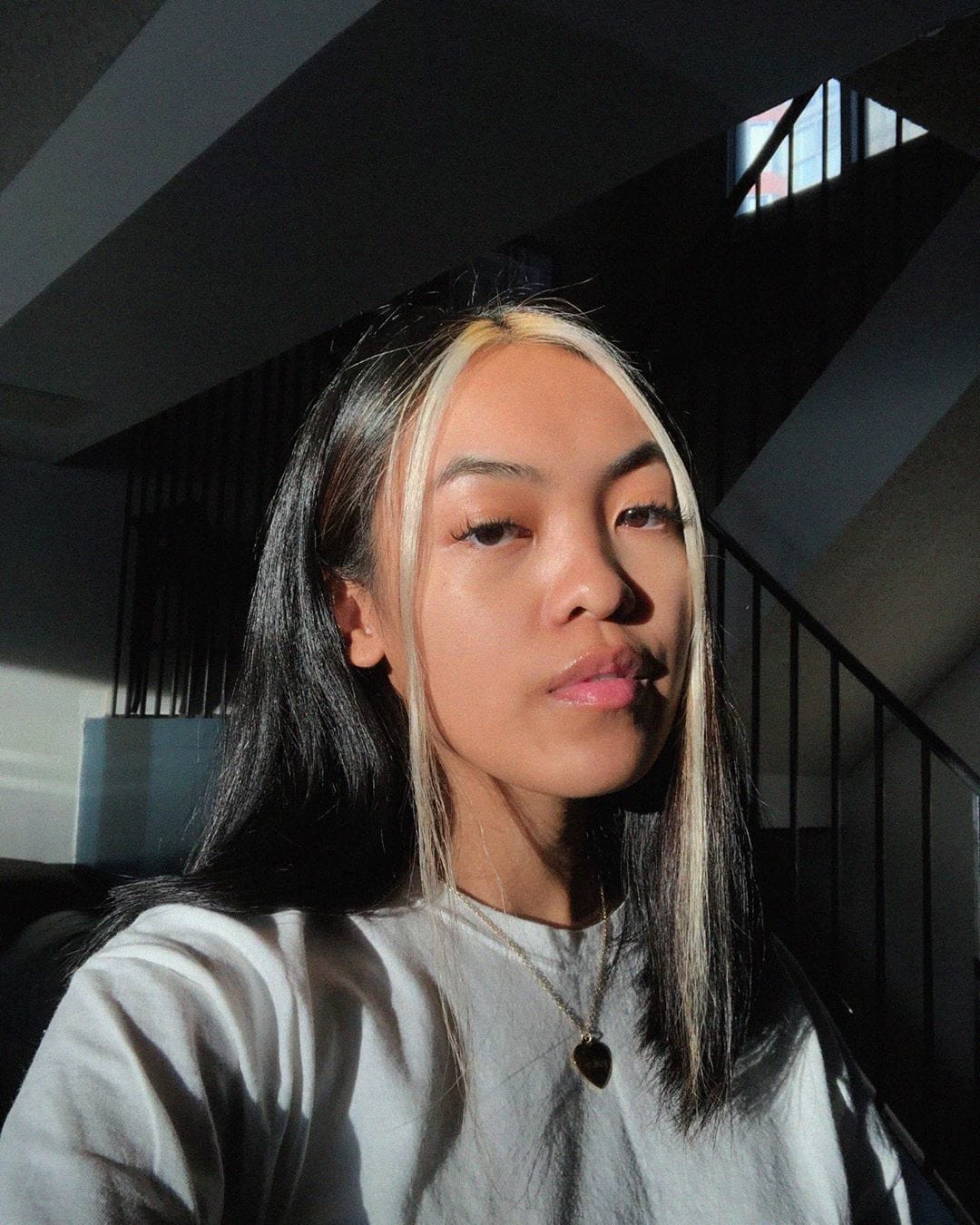 Tips
Getting inspiration can be challenging, but if you look in the right places, you'll have endless tutorials and hair color ideas. I get my brand recommendations and color ideas from TikTok and Instagram, mainly from small hair stylists specializing in vibrant colors or emo/e-girl hair and at-home artists experimenting a lot.
This is where you really get the new styles and guides. E-girl styles change daily, and the term e-girl expands frequently. So keeping up with the trends and being ready to change your hair is essential to get the look. Also, look up and follow Japanese hair stylists, as they make many of the popular e-girl hairstyles and colors.
Selection Criteria
I'm chronically online, and specifically chronically online in the hair scene. Wigs, color, cutting… it's at least half of the content I consume. Here are my selection criteria for the recommendations in this article:
Should be seen on more than one person
Not required, but I should have seen the color or style at least twice
Not a generic color that everyone is doing, like ombre or blonde or black
Can be done at home without a professional
Split Hair Dye
This style is probably the most popular hair color with e-girls, emos, and queers alike. Split dye is where there are (generally) two colors split down the middle. Some people do more colors in the split itself. The most common colors in a split dye are black and pink (like Draculaura from Monster High) and green and purple.
As seen on: Melanie Martinez famously has had split dyed hair for most of her career, in many different colors as well, but the longest-lasting was her black and pink combo. This hairstyle works extremely well with her babydoll aesthetic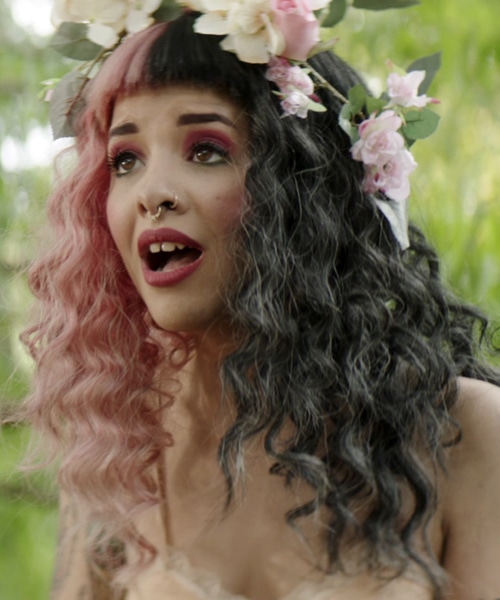 What to use: You want a dye brand that isn't runny or will easily bleed into the other color, especially if they're very opposite colors or a black and blonde split. Formulas like ion are extremely thick (maybe too much so), but that formula makes it extremely easy to apply a crisp line.
How to apply: This is a hard color to dye but easier to upkeep once it's done. Bleach isn't always required, but obviously, for lighter color combos, it is; it's even more important to keep the bleach away from the other side because accidentally getting some of the opposite side of a split dye can result in an uneven result. Take your time, get a friend if you can, or use a hand mirror to check the top and back of your head while applying.
Get a rat tail comb, split your hair down the middle, or where you want the section to be, and slowly apply one color with a dye brush. Go all the way down to the nape of your neck, then apply the other color to the other side. After you've applied to the roots in the middle, the rest should be easy, and rinsing out isn't hard either. If it's a similar color, you can wash it all at once; if it's not, you can rinse one side entirely, clip or tie back, and then rinse the other.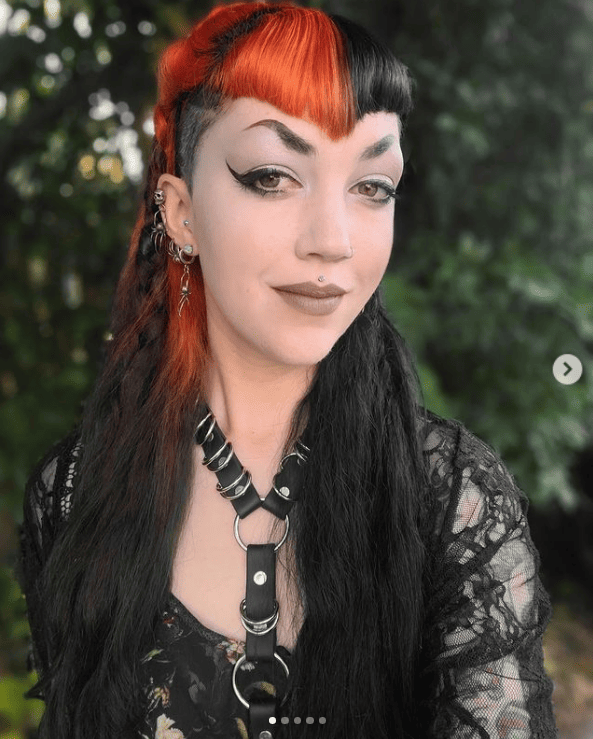 Pros
Very trendy and has been for years
Can do many different color combos
Easy upkeep once it's done for the first time
Cons
Can be difficult to apply
Easily messed up and not easy to fix
Not the easiest to get rid of since different colors bleach out or fade out differently
Skunk Stripe
This style features a color combo that truly is limitless. I have had this style for a year or so. It consists of the main color in most of your hair, and a stripe in the middle or side of the front of your hair. A skunk stripe is an excellent option for people who don't want to bleach all of their hair or are scared of bleach in general.
You only dye an inch or so of hair, so it's a straightforward fix if it doesn't work out. It's also easy to touch up. This is the easiest color on this list for the best payoff. It's also a timeless style; you *probably* won't look back and think, "oh no." It works perfectly for any hair type. I have a small fro, and it looks incredible when picked out.
As seen on: Dua Lipa had a blonde/black era for two albums, and her hair took the internet by storm. I remember seeing post after post about her hair and how she did it. She had more blonde than a small stripe, but it was still very similar to the style we know and love today.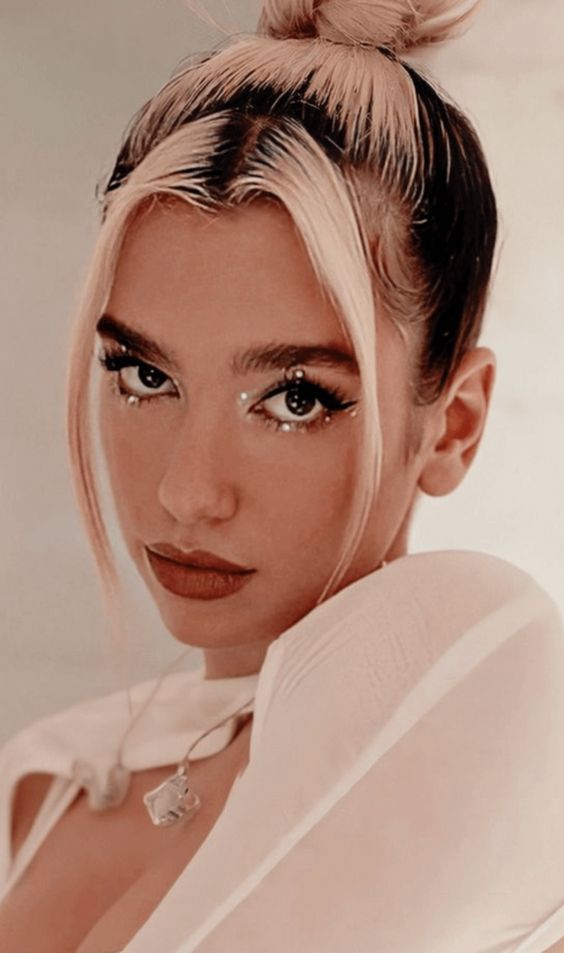 What to use: The stripe can be any color, but you'll have to bleach it first unless you use a dye that uses developer. For the most effortless application, I recommend Manic Panic's "Flash Lightning" bleach kit, and for a color that'll lighten for you, I recommend ion Inspired by Nature.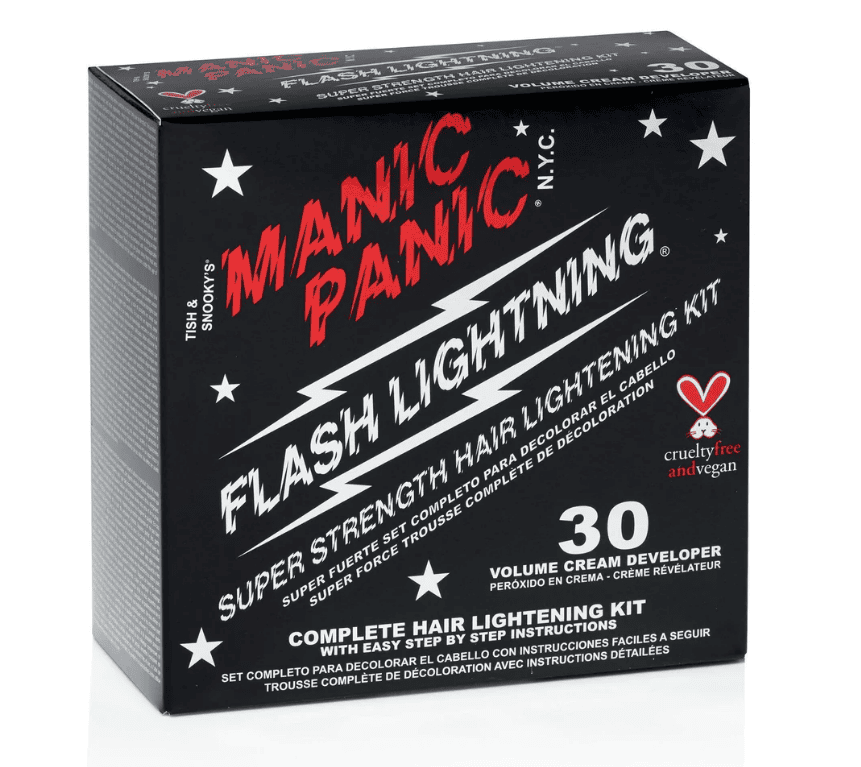 How to apply: section the hair that you want to be dyed out and tie or pin up the rest; apply with a dye brush for precision.
This color is extremely easy to apply, and upkeep is minimal. If you don't like your roots showing, you'll need to dye your hair every other week to keep up, but the sections are usually extremely small, so it's still a great lazy hair color. This is also the cheapest option, as one dye tube will last you two-four applications, if not more.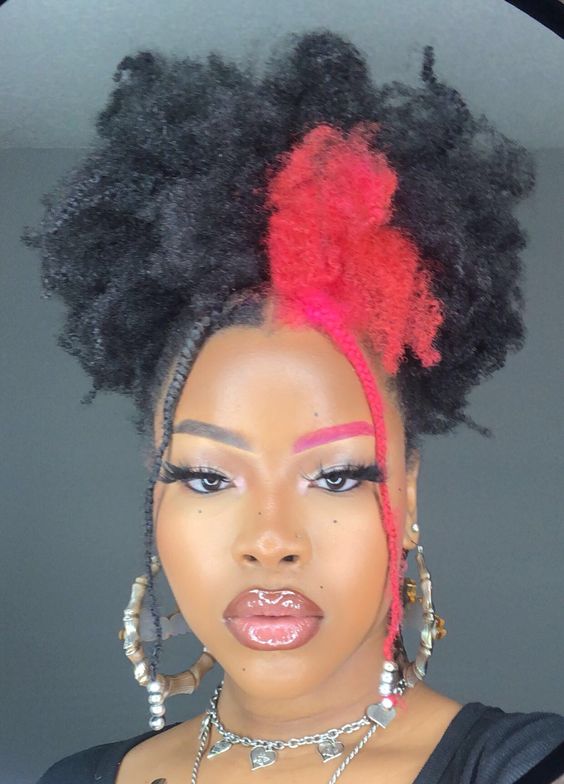 Pros
Easy application and upkeep
Less commitment than most hair colors
Can easily change the color
Would only cause damage to a small part of the hair
Cons
A tame look compared to others on this list
While still in trend, it's been around for a while, so it could go out of style soon
Not a flashy look if you want something that people will notice
Yellow
Bright yellow hair dye is getting extremely popular, especially on TikTok, with musicians and artists alike. A very vibrant yellow and pastel yellow are both being seen quite a bit, as well as using them as complementary colors (like in a skunk stripe and rainbow hair).
Yellow hair takes a lot of effort; you'll need a very light hair base before adding yellow, so your hair has to be healthy, and your hair has to be bleached—even if you're a light blonde. Yellow can also fade fast, depending on the brand and how long it's left on while dying. It's a weirder color, and isn't a hair color you'd find easily at any store.
As seen on: When I think of yellow hair, I think of Lady Gaga. Not only did she sport a yellow ombre look in the Telephone music video, but also at the Grammy's, in one of her most stunning looks. She's known for crazy hair and experimenting, so it wasn't a surprise to see her rock the yellow, but what was a shock is how many people followed in suit of her color. The blonde yellow is now a staple in her look, and many others.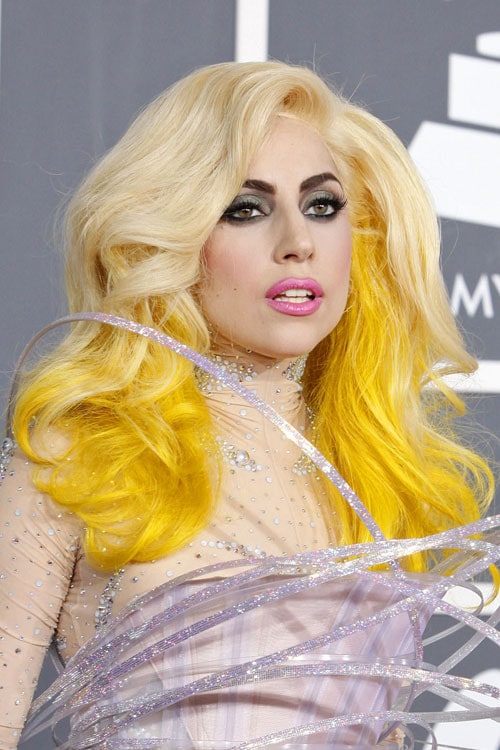 What to use: Arctic Fox in cosmic sunshine, Lunar Tides in citrine yellow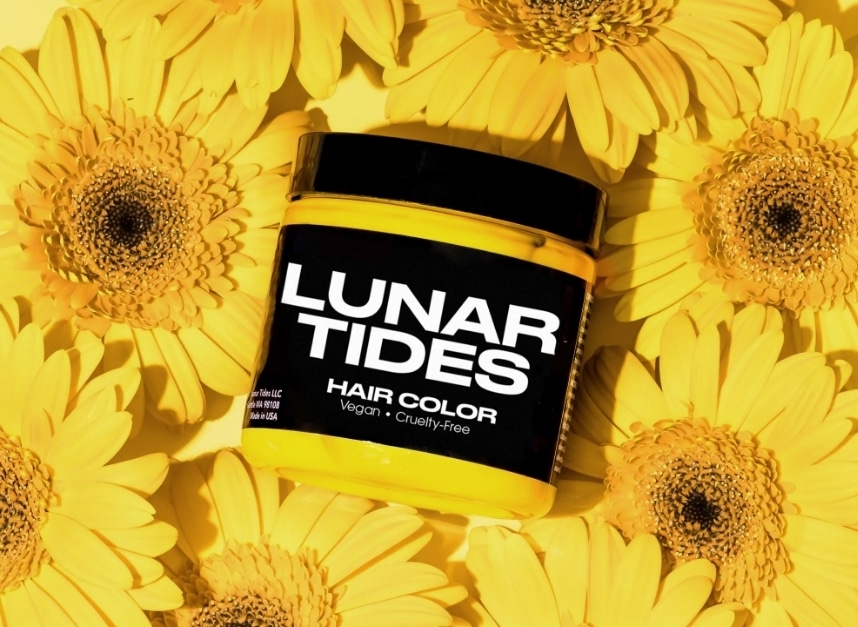 How to apply: After bleaching, I recommend using your hands to apply a yellow dye, but a brush is always recommended for a more precise color application.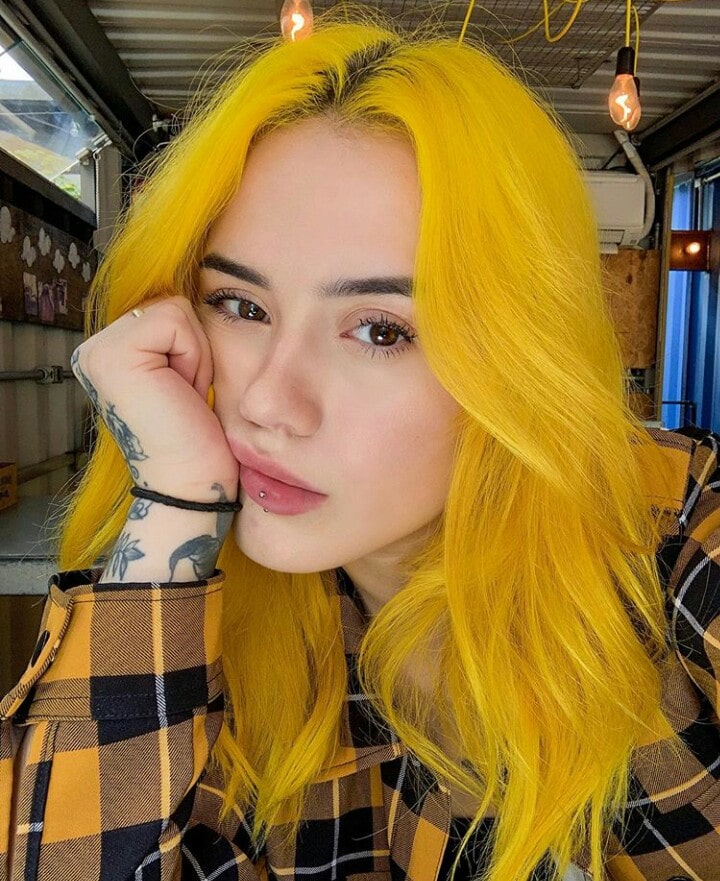 Pros
Unique color
Starting to trend with the e-girl and fashion community, so you'd be a trendsetter
Bright and vibrant
Yellow tends to fade very nicely, so you might not have to re-dye often
Cons
Can take a lot of dye and effort to achieve this color
Doesn't fit everyone's skin tones and undertones
Color isn't easily accessible
Hot Root Color
Popularized by Billie Eilish with her bright green roots and black hair, people are now making this style with any color. I often see pink and blue roots, but green is still the most popular. This style has been around for a year or two since Billie debuted it, but I'm seeing more and more people with it, which offers a surprising and unique look. Dying only your roots also means you won't have to bleach all of your hair (just the roots and a few inches down), so you'll get less damage than a full bleach.
As seen on: Billie Eilish! She had done some other colors before, but this was easily the boldest hair color she's done to date. While the internet wasn't obsessed with the look at first, it wasn't long until hoards of people showed off their version of this hair color, and while this style is in Billie's past, it's still just as popular than when it was debuted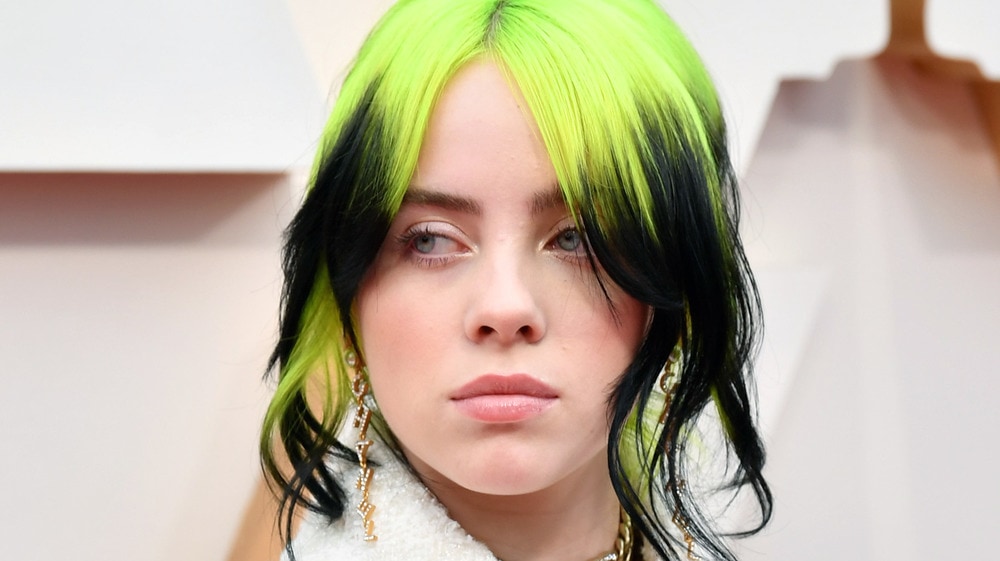 What to use: No color-specific dye recommendations here, but I think the best brands for this style are Lunar Tides, Iroiro, and Adore.
How to apply: Bleach the roots down to where you want the new dye color to stop. Apply dye quite carefully with a dye brush in small sections, making sure not to apply to your normal shade of hair/ where you don't want the dye to be. Because of this, you should be extra careful and only use a dye brush or carefully use your fingers
Colored roots, aka hot roots, can be a challenging dye process to do on your own, but with some time and patience, it'll work out great. Now, this hair color needs a lot of tending, as you need to keep on top of the new growth of the roots so it doesn't just look like a band of color around your head.
If you want to be even more careful, apply a cm or so away from the actual roots and go back in to cover them after you're finished for a more even bleach. If you're using a color with developer, you won't need to do this.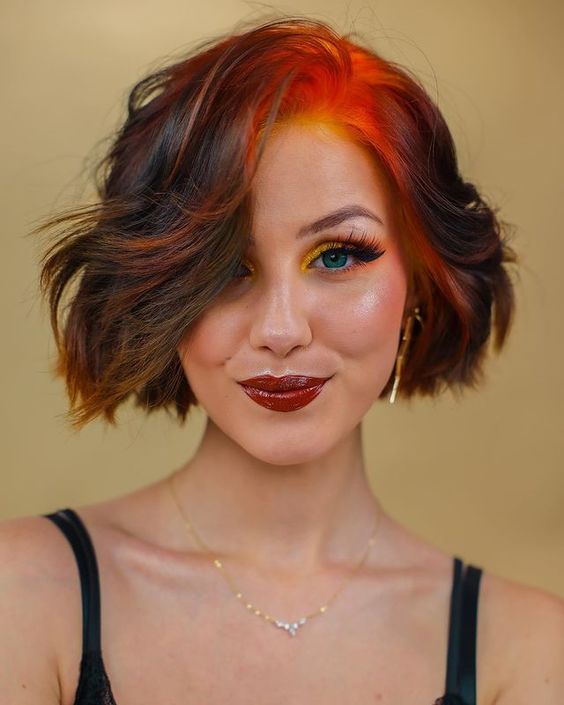 Pros
Can be any color
Can easily be removed if you want a different color overall
Minimal time for bleaching since it's on the roots, and roots bleach faster due to the heat from your head
Cons
Can be a lot of upkeep
While still trendy, this might go out of style soon
Shaved Head with Designs
I feel like I'm seeing this style everywhere, probably again, most notably in recent years by Doja Cat. A shaved head with bleached blonde hair has been around for a long time, but people are now putting designs in their hair. It's not long-lasting since a short shave grows quickly. These designs are usually reasonably simple if done at home, consisting of stars, hearts, a cheetah print all over the head, stripes, or anything you can think of. The most common colors are pink, yellow, red, and blue.
This e-girl style is a commitment, not because of the bleaching and designs, but because you have to shave your head. Many women are doing it now for a variety of reasons. This is the easiest color to do on your own, especially if you keep the designs to the front of your head. Make sure you have a mirror to see the back of your head when making the designs.
Also, use a paintbrush, not a dye brush; dye brushes are far too big to get the details needed for this. Just have fun and paint as you did as a child, just on your own head!
As seen on: While I can't think of a celebrity that's done designs, very recently Doja Cat shaved off all her hair, an empowering act and a fantastic look. I see more and more women opting to shave their heads and have more fun with the short style.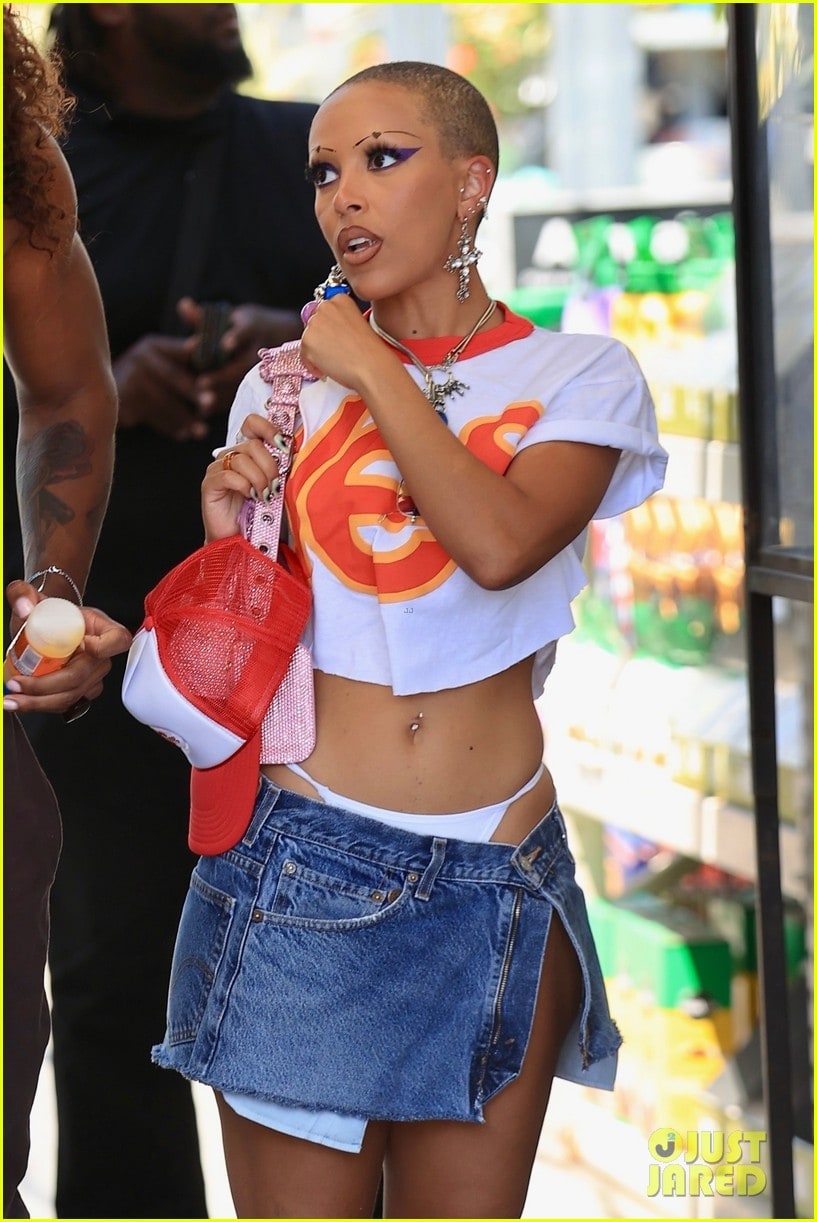 What to use: Since this can be many colors, I recommend certain brands that work easily when painting on designs, including Wella Paints and Overtone.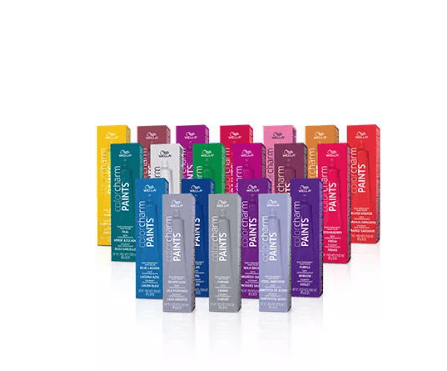 How to apply: Get a cheap paintbrush set from online or your local craft store and a paint palette if you want to do many colors. Apply with the paintbrush that best fits your design (I say always go smaller with the brush size for more precision).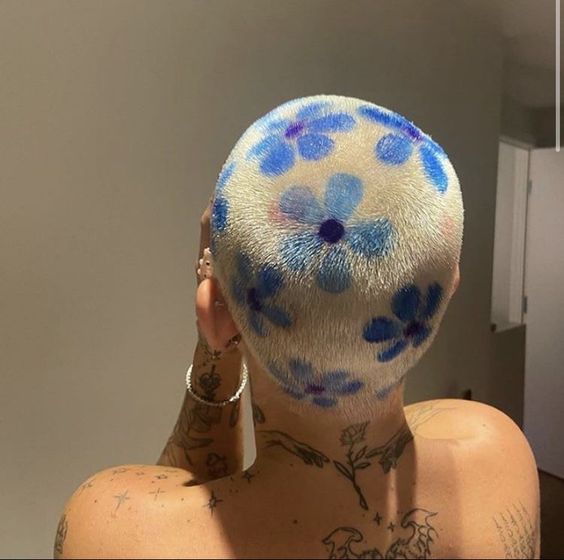 Pros
Easy style
Can change it very frequently
Fun and playful designs
Can easily express yourself more than any other style on this list
Cons
Though you can change it frequently, you also have to, as keeping up a shaved head is a weekly process for some
Could be hard to get the back of your head on your own (that's what friends are for)
If bleach irritates your scalp, you should not do this style, as you'll be applying bleach directly to your scalp
Peekaboo under Color
This style consists of a darker color at the top of your head and most of your hair, and a light blonde underneath (where an undercut would go). Many colors are popular, but the most common and current is black on top and white blonde under. This is best styled in a bun or high ponytail or brought to the front of your face so you can see both colors. Peekaboo under color is another style that's far better for your hair since you don't have to lighten it all.
It should also be noted that this can be done with most, if not all, protective styles. If you're doing this with box braids or goddess braids, for once, you have it easier than most. Just section and braid as usual, just with a different color.
As seen on: While this style existed for a long time before she did it, Charli D'amelio debuted a peekaboo hair color with the red leading to the front for a more visible style. I'm far from her fanbase, but I remember how many people were talking about this—and how many people wanted it. It was the #1 hair color inspo for a while.
What to use: I recommend thicker dye formulas, so there's no bleeding into the rest of your hair. Thicker dye brands include ion and Wella.
How to apply: Section off the hair you want as best as you can, and pin or tie back the hair you don't want to be dyed. Next, apply bleach or color with developer with a brush; use a mirror to see where exactly you're putting the bleach/dye. It doesn't have to be exact, but it is best to get it as straight as possible.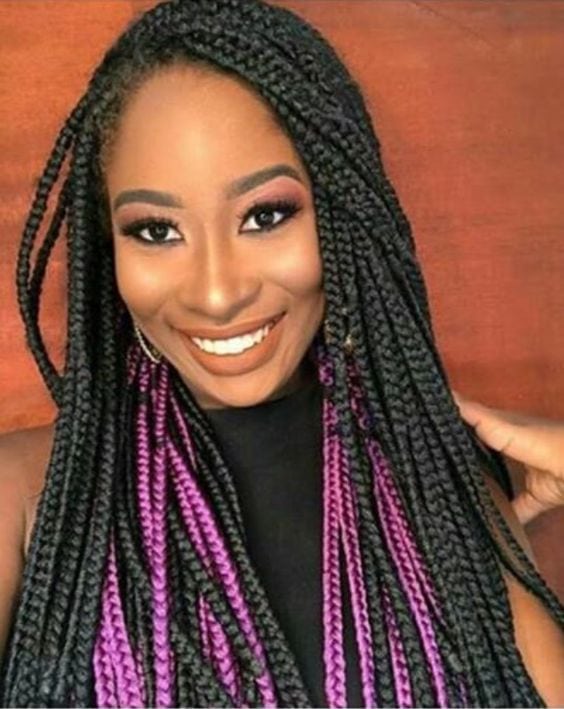 Pros
Can be hidden for a job
Much more subtle if your hair is down
Fantastic for updos
Versatile style
Doesn't need constant upkeep
Cons
A con for some, a pro for others: it's not very bold upfront and needs certain styles to really show off the color
Isn't as good for thinner hair
Color Tips
This is a recent trend, so you may see little of it so far; if you're a trendsetter, hop on it! This style consists of any primary hair color and a different color on the very tips of the hair in a straight, blunt line. I see this often with black and blonde hair as a base and a bright red on the ends, but of course, you can do any color you want. Again, this style can be extremely easy on the hair, as you don't need much bleach, and you dye only the ends of the hair.
This style is also extremely popular with blunt bangs, with the tips being a bright color matching the ends.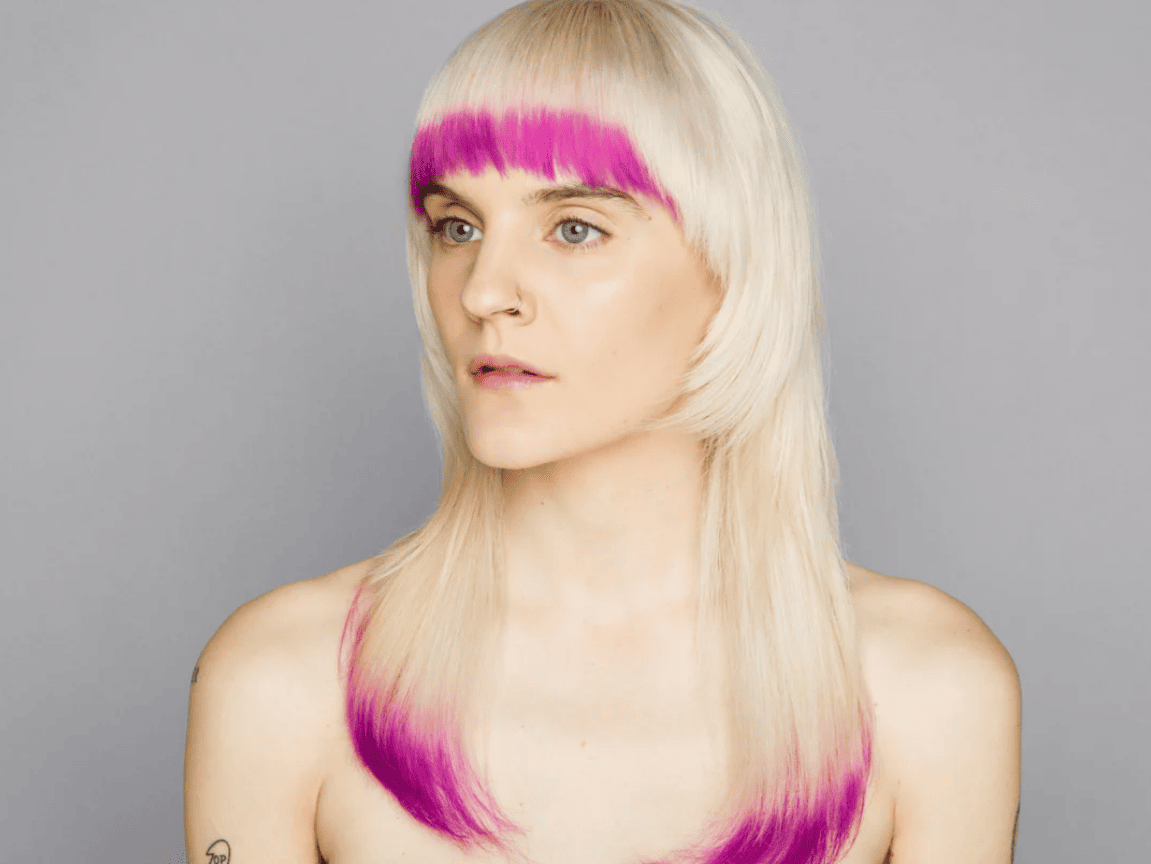 As seen on: I have yet to see anyone famous or anyone really start this trend. From what I've seen, it became popular in Japan and made its way around the world. It's still a fairly new style, so I can't wait to see it on the red carpet.
What to use: this is another any-color-dye-works style. But the best dye formula for this isn't too thick or thin, so I recommend Good Dye Young, Manic Panic, and Punky Colour.
How to apply: Using thin sections around the hair, apply the dye with a brush from where you want the color to start to the ends; this will be your guide for the rest of your hair. Part your hair around your head. Tie the rest up, and repeat. This color will take a lot of attention and detail because it is so blunt.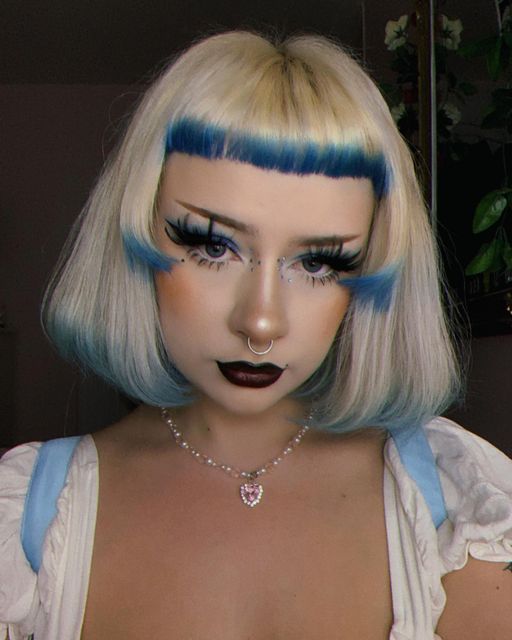 Pros
Little to no upkeep
Unique style
Cute on everyone
Very versatile
Cons
Needs a lot of attention to detail, or else it will look janky
Application might be a nightmare trying to keep the straight line
If your hair grows fast and you like to keep the same haircut, you'll have to keep doing this process
Chunky Highlights
Yes, you heard me right. Chunky highlights are back. I HATED them as a child; they were the bane of 4-year-old me's existence, and now I want them on all my wigs. Who's laughing now? Older me, that's who.
Chunky highlights in blonde, brown, ginger, and black hair are extremely popular with e-girls and Instagram baddies, which is quite a weird combination that shows just how popular chunky highlights are getting. Out with the balayage, in with the chunks. Primarily black and light blonde highlights are seen on e-girls, but ginger is also becoming trendy with many other groups.
This style is more of a challenge than the others on this list, but with determination and a basic understanding of highlights placement, it should be easy enough. Definitely get a mirror to see the back of your head so the highlights in the back aren't mismatched or wonky.
Chunky highlights with stripes, like the scene kids of the 00s, is also back in certain circles (including the more punk e-girls)—and it's back in full color.
As seen on: I mean you know this, I know this, the world knows this. The minute Christina Aguilera had chunky highlights, everyone wanted chunky highlights. Her white/blonde and jet black color combo inspired a whole generation and started a huge trend that is still going on today. To think, what if she never had this color? I don't want to live in that world.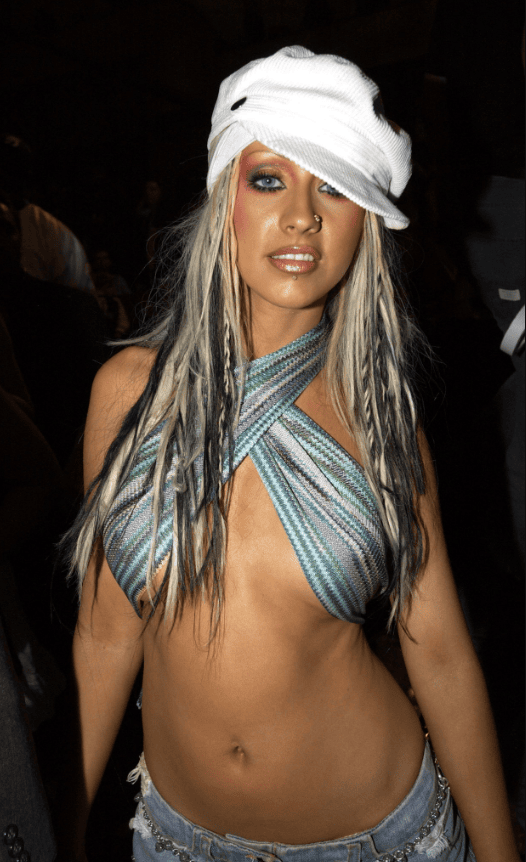 What to use: For the most part, chunky highlights are created with bleach and toners. As a whole, Wella toners are cheap and effective, but if you want to go even lower budget, a good off-brand purple shampoo should do the trick.
How to apply: Section off your hair into thirds going around your head (think Rey from Star Wars). If you want a specific pattern to the chunky highlights, figure that out before you start bleaching. Otherwise, go in with a brush and a light hand into each section until about half of your head is full of highlights. Try to do this in one bleach session, as it can be hard to find the highlights and go over them again without messing them up, getting bleach on hair you don't want bleached.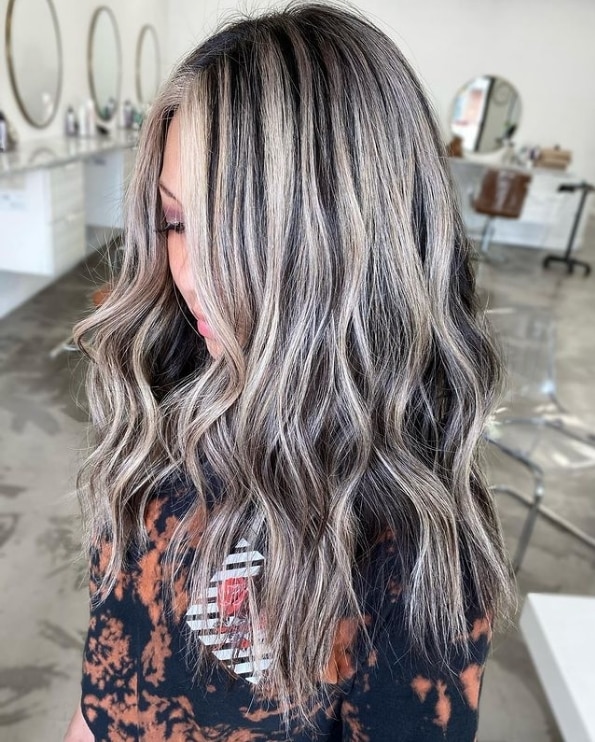 Pros
Easy to style
Matches all natural and unnatural hair colors
Can be done in many different styles and ways to fit the exact hairstyle you want
Cons
It's a very love-it-or-hate-it style
Definitely a more complex process to do at home or alone
Upkeep for rebleaching new hair growth is going to be hard
Bright Red
Bright, bright reds have always been around, so it's no surprise that red hair is returning better than ever. It's pretty easy to get a bright red! Drugstores have these dye colors now, and it's usually the most stocked color out of non-natural colors. Any shade of bright red is highly visible around the internet, and it looks good on most people.
HiColor has easy reds that won't do too much damage, or you can put a semi-permanent dye over your hair for adarker result, which is more prevalent in the emo goth scene but can still be worn by e-girls if you want no damage.
Red hair dye can be quite a mess to keep up. After washing it out, it bleeds color for a while, it can fade faster than some other hair colors, and it's tough to get out. However, this style and color is absolutely stunning.
As seen on: There are many many celebs that have rocked this color, but my favorite has to be Kerri Colby, famous drag queen superstar (seen below). The runway where she wore this bright red is probably where non-drag race fans know her for this hair, which swept many many magazines and fashion spotlights.
What to use: L'Oreal HiColor (they have a whole line for reds) and Manic Panic in Wildfire. These two dyes I recommend are brighter reds, but HiColor has darker tones and brighter tones. HiColor uses developer, so I wouldn't recommend applying with your bare hands (you can do so with gloves, though), and it is better with a brush. HiColor will lift your hair color to show up as bright as possible, so get what color you want, not what color you think will appear on your hair.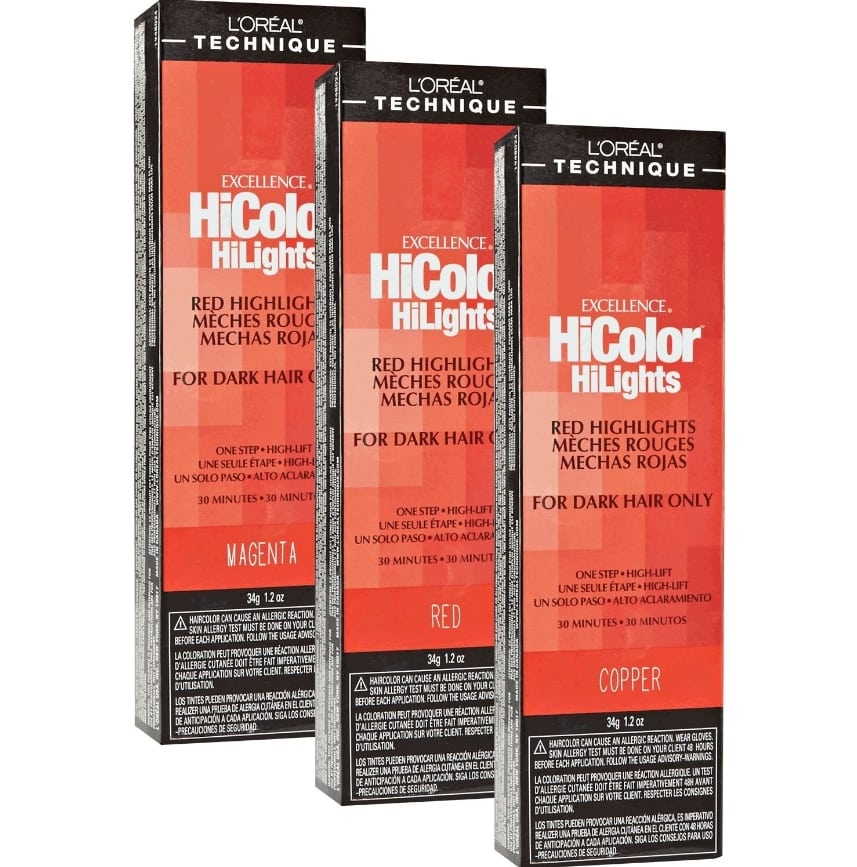 How to apply: It is best to apply with a dye brush to the ends, then work your way to the roots, making sure to avoid your skin as much as possible; red stains on the skin aren't exactly the best look.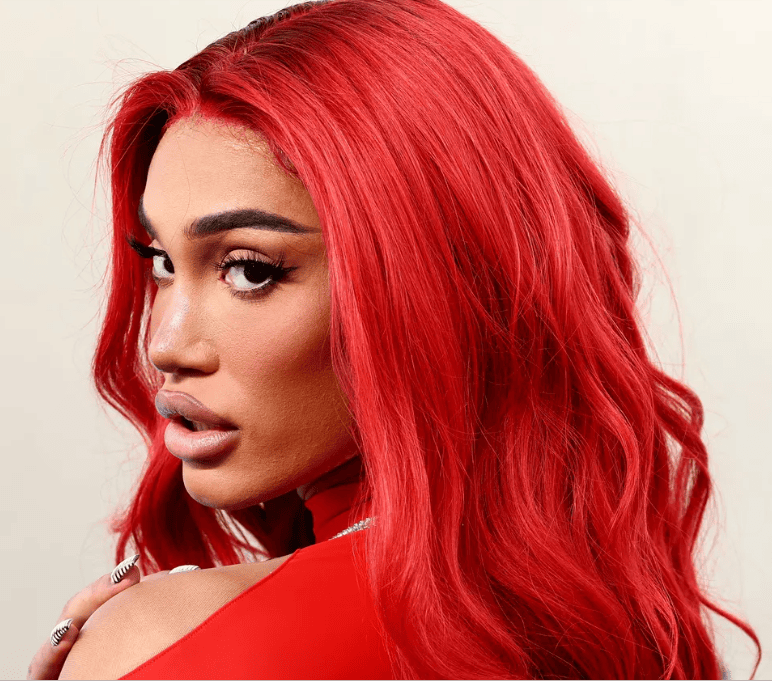 Pros
Many different shades of red are available
Straightforward color to find
Timeless hair color
Cons
Can fade easily
Hard upkeep
Definitely don't use white sheets or pillows; you don't want a mini hair crime scene
The Hayley Williams Orange
This is the only specific color on this list, meaning you need the Good Dye Young hair dye. Now that Paramore is back making music and better than ever, the rise of the orange HW hair has returned. HW wears a really unique and highly flattering orange; while you can get the orange from using something other than Good Dye Young, they did formulate it to be exactly like her iconic color, so it would make your life a great deal easier just by using their dye.
What could be cooler than seeing Paramore live while having the lead's hair color?
This dye doesn't require developer, but you should bleach your hair beforehand. Because this is a semi-permanent direct deposit dye, you can leave it on for longer than the directed amount. I often leave on semi-permanent dyes for three to four hours because my curly hair needs the extra time to take dye better. See how it works for you!
As seen on: Hayley Williams "started" this vision of orange, at least made it extremely popular. She had a few other hair colors before she landed on her most popular and recognizable style, like the short short bangs with pink and yellow, or the much brighter orange that was early in Paramore's career, but the launch of the exact color she uses in Good Dye Young really made the style accessible to everyone.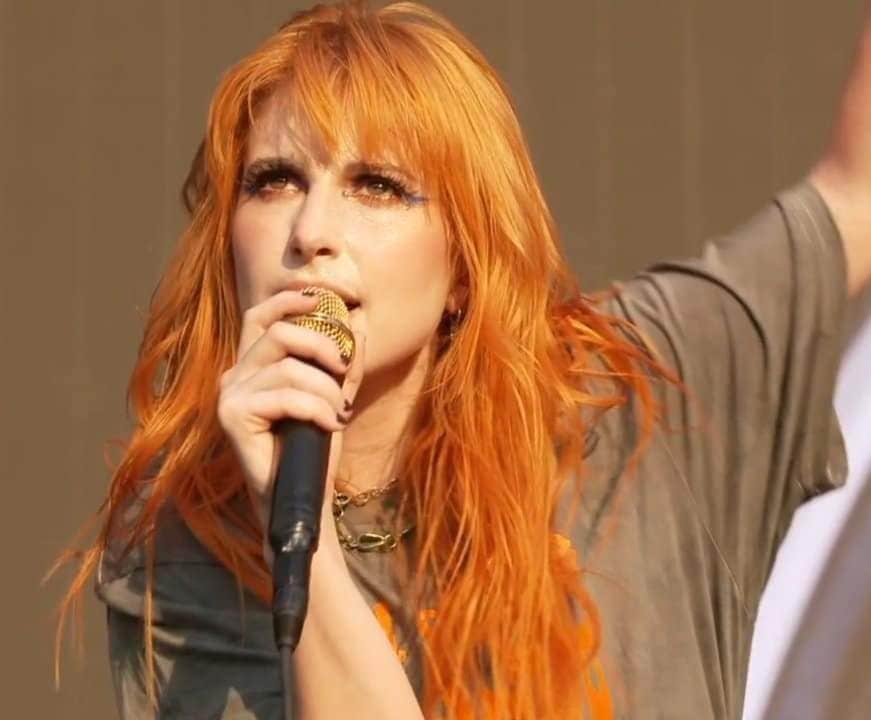 What to use: Good Dye Young (available on their website, Sally Beauty, Target, Walmart, and any chain store near you); Arctic Fox in sunset orange is the closest color you can get to Good Dye Young.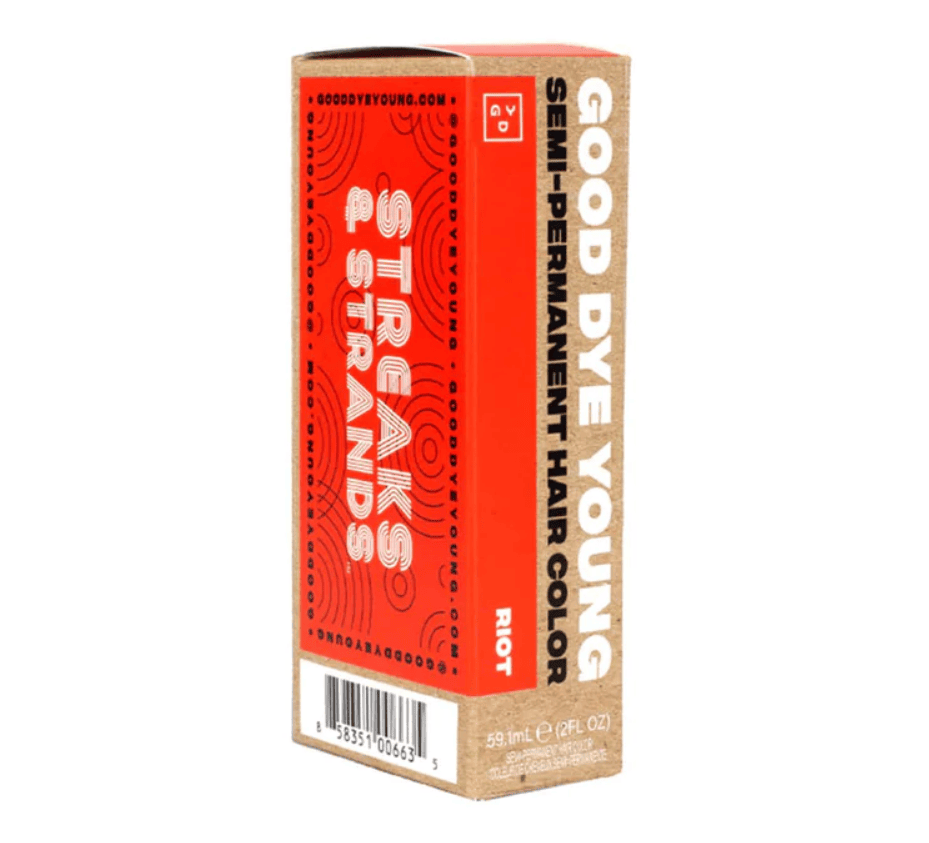 How to apply: You'll first need to bleach your hair to a medium to light blonde, then you can apply dye however you usually do.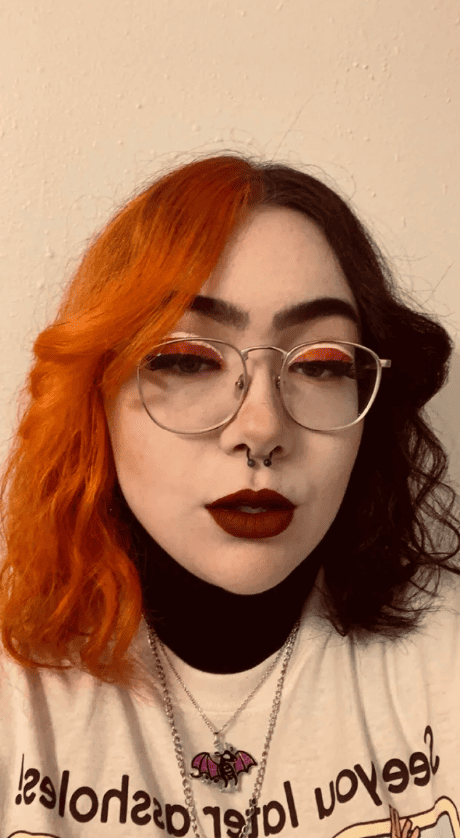 Pros
Easy to find
Vivid color
Easy to apply
Cons
Expensive, sitting at around $18 per tube
Very 50/50 dye: some people swear by it, some people hate it
In my experience, the dye has to be left on longer, or else it'll wash out fast
FAQ
Question: Will these hair colors give me the e-girl look I want?
Answer: Maybe! I know every time I dye my hair, I hate it at first. These are all styles followed by e-girl fashion and style ideas, but they might not be the e-girl color you want! These are the cream of the crop, but maybe you only like one of them. Regardless, they should give you the look, but ultimately it's your opinion if they do or do not give you the exact e-girl look you want.
Question: I have curly hair. How do I best rock an e-girl style?
Answer: Absolutely you can do this! Curly hair can get much more damaged from bleach, especially natural hair, but as long as you don't overdo it, you should be fine, but keep that in mind! Perhaps go for the darker shades on this list first and see how your hair handles dye. Coloring curly hair is just different, not more problematic. Many of these styles can easily be done with box braids, as well, for a non-permanent look!
Question: What are some different ways to style my e-girl hair?
Answer: There are endless ways to style your hair with the e-girl style. My favorites are space buns, pigtails, and pigtail braids. I highly suggest looking at TikTok and YouTube for styling options for your specific hair length and type!
Conclusion
E-girl hair colors and styles are exciting and extraordinarily creative, just like the emo styles in the past. But this time, they're considered trendy by most instead of outcasts. You can have fun hair colors without being sent to the Maury Show (thank god). Expressing yourself through fun hair is probably the easiest it's ever been. What's my favorite, you may be asking? Thank you, omg you're so sweet, reader! My favorite hair colors here have to be the Doja Cat purple-pink, the skunk stripe, and the color ends.
Latest posts by Lillie Forteau
(see all)