Honey brown is a rich, intense brown perfect for the fall and winter seasons but shines at any time of the year. Honey brown is generally a warm-toned hair dye, giving your skin a natural glow. Unfortunately, it can be a very hard dye to find since there aren't many options; its tonal sister, honey blonde, generally takes the spotlight, but if you're looking for a darker, less damaging color, this is for you.
This article will cover how to identify your hair type and color, how to do a strand test and skin test, the types of dyes available, how many boxes to purchase, how to care for your hair after dyeing, and my best honey brown hair color recommendations. Learning before starting is your friend if you're new to dyeing your hair.
Bottom Line Up Front
Honey brown is a rare dye to find. So if you're looking for a box dye randomly in a grocery store aisle and hoping for something that exactly says honey brown, you probably won't find it. With this guide, I hope to make it easier for you to find the dye you want, know where to go and know how it'll fit into your budget. Because honestly, going to the store at 2 am and picking out the hair dye you saw first is not the way; trust me, I know.
"But Lillie," you're probably asking, "what's YOUR favorite hair dye? Well, thank you for asking me; My personal favorite is ion Ammonia-Free Permanent Hair Color Light Honey Brown 5G.
Identify your Hair Type and Color
Depending on your hair type, length, and color, you may need more or less hair dye, you may need to bleach your hair beforehand, and you will need to figure out how to apply it.
Hair Type and Length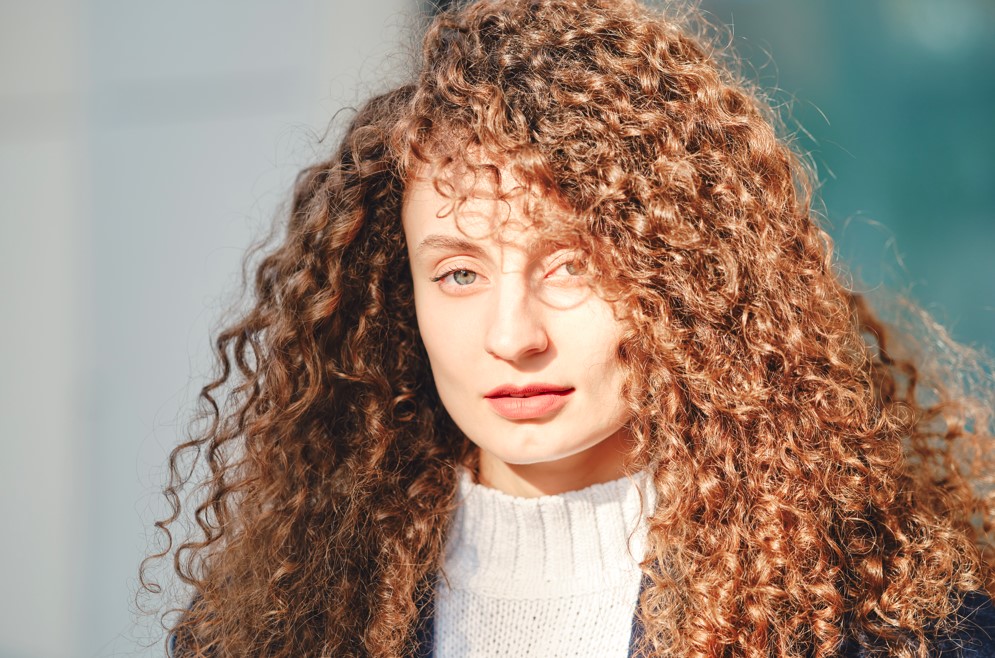 Let's talk dye quantities. It all depends on your hair type and length!
I use a little less than one box of hair dye and about 1/3rd of a dye tube for my short natural hair. I apply the dye with my fingers because even though my hair is short, I have a lot of it, so spreading it with my hands is easier and faster and still covers more hair than an application brush would.
I'd recommend using a brush applicator if you have straight and medium-length hair. You will probably be okay with one box of hair dye.
If you have natural or medium to long hair, I'd recommend using 2-4 boxes of hair dye. Remember, the more hair, the more dye is needed!
Warm or Cool Skin Tone: What Are You?
Another critical step to finding your best honey brown color is thinking about warm or cool tones. Honey brown is generally a warm color, but there are cool-toned honey browns! For example, if you look at a box dye that seems silver-toned, it's cool-toned.
To know if you have warm or cool skin tones, hold a gold piece of jewelry and a silver one to your face. Go back and forth with them and figure out which makes you look better and brighter. Whatever color looks better will be your guide: gold is warm-toned, and silver is cool-toned.
It isn't easy to find a cool-toned honey brown dye, but it is possible to discover neutral or cool-leaning honey brown colors. So don't be discouraged if you look better with silver, cool tones!
Strand Test and Allergy Test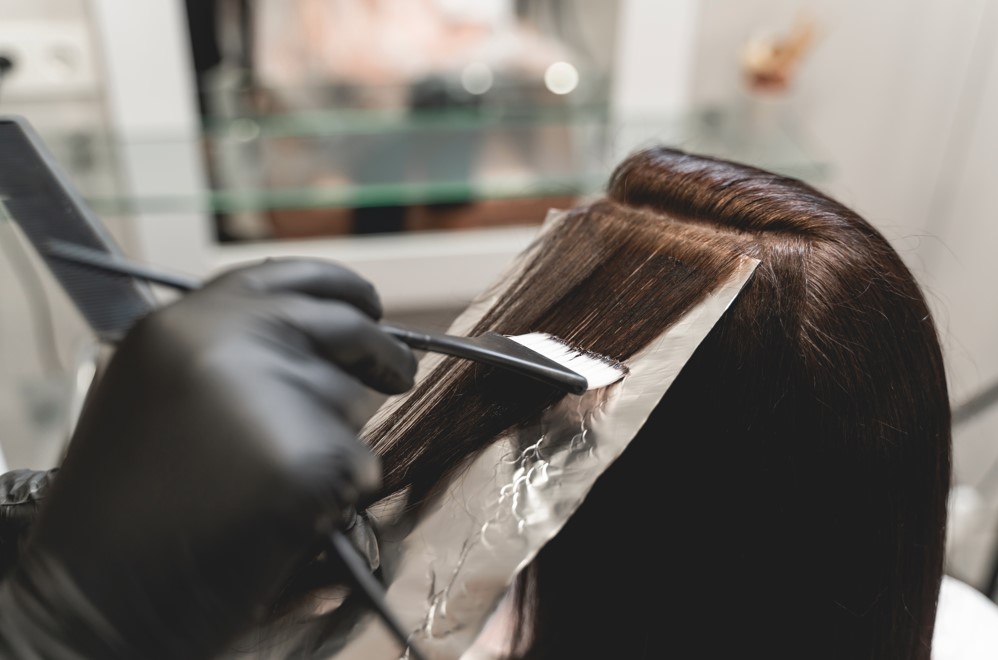 It's essential to do both a strand test and an allergy test when using a new dye. If you're a seasoned veteran, you probably know this (maybe you don't do strand tests anymore), but when applying any dye that will lighten hair, it's still a good idea to make sure that the dye does what you want it to do, and doesn't cause an allergic reaction.
You may have been okay with one hair dye, but the next could cause a breakout. To make sure this doesn't happen, mix up a little bit of your dye and take a strand of your hair from a place you can personally see but can be easily hidden (if things go south), and apply a small amount of dye. Then, leave it on for the directed amount of time according to the dye's instructions; check it every once in a while to see how it comes along.
Note: This strand shouldn't be more than one inch wide…just enough to see the color and get a sense of what it will do.
With the dye mixed up, apply some to your arm, but don't leave it on for more than 15 minutes.
The strand and allergy test will tell you if you are allergic and if you like the color you've chosen.
Three Types of Hair Dye Available:
Box dyes
Sold in any given store
Easily accessible
Cheap
A smaller amount of product
Hard to get out of hair if you want to go lighter in the future
It comes with everything you need
Medium to high hair damage
Permanent hair dye
Sold at hair or beauty stores
It comes in a small box or tube
Needs developer (purchased separately)
Lifts hair color
Small to medium damage
Semi-permanent hair dye
Usually comes in a plastic or metal tube
It doesn't need anything else and usually doesn't come with anything else
It can be left on for a long time for a more vivid color
No damage but no color lift
Best Honey Brown Hair Dyes
Selection Criteria
So, why did I choose these dyes? And what makes a good honey brown dye?
It has the right undertones of a honey brown (warm, golden/yellow, sometimes a bit red or orange)
Is darker than a level 7/8 hair color (dark to medium blonde)
It can easily be found. You can find every one of these dyes in grocery stores, Sally Beauty, Amazon, and local beauty supply stores
Either personal experience or great reviews. Basically, the 5 degrees of Kevin Bacon, but with knowing a hair color brand
Diversity! It's important for me to include dyes for POC hair as well
Where to find: Sally Beauty(in-store and online), Amazon
Price: $9-13 (+developer, which can range from $2-20 depending on brand and size)
This dye does need a developer, but ion is known for producing a great, long-lasting color. This hair dye is also the best-smelling hair dye I've ever used. I recently used this line's color in purple, which smelled like cucumber and fresh water. I know, it's possible! ion is very nourishing and left my hair feeling just as good as it did before the dye, if not a little better. This feeling can probably be attributed to the almond, pistachio, grape, and avocado oils.
Depending on the color, the dye will have extra ingredients, such as chamomile extract or chestnut seed! The honey brown color is a darker, more ginger-toned honey brown (even though it says brown; on research, every review I've seen has said it looked more honey blonde). It would be great for darker hair colors or the fall months.
They also have a medium AND darker honey brown; yes, THREE honey browns in one line! How exciting is that? This line is for you if you're looking for a great selection with nourishing ingredients and a great smell. Can you tell this is my favorite?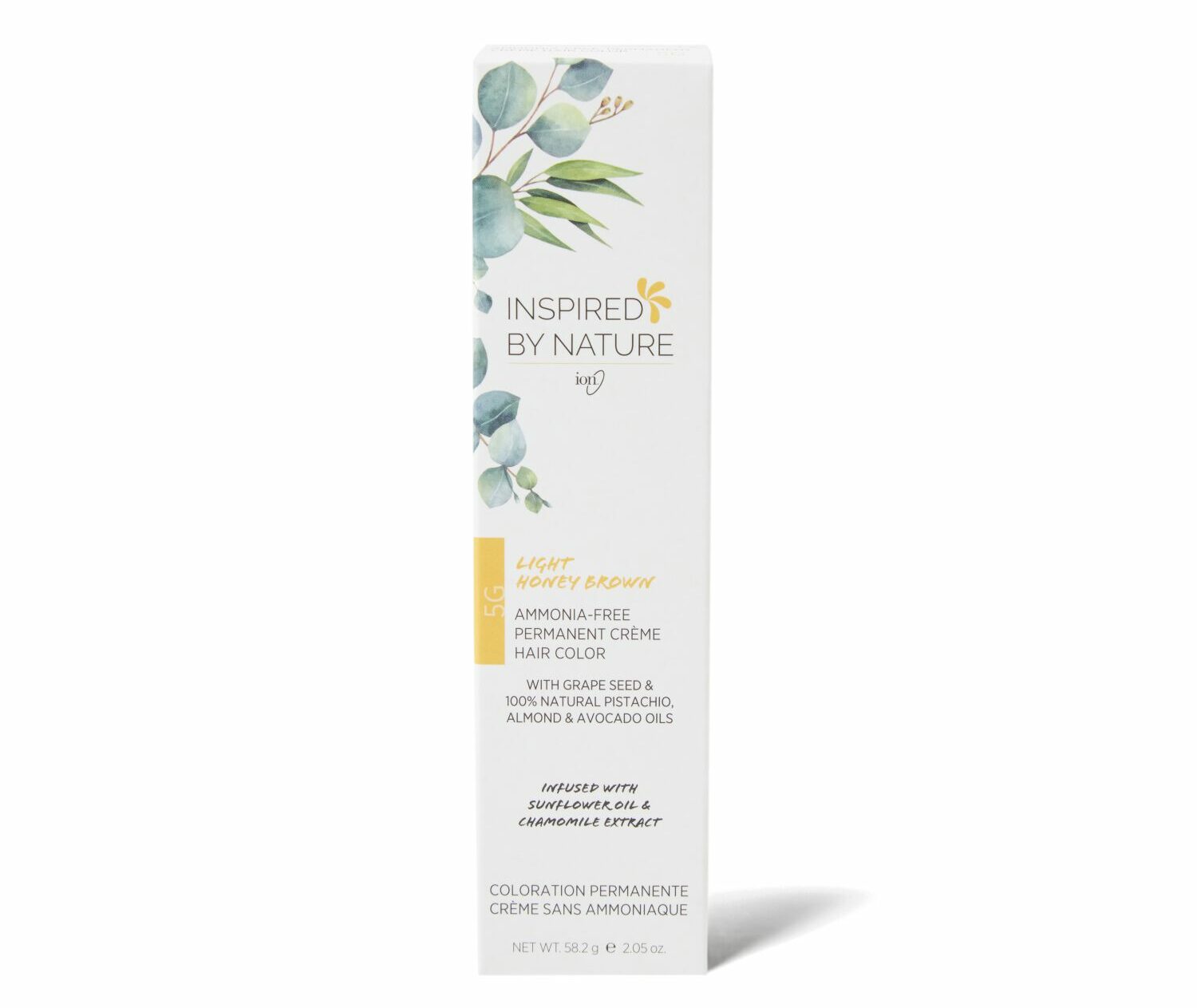 Pros
Smells great
Clean ingredients
Cruelty-free, gluten-free, vegan, ammonia-free, PPD-free
Often on sale at Sally Beauty
Can be easily bought online or in-store
Cons
It needs a developer, so it will cost you a little more
You'll need a few more tubes of dye if you have a lot of hair
Where to find: Amazon, local black beauty stores
Price: $7-14
Kiss hair dye has been a staple in my home for a long time; they have a vast selection of dye colors, and the dyes last longer than most semi-permanent hair dyes. In addition, this dye brand includes oils to rejuvenate your hair, and it always makes my hair feel better after using it.
Semi-permanent hair dyes don't have all the harsh chemicals that most box dyes do because it doesn't lighten the hair at all, so yes, you'll need lighter hair if you want the color pictured, but it will add warmth to any hair color. Note that this dye works best on bleached or lighter hair colors.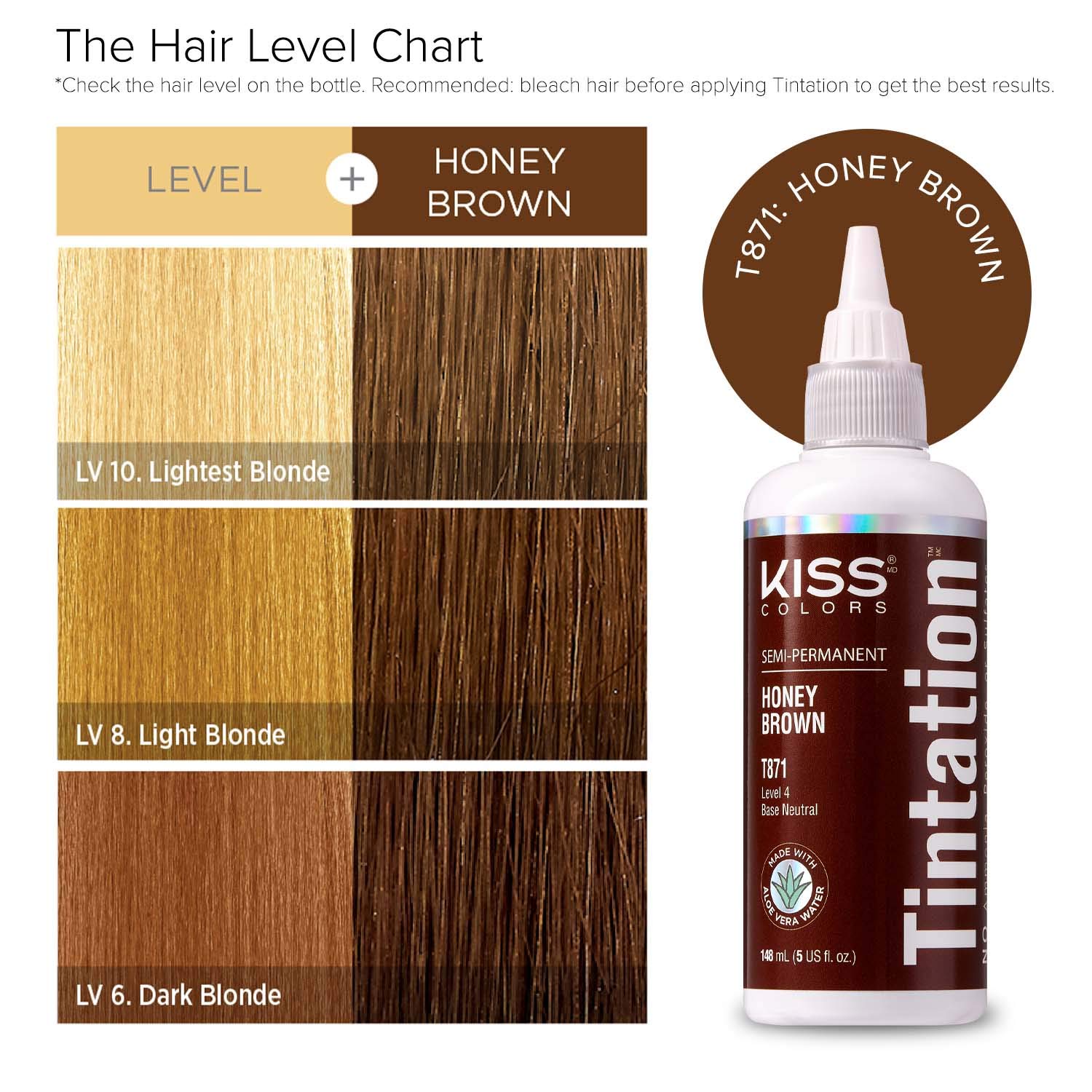 Pros
Affordable
Vivid color
They can be mixed with other colors from their line
Healthy for hair
Cons
It cannot be found at stores and is a rare find at beauty supply stores
Often sold out or can be found by second-party sellers
Runny, so it's harder to work with
Where to find: Amazon, local black beauty stores
Price: $4-8
It can be hard to find an ethically made hair dye, as most are either tested on animals or contain animal products. While many people are okay with using dyes that aren't vegan or cruelty-free, others do not want to use any dye that's been tested on animals.
This dye is perfect for your clean living ethics and is a semi-permanent dye that's very affordable and can be found at any given beauty store even cheaper than online (you can get Adore dye for as little as $4 in person!). However, Adore dye doesn't last very long, in my experience, and you will have to lighten your hair for the dye to stay more than three washes.
Note: it does wash out pretty fast if you shampoo normally.

Pros
Affordable
Not permanent if you want to switch colors up
Mixable with other colors in their line
Cons
Very runny formula
Bleeds a lot within the first few washes
Where to find: Target, Walmart, local grocery stores, Amazon, Sally Beauty
Price: $3-5
Sometimes buying hair dye can get expensive, especially if it's not a box dye. I mean, there's a reason people love box dye, even though it can be problematic to get out of your hair. Even then, getting a few boxes can cost more than two large pizzas if you have long or thicker hair.
This affordable dye can cost you as little as $3 and goes up to $6, which is still around half the cost of most other box dyes. It's also designed for women of color (we finally got one, boys! We got a hair color for us!), but anyone can use it. While not a traditional honey brown, it's a bit lighter than most and has a little red undertone, but it's cheap and is a darker version of their honey blonde.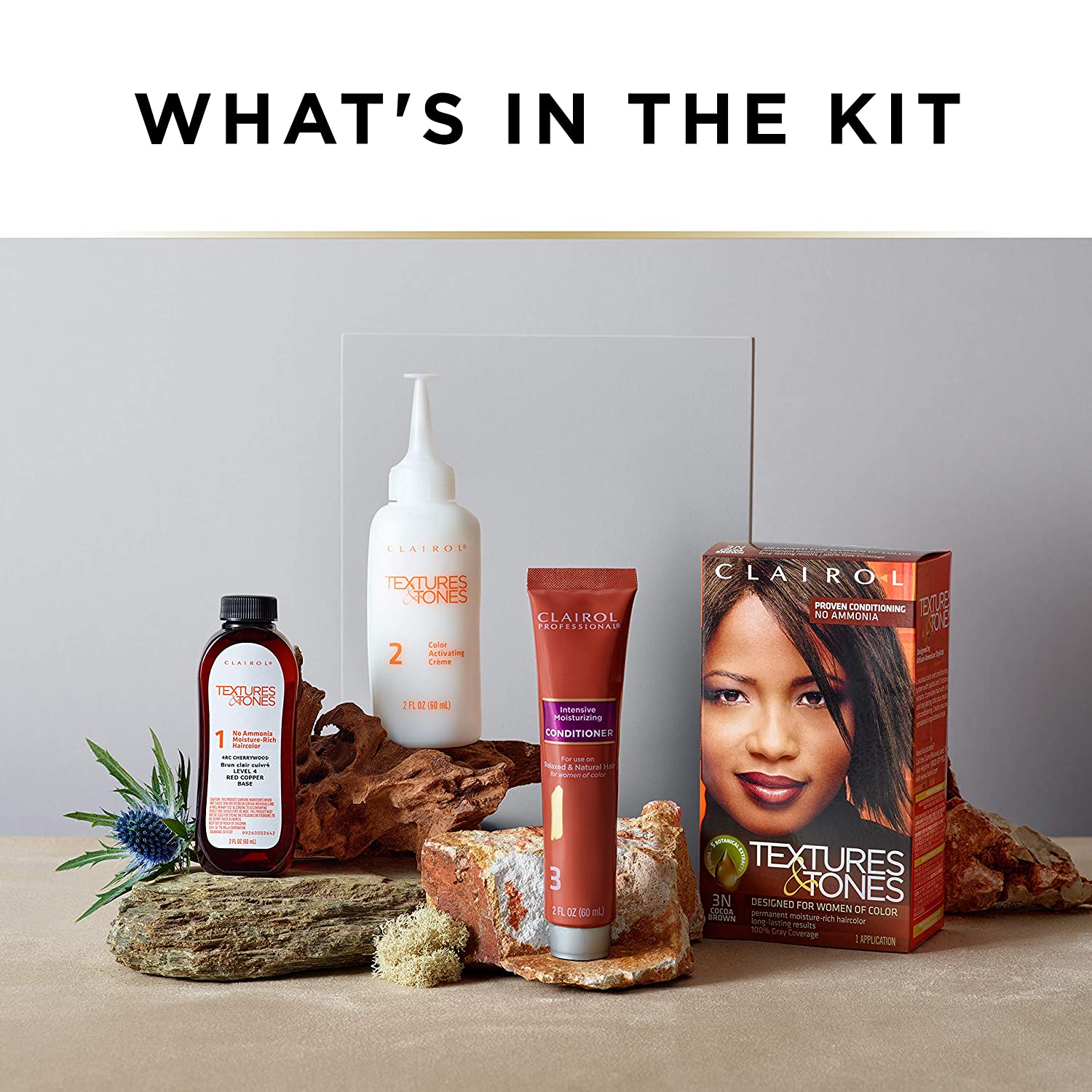 Pros
Nourishing and meant for curly or POC hair
Long-lasting
No ammonia
Works on relaxed or permed hair
Very budget-friendly
Cons
Customers say they need to leave it on for hours to get results instead of the recommended 30 minutes.
The hair color isn't a traditional honey brown
Where to find: Madison Reed site, Ulta Beauty
Price: $26.50
Madison Reed has made a name for itself as the best at-home hair coloring kit, making it the easiest for the consumer to try out new or old colors. They have everything you need in their kits and personalized instructions to make your dye application easier.
It also is ammonia-free and chock full of great ingredients for your hair to keep it healthy and happy, even when you're dyeing it. This dye is also for highlighting only, so if you're looking for some beautiful lighter highlights that are warm and soft, this is the dye for you.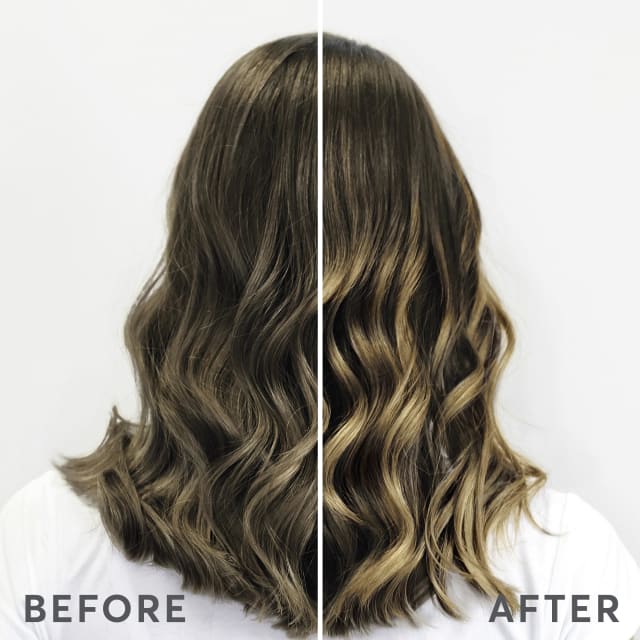 Pros
Easy to use
Ammonia-free
The best option for a more subtle look
Great for cool and warm tones
Cons
Only for highlights
It has mixed reviews on how well it lightens hair for those with darker hair colors and how long it stays
It is pricier than other options on this list
Where to find: Target, Walmart, Meijer, local grocery stores, Amazon
Price: $9-12
I swear, I see this dye whenever I go down that big aisle of hair dye in a store. It's always staring back at me. It's a perfect light honey brown, and it is at literally every store ever, according to my experience. Feria is known for its color kits and how they achieve such bright, shiny colors.
While this is probably the boldest brown on this list, it's still beautiful. Since it is lighter, though, you may have more damage to your hair. Just make sure you get a good shampoo and conditioner for use after dyeing your hair.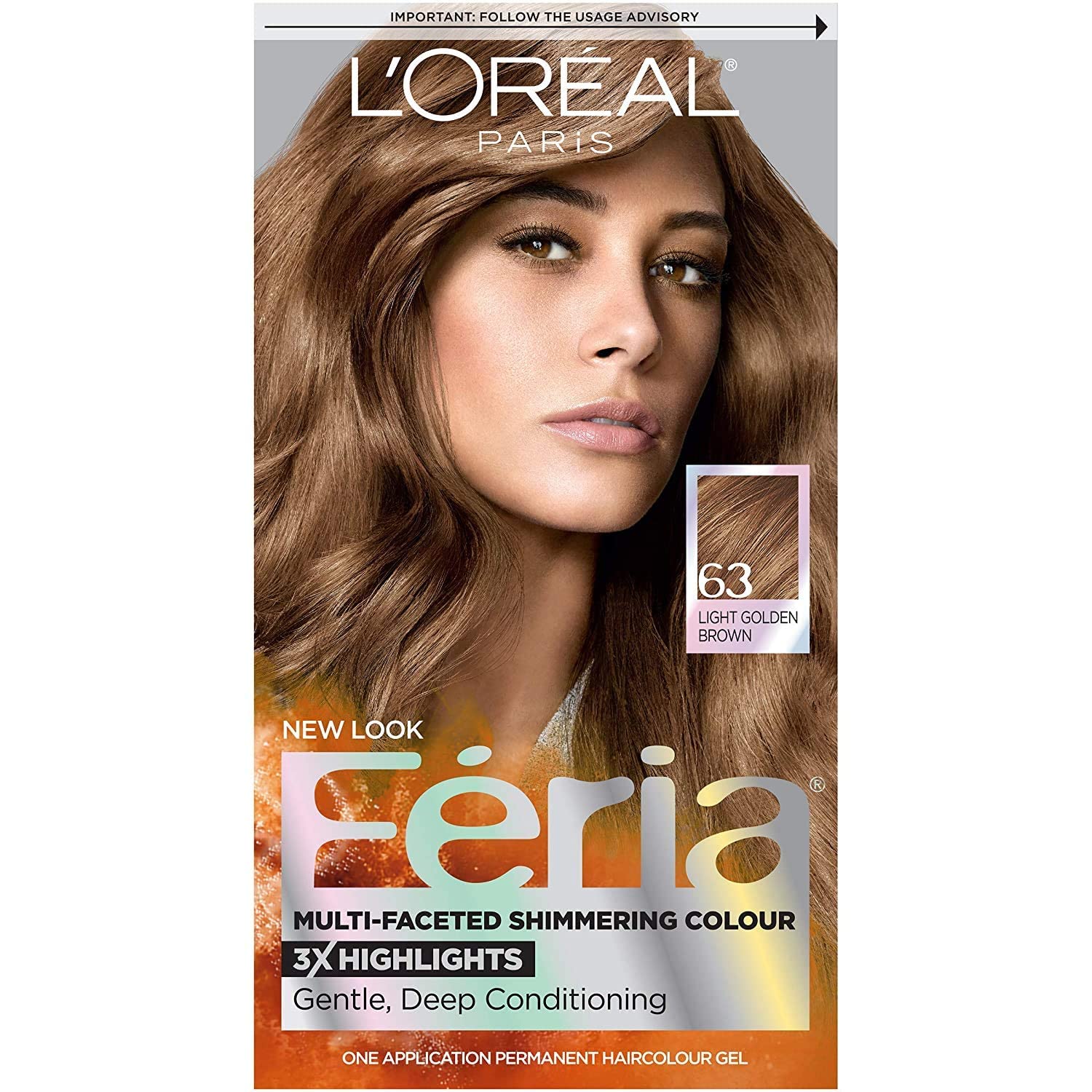 Pros
It comes with some conditioner
Has a virtual try-on to see if you like the color on you
Cruelty-free (doesn't test on animals)
It can be found just about anywhere
Cons
It isn't a gentle dye, and it has a lot of reviews noting it damaged their hair
Very hard to get the color out of your hair
Additional Recommendation with a Twist
I wanted to include an honorary mention of a honey blonde dye that I used to use for a nice honey brown color; because I am a woman of color, most honey browns looked too dark for what I wanted, too red-toned for my skin, etc. It's important to color match; a blonde color could look like a light brown on certain skin tones.
Where to find: Walmart, Amazon, Sally Beauty, eBay
Price: $4.99-$10
I broke my own rules a little bit, I know. I used this honey blonde dye on my dark brown hair for two years, and it was the best box dye I've ever used—up there with the best dyes I've used, ever. So why add this to a Honey brown article?
This dye turned my hair the perfect honey brown for me, bordering on blonde but still rich and warm. Dark & Lovely is one of, if not the best, box dye brands on the market, especially for dark, thick, curly, or POC hair.
Now I don't want to say for sure that you'd get a perfect honey brown out of this dye; it is a blonde, but it deserves a spot on here for being nourishing, easy to work with, including a decent amount of product, is up to 100% gray coverage, useable over a perm or relaxer, and very affordable.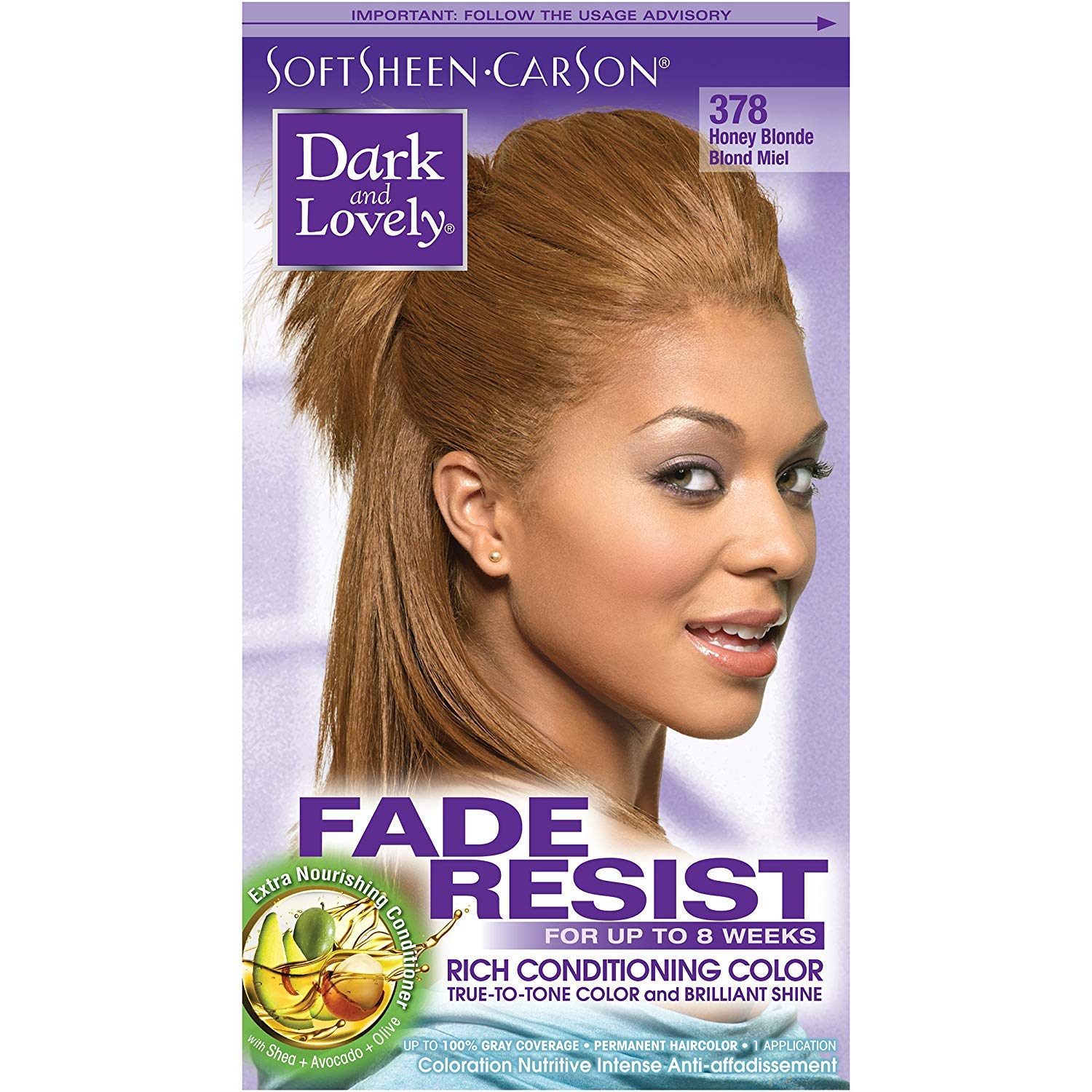 Pros
Nourishing ingredients like argon oil
Formulated for protection against dryness
It says color lasts up to 8 weeks, but in my case lasted four months
Comes with conditioner
Five-star reviews across the board
Cons
A much lighter choice than the other entries on this list
Dark & Lovely often isn't sold with their entire color line in stores, so check your local store to make sure they have it
It might not be the best option for thin, light-colored hair
FAQ
Question: How do I apply box dye?
Answer: Most box dyes have instructions on the box, but they usually consist of mixing together part one and part two and then applying it thoroughly throughout the hair, from bottom to top. This is because your roots will take color faster than the ends because of the heat from your head.
Question: Does the honey brown color wash out?
Answer: Depends on the dye quality. You're getting a medium brown; if you use a semi-permanent dye, it will wash out. If you're using permanent dyes (which can include box dyes, check the box to see if your box dye is permanent or semi-permanent), it should stay in your hair until you decide to change it or cut it.
There are many other ways to have the lasting color you want without the upkeep, time, or energy! I recommend wigs. You can find wigs at your local beauty store, online, or custom-made by a small vendor. A wig might cost a lot more upfront, but it's better than a hair color you may not want on your own hair. I recommend @melanin.minx_ on Instagram or their website; they have a great cause, are a small business, and you can get the exact color and length you want.
Question: How do I care for my hair after using hair dye?
Answer: Sometimes box dye comes with a one-time conditioner to help revitalize your hair, but most don't. Getting a good sulfate-free shampoo and conditioner is usually enough, but a hair mask can also be beneficial.
Question: I have leftover dye; can I use it later?
Answer: Maybe! If you didn't mix your developer and color together, you could keep it until you want to use it again. However, if you mix up those two parts, they cannot be used again later and should be thrown away. This doesn't mean you can't put the dye on again if you need to get it lighter the same day; this just means you shouldn't use it after it has been mixed and sitting for more than three hours.
Conclusion
It can be daunting, facing so many dyes. You might think, "well, I love them all! How do I choose?" Don't worry, babes, I got you. My favorites are ion, Dark & Lovely, and KISS. I've tried every brand on this list, and those three never left my hair feeling bad, I always got the results I wanted (though with Dark & Lovely, I needed to dye twice to get the color I wanted), and they're all clean brands.
Sometimes when I choose a box dye or a dye with a model's face attached to it, I look to find the one with someone who looks like me. And while it's not the best judge of character, most companies don't sell a dye that wouldn't work for short hair when all the models have short hair (likewise, with curly hair, long hair, and even the same skin tones). That might be the deciding factor if you're stuck between one dye and another.
Honey brown is an excellent option for many people when choosing a hair dye. I know it can be hard to find your perfect color or the one that works best for your hair type, so I hope I have helped you find the best option! Especially in the colder months, having a warm-toned dye can brighten up a windy, stormy day.
Looking for more interesting readings? Check out:
Latest posts by Lillie Forteau
(see all)