Getting permanent locs, for most people, is too much of a commitment. Thankfully, we have the option of soft locs. You can get that earthy loced look without actually installing dreadlocks in your hair. It's nothing but a win-win!
Some might consider soft locs a hack for those that want the protection and stylish look of dreadlocks without the baggage it comes with. As the name implies, soft locs are a softer version of dreadlocks and faux locs, making them lighter and easier to wear. When they first came out, faux locs were stiff and heavy, probably to mimic the original dreadlocks. Users enjoyed having commitment-free dreadlocks, but could not style them beyond the basics because of the texture. 
Now, we have a vast variety of soft locs to choose from that are lighter and soft, so they can be styled in many ways, from bob styles to floor length sweepers.
Bottom Line Up Front
Soft locs are a little tricky to master especially if you're installing them yourself. However, they are a great protective style and one of the few hairstyles with extensions that can be worn long-term. If you're looking for a stylish hairstyle that protects your hair with very little maintenance, soft locs are the way to go! The best of it for me is that I can keep the style looking fresh and new for up to two months with regular touch-ups.
What Is Soft Locs?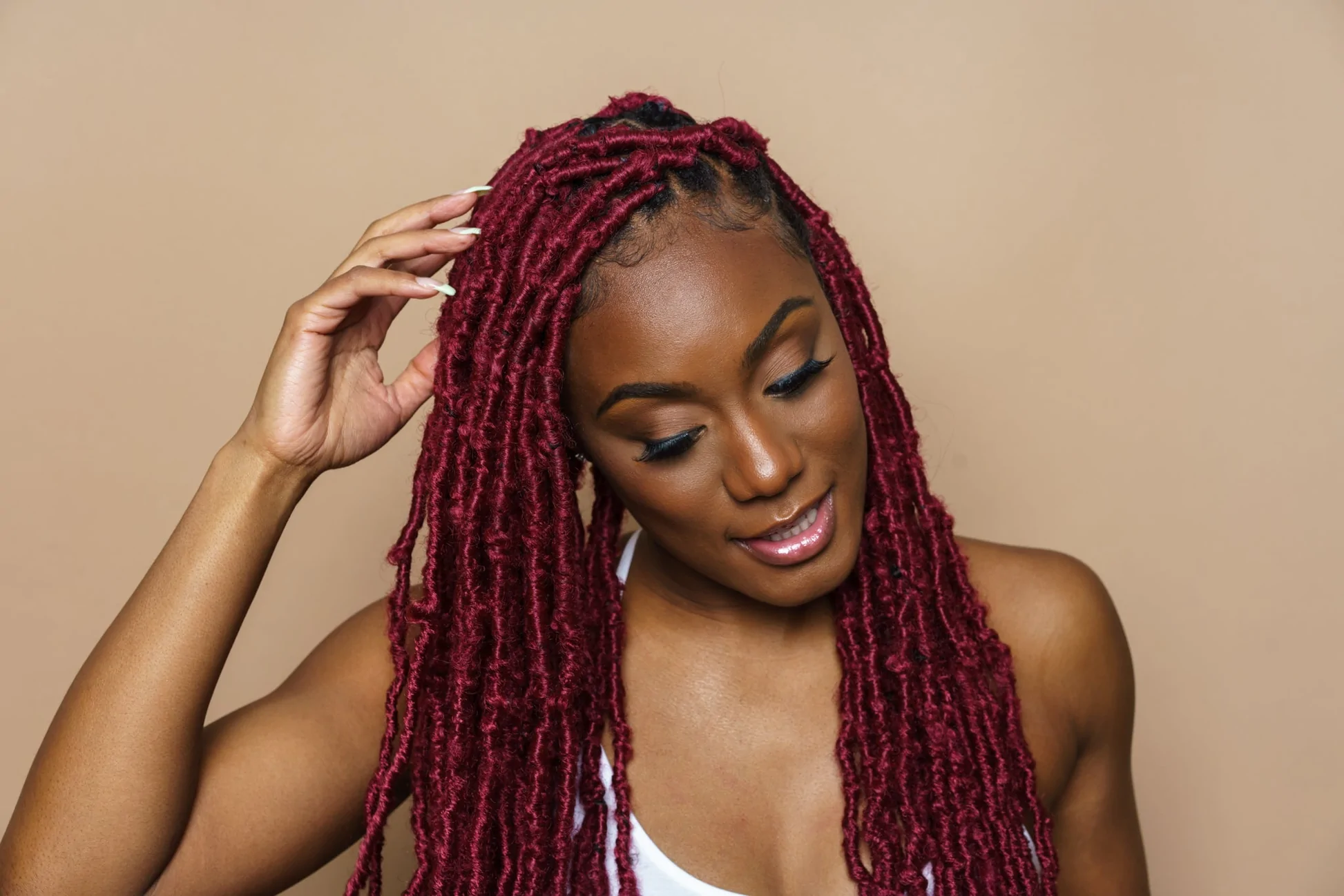 They are usually of synthetic or natural hair fibers, pre-made into individual locs resembling natural dreadlocks. Traditional locs, especially the thicker, free-form locs, take years to form. This is because they require one's real hair to be long enough or full enough for a licensed professional (Loctician) to "loc" the hair using a special needle.
Soft locs are a quicker way to get locs without the long-term commitment that traditional locs require. Also, they require way less maintenance than regular locs because they are temporary and can be removed at any time. 
When faux locs first became popular, they were a hit with people who liked crochet styles. It was easy to install and didn't require much prep or take-down work. However, some of us did not like the stiffness and bulkiness of faux locs, so soft locs were heaven-sent when they came out. With soft locs, you get individual locs that can be styled in many ways because of their *instant softness* and less bulk. 
Soft Loc Installation
Installing soft locs follows a basic principle—attach the pre-made loc, and hide the natural hair in it. There are several techniques to do this depending on the expected outcome, the nature of the hair, and personal preferences. Here are the three most common ways to install soft locs.
The basic crochet: for this method, the hair is braided into cornrows, usually straight back, with the ends tucked into the braids. Then each soft loc is looped around a braid using a crochet needle. Since most soft locs are somewhat thin, cornrows should be thin enough so that the locs can loop around them and the style does not have bulky roots at the end. To make this method a bit more versatile, you can have single braids in the front, back, or sides of the head that would be more visible. This way, there will be fewer chances of cornrows peeking through. Be sure to leave a little wiggle room underneath the cornrows for the loc to pass through while you're installing it. It would be tough to get the loc through and painful if it is too tight. While this method of installation is the easiest to install and take down, it does not always last as long as the others and offers limited access to the scalp for maintenance. 

Crochet at the roots: here, the loc is attached to the single braid by crocheting the loc onto the root of the braid. The loc is then looped to secure it tightly. A separate piece of braiding hair is then wrapped around the base of the braid to hide the knot where the loc is attached and the natural hair. This is done by holding one side of the braiding hair firmly to the base of the braid, then wrapping the other side around the braid and loc until the hair is completely hidden. A variation of this would be to pass the braiding hair through the loop of the loc, pass the braiding hair through the base of the single braid, and then wrap the braiding hair all the way down to cover the natural hair, as shown in

this video

. This is done to reduce bulk at the roots where the loop of the loc would normally be.
Foldover: for people with longer hair, it is not always easy (and can be time-consuming) to wrap braiding hair all the way to hide natural hair. So instead of attaching the loc to the braid using the crochet method, the braid is passed through the loop of the loc and then flipped or folded to secure the loc. It is similar to passing thread through a needle: the loc is the needle, and the natural hair braid is the thread. This effectively reduces the length of natural hair to hide, and the kinky hair piece is then used to wrap the hair as normal. While this is an easier way to install, it has its risks. The natural hair cannot be braided all the way since it will need to be as flat as possible so that the roots are not bulky. This in itself is not a problem until the takedown. If you're taking down your locs by yourself, you may be unable to tell the difference between your hair and the kinky hair (unless it is a different texture). A simple solution to this is to have a professional do it for you, and one that probably helped with the installation.
Before You Loc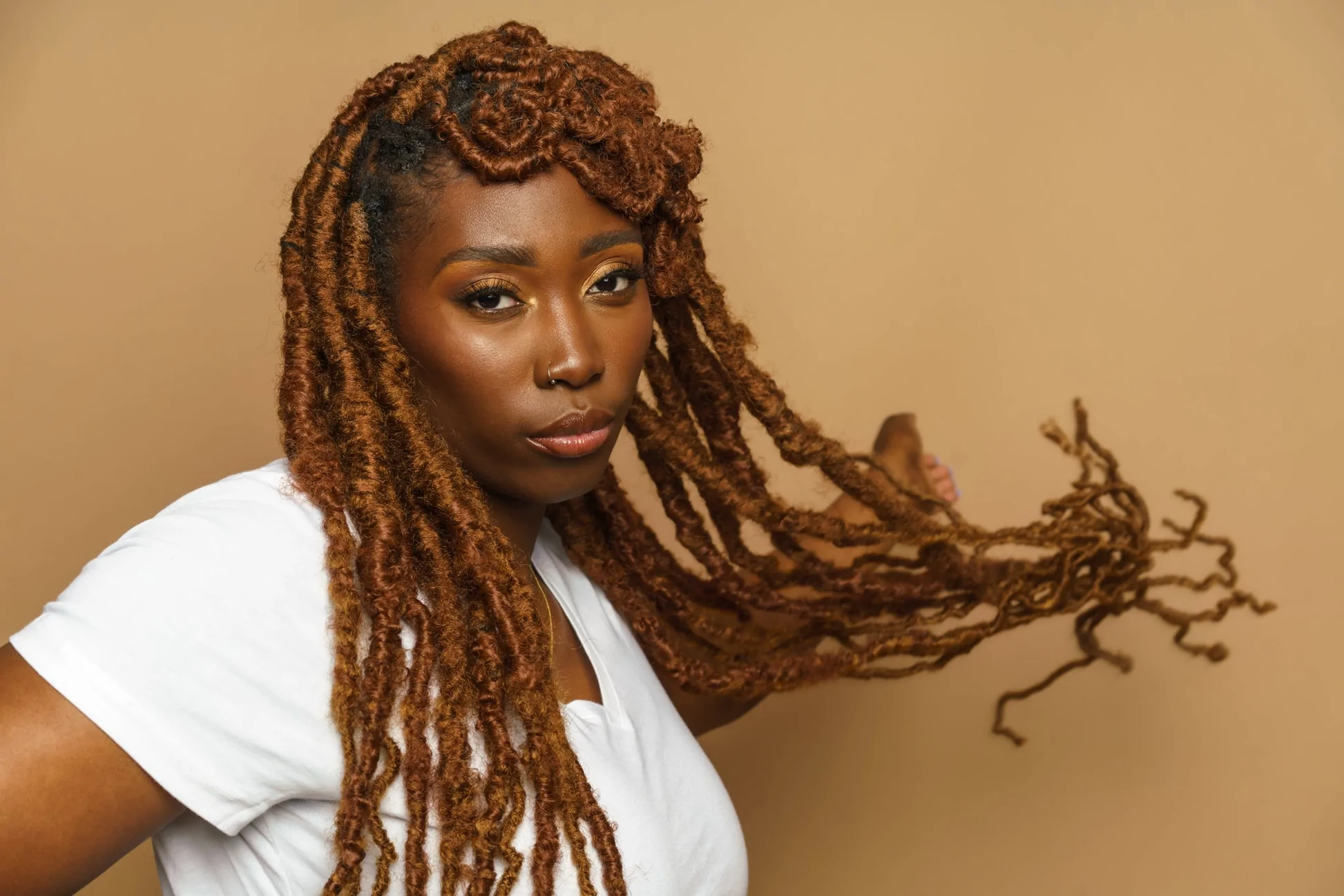 Soft locs are one of the easiest, low-maintenance protective styles available. This is why the hair must be properly prepped before installing locs.
Cleanse:

like any protective style, the hair underneath should be cleaned thoroughly before installation. Cleaning your hair before getting locs means that the hair is less likely to hold dirt or debris that will be trapped in the loc before it is 'hidden' away. 

Stretch: With soft locs, this step cannot be skipped. The hair needs to be as straight and flat as possible so it can be tucked away easily during installation. Kinkier hair textures will make the locs bulky, especially from the roots to the point where the hair stops. Stretching the hair will make it flat enough that the transition from hair-loc to loc only is smooth and almost invisible.
Parting: If you're using any of the individual braids methods, you should ensure that the parts are clearly defined, separated, and braided before starting. For the cornrow crochets, ensure that the parts towards the front are straight and neat and that they are at the points where you would normally have your middle or side parts. 
Products: There are so many types of faux locs in the market, choosing the right hair can be daunting. However, they seem to fall into different categories depending on the look you're going for. I like the kinkier textured hair because they match my natural hair, is easier to 'wrap', and perform better in updo styles without unraveling. The passion twist type of locs is great too. They give off the "distressed" loc look and are shinier.I always prefer a simple straight loc that matches my hair with a bit of color at the bottom. This helps me blend my hair with the locs so it looks more natural. And if you're a beginner, you may need some time to perfect the wrapping technique, so using locs that match your hair color will hide any spots you missed.
Soft Locs Ideas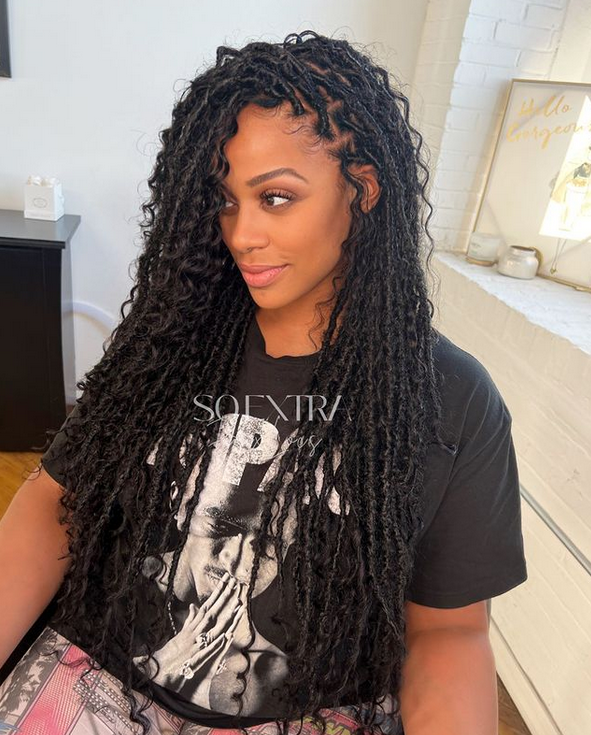 These locs are achieved by leaving out random pieces of hair along the loc. The pieces could be straight or curled, depending on your preference. Any type of braiding hair can be used for this style. However, it is best to use smoother or silkier hair extensions like human hair. Kinky hair extensions will tangle up and could get caught in things…awkward!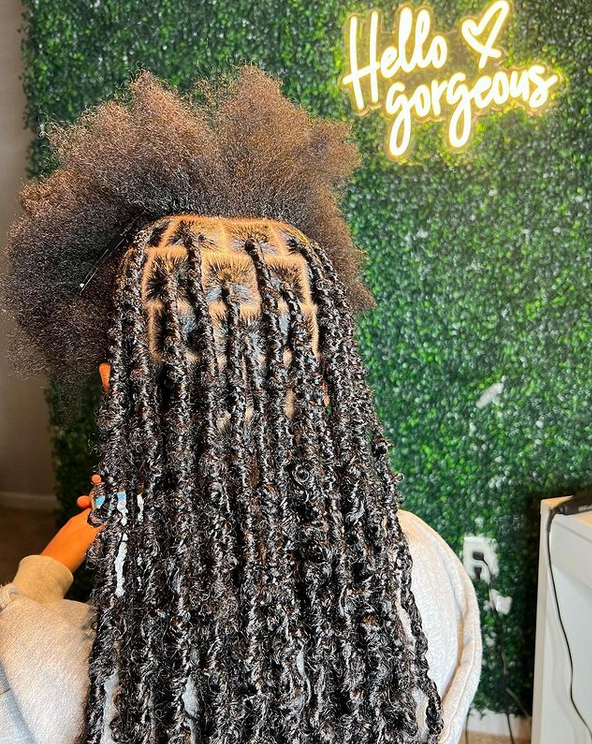 Distressed locs are simply gorgeous. They are made by loosely wrapping the extension around the braid so that it looks 'distressed' but in a stylish way.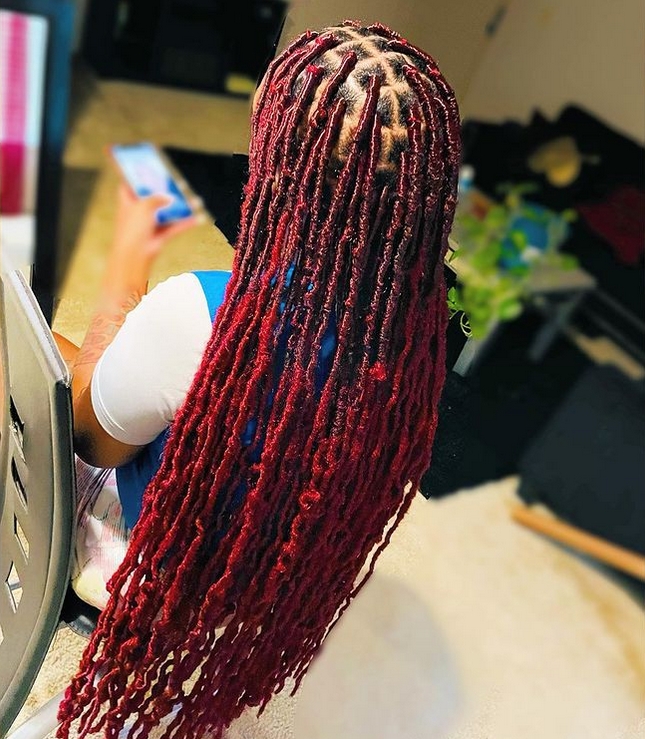 One great thing about soft locs is you can use just about any color. These red locs were "wrapped" with hair extensions that are slightly darker, giving the style an ombre look.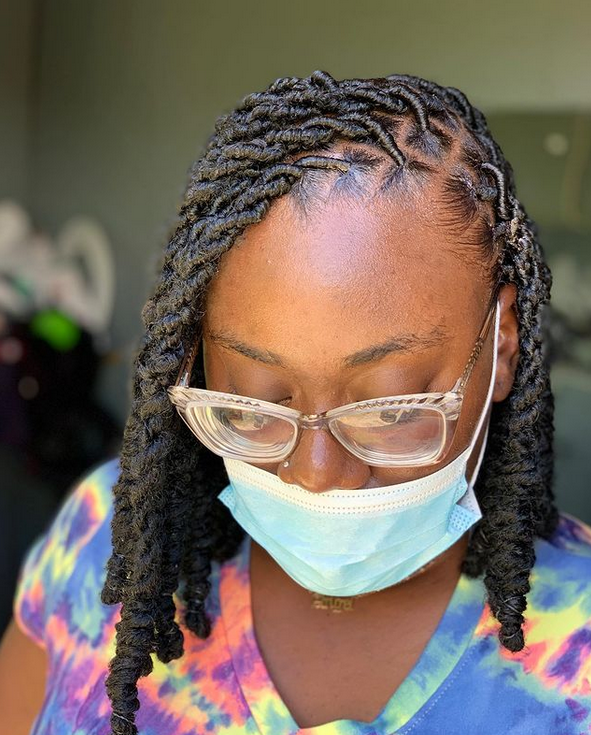 Why stop at just soft locs when you can add twists? This style was made by twisting textured soft locs two individual locs into two strand twists. If you'd like to switch up an old soft loc style or you're looking for a way to reduce the number of loc strands, this is the way to go.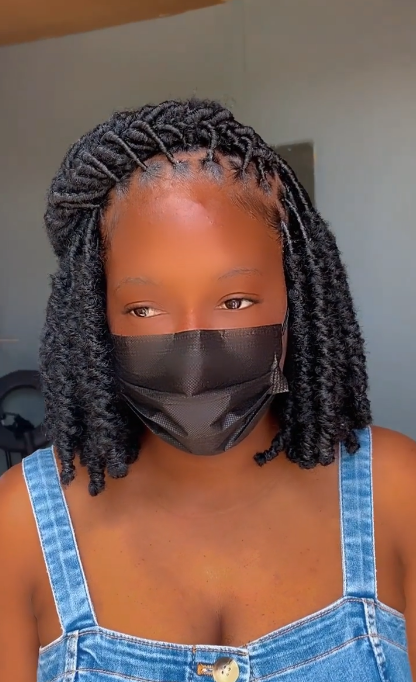 This style combines two different loc textures into one. It starts smooth with the loc wrapped tight and thin, then it transitions to a thicker texture that's wrapped loosely. With this style, you get the best of both worlds: thick volume at the ends for a fuller look, and thin at the base for reduced pressure on the scalp.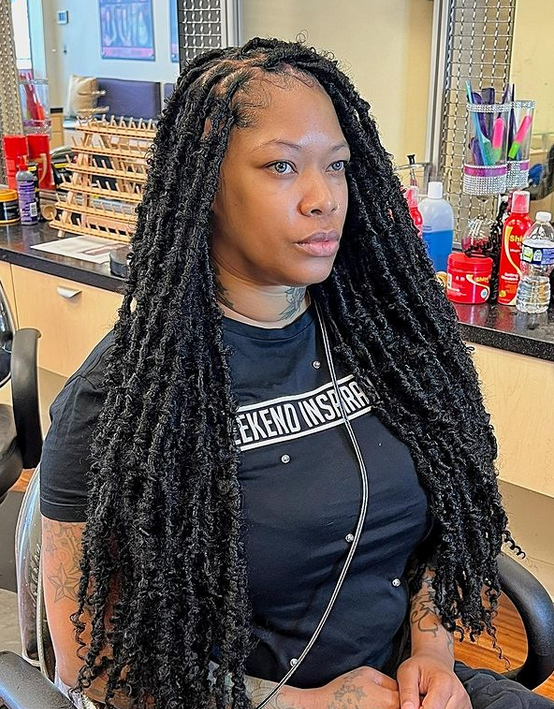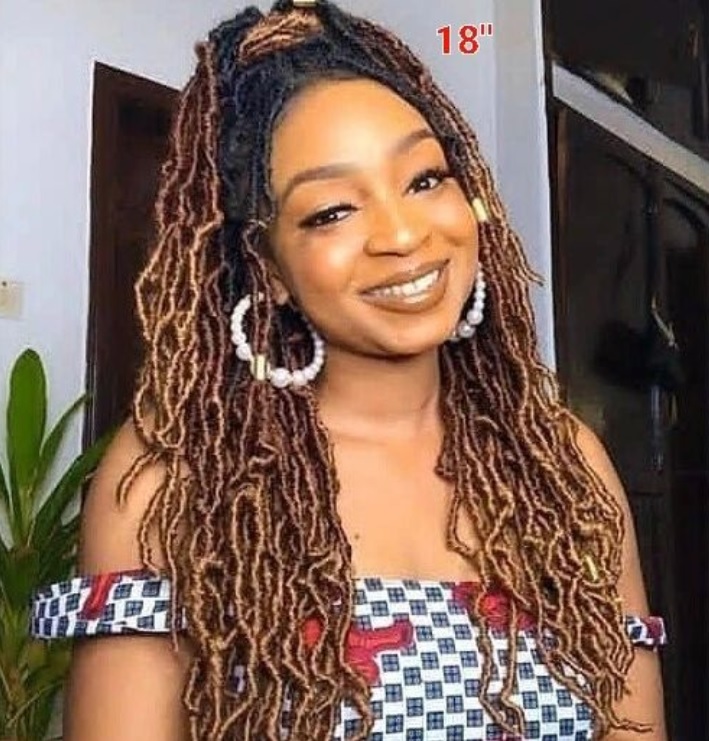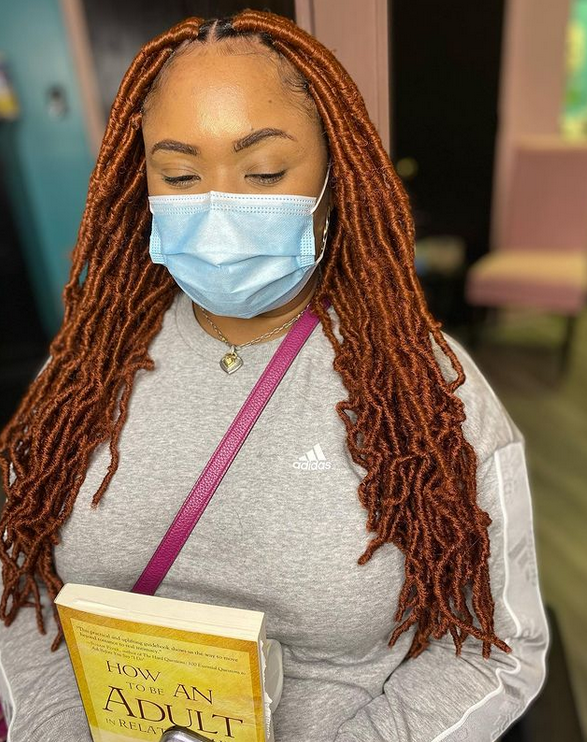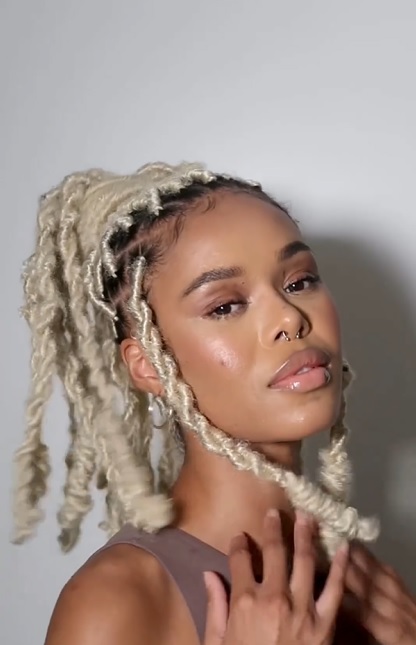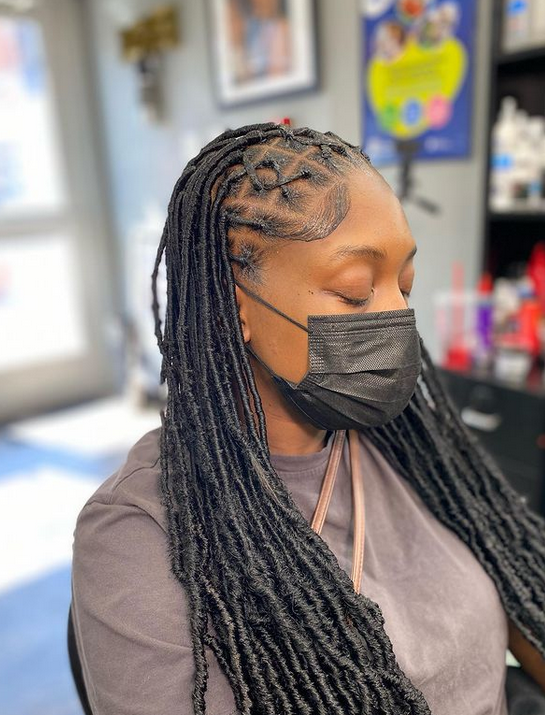 Use small rubber bands to create a criss-cross pattern in the center front part of the hair. You can turn it into a half-up, half-down moment too.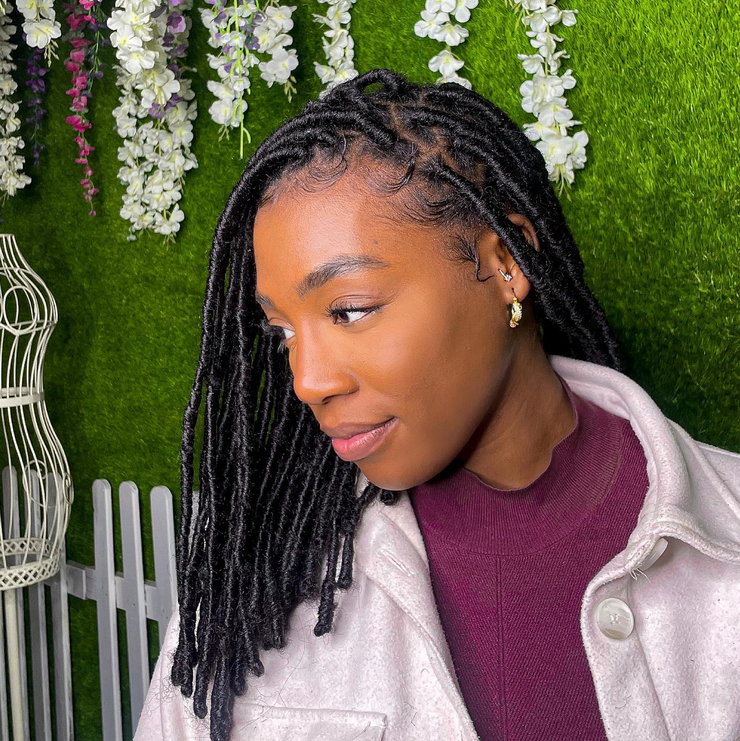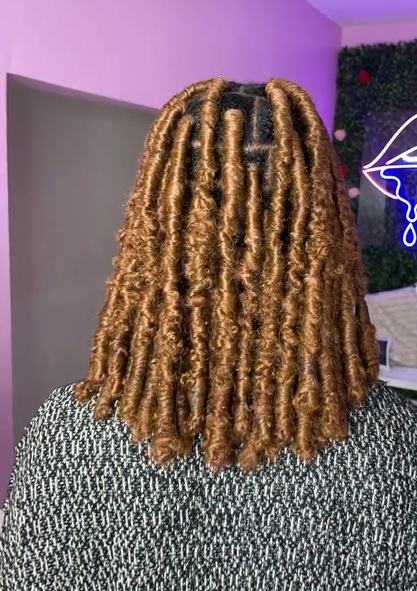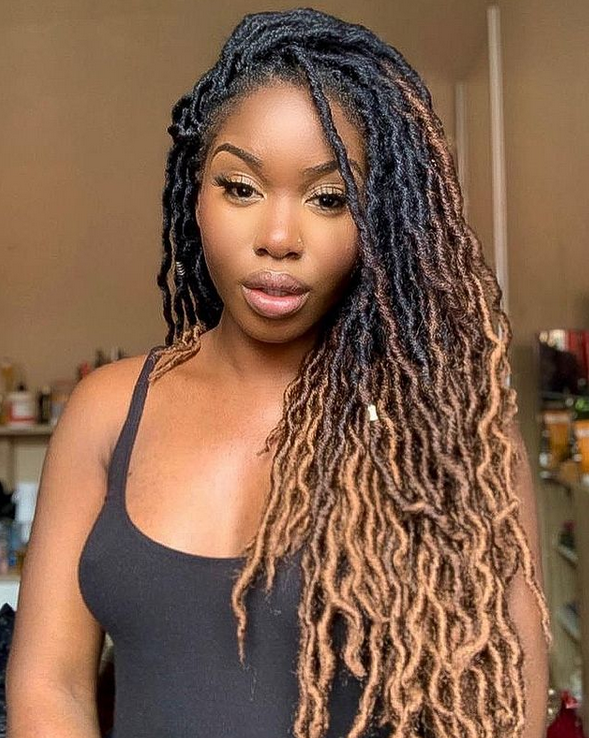 FAQs
Question: How long do soft locs last?
Answer: Technically, they can last as long as you want them. With proper maintenance—scalp care and touch-ups—soft locs can last anywhere from 4 weeks to two months. To do a touch-up, define parts that may have new growth around them. Apply leave-in conditioner and your favorite hair oil to loosen any build-up around the roots.
Next, take a fresh piece of the kinky hair extension and wrap it around the base of the loc where there is new growth from the scalp, just like when the hair was first installed. If you're using a smoother hair extension, wrap the hair up over itself or loop it a few times to secure it.
Question: can soft locs be washed/get wet?
Answer: Yes, you can wash your soft locs. However, I wouldn't recommend washing the actual locs. Focus on cleaning the scalp only and let the water trickle down. There's no problem with getting your locs wet, whether in the rain or swimming pool.
However, since most locs are made of synthetic fibers, you may not be able to use a hair dryer to dry them or they might be damaged. In such cases, wrapping your hair up in a towel or old cotton t-shirt and then air-drying them would be best. The good news is that it drys relatively fast, so it won't be a long wait.
Question: Can soft locs unravel?
Answer: if they were properly manufactured, they shouldn't. Like regular locs, the kinky nature of the extensions used to create the locs themselves makes it almost impossible to unravel. Unless intentional pressure is placed on the hair like if it gets caught on something, it should not. However, you can fix it by wrapping any loose pieces around the main stem of the loc and securing it with a small not. This works for any pieces that unravel at any length of the loc.
Conclusion
Soft locs are a great way to protect your hair while making a style statement with your hair. With so many styles to choose from you can explore to find the ones that work best for you. They're also really versatile, you can switch up the texture and length of a style without actually taking down the hairstyle completely.
The best part of soft locs is the maintenance. It gives you access to your scalp to keep it clean and moisturized. And when you get enough new growth where other braid styles might need to be taken out, you can wrap the locs all over again, and voila, you just got your hair done, without getting your hair done. 
For some extra glam, add in some twine or other hair accessories. And if your locs are thin enough—or you find a bead big enough—throw some beads in too!
Which soft loc hairstyle are you trying next?
Looking for more interesting readings? Check out: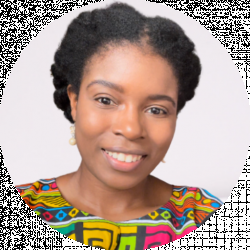 Latest posts by Temi Ajala
(see all)