These days, unnatural colors are becoming more common. But I still find galaxy hair to be really rare. Galaxy hair is any hair dye technique that looks galactic. Most galaxy hair dye looks to combine the colors purple, blue, and magenta, but there are numerous colors that you can use.
Are you interested in doing a galaxy hair look? I've had unnatural colors numerous times, and the key is finding the color and hair dyeing technique that works for you. Here, I found some of my favorite galaxy hair looks on Instagram for your inspiration. Continue reading my galaxy hair ideas & style guide.
Bottom line up front: The galaxy hair with space buns is my favorite look. It's a classic look that anyone will love. The mix of teal, electric blue, and magenta makes the model's hair look mystical. You can also add purple if you want more versatility or just add a darker color. If you don't want to try this galaxy hair look, I suggest looking at my other recommendations.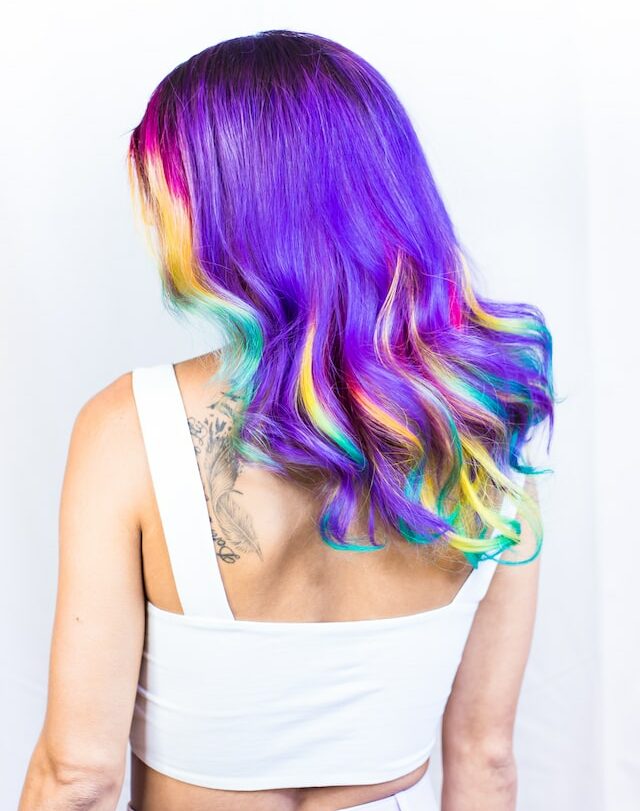 What Is Galaxy Hair?
Galaxy hair consists of colors found in space. While purple, blue, and magenta are the most common colors, you can find nearly any color in space. If the colors are blended well, it will give your hair an outer space look. In addition, different color shades also work. For example, you can opt for a combination of dark and light purple.
Most galaxy colors are dark, but you can find appropriate bright colors and even pastels in outer space. You also don't need multiple colors to pull off galaxy hair. I've seen gorgeous galaxy hair use only two colors, and I've even seen single-color galaxy looks. No matter which galaxy hair look you choose, the result should be eye-popping and reminiscent of space.
What to Know before Getting Galaxy Hair
Galaxy hair is a chic and individualistic hair color trend. However, there are some things you should know before you rock galactic hair.
Maintenance
Unnatural hair colors are a handful. They don't last as long as natural hair colors, so you have to baby your hair. Plus, unnatural colors have the tendency to stain. The key is to not wash your hair as long as possible. When you do wash your hair, use color-safe hair products.
Go to a Professional
Galaxy hair isn't an easy technique to DIY. Unless you work with only one or two colors, galaxy hair is too complex for the average novice. A colorist will ensure that your galaxy hair looks vibrant and all of the colors blend seamlessly. Ideally, find a colorist that specializes in galaxy hair.
Type of Dye
Most unnatural dyes are semi-permanent, meaning they won't deposit color in the hair shaft and only color your hair's exterior. This means semi-permanent hair doesn't last as long but can still last as long as six weeks with the right maintenance. If you don't want your galaxy hair to last as long, opt for temporary dye, which only lasts for a few shampoos.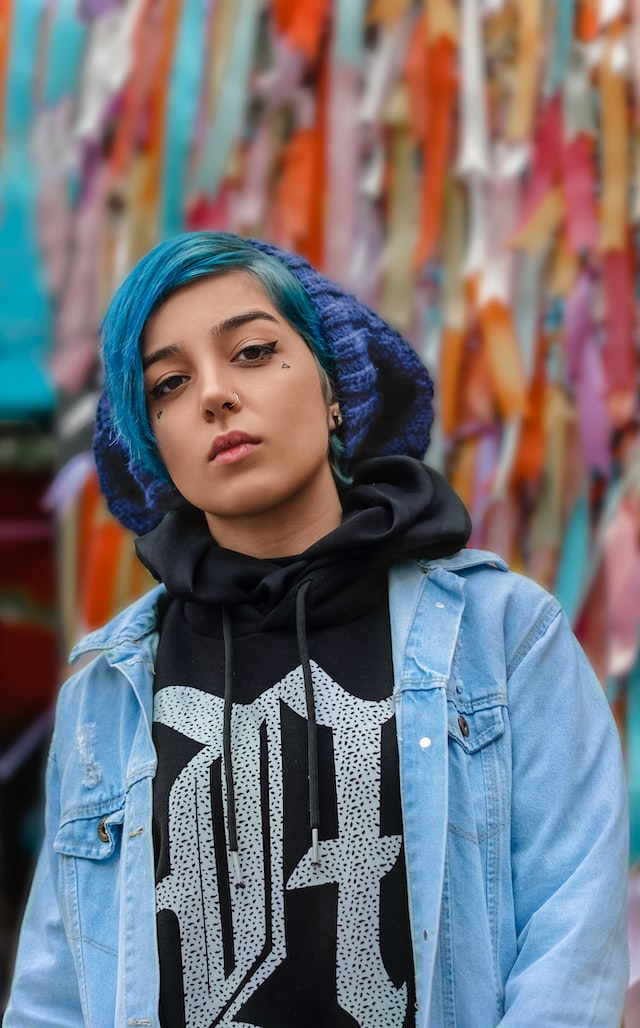 How I Chose These Looks
To get mystical galaxy hair, you'll need to achieve the best colors and dyeing techniques. I took some of these factors into consideration when choosing the best galaxy hair looks.
Dyeing Technique
Your colorist can use various techniques to pull off chic galaxy hair. These include:
Highlights are the placement of colors near the roots, though many also lump lowlights into this category (placement of colors at the length of your hair). Ombre is when one color at the top blends into another at the bottom. Balayage is a dyeing technique where the colorist paints different colors into your hair. You can apply a balayage to the top and/or bottom of your tresses.
All of these dyeing techniques can give you otherworldly galaxy hair. The key is choosing the one that suits you most, which is why I included all these different dyeing techniques.
Hair Length
You can get galaxy hair with any hair length — it doesn't matter if you have the shortest or longest hair. I personally love galaxy hair on short hair since the different colors give your short hair more definition. Your galaxy hair can be simple and two-toned or feature all of the colors of the rainbow. The right colors and technique will look incredible, no matter how many colors you use.
Colors
As I stated, most galaxy hair looks to combine the colors purple, blue, and magenta. These colors are most associated with space. However, I've seen some incredible galaxy hair looks using green. If all of these colors are too cool for you, you can achieve galaxy hair using warm colors. I suggest looking at the color wheel before choosing your galaxy hair look since your colorist may have to mix a unique color for you.
Warm-toned versions of purple:
Warm-toned versions of blue:
Don't forget that magenta is technically a warm color. You can also opt for hot pink, which is also a warm color.
My Favorite Galaxy Hair Ideas
Are you ready to try galaxy hair? First, scroll through my favorite looks on Instagram!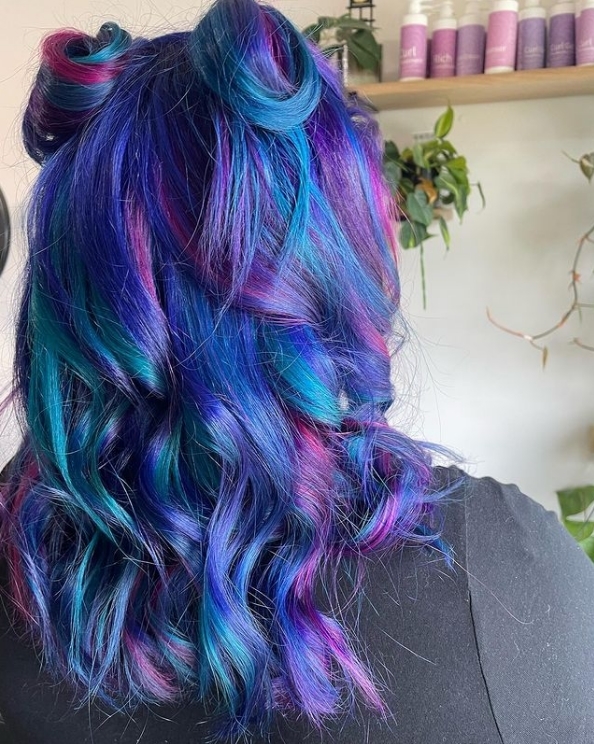 This is classic galaxy hair complete with adorable space buns. Each color is painted on in a delicate balayage, so all of the different hues melt together. The balayage is applied expertly, starting from the roots to the tips, so this is the perfect look if you want all-over galaxy hair. These attention-seeking tresses are sure to turn heads. Credit: @_hairbyrach_.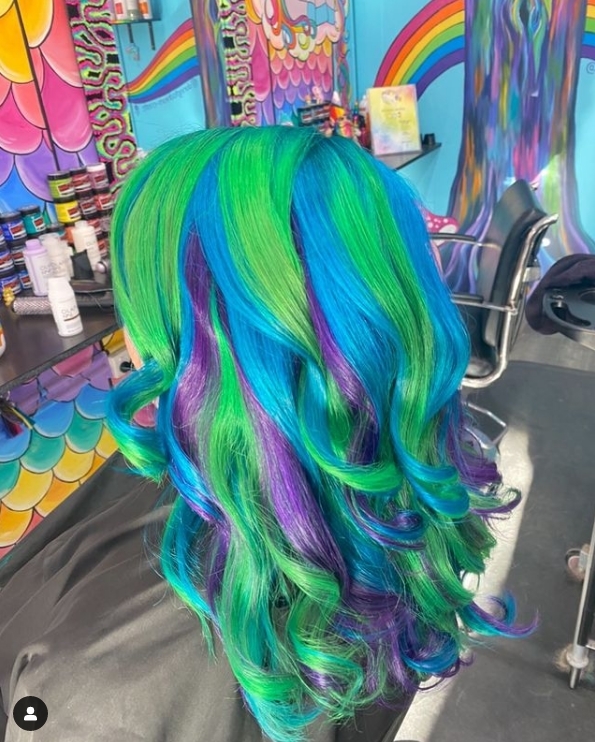 This multi-dimensional look is so alien; I love it! Chunky green highlights sit on top of various hues of sky blue and royal purple. If you truly want unique galaxy hair, I suggest choosing this look. Because of the complexity of these colors, I recommend going to a professional for this look. Credit: @unicorn_manes_bymykey.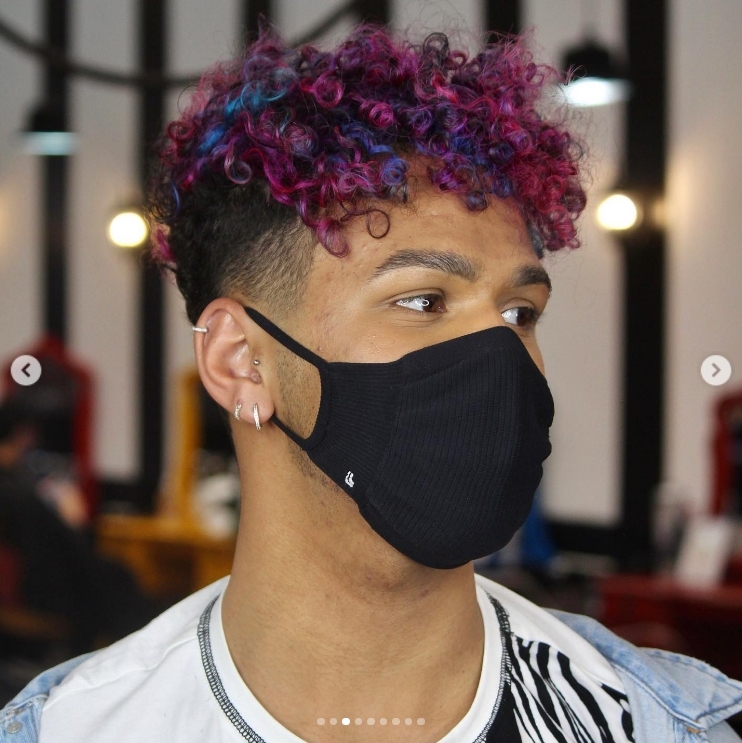 Remember when I said galaxy hair looks fantastic on short hair? I absolutely adore this look! This short hair combines a magenta and electric blue balayage, which looks outstanding. The curls on the model's hair give her tresses more definition, and the different hues stand out even more. Credit: @circushair.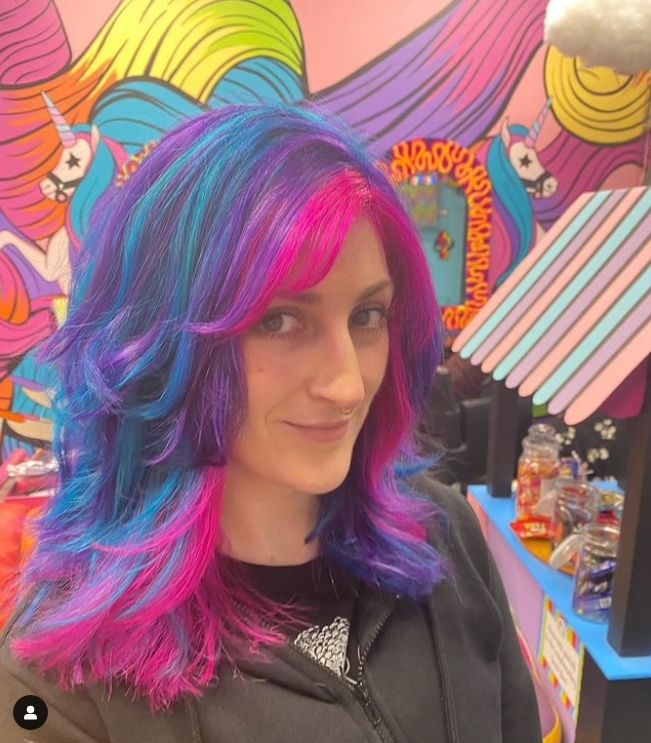 With the entanglement of bright colors, this look gives me serious Lisa Frank vibes! The model has medium-length hair with various unique colors — hot pink, sky blue, and royal purple. I also love her wavy hair and short flippy bangs, making the color look even more fantastic. Credit: @unicorn_manes_bymykey.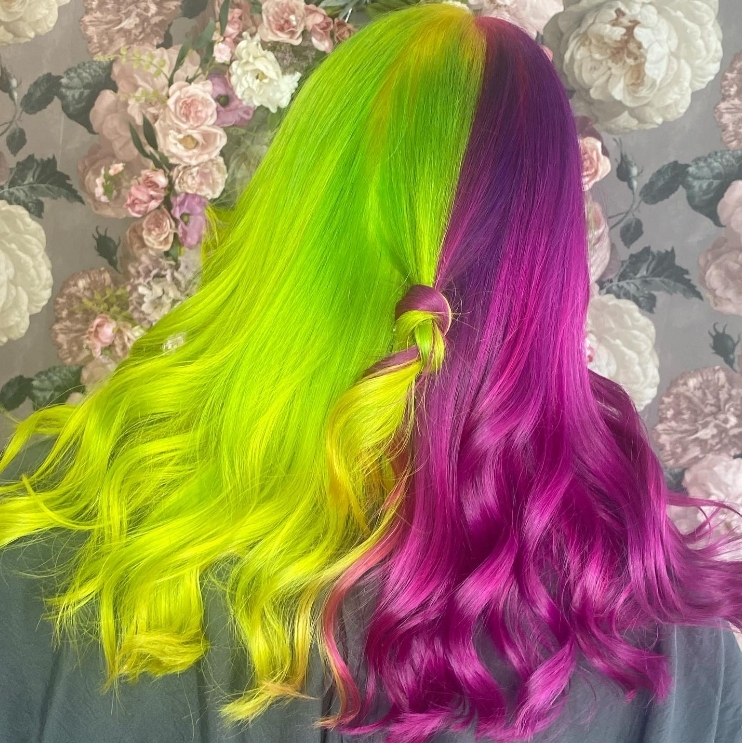 These colors remind me of a blacklight room! The model here has split-toned hair: the left side is lime green, and the right side is a cosmic shade of purple. The two colors combined look super cool and are almost glowing. While the model does have long hair, I also see these colors looking awesome on short or medium-length hair. Credit: @ashatpout.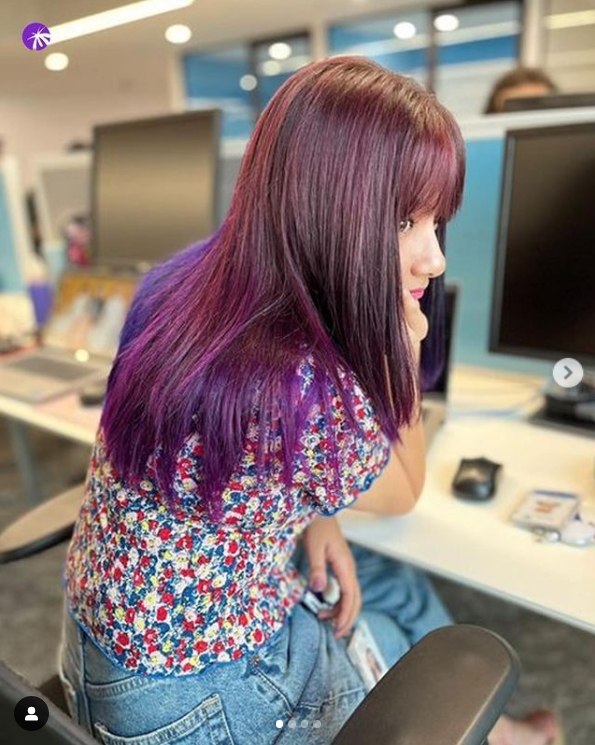 You don't need to dye your hair a myriad of vivid colors to achieve galaxy hair. An ombre with your natural hair color and a galactic shade of purple does the trick. Take this look as an example. The model has only her ends dyed purple and magenta in an ombre with her natural brown hair color. This galaxy hair look is subtle but still really cute. The model's hair is down now, but I can see these colors looking great in a bun, braids, and twists. Credit: @birdsofparadyes.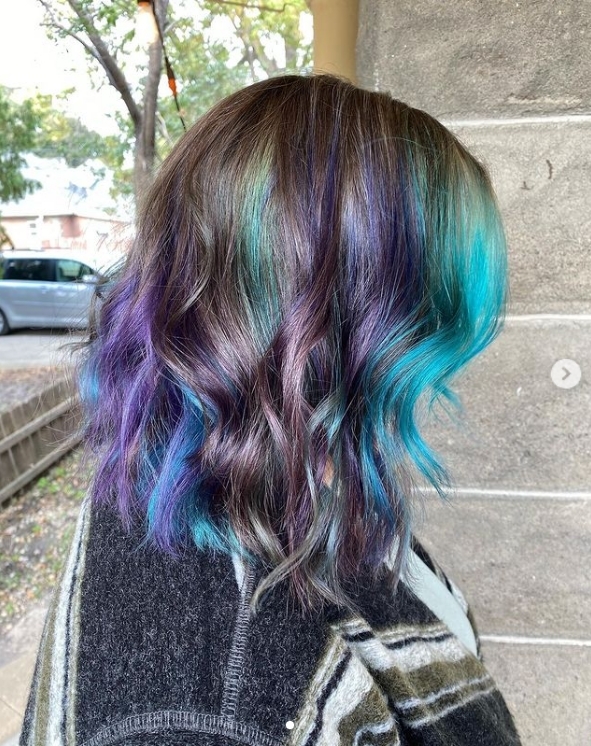 Are you interested in dyeing your hair in beautiful cool-toned galaxy colors? Take this look as an inspiration. The model uses a combination of pastel teal, electric blue, and vivid purple to achieve these cool-toned colors that mesh with her natural brown hair color. I also love her loose waves. They make her hair look more defined and accentuate all of the different colors in her hair. Credit: @hairby.shayna.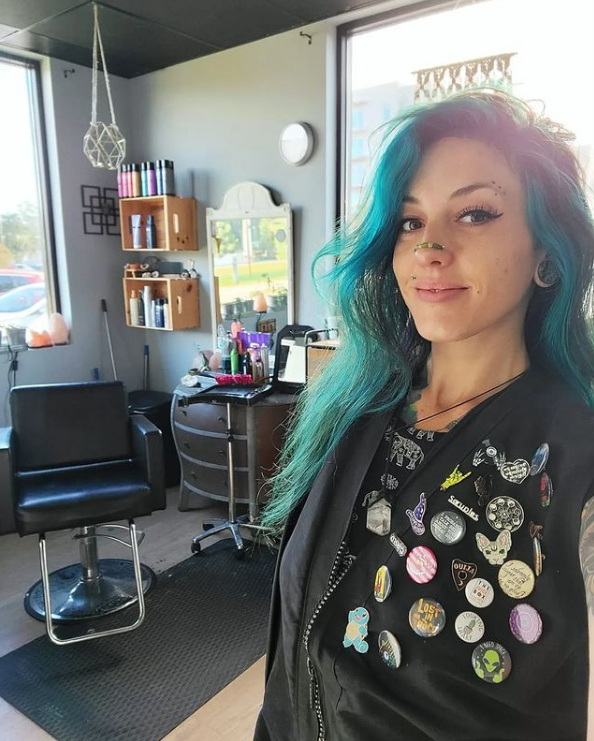 Even a unique galaxy hair look can be breathtaking! While it's normal to have your natural roots grow in, why not have purple hair be your shadow roots? That's what this model did. The rest of her hair combines baby blue and green, making a lovely teal color.
You don't have to combine purple and teal — and color would work with this combination. Her hair proves that there are no limits to creativity when doing galaxy hair. The model's hair is long, but I also think this would be a great look on those with a short bob hairstyle. Credit: @hollyborealishair.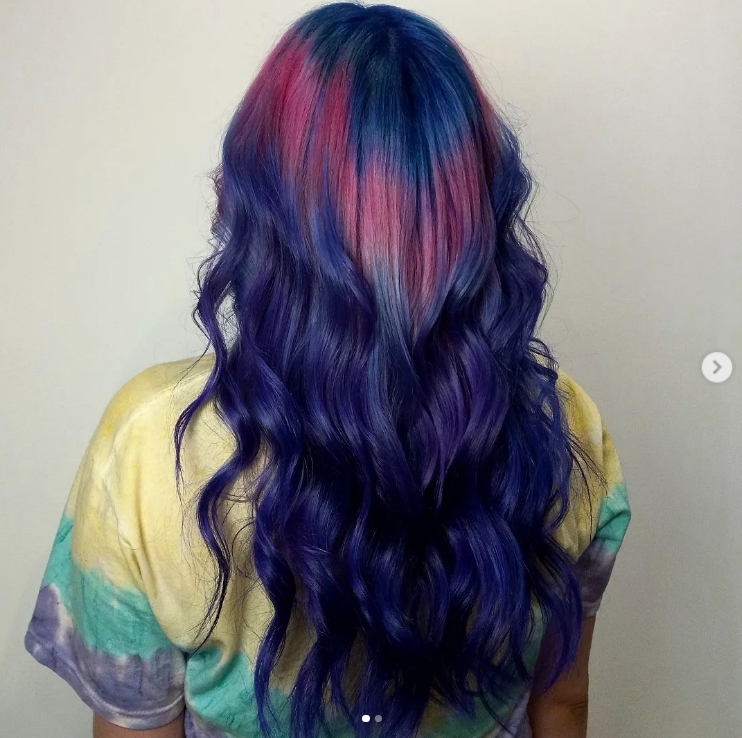 This is a really cool color combination! The model's hair is dark blue and has red highlights. I first have to say that the deep purple that the model has is such an amazing color. I want to dye my hair that color one day. While deep purple and red seem like an odd color combination, they blend really well here. If you don't like the highlighting style, I also suggest trying these two colors in an ombre or a combination of both colors as lowlights. Credit: @jessicayaustylist.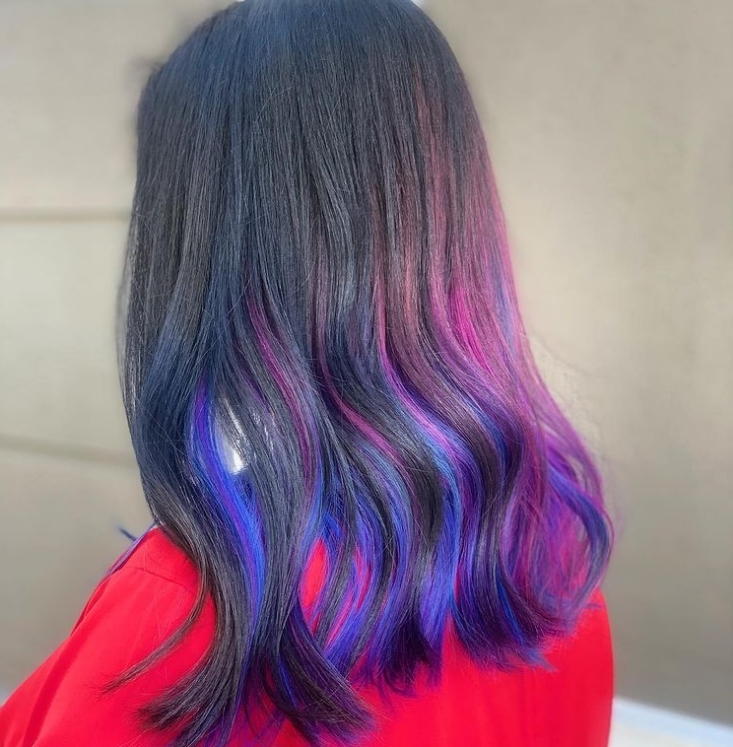 I love galaxy hair because it's a mix of so many colors. If you're unsure which color to get, try all these jaw-dropping colors in an ombre like this look! I also think combining these colors in an ombre, like what the model has, is very stylish. Her natural dark brown hair is a stunning base for these colors, and the shades of blue, purple, and magenta blend so well with her natural hair color. Credit: @joe_the_hairartist.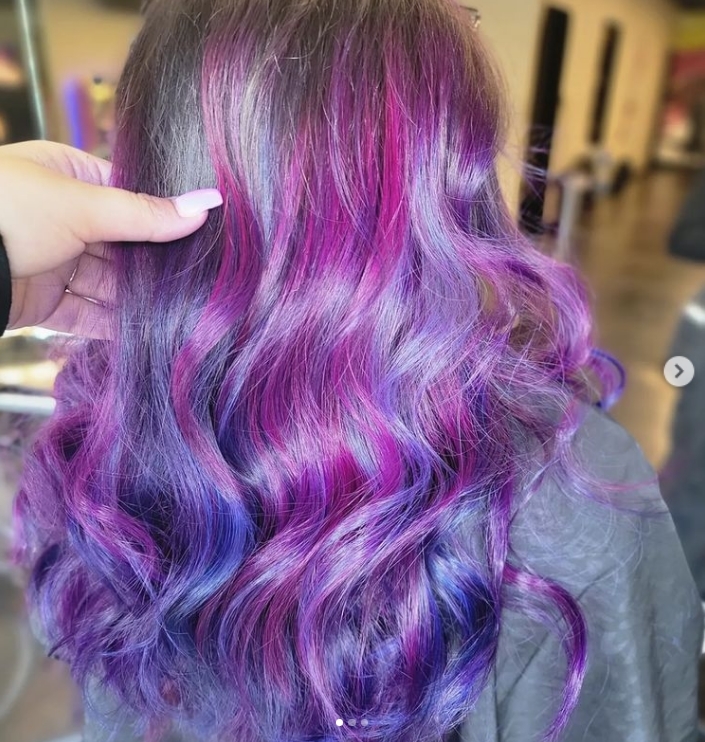 Your galaxy hair doesn't have to combine several different colors but can use two different shades of the same color. Let's look at this purple galaxy hair as an example. This isn't standard galaxy hair, but the mix of magenta and vivid purple totally gives this hair outer space vibes. At the same time, the hair isn't too busy and blends in well with the model's natural brown hair color. The curls also make the color look more swirling and extra-terrestrial. Credit: @angelinaleon.beauty.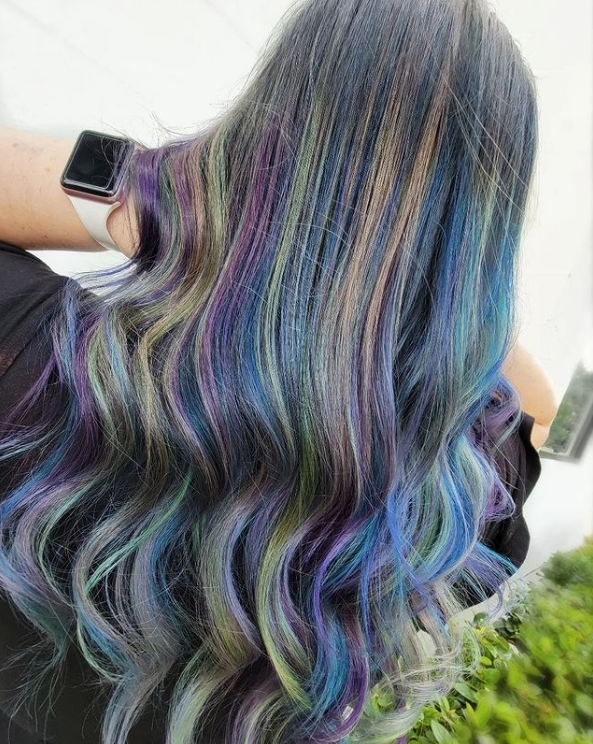 I love the mix of brighter colors in this hair look. I see lime green, orange, navy blue, teal, and purple. Every color is vibrant but blends so well together. The colorist used a balayage ribbon technique. This technique, plus the waves, gives the model's hair more definition. Credit: @hollyborealishair.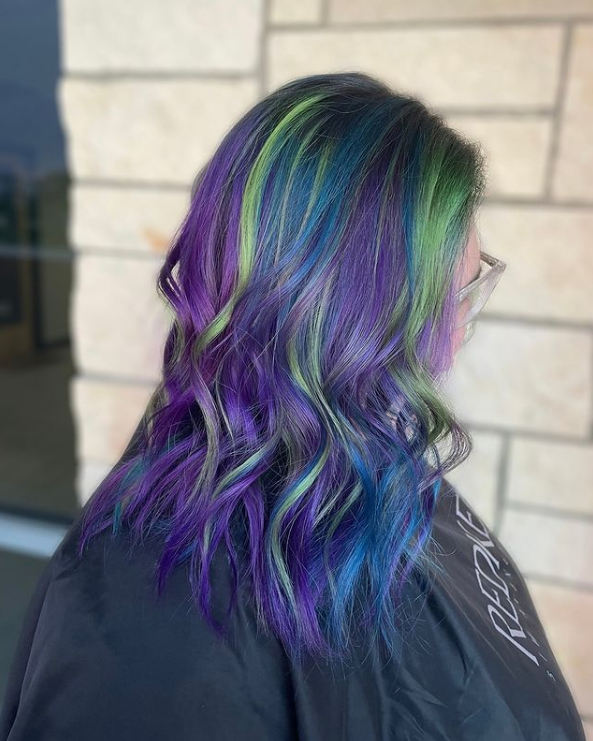 If you find yourself gravitating to the more alien vibes of outer space, I suggest a look like this. Green is the primary color that stands out to me, yet the model's hair also has shades of blue and purple. All of these colors are very vivid and look out of this world. Credit: @hmackcompanysalon.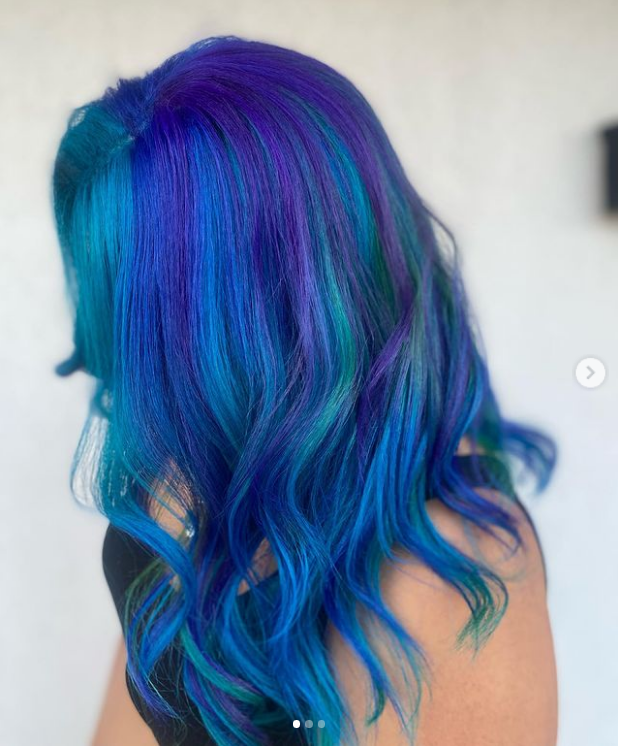 With all of the different shades of blue, this look reminds me of the planet Neptune. While many would consider this mermaid hair (combining two or more vivid or pastel colors on long wavy hair), the addition of purple gives this more space vibes.
The model's hair combines baby blue, electric blue, and bright purple. The colors mix really well and evoke serious energy from the planet Neptune. The technique looks like a balayage, though with chunkier sections. Credit: @colorcherub.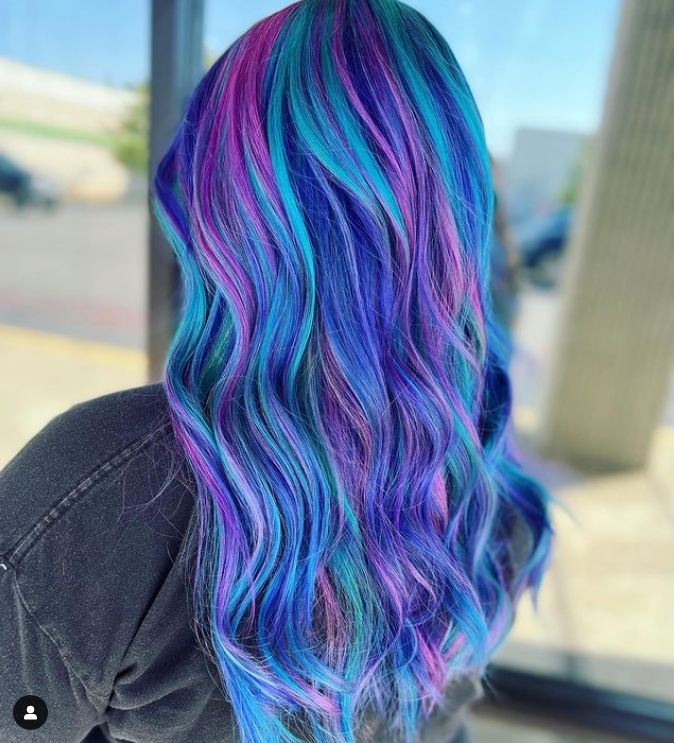 You don't have to include purple in your galaxy hair. You can add pink or fuchsia for a feminine take on traditional galaxy hair. The pink here looks striking against the teal and electric blue. These different shades contrast, allowing every color to stand out. Credit: @amandasparkshairandmakeup.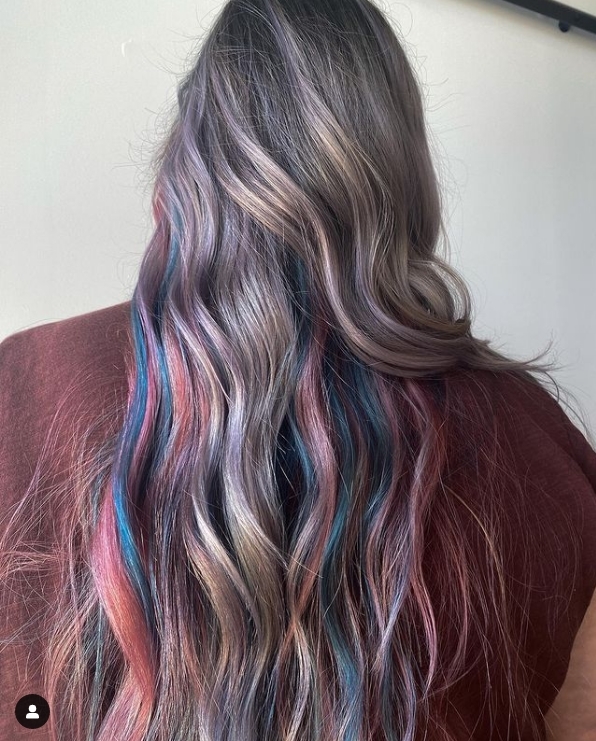 Do you want galaxy hair but also work at an office with a strict dress code? You can opt for some peekaboo highlights and streaks, like what this model has. Underneath her thick brown hair, you see a twist of electric blue and red. This still adds some freshness to your natural hair color while still maintaining an office-friendly vibe. Plus, the electric blue and red blend so well together. I still recommend going to a professional colorist so they can accurately hide the streaks. Credit: @choled.does.hair.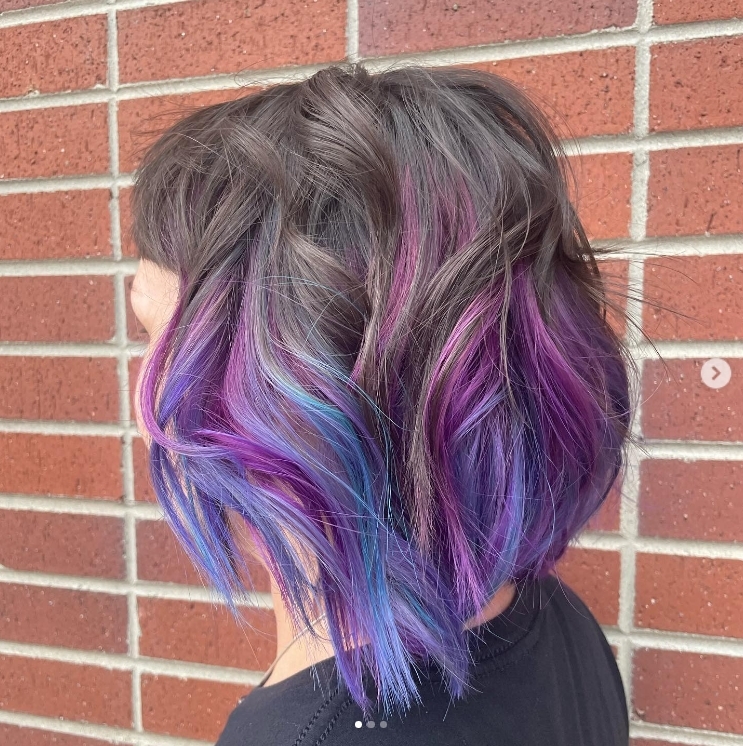 If you want blue and purple galaxy hair, go for a swirling look like this. The way these colors are blended reminds me of a nebula. Magenta dominates this hair look, but there are also tinges of purple and teal. I like how this isn't a detailed galaxy hair look; instead, you can tell all the colors were mixed together in the dyeing process, resulting in some unique hair shades I've never seen before.
The fact that these colors are an ombre to the model's natural brown hair makes this look bold yet simple. I suggest this look if you want blue and purple galaxy hair, want a simpler galaxy look, and/or if you have short hair. Credit: @talking_hairs.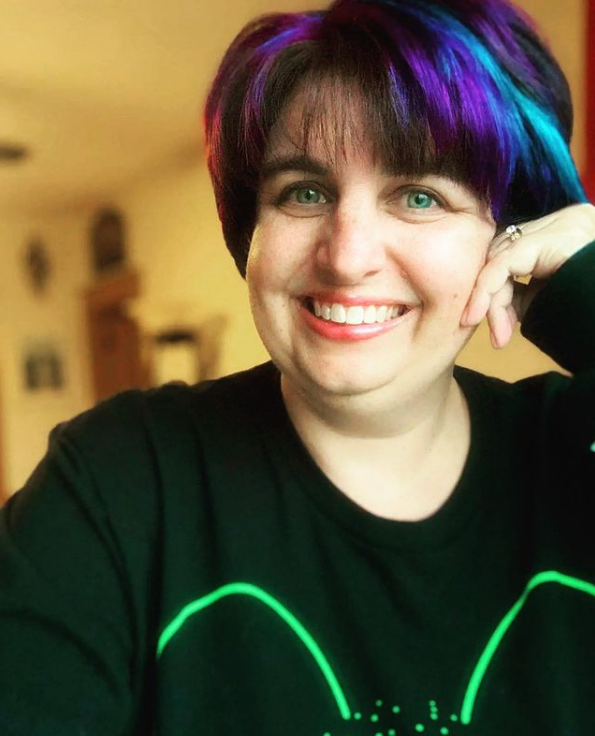 Not sure which colors you want in your galaxy hair? Try them all with this rainbow look! I love the blend of dark purple with light blue and even pops of red. All of the colors pair well together and blend with the model's natural dark brown hair. The colors also look striking on the model's short hair. I still suggest going to a colorist for this look for the best results. Credit: @_fishinthec_.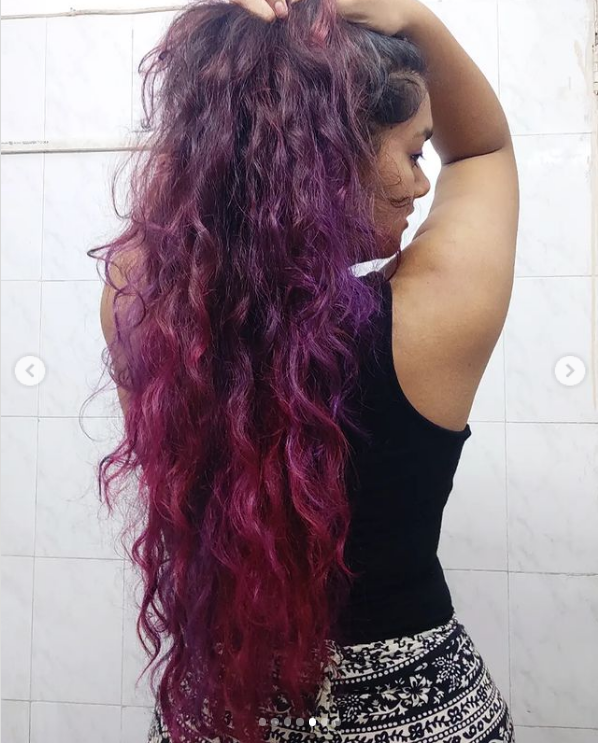 When people think of galaxy hair, red is often the last color that comes to mind. But when combined with the right colors, red can totally be spacey. The model here proves this. Her ombre features a combination of red and dark purple at the bottom. I also love the contrast between her brown hair and the multi-colored hues. If you want even more contrast, I suggest doing half of your head red and the other half purple. Credit: @harshasuniverse.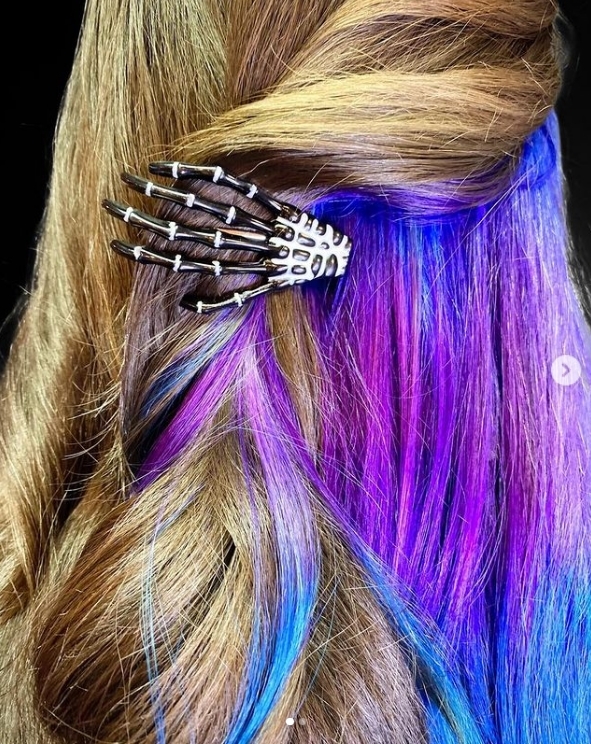 This is great galaxy hair inspiration, whether you want these peekaboo highlights or if you want to dye your whole head these colors. Her peekaboo highlights are a spectrum of bright purple and electric blue, giving her hair serious spacey vibes. Even as peekaboo highlights, her hair has that trademarked galaxy look. The skull hand clip is also adorable! Credit: @lunamothhairsalon.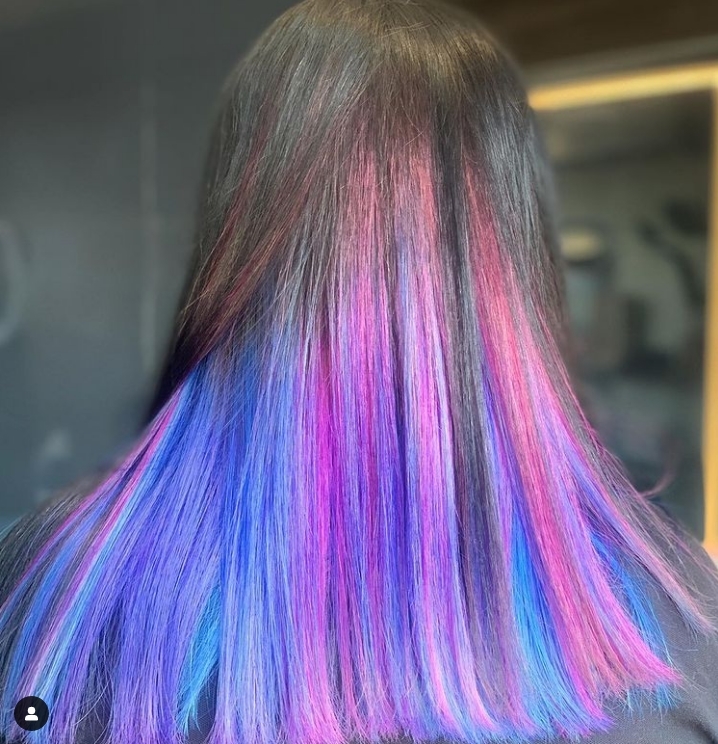 Most of the galaxy looks I've been including are either deep or bright colors, but I haven't included many galaxy hair looks with pastel colors. I think this look is the best example. I love the lowlight stripes of pastel purple, blue, and pink. The model's hair is straight, making all of the colors blend and fall effortlessly. As lowlights to her natural brown hair, this look is good for anyone new to galaxy hair. Credit: @joe_the_hairartist.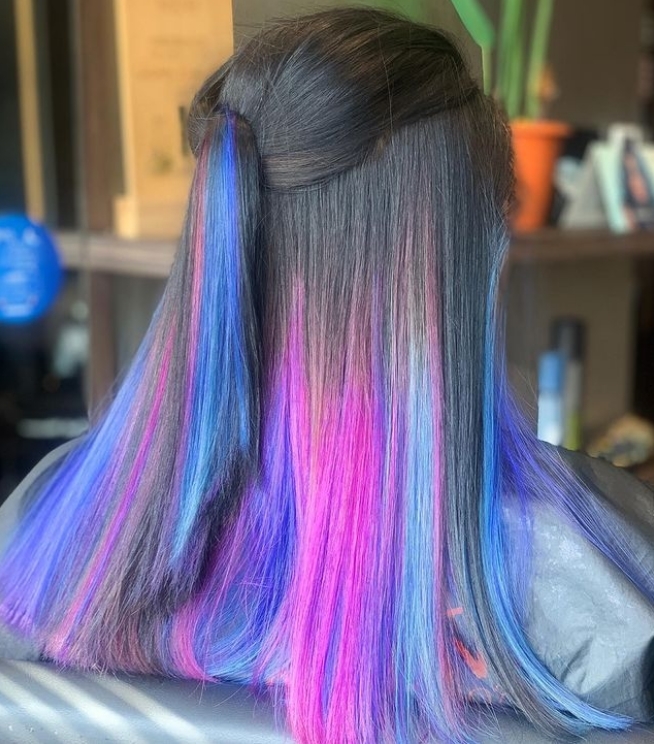 With galaxy hair, it's not always a matter of which colors to use as much as it is the style you choose. I absolutely love this half-up up-do. The model uses pastel colors, specifically light pink and galaxy blues, making her updo even more vibrant with plenty of contrasting colors. Credit: @joe_the_hairartist.
FAQs
Question: Is it expensive to get galaxy hair?
Answer: You can expect to spend several hundred dollars on your galaxy hair, far more than your average hair service. That's because galaxy hair often requires bleaching, dyeing several colors, and a haircut and style. However, your price depends on your hair type, the colors you get, how long the service takes, and the salon's overall rates. I suggest calling the salon ahead of time and asking.
Question: Can I do galaxy hair DIY?
Answer: If you decide to go the DIY route with your galaxy hair, you should have some experience dyeing hair or at least get help from a friend who does. That's because the different techniques and all the sections you will dye are complex, so you should have some experience, only use two colors, or at least get a little help.
Question: Is galaxy hair the same as holographic hair?
Answer: Holographic hair involves using color-changing dyes.
Question: Is galaxy hair the same as oil slick color?
Answer: Oil slick hair combines jewel tones, such as green, blue, and purple, that create an iridescent look on dark hair. It looks similar to galaxy hair, but oil slick hair doesn't require any pre-lightening but looks just as edgy.

Bottom Line
Out of all of these galaxy hair looks, the classic galaxy hair with space buns is my favorite look. The model combines electric blue, teal, and magenta for an out-of-this-world hair look. If you want your hair to look more alien, add more shades of green and purple. Plus, the space buns on top give her hair more of an extra-terrestrial vibe.
Even though the model's hair is long, I also see this style looking great on short hair. The colorist used a balayage technique to combine all of the colors. It's a chic yet individualistic look and arguably the best representation of the galaxy hair trend.
Keep in mind that these colors will likely require a lot of upkeep to maintain the dye vibrancy. I also don't suggest doing this look DIY. If you're unsure of this, look through the rest of my galaxy hair recommendations!
Looking for more interesting readings? Check out: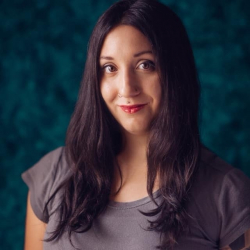 Latest posts by Stephanie Jensen, Hair Trend Spotter & Home Tester
(see all)