The peach hair color is one of the many trending hair colors right now. Like the delicious fruit, peach hair is a mix of orange, gold, and pink. But if you want to dye your hair this color, you'll have to find the best hair dye. Here's my guide on how to find the best peach hair dye and some other useful facts, such as facts about peach hair dye, how to dye your hair peach, maintaining peach hair color, and some alternative colors to consider.
Bottom Line Up Front
Out of all of these dyes, I like the Lime Crime Unicorn dye the best. The color varies from peach-pink to bright orange-peach, depending on your bleaching level. To find the best dye, know the shade of peach you want, consider your undertones, and know if you want a full head of peach hair or if you want highlights.
What to Know First About Dying Your Hair Peach
I've dyed my hair in trending colors dozens of times. I learned that just because a hair color is trending doesn't mean that color will work for you. Peach is also a difficult color to maintain and will require frequent touch-ups.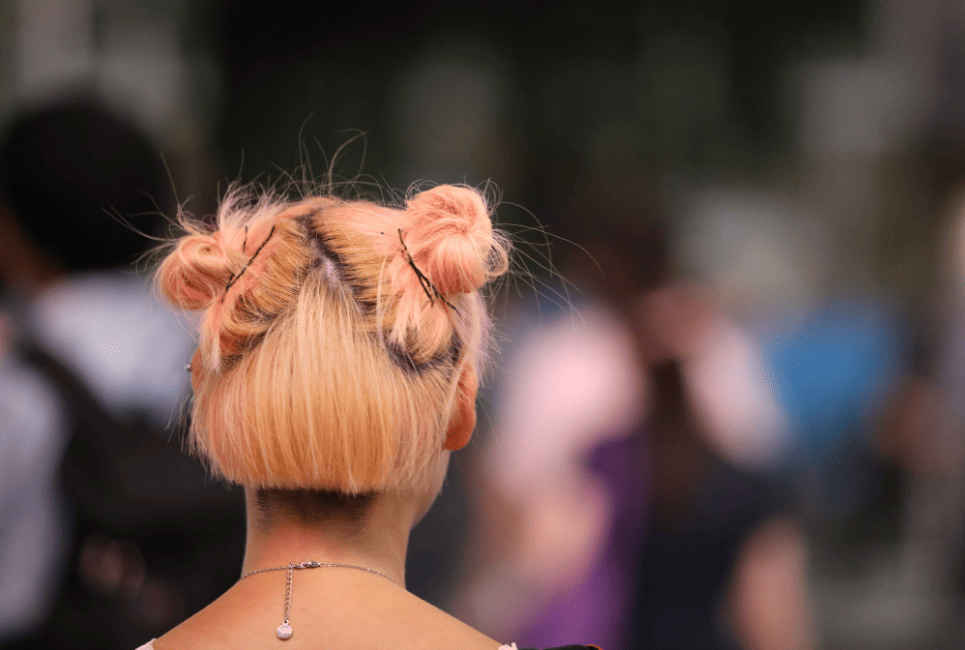 Who Looks Good With This Hair Color
Peach is a warm-toned color, so this color will look best on those with warm undertones. If you have cool undertones, you can mix your peach hair color to include more pink, cooling down some of the orange tones.
While the peach hair color looks great on many people, I think those with naturally red and brown hair look best with this color, especially if you want to go lighter. Peach is more in the orange range — not so much the pink or blonde range, which is the case with other hair color trends such as rose gold. This means peach is a great color if you want to go lighter but don't want to go blonde.
Maintenance
Peach is an unnatural hair color, which means it will require a lot of maintenance to last. I suggest washing your hair weekly, twice a week at the most. The best and cheapest way to increase color longevity is to skip a few shampoos since water will wash out the dye. This is especially true if you're dyeing your hair a muted or pastel shade of peach. I will talk more about peach hair dye maintenance in another section.
Touch-Ups
Touch-ups will keep your peach hair dye fresh. You can go back to the salon and get peach touch-ups, but my hair colorist recommends using an affordable and cheap conditioning hair dye such as Manic Panic. I will recommend a few DIY peach hair dye brands in another section.
Bleaching
Your hair should be light, at least a level 8 before you dye your hair peach. The peach hair color has so many different tones, and they won't show up unless your hair is a light blonde. I know you may not want to bleach your hair. I'm not only a brunette, but my hair is naturally a level 2 (I dye it black, so it's currently a level 1). Bleach will fry my tresses.
But if you want this hair color, you'll need to bleach it. I've seen people with brown and even dark blonde hair try to dye their hair peach, and the color didn't come out well (though peach dye does turn dark blonde hair into a pretty orange-gold color). I wanted to dye my hair bright green when I was level 2, so I lightened my hair slowly over one month. My hair was damaged, but it returned to normal with some conditioning treatments.
If you're still hesitant about bleaching your hair, I will recommend some alternative shades that don't require as much bleach.
How to Find the Best Peach Hair Dye
After knowing the basics of dyeing your hair peach, are you still convinced that this is the right hair color for you? If the answer is yes, you'll want to know the basics of finding the right peach hair dye.
Your Skin Tone
Everyone has one of three skin tones: warm, cool, and neutral. I said previously that classic peach is a warm-toned color, but there are different shades of this color (I will discuss this more in the next section). You can find cool-toned variations of this color, as well as both soft and vibrant colors that may look better on some than others.
At the same time, you may not feel it's best to fully base the right shade of peach on your skin tone alone. I have a neutral undertone, and I don't like the way that warm colors look on me, even though those with neutral undertones can technically pull off any shade of peach. That's why I'm mentioning the different shades of peach in the next section.
Shade of Peach
Classic peach looks like the fruit — an orange-based color that also has hints of gold and pink. Because the peach color is so flexible, there are different shades in this color alone. Here are the most popular ones that I've been seeing:
Classic peach
Bright peach
Soft peach
Cool peach
Peach-blonde
Can't find the shade of peach you want in a hair dye? You can mix some dyes I will mention, like Manic Panic. You can also achieve some of these colors, such as soft peach, by adding white conditioner to the dye.
Full Head or Highlights
Do you want to dye your full head peach or only sections? The dye you get should reflect the look you want. There are DIY highlighting kits, though I can't find them in the shade peach. Fortunately, semi and demi-permanent dyes are great alternatives. You can easily apply these colors to bleached hair to get the color you want. For highlights, I prefer a thicker, no-drip formula. This ensures the dye will stay on the areas you want and won't spread around your hair.
Certain highlights are easy to achieve DIY, such as dyeing your ends. If you want multi-colored dimensional highlights, I suggest going to a colorist.
If you want to dye your whole head peach, I suggest any of the hair dyes that I will recommend next.
Ethics
One thing that upsets me about the beauty industry is how so many brands are unethical, so I recommend researching the brand before buying from them. Choose a brand that stands by core values, such as making vegan and cruelty-free products. I always love seeing recyclable packaging and any brand that uses fewer emissions during the production process.
Before buying the dye, read the website carefully. Ensure they're transparent about the dye and list the ingredients. I also recommend taking a look at the brand's social media page to make sure they don't promote unrealistic beauty standards.
Base Color
Every dye will have a color chart that shows what the dye will look like on certain bleach hair levels. I suggest following that chart and knowing what base bleach level you want to achieve before dyeing your hair. I have never seen a peach hair dye that you can use on dark hair, but some dyes don't require you to bleach your hair to a level 10.
I'm a natural brunette, so bleaching our hair to a level 10 isn't always possible. That's why I suggest choosing the dyes that only require you to bleach your hair to a lower level, such as level 8.
My Favorite Peach Hair Dyes
Are you ready to find a peach hair dye? I have to be honest, I could only find a few. But these dyes are from high-quality brands, and the peach shades are gorgeous.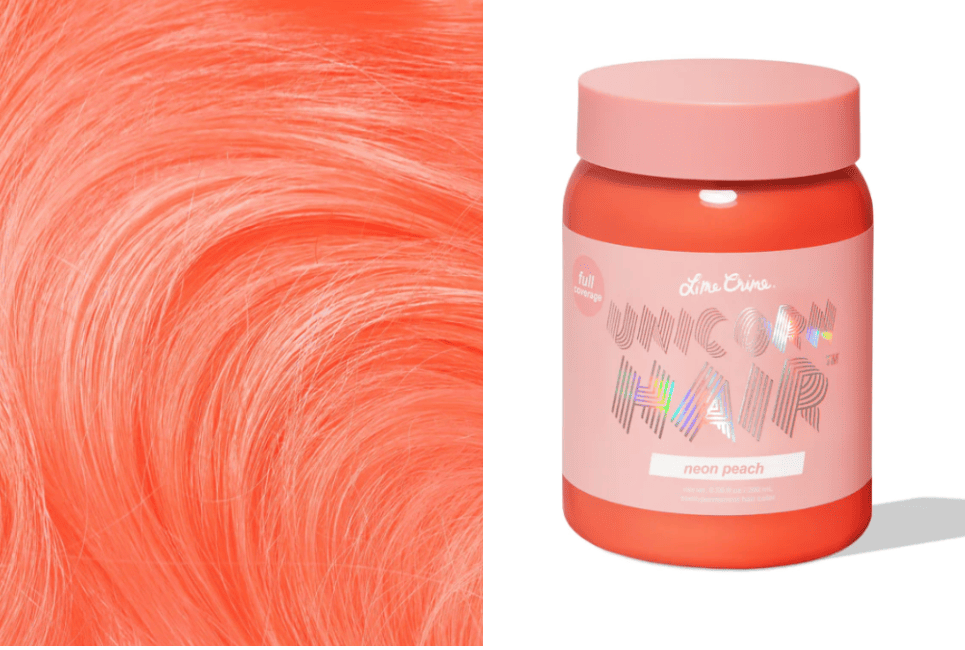 If this were 2014, I would be shocked that I would recommend a Lime Crime product so highly. The company endured a security breach in 2014. I liked Lime Crime lipsticks, but I never felt safe buying from this company after the security breach. Since then, Lime Crime cleaned up its act and transcended into a much better brand. And their hair dyes are the new "it" product.
First, let's talk about the coverage. Many semi-permanent dyes aren't full coverage. Why is this important? They don't cover problem areas, such as grays. I had to switch to permanent dye in natural shades when my grays started growing since I was scared that semi-permanent funky colors wouldn't cover my stubborn grays. However, Lime Crime's hair dye really does offer full coverage color, which means it can cover grays.
Now, let's talk about the color. The Lime Crime website shows this color as a pinky peach, but that's if you use this dye on level 10 hair. If you dye Neon Peach on level 9 hair, it's actually more orange than pink. If you want a pinky-peach color without bleaching your hair more, I suggest mixing Neon Peach with either Strawberry Jam or Sour Candy. You can also use the diluter Tone It Down to get a softer peach color.
As a semi-permanent dye, this product contains no bleach (you'll have to buy bleach separately), ammonia, or peroxide. It also has a conditioning formula, so your hair will feel amazing after using it. This dye is vegan, and all Lime Crime products are cruelty-free.
There are some issues with Lime Crime dye, aside from the 2014 security breach. This is one of the most staining hair dyes I've used, even more staining than Pravana dye.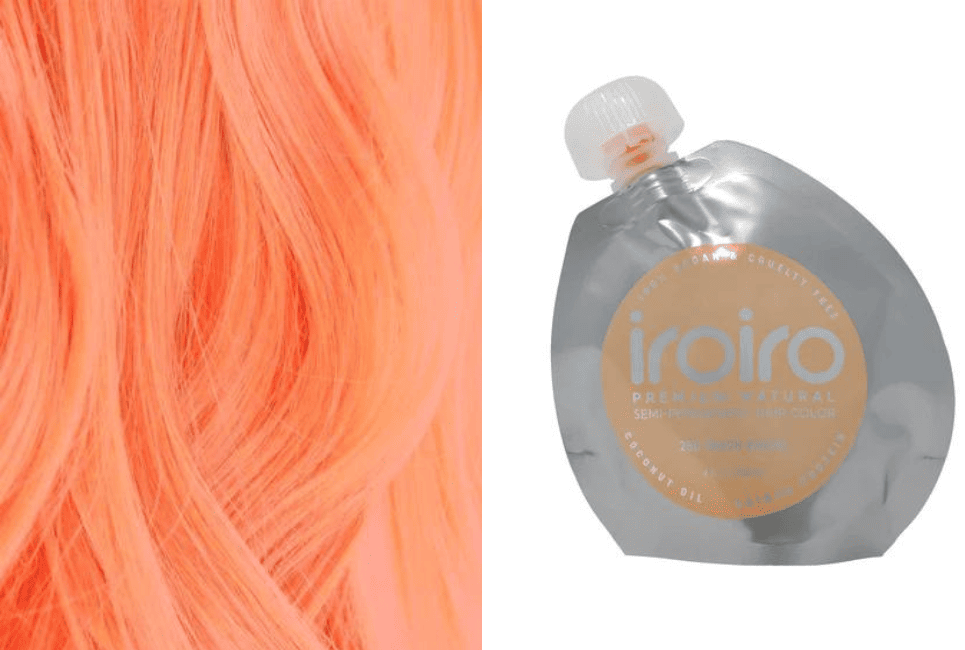 Iroiro includes this color in its pastel line, but I think this is more of a true peach color than a pastel shade. Still, I love this color and the hair dye. If you want a pastel peach, you can dilute the color with a cheap white conditioner.
Iroiro hair dye lasts longer than many brands — with proper color care maintenance, the color can last for several weeks. I will say that the pastel line doesn't last as long as Iroiro's other lines, but it still holds up well for a pastel color. It does fade to pink, so keep the fade color in mind before dyeing your hair this color.
Iroiro Semi-Permanent Hair Color is vegan, and all Iroiro's products are cruelty-free. I also love the spout pouch, I think they're much easier to use compared to the tins that Manic Panic and Lime Crime use.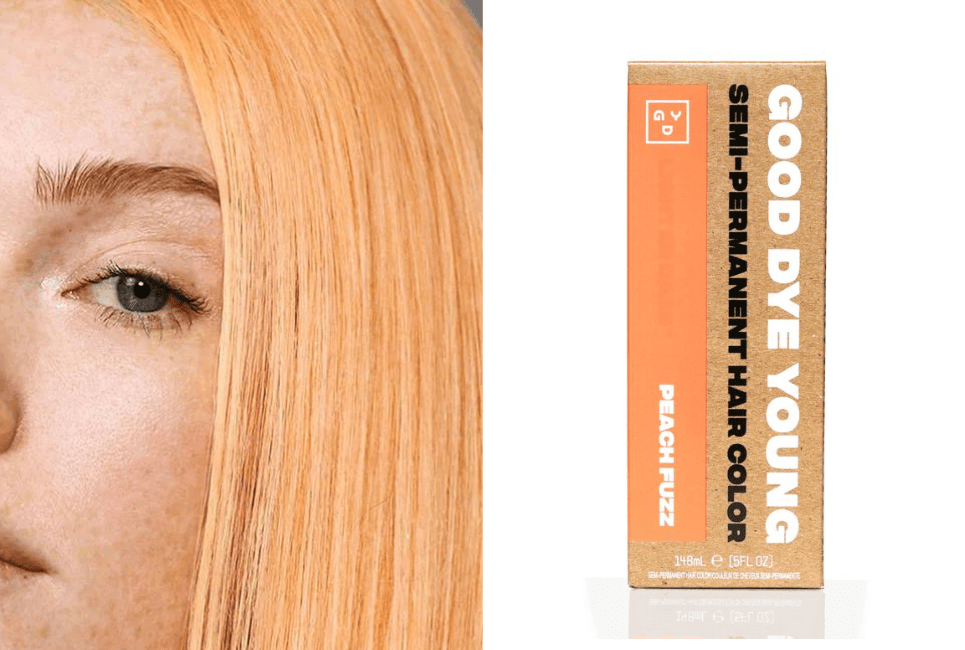 This color is pretty accurate to what the brand shows. I find the color is more orange compared to what Good Dye Young shows, but this is definitely a pastel orange color that borders on peach. Still, the color is absolutely beautiful. If you want a pink-based peach, mix this color with Pink Fluff.
I like this dye the best for highlights. The consistency is very creamy and doesn't spread everywhere. I've had the best experience using this on the ends of the hair for a dip effect.
Like many other dyes on this list, the dye has a very conditioning formula and is also made with sunflower extract for UV protection.
There are some issues with this dye. Good Dye Young's dyes don't last as long as the competitor's. They only last a few washes, so this is a better dye if you want peach hair for an event, such as for a customer, and don't want peach hair forever. Your hair also needs to be level 10 to get the best results. However, you can use it on dark blonde hair to get warmer/orange tones.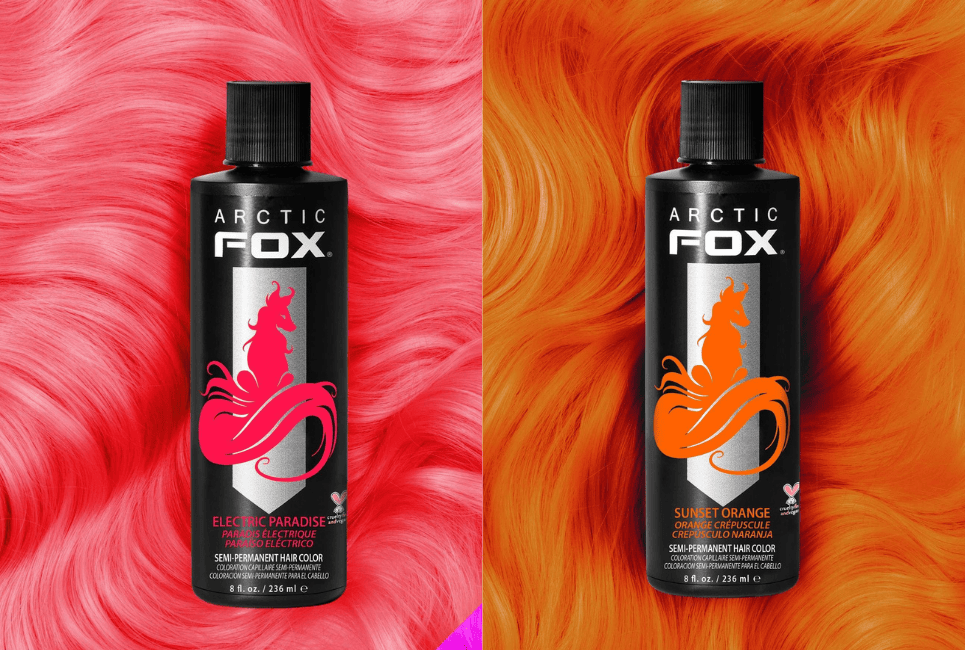 Arctic Fox doesn't have a peach hair color, but there are a few ways to achieve the peach color with these dyes. I recommend combining Sunset Orange with another pink shade, such as Electric Paradise or Frose (if you want a pastel peach). You can also use Electric Paradise on medium blonde hair for a peachy look. Sunset Orange also fades to peach, but it starts off as an intense red-orange color right when you dye it.
I recommend Arctic Fox dyes for many reasons. As you can see, they're easy to mix for a customizable shade. Their colors are extremely vibrant and fade to a really pretty color.
There are some qualities of Arctic Fox dye that I don't like. They're expensive, and you may have to leave the color on longer if you want true peach hair. I also don't think the final result is accurate on Arctic Fox's website. They're also not transparent about their return process.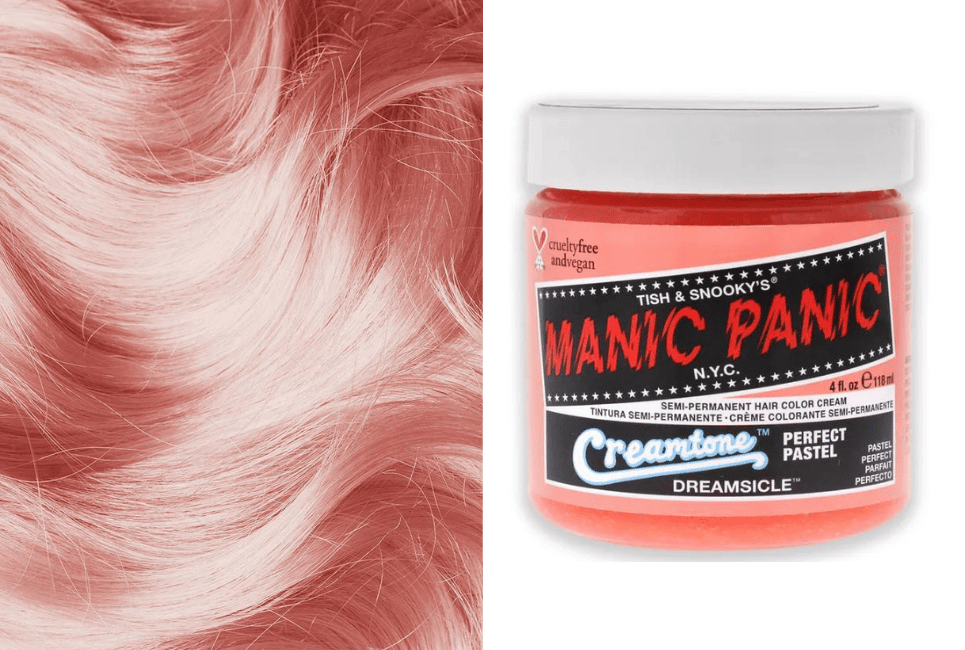 Creamsicle is a pastel orange color, but you can mix this color with Pretty Flamingo to get the perfect shade of peach. Unlike a lot of these dyes, you can get away with bleaching your hair to level 8 to achieve a vibrant peach color. Pretty Flamingo is in the High Voltage line, so I suggest adding white conditioner if you want a pastel peach.
I usually recommend Manic Panic higher than this, but all these steps caused this dye to make the bottom of the list. But I always recommend Manic Panic for funky, unnatural colors. My hair colorist recommends I touch up my dye with Manic Panic as a leave-in conditioner or add the dye to my conditioner.
I usually don't recommend leaving the color in longer than the manufacturer's recommendation, but I recommend it in this case. Pastel colors don't take easily, so leaving the dye in for longer will ensure your hair is still pigmented. I would still contact Manic Panic's customer service before doing so.
Caring for Peach Hair
Peach is a finicky color and takes some special maintenance. As I said previously, only wash your hair once a week or twice a week at the most. When you do wash your hair, only use color-safe hair products. If your hair is damaged, replace your hair conditioner with a conditioning mask.
I never use heat styling tools when I dye my hair funky colors, especially pastels. Heat styling tools will open up your hair cuticles, causing my dye to leak. If you don't want to leave the house with a wet head, wash your hair at night. To style my hair, I use texturizing spray. A curling mousse is also a good option. If you insist on using heat tools, always use a heat protection product to protect your hair and color.
FAQs
Question: Should I Tone Peach Hair?
Answer: Absolutely. Since peach is an orange-based color, it can get brassy. Add a color-depositing shampoo and conditioner to your routine, but only use purple shampoo and conditioner if your color looks brassy. If you just want a color refresh, add some peach hair dye to your conditioner or use a product like Manic Panic as a leave-in conditioner. If none of this advice works, ask your colorist.
Question: Is Peach Hair Popular Among Men?
Answer: Not that I know of. So, what is the most popular hair color among men? This shouldn't be a surprise — the answer is blonde. But understand that every man is different; my boyfriend has a thing for brunettes. I guarantee you that most men don't even have a hair preference or will still think you're attractive if you don't have their desired hair color (one of my exes preferred red hair). And I'm sure your significant other will love your peach hair. So please don't dye your hair to what men or your significant other prefer. Choose a hair color that you love and that makes you feel confident, especially if it's peach.
Question: I Don't Know if Peach or Any of the Alternative Colors Will Work for me. What do I do?
Answer: This will take trial and error. I've dyed my hair every color under the sun to realize that darker colors work for me. Look at your base color now. You may be a brunette and realize that you want something to brighten your complexion. It's also common for hair colors to change, even if you never dyed your hair. I notice that the most on those with blonde and red hair.
You should also look at your undertones. I already said this, so I will say it again. If you have cool undertones, stick to hair colors in the cool spectrum, and the same for warm colors if you have warm undertones. You'll also need to work with your base color. I have neutral skin undertones, but my hair has red undertones. My colorist uses a blue-toned shade of black to neutralize the red in my hair.
Bottom Line
Do you want to have trending peach hair? Before grabbing the first dye you can find, know how to find the best peach hair dye. Find the right shade of peach, consider your skin tone, and also choose the right formula based on if you want a full head of dye or highlights.
The Lime Crime Unicorn Dye in Neon Peach is my favorite peach hair dye. This is a very shade of peach that varies from pink-peach to bright orange-peach, depending on your bleaching level. I love how you can mix Lime Crime dyes, and you can also use their diluter to achieve a pastel peach.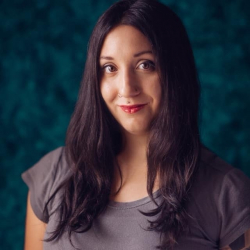 Latest posts by Stephanie Jensen, Hair Trend Spotter & Home Tester
(see all)