I've always struggled to style my fine, straight, and often dull hair. I used to use all kinds of hairstyling products to achieve more volume, but all they did was weigh down my locks and make my strands greasy. Today, I'm lucky to have found some great tools that serve multiple purposes and help me create an appealing look.
In today's guide about the best hair dryer attachments, I'll discuss all these essential accessories that give your hair that nice final touch. I'll detail each of them and their purpose. So, the next time you're browsing for a modern blow dryer, you'll know what to look for.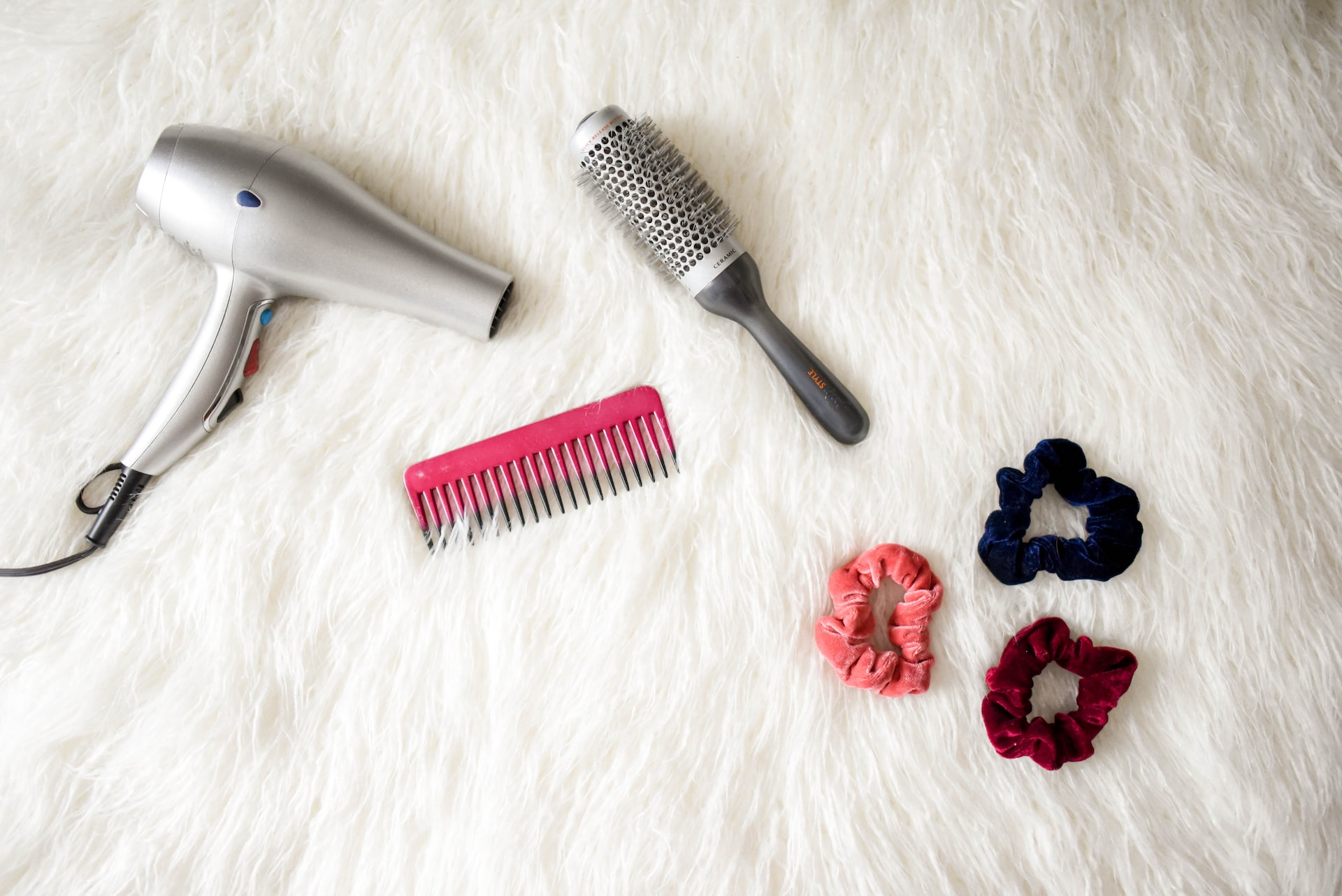 Bottom Line Up Front!
Hair dryers are much more than just a tool you use after washing your hair. Nowadays, improved and upgraded models come with all sorts of accessories and attachments that help you style your strands. If you want something simpler, you should opt for classic blow-drying nozzles. Most hair dryers include at least two attachments: the concentrator nozzle and a diffuser.
However, suppose you want to style your hair better and create several types of hairstyles. In that case, you should choose a more complex and versatile alternative that features a diffuser, different nozzles, a comb attachment, a detachable pick head, and more.
My favorite blow-drying attachments are the diffuser because it boosts my hair's volume and the detachable round brush with wide-tooth bristles due to its detangling power.
In terms of favorite products, I would opt for Dyson Supersonic if money were no object. It's effective and has so many wonderful attachments.
Top 6 Hair Dryer Attachments & Their Roles
Let's face it! Drying your hair is never simple, especially if you have long locks or curly strands. At first, learning to use all the attachments hair dryers come with can be pretty overwhelming. At least, that's how I felt some time ago. Back then, I avoided using these accessories. Instead, I would use hair curlers after drying my tresses, leaving them on for a couple of hours.
Here are the most effective hair dryer attachments and their purpose, listed in no specific order.
The Concentrator Nozzle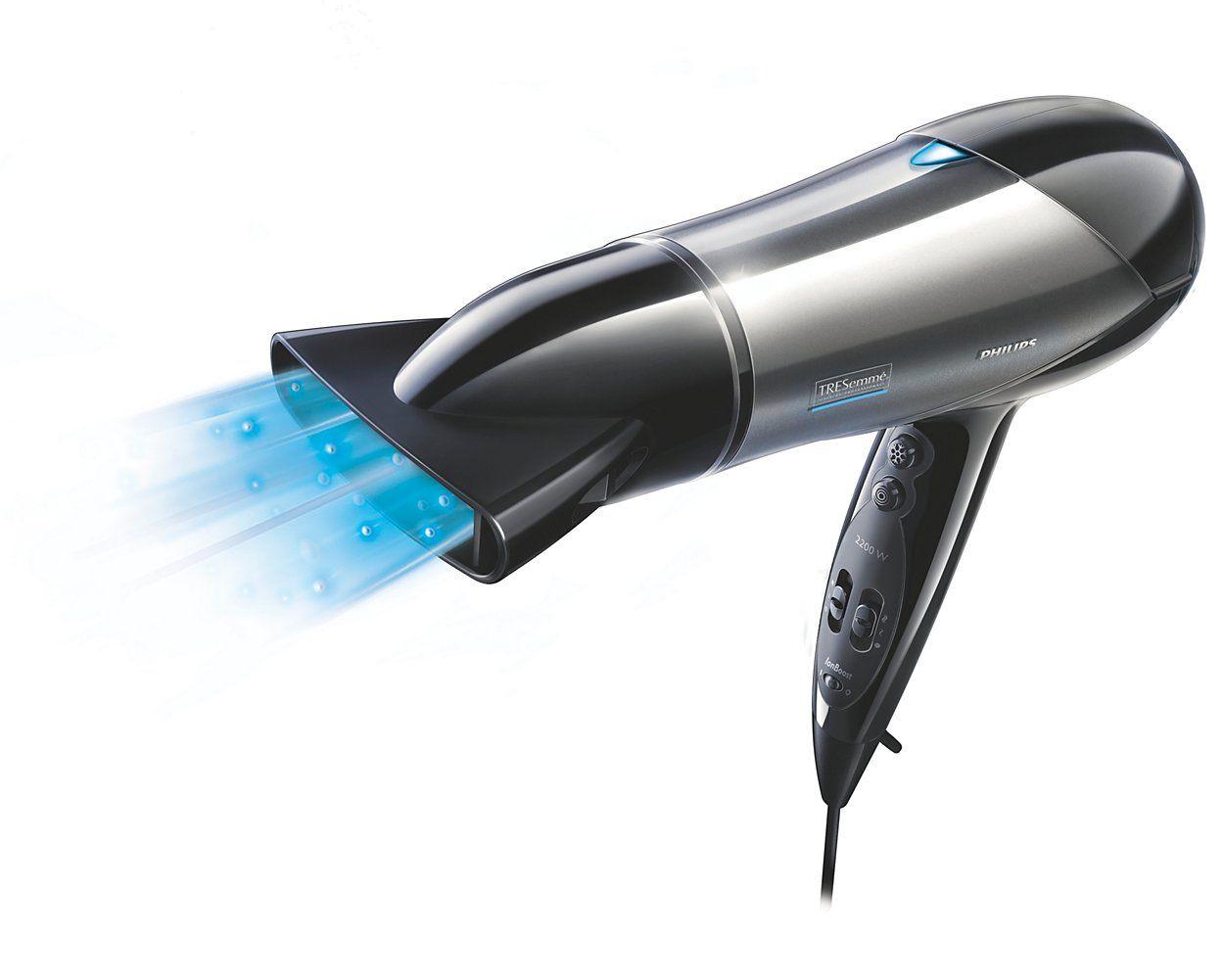 This is a classic attachment that all blow dryers come with. It helps you dry wider hair strands at once while also concentrating the blowdryer's airflow in your desired direction. However, I must say that, in some cases, I've ditched this particular accessory, especially when the hairdryer's body was long. In those situations, putting the nozzle would only make the dryer even longer, which was hard for me to handle.
Nevertheless, concentrator nozzles are helpful for a smoother styling experience. With them, you'll achieve well-defined and sleek blowouts. They also dry your hair quickly. To obtain a salon-like look, you should dry your hair with this type of hairdryer nozzle while using a sizeable round-shaped brush on your locks. The result will be flawless.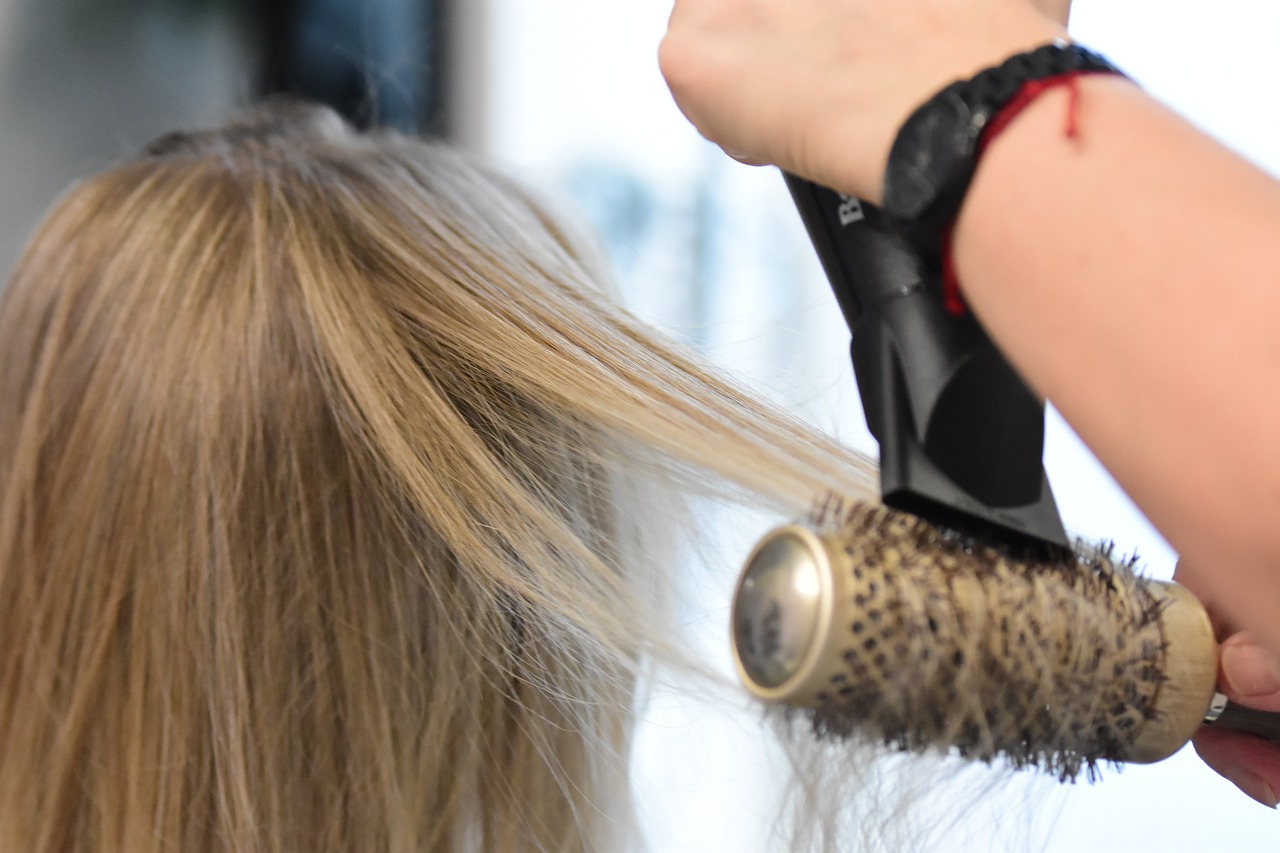 How to Use Concentrator Nozzles
Hold the blow dryer downward, facing the hair lock on the round brush you're using. Start from the roots and continue all the way to your hair's ends. Make sure to set the dryer at a medium level of heat. This will lead to a smooth, straight, and frizz-free hairstyle.
Hairdryer Diffusers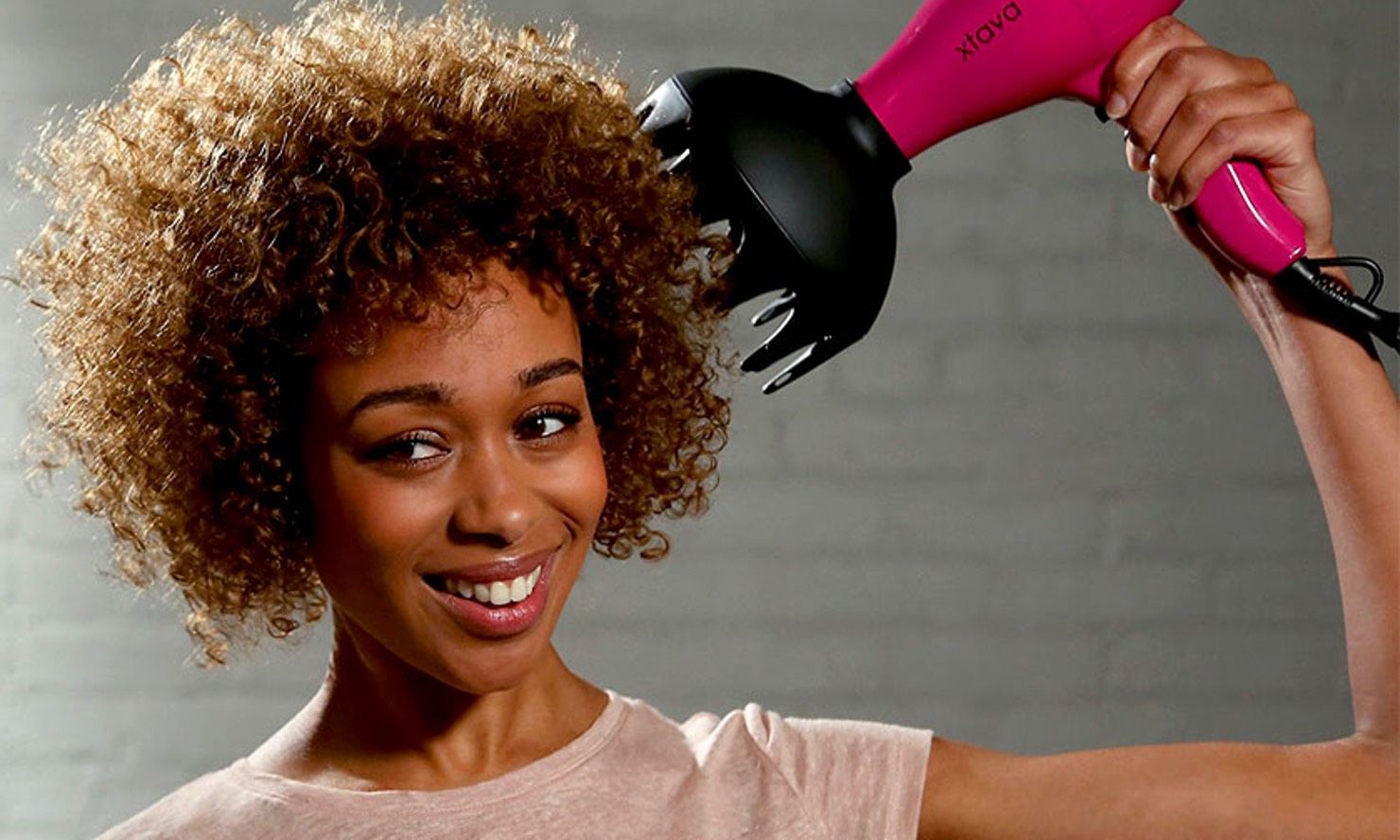 I love diffusers since they're meant to create a bouncy hairstyle. They're specially meant for curly hair or wavy tresses. Their surface is wide and usually rounded to disperse the airflow on large hair areas. Hairdryer diffusers are also known for their frizz-minimizing properties. My blow dryer features a diffuser with prongs that reminds me of a wide-tooth brush. But other diffuser types could be covered with a special mesh that protects your curls from heat-related damage.
How to Use a Hairdryer Diffuser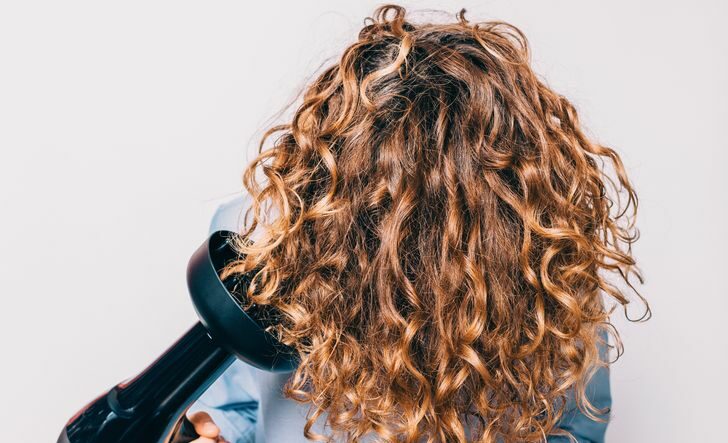 It acts like a gentle volumizer that lifts your curls, making them bouncier and more lightweight. Unlike the standard nozzle, diffusers require a low heat mode on your hair dryer. That way, you avoid messing up your curly hair's natural pattern. With a hair diffuser, you'll obtain boosted volume without dealing with frizzy strands or flyaways.
The proper motion you must repeat with every hair lock is an up-down movement.
Bonus tip! Choose blowdryers that come with collapsible or moldable diffusers so that you can easily store them in your luggage and take them with you on your travels. Silicone drying diffusers are versatile and help you save a lot of storage space.
Styling Attachments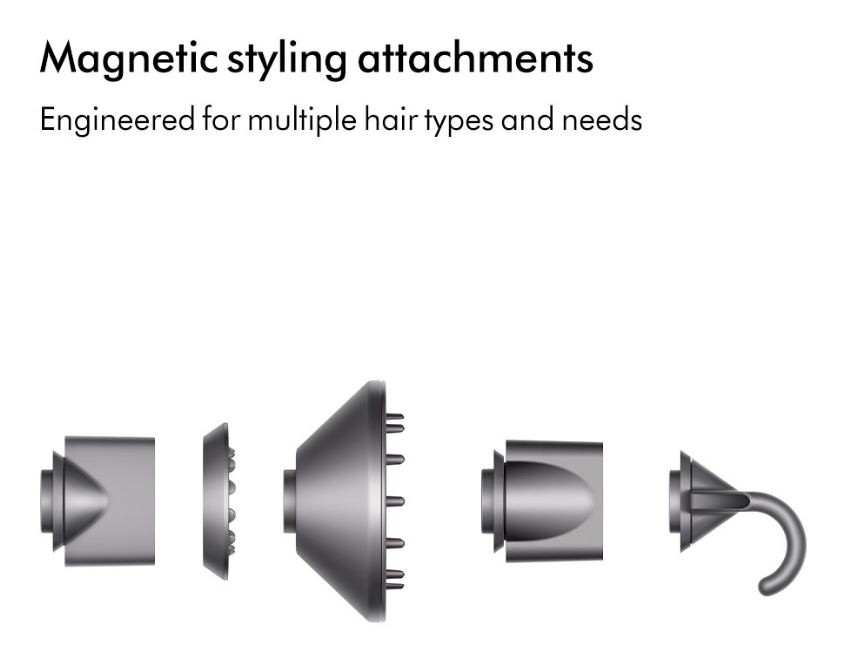 Based on their models and price tags, hair dryers can come as they are, simpler and with fewer accessories, or include a wide range of styling attachments. So, instead of using multiple tools to style your locks, you can buy a single blow dryer with interchangeable heads. Before purchasing this type of hair-drying tool, I used a Rowenta drying and styling round brush.
There are many types of stylers, including some that remind me of hair brushes, wide-tooth combs, fine-tooth combs, and even some that have boar bristles. All these styling attachments help you achieve a great and glamorous finish.
How to Use Styling Attachments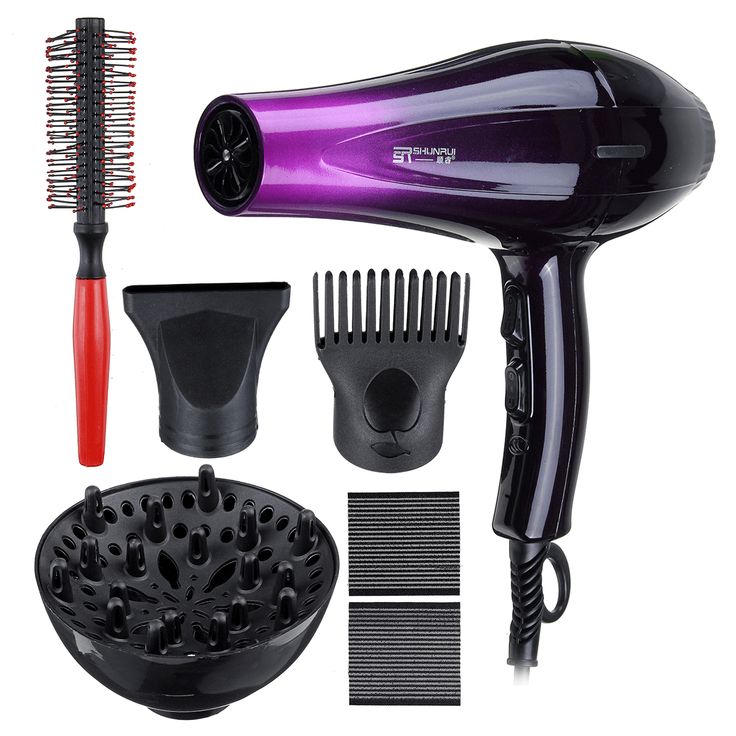 All you have to do to use a particular blow dryer styling attachment is to remove the tool's default head and replace it with your desired accessory. I usually use the round brush head to style my locks. Besides that, when I'm lazy, I only use the diffusers or the classic nozzle. Running the brush attachment through my strands leads to my desired blowout look.
These attachments volumize my hair, giving it body and defining my tresses.
Comb Attachments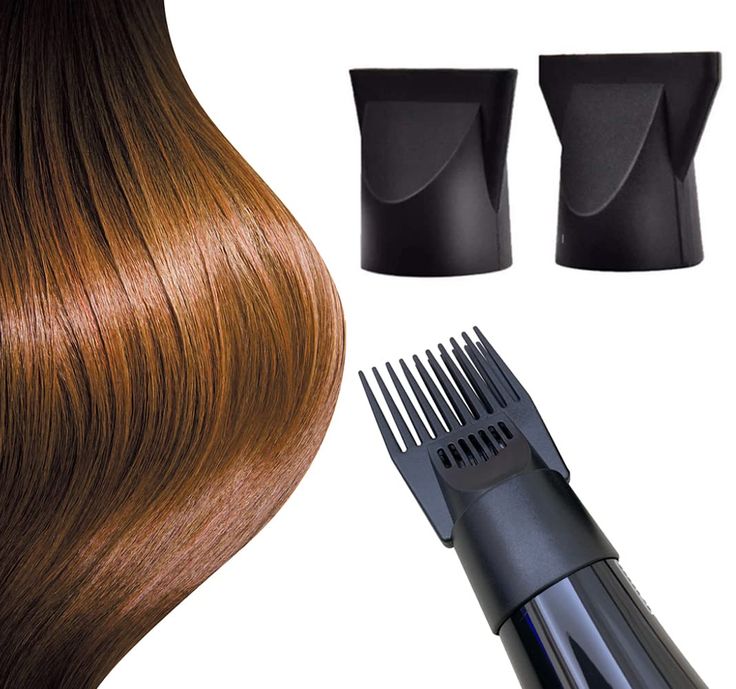 Comb attachments help you detangle your locks a lot easier while drying your hair. They also offer a glossy and smooth finish without flyaways or frizzy tresses. If your hair dryer doesn't come with a comb head, you can always buy a universal one that suits numerous models.
How to Use Comb Attachments
In some cases, comb attachments are meant to straighten curly hair or tame frizzy locks. They are often combined with hair brush accessories to ease the styling process. You must work your hair in sections, first drying it with the brush and then using the comb. I hate having flat hair. So, to avoid that, I make sure to go with the brush or the comb under my hair lock, starting from the roots.
Blow-Dryer Picks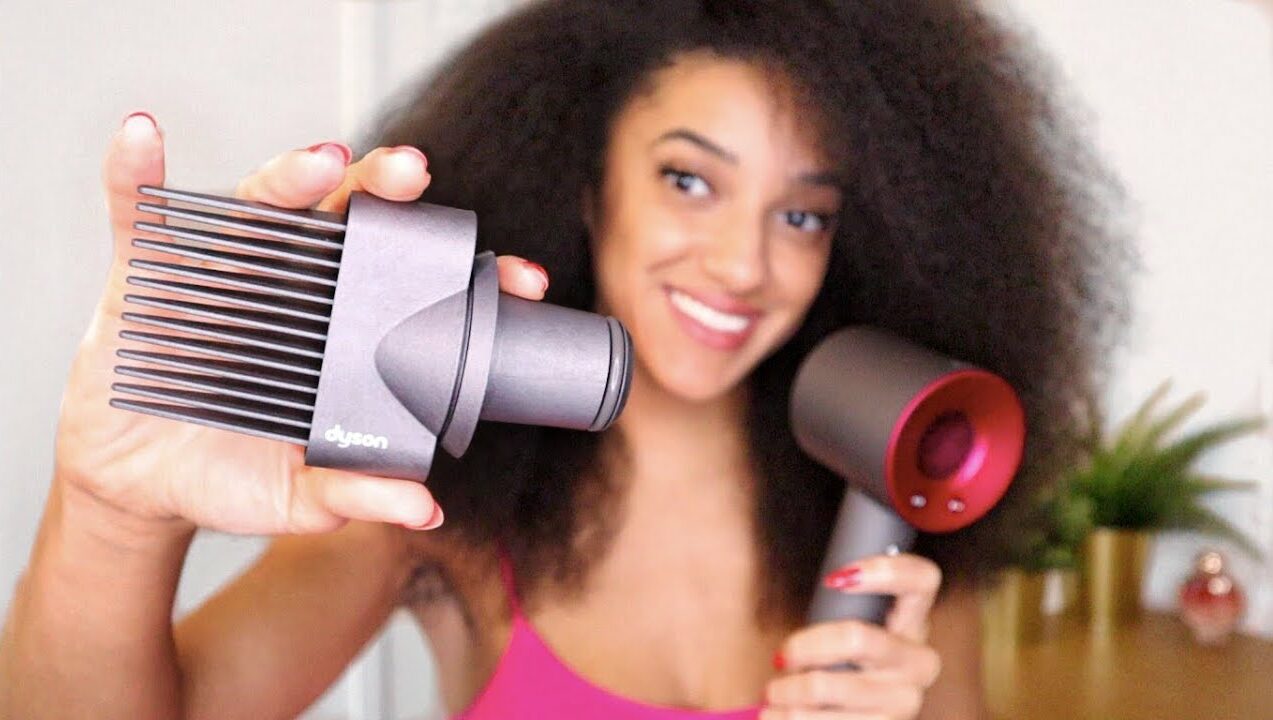 Picks attachments are known to create volume. However, it would be best if you chose the right pick length that suits your hair. I have medium to long tresses, so I need a longer pick. You can easily use a shorter pick attachment if your hair is short. Just like your classic hair pick, these accessories lift your strands, giving you a nice airy blowout look.
How to Use Pick Attachments
Position this accessory under your hair section, right at its base, near the roots. Run the pick's prongs through your tresses while drying your hair. Use movements that are slightly lifting your locks.
Blow-Dryer Bonnet Attachments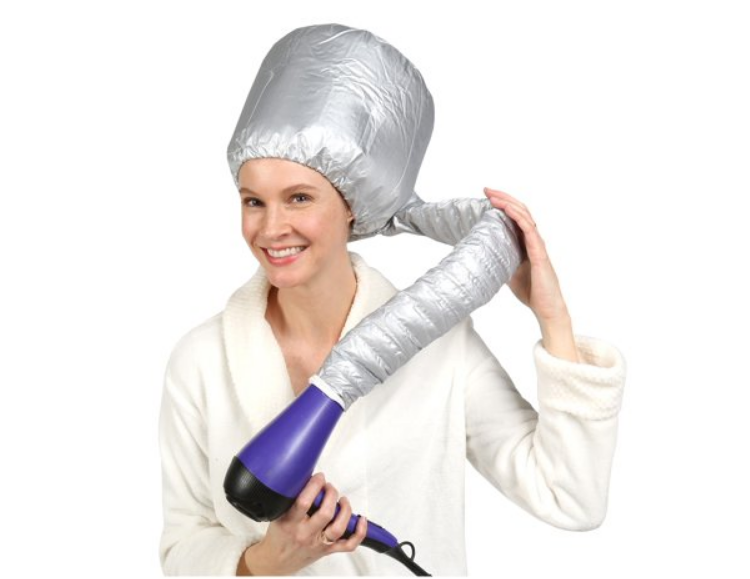 I've never used a drying bonnet before, and the whole item intrigues me. I guess it's the new, more modern, and versatile alternative to those vintage hair-drying machines found at beauty salons. The experience of using a drying bonnet could be as relaxing as the one where you're sitting in a chair under the drying station of a beauty parlor.
With this attachment, you can dry your hair quicker and effortlessly at home.
How to Use a Bonnet Attachment
You must attach the blow dryer to the bonnet's tube and place the bonnet on your head. It looks just like you'd wear a strange hat. These blow-drying attachments are suitable for all hair types and make the airflow go evenly throughout your locks. It's the perfect accessory for my fine and fragile hair that helps me prevent further heat-related damage.
Best Hair Dryer Attachments Guide – The Best 5 Options
Selection criteria: I've gathered a few of my favorite blow dryers that come with different practical attachments. They aren't listed in any particular order, but I've chosen these items based on their effectiveness, versatility, and number of styling accessories.
Moreover, I thought about how lightweight or heavy these products felt in my hand. I also wanted to find as many portable choices as possible. Another essential criterion I considered was the drying speed; I wanted to include hair dryers that help you save time and effort.
Dyson Supersonic Blow Dryer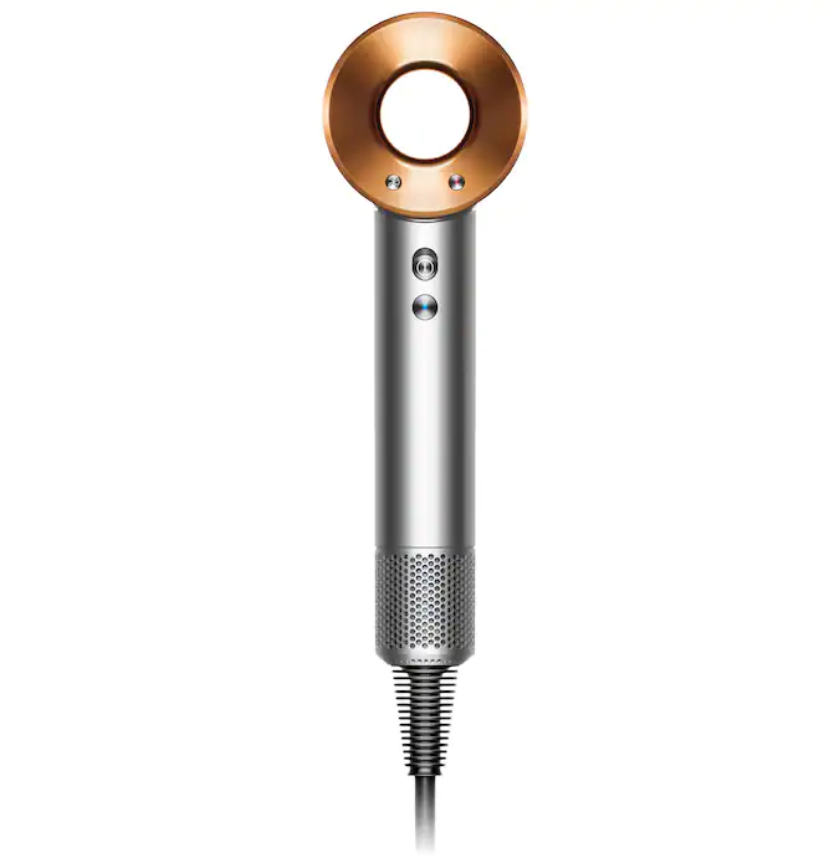 Dyson Supersonic is a pretty expensive blow dryer, but it has five different styling attachments. I'm talking about an award-winning hair tool created based on innovative technology. You can choose from three airflow settings and four heat levels. This tool protects your locks from heat damage and has effective anti-frizz properties.
The set comes with five attachments:
A flyaway attachment;
Diffuser;
Wide-tooth comb attachment;
Styling concentrating nozzle;
Gentle air attachment.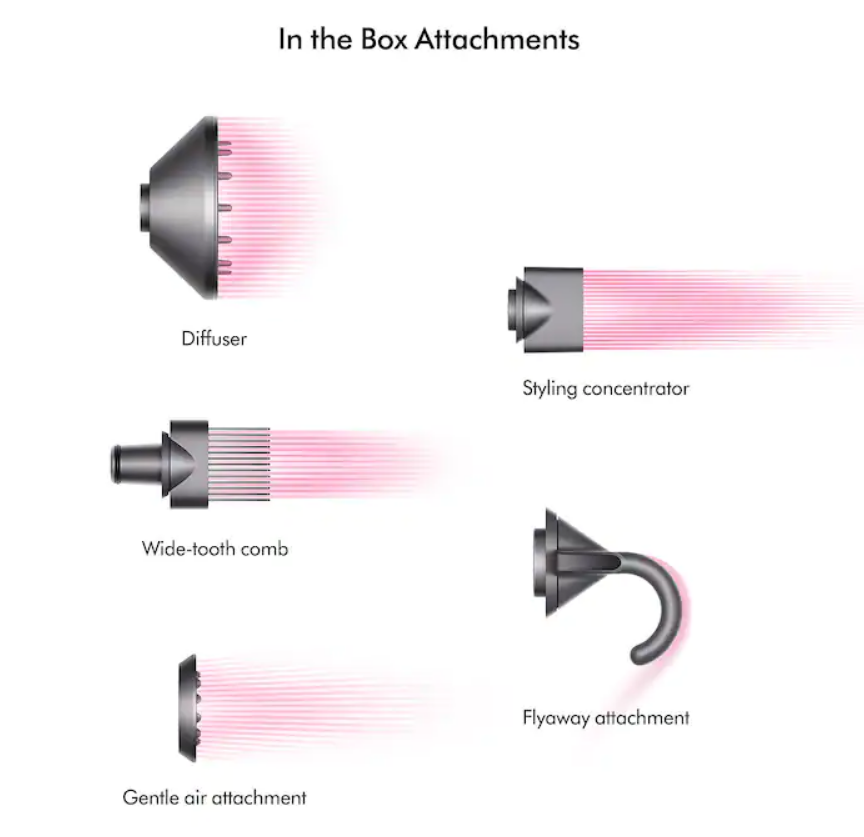 Pros
Eliminates frizzy hair
It provides a shiny finish
Lowers the risk of heat damage
Cons
The warranty policy should be lengthened and improved
The design of the cord isn't the best
DevaCurl Blow Dryer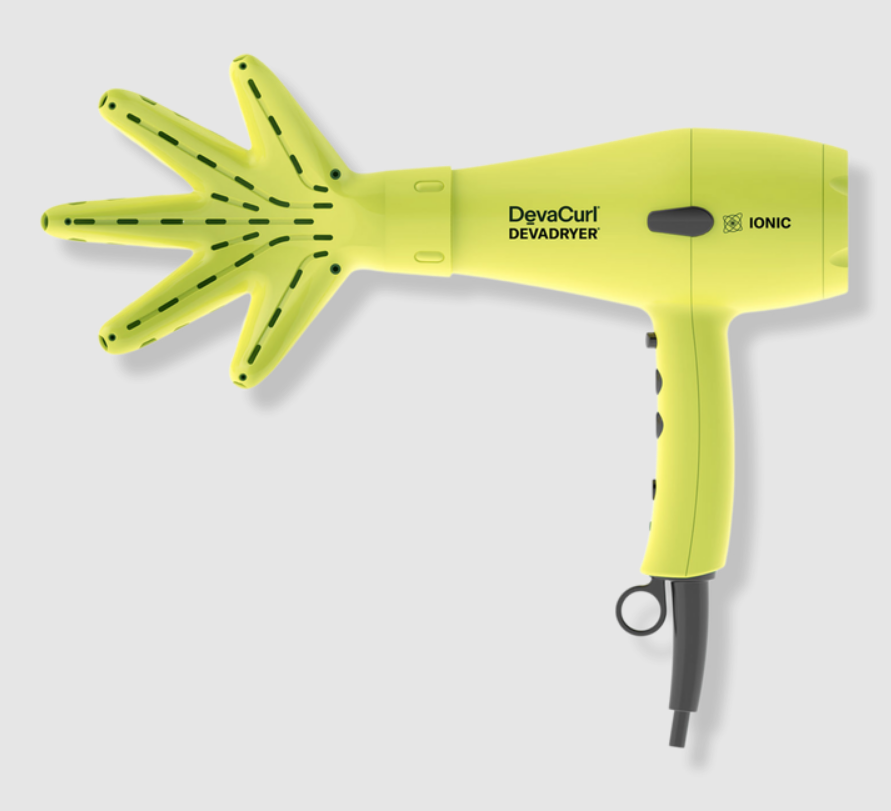 This DevaCurl dryer is the ideal choice if you have curly hair. Its design is impressive and intriguing, with a hand-shaped diffuser and a lime color body. When it comes to curls, this blow dryer is one of the best options out there due to its ergonomic structure, lightweight construction, and extended power cord.
Pros
It has the most original diffuser I've ever seen, shaped like a hand
Very easy to handle
It dries your locks quickly
Sustainable packaging
Lightweight
Cons
If you have full and thick hair, you might feel the drying experience a little bit more time-consuming than I do with my fine and fragile locks
It's a tad overpriced
CONFU Ionic Hairdryer
The Confu Ionic blow dryer is lightweight and has a lovely design. It's also affordable and the ideal choice when you're on the go. It has three attachments: a diffuser, a concentrator, and a detachable rear filter. In addition, the nozzle can be rotated at a 360 angle. Due to this product's features, your hair will look tamed and shiny.
Pros
Budget-friendly
Lightweight
Portable
Boosts shine and tames frizzy locks
I love this glossy baby pink color
Cons
I had to be extra careful because my strands got caught up in the diffuser's holes
The power cord should be longer
Vigoflix Professional Hair Dryer
Vigoflix Professional is another lightweight, compact, and portable blow dryer with three attachments: a diffuser that defines your curls, a styling nozzle for wavy tresses, and a smooth nozzle that makes your locks straight and smooth. It has two speed levels and three heating settings.
Pros
Powerful performance for speedy hair drying
Ionic technology for constant drying temperature
Durable design
Low-radiation blow dryer
Very quiet
Overheat protection
Cons
Quite heavy and less portable than I expected
Not as powerful as other blow dryers
Gold 'n Hot Professional Drying Bonnet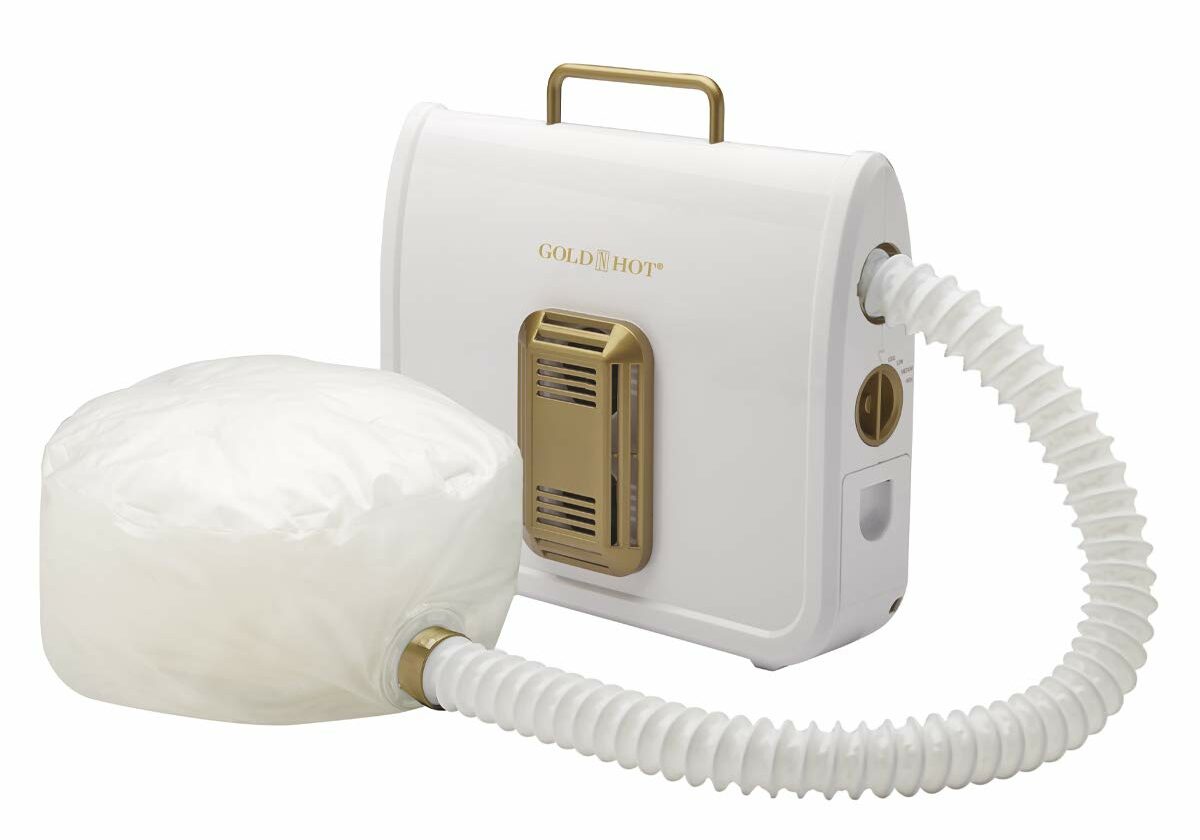 I couldn't conclude this list without including a blow dryer that comes with a bonnet. The Gold 'n Hot hair dryer reduces frizzy hair and makes your locks look healthier. This bonnet-based hair dryer uses ionic technology to dry your locks fast and effectively. The result is shiny and smooth hair. It's also made to prevent heat damage. It features four heat settings and a retractable handle that enables easier storage.
Pros
Even heating temperature that dries your tresses quickly
It's lightweight and easy to use and store
The design is sleek
The bonnet is universal and suitable for all hair types and head sizes
Pretty compact for a bonnet dryer
Cons
It's loud
The tube could be longer
The power cord should also be lengthened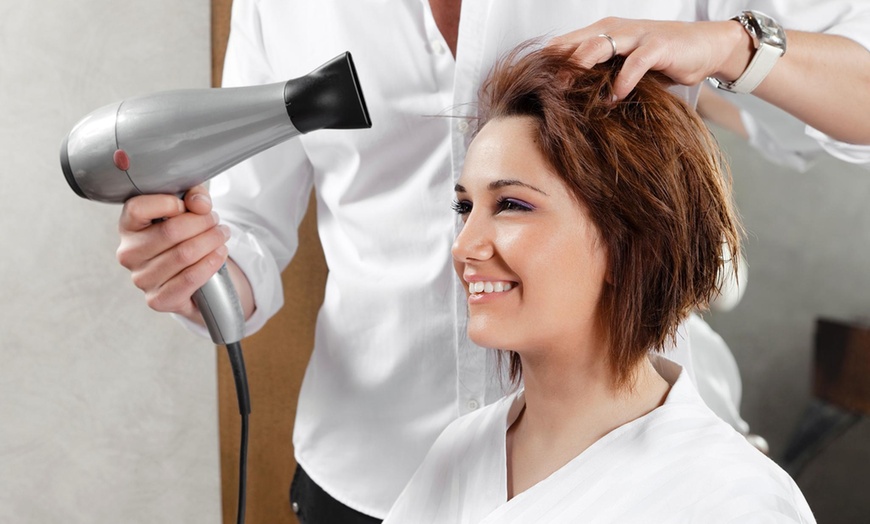 Things to Consider when Purchasing Blow Dryers
Hair dryer types – there are ceramic dryers that are gentle on your locks. I would avoid titanium dryers because they can get too hot and damage your hair. If you want to maintain healthy tresses, you should opt for a dryer that relies on ionic technology. The latest trend is represented by tourmaline dryers which seal your hair's follicles, making your strands shinier;
Weight – a powerful yet lightweight dryer is the ideal choice for me. A compact one that's portable is even better. Drying your hair shouldn't make your arm muscles sore;
Ergonomic design – the shape of the dryer is important, especially because I have small hands, and I don't want a bulky item that I can't hold and use easily;
Heat and speed settings – more complex and expensive dryers can have up to five available heating settings. Lower settings prevent hair damage. Simpler dryer models only have two heating settings. Drying thicker hair requires a more powerful blow dryer. Although, sometimes, higher speeds could lead to a tricky hair-drying process;
Technology – the most popular one is ionic technology, but there are other available alternatives like infrared, hydronic crystal, pearl ceramic, tourmaline, Aeroprecis, and many other technologies. Each technology matches a different hair type. For instance, ionic dryers are known to tame frizzy locks;
Cord length – the longer, the better since a longer power cord boosts comfort.
Best Hair Dryer Attachments Guide – FAQs
Question: How Often Should You Use a Blow Dryer?
Answer:  Well, it depends on a few factors. I normally blow dry my hair every other two to three days after washing my locks. I don't like leaving my tresses to dry on their own, especially during winter. But, if your hair is short, you could avoid using a blow dryer if you want. Still, based on your hair type, using a blow dryer could help you style your tresses a lot better. As long as you don't use one every single day, you should be fine.
Question: Which Is the Safest Blow Dryer Type That Protects Your Hair from Heat Damage?
Answer: Using hair dryers leads to some sort of hair damage. But you can protect your locks with special styling products and try to hold the dryer as far away from your hair as possible. The best choices that prevent serious damage are ionic, tourmaline, and ceramic blow dryers that feature multiple heat levels.
Question: What Blow Dryer Should You Use Based on Your Hair Type?
Answer: Here are the best blow dryers you should opt for based on your hair type:
• Ionic dryers for curly hair;
• Thin and flat hair like mine requires lower heat settings;
• Longer or thicker locks need powerful dryers with higher voltage;
• Standard blow dryers can safely be used on synthetic locks and hair extensions.

Final Thoughts
Nowadays, you can easily take your blow-drying experience to the next level with the attachments I've discussed above. While drying and styling your locks at home could feel overwhelming, all you need to achieve your desired look are the right tools. Hair dryer attachments target each hair type, from straight to coily.
Elevate your hair styling game using the diffuser for boosted volume or the round-shaped drying brush for silky, wavy hair.
When it comes to my favorite blow dryer from all the items presented above, I would choose the Dyson Supersonic alternative due to its numerous attachments and its fast drying effect.
Other useful reads: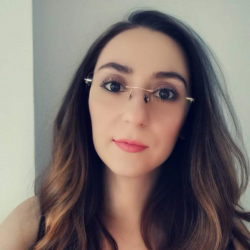 Latest posts by Alexandra Gavrilescu, Home Hair Product Tester
(see all)