Combing my hair used to be a hassle. I have fine, thinning hair that gets tangled easily, especially when I don't use appropriate haircare products. Combing tangled locks lead to breakage, and I don't recommend it. That's why I started using detangling hair masks and hair oils. But that's not enough. You must also use the right kind of comb.
Below, I've talked about some practical buying tips on how to find the best detangling comb. You'll also find some of the most effective hair combs on the market, along with their pros and cons.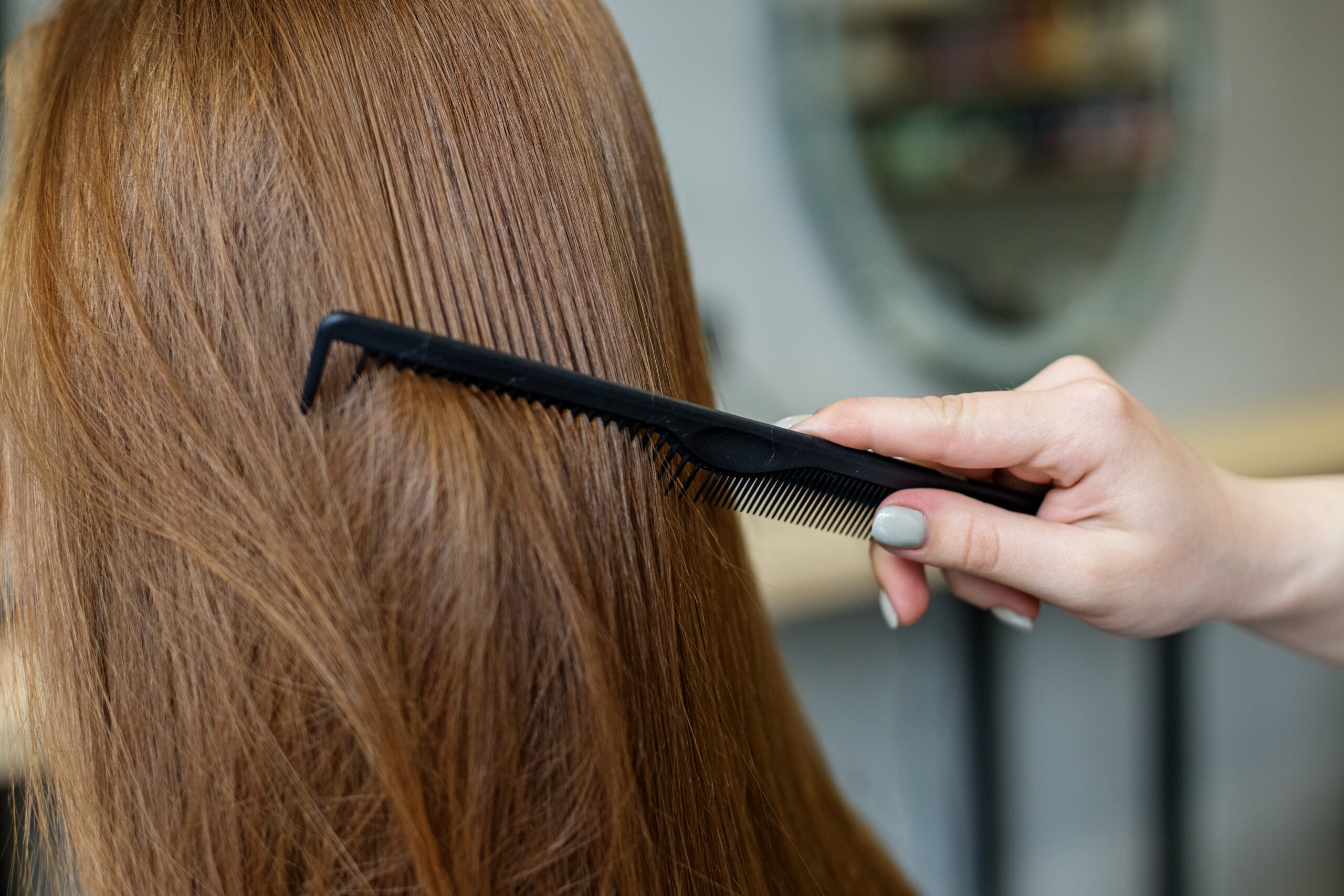 Bottom Line Up Front
The best detangling combs are made of premium materials – or they should be. If you want something more affordable, go with durable plastic. Otherwise, I would opt for wooden combs. Next, you should consider the pattern of the comb's teeth. The wider the teeth, the easier the process of detangling your hair will become.
Finally, choose a detangling comb with an ergonomic design and, preferably, a handle that's easy to hold.
In terms of favorite choices, I have two models I like best:
Cricket detangling comb – looks good; it's functional, practical, and infused with moisturizing oils;
Onedor wooden handmade comb – ergonomic design; made of sturdy sandalwood; stimulates your scalp's blood circulation while preventing slip ends. 
How to Find the Best Detangling Comb – Main Buying Tips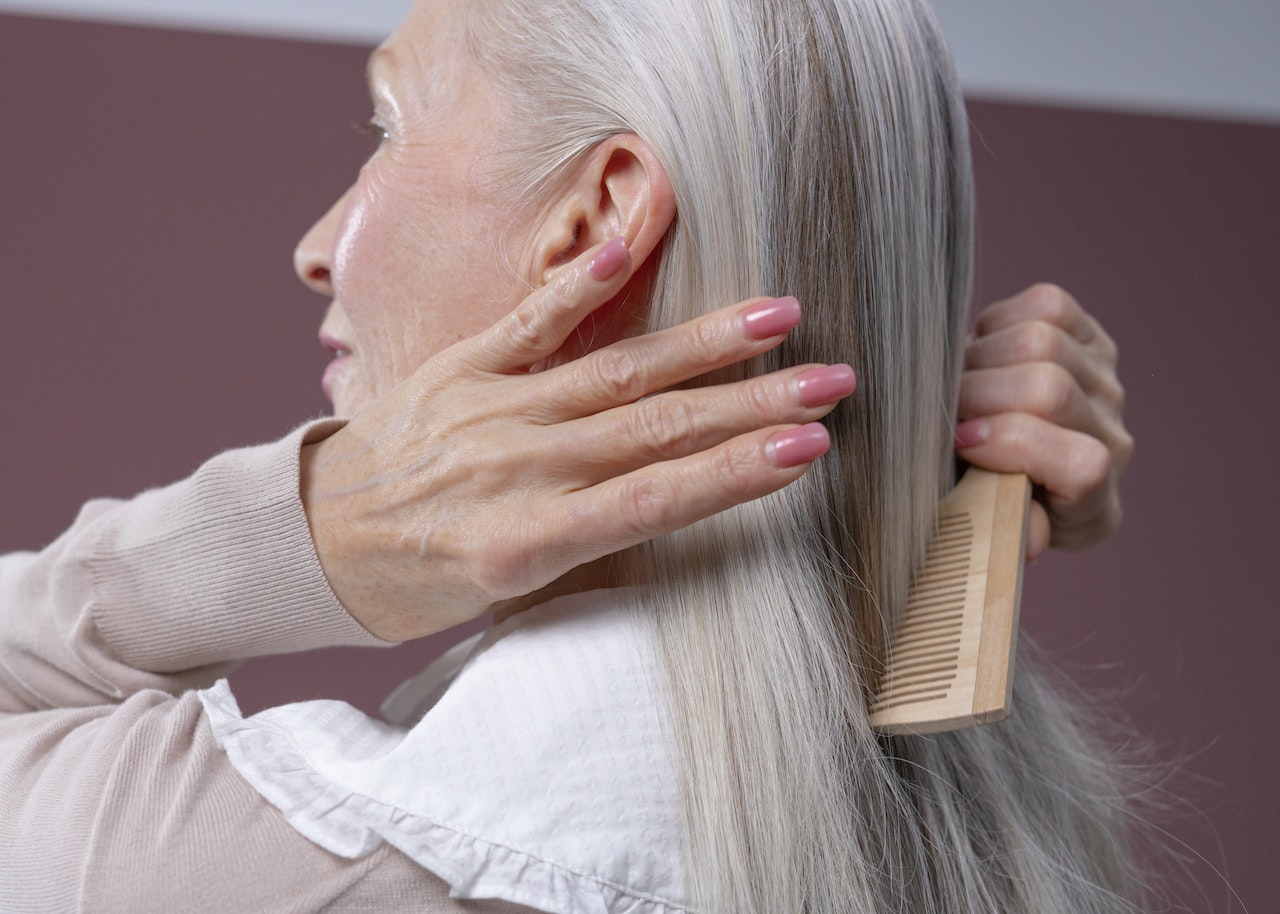 While not many stress about their hair comb or choosing the right one, this aspect is essential for healthy hair. Therefore, you shouldn't purchase the first comb that comes your way. The best comb type for fine and tangled locks is a detangling option. Here's a list of some things you should consider before choosing a detangling comb.
Pick the Right Material
Most combs are either made of wood or plastic. The plastic ones are durable, but they can lead to frizzy hair. Wooden combs are better since they're made of natural materials. The best choices, however, are bamboo combs because they are great at detangling knotted locks. Bamboo hair combs are also environmentally-friendly.
On the other hand, you can use plastic combs to detangle both dry and wet tresses. That's due to the material's smooth and easily-sliding surface. To be on the safe side, you should check the comb's label, searching for any potential instructions regarding how to use the product.
Opt for Wide-Spaced Comb Teeth
Most hair brushes have tightly-packed bristles, while combs feature wider teeth. Detangling combs typically have wide-spaced teeth to avoid breakage and glide effortlessly through your locks. If you have curly hair or coily hair, you should pick the widest comb teeth you can find.
Over the years, I've learned to avoid fine-tooth combs because they create a lot of friction. Instead, wide teeth act gentler on your locks and don't produce as much frizziness as other alternatives.
Efficiency & Product Quality
To avoid your hair's physical wear, you should choose high-quality detangling combs. Having a smooth and even surface is one of the essential features of this particular hair tool. Durable materials are also a must. Finally, make sure to buy a suitable comb for your hair type. Otherwise, you'll keep breaking and pulling your locks.
Design & Longevity
I remember how time-consuming and frustrating it was to comb my hair. As a child, I used to ask my grandma to do that. She was so patient while detangling each knot, but I thought there must be some other, more effective, and quicker solution to solve this issue.
The best combs are ergonomic, with longer handles and long teeth. These combs are easier to use and hold. Detangling brushes are flexible, while combs made for the same purpose should be less flexible. In addition, they should be a bit more rigid and sturdy. Otherwise, they might break while you're trying to detangle your locks. Hence, avoid cheap-quality combs.
Main Types of Detangling Combs
There are five essential types of detangling combs.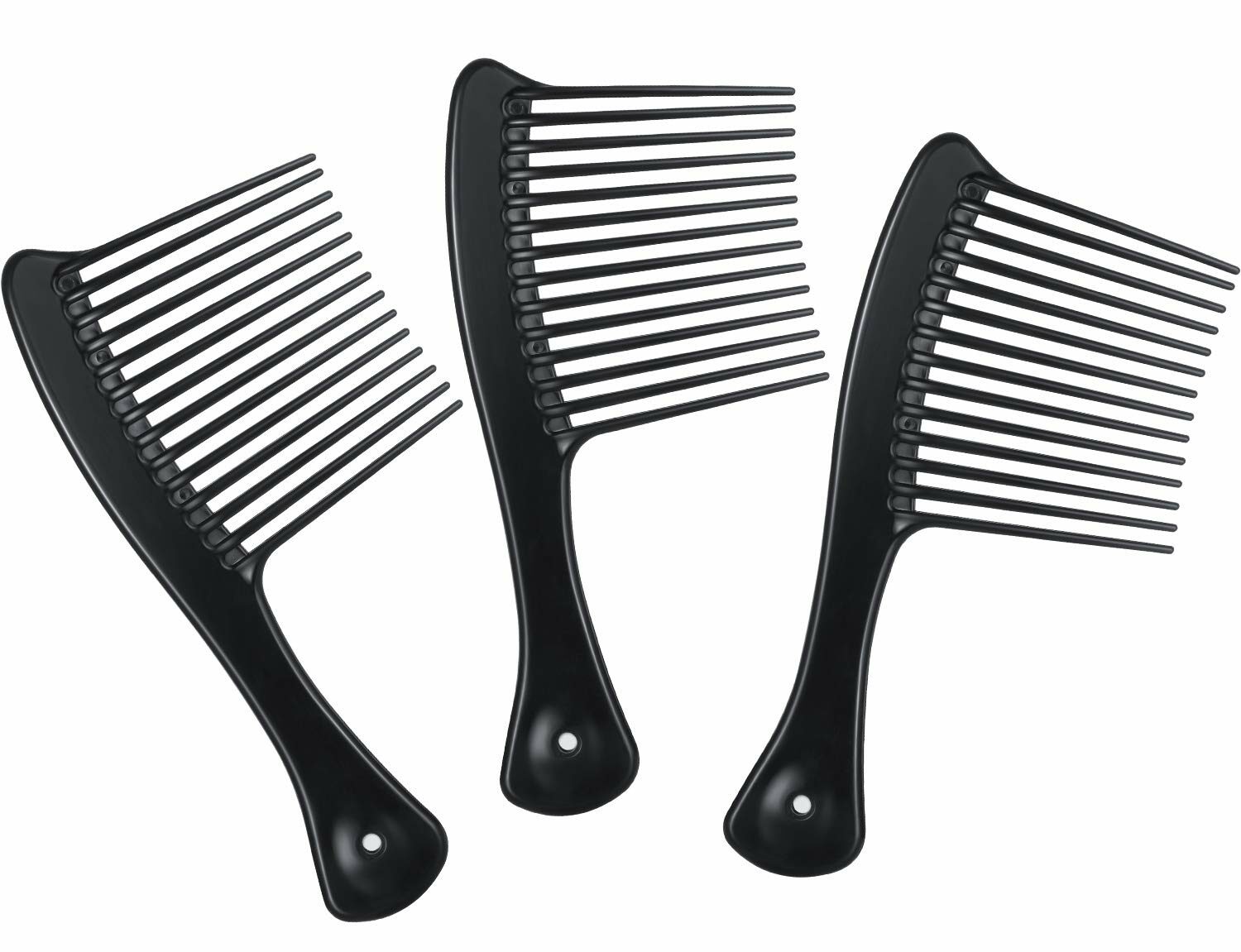 Rake combs are named this way because of how their teeth look. The teeth pattern is wide, and the bristles are thick and long. It looks like a rake. This comb type is excellent at combing coarse hair. It is painless and almost effort-free.
Moreover, using a rake comb takes less than other detangling methods. Most of the rake combs I've seen on the market feature handles. That means they're easy to hold and handle.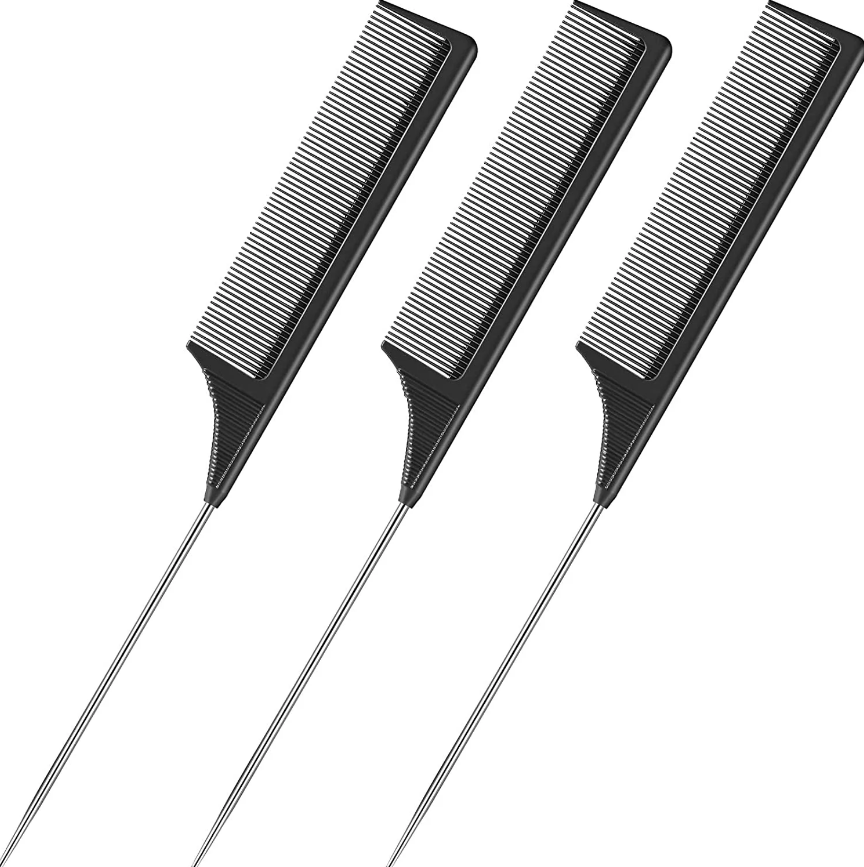 The main advantage of the rat tail comb is its long, thin, and pointy handle. You can use it to part your hair on one side or the other. Besides detangling, this comb type also serves other purposes, including smoothing flyaways or teasing fine hair to boost its volume. On the other side, most rat tail combs have fine teeth.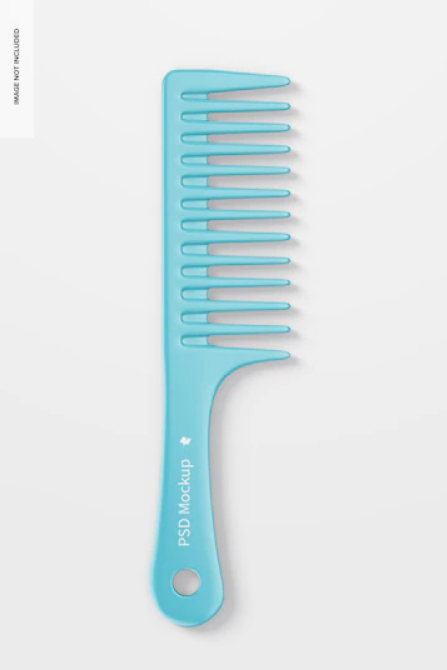 Wide-tooth combs are preferred by many people when they're trying to detangle their wet locks in the shower. I usually apply my moisturizing hair mask or leave-in conditioner and comb my hair with this type of detangler. Combs with wider teeth can also remove part of the styling products you may have applied, such as hairsprays, mousses, and more.
Wooden Combs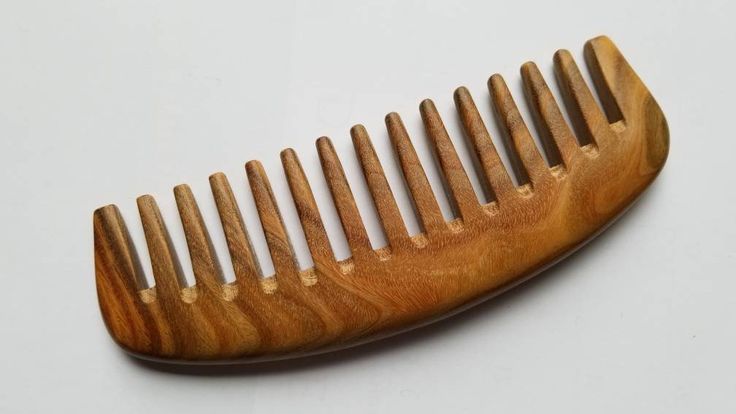 I love wooden combs due to their static-fighting power. Using wooden combs, you won't see too much frizz or too many flyaways. It's the perfect detangler for my thinning, fine hair. I would strongly recommend using wooden detanglers during winter to reduce frizzy locks.
My Top 5 Detangling Combs
Selection Criteria
After researching their efficacy, materials, and reviews, I've picked the following combs. Moreover, I tried to cover a wide range of items in terms of price, features, fabrics, and design.
Patelai Hair Detangling Comb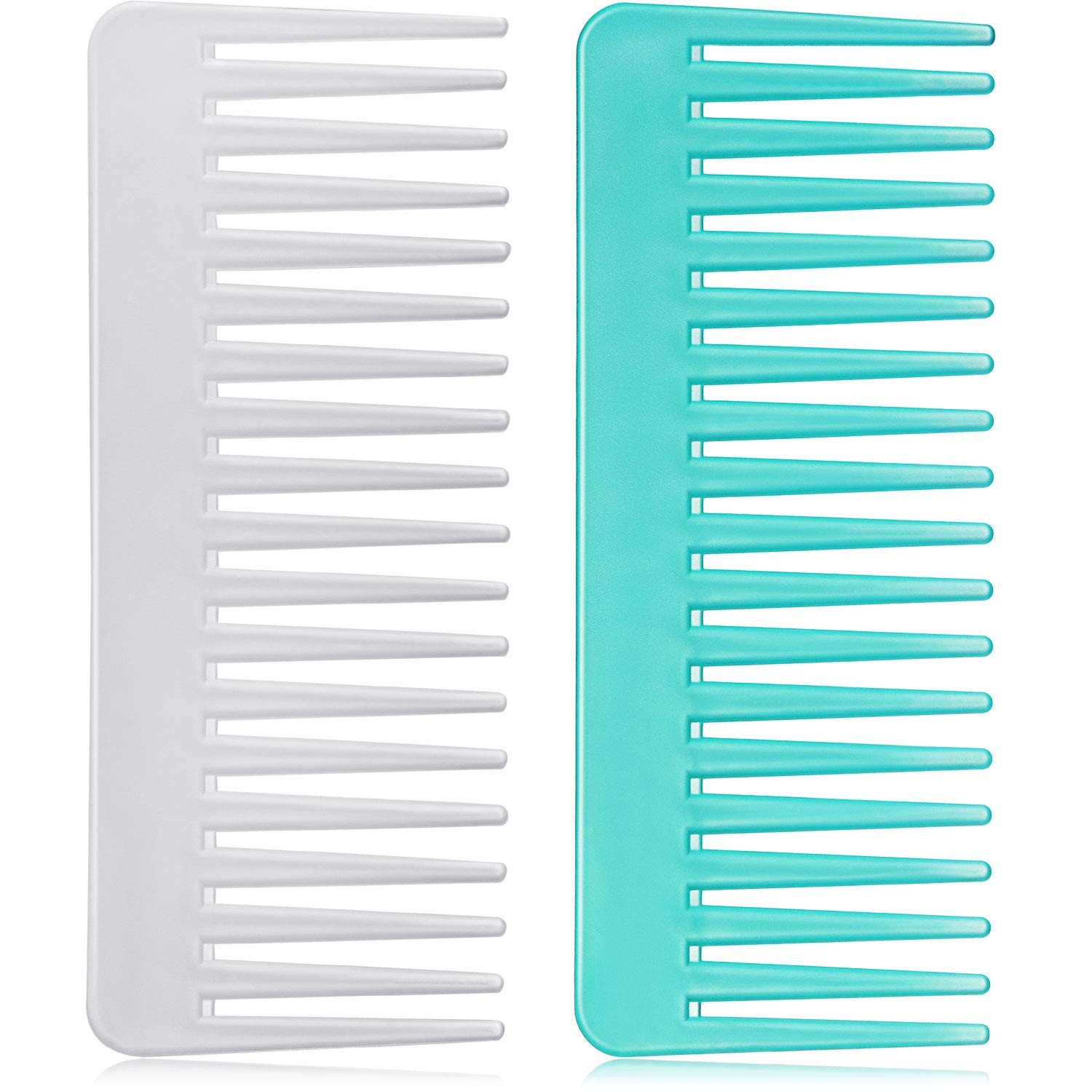 This detangling comb is excellent for knotted locks. It's ideal for long, thick hair. The Patelai comb is highly versatile and will help you style your tresses much easier. Using this hair comb daily might help avoid excess hair loss, frizziness, and dandruff. Just make sure you comb your hair gently.
Pros
Affordable and easy to hold;
Wide teeth for tangled hair;
Flexible and portable;
Lightweight and anti-static design.
Cons
It's made of plastic which is less durable than other materials;
Some of you might find it hard to use;
Lacks a handle.
C2 Detangling Comb by Mason Pearson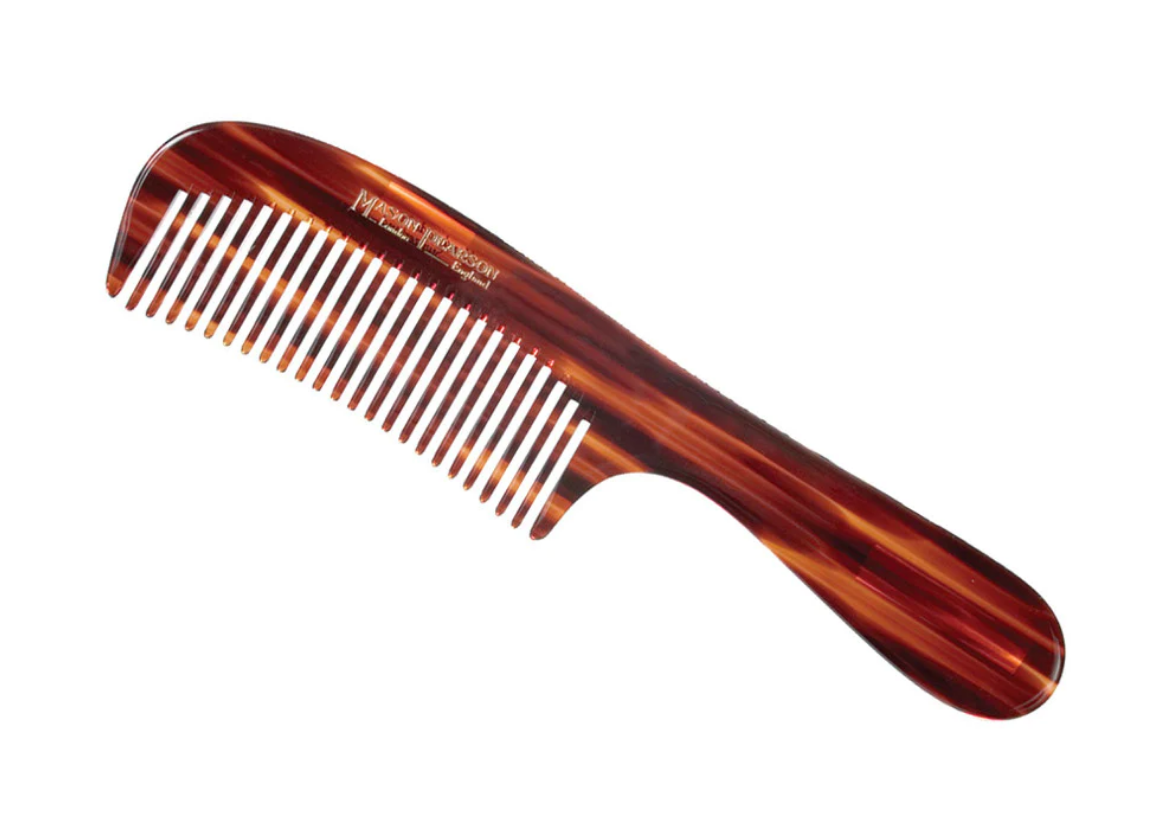 This Mason Pearson comb should do the trick if your hair has a coarse texture. It's more expensive than similar items, but it acts gently on your locks and helps you avoid breakage or further hair damage. This detangling comb is made of cellulose acetate plastic, which is pretty durable. It also features the brand's logo on the comb's body.
I was impressed by the fact that these combs are handmade and manufactured in Switzerland. I like this comb since it seems pretty sturdy. It's well made, but you should still use it gently and carefully to avoid breaking the bristles.
Pros
Elegant finish and colors;
It comes with a handle;
Ergonomic design;
Doesn't snag your hair;
Handmade and high-quality;
Durable plastic.
Cons
If you don't use it with care, some of the teeth might break;
Expensive;
The edges are a tad sharp.
Pro Tools Comb by Paul Mitchell

I love how simple and elegant this Paul Mitchell comb looks. It features a sleek design and works well on damaged hair. This comb works effectively on brittle hair and acts gently on your hair follicles. The teeth are wide enough to safely use the comb on dry and wet locks. Moreover, it should slide effortlessly through your tresses, although I've seen that's not always the case.
I like how the round-shaped tips of the comb's bristles feel on my scalp.
Pros
I like the particular milky white color of this comb;
It's affordable;
Practical design;
Anti-bacterial properties;
Sturdy and great for curls.
Cons
It's a tad heavy, especially considering I don't have upper arm strength;
I expected it to slide smoother through my locks.
Cricket Smooth Detangling Comb

What makes this Cricket Ultra Smooth comb unique is the fact that it's infused with argan oil. You can easily comb your wet hair with it, and it's super effective on thick, long tresses. I was amazed that this detangler is infused with oils and protein, including keratin, olive oil, and argan oil. These compounds lead to an easier detangling process and frizz-free hair.
The Cricket comb is my favorite due to its elegant design and functionality.
Pros
Infused with detangling and moisturizing oils;
Infused with strengthening keratin protein;
Less frizz and shinier hair;
Extra wide teeth;
Great design with ergonomic handle;
Classic brown color.
Cons
The oils infused in the comb evaporate gradually, but at least they last for a couple of years;
It's tricky to hold the comb's handle, especially when I'm in the shower and my hands are wet. The handle becomes slippery because of its design.
Onedor Handmade Comb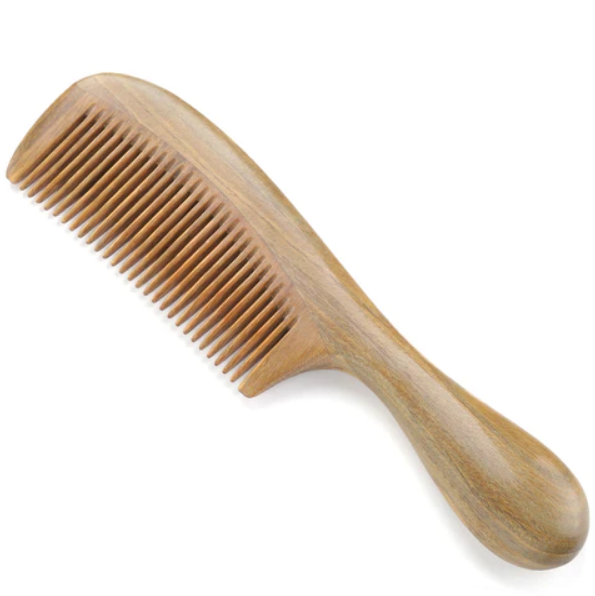 The Onedor detangling comb is my favorite wooden alternative. It's made of sandalwood and handcrafted. Its teeth follow a broad pattern that's great for tangled hair. It's durable and very easy to clean. I love how this comb looks; it's classy and elegant.
You can choose from two versions: one with fine teeth and the other with wider teeth. Or, like me, you should get both since the wide-tooth comb is suitable for wet hair, while the fine-tooth comb works better on dry locks.
Pros
Handmade, ergonomic design;
Great detangling properties;
Natural material;
Stimulates your scalp;
Prevents split ends;
High-quality comb.
Cons
It may break after a while if you have coarse, dry, and thick hair;
Both the handle and the teeth could be longer;
At first, it has a weird smell when you take it out of its package. But that fades away.
FAQs about Finding the Best Detangling Comb
Question: What Are Detangling Hair Combs?
Answer: Unlike regular combs, detanglers have wider teeth to avoid breakage or split ends. They're meant to help you eliminate knotted locks and tangled tresses. The best types of detangling combs are made of wood because you can safely use them on wet hair or with a leave-in conditioner.
Question: Why Are Detangling Combs Better than Brushes?
Answer: Brushes cause more breakage, leading to damaged hair. Detangling combs, with their wide teeth, are gentler on your locks and don't lead to as many broken hairs.
Question: How Often Should You Comb Your Tangled Hair?
Answer: I personally comb my hair once every three days after I wash my locks. But you can also comb it daily if you have thicker and stronger tresses. Experts say you should detangle your hair before applying the shampoo in the shower. Then, while you're conditioning your locks or using a hair mask, you should comb it with your fingers.
Question: When Is It Safer to Comb or Brush Your Hair?
Answer: In the past, I used to comb or brush my hair right after washing it while it was still damp. Now I know better, and I blow-dry a couple of minutes before combing it. Wet hair is more fragile and prone to breakage.

Final Thoughts
If your hair is fragile and tends to tangle easily, you should definitely opt for detangling comb. Pick one that's made of natural materials or at least durable ones. A high-quality detangler should untangle knots, offer comfort by being gentle on your locks, and help you comb your hair without tugging or pulling it.
Combing your hair is beneficial as long as you do it properly. It stimulates the roots, boosting your locks' natural movement and evenly distributing your scalp's oils throughout your hair.
As I mentioned above, my favorite plastic comb is the Cricket detangling hair tool, while my absolute favorite choice would be the handmade wooden comb made by Onedor. The first is ergonomic, flexible, and infused with several hydrating oils. The second option stimulates my scalp, and it's made of natural and high-quality materials.
Be sure to check these articles, too: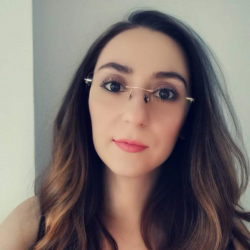 Latest posts by Alexandra Gavrilescu, Home Hair Product Tester
(see all)