Nothing bothers me more than a hair dye brush that is uncomfortable to hold, its bristles shed everywhere, or it isn't easy to clean the color off. In the past ten years of doing hair, I have learned what I love about hair color brushes and the best uses for each type of hair color brush. I have made this best hair dye brush guide so nobody else has to go through the frustration of figuring out what color brush to use and which one is best through trial and error as I did.
Bottom Line Up Front
My overall favorite hair dye brush is the Framar color brush because you can do almost any type of color with it, and Framar brushes are incredibly durable. The bristles on this brush are flexible enough to do a balayage and dense enough to do an all-over color. I also like the handle on Framar brushes because they are thin enough to make sectioning easy but have an excellent shape to grip.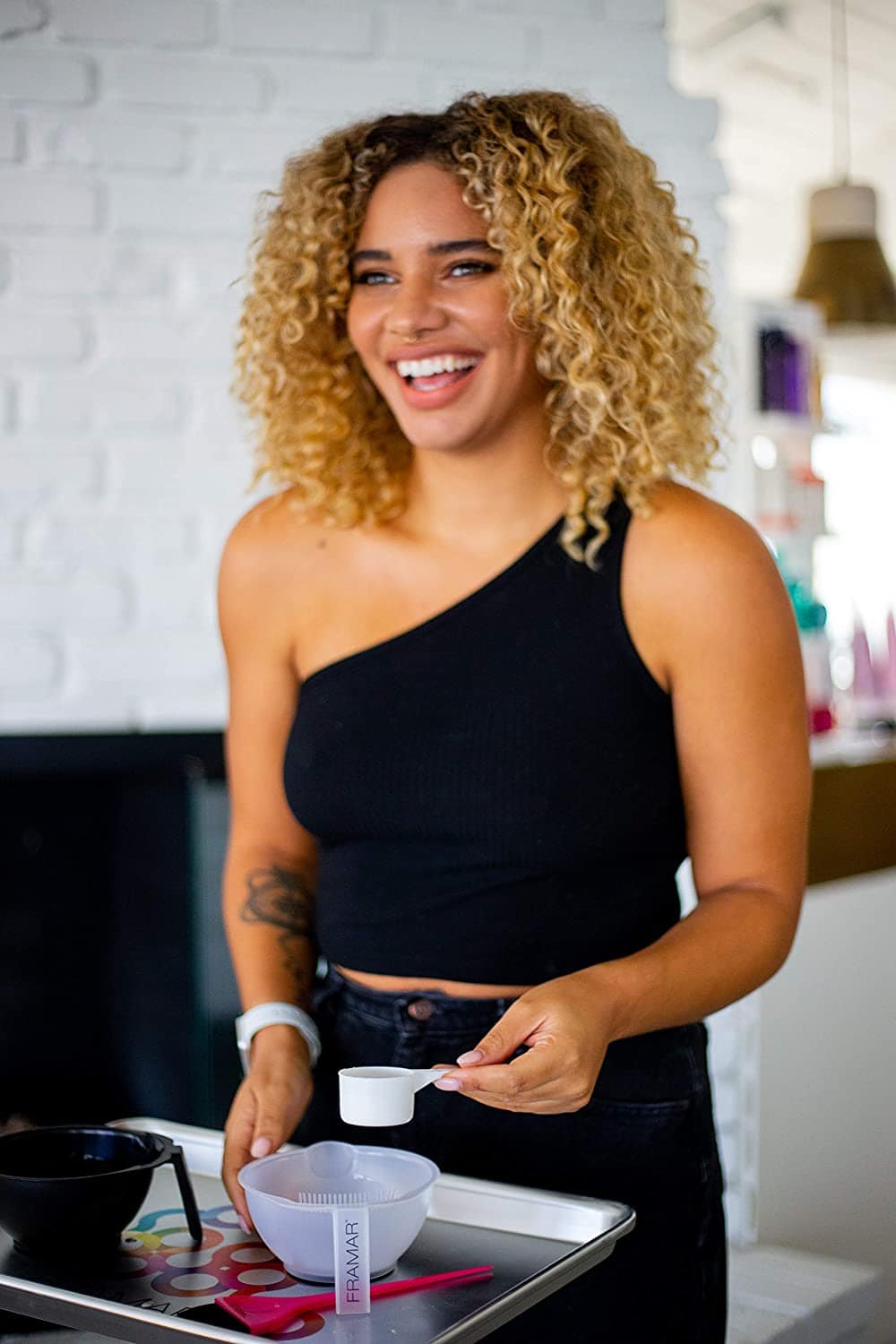 Selection Criteria
Soft Bristles
Soft, feathered bristles on a hair dye brush are always better than stiff brushes without much flexibility. This allows the color to be applied evenly on the hair without feeling like the brush is scraping your scalp. I also like soft bristles on a hair dye brush to do things like root smudges and other techniques that require a wrist flick because the bristles flick out with your motion.
Durable
One of the worst things that can happen to your color brush is having the bristles shed while applying color to your own or someone else's hair. I've even had an instance where a whole chunk of bristles fell out of its pocket, and a gaping hole in the brush can make the color apply unevenly. Usually, if this happens, it will start happening in the first or second use of the brush, which means that it is not a well-built brush.
Ergonomic
Ergonomics is the study of how people work and engineers equipment that keeps people from being uncomfortable or risking injury. You may have seen this term used in marketing desk chairs or keyboards. Making ergonomic hair dye brushes is also very important as some brushes can slip right out of your hands or even cause hand cramping. Some ergonomic features on a color brush are grippy handles, long handles, and imprints on the handle for your thumb.
Easy to Clean
Some color brushes can be more challenging to clean than others, especially if they have dense bristles or a lot of gaps and groves. Color brushes should be flexible enough to easily wiggle the color out of the bristles and built without sharp edges or holes where the bristles attach to the handle. I recommend soaking your brushes in warm water and dish soap after use and then scrubbing the excess color away with a dish brush.
Best Hair Dye Brushes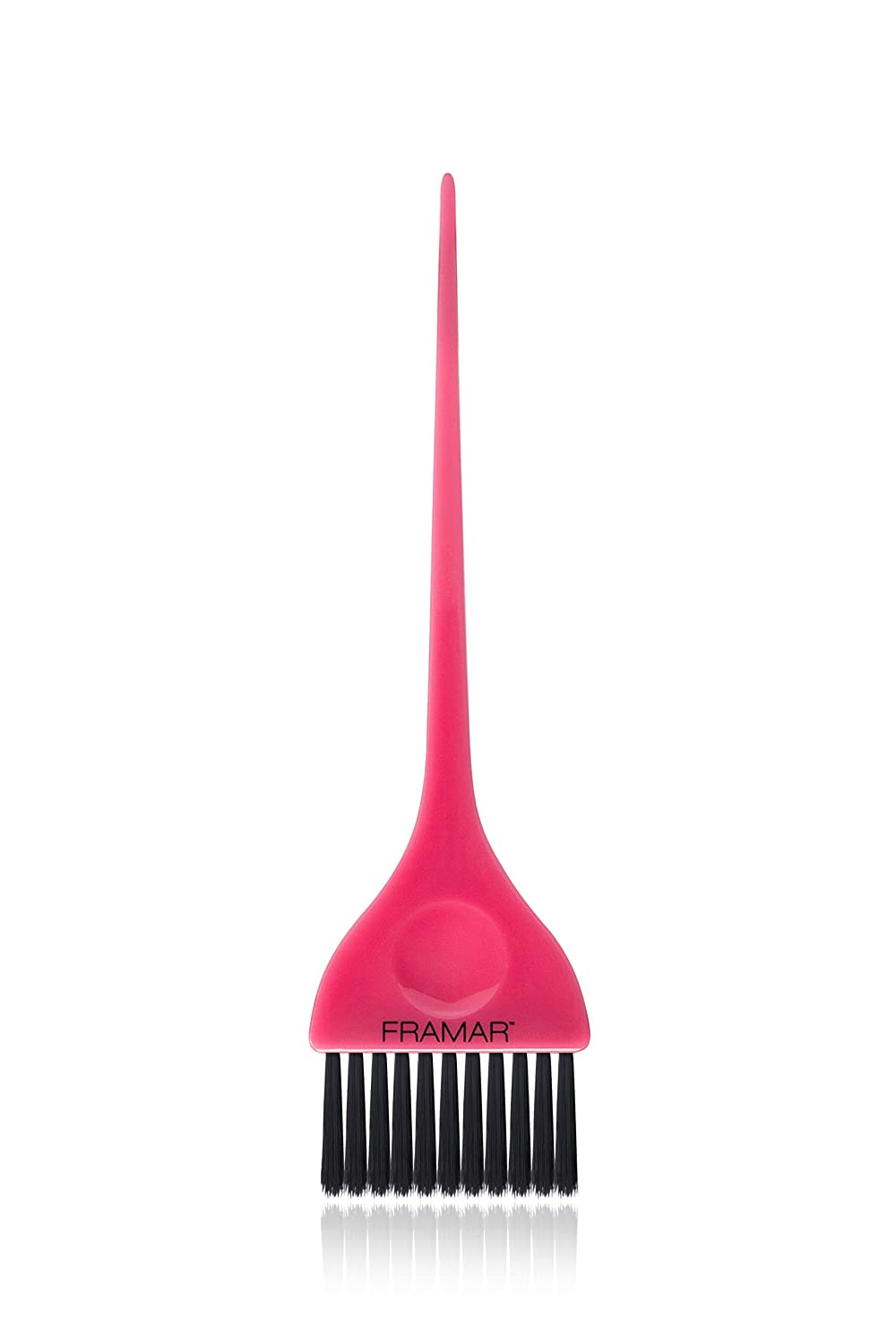 Pros
Soft, tapered bristles
Indent in brush handle for the thumb
It lasts a long time
Spread-out, bushy bristles
Cons
The handle is not very grippy
Framar brushes are some of my favorites in the salon because they last forever, and the bristles feel so nice that I could almost use them as a makeup brush. There are Framar brushes that I've owned that lasted so long that I lost them before they even started to deteriorate, and it's not too often that I lose my color brushes. They are super easy to clean because the bristle pockets are spread out a decent amount, but the bristles are bushy enough to apply color evenly.
I have used my Framar brushes for multiple types of color applications because they are just excellent universal brushes. The bristles are flexible enough to wisp the perfect amount for balayage, the handle is thin enough to make crisp sections, and the brush is the ideal width to do all-over color or detail work. Anytime I'm quickly grabbing a brush without thinking, it is always my Framar brush.
The one thing that I think Framar could work on with this specific brush is the grip of the handle. The plastic is exceptionally smooth, and the handle is a bit thinner than I like my hair dye brushes. I can't tell you how often I have accidentally flicked one of these brushes out of my hand, switching from sectioning to painting. Luckily, I always keep spares on me.

Pros
Grippy handle
Pintail on the end of the handle
Nice blend of firm and flexible bristles
Extremely durable
Cons
I find that pintail hair dye brushes are the best for clean sections because a skinny metal needle on the end creates crisp lines in the hair. Colortrak pintail brushes are great because they are highly durable, with some of these brushes lasting me years before they start shedding any bristle. The brush itself is also lovely for all-over colors because the bristles aren't so soft that they can't work the color well but aren't so stiff that there is no movement in the brush.
The only thing I hate about this brush is how small the handle is because it is mostly the pintail. The handle has an excellent rubber grip, making it nearly impossible to slip out of your hands. However, because the grip is so small, you will be holding it with mostly your fingertips and don't have much leverage, which can cause hand cramping even though I do love this brush for foiling or colors where I need to separate colors precisely.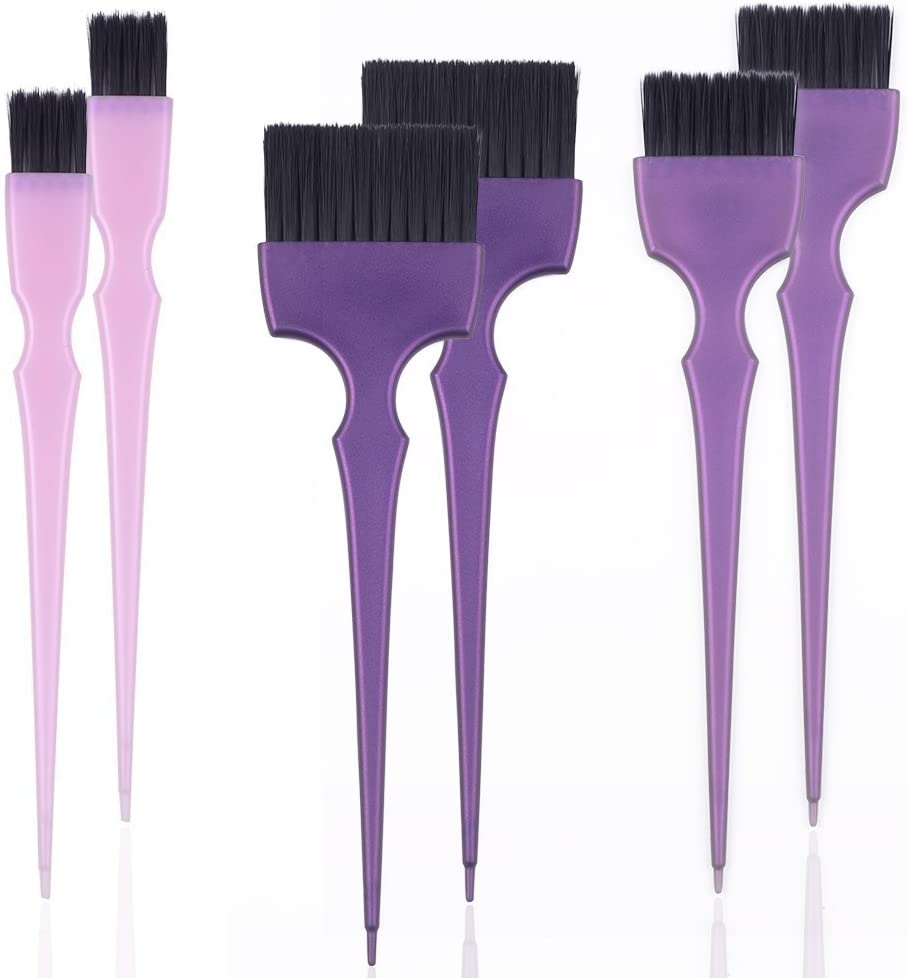 Pros
Comes with two of three different brush sizes (six total)
Ergonomic handle
feathered, soft bristles
The tip of the handle comes to a point
Cons
Sometimes a larger brush makes coloring specific pieces of hair more difficult. If I was trying to add only a few balayage pieces around the front of the hair, I don't want a large brush getting color all over the place. This set of brushes comes with two standard-sized brushes, two 1.5-inch brushes, and two .7-inch brushes. The soft feathered bristles make this set even easier to do detail work because you can wisp the color on better rather than glopping it on.
I also love that these brushes have a point on the end of the handle to make it easier when sectioning out hair. This is especially great for doing custom face-framing highlights or balayage because you can quickly pull out any little hairs that may be trying to get into your section while painting the color on. Another aspect of the handle is its ergonomic shape, making it comfortable to grip and stay in your hands.
The bristles in this brush are very dense without any gaps, which is great for even application, but difficult to clean. I would much rather have to smudge on the color more than spend forever trying to get the color out of all those bristles. You will want to soak these brushes in warm, soapy water before attempting to clean them.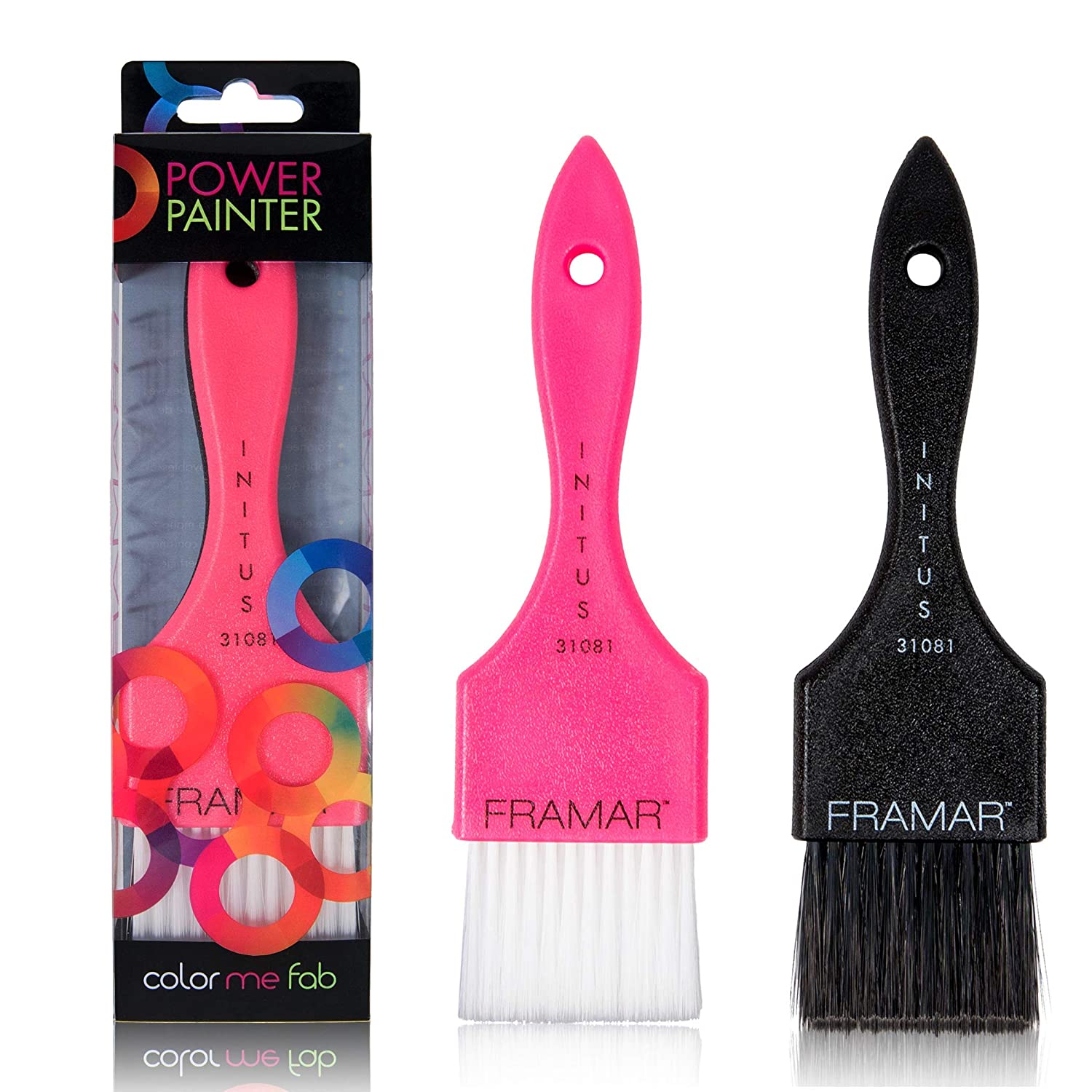 Pros
Long flexible bristles
Extremely feathered bristles
Shaped like a paintbrush
It picks up clay lightener well
Larger than normal brushes
Cons
Difficult to clean
Heavier than other brushes
Balayage is usually done with a regular hair dye brush, or some people even buy a paint brush from a hardware store. Standard brushes do not work well for balayage because you have to hold the brush differently than usual, and you need long bristles to get the most feathering in the color. Framar has made the only hair color brush I will use to solve this balayage painting problem by creating a hair dye brush that mimics a hardware store paintbrush.
The benefit of having a hair dye brush mimic a paintbrush is that the handle is built to be held sideways rather than straight up like a regular hair dye brush. The way the bristles are made on this hair dye brush more closely resembles a paintbrush by using multiple rows of bristles, which are longer and wispier, and I think this makes it easier to pick up clay lightener. This fact also makes it ten times easier to fade color up into the root by the bristles wisping with the flick of your wrist.
With this new hair dye brush form comes a few difficulties I had to get used to when first using it. Since the brush is so much larger and the handle is a bit chunkier to form your new hand position, the brush is heavier overall than a standard hair dye brush, making it difficult to use for long periods. The extra rows of bristles can make this brush extremely difficult to clean, needing extra massaging to get all the color out.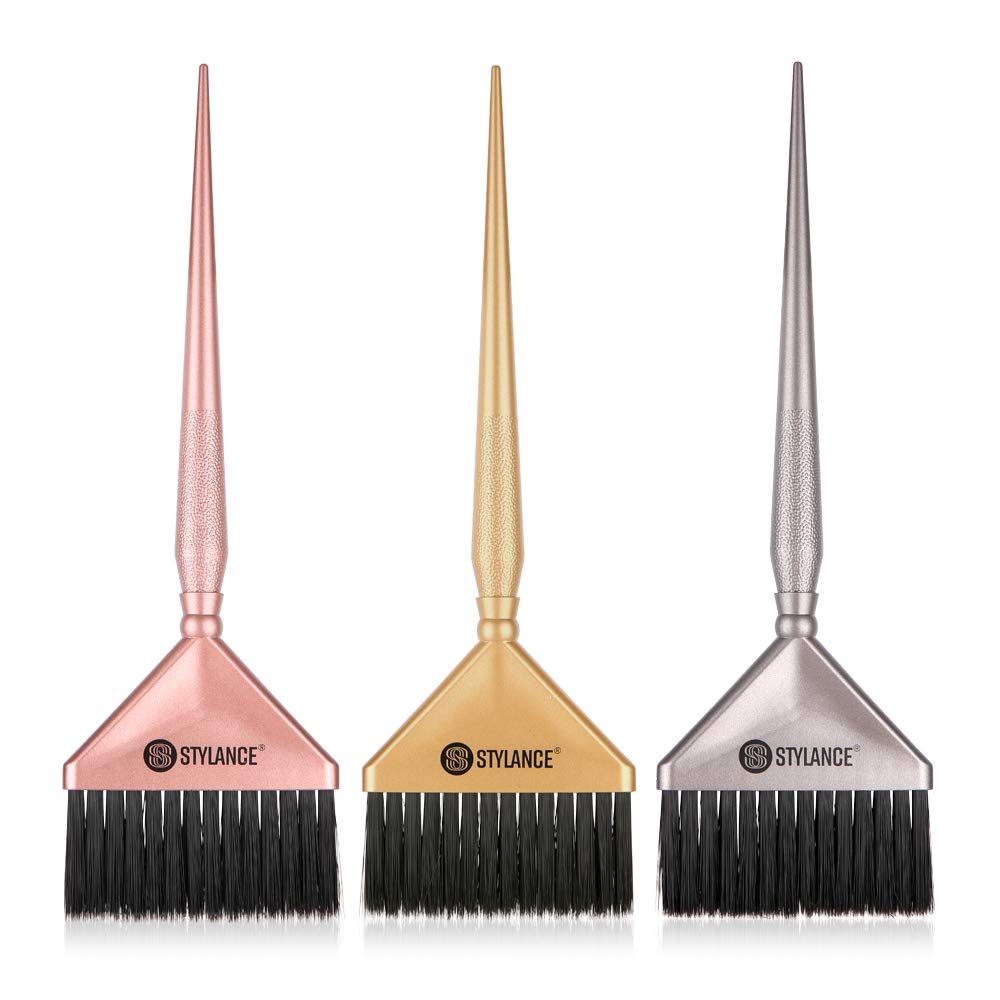 Pros
Wide brush
Ergonomic grippy handle
It comes in three different colors
Soft nylon wool bristles
Cons
Handle color could peel off
I have this set of three brushes, and they are my favorite to grab for a root touch-up or an all-over color because the brush is wider than a regular hair dye brush. This makes the application so much faster because you can cover more of a section in fewer sweeps, and the brush picks up more color at once. The bristles of the brush are also very soft and fluffy, which also helps with even application and picking up color.
These brushes have some of my favorite handles out of all the brushes that I have used. The rough texture and the bulb shape at the base of the handle make it stay in your hand and extremely comfortable griping. Plus, the brush handle comes in three unique metallic colors silver, gold, and rose gold. However, the handle color has started peeling after I've used it so many times, showing the white plastic if you use the brushes a ton.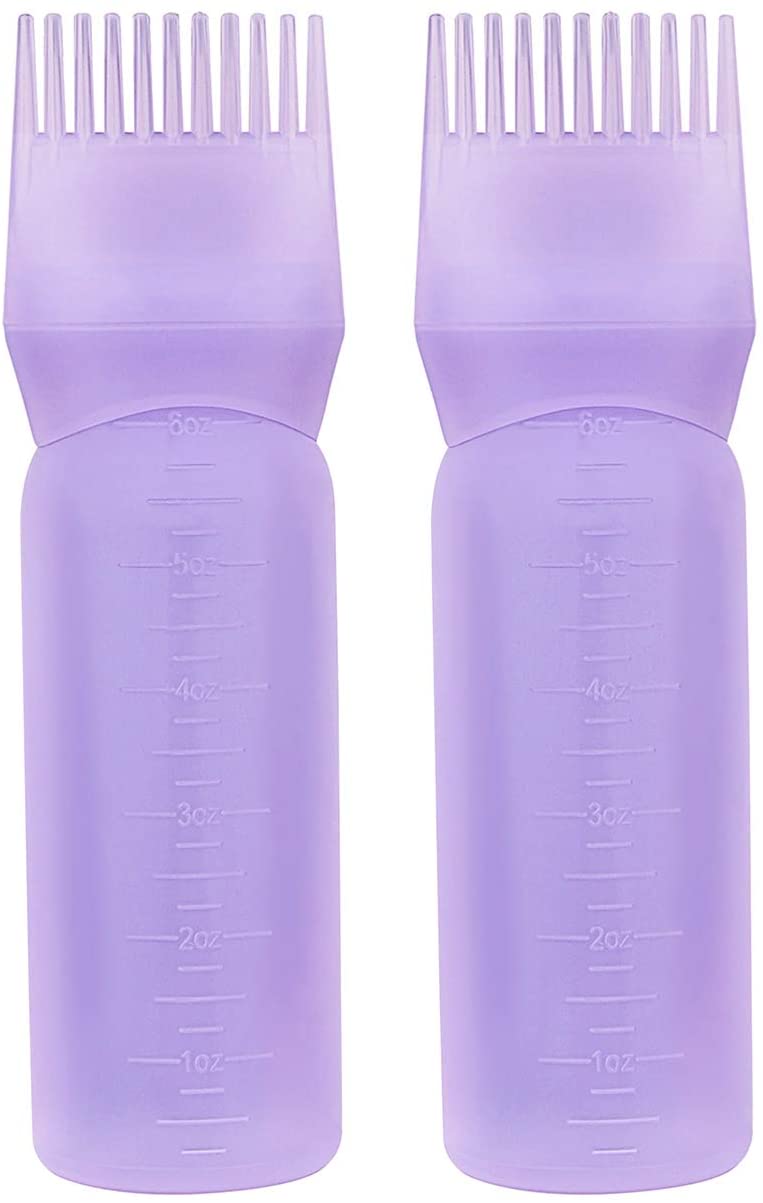 Pros
Can color quickly
A toner bottle and brush in one
Even distribution
Flexible plastic bottle
Cons
It can be difficult to mix colors by shaking
Technically this is not a hair dye brush, but I think it is a better way to apply toner than with a bowl and brush. A toner bottle is a flexible bottle with a spout on the end of it that makes spreading color over the hair quicker and easier. This toner bottle has a comb on the end instead of a tiny hole, which takes out the second step of brushing your toner through after applying the color.
I recommend using this only for toners on wet hair, or else you could get uneven color. Finding a toner bottle with a good comb on the end that evenly distributes the color can be challenging, but this specific bottle does a great job. It is also made of super flexible plastic, making it much easier to squeeze out your color while combing it through your hair.
The one downside that I've found to a toner bottle with a comb applicator is you have to cover all of the holes on the end of the comb to shake your bottle and mix the color. I like to just lay my whole finger across the width of the comb, but it is absolutely more difficult than having only to cover one small hole. You could also mix the color before pouring it into this bottle, but that takes away some of its quickness.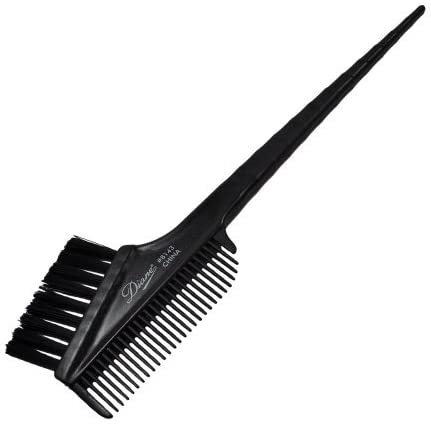 Pros
Hair dye brush and comb in one
Durable comb and bristles
Great for color melting
Easy to clean
Cons
It may be challenging to get used to a side brush
The first benefit that I love of having a hair dye brush and comb in one is you don't have to constantly put down your color brush at every section to switch to another comb to comb your color down. This saves me a ton of time when coming a root color down into the ends of the hair. I mainly use this brush for color melting your roots into the ends or doing a root smudge.
The bristles of this brush are shorter than average, making it easier for me to press hair color into the scalp or the rest of the hair. Many comb brushes also have a problem with the teeth on the comb breaking off, and these are durable, lasting a year or more before wearing out. The way this brush is made also makes it easier to clean as long as you use a dish brush on it.
Comb brushes are positioned on the side rather than straight across the top of the handle, which can be challenging to get used to when you've been using a standard hair dye brush. Instead of resting the brush in your hand, so it lays over your thumb, I hold this brush with all of my fingers on one side of the handle and my thumb wrapped around the underside.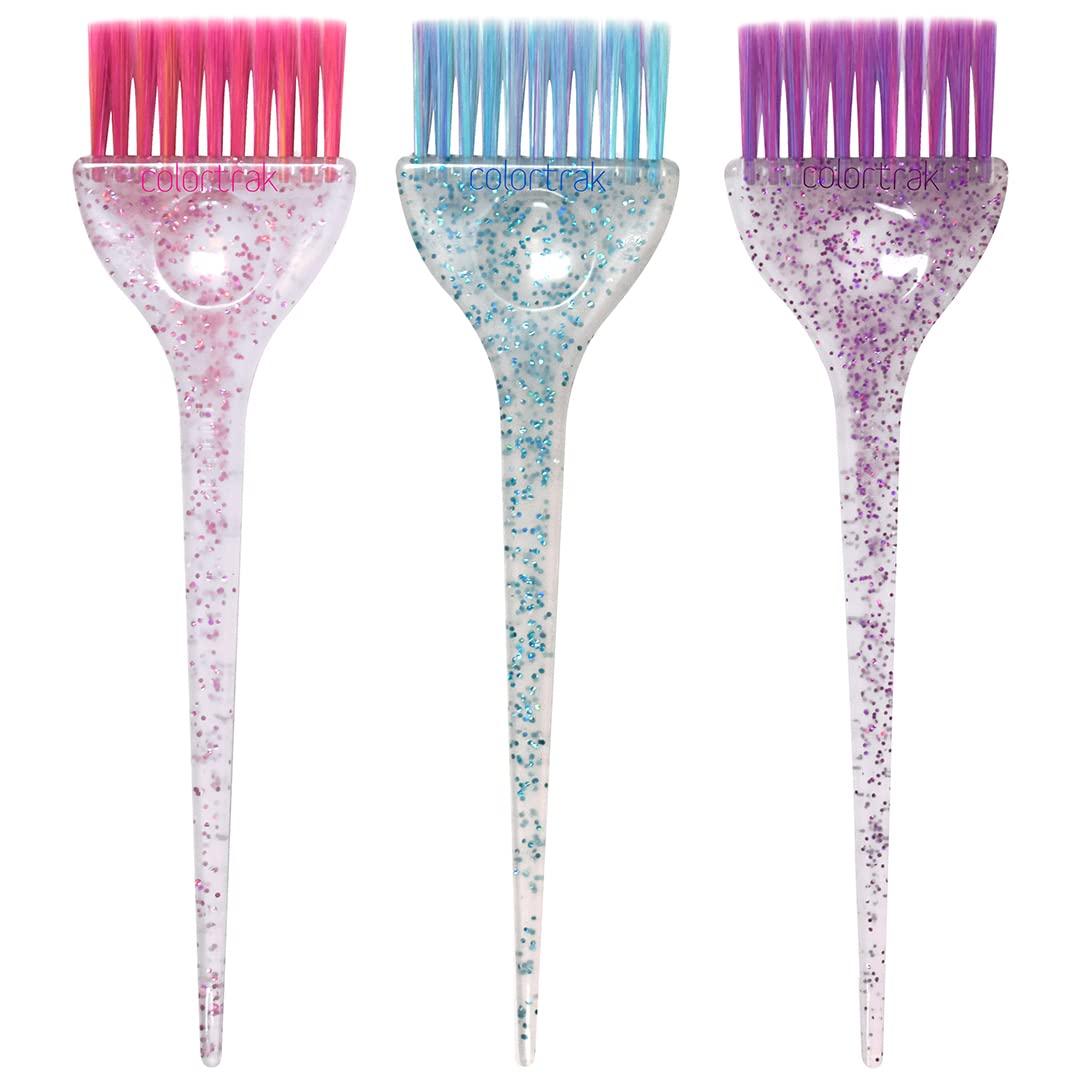 Pros
It comes in three different glitter colors
Soft, wispy bristles
Very durable
Easy to clean
Cons
Colortrak makes some of the cutest brushes I have ever seen, and I highly recommend checking out some of their other brushes to see which style you like better. One of my coworkers uses these specific brushes; she calls them her unicorn brushes because that's exactly what they look like. The handle is semi-translucent with glitter scattered throughout, and the bristles are a matching color with different similar colors sprinkled in.
Not only are these brushes super cute, but they also work and hold up exceptionally well. The bristles on this are very soft and feathery, making it easier to apply your color where you want it and without overapplying. The bristles rarely shed, with my coworker having these brushes for over a year without any missing bristles.
The only thing I don't like about these brushes is the bristles stain over time from color, becoming a bit of a dingey, faded color. Surprisingly, the handle does not stain, though, with its semi-translucent handle. However, the fading of the bristles shouldn't be a deal-breaker because your bristles will be covered in color during application anyway.
Pros
It comes with six different brush types
Soft, feathered bristles
Ergonomic handles
Dense bristles
Cons
This set has every brush that I could possibly need, whether it's for balayage or detail work. The AMR set includes a balayage brush, small brushes, pintail brushes, a comb brush, and a standard brush. I like how they changed the handles on each of these brushes to make them more ergonomic for their function, like the detail brush with a textured bulb handle and the comb brush curved outward.
The bristles on these brushes are very soft and fluffy, which I find makes them better for even application and makes foiling or balayage easier. They are also very dense, which helps with full coverage but is much more challenging to clean. I like to ensure I soak these brushes in soapy, warm water before cleaning and massage the bristles to get all of the hair dye out.
How to Use Your Hair Dye Brush
Having the right hair dye brush for your application type means nothing if you don't know how to color your hair with a bowl and brush. The explanation I will give below is for an elementary all-over color. These are the basics, and learning these steps will help you in the future with different learned techniques, such as foiling and root smudges.
Materials Needed:
Color cape or old towel
Chosen hair dye brush
Section Your Hair
Start by sectioning your hair into four quadrants with clips. Make these sections by making a part from the center of your forehead to the center of your neck. Then make another part from the back of one ear to the back of the other, crossing over the top of your head. I like to use a pintail comb or a pintail hair dye brush to make these sections. One section should be above each of your ears and two in the back of your head.
Mix Your Color
Once all of your hair is clipped up, you can put on your color cape and start mixing your color. Use the box or bottle instructions to determine how to mix your color correctly. I like to use a small measuring cup to measure the color ratios and then dump that into my color bowl. I also like to mix the color with a small whisk, so I don't start with huge globs of hair color on my hair dye brush.
Apply the Color
Start at the bottom of the back sections and take another section out of that at a horizontal line about a half-inch thick. Dip your brush into the mixture, pick up a small amount of color, and paint the color onto your roots from the top and bottom of the hair. Then add more color to your brush to paint the rest of your hair. Once the color is on, I go back through and massage the color into each section with my fingers or hair dye brush.
Shampoo and Tone if Necessary
Once you have painted the color on each section, let it process for the amount of time described in the color instructions, usually thirty minutes. When that time is up, rinse the color with warm water until the water is running clear. Shampoo your hair like you usually would and apply toner if necessary. If a toner is not required, condition your hair like usual.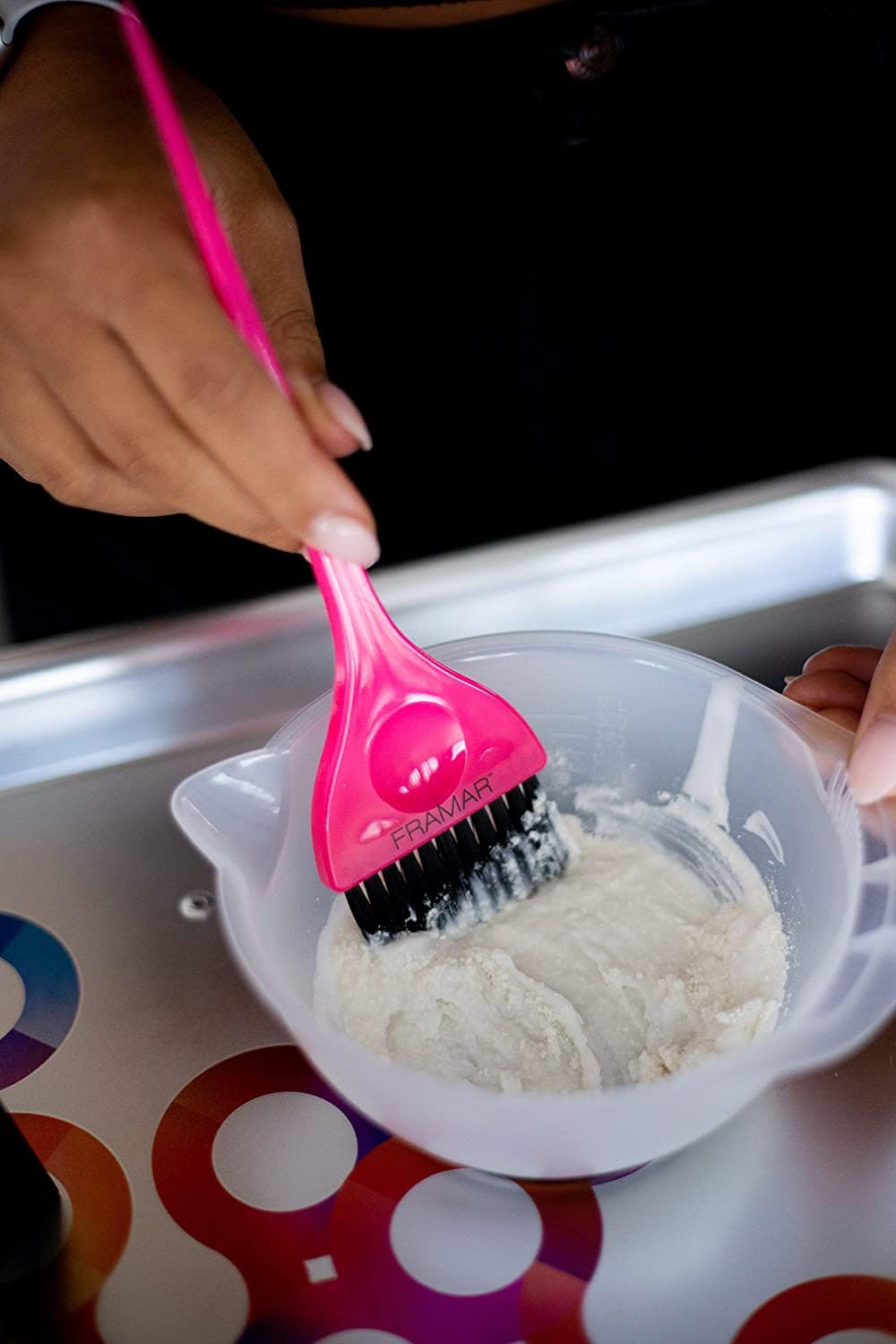 FAQ's
Question: Do I need a brush to color my hair?
Answer: I highly recommend using a hair dye brush to color your hair. Coloring your hair with your hands or some other tool will not ensure you get even coverage. Using a hair dye brush can make it ten times easier to get even coverage and can actually make the process quicker.
Question: Can I use a toothbrush to apply hair dye?
Answer: You can, but I wouldn't recommend it. Toothbrushes are tiny compared to a hair dye brush and will take much longer to apply the color. However, if you are only touching up some hairs around the face, using a toothbrush may be beneficial because you can be more precise with the application and will be less like to create dark lines around your face.
Question: How can I dye my hair without touching my scalp?
Answer: The only way you can color your hair without touching the scalp is with highlights or lowlights, and this is because all hair color goes into a foil or is painted on throughout the ends with balayage. I have never heard of a way to do an all-over color or root touch-up without touching your scalp with the color, and you will probably end up with splotchy color if you try.
Question: Can you reuse a tint brush?
Answer: Yes, you can reuse your tint brush, especially if you get one of good quality. I've had hair dye brushes that have lasted me years before they are worn out, or the bristles start falling out rapidly. You just need to ensure you are taking care of them properly by cleaning them thoroughly and storing them somewhere the bristles won't be bent or smashed.
Question: How do you clean a hair dye brush?
Answer: Soak your hair dye brushes in a bowl of warm soapy water for a few minutes. Once most of the color has loosened up, use a soft dish brush to scrub the handle and where the bristles meet the handles. Use your finger to massage the color out of the bristles while rinsing the brush under warm water. I like to towel dry the brush to get anything that I might have missed, but you can let them air dry.
Further Reading: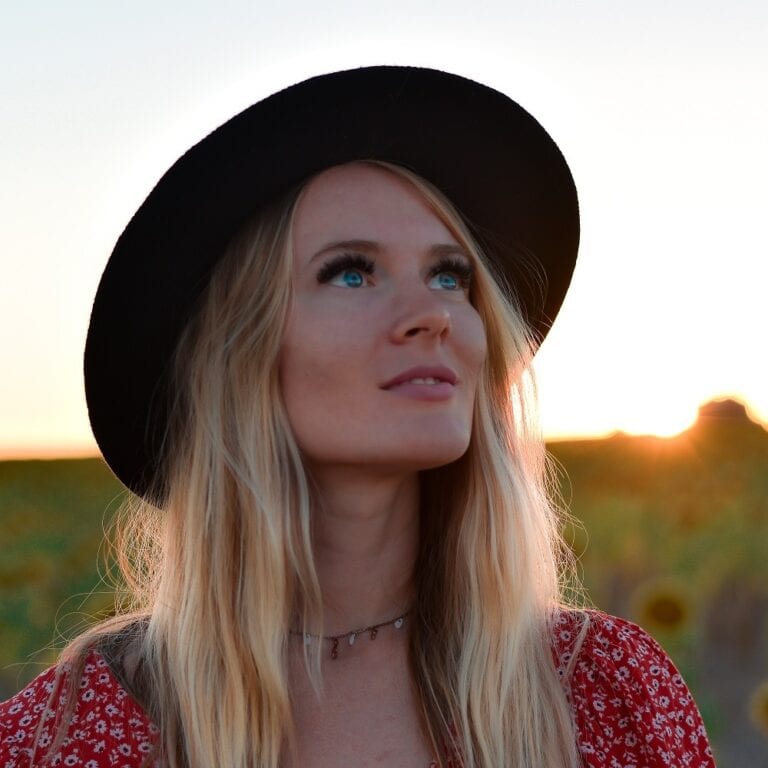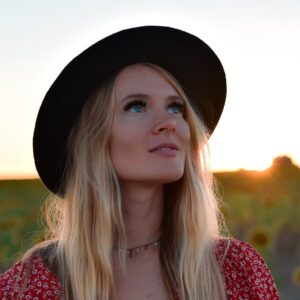 Latest posts by Haley Parker, Licensed Cosmetologist 10+ years
(see all)