Fighting with curly hair can be exhausting, and it can be challenging to find the right tools to tame your mane. Every curl is different, and depending on your hair density, your ideal flat iron may look different than mine. As someone with curly hair, I know how overwhelming it can be to search for the perfect flat iron that doesn't leave behind any stray waves.
The best flat irons for curly hair will actually smooth out your hair without causing major damage. The highest quality flat iron is likely to cause the least amount of breakage.
In this list, we have chosen the favorite flat irons of salon professionals with high-quality heat distribution between the plates, various plate sizes to fit every need, and a mix of the two best materials for flat irons: ceramic and titanium.
What to Look For in a Flat Iron
With so many flat irons on the market, how do you know which is the best for curly hair? There are a few features that you want to keep in mind.
Adjustable Heat Setting
Temperature control is also a must-have feature. Most flat irons come equipped with temperature control, but it varies in precision. It's also a good sign that the heat will be evenly distributed without hotspots and minimize heat damage.
Plate Size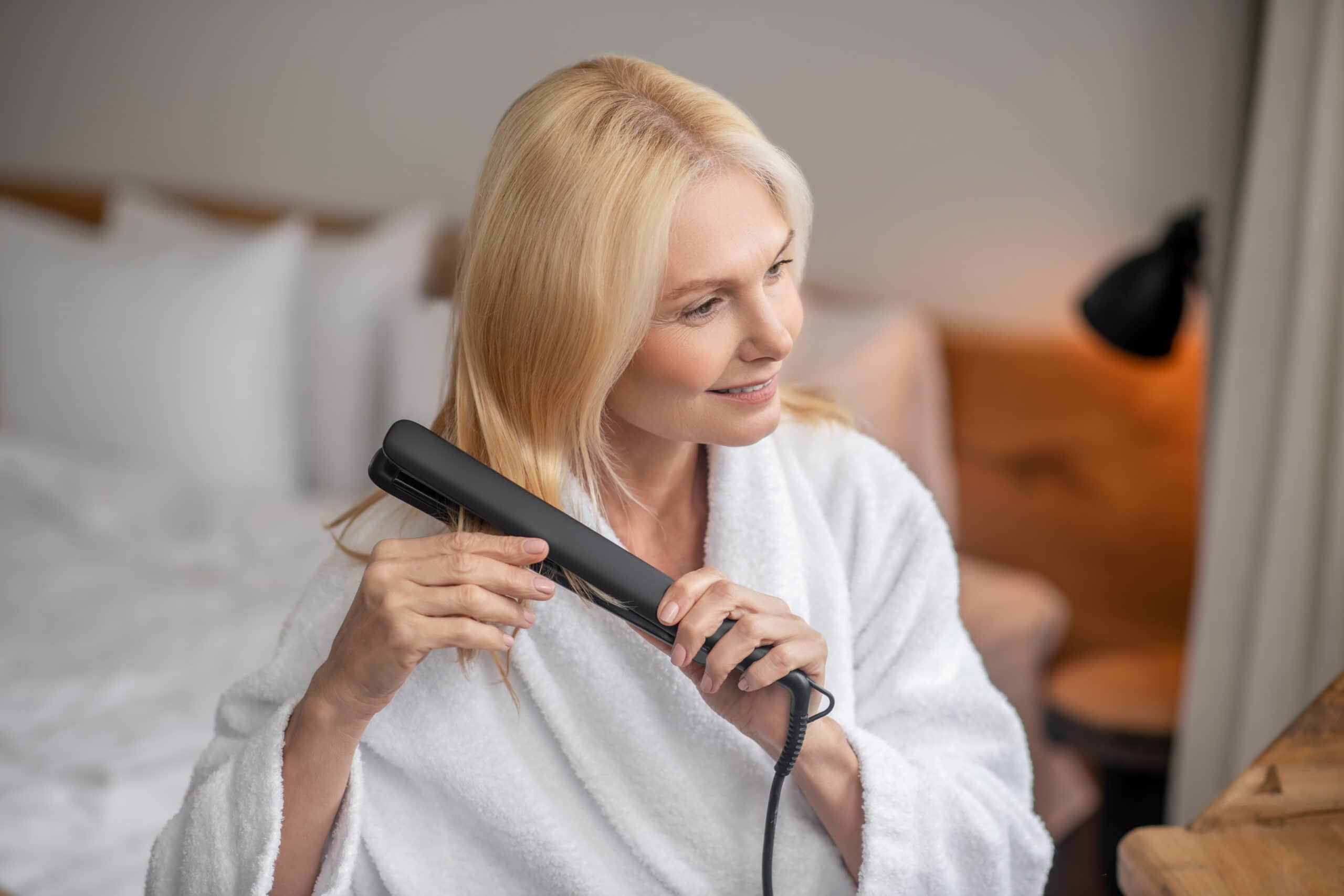 Decide which size plates will work best for your hair. If you have really thick curls, you may want to consider a wider plate width, and if you have fine hair, it can speed up the time it takes to do your hair.
Titanium vs. Ceramic
Consider the composition of the plates. Are they completely ceramic, have tourmaline, or are they titanium plates? Different hair density does better with different materials. Thick hair can withstand the intense heat from titanium plates, but it can cause breakage and damage to fine hair.
It may seem like there is a lot to consider when comparing flat irons, but this guide will walk you through the best flat iron options to help smooth out your curls.
If you have seriously thick curls, this flat iron is the perfect choice for you. This iron has 1.5-inch plates made of a ceramic and ionic blend. You can control how much heat you apply with five temperature settings ranging from 260 to 410° F. The plate surfaces heat evenly and straightens, and smooths quickly and easily with fewer passes over your hair.
The T3 SinglePass iron will cut down on straightening time for long hair and can control even the most textured hair to perfection.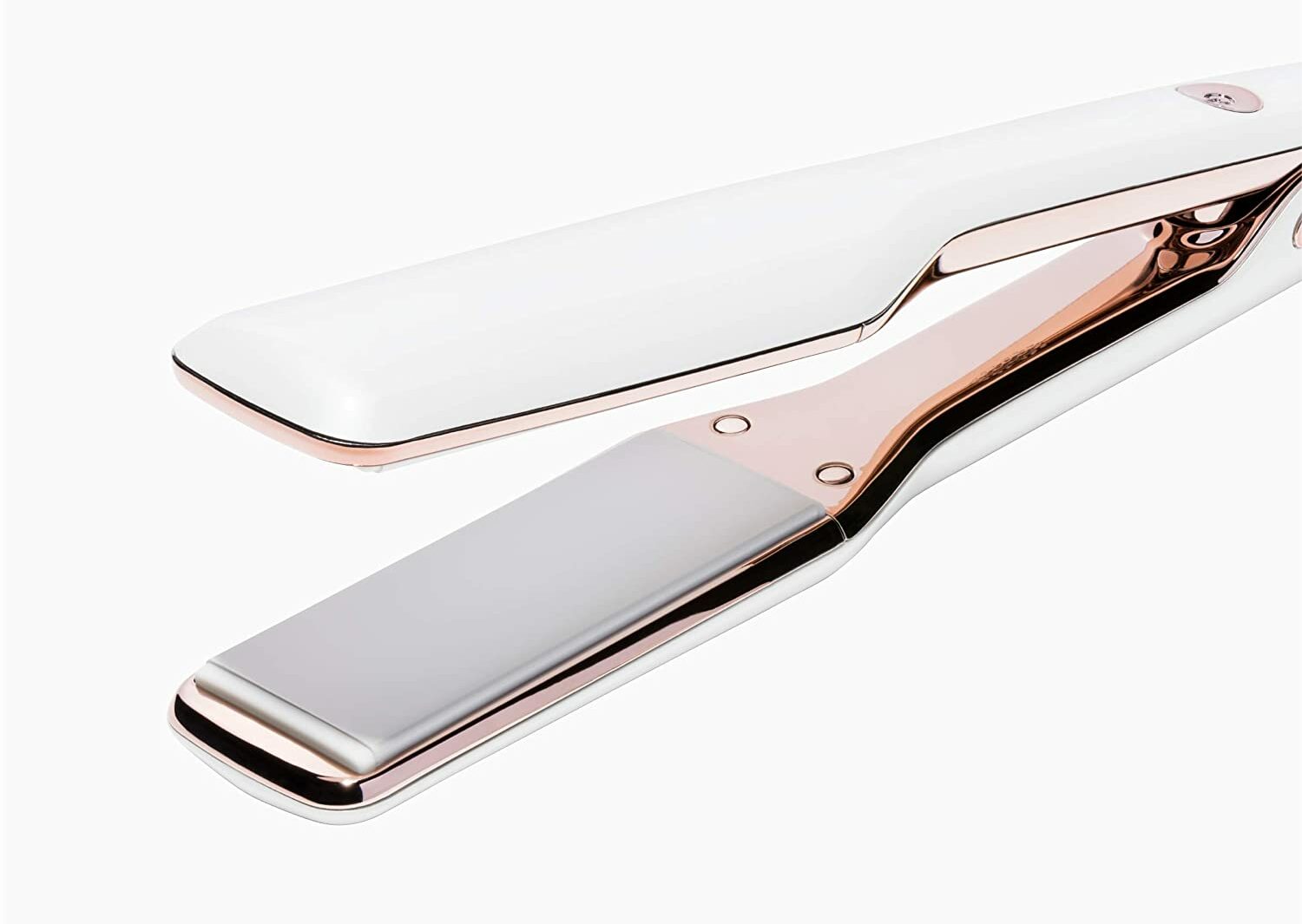 Pros
Boasts wider plates to cover more hair and smooth out your hair faster.
It has a blend of ceramic and ionic plates which produces shiny, frizz-free hair.
There is consistent heat to reduce passes over your strands.
Cons
It's a professional-grade product, so the T3 SinglePass X is an expensive option.
With slightly larger plates – 1.75 inches – this flat iron is a favorite for those with thick or coarse hair. The titanium plates heat to 450° F, and these higher temperatures are necessary for thicker hair. It's an incredibly affordable option for a top-rated flat iron, making it a popular choice.
Its titanium plates make it particularly good at getting rid of frizz which is a dream for those with curls. There is a safety lock to ensure it is closed and comes with a travel pouch so you can easily store it when you're on the go!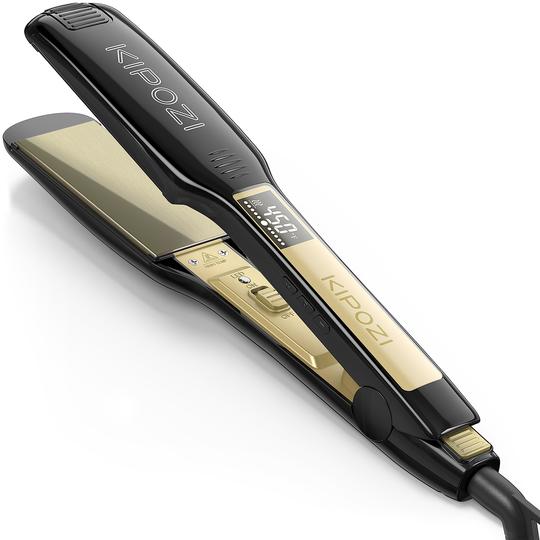 Pros
Shoppers love the large plates for tackling their curls in less time.
It's an affordable option at under $40.
There is an auto-shutoff feature that kicks in after 90 minutes of inactivity.
Cons
Some reviewers find that you need to pass over the hair a couple of times to fully straighten.
This flat iron is another affordable option, and its ceramic plates with tourmaline help combat frizz and keep your hair shiny. In fact, it boasts twice as much tourmaline as other brands, so there is no need to worry about static and flyaways.
The long and thin design of the plates makes it easy to move through your hair to straighten or wave your strands. The digital temperature controls make sure that you get an accurate heat reading. This flat iron can heat up to 410° F, making it effortless to smooth your curls.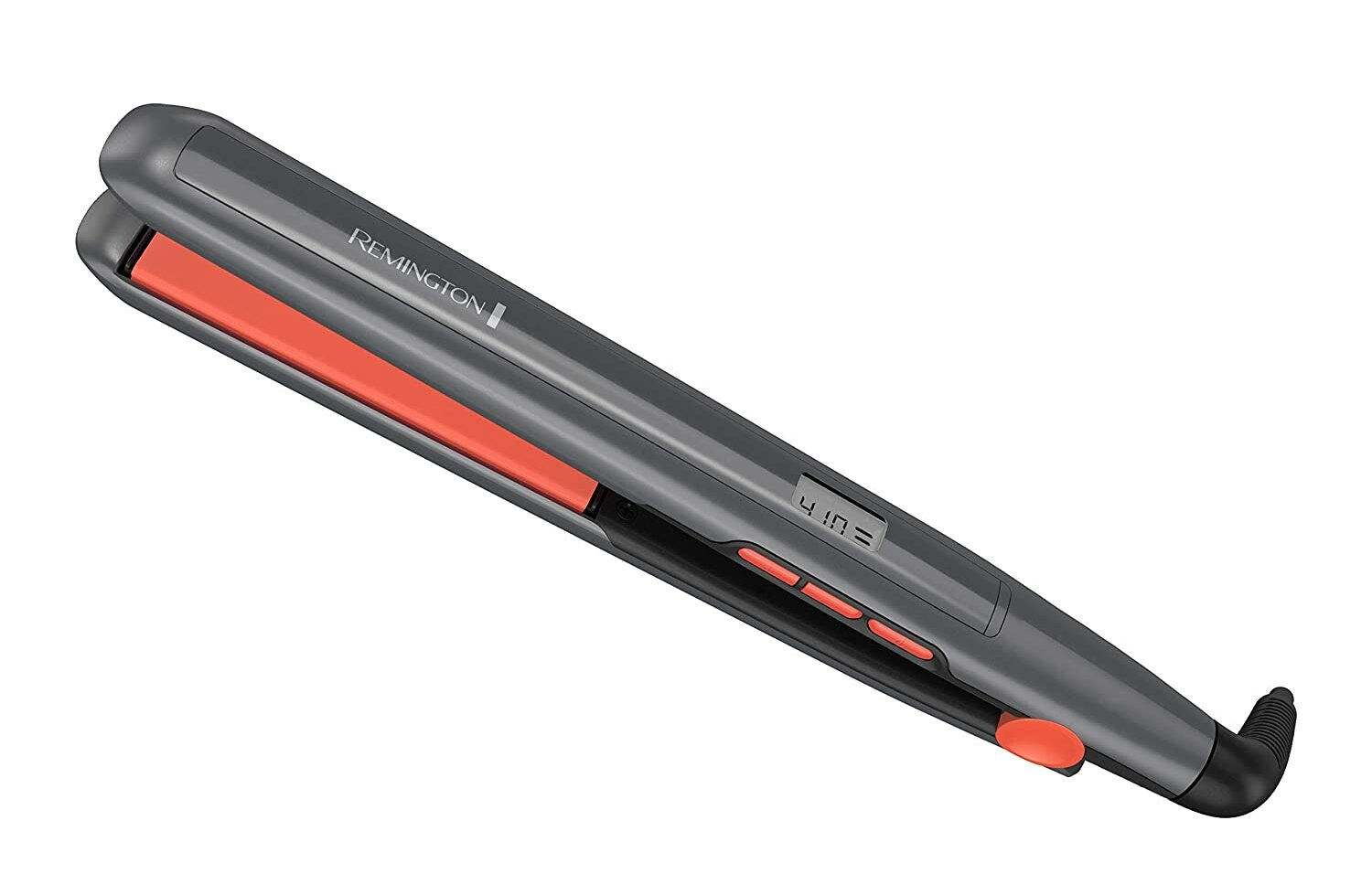 Pros
At just over $20, this is one of the most budget-friendly options on this list.
It is the top choice to stop frizz and optimize shine.
Cons
It isn't dual voltage, so traveling with this flat iron and using it abroad is not possible.
If you have wild curls but fine strands, this is the optimal flat iron to gently straighten without breakage. It has thirty different temperature settings so that you can iron out or wave your hair with the perfect amount of heat. The tourmaline-infused ceramic plates heat evenly in 15 seconds up to 455° F.
This flat iron promises a long-lasting style with fewer flyaways. Conair is an affordable and reliable hair tool brand, so you know you'll get quality for your money.

Pros
This flat iron has extra-long plates to evenly distribute hair.
It comes with an ultra-high heat setting for those stubborn curls.
It offers fast and consistent heat for quick styling.
Cons
It's a single voltage flat iron, so it's not travel-friendly.
CHI is a classic brand that has practically perfected flat irons. With its 1-inch titanium plates, this flat iron can heat up to 450° F, giving you pin-straight hair with fewer passes. The plates retain heat without hot spots, making the most textured hair easier to straighten.
Reviewers claim that it glides through hair smoothly and leaves your hair shiny and soft. CHI offers a two-year warranty on their products, but their flat irons are built to stand the test of time and can last up to a decade, even with regular use.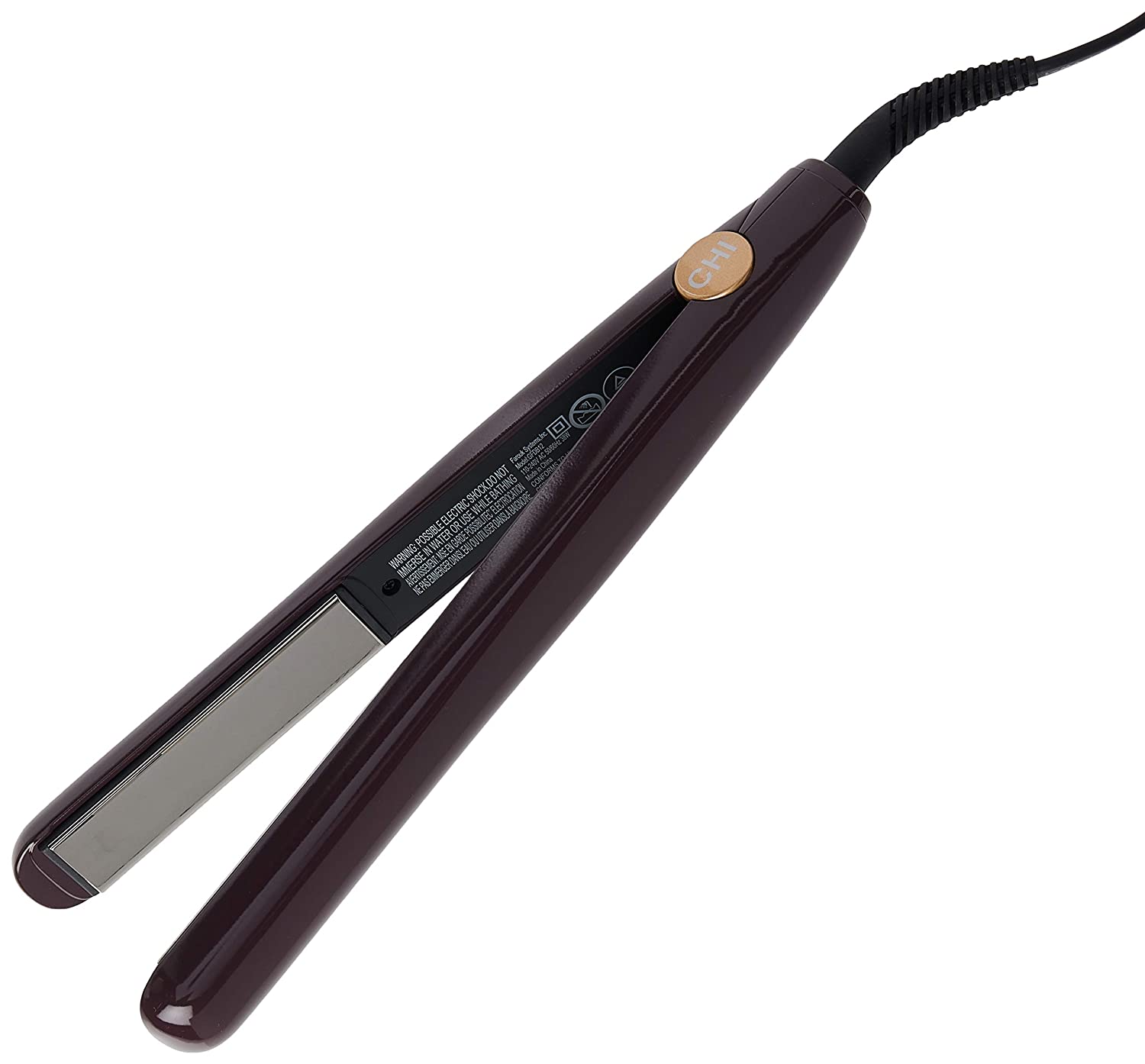 Pros
This flat iron has precise heat settings to help you avoid using unnecessary heat on your hair.
It has an auto-shutoff feature after being left one hour without use.
Two-year limited warranty.
Cons
This kit is a top-rated flat iron, and for a good reason. It's a salon-quality straightener that will not only smooth out your hair but can curl, wave, and flip your hair while keeping it shiny. It minimizes damage to the hair by using eight heat sensors on the plates to regulate temperatures and distribute heat where it needs to be.
You can control the heat range, which goes as high as 450° F, and the 1-inch tourmaline and ceramic plates will keep your hair silky with every pass. The kit even comes with an argan oil leave-in treatment to help protect your hair after you straighten it.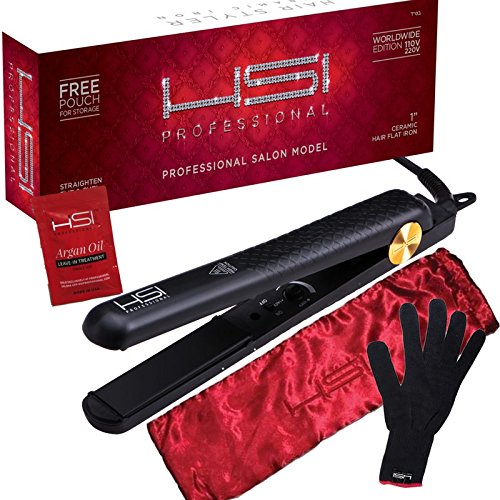 Pros
The flat iron comes with a storage and travel sleeve and is dual voltage for safe use when traveling.
It has an extra-long 360° swivel cord, making it tangle-free.
The kit is $50, making it an excellent value for what you get.
Cons
Some reviewers reported that this flat iron has a short lifespan.
This flat iron is a powerhouse that covers all the bases. The 1-inch ceramic plates can heat up to 390° F and distribute heat evenly across the plates' surface. The plates are rounded, so you can even smoothly add some curl or waves to your style!
The flat iron's most unique feature is its vibration – the plates gently vibrate when smoothing to evenly distribute heat and reduce passes over your hair.

Pros
It has a swivel cord that minimizes tangling.
It boasts an auto-shutoff feature and begins cooling after an hour of inactivity.
Its digital temperature display allows for precise heat control.
Cons
It's a high-quality, salon-grade flat iron, so it's an expensive option.
This Drybar flat iron is for more than just straightening. Its rounded plates are designed to curl or wave your hair comfortably without tugging or snagging. The 1.5-inch plates are ideal for tackling larger sections of hair at a time.
Titanium plates quickly warm up to 450° F, giving enough heat to smooth out even the most stubborn curls. By heating hair using infrared technology, you can straighten your hair with fewer passes.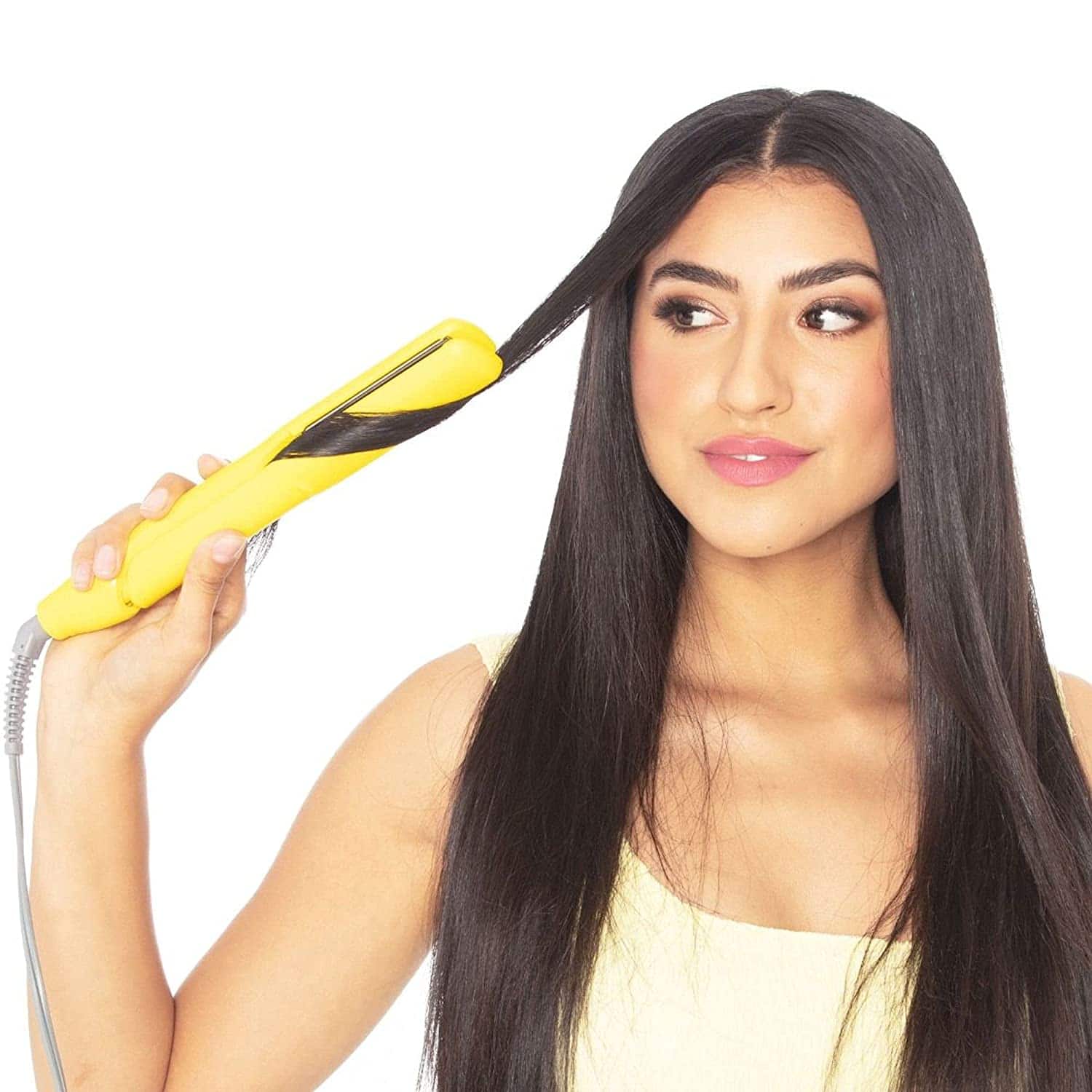 Pros
This flat iron sports a nine-foot cord – a professional length cord, so you are free to move.
There is an auto-shutoff safety feature.
Perfectly comfortable for waving and straightening.
Cons
It's one of the more expensive flat irons on the list.
Another popular brand, Hot Tools specializes in – you guessed it! – hot tools. So when it comes to flat irons, they're pretty much the experts. This flat iron touts micro-shine technology in their one-inch plates that deliver sleek shine and long-lasting style. Its max heat is 450° F making it ideal for even the most coarse curls, and its pulse technology keeps the plates evenly hot.
This flat iron can heat up within thirty seconds, and the digital display makes the temperature easy to set and read. Reviewers love how easy it is to glide this flat iron through curls without snagging or tugging. At $40, this is an affordable, quality flat iron to invest in.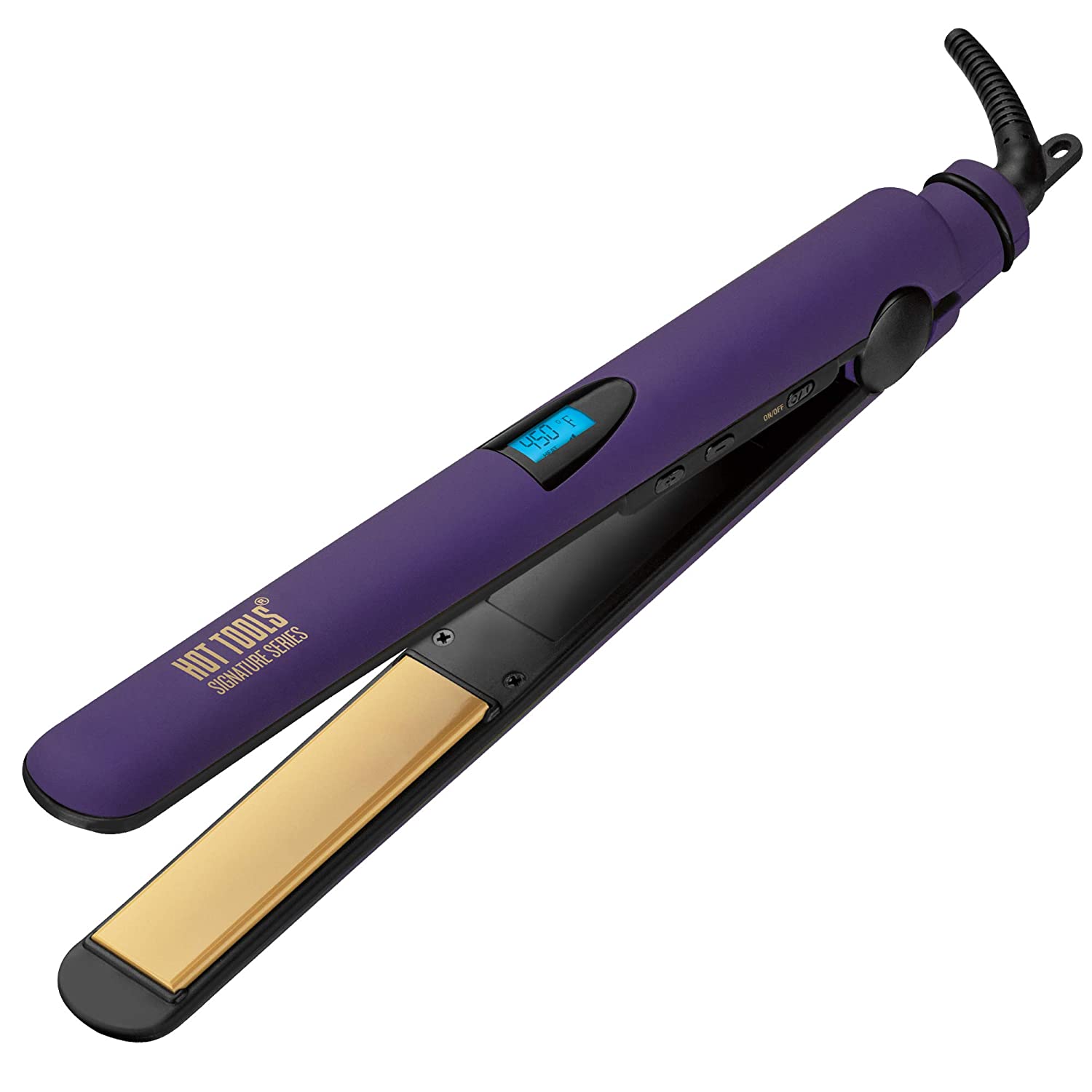 Pros
This flat iron has an auto-shutoff feature that kicks in after two hours.
There is an easy-to-read digital temperature display, so you don't use any excess heat.
Dual voltage makes it the perfect travel buddy.
Cons
Reviewers wrote that they wish the plates were slightly larger.
FAQs
Question: Which is better: titanium or ceramic plates?
Answer: Your hair type is the guiding factor in this decision. If you have fine curls that are easier to straighten, go for a ceramic flat iron. If your curls are thick or coarse, the heat capabilities of the titanium flat iron will work best.
Question: Is it okay to straighten your hair every day?
Answer: Heat damage is a genuine concern when heat styling. It is perfectly fine to straighten your hair often; just be sure to take proper precautions. To avoid drying out your hair, use a heat protectant before you apply heat to your hair. It can help limit breakage or premature damage. You can also use a leave-in product after you flat iron your hair to preserve the style so it lasts multiple days without a need for touch-ups.
Question: Should I get a 1-inch or 1.5-inch flat iron?
Answer: The size of flat iron you choose largely depends on your hair's length and density. The longer or thicker your hair, the easier it is to get away with a wider flat iron. If you have short hair, bangs, or lots of flyaways to tame, you lose out on precision with wider plates.
Question: How can I tell if I need a new flat iron?
Answer: The best indication that you need a new flat iron is the deterioration of the plates. If the plates are visibly worn down, scratched, or lifting from the iron entirely, you know it's time to invest in new flat iron.
Final Thoughts
Not all flat irons are universal. Factors such as your hair thickness, length, and curl density, will be a driving force in which flat iron you choose.
CHI is a tried and true brand and has been my personal favorite since I bought one as my first ever flat iron. If you don't want to spend that much, the Kipozi Professional flat iron also has titanium plates at a much more affordable price. If you're leaning toward a ceramic option, the HSI Professional flat iron is a bestseller and favorite among the curly-haired crowd.
However, all the flat irons mentioned on this list are great options. There are a variety of reputable brands with some different features that you can look at to see what's most important to you. There are some affordable options and some high-end flat irons if you're looking to splurge.
Ultimately, you should consider how often you're going to use your flat iron. If it's a tool that's in your arsenal every day, then the higher quality and more expensive options tend to be gentler on your hair in the long term.
Further Read: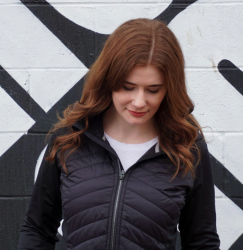 Latest posts by Kelsey Purcell, Hair Product Collector & Tester
(see all)