Ever since the pandemic, fun hair colors have been trending. No one is in the office, so there's no reason to follow a hair dress code. And even if you're young, there's a lot of stuff to do with more time on your hands. And what has been the most popular unnatural hair color? What do you think — pink!
Do you want to dye your hair pink but don't want to go full Barbie on your head? Opt for a pink ombre. With a pink ombre, you're only dyeing one-half of your head pink. There are also more ways to experiment with your hair color and have fun.
Best Hair Colors That Match With Pink
Are you unsure if your natural color will work well with pink? Maybe you're looking for the best color to pair with pink hair?
Blonde
Blonde, in all shades, is the perfect base for pink. The hair is light enough to show off even the palest shade of pink. That's why you have so much versatility when doing a blonde and pink ombre. Opt for a pale pink with ashy blonde or a bubblegum pink for golden blondes.
Brown
Brown hair with pink provides a very striking look. There are also multiple shades of brown and they all look amazing with pink. If you have light brown hair, opt for a lighter pink, such as watermelon. Medium brown hair also looks lovely with a lighter pink. If you have dark brown hair, go crazy with a bright magenta.
Black
Black and pink are some of the best color combinations. However, the shade of pink you choose depends on how well you can lighten your hair. If you can lighten your hair to a lighter level, opt for a bright watermelon pink. But darker pinks usually look best with black hair. When I had black and pink hair, I always did a magenta pink.
Red
Pink and red are both luscious colors and look amazing together. They're both ultra-feminine, bright, and look amazing on just about anyone. Both orange-red and auburn look beautiful with magenta. If you have strawberry blonde hair, you should add some rose gold for beautiful dimensions.
Other Unnatural Colors
Why stick to a natural color? Have fun by combining pink with other unnatural colors, such as purple and blue. You'll look extremely bold, so much so to where your hair alone will turn heads. Some shades of pink also look lovely with other pastel unnatural colors for a more romantic look.

Different Shades of Pink
When dyeing your hair pink, you have many shades of pink to choose from. Here are some of the most popular.
Rose Gold
Rose gold is a color that became popular thanks to the metal often used in jewelry. The color is a coppery rose color since the rose gold metal gets its color from adding more copper to yellow gold. This color is extremely trendy and looks great on just about anyone.
Pale Pink
Pale pink is a lighter shade of classic pink. The color isn't as saturated and is toned down, so this hair color will be more appropriate in an office setting. You can easily blend pale pink into blonde hair or even other shades of pink for an interesting ombre.
Cotton Candy Pink
If you want your pink hair to make a statement, choose cotton candy pink. It's a soft pink with rose undertones, but it's still eye-catching. Cotton candy pink is likely the shade you see in decor and clothing for little girls since it's a pure shade of pink. There are also different variations of cotton candy pink, such as neon cotton candy pink.
Watermelon
Watermelon pink is one of the most vibrant shades of pink. This color is also eye-catching because it's unique. Watermelon pink has more red in it, just like the delicious fruit. Most variations of watermelon pink are very bright, though there are some pale watermelon pink shades available.
Barbie Pink
Barbie pink is likely the shade of pink we all think of — and want! This is by far the most colorful shade of pink. You get Barbie pink by combining violet and fuchsia. The color gets its name from the popular doll since this famous shade of pink graces Barbie packaging.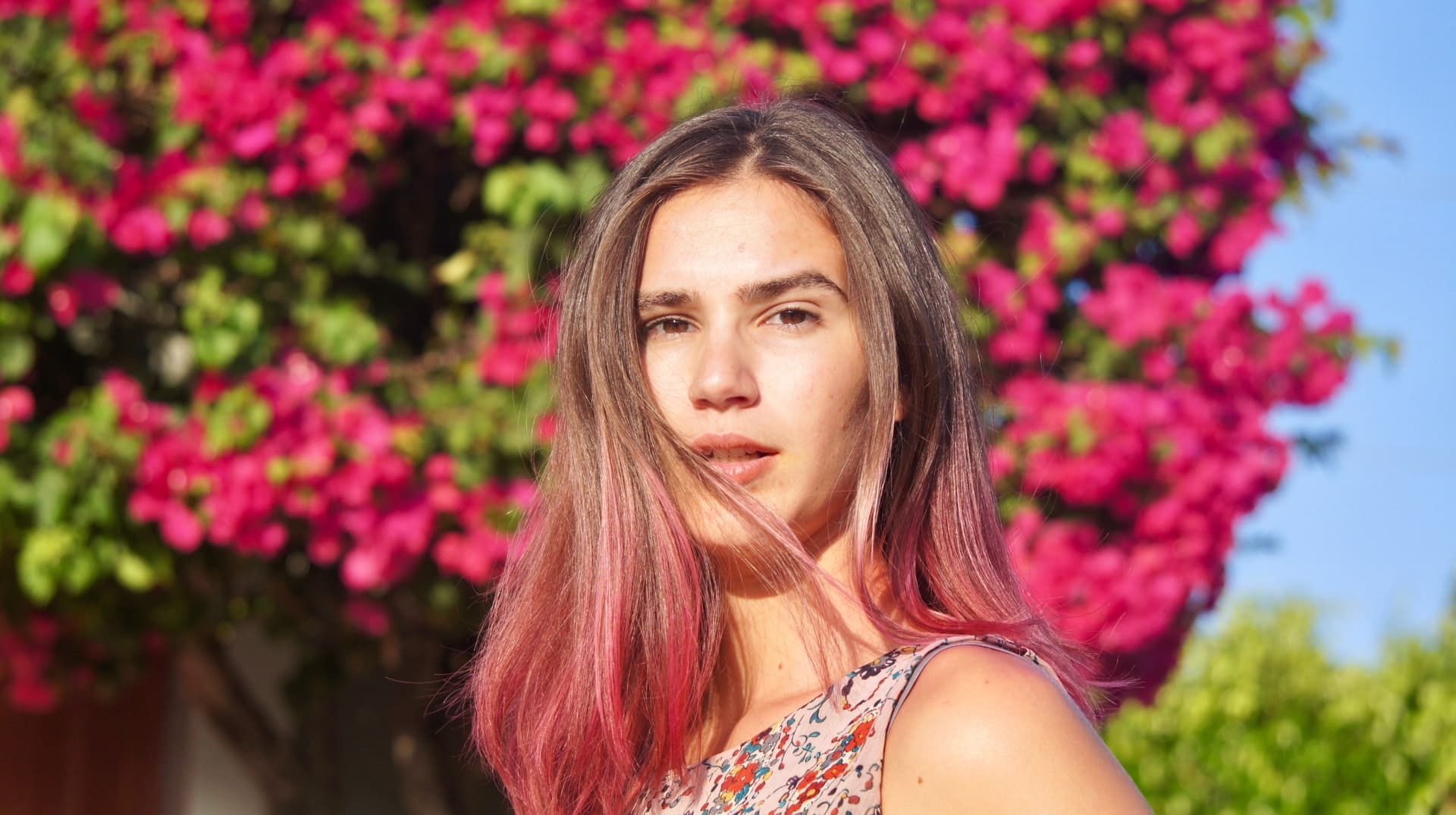 Bubblegum Pink
Bubblegum pink and Barbie pink have many similarities. They're both unapologetically pink and will turn heads. While bubblegum pink is vivid, it's a slightly softer shade compared to Barbie pink. It's a mid-tone shade of pink with slight peony undertones for subtly. In addition, bubblegum pink has more rose tones than violet.
Magenta
Magenta is a very electric color and is perfect for those who aren't sure if they want pink hair or something more purple-y. The reason why magenta hair is so popular is that it's edgy and looks amazing on just about anyone.
However, the debate still lives on: is magenta pink or purple? Magenta is a color you get from mixing purple and red, giving it a dark pink hue. Because of this, it's often included in both pink and purple categories.
Fuchsia
If you want to go the pink-purple route but want more pink in your tresses, then choose fuchsia instead of magenta. Fuchsia is a mix of pink and purple but has neon tones. It's a very bright pink that's sure to bring you some attention. However, there are different variations of fuchsia. Many shades combine more red tones so the color is more similar to magenta.
Pink Ombre Ideas We Love
Are you ready to get the pink ombre of your dreams? Get inspired by these ideas that we love!
Pink and Shadow Root
I absolutely love the look of a shadow root done well, and this is the perfect example of one. The model's dark roots blend in with a purple shade that then spills out into cotton candy pink ends. If you want unapologetically pink hair, this is definitely a look you'll want to try. Hair by @unfade_royren.
Dark Brown and Bright Pink
If you want to mix pink with your dark hair, choose a vivid shade such as this neon watermelon pink. The look is absolutely stunning, especially with the braid. If you can't do a braid, then beach waves will look amazing with this color combination. Hair by @xohairlab.
Brown and Rose Gold
If you want subtle pink hair, then definitely do this lovely color combination. I would never guess that brown and rose gold would blend together so flawlessly. For the brown, make sure the color isn't too dark. It has to blend seamlessly with the pastel rose gold. Hair by @fergalwella.
Brown and Bubblegum Pink
If you want to keep your lighter brown roots but want something more eye-catching, then definitely do something similar to this look.
The natural brown roots mix with bubblegum pink flawlessly. I especially love the artistry that @haircolorwiz uses. Individual pink streaks mix in with the length of the hair, which is all pink. You can especially see the look well with how the hair is styled.
Blonde and Watermelon
If you have more of a golden-toned blonde hair and/or have warm undertones, this is the perfect look for you. The yellow blonde hair mixed in with a red-toned watermelon pink blends in perfectly. The golden roots on top and the watermelon pink on the bottom are also a lovely contrast. Credit: @liz_maddox25.
Blonde and Barbie Pink
If you want something seriously eye-catching, choose this blonde and Barbie pink ombre. This is a look you would easily see on a Barbie doll! The look is very edgy but is also girly enough if you want to keep your femininity. If you want something more subtle, then choose pink streaks, lowlights, or babylights. Credit: @bogibogessz.
Pink and Orange
If you want to do a pink ombre with another unnatural color, then definitely try this pink and orange look! @catusgeekus has fuchsia on the top and bright orange on the bottom for a unique look. It's a lovely hair color idea and is perfect for the summer. And I have to mention, the cat is extremely adorable!
Pink and Red
If you have natural dark auburn hair and want to throw in some pink, you should try this look that this model achieved. She keeps her lovely auburn hair on the top but adds neon Barbie pink ends for this super killer look! The look is both funky and unique, proving that pink looks amazing with virtually any hair color. Credit: @roguehairstudio.
FAQs
Question: Can You Do a Pink Ombre at Home?
Answer: Absolutely! But the way you do your hair will depend on the shade of pink you're using and how light your hair is. If your hair is brown, you'll have to bleach it first — but the level you're bleaching it depends on how light and vibrant the shade of pink is.
This tutorial by Asha Tregear is one of the best I could find. Keep in mind, she dyes her hair a pastel pink at the ends. Her ends have to be at least a level 9, maybe a level 10 blonde. Keep this in mind when bleaching your hair to achieve this color. If you're doing a darker magenta or fuchsia, you can probably get away with bleaching your hair to a level 8.
If you don't want to watch this tutorial, I will rephrase the steps here. First, put a towel around your shoulders (or wear an old black t-shirt) and section your hair. Asha clips her hair, separating the top from the bottom.
Next, grab your gloves and get to it!
Asha squeezes the dye onto her hands and applies it directly to her hair, though you can also disperse the color into a bowl and apply it with a brush. You'll want to work at the bottom of your hair and blend upward to ensure the bottom of the hair is the most saturated. You can also separate your strands when applying the dye to ensure you don't miss any spots.
Once the dye covers your hair, follow the package instructions on how long to leave the dye in for. Asha uses L'Oreal Colorista and you leave in the dye for 15-20 minutes.
Next, wash your hair. Every manufacturer will have instructions on washing the dye out. Asha said she doesn't shampoo her hair after rinsing the dye, though some brands recommend you wash your hair with shampoo.
Question: Is a Balayage the Same as an Ombre?
Answer: Many people confuse the ombre with a balayage, which is one of the most popular hair color trends. An ombre is a gradient of color, meaning one color diffuses into another color. Most ombres have one color on top and another on the bottom, though one color on the left side and a different color on the right are also popular.
However, a balayage is more of a hair color technique. The stylist paints different colors into various strands of the hair for more depth and dimension. This can be done with any color, including pink!
Question: How Do You Do a Pink Balayage?
Answer: Since a balayage is a hair dye technique, it's recommended you go to a professional hairstylist for the best results. If you choose to do a pink balayage DIY, you can do this, though it will take some skill. In other words, beginners shouldn't try this.
Hannah Preston has a good tutorial on her DIY pink balayage. Keep in mind, she said she's a beginner, though I don't suggest doing this look as a beginner.
She had to bleach her hair first. As typical, she combined bleach with a developer and focused the bleach on the ends. Once she rinsed out the bleach and dried her hair, she applied the pink. As with the bleach, she started at the ends and blended upward. I suggest doing the pink in small sections to keep some of the blonde in, as Hannah did with her hair.
Bottomline
Fun hair colors are at an all-time high, especially pink hair dye. If you want to dye your hair pink but aren't sure about the style you want, a pink ombre is fun and versatile. You can dye your ends pink and blend it into your natural hair color, or you can combine pink with other unnatural colors. Be sure to look through our favorite pink ombre looks for inspiration!
Looking for more inspirational ideas? Check out: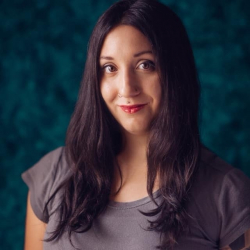 Latest posts by Stephanie Jensen, Hair Trend Spotter & Home Tester
(see all)