We all know about the balayage hair trend. But what about reverse balayage? The reverse balayage is quickly replacing the balayage as the next hair trend. Like a balayage, the reverse balayage is low-maintenance and low commitment. You can also combine two or more colors to achieve a unique look.
However, many people are confused about reverse balayage and how it differs from traditional balayage. In addition, many people aren't sure what reverse balayage look they want.
No worries, we wrote this guide for people like you. Here's a guide to the reverse balayage and some great color ideas.
What Is a Reverse Balayage?
First things first, let's shed some light on the reverse balayage. Like a balayage, a reverse balayage uses a painting technique to sweep on highlights. However, a reverse balayage adds depth to any hair color. A traditional balayage adds lighter colors to your hair to add highlights, whereas a reverse balayage adds dark tones to create more drama.
But a reverse balayage differs from other hair techniques, such as streaks, because a reverse balayage focuses on adding darker lowlights.
How Stylists Section and Place the Lowlights?
All stylists have different techniques when doing a reverse balayage.
However, most work with your natural color. They will part your hair where your color weaves in and out with other tones naturally, accentuating them to add depth. They do this by sectioning off these areas and painting the color on them. Most stylists will custom-mix formulas for you, depending on your hair color and what look you want to achieve.
Benefits of a Reverse Balayage
First, a reverse balayage is a great hairstyle if you don't want to keep up hair color and generally want something low-commitment. A reverse balayage is also a great option if you want to go darker but don't want to commit to dark hair. If you're waiting for your roots to grow in, a reverse balayage is a great in-between shade.
In addition, a reverse balayage looks great with all hair textures, types, and even skin tones.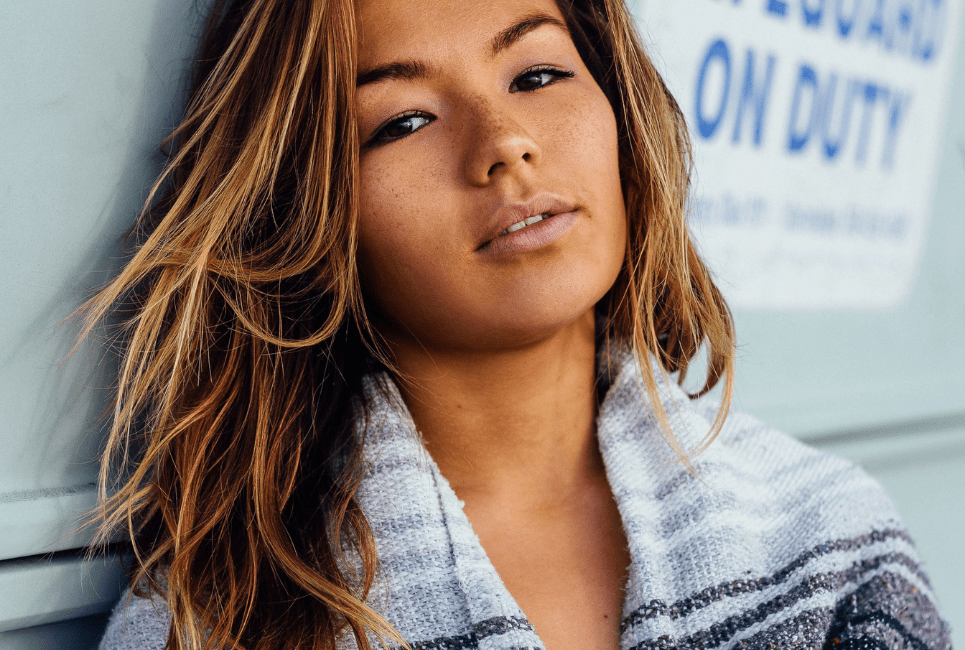 Downsides of a Reverse Balayage
There honestly aren't many downsides of a reverse balayage. The only downside is it's difficult to wash out and dye dark hair than light hair. If you want a reverse balayage, definitely be ready to go a little darker. In addition, if you have very light hair and want a dark brown balayage, there will be more commitment as opposed to doing a reverse balayage a couple of shades darker.
Oh, and then there's the cost, which we will cover next.
How Much Does a Reverse Balayage Cost?
A reverse balayage generally isn't cheap, but there are many factors that will impact the cost. These include your stylist's experience, the overall quality of the salon, and how many lowlights the stylist is applying. Overall, you can expect to pay between $150-$500 for a reverse balayage. Keep in mind, this is the same price as a normal balayage and even highlights.
Reverse Balayage vs. Ombre
Even though a reverse balayage is slightly different from a traditional balayage, both are drastically different from an ombre.
An ombre uses full saturation on the top and bottom parts of your hair. In short, your hair is one color on top and another color on the bottom. The stylist then blends the two hairlines together for a more even contrast.
Balayage is different because it doesn't use rough sectioning. The stylist will section the hair in multiple parts to evenly blend in the multiple tones.
But both styles have many similarities. Depending on the color you get, they're both low-maintenance. With the exception of root touch-ups, both styles result in fewer salon visits. And unfortunately, both can be pretty expensive. However, both have different looks. Be sure to talk to your hairstylist to determine if you want an ombre or a balayage.
Reverse Balayage Looks We Love
Are you looking for some reverse balayage inspiration? Here are some of our favorite reverse balayage looks!
Brunette Life
The reverse balayage is perfect if you want to go darker but still want to keep some light tones in your hair. @stylingpretty did this amazing reverse balayage on her client who wanted to go darker. She transformed her brassy tones to a dark hair with light brown lowlights. The look is unique but still subtle.
Bronze and Gold
We're loving this seamless and no-maintenance look! @stellashiptonhair adds bronze and gold lowlights that blend with the client's brown hair so perfectly. Her hair is still bright and has lots of beautiful dimensions. Not only that, but her hair looks so natural.
Dark Blonde
If you're a blonde who wants to go darker, this look is perfect for you. This look is called a dark balayage and is also often called "bronde." The lowlights almost look like a dark silver color. They blend in with her blonde hair effortlessly and the look is so simple. Hair by @robinevansaccreditedhair.
Balayage Extensions
Want to get a balayage with even less maintenance? Opt for this balayage with extensions! Do you notice the front of her hair is lighter than the back? Those are extensions! The dark blonde lowlights in the back of her hair add depth while the blonde extensions at the front add some brightness to frame her face. Hair by @c00lidc.
Autumn Balayage
With fall right around the corner, this is the perfect reverse balayage look! @kealymcdevitthair added red and copper lowlights to the client's natural auburn hair. These simple lowlights add so much dimension. This is perfect if your hair is already red or you're interested in dyeing your hair red.
Blonde Balayage
If you're a natural blonde and want to add some depth to your hair, this blonde reverse balayage is a great idea! The client has natural honey blonde hair and the stylist adds some warm lowlights for a simple yet beautiful look. This is also a great idea if you want to dye your hair blonde. Hair by @ljw_hairdressing.
Sea Balayage
If you love the mermaid hair trend, this is a look you need to go for! The client's hair looks like ocean waves; teal and navy blue mix together for a seriously creative look. And the crimped curls give off even more ocean wave vibes. Credit: @stylistssupportingstylists.
Icy Balayage
The lovely ash-blonde lowlights look like ribbons on the client's toned-down brown hair! The ash-blonde mixes with darker blonde to create some serious dimension. This is a great look if you want that cool-toned blonde look but aren't willing to commit to dyeing your whole head. Hair credit goes to @hairbysorsha.
Caramel Balayage
If you have brown hair and want something to brighten your face without going overboard, definitely opt for this caramel reverse balayage. @mermaidalleyhair adds some serious dimension with caramel and honey blonde lowlights mixed in with brown tones. The client looks like a queen with this exquisite hair!
Copper Balayage
Do you want something less red and more coppery? Take a look at this breathtaking reverse balayage! @ells_z_hair adds multiple lowlights to this look: two different shades of copper, red, and brown to create a unique hairstyle that's perfect for fall and winter. This is a great look if you want to liven up brown hair or take your natural red hair to different levels.
Before and After
If you're looking for a serious change, reverse balayage is one of the best options. Take a look at this before and after. The client's original hair was very brassy due to discoloration and fading. Overall, the client wanted something totally different. They opted for a dark brown and caramel balayage that adds some serious dimension and style. Hair by @honey_hair_lounge.
Add Some Dark
Are you a blonde who wants a new look for the fall? Add some dark lowlights for the ultimate balayage look! That's what this client did. She had icy blonde hair. All @hair_by_haleyp did was add some dark lowlights and it completely transformed her hair! If you swipe, you can see the before and after photos.
Shadow Root
If you're transitioning from blonde back to your natural color, you can do this chic balayage with a shadow root in order to let your hair grow beautifully. The shadow root and dark lowlights help clean up the bleach blonde. Cooler tones were also added to help the hair transition from blonde to brown better.
Strawberry Blonde Balayage
If you're a blonde who wants to go darker, you don't have to opt for brown. Instead, check out this lovely strawberry blonde balayage. This warm color mixes blonde with red and is perfect for the fall. @purplecoffinstudio also adds multiple pigments for a unique strawberry blonde look!
Balayage Bob
Don't think you can't do a reverse balayage because your hair isn't long! @stylebyitacy did a lovely reverse balayage on this client with multiple blonde and brown tones, both highlights and lowlights. Finally, she cut her medium-to-long hair in a shoulder-length bob.
FAQs
Question: How Do You Do a DIY Reverse Balayage?
Answer: It's best to achieve a reverse balayage with a professional. However, a reverse balayage can be expensive. This is why many people may want to do their reverse balayage DIY. This video by Kenra is probably the best tutorial I could find, but I will break the video down below.
First, make sure you have the right materials. A reverse balayage requires many colors, which includes:
– Activator
– Two additional colors (one lighter and one darker than your natural color), this will be your lowlight formula
– A shadow root shade, if you're doing one
– Equalizing spray
– Toner
For the color, it's recommended you use a demi or semi-permanent color. This way, the color will fade gradually. You'll also be able to redo your balayage or you can opt for new hair color. The exception is if you want to color grays or are fading your hair into your natural color. In that case, use permanent color for the roots.
In addition, you'll need other typical materials such as:
– Gloves
– Bowl
– Brush
Next, section the hair into four sections. Separate the front of the hair from behind the ears. Separate the back section into two equal parts.
Start by applying the shadow root shade, if you're doing so. Apply it to the back first, barely passing the line where your roots are already growing in. Don't put too much product on the brush during this process. Next, take a comb and drag the color down only slightly. This will prevent any harsh lines. Repeat on the other sections.
Before starting on the lowlights, apply an equalizing spray all over the hair. This will ensure the color application is even.
When applying the lowlight, separate the sections into very thin sections. Apply the lowlight formula to the thin sections. However, don't apply the lowlight formula to the entire section.
Separate the section into a few, alternating small and thin sections, and only apply the lowlight formula to these sections. Blend the lowlight formula into the shadow root formula. Repeat on the rest of the sections.
Follow the dye instructions on how long to leave it in, though it will usually be about 25 minutes. Next, spray the hair again and apply toner to the parts where you lightened. Let that sit for five minutes before washing out.
Question: My Reverse Balayage Grew Out and It Looks Bad. What Do I Do?
Answer: Many clients get a balayage or a reverse balayage to ensure the hair looks amazing when it grows out. However, there's a chance your balayage will look bad once it's grown out. What do you do? There are a few things you can do:
First, touch up your balayage. It's preferred you go to the salon, but if you did your balayage DIY then follow the same technique you did or the one in the previous section. If you don't want another balayage, just dye your hair another color. You can do this at the salon or DIY.
Finally, you can hang in there a bit longer and continue growing your hair. If you don't mind a shorter style, cut off the areas where you did the balayage.
Question: How Can I Make My Balayage Darker?
Answer: A reverse balayage aims to darken lighter hair. But what if you had a reverse balayage and want to make it even darker? Or maybe you had a traditional balayage and want to go to a reverse balayage, or at least darken some of the lighter tones?
You have a couple of options. The easiest one is to simply dye over your balayage with a darker color. You can also change up your balayage to darken some of the lighter tones.
Bottomline
The balayage is one of the biggest hair trends and the reverse balayage is the latest style to come out of the balayage craze. A reverse balayage darkens lighter hair to create more depth. But a reverse balayage has many of the same benefits as a traditional balayage, such as low commitment.
There are so many different reverse balayage looks you can do, and we listed a few of our favorite ones. We hope this article inspired your next reverse balayage look!
Looking for more inspirational ideas? Check out: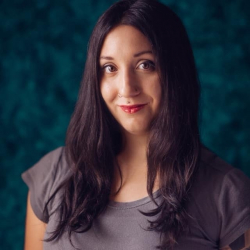 Latest posts by Stephanie Jensen, Hair Trend Spotter & Home Tester
(see all)