Millennials are giddy, and Gen Z is experiencing the iconic style for the first time. Crimped hair was a staple of early 2000s style, and if you were trying to emulate your favourite celebrity looks, chances are some crimped styles were thrown in. Creating crimped hair ideas and style guide is a dream; there are so many ideas to choose from, and they're all my favourites!
As soon as it was back on trend in the 2020s, I shopped for my new hair crimper. There are many options: large barrels, tight crimper plates and tons of crimp style inspiration to make the most of the hot tool. Pin straight hair isn't for me, and I need some movement in my hairstyles to flatter my face and feel spicier or sassier. Crimped hair is a cute throwback look when I'm sick of curls or waves.
Every 90s kid knows this nostalgia, and it's finally time for us to shine! Like other styles that have come back into fashion, crimps are the new old style we need to soak back up.
Bottom Line Up Front
One of my favourite styles on this list is the beachy crimps. I live in a landlocked area. I have no reason to sport beachy anything. I have access to a few pitiful lakes and rivers, but nothing with a real beach. Maybe that's why I love this style so much!
Selection Criteria
I managed to pare down this list based on a few criteria.
Modern styles. As much as I love the older styles, they're so out of date. They're a reflection of my childhood, not of the 2020s, so I only chose styles that are wearable today.
Large crimps and tight crimps. Crimps aren't always small and tight. Crimped hair comes in every size.
Simple to replicate. No complicated styles here! Every look on this list is easy to do yourself, even if it takes a little practice first.
Crimping doesn't have to be bold and defined. Adding some light crimping texture can be a subtle way to change up straight hair. I know someone who does a soft crimping style before they go camping because they know how good this gentle style can look on second or third-day hair. There's no worry about crimps "falling out" because they're already loose and flowing.
This is also the perfect crimp style when you're short on time. With just a few passes of the crimper around your strands, you can be out the door while still looking like you put in the effort!
If you love the crimped look that is tight all over, this high-fashion version of the crimped style is a bold throwback to the 2000s style. Tight crimps were all the rage back in the original days of the crimped hair trend. We hadn't yet discovered the magic of triple barrel irons, so small little bumps are all we got, and they still translate well into the 2020s.
This is certainly not a casual hairstyle, but for special events where you want to be the centre of attention, this style is a winner. If it's a little too out there for your tastes, you can always modify it to make it your own by making the crimps lighter or not doing every strand.
When triple barrel irons entered the scene, crimped hairstyles changed dramatically. Before heat styling, people were using braids to complete this look. Sleeping on them wet overnight would do the trick. But with a hot tool, you get to skip the frizz and can actually crimp every lock of hair.
This is a more modern take on the style that I've worn several times! It's as casual or formal as you want it to be, and it's one of the most versatile crimping styles. In fact, if you didn't know the rich history of crimped hair, you might not make the connection to the iconic trend. But the roots clearly run deep!
Accessories make any style better, and adding barrettes elevates the look. You can use pearlescent clips to make the crimped look more polished, or you can use more basic barrettes or bobby pins to keep it casual and simple. Best of all, any style with clips looks instantly more delicate, and it takes two seconds to do!
I tend to go for the ultra-minimalist but pretty clips with any look. If nothing else, it makes me feel a little more put together, even if I feel like a complete mess.
Who said you have to crimp every lock of hair? This piecey style offers a hint of crimp while keeping to the style we all know and love. This version feels so edgy and gives off rock and roll vibes, but you can make it more feminine if that's more your style. I would smooth out the rest of the strands to make the crimped portions stand out and make the crimps stand out with the contrast.
I love the beachy, messy look left on this look. While it's not my vibe, I wish I were edgy enough to pull it off, but I love smooth, sleek styles more on myself. But I can live vicariously through everyone else.
Crimps don't have to be down to make an impact. Half up half down styles have been popular long before Ariana Grande made them her signature! It gets the hair off your face while still leaving some hair down and long (without the ponytail headaches!) Adding some dimension and movement with a half up half down look offers some of my favourite thing: non-verbal sass.
I love these larger crimps! But traditional smaller crimps would look cute and playful pulled up. Adding a scrunchie or bedazzled hair tie can show off your personal style.
Crimped hair can come across as a girly style, but bold, 80s trend looks can be modern if done right. Mixing crimps with bold colours, a changed part, and choppy cuts can be a powerful statement that shows off a strong personality! A winged liner doesn't hurt, either.
You don't have to go for a bright shade to make an impact – an icy blonde would look gorgeous and look like a winter queen's style!
Crimped hair doesn't have to be down or in a flowing ponytail to show the style off. A messy bun can be professional and elegant for an event or a simple style for a day out. Twisting the hair, so the crimps are still visible is key, but this version offers some slicked-down straight strands to balance out the texture.
I think making the whole head of hair crimped would make for the quintessential messy bun that adds some texture to the scalp that only curly girls experience naturally. If you have thin hair and want a lifted look at the roots to make your hair seem more voluminous, a crimped bun will show it off.
I fully believe Ariana Grande can pull off any hair look, but her signature ponytail is iconic. Adding some subtle crimps to certain strands makes straight styles look slightly textured without sacrificing straight hair looks. If you're just dipping your toes back into hair crimping, start small and subtle.
It's a simple way to add some glam to a ponytail. When I do a ponytail, it can feel a little 'blah' and not put together because most of us can throw hair into a ponytail in four seconds. By pulling out your crimping iron and passing over a few strands, it feels – and looks – infinitely more luxurious!
Crimped hair isn't just a nostalgic, fun style! With a few twists, it can be incorporated into a formal look. This is one of my favourite looks on this list because I would never have thought to crimp my hair for elegance, yet, it's a fashionable and trendy style all in one.
I think subtlety is the key to this look, and since the intricate twist is so ornate, the crimped hair at the scalp is an alternative to a sleeked-back style. It draws the eye not just to the updo but also to the hair leading down to it. It's so magical, and with some jewelled or pearled accessories, it would look princess-worthy!
We do ombré colours, so why not ombré styles? A mix of luscious waves with tight crimps at the ends, or straight looks with a crimped finish, draws the eye to the lengths of the hair. If I were wearing this style, I would go from straight strands down to crimped ends, but I would also do a blend.
I would start mid-length with subtle crimps and get more dramatic down the lengths. That way, it doesn't look so harsh! If you let your ends get too try before trimming appointments like me, this is a cute way to hide the frizzy breakage.
I look at this style and immediately think of mermaids on the shore. Not only does the length make me jealous, but the medium-sized crimpes keep the style looking flowy and tangle-free! To get the piecey, beachy texture, a little salt spray will transport you to the beach.
Since there's no beach less than two hours' flight away, I'll have to rock this look poolside instead! All that's needed is a triple barrel curling iron to quickly copy the look.
If you're living and loving the short hair life, you can still join the trend of texturizing crimps yourself! While most of us imagine crimps on long hair, you don't need a lot of length to capture a crimped look. This girl's wig is fantastic! I love the small but not super tight crimps that look modern and frame the face.
Chances are, if I ever cut my hair this short, this would be an amazing texture to embrace. Curling with a wand would be tricky because it wouldn't lay appropriately on my head, and keeping my hair pin-straight makes my face look flat. I'm tempted to chop off my hair just for this style, though I'm sure my stylist will talk me out of my impulsivity!
FAQs
Question: Is crimping hair back in style in 2022?
Answer: Just like any other trend that goes around, this one is coming back. The early 2000s style is having its moment again in 2022. Hair trends, in particular, are making their comebacks. We've had some interesting trends over the past several years, but crimped hair is finally back in!
I think it's so popular again because it's playful and whimsical. We've had harsh, plain, and super straight styles for so long. The return of crimps is a welcome one!
Question: Does crimping damage your hair?
Answer: Hot tools like flat irons and curling irons can cause damage to your hair over time, and since crimpers fall into the hot tool category, they can cause some heat damage, too. Whether you're lightly using a triple barrel curing iron or using a tight crimping plate on your flat iron, the best thing you can do for your hair is use a thermal protection spray or cream to minimize the potential damage.
Question: How can I make my hair look crimped?
Answer: You can crimp your hair in several ways depending on how you want the finishing product to look.
Braiding several sections of wet hair before bed will help it dry in a crimped style for a heat-damage-free take on the look. The drawback to this style is the frizz once you wake up and the fact that the crimps won't reach the entire length of your hair – from the roots to the tips.
A triple barrel curling iron can take up space, but it's one of my favourite hot tools. Three curing iron-looking rods are stacked over each other to create crimps in your hair. Like a flat iron, you place the hair between the plates, but unlike a straightener, you remove the tool entirely from your hair before moving down and crimping the lengths.
You can also get a flat iron-type crimper that was the crimper of my childhood. It works the same as a triple-barrel iron. It simply looks like a flat iron and makes tighter crimps.
Bottom Line
Of all the 2000s trends that are making a reappearance, crimped hair is one I'm most excited about. It's a versatile style that can be polished, chic, bold, feminine, messy or a mix of different vibes. Mix crimps with the early 2000s accessories like barrettes and clips, and I'm in hair heaven!
Keep reading all about hair: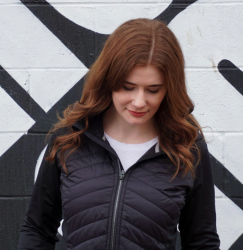 Latest posts by Kelsey Purcell, Hair Product Collector & Tester
(see all)