Are you looking for box braids hairstyles? If so, you've come to the right place because I will tell you what you need to know about Coi Leray braids and why they are so special.
My younger clients used to come to my hair salon and say, "We want Coi Leray braids," and I was like, "You mean box braids"? After we got the record straight, I wanted to explore more about these types of braids and why did Coi become so popular with them.
Coi Leray is a rapper that has become very popular lately, both for her chick styles and great music. She is part of the new generation of women who want to flaunt box braids. They love box braids not just because of the huge historical value but because you can do a lot of different styles with them. Coi has become a trendsetter and has found a way to make box braids with a twist, her signature look, inspiring many to try this modern hairstyle.
I decided to help you recreate the look,  get inspired by many different Coi Leray braids, and take care of them properly.
Let's get into it.
Bottom Line Upfront: The easiest hairstyle to recreate is Coi's classic sleek box braids with locks- the short version. You don't need faux hair strands for that look, just your natural hair and a braiding technique. 
Coi Braids at Home
The knotless box braid is a variant of the classic box braid that has become really popular in the last few years. It is easy to do by yourself when you know some specific steps and has the necessary tools.
Doing your braids alone can be tricky because you can't see the back of your head properly. That is why you need to use a double mirror, one in the front or one in the back. You can also ask someone to do the back of your hair.
Follow these steps to do the Coi Leray braids by yourself:
First, divide your hair in the middle, front, and back into bigger sections.

Then, divide these sections into three smaller ones with a comb, and tighten them with small elastic bands.

Use a gel to make your parts more even and to braid easier. I suggest Pure O Natural Neatbraid Beauty Professional Conditioning Shining Gel; it does a fantastic job.

Then you need to use your fake hair if you want longer braids or if you have thin hair.

Start braiding your hair, and decide if you will add hair on your left or your right hair strand. For example, if you choose the right strand, then every time you take the right strand to braid, you add the fake strand and then use the left strand over it.

Do step 5 until you reach the end of your hair, and repeat with every section.

All fake hair strands should be similar in thickness and length so that all of your box braids look the same. The thicker braids you want, the more fake hair strands you have to add.

Close to the end of each braid, you should put an elastic band, but leave a bit of your hair after the elastic band so you can curl it.

Use a flat iron or a styler to curl the ends.
Selection Criteria
I selected these seven looks because they are either Coi's knotless braids or inspired by this look. I chose looks with elements of her original style ( not tying the whole braid but leaving a thick lock). You can use these ideas and inspirations to make your own Coi-inspired look.
They are all easy to recreate by yourself or by a professional braider, but there is something for everyone. There are both subtle and more spicy looks that you can choose from. Of course, you can always just use these styles as something to start from and then go in your own way.
Let's see the looks.
Coi Leray Braids Ideas
This is the classic Coi Leray braids hairstyle, which she mostly rocks. She uses only her natural hair and sleeks it back with a hair vax of gel. She emphasizes her baby hair with gel, making it even more sexy and stylish.
You can recreate the look if you have middle-length hair by following the steps above.
Coi loves to make big curls and the ends, but you can also make smaller ones. This look is easy to recreate because you don't need faux hair, and you can rock it for days. Just remember to wash off the gel thoroughly, so you don't damage your scalp. This hairstyle looks great with every hair color, and you can add more spice to it if you have an ombre.
I recommend this look to anyone who wants to rock the original Coi look and start their braiding journey.
These sleek box braids with locks are the same hairstyle as above, just the long edition.
For longer hair, you will need some faux hair strands to feed into your hair. Of course, this makes the hairstyle a little more pricey and time-consuming, but the results are amazing. Just don't forget to buy high-quality faux hair that looks natural and blends well with your hair. This hairstyle looks amazing on everyone, and you can choose both thinner and thicker box braids, depending on what you like.
My advice is to rock this hairstyle when you know how to braid faster and more precisely so that your whole look blends in well. It can look great with every hair color, especially highlights and an ombre.
This small knotless braids look is an excellent example of how you can rock Coi's iconic style in your way.
What I love about this look is the combination of purple and blue. It looks great on her skin color and emphasizes her creativity and energy.
You can choose vibrant colors like these if you want a dramatic look to match your box braids. I also love how the hair is not loose but tied in a half, tall bun. This is an example of many different hairstyles you can try out with box braids. You don't have to wear them loose all the time; you can tie them in a bun or ponytail and still look amazing. The killer color combo is excellent, but you can choose other vibrant colors, such as pink and red, for the same effect.
This look can look amazing with both longer and middle-length hair.
An ombre-like black and purple combination is another great color combo for those who want to spice up their look.
This look is so fun and creative; it gives you so many options to redo it. For example, if you have black hair, you don't need to use black faux hair for your braids; you can choose a different color such as this one. As you can notice, the braiding at the front is also different, and I love it. The technique is different, and only a professional braider can recreate it. Still, you can do classic knotless box braids with these colors, and they will also look amazing.
This can be ideal for anyone looking for a slightly different long braid look.
Micro box braids are one of the most challenging but most beautiful looks to recreate. You start braiding tiny braids and then just stop at ear length and curl the rest of your hair.
This look is so stylish; it gives you many options for the rest of your hair – like small curls or straight hair ends. The braiding can be tricky because you need to be very patient and braid really small pieces of hair. This can be very time consuming and boring, but it will be worth it after a couple of hours. If you have long natural hair, you can easily recreate this look, or you can add extensions. These blue micro braids look amazing, but you can choose any color that you want.
Even basic colors get a new glow with this look. I recommend this hairstyle for anyone that doesn't mind spending a lot of time on braiding and wants a super chic look.
One of the most interesting Coi-inspired looks is definitely half curl, half box braids. I know the name sounds strange, but the hairstyle idea is even more "wow."
The significant difference between the classic and this look is the loose curl that goes before every braid. So instead of braiding your hair completely, you leave out a piece of hair with every braid. The thickness of the loose hair strand should be about half of the braid. The effect is fantastic; your hair will appear more thicker and fuller. I have seen some girls rocking this hairstyle, but instead of curling the hair strand, they flat iron it. This is a great variation on the original Coi look. You can experiment with this idea and make it your own.
For example, you can color the braids in a different color than the rest of your hair so that they pop out more.
Another excellent hairstyle inspiration idea is a more subtle one – brown longer braids.
These braids are smaller and up to shoulder-length, while the curled part is a bit longer than usual. This makes the hairstyle a bit different but still stylish and classy. This hairstyle also looks amazing on shorter hair, so you don't need hair extensions.
My advice is to rock this look if you want to highlight the curls more than the braids. You can recreate this look if you have classic box braids by letting them loose a bit more.
The Best Coi Leray- Inspired Braids For You.
Which of these hairstyles should you try? If you just started getting into the world of box braiding, I advise you to wear sleek braids with a lock of your natural hair.
If you don't have long natural hair, you can then go with the long version. As soon as you master the braiding technique, none of these hairstyles will be a problem. Still, for some looks, you will need to hire a professional to do it or someone to help you out. Especially if you want many mini braids or very long braids.
Of course, in the end, you should choose the one you like the most, and experiment with different hairstyles.
Taking Care of Your Braids
It is very important to wash your braids regularly. The oils from your scalp need to be cleaned thoroughly. The shampoo helps keep the scalp clean but can also lead to dryness. Make sure you use a good conditioner after you shampoo. 
The way you wash your hair is also important. You need to wet your scalp with water first and then add shampoo. Once you rinse the shampoo out, apply a conditioner and scrub your scalp gently before rinsing out the conditioner. Make sure you let your hair air dry completely or pat it dry before going to bed or putting in any styling products. Tie your hair up at night to keep it from getting tangled when you toss and turn in the night. This will also prevent breakage.
If you have extremely brittle hair or want something extra hydrating, try an argan oil-based conditioner, which will hydrate, moisturize, and repair.
FAQs
Question: Which are the most famous Coi Leray braids?
Answer: The most famous Coi Leray braids are classic jumbo knotless box braids with curly ends. They became her signature look right when she started off her music career.
Question: What are lemonade braids?
Answer: Their arrangement on the head makes lemonade braids different from other types. Cornrows typically start at the front of the head and run diagonally back towards the nape of the neck, where they end. In contrast, lemonade braids run across the hairline from ear to ear, starting at one temple and finishing at the other.
Question: What is a butterfly braid?
Answer: A basic butterfly braid is usually made of two braids that start at the sides of your head and then unite in the middle and form one long braid.
Start Braiding Right Away
From heart braids to fishtail braids and beyond, Coi Leray Braids is as popular as ever, perhaps even more so. 
Check out our guide for ideas on making these popular braiding styles, care tips for keeping them looking great, and assorted images of Coi Leray Braids to show you just how versatile they can be. Even though Coi is famous for her knotless box braids with a twist at the end, it doesn't mean there aren't a lot of women who have rocked box braids before her.
Box braids have a long history, so if you are interested, you can check them out and find even more inspiration. I chose Coi because she is a young trendsetter who is not afraid to experiment with hairstyles, which is why she is an inspiration to many.
Be bold like Coi and try out different hairstyles to find the one you like the most.
I hope this guide helped you get inspired and start creating your braids today. If they are not perfect right away, don't get discouraged, you will get it after a couple of tries.
We've got more hairstyles for you to try! Check out: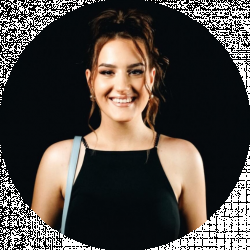 Latest posts by Milica Ugrenovic
(see all)