Just because black is the most common hair color doesn't mean you have to settle for a boring style. The black ombre is the perfect example. An ombre is a hair color effect where one color fades into another. The ombre hair color is still super trending and is the perfect way to take your black hair to the next level.
Do you need some inspiration? Continue reading my black ombre hair ideas & style guide!
Bottom line up front: Out of all of these looks, blonde looks best with a black ombre. This is the classic ombre look and one that's still trending today. I've had this look a couple of times. Surprisingly, it's not as expensive and difficult to maintain as you would expect. Plus, this look is versatile. You can opt for an ash blonde or honey blonde and both warm and cool-toned shades of blonde look amazing with black hair.
Black Ombre Hair Tips
Have you never had black ombre hair before? Pay attention to these tips.
Maintenance
Even though black is an easy color to maintain — especially if it's your natural hair color — you'll need to take more effort when maintaining a black ombre. Avoid washing your hair as much as possible. Ideally, wash your hair every two to three days. After a few months, you'll want to go back to the salon and freshen up your color.
You'll also need to maintain the health of your hair. Even though you shouldn't wash your hair daily, you should at least use a hair conditioner. Use leave-in or dry conditioner during the days when you don't wash your hair.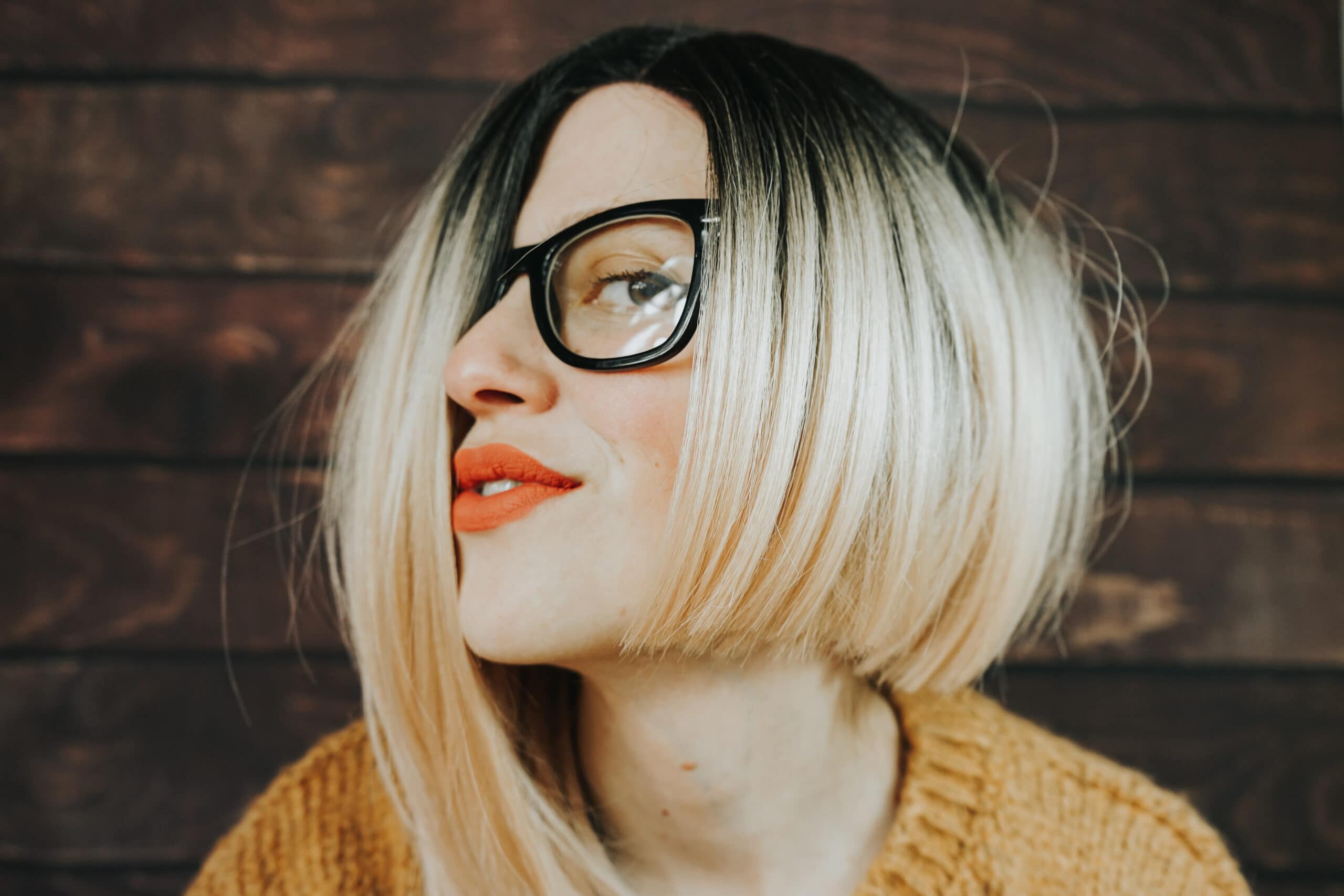 At the same time, some looks are easier to maintain than others. A black ombre that features other natural colors, like blonde or brown, last the longest. You should also try and find a hairstyle that has less maintenance. For example, if your hair is naturally wavy, find an ombre look that looks best with your hair type. This prevents you from using heat styling tools, which also diminishes your hair color.
Colors
The best part about the black ombre is you can mix nearly any color with black. I mainly included looks that combine black with natural colors, such as brown and red. I also tried to look for specific colors, such as caramel.
Price and DIY
To get a chic ombre at a salon, you may be spending as much as $200. That's why I tried to include easy black ombre looks you can do at home to save money.
How I Chose These Ideas
For me, versatility is key here. So many hair colors look amazing with black. I wanted to give the reader enough ideas and colors to discover which is best for them. I also made sure to include both warm and cool tones and even took natural hair color into consideration.
My Favorite Black Ombre Hair Ideas
Are you ready to discover some stylish black ombre hair ideas? Here are some of my top picks on Pinterest!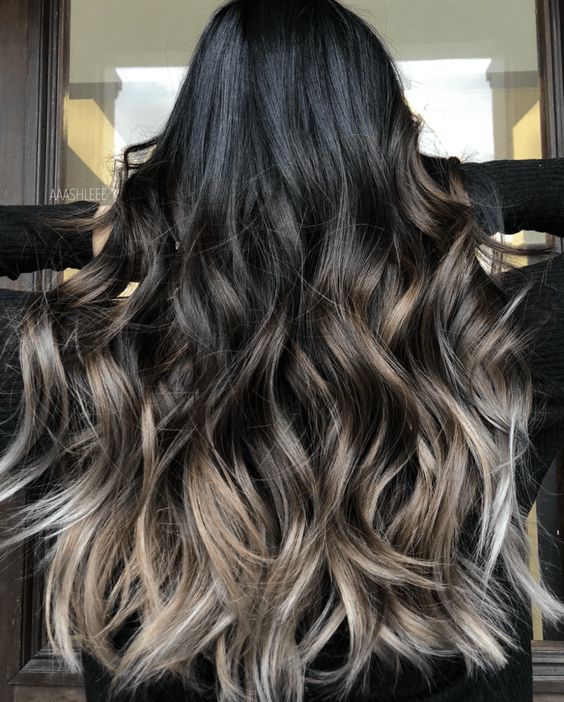 If you want more of the classic black-and-blonde look, I suggest doing a look like this. The color is jet black at the roots and fades to an ombre of ash-based light brown, blonde, and gray. The colors at the end are mixed balayage-style, so the maintenance should still be effortless. This is definitely the perfect fall hair look!
I especially recommend this look if your hair is wavy or textured like the model's hair. The dimensions in the color stand out more on wavy and curly hair as opposed to straight hair.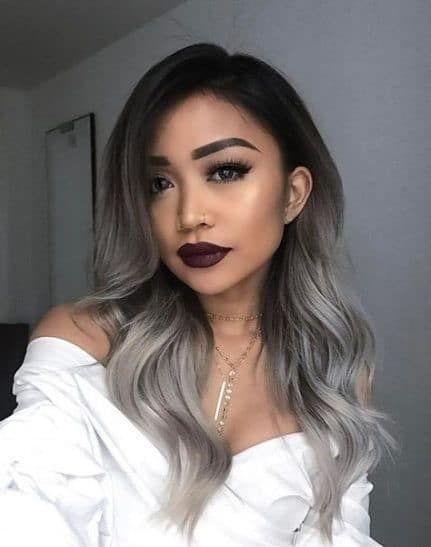 If your hair is naturally black, this is such a great look. All you have to do is bleach your ends to get this light gray color. Bleaching your ends come with many benefits. If the bleach damages your hair too much, just cut off your ends! Since you're not applying bleach to your roots, your hair will be healthier.
For the model's hair, I recommend using a purple conditioner. If you don't put more purple on the gray, they will end up looking brassy — especially if you have natural red undertones. The purple pigment will ensure your gray is cool-toned, looking more like the model's hair.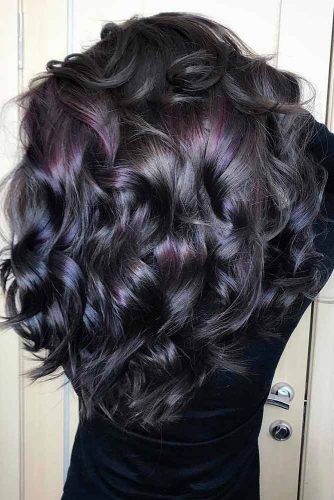 This is a great way to do the unnatural hair color trend. I love how this look features black hair with strands of blue and purple, yet it all mixes in so well. This is a gorgeous look if you want to upgrade your naturally black hair but still want something subtle. However, I do suggest going to a professional colorist for this look. That way, you're bound to get the best results.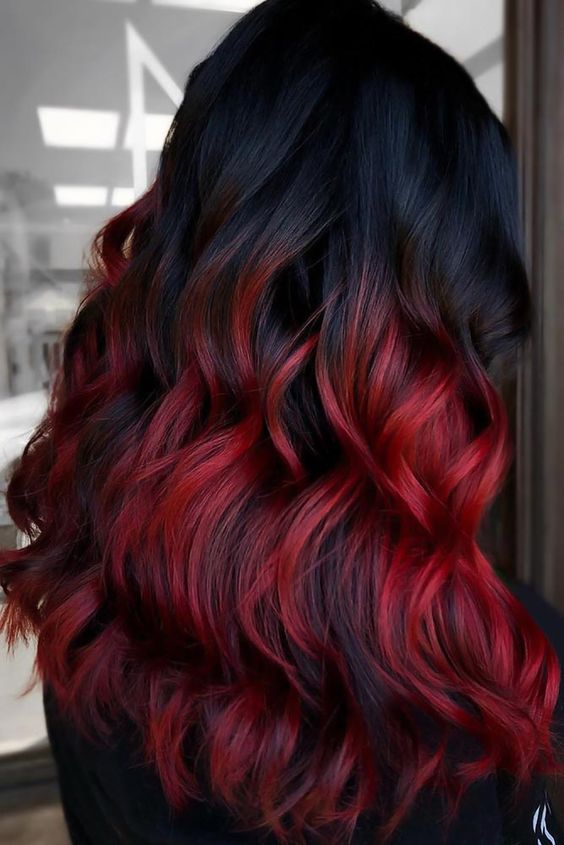 The black and red ombre has been one of my favorite hair looks as far as I could remember. It looks so vampy, especially the way this model has her hair. The best part about the black and red ombre is you don't have to lighten your ends that much. While bleaching your ends to a level 10 is ideal, even bleaching your ends to a level 7 will ensure the color shows up on your black hair. I also love how the model's hair is curly here, but this look will also look amazing on straight hair.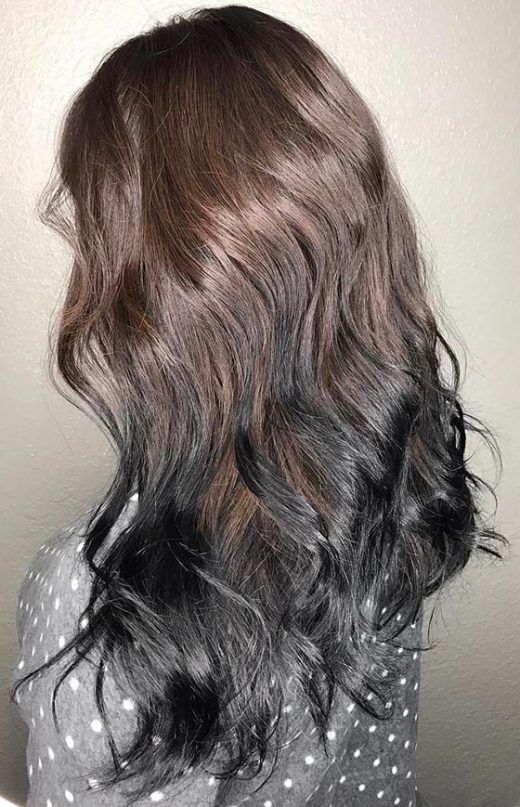 Just because your hair isn't naturally black doesn't mean you can't do the black ombre! This hair look is the perfect example of how to add black to your natural hair color. This chestnut brown and black ombre are subtle but striking enough to turn heads. Since both of these colors are on the brown spectrum, maintenance is easy. Black also takes forever to fade, so you won't even need to take as many trips to the salon.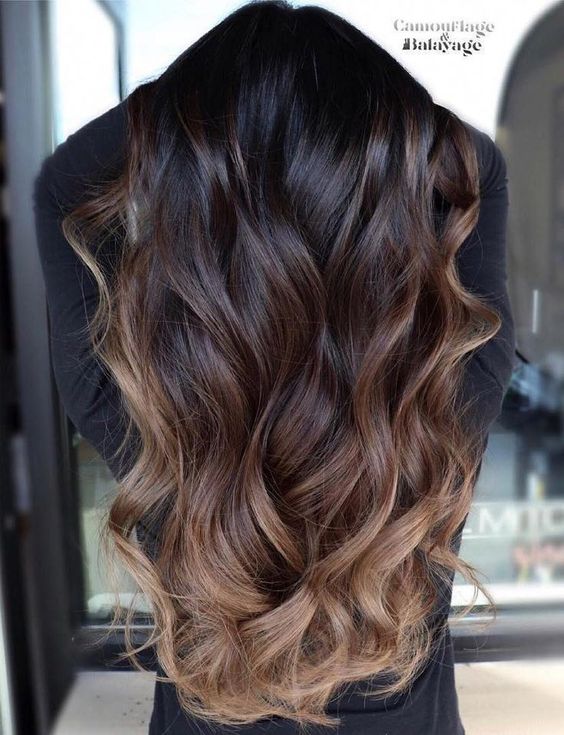 I love how the black ombre mixes with this ashy brown and blonde color. This look is vivid but still subtle enough for the office. Plus, this look is so versatile it can look amazing on anyone. Though if you do have warm undertones, I suggest opting for warm-toned blondes and browns here.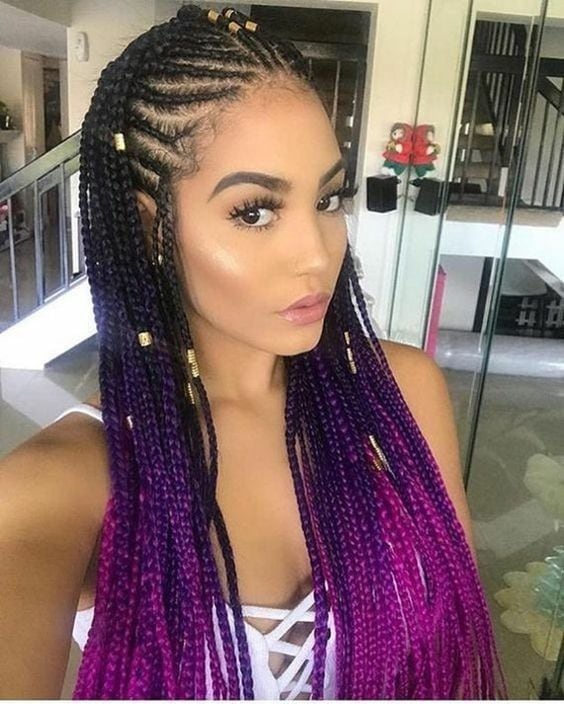 I love this look because of the shades of purple. The model combines light and dark purple on the braids with her natural black hair. The best part about these braids is the simple upkeep. The only thing I suggest is doing this look if you have naturally black hair. Otherwise, you will have to do more trips to the salon. However, I do suggest touching up the purple on your braids.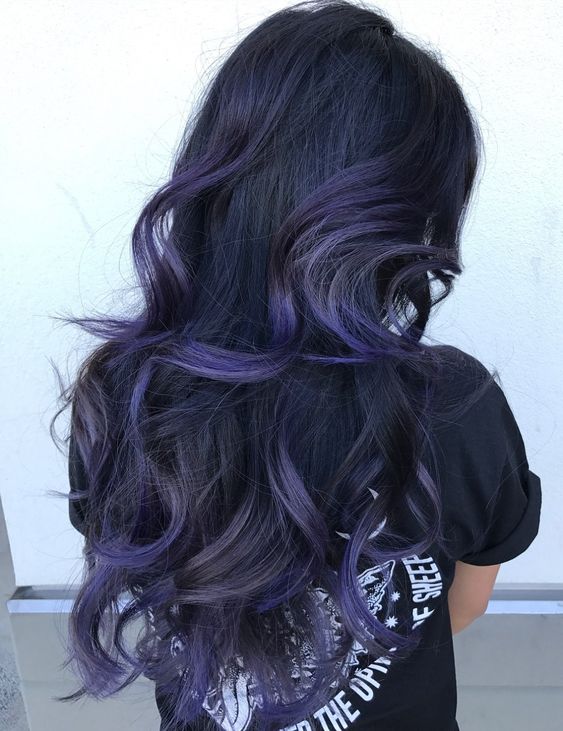 This look is perfect if you want to add some color but don't want anything too loud. This blue/purple color is dark and the black softens its intensity. Plus, I can see this color looking amazing on everyone! This is a stunning look for fall.
I love this look because it doesn't require you to lighten too much of your hair. This way, your hair still stays smooth and healthy. Just take a few strands at the bottom of your hair and apply some bleach. I do suggest bleaching to a level 10 to ensure this dark blue/purple shows up against your black hair. After you're done bleaching, follow up with the blue/purple color.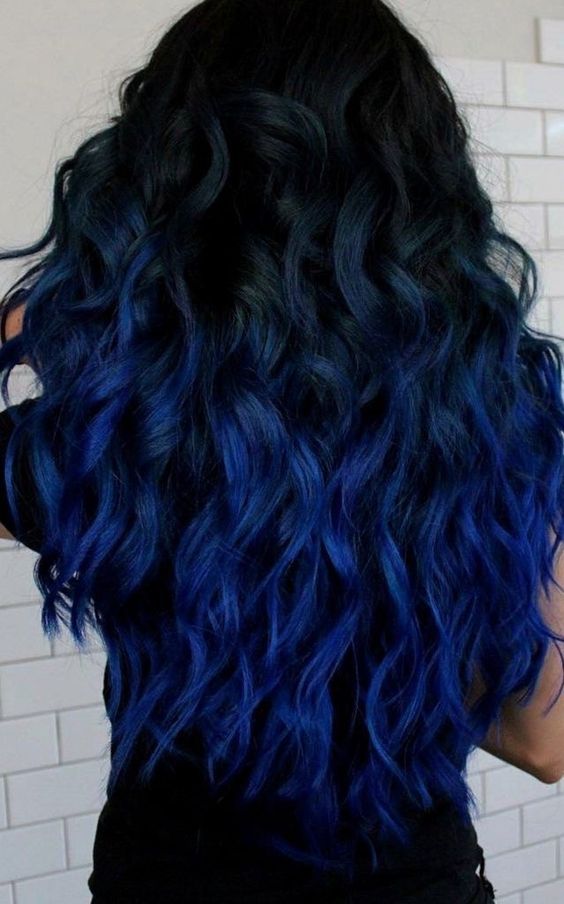 I love this shade of blue. It's not only vivid but flatters everyone, no matter your skin tone and undertone. But I definitely think electric blue is the best option for warm undertones. Plus, electric blue looks so good with dark hair. For this look, I suggest adding other darker and lighter shades of blue, like what the model did, to add more dimension. Plus, the curls give the hair more movement.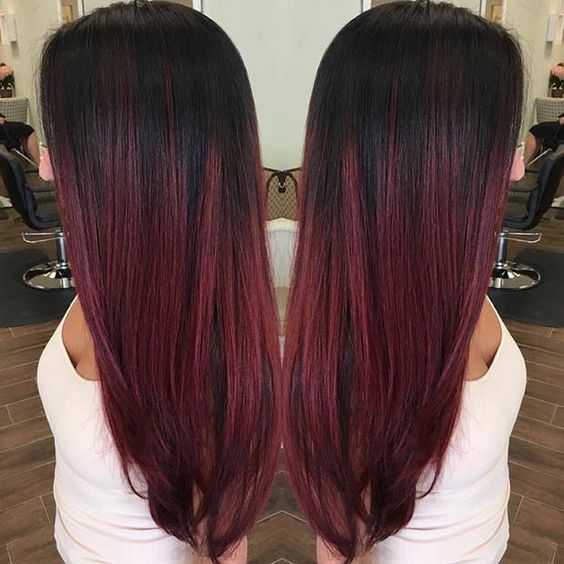 If you want to add red hues to your hair but don't want to go too intense, I suggest this look. This ombre is more in the form of streaks which adds dimension. The only downside to dyed red hair is it does require more maintenance. You'll want to shampoo at most every two days and use color-safe hair products. This will help preserve the hair color.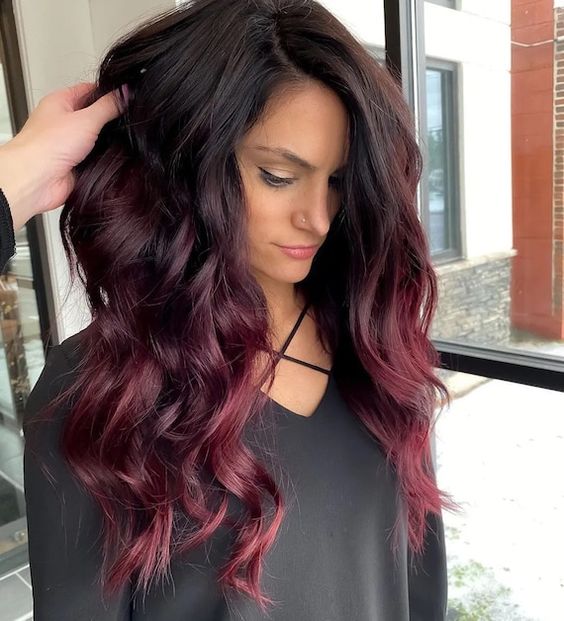 As you can tell from this list, black and red just go perfectly together. And I especially love this chic multi-tone red ombre the model has. The elegant transition from dark red to light red/pink is stunning. The only thing I suggest is to bleach your hair to a level 10 so the lighter colors are visible. Since red dye lasts the shortest, you'll want to maintain it by washing your hair less and using color-safe hair products.
If you want a subtle black ombre look, I suggest choosing this caramel color. This look is especially perfect if you have warm undertones. The curls also emphasize the ombre. While you can do this look DIY, the model has more dimension in her hair, so I suggest going to a professional for this look.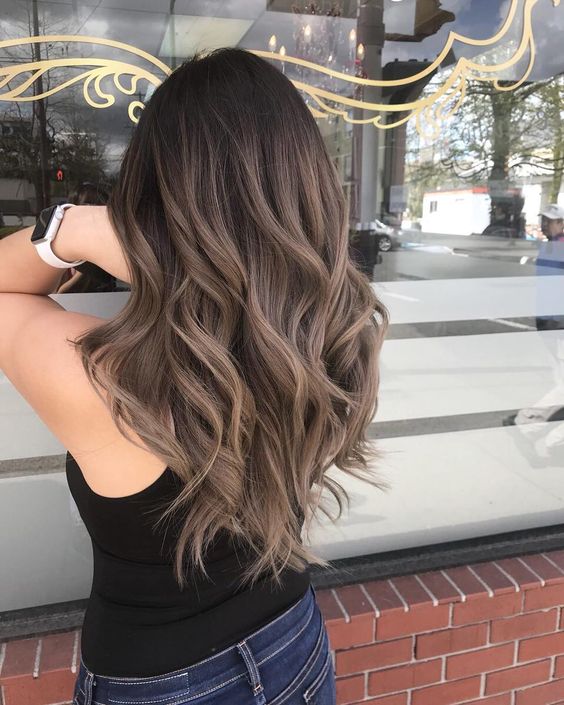 This ash brown and black balayage is a subtle way to liven up your hair. The ash brown is unexpected and very unique. It's also a great alternative to caramel if you have cool undertones.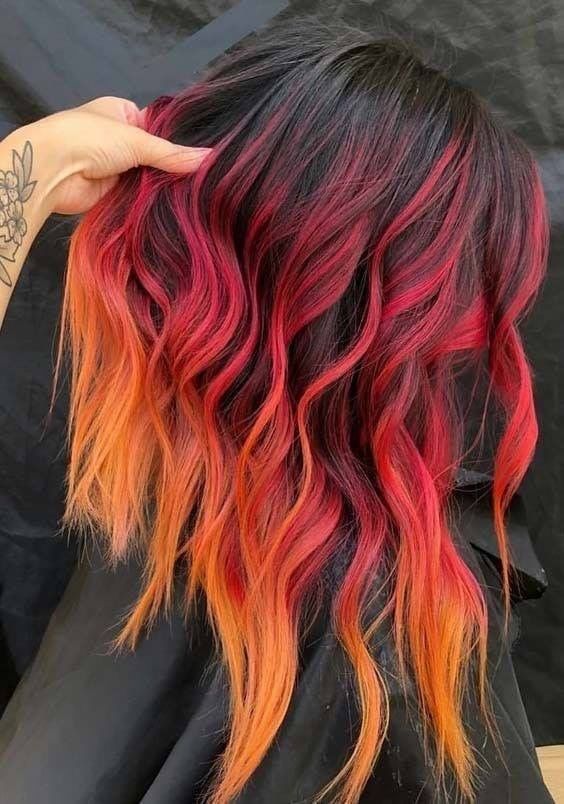 Who would know that this classic sunset ombre would look amazing on black roots? This hair look conveys such an interesting mood. The sunset ombre is so uplifting while the black roots are so dark. The contrast makes this color even more beautiful.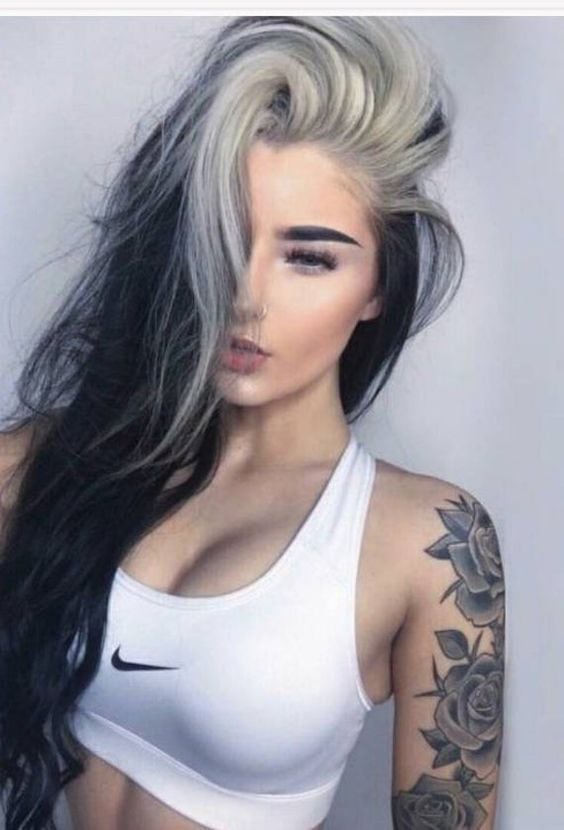 Your black ombre doesn't have to be at your roots. You can do a platinum blonde ombre at your roots with black at the bottom, the way this model has her hair. In all honesty, white-blonde and black is a surefire amazing color combination — no matter how you style this look. But the way this model has her head, you're bound to turn some heads.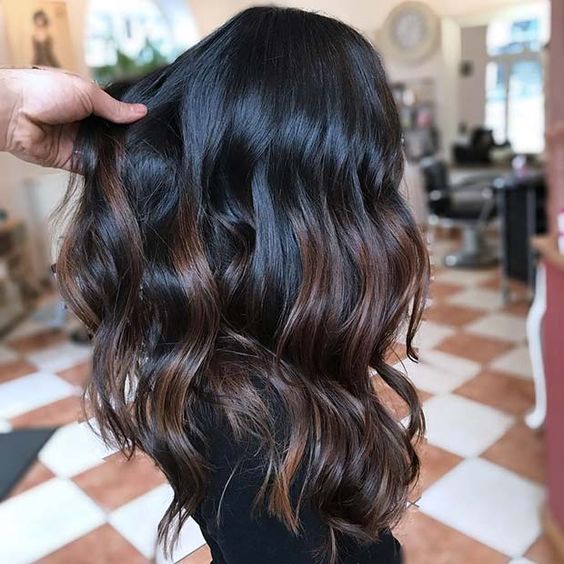 Who said your black ombre has to be paired with a light color? This black and chocolate brown ombre looks edgy but is subtle enough for the office. Plus, this look will literally be flattering on anyone.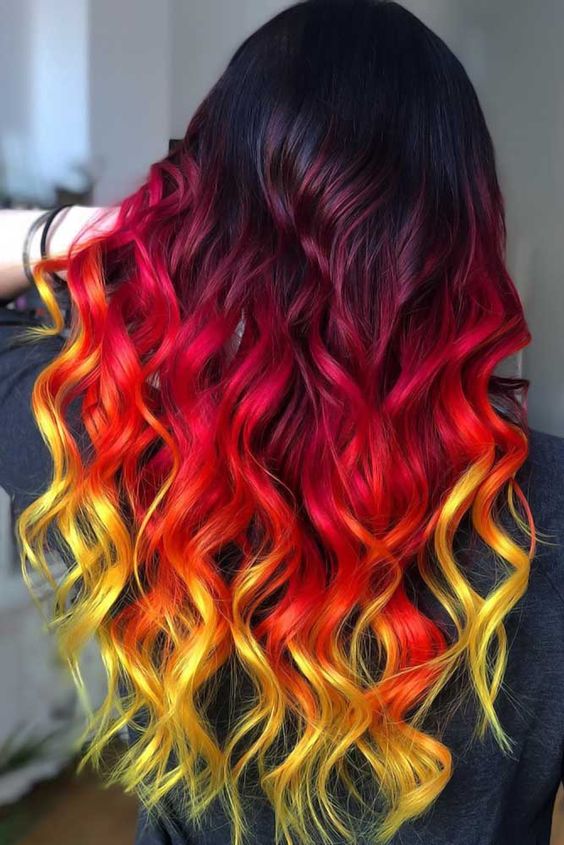 Can't decide which color to use with your black ombre? Use them all! This look is super bold, which is all of the colors on this ombre. However, the black roots add some subtlety. Plus, this look will grow out well. No need to worry about washing your hair once a week, though it will preserve the color at the ends more.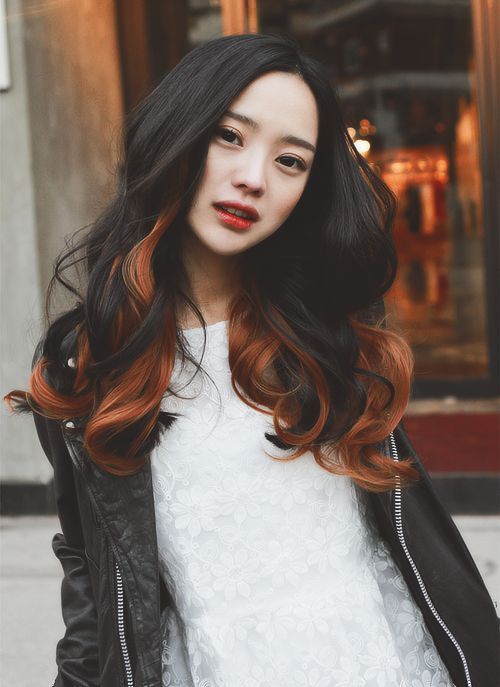 Copper is one of those weird colors that look brassy when done wrong but chic when done well. I tried to dye my hair copper years ago and it looked awful. But the way this model has her ends looks stunning. I would say the copper might be a little too warm for her undertones, but it still looks amazing. The best part is you really don't have to lighten your hair too much to achieve this look. A level 6 is all it takes for the copper to stand out against the black.
This is a good way to satisfy the rainbow hair trend but with neutrals. The model's hair looks out of this world — black is at her roots and her hair falls down to a pretty shade of autumn red and ash blonde. Keep in mind that this look will take more maintenance than it looks. For example, you'll have to bleach the ends to a level 10. Then, you'll need to use a purple conditioner on the blonde part.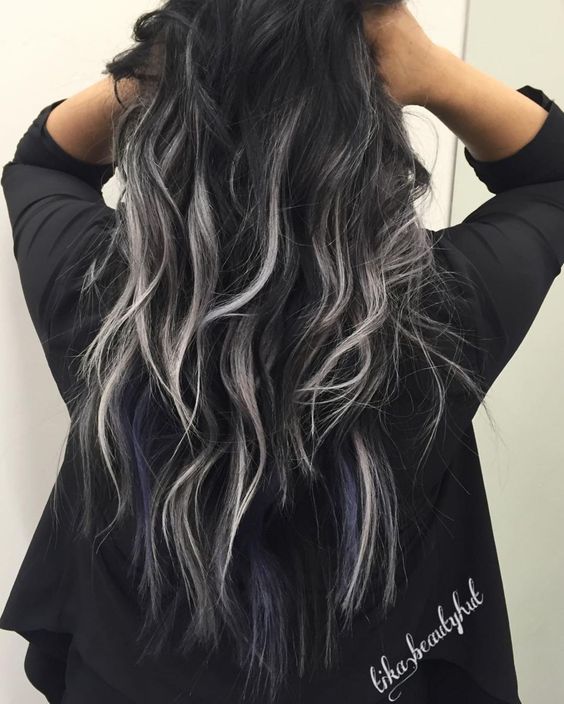 Want to do the gray hair trend but don't want to look like grandma? This is a great look! The model's hair is black and there's a gray ombre at the ends, but it's more streaky. Even if black is your natural hair color, this look will take minimal effort. Just bleach some of the ends and apply gray hair dye over them. Just remember to use a purple conditioner so the ends don't get too brassy. You also don't need to go back to the salon — just let your hair grow out.
Alternatives to Black Ombre
After looking at this list, are you unsure if a black ombre would look good on you? Here are some other options.
Brown Ombre
A brown ombre is perfect if you're a brunette. This look is stylish yet looks very natural. This is also a great hair color all year round. The colors you can mix with brown are endless, such as nearly every shade of blonde. You can also add funky colors to your brown ombre. I personally love the way brown looks with a pink ombre!
Ombre With Another Dark Color
If you love dark hair colors but want something other than black, you can substitute these looks for another dark color instead of black. Choose a dark brown, pink, red, chocolate brown, dark gray, and purple.
Brown or Black Balayage
The balayage is an extremely popular hair color style. With the balayage, the hair stylist paints highlights on the hair. There are no limits on how many colors you can use for a balayage. If you want a black or brown balayage, the colors that look best on this hair are caramel and light brown.
FAQs
Question: I did a black ombre but now doesn't look or feel healthy! What do I do?
Answer: I'll be honest, this happened to me and it took months for my hair to get back to normal. But it is possible to retain hair health after bleaching your hair or undergoing an intense dye job. Make sure you use a high-quality conditioner. In-between washes, use a leave-in or dry conditioner. Avoid using heat styling products.
Question: I love all of these looks but I want to know the best hair colors that match black. Can you help me?
Answer: Here are some of the hair colors that look best with a black ombre:
• Honey blonde
• Chestnut brown
• Light brown
• Auburn
• Green
• Platinum blonde
• Blue
• Pink
Question: Should black be at the roots or the ends?
Answer: It depends on what you want! But I recommend doing black on the bottom of your hair is naturally light and vice versa if your hair is naturally black. Working with your natural hair color will ensure your ombre look requires little upkeep and will deliver the least amount of damage.
Bottom Line
Out of all of these styles, the black and blonde ombre will always be my favorite. I've actually had this look a couple of times and I miss it. Besides, I think this is a safe look for those who never had an ombre before. For me, this look was super easy to maintain. I would even wash my hair daily and the last black/blonde ombre I had lasted close to a year! I still suggest you look through my stylish black ombre recommendations and choose the look that's best for you!
Looking for more interesting hair colors? Check out: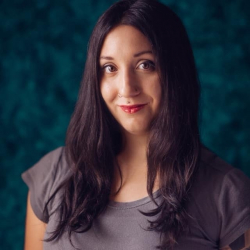 Latest posts by Stephanie Jensen, Hair Trend Spotter & Home Tester
(see all)