As someone whose favorite color has been turquoise for years, I always admire turquoise hair color ideas and styles. If I were blonde, I would've dyed my hair turquoise more than once. 
That said, if you're looking to dye your hair this shade and don't mind the bleach and upkeep, I'm thrilled to encourage you to go for it by showing you the best inspiration pictures and videos I can find. 
Mix it up with different colors, strategically place the turquoise, or go all-in and dye all your hair this beautiful blue-green.
Bottom Line Up Front
Turquoise is such a fun, energetic hair color that fits with a multitude of styles. You can keep it to a minimum or go all-out with the same color all over, or a mix of turquoise and pink, purple, blue, and/or another shade. 
It fits well with many personalities, from the whimsical to the alt girl.  I love blonde hair with turquoise tips; I really feel like it makes the turquoise pop!
It also sticks around a little longer than reds, pinks, and pastels, so you may find that you get more out of your efforts if you decide on turquoise hair.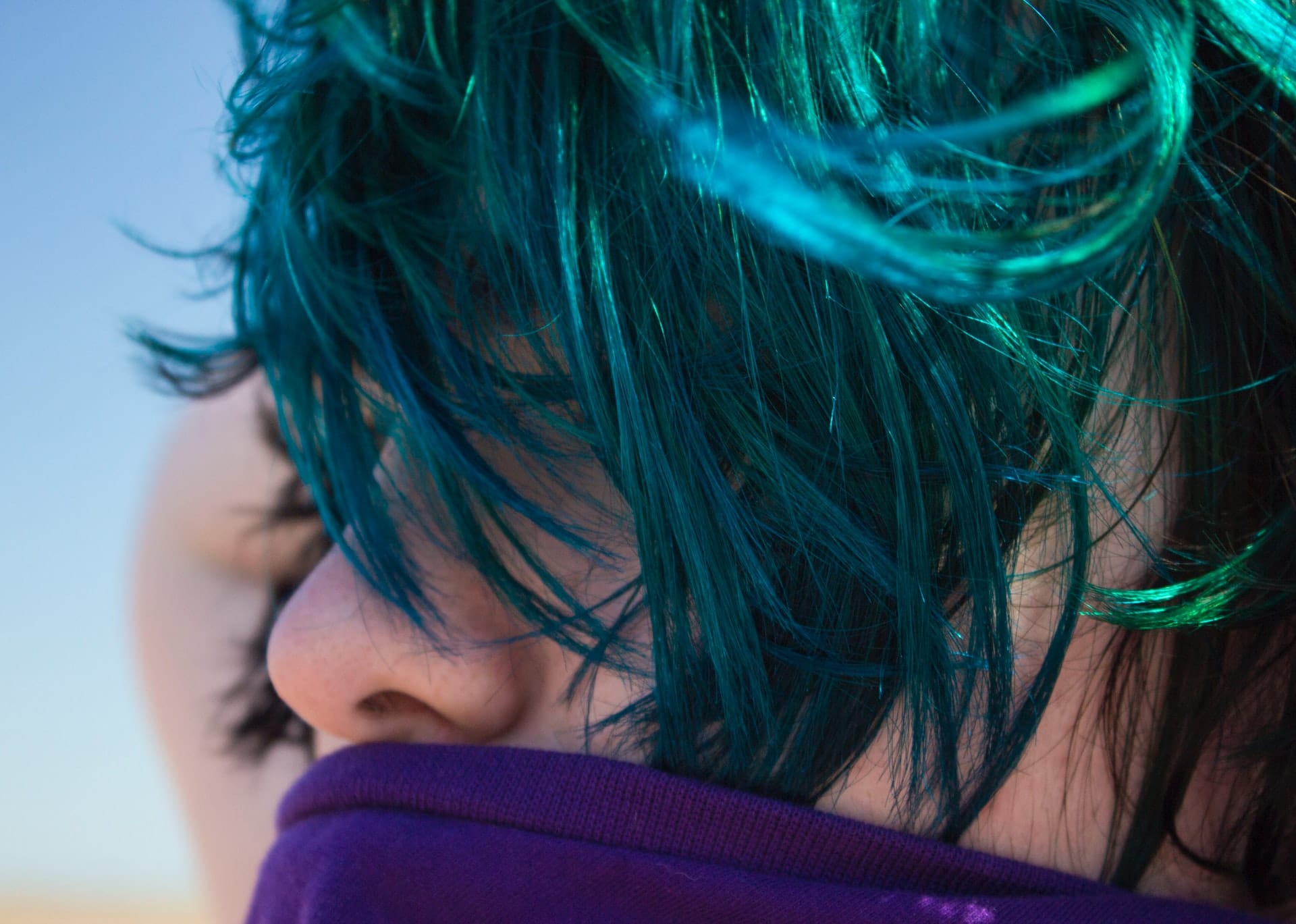 Turquoise Hair Inspo Selection Criteria
There are so many ways to enjoy turquoise hair color ideas and styles. My main goal was to find variety.
You may just want to dye the tips of your hair or a few pieces in the front (or underneath your natural color).
You could decide you want turquoise all over or a blend with another color or two (or more).
I'm just here to inspire you with ideas across the board so you can come up with a look that's unique to you, your lifestyle, and your love of color.
Turquoise Hair Color Ideas & Styles
Possibilities abound with turquoise hair color ideas and styles! I've searched to find the best turquoise hair inspiration out there. I hope one or more of these spark an idea in your mind and help you come up with your own turquoise hairstyle you're obsessed with. Get creative.
Dark Hair with Turquoise Accents
Look at these gorgeous turquoise-tipped curls in this photo of asiek_esss. This photo demonstrates how beautiful turquoise hair can look when paired with darker roots.
You'll often see dark hair with turquoise tips, but beautybyjp95 shows us how you can shake things up. Here, the front sections are bleached and dyed turquoise while the remaining hair stays dark. 
chvckysbride has another stunning look featuring turquoise and dark hair. Here, the turquoise shade highlights the hairstyle's layers and makes her stand out.
That Look You Love shared a video on YouTube where she dyed the ends of her dark hair turquoise. This shade is a deeper turquoise, bordering on teal, and if you want something different but still somewhat subtle, this will show you how to do it. Bonus: You don't have to lighten your hair a lot to achieve her results.
Blonde Hair with Turquoise Accents
Just as dark hair looks beautiful with turquoise, so does blonde. alwaysrandibrite has deep turquoise strands paired with bright blonde roots (and the deep berry lip shade ties it together so well!). 
Another example is alina.totoret's hair. There's just enough turquoise there to spice up her look, but it's mostly isolated at the tips of her blonde hair. I love this kind of style because–especially if your hair is dark like mine–there's minimal damage from bleaching, and if you get tired of the color, you have the option of cutting it off into a bob or "lob" style. 
Go for the unexpected. Don't dye the tips and leave your roots your natural shade–do the opposite. Victorialoveshair shows us what it's like to dye the top of your hair turquoise and leave the bright blonde ends for a blonde and blue ombre look. The model's hair was lightened for this, but maybe you won't need to. 
You can take it a bit further and add turquoise and another color to blonde hair, placed like chunky highlights like cat_leatherbarrow did here. It's edgy, fun, and still subtle in the grand scheme of things (at least, compared to dyeing all your hair a bright, unnatural shade). I love this one because of its ability to play up so many different personality traits–fun, edgy, cute, whimsical…it just depends on who it's on and how it's styled. 
Turquoise and Purple Hair
Purple is one of my favorite pairings with turquoise hair, and tonichangeshair shared some pictures demonstrating how beautiful it can be. The purple here is under the turquoise and near the model's face on one side–a reminder to have fun with the placement and create something unique.
Purple and blue can have a free-spirited, mermaid vibe. Check out the photo brighteyes126 shared of her waves. I love how the turquoise breaks up the purple and gives it a softer look.
In lauren_vivosalon's photo, you can see how turquoise and purple strands are woven together on a base of the model's natural (dark) hair color.
I don't have words to describe how much I love the placement in this turquoise and purple hair creation shared by sarah_nugent709. The turquoise, for the most part, peeks through the purple, but there's nothing shy about it. Visit the post to see the steps it took to get it there (and how cute it looks with a braid!). 
Pink and Turquoise Hair
Turquoise also pairs beautifully with bright, vibrant pink. You can see how well they work together in this photo by triplemoonmakeup, where there's hot pink at the top, midnight blue in the middle, and a deep turquoise at the ends. Sometimes you can't just choose one fun color. Luckily, turquoise works well with many colors.
If you like pastels and want to use a little pink in your look, try a splash of pink in your bangs or right by your face, nestled into your otherwise turquoise hair. Pink is great for adding a gorgeous glow to your skin tone if you have cool undertones. See how hairdesign.emma did it?
Love unicorn hair? Geomatrixgirl will inspire you with ringlets of hot pink, turquoise, and a splash of purple. Because this kind of style requires so many different colors, it may be best to go to a pro or at least have a skilled friend help you if you're dyeing it at home. 
Talegrude shows us what it's like to choose turquoise for one side and pink for the other. I love how the pink bangs cross over into turquoise territory; it adds more visual interest than a simple middle part would. 
Turquoise and Yellow Hair
You don't see as much turquoise and yellow as you do turquoise and purple or pink, but this is an absolutely stunning combination. It's bright, tropical, and summery. Look how well pedro_plastic pulls it off, with the vibrant yellow peeking through intense turquoise. 
Turquoise and Blue Hair
Sophie Hannah shows us how to get split hair with turquoise and royal blue, and the end result is so pretty! One thing I like about mixing turquoise with other shades of blue is how easy it still is to match your makeup and fashion choices to your hair color. What looks good with turquoise will also look good with other blue shades.
Turquoise All Over
Sometimes, you just love turquoise, or it's so flattering with your coloring and features, you just want to have turquoise hair from root to tip, all over. Zunnyhair shared beautiful turquoise waves–total mermaid hair–on Instagram. 
Another example, on moldhead, shows a carefree style that ties in so well with her whole bright, beautiful look that the turquoise hair almost looks natural. 
Mackenzie Marie demos the whole process of dyeing all of her hair a bright turquoise shade that looks amazing. She says she's starting with damaged hair with leftover, stubborn pink. If you're in a similar starting place, be sure to watch her video. 
Hair Makeup, for Those Who Want More Temporary Color
I didn't even know about CurlSmith hair makeup until I ran across this video by Jenny Borrego where she temporarily turned her beautiful curls turquoise. 
This product delivers a surprising amount of color and washes right out. If you don't want to dye your hair or dye your hair turquoise for weeks at a time, this is a good option.
FAQs: All About Turquoise Hair
Turquoise hair is so versatile. It works with a range of colors, from natural to brights from brands like Arctic Fox, Manic Panic, and Punky Colour. You're probably curious about how it performs and what it goes with. I've got you covered.
Question: What color goes with turquoise hair?
Answer: You can put almost anything with turquoise hair. Regarding other hair colors, turquoise looks good with black, brown, blonde, red, purple, pink, navy blue, and a number of other colors. 
When it comes to clothing, again, just about anything will go. Neutrals are a win, for sure. You can't go wrong with pinks, purples, blues, greens, yellows, or browns. Just be sure to take your skin tone (are you cool- or- warm-toned?) into account, too. 
Question: What color does turquoise hair fade to?
Answer: It fades to a pale, bluish-green.
Question: Does turquoise go with brown hair?
Answer: Absolutely! Remember that you'll most likely need to bleach the brown hair where you want the turquoise to show up. But yes, turquoise and all shades of brown hair look beautiful together. 
Question: How long does turquoise hair last?
Answer: It depends on a few things: Did you bleach it? What products are you using on it? Are you heat-styling it? How often do you wash it? Everyone's hair is a little different.
You can expect the intensity to die down with the first three to five washes if you're using gentle products designed for color-treated hair, washing with cold water, and not heat-styling it. However, the color can linger for months, eventually fading to green.
There's a good chance that the green tint will linger longer than you would like, but you can freshen the color up.
Question: Is turquoise blue and green?
Answer: Yes. Turquoise is blue and green. More specifically, it's a little more blue than green, and on the lighter end of the spectrum. Teal would be darker and greener, for example. People tend to use the terms interchangeably to a degree, so if you're not finding what you want by searching for turquoise hair color and style ideas, try teal. 
Question: Is teal hair hard to maintain?
Answer: No harder than any other shade, and it'll actually last longer than a few others. However, it will definitely fade over time, even if you do everything perfectly. What does "perfect" mean? Wash with cold water (I know…it's not fun), wash as infrequently as possible, use color-safe products, and don't heat style or spend too much time in the sun. Using a product like Overtone might be helpful, too.
Question: How do you get turquoise hair color?
Answer: Unless your hair is extremely light, you'll need to bleach it. Remember that any yellow leftover in the hair will make the resulting shade lean more toward green than blue. From there, you can apply a single shade you've chosen or mix a blue and green together to get just the blue-green ratio you want.
Conclusion: Should You Go Turquoise?
If you're considering dyeing your hair turquoise and there's no reason–like rules at work or school prohibit it–yes! I encourage you to have fun with your style.
Take the pieces you loved from the inspirational photos and videos above and create something custom-made for you. 
Turquoise lasts a little longer than some other shades. It goes well with dark hair, light hair, and different fun colors, so you can use as much or little of the dye as you'd like to invigorate your hairstyle. 
If you're doing it at home, it's probably best to keep things on the simpler side as far as color placement goes. Still, if you're going to a professional, the sky's the limit.
Dye the tips, play up your layers or curls, have fun with ombre, or experiment with any number of highlighting techniques. You could go for a whimsical style that features purple, pink, yellow, or even another shade of blue or green.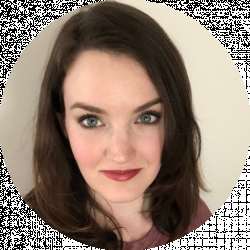 Latest posts by Crystal Schwanke
(see all)