Do you want to dye your hair a funky color but aren't sure which color to pick? Blue is one of the most popular colors for a reason. The color blue is extremely versatile, and you can find a shade of blue that suits you well. Not only that, but blue hair still makes a statement.
If you're wondering which shade of blue you should choose, stick to navy blue. Dark and navy blue look amazing on literally every skin tone. And you can easily find navy blue hair dye anywhere.
In this guide, I will show you ways to find the best navy blue hair dye and will list some of my recommendations.
What Is Navy Blue Hair Dye?

First, what exactly is navy blue hair? Navy blue is a specific shade of dark blue. It's also commonly called midnight blue since it represents the dark hues of the night sky. While many people dye their whole head navy blue, you can also opt for an ombre, lowlights, highlights, and more.
What to Know Before Dyeing Your Hair Navy Blue
One of the best aspects about navy blue hair is it looks great on practically everyone, but it looks best on those with naturally dark hair. I've had this hair color before; I naturally have dark brown/black hair, and I can confirm that this is one of the best unnatural colors if you're a dark brunette. While you don't need to bleach your hair to get this look, it is best to bleach first in order for the color to look vibrant.
As stated previously, you can find navy blue hair dye practically anywhere. Many stylists have navy blue hair dye at the salon, but you can also find DIY dye in this same color.
Doing your hair DIY is best if you plan on dyeing your whole head. However, something more complex such as navy blue lowlights is best handled by a professional.
How to Find the Best Navy Blue Hair Dye
Now that you know the basics of navy blue hair, you can look for the perfect hair dye for you! But where do you start?
Do You Need to Bleach First?
First things first, understand if you need to bleach your hair first. If you want a slight navy blue shade that you can see in the sunlight, then you don't need to bleach. However, if you want the color to be more vibrant, you should bleach your hair at least two levels down. You also don't need to bleach your hair if you already have light hair.
Type of Dye
It's practically impossible to find blue permanent hair dye. However, you can find navy blue in demi-permanent and semi-permanent dye. Demi-permanent dye contains no ammonia and only deposits color, but it lasts as long as 24 shampoos. Semi-permanent dye is similar, but it doesn't last as long.
Simply put, if you want your color to last at least a month, choose demi-permanent. But if you're only dyeing your hair for a special occasion, choose semi-permanent.
Safety

Hair dye irritants are unfortunately common and are more prevalent in at-home hair dyes. While not all will be affected, there are many people who get an allergic reaction after using certain hair dye brands. Be on the lookout for common irritants such as paraphenylenediamine (PPD). You'll also want to only buy hair dye with labels such as non-toxic, natural, no peroxide, no alcohol, no ammonia, paraben-free, and phthalate-free.
In addition, the dye should also contain conditioning ingredients so it won't damage your hair. The dye should also be gentle; even if you don't have sensitive skin or hair, the dye shouldn't be too strong.
Brand Reliability
We will mention some specific brands we love in another section, but brand reliability is also an important factor to consider. For example, you may want to lean toward brands such as Manic Panic and Ion that have been around for years. These brands are sure to deliver dye that is true to color and offers tons of vibrancy. For best results, buy a dye from a brand that you've had a good experience with before.
How to Maintain Navy Blue Hair
After you dye your hair blue, you'll want to properly maintain it so the color lasts. Here's where to start.
Wash Your Hair Less Often
My hairstylist tells me the number one dye killer is water. Try and go as many days without washing your hair as you can. Use dry shampoo or baby powder/cornstarch to soak up any oil on your scalp. Ideally, only wash your hair once a week. But I understand if you have an oily scalp and dry shampoo doesn't always cut it. In this case, refrain from washing your hair more than three times per week.
Use Color-Safe Hair Products
First and foremost, always use color-safe shampoo and conditioner. These products are formulated without harsh ingredients to help preserve the dye. If you need to use a hair mask, it's also essential to find a color-safe option. Ideally, you'll want to use salon-grade products. But if you can't afford them, there are many high-quality drugstore hair brands that create color-safe products.
Refrain From Using Styling Tools

For starters, refrain from heat styling. Heat opens up your cuticles and decreases the vibrancy of your dye. If you need to blow dry, blow dry using cold air. I have color-treated hair and instead of using a hair curler, I use a texturizing spray to give myself lovely waves without the heat. If you really want curls, braid your hair during the evening and leave them in all night. Take out the braids when you wake up the next morning.
There is also plenty of up-dos you can do to give yourself an edge. Some of my favorites are the bouffant, French twist, and the roll.
Our Favorite Navy Blue Hair Dye
Are you ready to dye your hair navy blue? Here are some of our favorite hair dyes!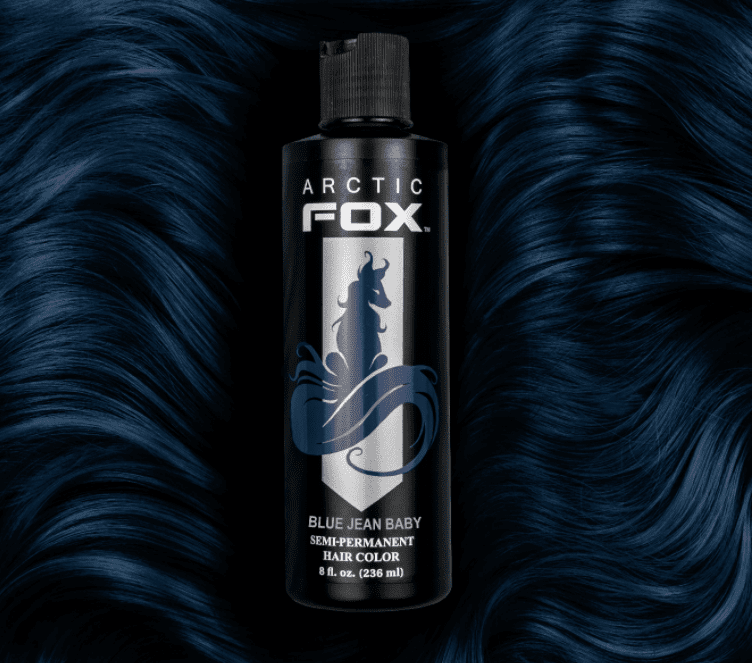 I hear so many good things about Arctic Fox, so it's why I'm listing them first. That and this hair dye is gorgeous!
It's a dark-toned color with just the perfect amount of blue. It's extremely hydrating, easy for the DIY hairstylist, and won't damage your hair. This dye is made with no harsh chemicals, specifically no ammonia, peroxide, or PPD.
While you should lighten your hair before using this dye, you don't have to lighten your hair too drastically. For example, the black/blue color comes out when you're a medium blonde, which is about a level 7.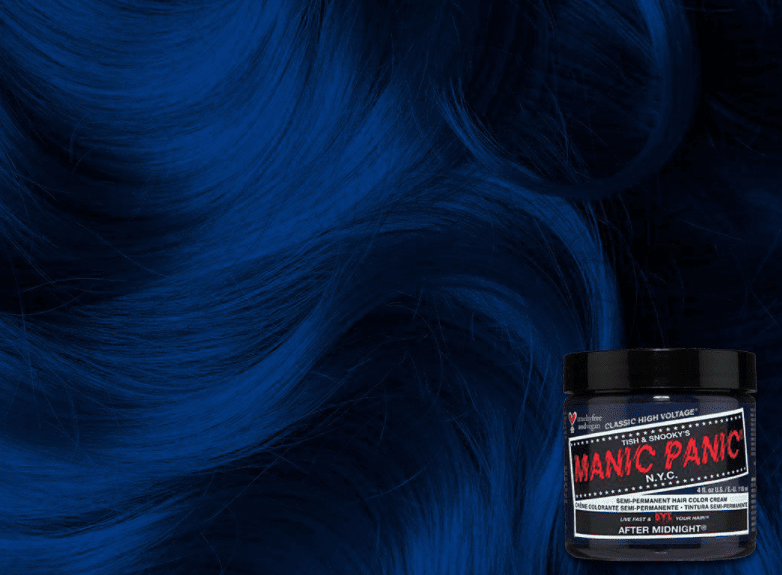 Manic Panic is one of the oldest and most trusted hair dye brands for fun, unnatural hair colors. Their products are also vegan, cruelty-free, and don't contain harmful ingredients. In addition, all of their dyes spread evenly and are extremely conditioning.
This is one of the best navy blue dyes that Manic Panic offers. As you can see from the title, the color is blue/black. It looks vibrant dark blue when dyed on blonde hair and the blue is toned down when dyed on brown hair. Manic Panic still recommends you lighten hair to a level 9 for the truest color payoff.
Directions are easy but slightly inconvenient. First, you have to wash your hair first then blow-dry.
After you apply the dye, Manic Panic wants you to cover your hair with a shower cap AND blow-dry again. This does ensure the color payoff is intense, but it's still annoying. I'm also reading online that users have left this dye on overnight and had vibrant color the next morning. Keep in mind, Manic Panic only recommends you leave the dye on for 45 minutes and I would follow their recommendations.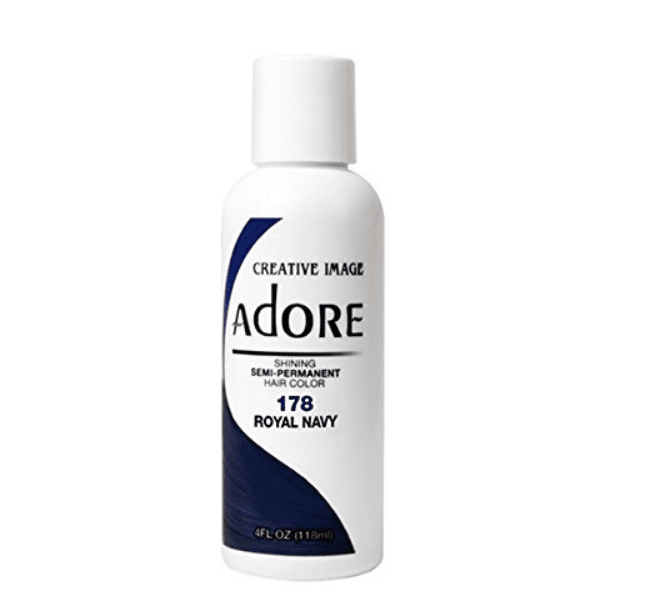 Adore is a great hair dye brand but I don't see them getting a lot of love. Their dyes are long-lasting, safe, and easy to use. This color is a true navy but is very vibrant. Not as vibrant as the Manic Panic color, but you get a lovely dark blue that looks amazing on practically anyone.
Even as semi-permanent color, if cared for properly, the color can last as long as eight washes. Reading reviews, it looks like the color fades very well. Depending on your hair color before, it fades to a light-to-medium-toned blue. And for $6, you can't beat these benefits.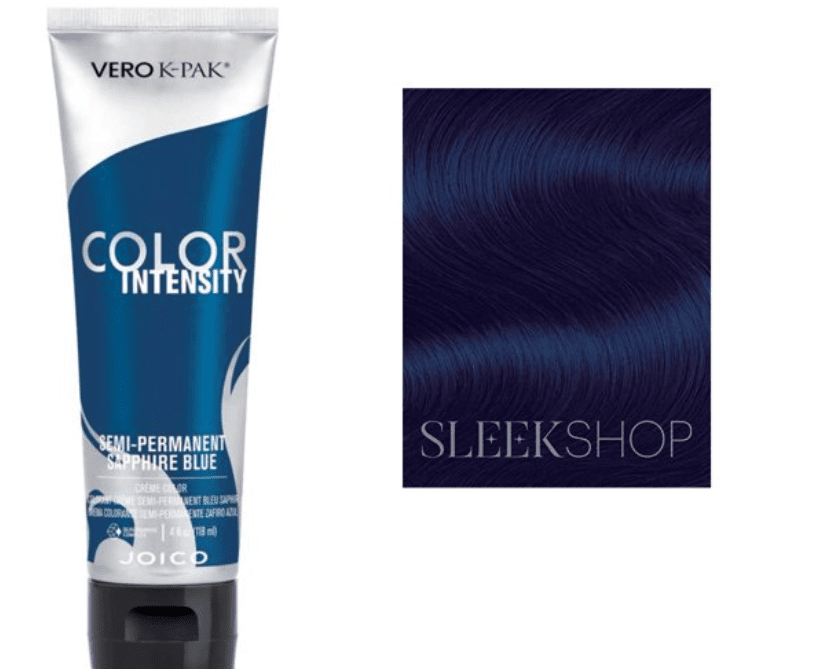 If you truly want vivid neon hair, this color from Joico rivals Manic Panic. When dyed on pre-lightened hair, the color payoff is INTENSE! It's more of a neon blue but with the darker blue tones of the navy color. I'm reading online that people have used this color on dark hair and experienced benefits. However, you'll get the best benefits when you use it on light-to-medium blonde hair. On an added note, the dye is gentle and softens your tresses.
I also recommend this dye over the Manic Panic one because it's easier to use. Simply apply to dry hair and leave on for 20 minutes. I've read some posts where users say they leave it on longer, but again I always recommend following the manufacturer's instructions. While Joico recommends you pre-lighten hair before application, they don't require it. Joico promises this dye lasts 20 shampoos, which is pretty impressive.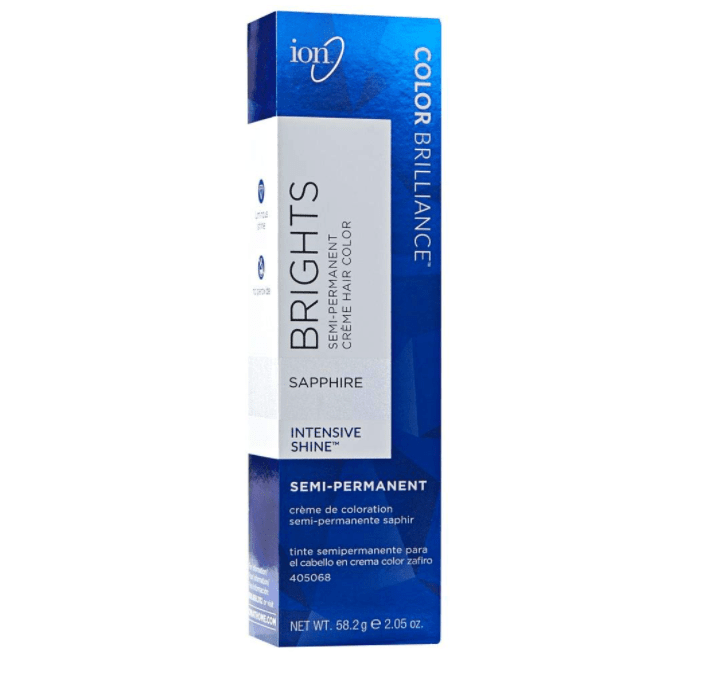 Ion is another famous hair dye brand, sold at Sally's Beauty Supply and other retailers. They have a few different shades of blue, but I chose Sapphire because it's the truest navy on this list. It's a chic shade, not too dark and not too light. The blue is vibrant but not too dramatic. It's also not too dark; however, you can mix some conditioner in the dye if you want a lighter shade. The Amazon listing says the price is around $11.
The only downside is you may need to buy two bottles if you have long hair. Another plus side is the dye lasts a long time. One reviewer said her dye lasts two months (just wash your hair only once or twice a week). The dye also seems to fade well, just gets a little lighter after each wash.
However, there's a reason why this dye is last. In the next section, you'll see a tutorial where the YouTuber used Ion Sapphire and a couple of other colors, only for the dye to turn out green.
I chose Ion Sapphire because it's the truest to navy, but it's still very dark. She also uses Ion's colors Tanzanite and Sapphire for a navy shade, and the dye turned out green. She said she has no idea why, but went over the color with Adore Navy and Indigo, and then the color turned out perfect. So I honestly think it's the Ion dye that turned her hair green.
FAQs
Question: How Do I Dye My Hair Navy Blue?
Answer: YouTuber Sophiology offers one of the best tutorials I've seen. I do want to mention she's doing this tutorial on hair extensions, not her natural hair. However, the benefit of this is I think the viewer can see her technique more clearly than if she were to dye her own hair, which is what most hair YouTubers do.
She also explains multiple times throughout the video that this isn't a beginner-friendly method, but does give easier alternatives to her techniques. I will provide a beginner-friendly tutorial, as well.
To break down her tutorial, she has black extensions and starts by bleaching them. She bleached her extensions to a honey brown color. I would say that's a level 6. To take out the orange and brassiness, she recommends washing your hair with a purple shampoo AFTER bleaching to cool down your color.
Sophiology uses the Adore Navy Blue and Indigo as well as Ion Sapphire and Tanzanite. She mixes them together. If you have long hair, she recommends buying PLENTY of hair dye — at least four bottles. She said it's best to buy more than what you think you need. You can always return them.
After applying the dye, she let it sit for two hours before washing it out. She did mention the dye looked green in some places, so she went over it again with the Adore dye and the color came out perfect.
By far the best beginner tutorial I can find is this one by Kristen Leanne. Fun fact: she's actually the founder of Arctic Fox!
For this tutorial, she actually makes her own color by mixing Transylvania, Girls Night, and Arctic Mist. She explains that the dye is extremely thick and conditioning, so no prior conditioning is necessary (though she still recommends applying the dye on clean hair). Keep in mind, Kristen's hair was a light, faded green/teal. If your hair is brown, you'll have to bleach it first.
She simply separates her hair into four sections and applies dye to her entire head. After applying the dye, she waits 45 minutes and washes out the dye. Can't get much easier than that!
Question: How Does Navy Blue Fade?
Answer: Navy blue hair dye fades differently, depending on the hair dye. If your hair is blonde, the color should fade to a light blue. However, there are times when navy blue can fade to green. When I dyed my hair navy blue, it pretty much turned black. Again, it all depends on the dye.
Question: Why Am I Seeing Blue Hair Everywhere?
Answer: Unnatural hair colors are a serious trend right now. And blue hair has been one of the biggest trends for the past few years. In addition, society is becoming more progressive about hair dye. More employers are letting workers dye their hair crazy colors in order to express their individualism.
What if you want to dye your hair blue but still want to look unique? I suggest choosing pastel blue instead of navy blue. Since it's so dark, navy blue is perfect if you want to transition to blue hair or if you want a subtle unnatural color. I also recommend navy blue if you generally look better with darker hair, such as myself.
However, pastel blue is very different and is not a "normal" unnatural hair color. Keep in mind, pastel colors are more difficult to maintain and require stricter upkeep than darker unnatural colors like navy blue.
Bottomline
Navy blue is one of the best shades of blue to pick. It looks amazing on practically everyone, especially if you look better with dark hair. If you're unsure of what navy blue is, it's a very dark blue and also goes by different names, such as midnight blue. We hope our guide helped you pick the perfect shade of navy blue hair dye!
Looking for more interesting readings? Check out: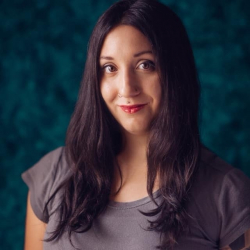 Latest posts by Stephanie Jensen, Hair Trend Spotter & Home Tester
(see all)