Even though blue hair is one of the toughest hair colors to maintain, blue hair dye is all the rage. If you want to take blue hair to the next level, choose a blue ombre. There are so many looks that will wow just about anyone.
Here are some facts about blue ombre hair and some of our favorite looks.
Reasons to Try Blue Ombre Hair
Not sure if blue ombre hair will work for you? Here are a few reasons to try this hair color.
It's Fun and Stylish
Okay this reason should be obvious. If you want something more than a solid hair color or a natural ombre, then opt for a striking blue ombre. If you don't want your hair to be too loud, you can always do a subtle blue ombre.
There Are So Many Shades of Blue
How many shades of blue are there? Don't worry, I'll wait. In short, you have limitless options. Choose your favorite shade of blue, multiple shades for more dimension, or mix a couple of colors for a unique shade.
The Best Way to Grow Out Your Roots
I confess, I've done this before. And actually, I have done this with a blue ombre.
If you're tired of dyeing your hair and want to grow out your roots, do an ombre. If your hair was blue before, your stylist can easily blend the blue into your roots to effortlessly grow your hair out. And since this is a super trendy look, no one will likely notice you're growing out your roots.
Blue Looks Good With Every Color
And I mean every color. Blonde, brunette, black, and red hair with blue looks amazing. You can also combine a blue ombre with different colors, such as purple, pink, green, and even other shades of blue.
Looks Good With Every Hair Length
You'll see in our inspirations that we mention a blue ombre for every hair length, from short to long. Whether you have a pixie cut or seriously long hair, there's a blue ombre look for you.
How to Get Blue Ombre Hair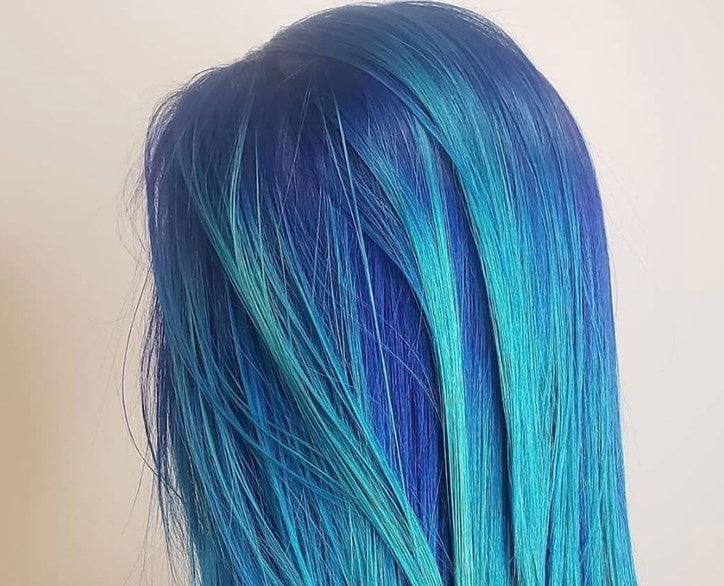 While dying your hair a blue ombre is the classic method, you can also opt for blue hair extensions.
Dye
In order to get your hair to an ombre, your hair needs to be in two different colors. There are two different ombre looks: classic ombre, which is the subtle transition between two colors, and a dip-dye ombre, which is the most intense shift between two colors.
While it's recommended you get an ombre done at a salon (especially if you're bleaching your hair), those skilled with color can do a DIY ombre at home.
Hair Extensions
Want a blue ombre without the damage and maintenance? Choose hair extensions instead. You can find hair extensions in all shades of blue to complete the look that you want. For the best look, make sure to find hair extensions longer than your natural hair.
While a professional can sew in the extensions, clip-in extensions are more affordable and you can take them out at any time. Some manufacturers are even making ombre extensions and weave because of then demand.
How to Select a Shade of Blue
With so many shades of blue, you can use for your ombre, it may be difficult to choose a shade. I suggest starting by looking at your roots/natural color or the color you'll be using for the dye. The blue should be either two shades lighter or darker than the other color you're using, to ensure the blue is visible.
Things to Know About an Ombre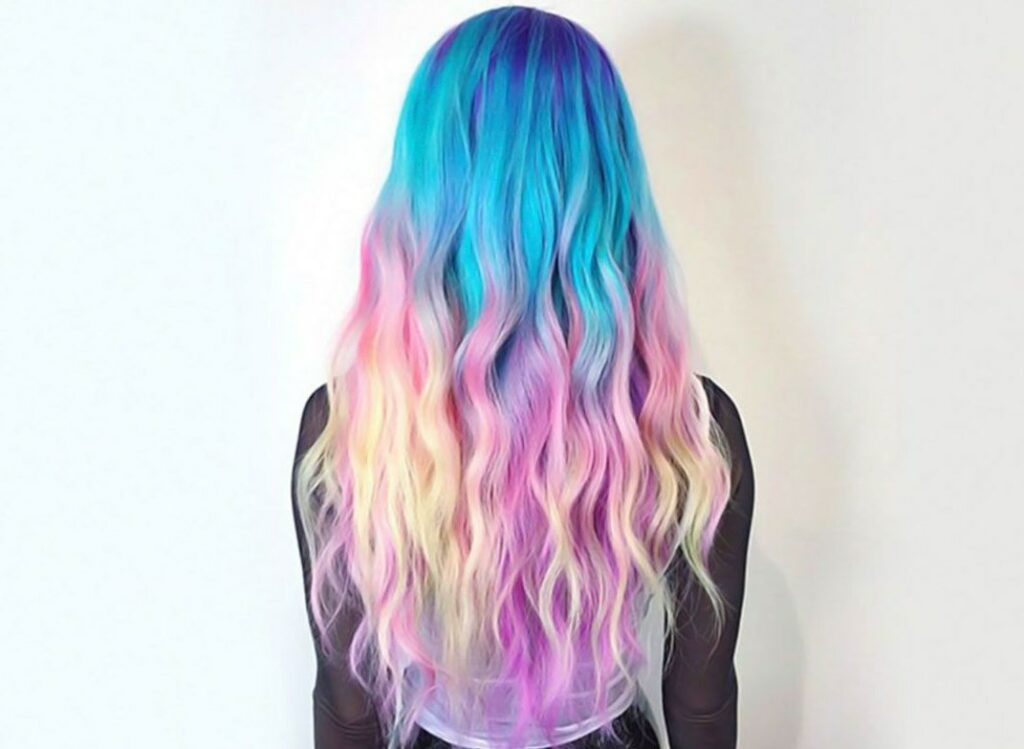 If this is your first time getting an ombre, there are a few facts (and downsides) you should know about this hairstyle.
The Dye May Stain
Now keep in mind, this doesn't happen to everyone. I've had blue hair before and it didn't stain at all.
But I dyed my hair green before and it stained EVERYTHING. I had to wear black t-shirts because they stained all my clothes. The dye even stained my pillowcases, towels, my own skin, and the tables and chairs at the job I was working at before.
Fortunately, the staining and bleeding usually go away after the first couple of washes. But until then, make sure you switch out your pillowcases to dark colors and use dark towels in the meantime. Stock your closet full of plain black t-shirts.
In order to reduce staining, be sure to blow-dry your hair immediately after washing.
Without Proper Maintenance, It Won't Last Long
We will cover blue ombre maintenance in a future section. While it may be easy to skip the maintenance, it's essential to take good care of your hair to ensure the dye will last. Especially blue — out of all of the crazy colors I've had, blue is the quickest to fade.
If You Have Dark Hair, You Need to Bleach It
Coming from someone who naturally has dark hair, you'll have to bleach yours first. The blue won't show at all unless you bleach your hair. And if you're dyeing your hair a neon or light/pastel blue, it may take a couple of bleaches before you get the color you want.
These bleaches may be several weeks apart to ensure your hair sustains no damage, so make sure your stylist will dye your hair a pretty color so you're not left with gross hair.
However, you're lucky if you're a natural blonde. You can do a blue ombre effortlessly without bleaching your hair.
How to Maintain an Ombre
In order to increase the longevity of your blue hair dye, rarely wash it. I recommend only once a week.
When you do wash your hair, wash it in cold water and only use color-safe products. Both your shampoo and conditioner should be color-safe. Don't forget any additional hair products you use, such as anti-frizz products and hairspray.
I would wash my hair under the faucet and wear a shower cap when washing my whole body unless you like taking cold showers.
While we suggested blow-drying your hair to prevent staining, we suggest letting your hair air dry if you don't have any staining. All heat, whether from the shower or tools, opens up the cuticles and lets out color. This also means you should ditch all heat tools.
If you follow these steps, you dye can last as long as a month before you need a touch-up.
Blue Ombre Looks That We Love
Are you ready to get a blue ombre? Here are some of our favorite looks to use as inspiration.
Blonde and Blue
If you're a natural blonde, you can pull off any shade of blue. Have some fun and use a bright, aqua blue such as the one used by @garrraettkenroach. With the blonde, the hair looks especially icy. It's the perfect look for the summer.
Different Shades of Blue
If you really want to be exquisite, choose an ombre that combines different shades of blue. This look has dark blue on top and cascades down to a lighter blue at the bottom. While this is technically an ombre, @bohemehair blended the colors using a balayage-like effect.
Blue on Top
Blue tips are the most common blue ombre look. However, this look uses blue on top that fades to blonde, green, and blue at the bottom. There are even some peek-a-boo purple underneath the hair. Posted by @todyeforofficial.
Black and Blue
I could be biased, but black hair looks best with blue. And this is one of the cutest looks with sapphire blue tips on curly black hair. This is the perfect blue hairstyle for winter.
Blue-Lavender
Can't choose between a blue or purple ombre? Opt for this unique look that @sammiiwang did. This color combines blue with a pretty lavender color that looks amazing with her dark roots. This is another great example of blue winter hair.
Different Shades of Blue
Why settle for one shade of blue when you can have many? That's what @kelseylajohnson did for one of her clients. She did a blonde/blue ombre where the ombre starts light and then fades to dark blue. This look is extremely fun and creative.
Rainbow Hair
Okay, this look is amazing. @k.v.collective has a dark brown and blue ombre with rainbow bangs. Not only that, but her side shave design is the Dark Side of the Moon album art by Pink Floyd! Even her makeup reflects her creative look!
Short Blue Ombre
Blue ombres aren't subjected to long hair. If you have short hair, you can easily pull off this cute look. Her roots are black but it quickly fades to a pretty blue/violet color at the tips. The short bob makes this look especially cute! Hair by @reyhairstylist.
Crochet Braids and Curls
If you want to liven up your crochet braids, add some blue curls to the bottom! This is a super unique look that will look amazing on anyone. And on the model, the blue curls mix with lavender for an even more beautiful look. Credit: @alexa_stylocutz.
Green and Blue
Another great color combination is green and blue, which is what @abbotssantana did to her hair. She has green/teal at the top of her hair and it fades to a blue at the bottom. This is such a cute summer look!
Hair Extensions
This is the hair extensions look I was talking about. Doesn't her hair look so natural? Before, her hair was a natural brown, and it was straight. But after, the extension specialist puts in the blue extensions and curls her hair.
FAQs
Question: How Do You Do Blue Ombre Hair DIY?
Answer: This tutorial by Charity Grace is probably the best one I've seen. Click here to watch the tutorial.

Keep in mind, this is a look that doesn't use any bleaching and her hair is already blue. If your hair isn't blue and/or you have to bleach your hair, I don't suggest doing DIY hair color. She does, however, use a color remover to turn the ends of her hair white.

Charity uses two shades of blue. Pretty much, you apply the darker blue to the roots and apply a rich, sea-blue mid-shaft. She explains to blend the dark and rich blue colors together and not go too far down with the rich blue.

She also has a cool suggestion — applying conditioner or a hair mask to your ends. This not only conditions your ends but prevents any of the blue from spilling into your ends.
Question: Can You Do a Blue Hair Balayage Instead of Ombre?
Answer: Absolutely! Unlike an ombre, a balayage paints two or more shades of color into your hair. And unlike an ombre, you do a balayage all over your hair — not just on the top or bottom. The stylist places the highlights (in this case, the blue) in the spots where sun naturally hits.

You can do a multi-shade of blue balayage or mix blue with other colors. While an ombre is easy to do DIY, you should absolutely get a balayage done by a professional — even if you're not bleaching your hair.
Question: Can I Lighten My Black Hair Without Bleaching It?
Answer: Well, this is new to me. I guess they make special dyes that lighten black hair without bleach.

However, you have fewer options. These pretty much only include different shades of red and violet. But if you want different colored highlights, you can also find products that put highlights in your hair without bleaching it.

Keep in mind, many of these products require a separate developer.
Bottomline
Blue hair is all the rage and there are so many different looks you can do, including the blue ombre.
Blue hair doesn't last as long as other colors and can stain. But as long as you maintain it well, you'll have an amazing ombre that you'll love. If you're not sure which blue ombre look you want, be sure to use the looks we found as inspiration.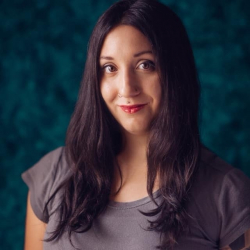 Latest posts by Stephanie Jensen, Hair Trend Spotter & Home Tester
(see all)