You likely heard the term "balayage" before. But what does this term mean? A balayage is a hair coloring technique. "Balayage" is French, meaning to paint or sweep. That's exactly what a balayage is — the stylist paints on the color rather than using foils.
Out of all of the different balayage looks, the classic blonde balayage is one of the most popular. Here's your guide to the blonde balayage and some looks to use as inspiration.
What Is a Blonde Balayage?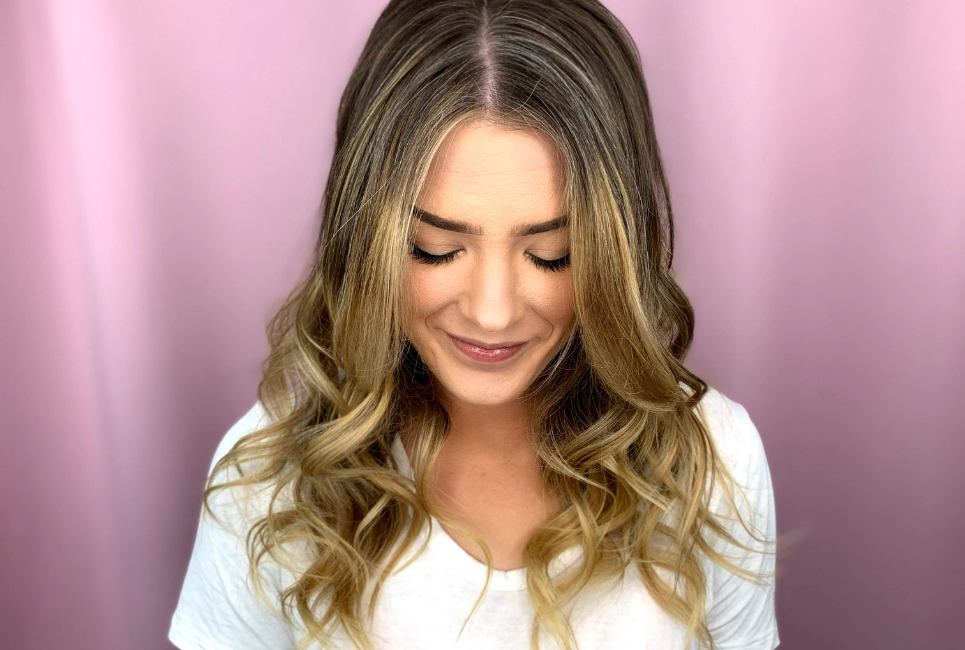 As stated previously, a balayage is a coloring technique where the stylist paints on the color.
The goal of a blonde balayage is to blend the blonde highlights into your hair. The blonde will more give your hair dimension, rather than highlighting your hair. Some blonde balayages brighten up your hair and others look more natural.
The goal of a balayage is to have striking blonde hair that will grow out beautifully, so you don't have awkward tones or growing roots.
Balayage vs. Highlights vs. Ombre
You usually see balayage used interchangeably with highlights and ombre. However, all of these terms are different. It's important to understand the differences to ensure you're satisfied with your hair color.
Highlights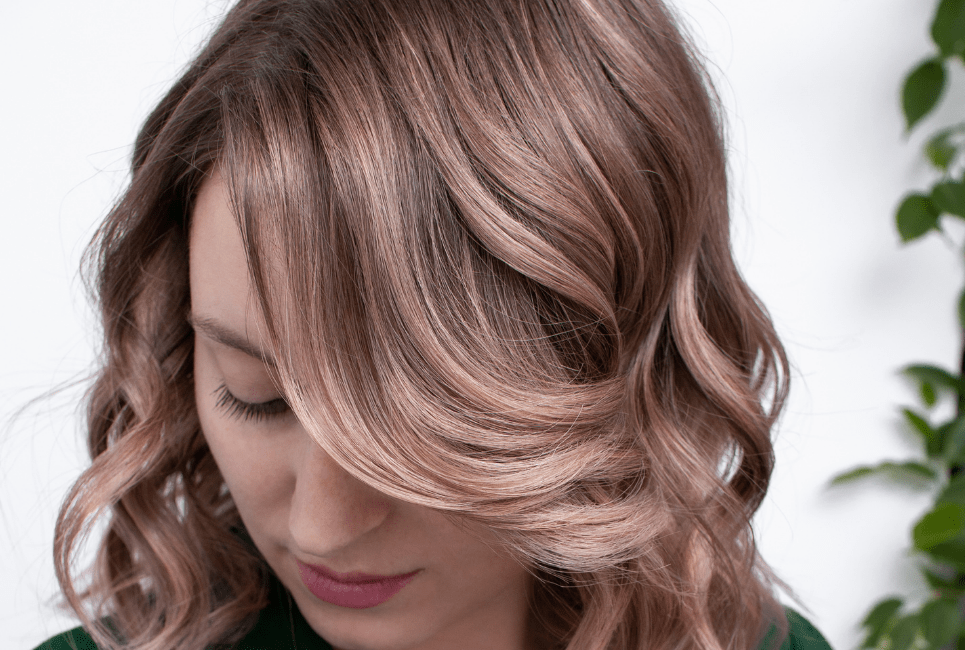 Highlights are pieces of your hair that are lighter than your hair color. The stylist does this technique by sectioning off pieces of hair, applying bleach or color, covering your hair with a cap, and placing your hair under heat for a specific amount of time.
Choose highlights if you want something that will truly brighten up your hair and complexion. The result is a very uniform finish, whereas a balayage is very sporadic since the stylist doesn't use foils or heat. Choose a balayage if you want something more natural-looking.
Ombre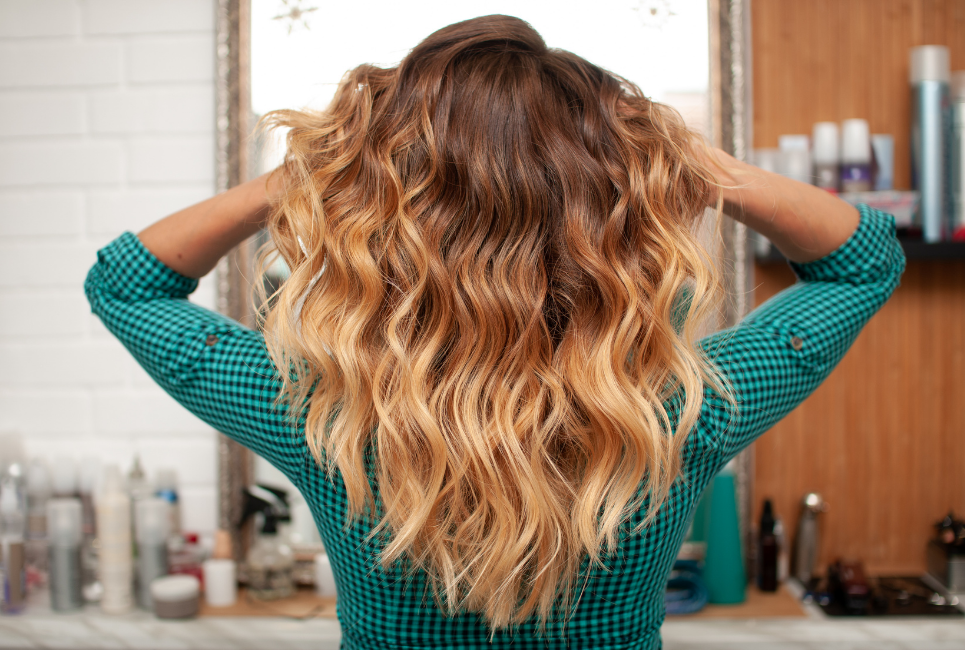 Balayage especially gets mixed up with the ombre because they combine two or more colors.
However, an ombre is distinctive because this technique specifically transitions hair from dark to light or light to dark from your root to your ends. This creates a gradient effect, so state you want an ombre if you want this look.
This is different from the balayage because the color can be placed anywhere in your hair. If this sounds more like what you want, then choose an ombre.
Blonde Balayage Maintenance
Your blonde balayage maintenance depends on the style you have. If your hair is a silvery balayage and you naturally have brown hair, you'll be maintaining your hair more than a natural blonde who got a sunkissed balayage.
While you can maintain your color DIY by not washing your hair as frequently, you'll get the best results when you go to the salon for touch-ups.
How to Choose a Shade
The best course of action is to talk to your hairstylist. Discuss your vision with them, but understand your stylist may recommend a color that better complements your complexion. They will also consider other factors, such as touch-ups and the maintenance you can do at home.
How Much Does a Blonde Balayage Cost?
Since you may have to go for frequent touch-ups, you'll want to know how much you can expect to pay. You'll get the best results when you go to the salon, though it's possible to achieve a great balayage at home. Therefore, I will list both prices here.
Professional
All salons are different. Many charges per service, which can be as much as $160. However, some only charge per piece. That's because the stylist may not apply dye all over your hair, only to sections. If that's the case, expect to pay $25 per piece. This may also be the pricing when going back for touch-ups.
DIY
To calculate the cost, you'll have to know your tools. Basic tools include:
Two colors of hair dye: can cost between $5 and $40, depending on the product. I'll just go with $30 per bottle for great dye, so $60 altogether.
Comb: $5
Hair clips: $10 for a pack
Purple shampoo: $20 for a good one
Conditioner for color-treated hair: $25 for a good one
This all totals to $120. Keep in mind, you'll want to use high-quality shampoo and conditioner anyway, even if you go to a salon. I will take off the $45, which leaves the total to $75. You'll still save money, but a balayage is a lot easier to achieve when you go to a salon.
Who Looks Best With a Blonde Balayage?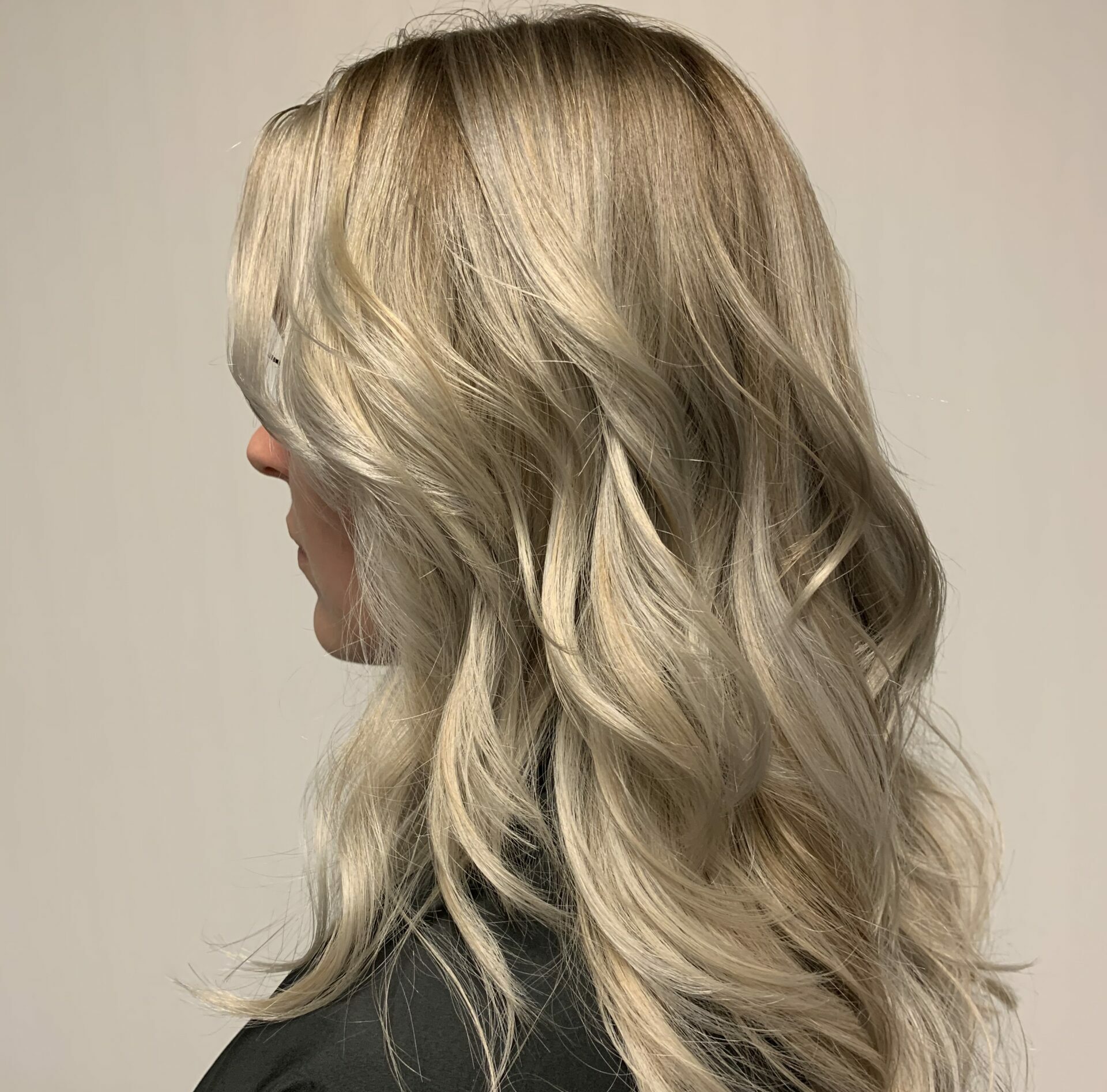 First, anyone whose hair is naturally blonde can pull off the blonde balayage look the best. That's because it will be easier to blend all of the different colors and you won't need as many touch-ups, which we will discuss more in the next section.
Otherwise, the blonde balayage look you should choose depends on your skin tone.
If you have a warm skin tone, do a beige or brown balayage that leads to blonde hair. If your skin tone is cool, a dirty blonde with ash blonde balayage will create interesting dimensions. And if your skin tone is neutral, you're in luck! Any shade of blonde looks amazing on you.
Additional Tips
Avoiding Touch-Ups
While we mentioned touch-ups are integral to maintaining your balayage, there are ways you can decrease or even avoid touch-ups.
First, try to keep your balayage as close to your natural color as possible. Mention this to the stylist, who will blend certain colors to stretch your salon visits and ensure your balayage looks natural.
If you are doing a balayage that's a different shade from your natural color, your stylist can still apply different techniques, such as a smudge and shadow root, to reduce your salon visits. For example, smudge roots are a technique that blurs the transition line between your natural hair color and the dye.
Shadow root is another popular option. However, this technique involves your stylist blending a custom color and applying it after lightening that will ensure your natural color roots won't create harsh lines.
Caring for Your Hair
Balayage aftercare is essential. First, always use high-quality hair products. Your hair likely took a beating to the bleach, so be sure to use moisturizing shampoo and conditioner that's silicone-free and safe for color-treated hair. A leave-in conditioner is also recommended.
Blonde Balayage Ideas You'll Love
Are you ready for your blonde balayage? Here are some of our favorite examples of blonde balayage inspiration.
Blonde and Brown Dimensions
This blonde and brown balayage that @_watchmepaint has looks so effortless and natural. The blonde brightens her up and the brown creates some unique dimensions. Her hair is straight in the picture, but I can also see this looking amazing with curly hair.
Dark Blonde Balayage
 

 

View this post on Instagram

 
I like to think of a dark blonde balayage as a dirty blonde, but the pretty version that you used to get when your hair used to get natural highlights from the sun. This shade of balayage typically looks more iridescent and is done on girls with naturally darker hair. If your hair is too light to begin with, there won't be enough contrast between the dark blonde balayage and your roots.
Golden Curls
If you want more of a golden blonde balayage, this is one I would choose! The model's blonde is so golden yet still looks so light, especially when against her beige roots. The look also creates more of a highlight that totally brightens her up. Hair by @taylordidmyhair.
Icy Cold
Ash-blonde is such trending hair color, and @kayluhskolors has a seriously eye-popping ash blonde balayage that looks so icy cold. Her roots are ash blonde yet her roots are beige and dark brown. Yet, the colors blend perfectly. Her hair is so popular, she's even a finalist in a hair competition!
Strawberry Blonde Balayage
 

 

View this post on Instagram

 
Strawberry blonde is a lighter version of red hair that is slightly on the less warm side of ginger. When doing a strawberry balayage, I like to add golden balayage pieces to naturally red hair or colored red hair. This gives you a beautiful golden, red look that will make people wonder if your hair is natural.
Dark Brown and Blonde
Are you a brunette and want a blonde balayage? You may think that requires so much bleaching and maintenance. Actually, you can achieve a chic balayage by looking at this model as an inspiration. Blonde streaks dust her naturally dark brown hair, and the look is extremely lovely. By @kainandecanine and posted by @bestofbalayage.
Auburn Love
One of the best aspects of the blonde balayage is it's so versatile. Here, the model has almost auburn hair at the roots and copper-blonde at the roots. The look is extremely unique yet subtle, it looks so natural. Hair by @balayageby_mtlewis.
90s Balayage
It could be me, but the way that this style looks reminds me of the 90s. Especially with the bangs being that light, ash blonde, it reminds me of Ginger Spice.
Anyway, the ash-blonde details and dark brown roots are other great looks for brunettes who don't want to commit to going full blonde. Posted by @zaferpolaat.
All Ice
Earlier, I posted a picture of an ash blonde balayage where the model also had dark brown and beige in her hair. But if you want to go full ice blonde, this is a phenomenal look to use as inspiration. The blonde is super light but there are still subtle reddish hints in here for added definition. Credit: @hairby_hege.
Blonde and Caramel
If you love the blonde and caramel look, you will love this balayage look. The model has naturally dark auburn hair and @hair_byantonia added golden blonde accents for a rich, caramelly look. With added highlights of red and dark brown, this look has a seriously amazing definition.
FAQs
Question: Can You Do a Blonde Balayage If You're Not a Natural Blonde?
Answer: While we recommend getting a blonde balayage if you're a natural blonde, you can definitely achieve this look with any existing hair color. That's because there are so many shades of blonde and your blonde balayage options are limitless.

Adding a blonde balayage to your existing hair color will give you an amazing definition and will give you a softer look. We actually suggested a few looks if your hair is naturally brown or auburn.
Question: Can I Do a Balayage in One Sitting?
Answer: This depends on many factors, mainly what balayage you're doing and the health of your hair. As long as your hair is healthy, you are usually able to do a balayage in one sitting.

But if the stylist needs to do conditioning and strengthening treatments, you'll need more sittings. Since we're talking about a blonde balayage, you'll need more sessions to properly bleach your hair if you're going from dark hair to blonde.
Question: How Long Does a Balayage Last?
Answer: This depends on several factors, such as your natural hair color, the quality of the service, and how often you wash your hair.

If you mainly worked with your natural colors and don't wash your hair too often, the balayage can last as long as four months. If your hair is naturally darker and you wash your hair frequently, your balayage won't last as long.
Question: How Often Do I Need Touch-Ups?
Answer: Again, this largely depends on your natural hair color, the blonde balayage look you chose, and how you care for your hair.

If you stick with your natural color, you may not need touch-ups. If you dyed your hair completely and don't wash it often, you may get away with waiting a few months before your next touch-up.
Question: How Will My Balayage Fade?
Answer: As long as the stylist did a quality job, the balayage will fade more into your natural color. You shouldn't get harsh lines that transition from your roots to the dyed ends (you can always double-check this with your stylist). You may notice the dyed parts aren't as vibrant, but the color will still look good.
Question: Does a Balayage Reach the Root?
Answer: We mentioned that a balayage is more sporadic than other coloring techniques and your stylist can apply it practically anywhere.

Does that include the roots? Yes, depending on the look. If you're using colors that are different from your natural color, the stylist may blend the color around your roots to ensure your hair looks natural.
Bottomline
Balayage hair is a major trend, but not many people understand what it is. Balayage is a hair color technique where the stylist paints on the dye as opposed to using foils, which makes it different from an ombre and highlights.
Out of all of the balayage looks, the blonde balayage is seriously popular. You can combine two or more shades of blonde as well as mix blonde with brown or red hair for unique dimensions. Make sure you use one of our favorite blonde balayage looks for your next hair color!
This article was updated on 08/08/2022 by the Hair Kempt editorial team. Our goal at Hair Kempt is to provide the most up-to-date relevant hair information, ideas, and inspiration. We updated some of our ideas to give you better hair care information.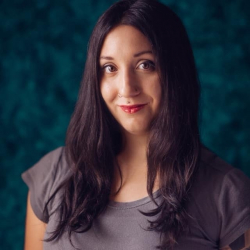 Latest posts by Stephanie Jensen, Hair Trend Spotter & Home Tester
(see all)