In our current ingredient-focused beauty landscape, where we carefully pore over the back of shampoo bottles and leave-in treatments before we make a purchase, there have been several buzzwords floating around: vegan, cruelty-free, sulfate-free, paraben-free, and of course, silicone-free. 
You've probably heard these terms bounced around when hair care is being discussed. Yet you may have wondered, what makes a silicone free conditioner better than one with silicones? And what the heck are these silicones that everyone is going on about in the first place? 
Wondering as to how you can get healthy, luscious tresses without that greasy feeling? Worry not, as we've got all the deets below. Read on, and soon you'll also be discoursing on the virtues of co-washing and vinegar rinse with the best of them. 
At a Glance: My Top 5 Silicone Free Conditioners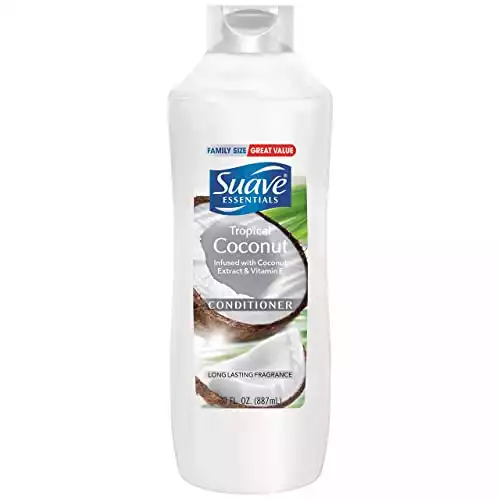 Suave Essentials Conditioner Tropical Coconut | Amazon
Suave Naturals shampoos and conditioners deliver long-lasting, nature-inspired fragrances. All Suave Naturals shampoos and conditioners are gentle enough to care for the whole family.
Buy at Amazon.com
We earn a commission if you make a purchase, at no additional cost to you.
08/03/2023 01:44 am GMT

What Exactly Are Conditioners?
"Shampoo and conditioner" is a set phrase we've all heard. But while shampoo is fairly straightforward — it's basically soap for your hair — what exactly is conditioner, and why do you need it?
Conditioner is a moisturizing hair product, often containing oils, emollients, and smoothening agents such as silicones. Think of it as a lotion for your hair.
While shampoo helps wash off dirt, excess oils, and product buildup, the surfactants that make them such effective cleansers can often be stripping and too harsh, so your strands end up brittle and dry. That's where conditioner comes in. 
Just as you'd apply some soothing moisturizer after cleansing your face, working conditioner through your hair after a sudsy wash is a great second step in caring for your locks.
Conditioner helps bring back moisture, making your hair smoother and easier to manage. It does this by reducing friction between hair strands, lessening tangles, and leaving you with silky, bouncy tresses.
The Different Types of Conditioners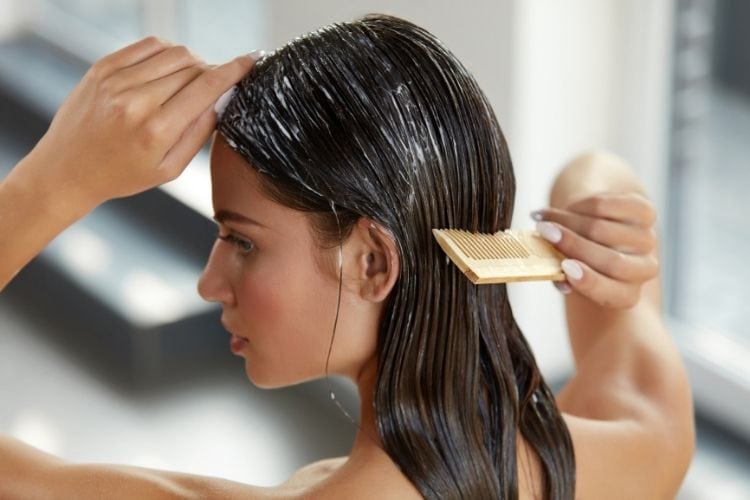 There are a few different types of conditioners that you can use, and each has a different effect on your hair. These include:
Leave in conditioner

Rinse out conditioner

Conditioner packs

Hair mask
Just as you'd want to choose the best shampoo for your hair based on its type, you'll also want to be careful in choosing the right type of conditioner for it, too. Let's go ahead and take a closer look at what each does for your tresses, shall we?
Leave-In Conditioner
As the name states, this type of conditioner is worked into the hair and left in without rinsing, so it has a lighter, thinner texture to avoid weighing hair down or making it too greasy. A leave-in conditioner is used as a hair serum to enhance hair smoothness and prevent tangles. 
Recommended for: Great for hair types that need extra hydration and moisture, such as curly or wavy hair.
Rinse Out Conditioner
This is the standard conditioner that you'll find on your supermarket shelves. With a thicker texture than a leave-in formula, rinse out conditioners are meant to be applied to the hair after a preliminary wash with shampoo and then rinsed out with water.
Recommended for: All hair types. There are many types of rinse out conditioners, whether they be for detangling, frizz control, moisture, or preserving hair color. 
They also come in formulas from ultra-rich to lightly hydrating. Whatever your hair type, you'll surely benefit from using some conditioner in the shower.
Conditioner Packs
The heaviest, most nourishing type of conditioner, with a thick texture and a higher percentage of moisturizing ingredients, pack conditioners are usually applied to the hair and left in for a longer time before being rinsed out. 
Great for when your tresses need some extra TLC, using a pack conditioner as a deep conditioning treatment can bring vitality back to even the most lackluster tresses. Due to its rich formula and emollient ingredients, pack conditioners can be too heavy for thin, oily hair.
Recommended for: Dry, damaged hair that needs some serious moisture and repair. Curly or wavy hair, which tends to be more porous and hence drier.
Hair Mask
These are a type of conditioner that only needs to be used once a week. It's almost like doing one of those in-salon hair treatments at home. They usually target a specific need, such as adding moisture to the hair, proteins back into the hair, reducing frizz, smoothing hair, or even balancing the hair's PH.
Recommended for: Everyone! There is always something that we want our hair to be better for, and there is most likely a mask designed for you.
What Are Silicones, and What Do They Do?
Now that we've covered the different types of conditioners, let's get into what's in them. The label on a bottle of conditioner might boast about the inclusion of organic oils, rich plant butters, or proprietary peptides that promote hair growth, all that good stuff. But there's one thing that you've probably seen highlighted as not being included in the formula: silicone.
What exactly are silicones? Ubiquitous in makeup, skincare, and hair care, silicones are synthetic water-repellent polymers that impart a smooth, velvety feel when applied.
These properties make them easy crowd-pleasers in hair care products, such as enhanced shine, smoothness, and softness (which are all a plus!). They're also vegan, hypoallergenic, and non-comedogenic, with decades of proven safe usage.
Despite this ubiquity, don't expect to see plain old 'silicone' listed on the back of your shampoo bottle, though. There are numerous types of silicones used in hair care products, and they go by a dizzying array of names. 
As a rule of thumb, most of them share the suffixes "-cone", "-xane", and "-col", such as dimethicone, cyclomethicone, and amodimethicone. Now that you know what to look for, let's explore why they're added in the first place.
Silicone in Hair Care
Silicone forms a protective waterproof coating around the hair cuticle, effectively reducing hair porosity. This locks hydration in while also protecting your strands from absorbing further moisture to prevent frizziness. 
The coating silicone forms is also excellent for protecting against damage caused by blow-drying and the use of heat-styling tools, such as curling irons and hair straighteners. With its smoothening properties and silky feel, it lubricates hair strands, making it an effective detangler. 
Silicone does have a lot going for it, hence its inclusion in numerous hair care products. However, this seemingly magical ingredient does have its downsides, which we'll talk about below.
What Makes Silicone Free Conditioner Better for Your Hair?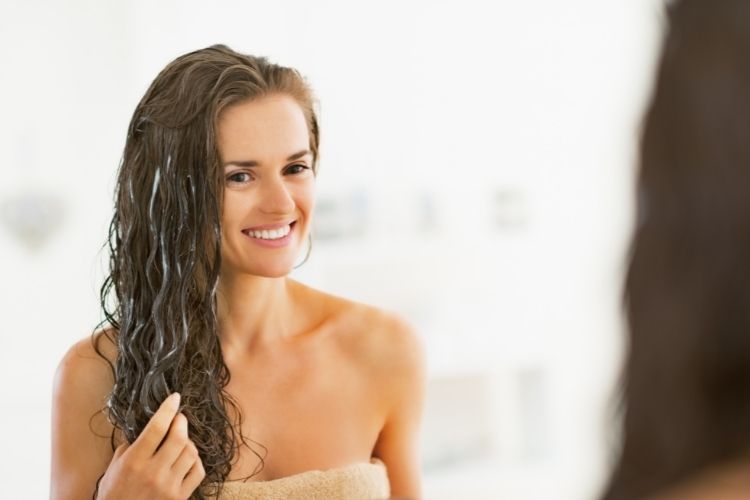 Silicone basically acts like the filter on your phone's camera. If you've ever used a silicone-heavy makeup primer to blur pores, smooth fine lines, and even out texture, then you'll easily understand why it's so popular. The nearly-instant effect feels magical. 
However, just like makeup primer, its effects are merely surface level. Not only can it mask damage without doing much to repair it, but it can also cause even further damage to your hair over time.
Build Up and Sulfates
The dark side of silicone may not be readily apparent. The protective layer formed by silicone doesn't just keep the bad stuff out: moisture and nourishment are also prevented from penetrating the hair shaft. This ends up drying out your hair, causing increased breakage.
Silicone's hydrophobic (water-repellent) quality doesn't only work to keep moisture out: it also makes it hard to wash off. When silicone builds up on your strands, it weighs your hair down.
It will also start attracting dirt, dust, and all sorts of unpleasant pollutants. Over time, this can lead to limp, dull, lifeless hair–the exact opposite of what you'd want! 
Because silicone is so good at sticking to hair, we need to use shampoos with strong surfactants (clarifying shampoos) to dislodge them and wash them away. The strongest type of surfactants are called sulfates. 
The trouble arises when we overuse sulfates, potentially stripping away too much moisture and damaging our tresses. This is especially bad for curly and wavy hair, both of which tend to be drier and more porous. 
A Vicious Cycle (Wash, Rinse, Repeat)
Since silicones are so difficult to wash out, constant use of harsh, surfactant-heavy shampoos is needed. This leads to a vicious cycle where you might use heavy conditioners to smooth out dry, damaged hair, and then need to use a strong shampoo with sulfates to adequately remove the thick silicone layer these conditioners impart. 
However, the stripping effect of these harsh clarifying shampoos just starts the cycle all over again, leading you down a path strewn with split ends, frizz, and breakage.
Say "No" to the 'Cone!
Break the cycle and switch to silicone free hair products instead. Instead of smooth, slippery silicones, silicone-free conditioners are made from a blend of alternative conditioning ingredients, such as oils and amino acids. 
While both silicone-containing and silicone-free conditioners do look alike once they've been squeezed out, you'll see a huge difference on your hair from the very first use. Silicone-free conditioners are more lightweight, and leave hair feeling soft, but without the telltale slip that silicones provide.
Since they're made with natural plant oils, silicone-free conditioners also rinse out more cleanly and wash out much easier than their silicone-enriched counterparts. The result? Smooth, light, clean hair that's still soft and moisturized. 
The Best Silicone Free Conditioners
Now that we've covered why silicone-free conditioners might be preferable and you're ready to make the big switch, we have some great recommendations you'll surely love. Whether you're looking for something light and hydrating or rich and nourishing, we've got the one for you!
What Was Our Inclusion Criteria?
Before we dive head-first into our list of silicone-free conditioners, we wanted to shed a little bit of light on why we chose these specific conditioners. After all, it wasn't just some arbitrary, at-random selection. Every single conditioner is on this list because it made it past our careful vetting process.
Each of the conditioners that we included had to be:
Silicone free.

Well, that's a given, isn't it? While some people might argue that water-soluble silicones aren't as bad for your hair, that's a story for another day.

Solid reviews. None of the conditioners on our list were panned by users, which was super important to us. Everything you'll find here is well-loved, both by the no 'poo crowd and shampoo lovers alike.
Fair prices.

We know that not everyone can afford expensive conditioners, so we wanted to make sure our list included a wide range of products. After all, nobody wants to have to take out a second mortgage just to wash their hair.

Readily available.

Each of the conditioners on this list can be easily purchased, either online or at your favorite drugstore. It wouldn't be fair to include a conditioner with all of these glowing reviews, but it was constantly out of stock, would it? We didn't think so, either.
Without further ado, let's go ahead and check out our picks!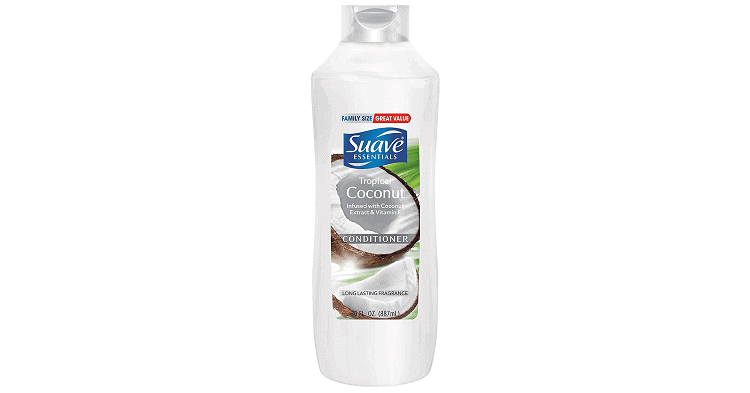 Light and smelling like a tropical dream, this luscious coconut-scented conditioner is formulated to moisturize hair without weighing it down or making it oily. With silk amino acids and coconut oil, this conditioner can help strengthen and restore your hair, making it even more healthy than before.
Furthermore, this is arguably one of the most affordable conditioners on the market, and a huge 30-ounce bottle generally will run you less than $2. If you're just getting into co-washing, then this is a fantastic choice, as you won't break the bank experimenting with it.
Pros
Light texture makes it ideal for fine, oily hair

Coconut scent has staying power, so you can smell great for longer

Rinses out clean, perfect for co-washing
Cons
Contains protein, which those with low-porosity hair might want to avoid

Scent can be too strong for sensitive noses

Not moisturizing enough for dry or damaged hair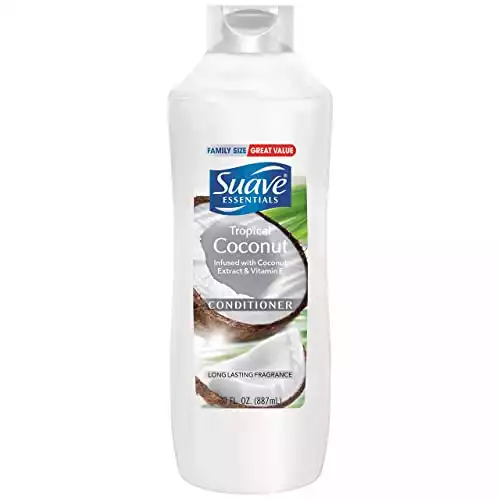 Suave Essentials Conditioner Tropical Coconut | Amazon
Suave Naturals shampoos and conditioners deliver long-lasting, nature-inspired fragrances. All Suave Naturals shampoos and conditioners are gentle enough to care for the whole family.
Buy at Amazon.com
We earn a commission if you make a purchase, at no additional cost to you.
08/03/2023 01:44 am GMT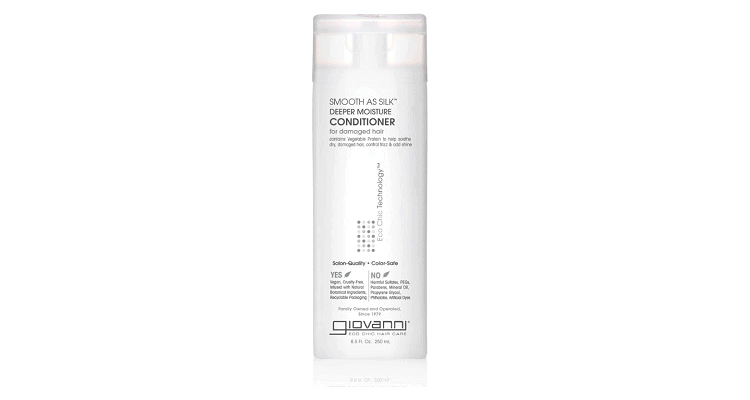 Specially formulated for damaged hair, Giovanni's vegan, color-safe conditioner infuses each strand with deep moisture for manageable smoothness. It detangles like a dream so hair is smooth as silk after each wash. 
This Giovanni Smooth as Silk Deeper Moisture Conditioner is available in four different sizes, from a trial-friendly 8.5 oz. bottle to a whopping gallon-sized jug.
Pros
Great at taming frizzy hair

Vegan, color-safe formula means anyone can use it

Light, subtle orange blossom fragrance 

Protein-rich formula is great for high-porosity hair

Lots of slip so detangling is a breeze

Lightweight texture makes it good for co-washing
Cons
Contains protein for those looking to avoid it

Might be too lightweight for dry hair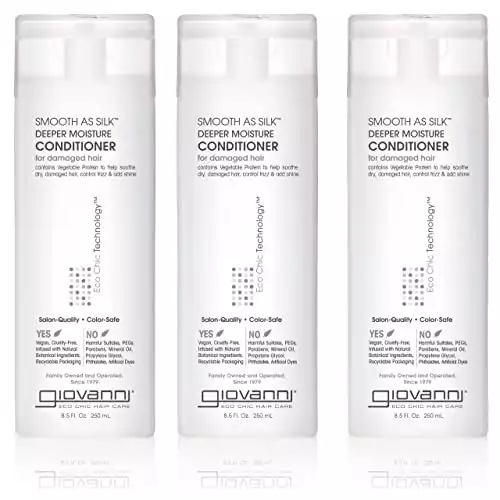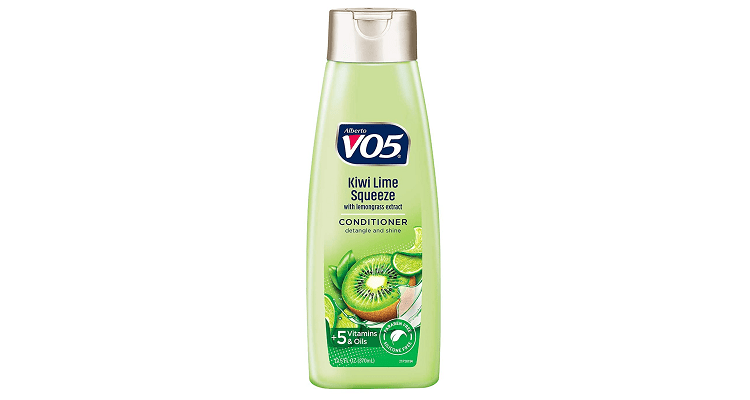 This hydrating, restorative conditioner features a unique blend of vitamin E, biotin, vitamin C, vitamin B5, and vitamin B3, along with herbal extracts of lemongrass, kiwi fruit, and juicy lime to nourish your hair while leaving it clean and bouncy. 
The light texture and zesty fragrance make this budget-friendly conditioner (most of the time, you can find a 12.5-ounce bottle for around a dollar) perfect for year-round use. Plus, most of their conditioners are silicone free and come in many scents, giving you your pick of which one to try out.
Pros
Clarifying formula is great for co-washing

Rinses cleanly so you don't have to worry about buildup

Protein-free formula for high-porosity hair

Refreshing fruity fragrance 

Thin formula is perfect for fine, oily hair

Less than a dollar for a bottle — talk about a bargain!
Cons
Fruity fragrance might not suit those who don't like sweet scents

Might not be moisturizing enough as a regular conditioner

Runny consistency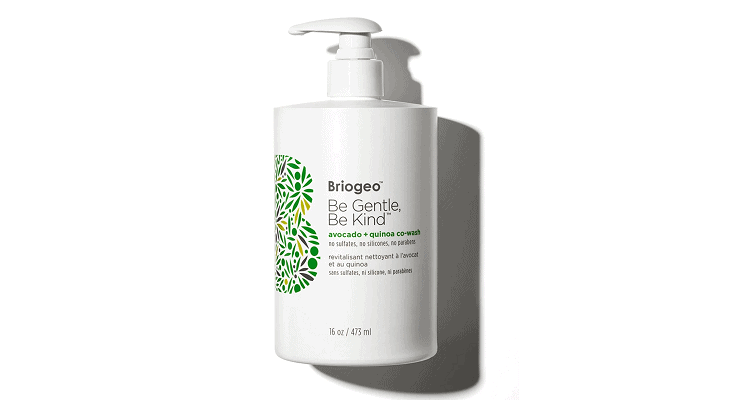 From the cult NY-based brand Briogeo, go longer between shampoos with this gentle 4-in-1 co-wash formula that's perfect for those with dry, textured hair. 
Made with Briogeo's proprietary NOVA (Natural Oils, Vitamins, and Antioxidants) complex to support healthy hair growth, this ultra-hydrating co-wash gently cleanses, conditions, detangles, and nourishes — without stripping hair of its natural oils.
Enriched with shea butter, avocado oil, protein-rich hydrolyzed quinoa extracts, and aloe vera for extra nourishment.
Pros
96% natural formula, free of sulfates, phthalates, parabens, DEA, and artificial dyes

Developed especially for textured hair

Co-wash formula is gentler than shampoo but rinses out better than regular conditioner

Soft vanilla scent

Non-comedogenic squalane softens and adds extra nourishment
Cons
Need to use multiple pumps per wash, especially for thick, curly hair

Higher price range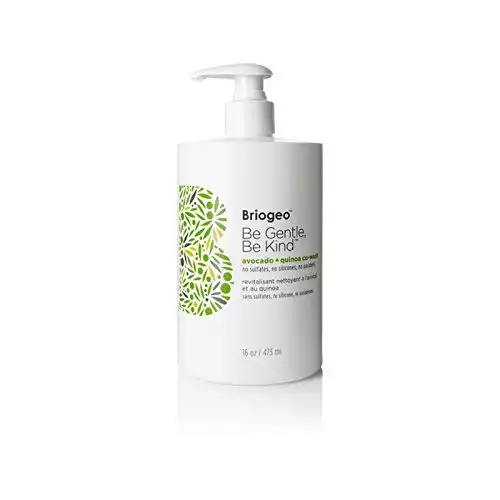 Briogeo Be Gentle Be Kind Avocado + Quinoa Co-Wash | Amazon
Briogeo's Be Gentle, Be Kind Avocado + Quinoa Co-Wash contains a 4-in-1 formula that effectively cleanses, conditions, detangles, and nourishes hair. This ultra-hydrating cleanser removes impurities without stripping hair of natural oils.
Buy at Amazon.com
We earn a commission if you make a purchase, at no additional cost to you.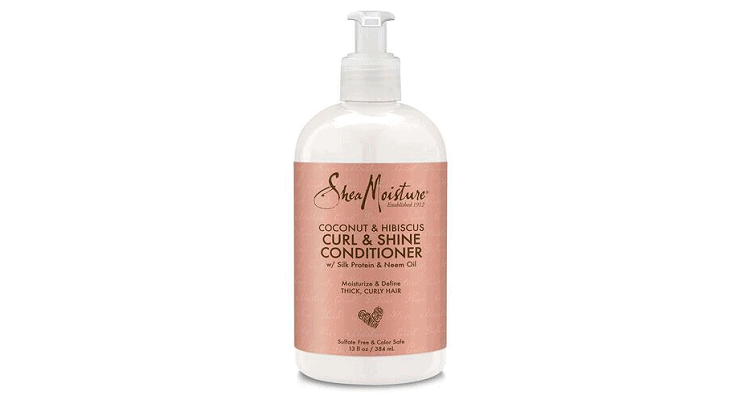 Specially formulated for thick curly hair that's in need of moisture, this hydrating conditioner helps define curls, leaving them soft and bouncy. Enriched with fair trade shea butter for long-lasting moisture, you'll love how it makes your hair feel.
Plus, it comes with jojoba seed oil and mango butter for extra hydration, silk protein and meem oil to protect hair from external pollutants, as well as aloe and rosemary extracts, making this a serious powerhouse. You'll love how the formula gently nourishes your hair for tangle-free curls that are noticeably healthy and defined.
Pros
Lightweight formula hydrates but won't weigh your hair down or leave it gummy

Formulated especially for curly hair

Cruelty-free

Enchanting and long-lasting beachy floral scent

Free of sulfates, parabens, phthalates, mineral oil, and other petroleum-derived ingredients. 
Cons
Not suitable for other hair types

Might not be rich and emollient enough for those with extra dry hair

The pump is a bit thin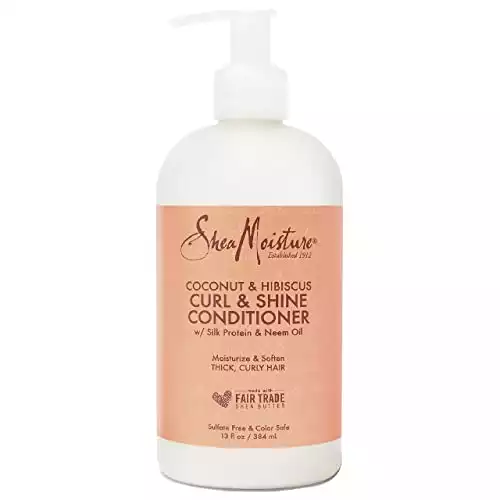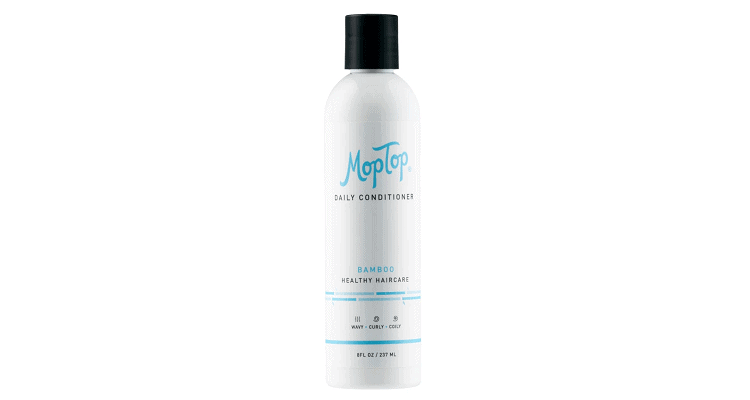 With soothing aloe, nourishing honey, and calming marine botanicals crowding at the top of the ingredients list, this natural conditioner is great for thick and textured hair. Proudly made with curl-friendly ingredients, this bamboo-scented formula calms and nourishes instantly.
Pros
Restorative aloe and calming sea botanicals will revitalize dry, damaged hair

Refreshing bamboo fragrance leaves hair smelling great

Silk amino acids strengthen brittle locks

Natural, water-soluble ingredients 

Free of parabens, sulfates, phthalates, and dyes
Cons
Only comes in small 8 oz. bottles 

Scent fades quickly, which is a bummer for those who love the crisp fragrance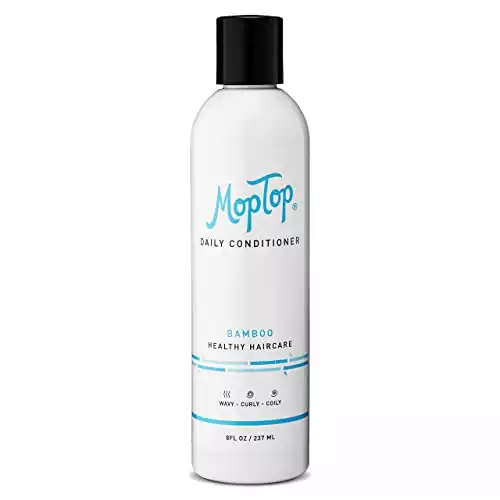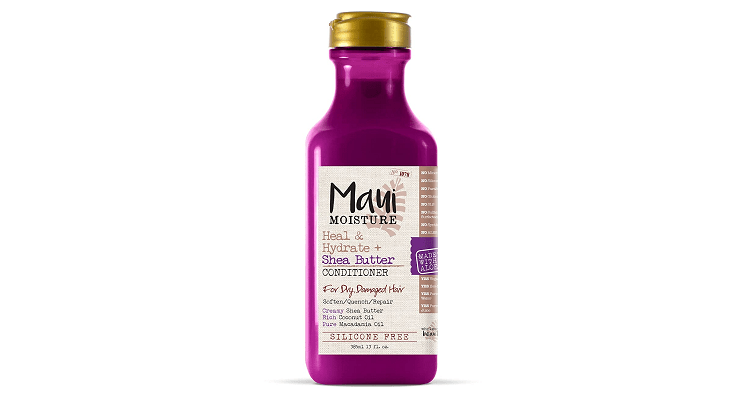 Fretting over dry, damaged locks, brittle ends, and breakage? Look no further than this rich conditioner from Maui Moisture. 
With whipped shea butter, creamy coconut milk, and pure macadamia oil, this nutrient-rich formula with an aloe base deeply quenches, repairs, and softens dry strands. Even better, it's surprisingly affordable for everything it does for your locks!
Pros
Aloe Barbadensis Leaf Juice is at the top of the ingredients list of this nourishing formula

Creamy pina colada fragrance

Vegan formula that's safe for colored hair

Ideal for tight curls

Infused with coconut water for hydration

Free of parabens, sulfates, mineral oil, and contains no synthetic dyes
Cons
Emollient formula might be too rich for fine, oily hair

No seal on the tub version

The hard plastic material of the squeeze bottle makes it difficult to get out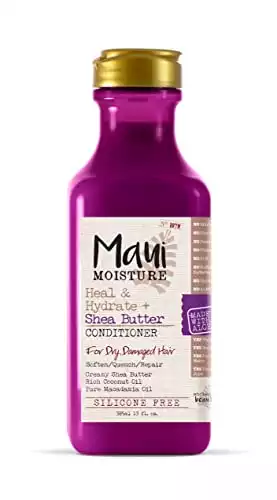 Frequently Asked Questions
Question: How Can I Choose the Right Conditioner for Me?
Answer: Even though we carefully choose moisturizers that would work best on our skin type, most of us don't put the same care into choosing the conditioner that would be right for us. To do so, we must first know our hair type and our hair's porosity.
Question: What Are the Different Hair Types?
Answer: In the system of classification popularized by celebrity hairstylist Andre Walker, hair can be divided into 4 types denoted by the numbers 1, 2, 3 and 4.

These 4 types are further divided into 3 subclasses each, denoted with the letters a,b, and c based on the tightness or looseness of the curl or wave pattern of the hair, with a being the loosest and c the tightest. 

Type 1: Straight
Straight hair may be fine or thick, but it will always fall in a straight line from root to tip. Due to its straight shape, oil is able to travel down the strand from the scalp, so this type of hair tends to be shiny and glossy, but also gets oily the fastest.

Type 1A – pin-straight and extremely fine
Type 1B – Straight, but with a bit of texture and volume
Type 1C – Straight and with lots of texture, thickness, and shine

Type 2: Wavy
Wavy hair has a tousled look and S-shaped waves. It tends to be thicker than straight hair and tends to be prone to frizz.

Type 2A – Fine and thin, with straighter roots and more texture at the ends 
Type 2B – Waves start higher up on the head, with more body to the waves
Type 2C – Wavy from the roots, with lots of texture and volume 

Type 3: Curly
Curly hair has well-defined curls when dry and is straight when wet. Along with lots of volume, curly hair tends to be prone to frizzing, so extra care should be taken when brushing.

Type 3A – Defined curls with shine and texture, with large, loose loops 
Type 3B – Tighter curls that spring from the roots, with lots of volume
Type 3C – Very tight curls or coils around the circumference of a pen.

Type 4: Coiled/Kinky
This type is defined by very tight, defined curls. It tends to be quite delicate and needs lots of moisture and care.

Type 4A – Tight, well-defined small curl pattern with a spiral S-shaped coil
Type 4B – Very tight curls, with a zig-zag pattern.
Type 4C – Extremely tight curls with very small coils

Hair type is genetic, and there are no good or bad hair types. The important thing is to use the right products for your hair and keep your locks healthy and strong.
Question: What is Hair Porosity, and Does it Matter When Picking Out a Conditioner?
Answer: Even if a strand of hair looks smooth, it's actually composed of numerous layers known as cuticles. The cuticle is the protective, outermost layer of our hair, and porosity is the degree to which the cuticle allows moisture, oil, and nutrients to pass into and out of the hair strand. 

The structure of the cuticle is what determines our hair's ability to absorb and retain moisture. Hair porosity can be divided into three categories:

Low porosity: Cuticles are very compact and close together. Due to the cuticle having so little space in between, low porosity hair is not able to easily absorb moisture and can easily get weighed down by conditioner. This type of hair needs frequent washing due to prone to buildup, especially from protein.Look for products with humectants such as glycerin and honey over those with emollients such as rich plant oils and butters. Avoid protein in your hair care products as too much protein will turn low porosity hair weak and brittle. Lighter textured products are ideal for this type of hair porosity.

Medium porosity: Cuticles that are less compact than in low porosity hair but still tightly packed. This type of porosity means that moisture can pass into your hair easier, but do note that it can lose moisture easier than low porosity hair.Medium porosity hair handles heat, coloring, and chemicals fairly well, but care should still be taken as hair porosity can increase over time as hair gets damaged. Avoid or minimize products with protein, but a weekly or monthly deep conditioning mask with protein can be helpful.

High porosity: Cuticles are widely spaced, so the gaps allow moisture to pass through far more easily than in the other two types. Due to the added moisture, high porosity hair can be prone to frizz, knots, and tangles during humid weather, and become dehydrated and brittle during cold, dry weather, leading to breakage.Make sure to use products that help seal your cuticles, such as plant oils and butters (like jojoba, coconut, olive, and shea). This will help lessen the porosity of your hair. Pay attention to moisture and use heavier, more emollient products as needed when your hair feels dry. Protein-rich treatments can also help strengthen your locks.
Question: How Can I Tell What My Hair Porosity Is?
Answer: A quick and easy test you can do anytime is a float test. Take a strand or two from your brush and put them into a bowl filled with water. Leave them for a few minutes and see what happens. 

If the hair is still floating, you have low porosity hair. If it sinks to the bottom, then the strand has absorbed water and become heavier, marking you as having high porosity hair. If it's floating somewhere in the middle, then you have medium porosity.
Question: Is Silicone-Free Conditioner Really Better?
Answer: It really depends on your hair type and goals, but if you asked us, we'd have to say definitely yes. While silicones can make your hair feel soft and silky after washing it, they only mask the underlying damage. 

Plus, constantly having to use harsh surfactants and sulfates to wash out the 'cones can cause damage to your hair over time. We're personally a huge fan of co-washing, and silicones just aren't compatible with it.
Question: Should I Avoid Silicones in Other Hair Products, Then?
Answer: We should preface this answer with a little disclaimer: silicones, in and of themselves, aren't inherently dangerous. Using silicones isn't going to necessarily harm your health, but yes, they can damage your hair. Does that mean you should avoid all silicones, though?

If you're the type of person who likes to heat style your hair, then silicones do have their time and place, as they can offer protection against heat damage. That said, if you're going to use hair products with silicone, try to find water-soluble silicones. That way, they'll wash out, without needing to use sulfates.
Our Final Thoughts
Using, or avoiding, silicones is largely a personal choice. Some people tried to go the no 'poo route, and found they hated it. It's not for everyone, that's for sure. But even if you still need to lather up your locks, you can still benefit from silicone-free conditioners.
Of all of the products on this list, we'd have to say that our favorite is actually Suave Essentials Tropical Coconut Conditioner. It's ridiculously affordable, smells incredible, and is a fantastic entry-level and long-time co-wash friendly conditioner.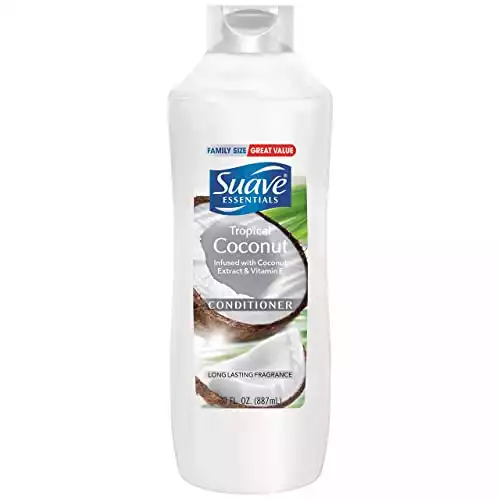 Suave Essentials Conditioner Tropical Coconut | Amazon
Suave Naturals shampoos and conditioners deliver long-lasting, nature-inspired fragrances. All Suave Naturals shampoos and conditioners are gentle enough to care for the whole family.
Buy at Amazon.com
We earn a commission if you make a purchase, at no additional cost to you.
08/03/2023 01:44 am GMT

No matter what hair type you have, with the right products and some time and care, you'll be sure to have a crown of lush, healthy locks. And we hope that by sharing with you some of our favorite 'cone-free conditioners, you can finally have the hair of your dreams!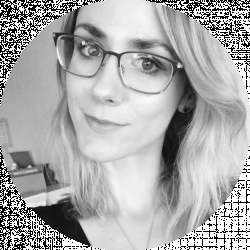 Latest posts by Karyl Trejo
(see all)