When it comes to luxury haircare, Nexxus hair products are probably the main brand that comes to mind. They have a variety of hair care formulas for different hair types and to treat a variety of hair issues. You can find Nexxus on the shelves of your local drugstore or beauty store. Nexxus products are also popular online.
The brand has great promotion; for example, they have two million views on their YouTube channel.
I have been using Nexxus products for years and absolutely love their line. I'm actually using one of their shampoos now, the Clean & Pure Detox Shampoo, which I will be going over in this Nexxus shampoo review.
I got the shampoo during the height of the COVID pandemic; I usually choose moisturizing shampoo, but chose a daily deep cleaning shampoo because I wasn't sure how much of the virus was living in my hair (it's not clear how long the virus lives on hair and facial hair).
What I love about this shampoo is how it deep cleans your hair while keeping it moisturized. That's a big deal for me, since I've been washing my hair daily lately.
Key Features Up Front
Cleanses while locking in moisture
Make shampoo for a variety of hair types and problems
Salon-crafted brand that you can buy at the drugstore
Products are made with high-quality ingredients
Pros
I've been using Nexxus products for years, I love this brand!
Great for all hair types
Cleanses hair while maintaining moisture
Removes all oil and traces of build-up
Overall great quality hair products, not just shampoo
Cons
Only buy Nexxus from a reliable store or directly from the seller — I've been reading reviews where sellers get a less-than-quality product when ordering online
Some users reported to getting an allergic reaction (I personally never had that problem)
The shampoo I use may be too drying for some, depending on your hair type
While I think Nexxus is worth the money, many others may find them too expensive
The Shampoo I'm Using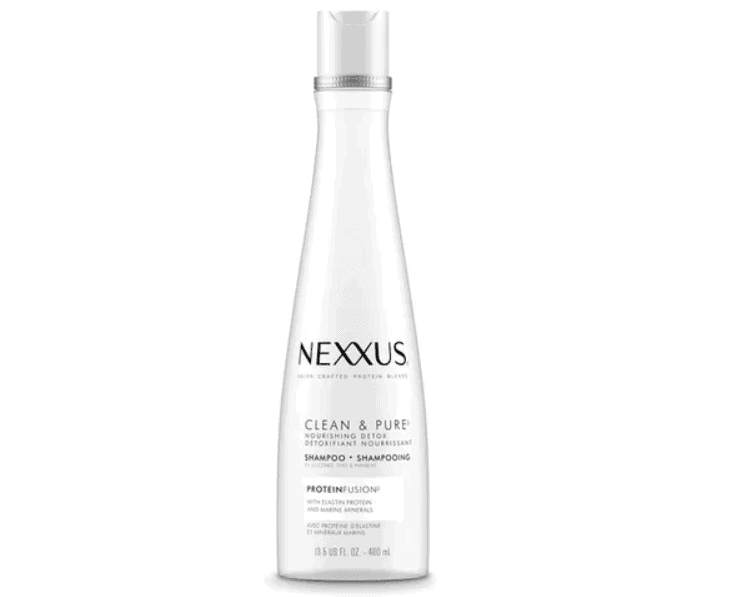 I'm using the Clean & Pure Nourishing Detox shampoo. It gently purifies, cleanses, and revives hair. This shampoo is formulated with a Protein Infusion comprised of Elastic protein and marine minerals. This helps preserve and protect your hair's natural protein.
The shampoo contains no silicones, sulfates, parabens, and dyes. It's ideal for all hair types.
Pretty much everything in the description is true. My hair is clean but also feels nourished. My hair is full of body and movement. It's very shiny and still soft to the touch.
My Hair Type
The Detox shampoo is ideal for all hair types, which is why I will recommend it to anyone who needs a serious cleaning — including those with dry hair.
Here's a little about my hair type. My hair is pretty normal. It doesn't get too dry but isn't oily. I have been washing my hair daily, but I usually wash my hair every other day and that usually works for me.
I'm actually pretty fortunate, my hair isn't unruly and I don't struggle with frizz unless I blow dry my hair without anti-frizz products. I don't really style my hair, I'll blow dry it on occasion and use a texturizing spray, but I've dyed and bleached my hair countless times. I pretty much repaired all of that damage.
I still do have color-treated hair because I have grays and dye my roots, but my last dye job is all washed out and faded (I know, I have to redo my color). Since this Nexxus shampoo is sulfate-free, I will probably continue using this shampoo.
Otherwise, my hair is THICK. Like I have to be charged extra for dye when I get my hair dyed at the salon.
I usually use the Weightless Moisture shampoo (I will discuss this more later) because I prefer a moisturizing shampoo but also don't want something to weigh down my hair.
I also don't typically use detoxing shampoos because I feel like they strip my hair of moisture. But I do have extremely thick hair, so washing my entire scalp is very difficult.
This shampoo is the best of both worlds. It washes my crazy thick hair while keeping my hair moisturized. Since this shampoo has no sulfates, I plan on using it for my color-treated hair.
Other Nexxus Shampoos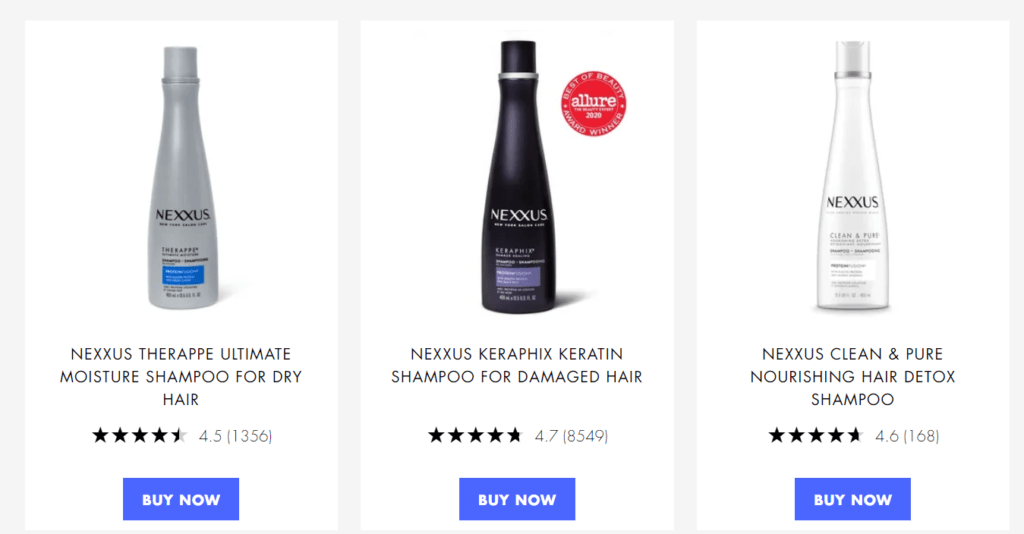 Nexxus has a wide variety of other shampoos in their line. These include: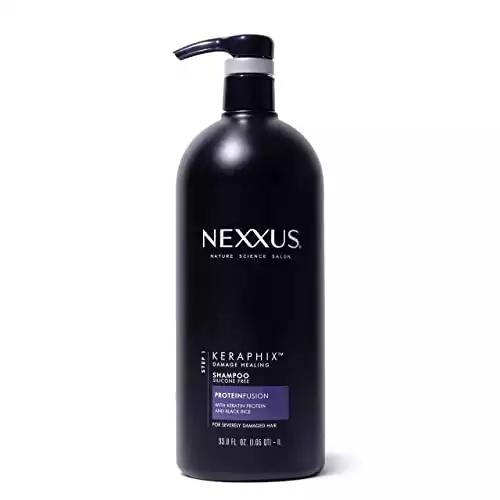 Nexxus Keraphix Shampoo | Amazon
Get the New York City salon experience at home with Nexxus Keraphix Shampoo for Damaged Hair, the first step to a powerful protein-infused keratin treatment that visibly heals signs of severe hair damage after just one use.
Buy at Amazon.com
We earn a commission if you make a purchase, at no additional cost to you.
08/02/2023 11:12 pm GMT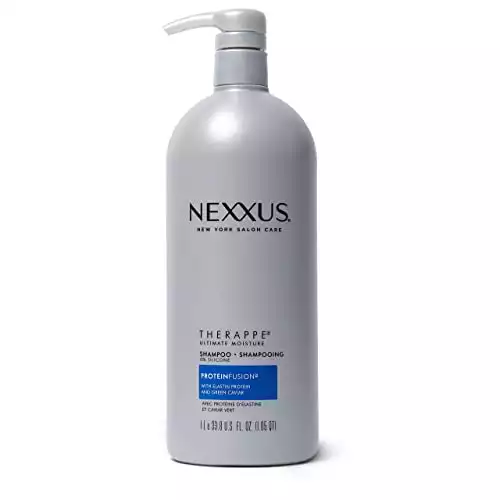 Nexxus Therappe Moisturizing Shampoo | Amazon
Nexxus Therappe Shampoo for dry hair leaves hair revitalized without weighing it down, giving it flexibility and suppleness. Salon crafted with Elastin Protein and Green Caviar Complex, this silicone-free shampoo has a lightweight formula designed to provide moisture for up to 24 hours to dry hair, when paired with the Nexxus Humectress Conditioner.
Buy at Amazon.com
We earn a commission if you make a purchase, at no additional cost to you.
08/02/2023 05:44 pm GMT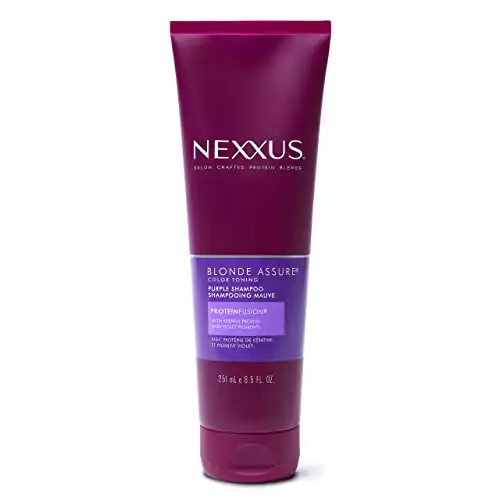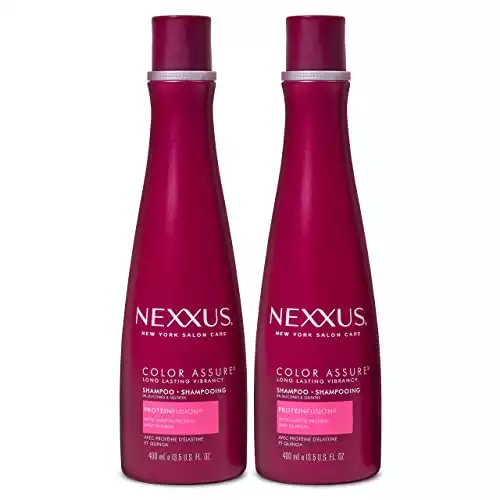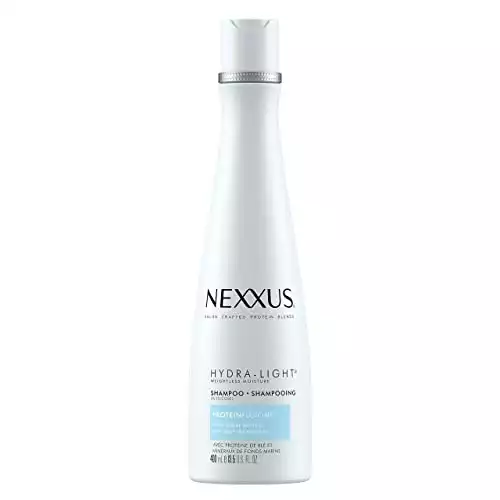 Nexxus Hydra-Light Weightless Moisture Shampoo | Amazon
Nexxus Hydra-Light Weightless Moisture Shampoo is a hydrating shampoo intended to give oily hair the luscious body it deserves. Use this shampoo to inject moisture into your hair without weighing it down.
Buy at Amazon.com
We earn a commission if you make a purchase, at no additional cost to you.
08/02/2023 05:28 pm GMT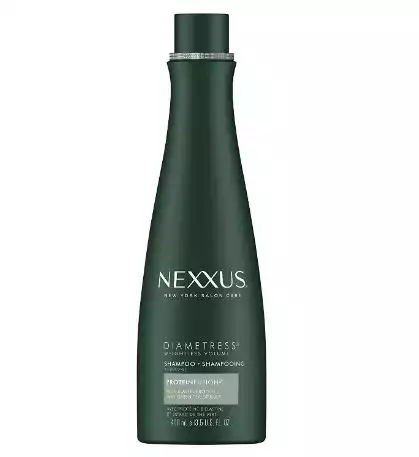 Nexxus Diamtress Volume Shampoo | Amazon
Salon-quality, silicone-free Nexxus shampoo volumizes fine hair. Enriched with Green Tea Extract and Concentrated Elastin Protein.
Buy at Amazon.com
We earn a commission if you make a purchase, at no additional cost to you.
08/02/2023 08:35 pm GMT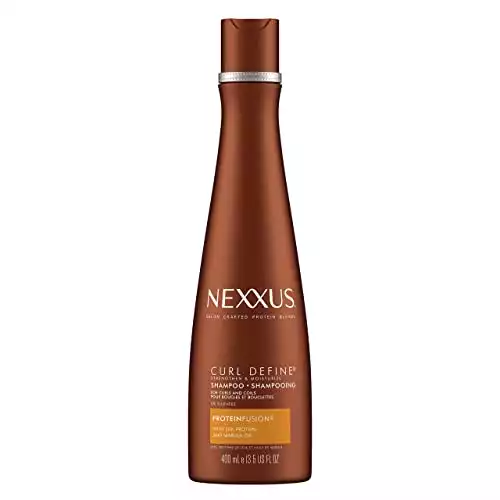 Nexxus Curl DefineCurl Define Shampoo | Amazon
This curly hair Shampoo strengthens and moisturizes curly and coily hair, when paired with the curl define conditioner It will restore strength from within. For defined, moisturized curls in one use.
Buy at Amazon.com
We earn a commission if you make a purchase, at no additional cost to you.
08/03/2023 12:11 am GMT

I color my hair often and usually use the Nexxus Color Assure shampoo. It never washes out my color and is very moisturizing.
I also used the Weightless Moisture Shampoo, which I think is their best shampoo. I do like using hydrating shampoos but many products weigh down my hair. I don't particularly have oily hair, but this shampoo cleanses the build-up while giving my roots the subtle bit of moisture they need.
Packaging and Price
Sure, Nexxus is expensive compared to other shampoos at the store. I paid about $11 Canadian for the shampoo I use now (about $8-$9 USD). Keep in mind, I got this on Amazon, making the price even cheaper. Nexxus products are more expensive at the grocery and drugstore.
However, you get what you pay for. Not only is the formula great quality but you get a lot of product. This shampoo is 13.5 Fl Oz. A little goes a long way, and this shampoo has lasted me for several months.
Have I Used a Bad Nexxus Shampoo?
Okay, maybe I never used a bad Nexxus shampoo, but I used a bad Nexxus dry shampoo. The Scalp Inergy Foam Shampoo is awful. It weighed down on my hair and didn't clean my scalp, only made my look even oilier.
I ended up giving it to my mom because I thought it was so gross. As I mentioned, I have color-treated hair, so I need dry shampoo since I don't wash my hair every day. So this was a huge bummer.
Alternatives
I absolutely love Nexxus shampoo, but there are other great hair products out there that are comparable. Here are a few of my favorite brands.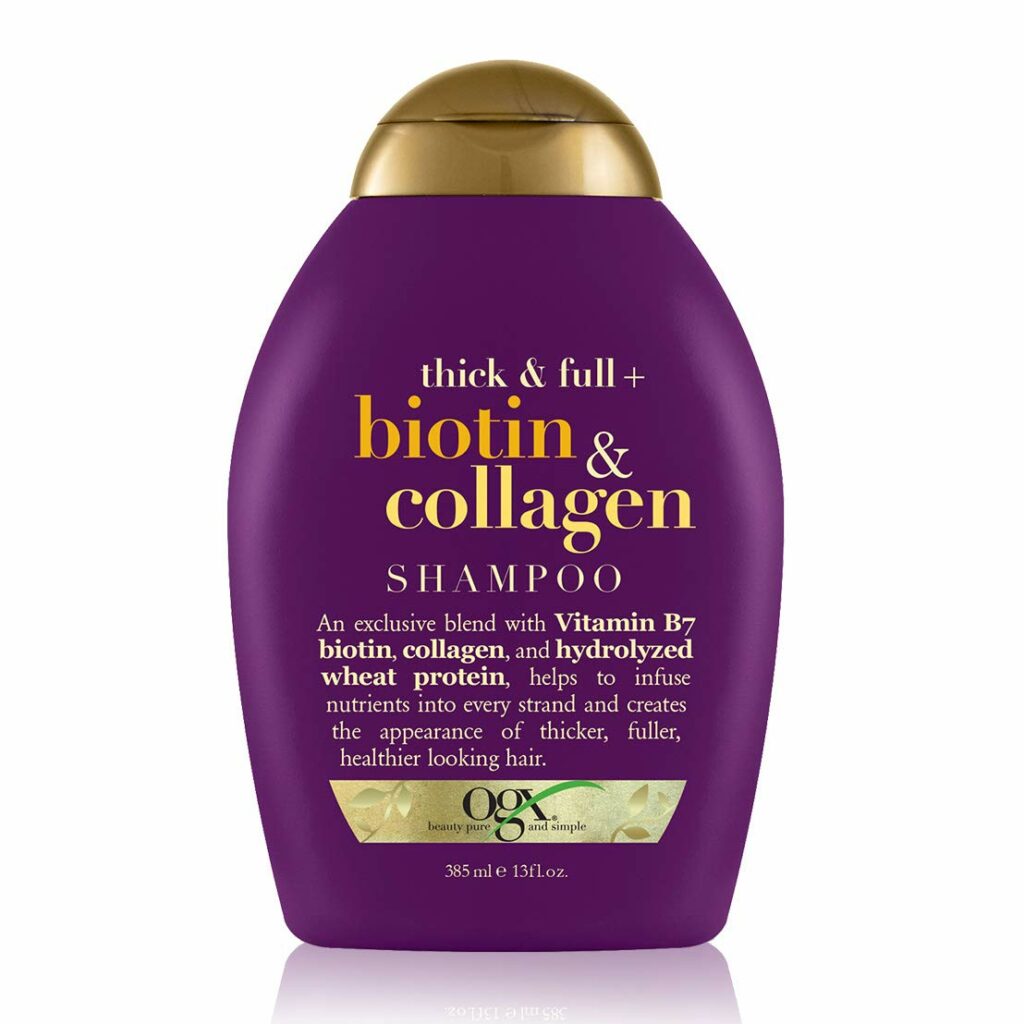 If I need shampoo quickly and am on a budget, I pick up something from Organix. Organix shampoo is formulated with hair-healthy ingredients such as argan oil, coconut oil, eucalyptus, and more. Their packaging is very simple and they're very affordable — their products never cost more than $10 USD.
I've pretty much used all of the Organix shampoo, but my favorite shampoos are the Coconut Milk, Tea Tree Mint, Argan Oil of Morocco, Charcoal Detox, Marula Oil, Cherry Blossom, and Orchid Oil (what I was actually using before the Nexxus).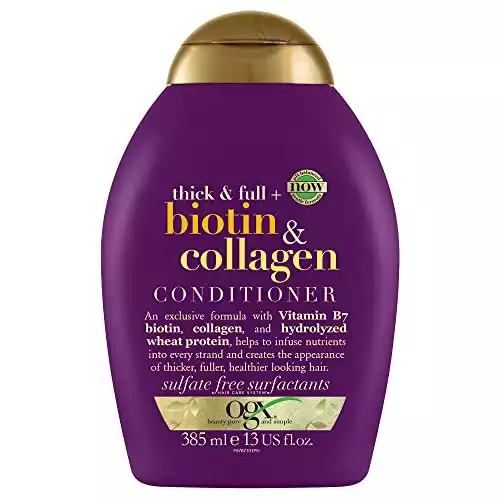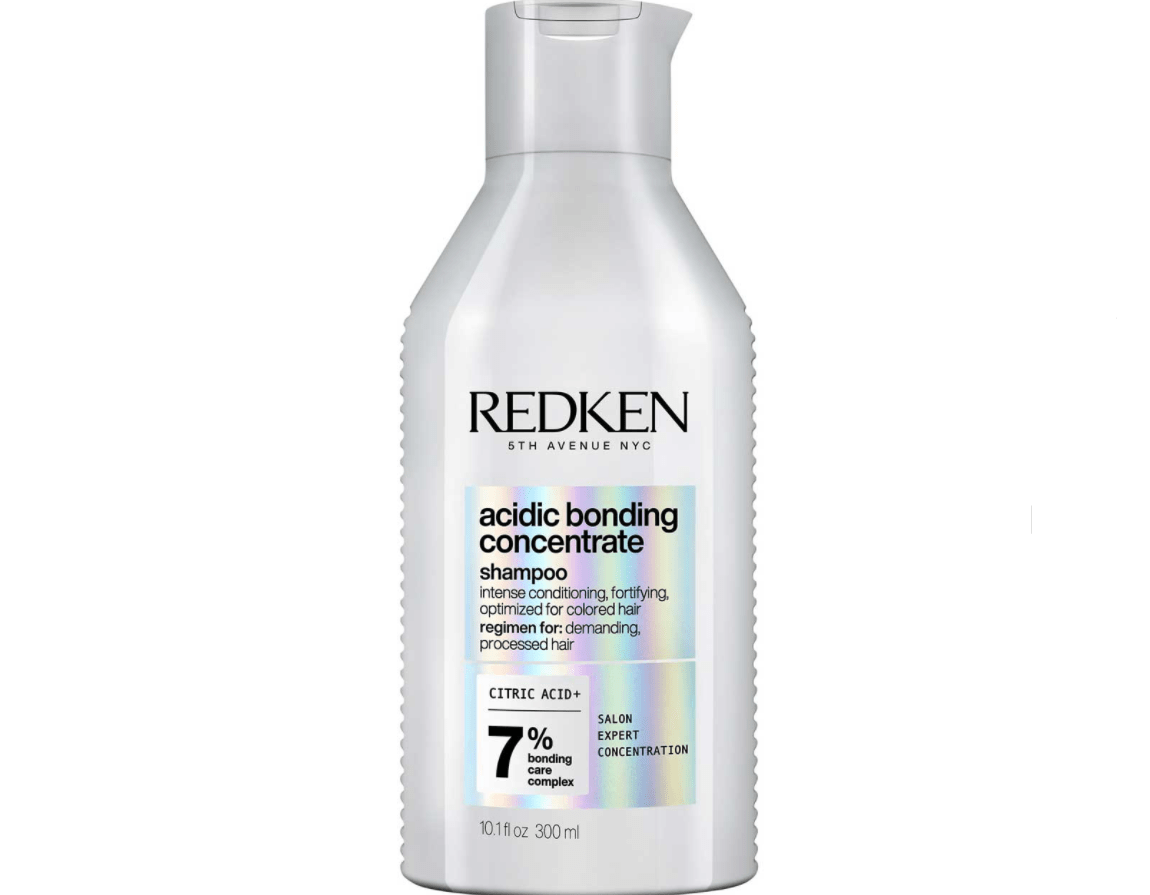 I usually use Redken products after I dye my hair or are just in need of something high-quality. Redken shampoos are professional-grade products and also make shampoos for just about anyone. I've used a variety of their shampoos, such as the Color Extend and All Soft shampoos. Both are exceptional.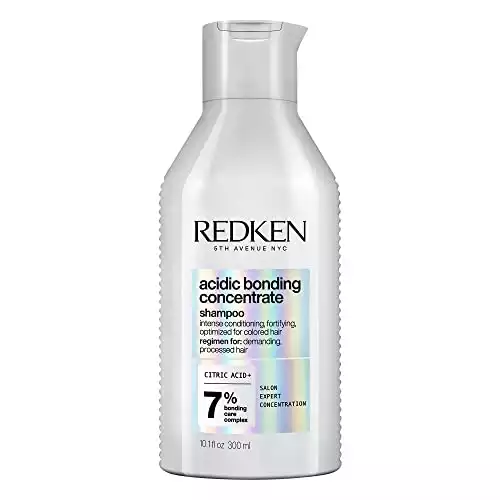 Redken Bonding Shampoo for Damaged Hair | Amazon
Our most concentrated all-in-one formula for strength repair for all types of damaged hair, this rich, luxurious vegan & sulfate-free shampoo provides ultimate strength repair, intense conditioning & color fade protection.
Buy at Amazon.com
We earn a commission if you make a purchase, at no additional cost to you.
08/03/2023 06:10 am GMT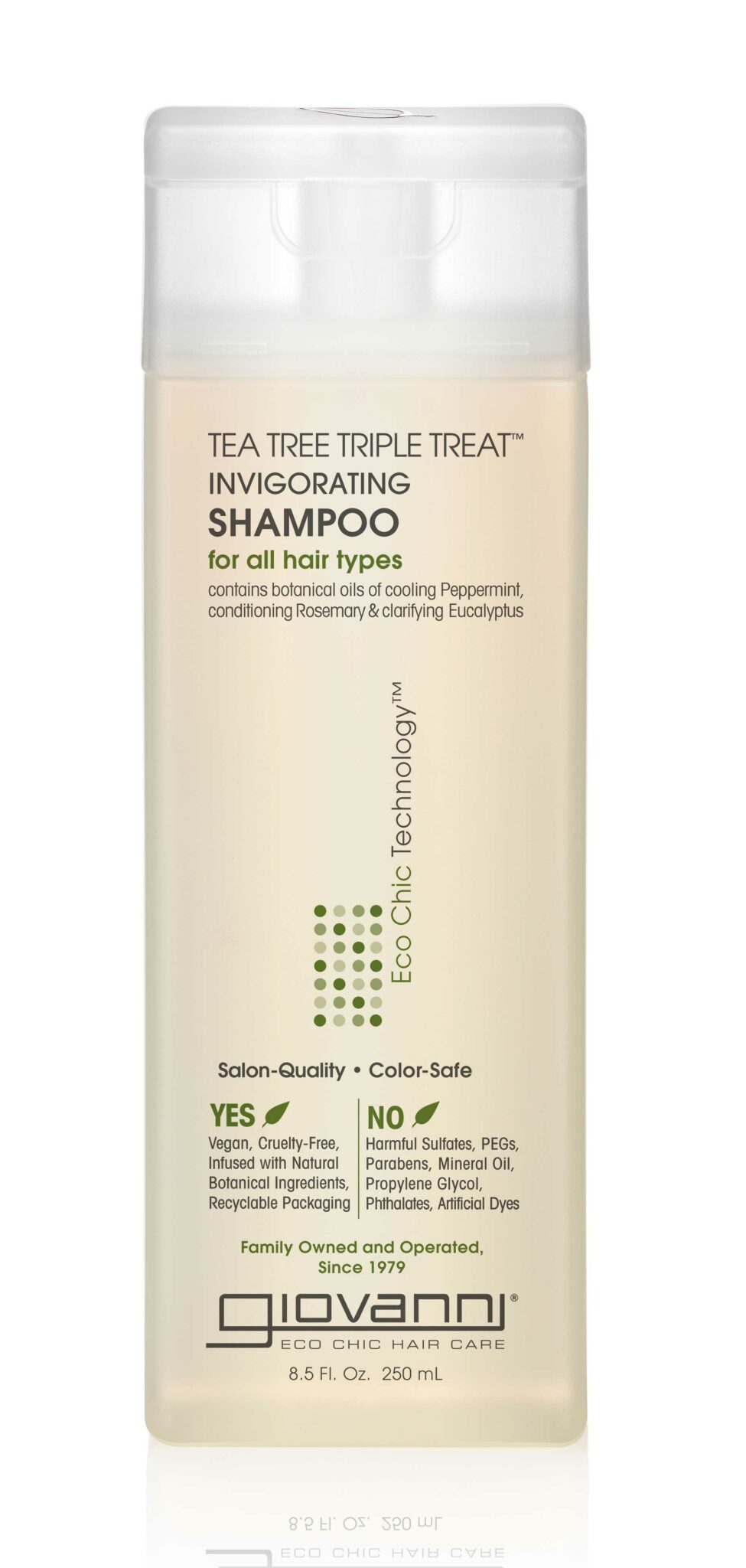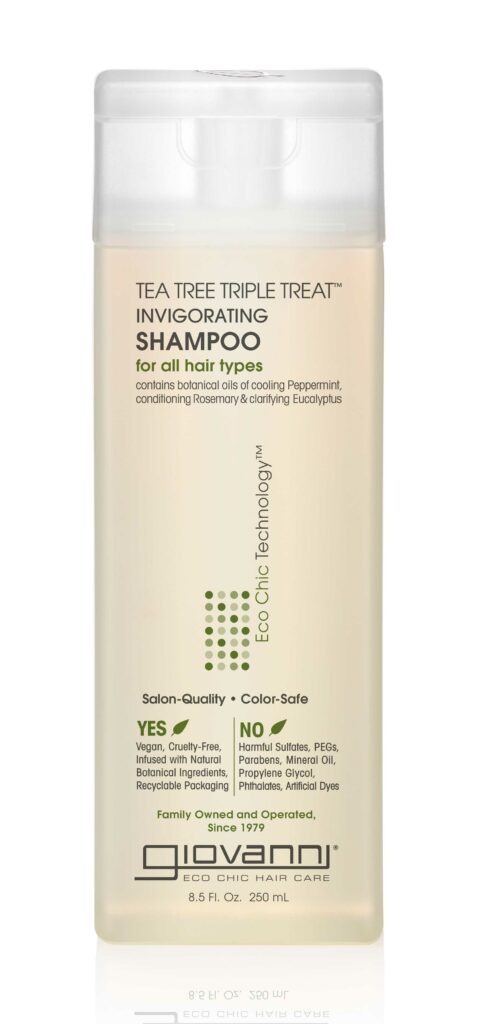 This is a brand that reminds me a lot of Nexxus, except they're a natural alternative. All of Giovanni's products are nature-based yet they're salon-quality. They even use eco-friendly packaging, which is a plus for me.
They're also non-irritating, which is the main reason why I included them because I tend to hear complaints about Nexxus irritating scalps and causing allergic reactions. I never had that happen to me, but figured it was important to include.
I never used Giovanni's shampoo but I have one of his anti-frizz products. I like it and I'm definitely curious to see what their shampoo is like.
FAQs
Question: What Is Elastin Protein and Is It Good for Your Hair?
Answer: Elastin is an extracellular matrix (ECX) protein that provides elasticity and resilience to organs and tissues. Your hair also contains elastin; it's found inside the skin's dermis, where your hair follicles are located.

Because of this, elastin is great for your hair! Elastin adds glossiness to your hair. If you suffer from damaged hair, elastin can help repair that damage. It also adds body to your hair, ideal for volumizing shampoos or any products for thin and oily hair.
Question: Is the Clean & Pure Shampoo Fragrance-Free?
Answer: No, but the scent is very mild. It has more of a clean scent. Many people described it as a citrus scent, but it smells more classic and clean than anything.
Question: Does Nexxus Offer Any Shampoos for Hair Growth?
Answer: I can't find any Nexxus shampoos for hair growth. I found a Viatress Hair Regrowth Supplement by Nexxus, but its been discontinued.
Question: How Do You Use Nexxus Shampoo?
Answer: I put a decent amount of product in my hairs and rub it all over my scalp, paying the most attention to the front of my hair, the sides, and the very back (this is where I get the most build-up). I use it daily, and I think most Nexxus shampoos are safe for daily use unless the product says otherwise.
Question: Is Nexxus a Salon Brand?
Answer: Nexxus was originally a salon brand. However, they achieved mass distribution over 10 years ago.

This means you can find their products at your local store as well as online. Not only that, but the mass distribution means the products are priced lower than they were at the salon. And yes, Nexxus uses the same formula now that they used back when it was a salon-exclusive brand.
Question: My Hair Is Oily and Damaged. Can I Use Nexxus Keraphix?
Answer: Nexxus Keraphix is regarded as one of the best products for seriously damaged hair. That's thanks to keratin, which is a protein found naturally in hair. Keratin repairs broken hair fibers, making your hair not only stronger but also smoother.

However, those with oily and damaged hair have special needs. These people need a moisturizing product that won't weigh down their hair. So, is Nexxus Keraphix gentle and effective enough for oily tresses?

The Nexxus website says the Keraphix line is safe for all hair types. But I would only use these products if your hair is seriously damaged. Otherwise, I love the Weightless Moisture Shampoo. It's designed for those with oily hair, cleansing your hair while giving your tresses the perfect amount of moisture.
Bottomline
Nexxus is a relatively affordable haircare brand that you can find just about anywhere. I love how Nexxus offers so many different shampoos. I've used several and I love them all. The one I'm using now, the Clean & Pure, detoxes your hair while still retaining moisture.
I've been using Nexxus shampoo for years and I plan on using this brand for many more years. Since there's a chance you could buy a rip-off product, I suggest buying directly from the brand or buying the products from a reputable store.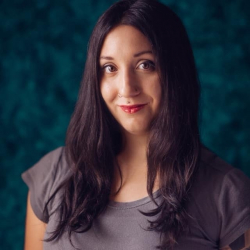 Latest posts by Stephanie Jensen, Hair Trend Spotter & Home Tester
(see all)