Many people who have 2C hair type can easily get confused about whether their tresses are wavy or curly. That happens because this type of hair has a shape and a texture that is in between loose beach waves and truly curly strands.
In today's article, you will find out many useful insights about this hair type which is thick and wavy: how to take care of it, the most appropriate hairstyles, the best products for 2c hair, and more.
2C Hair Type – What Is It?
The 2C hair type is still wavy but the waves are more defined and their S-shape has a thicker appearance. Moreover, if you have this type of hair, you will probably notice that your waves begin right at the roots, whereas people with 2B wavy hair feature straight roots.
If you have this hair type, your waves will start directly from the roots and your tresses will feature a more defined shape. These hair tresses are loose spiral curls. Of all 2 hair types, 2C is the one that's prone to frizz the most. All wavy hair can make someone who has it a tad frustrated because it can easily get frizzy.
This hair type is a combination of ringlets and S-shaped waves. People with 2C hair are lucky because their locks are thick and they can style them in a way that makes them look good. However, thickness also leads to frizz, as I mentioned before.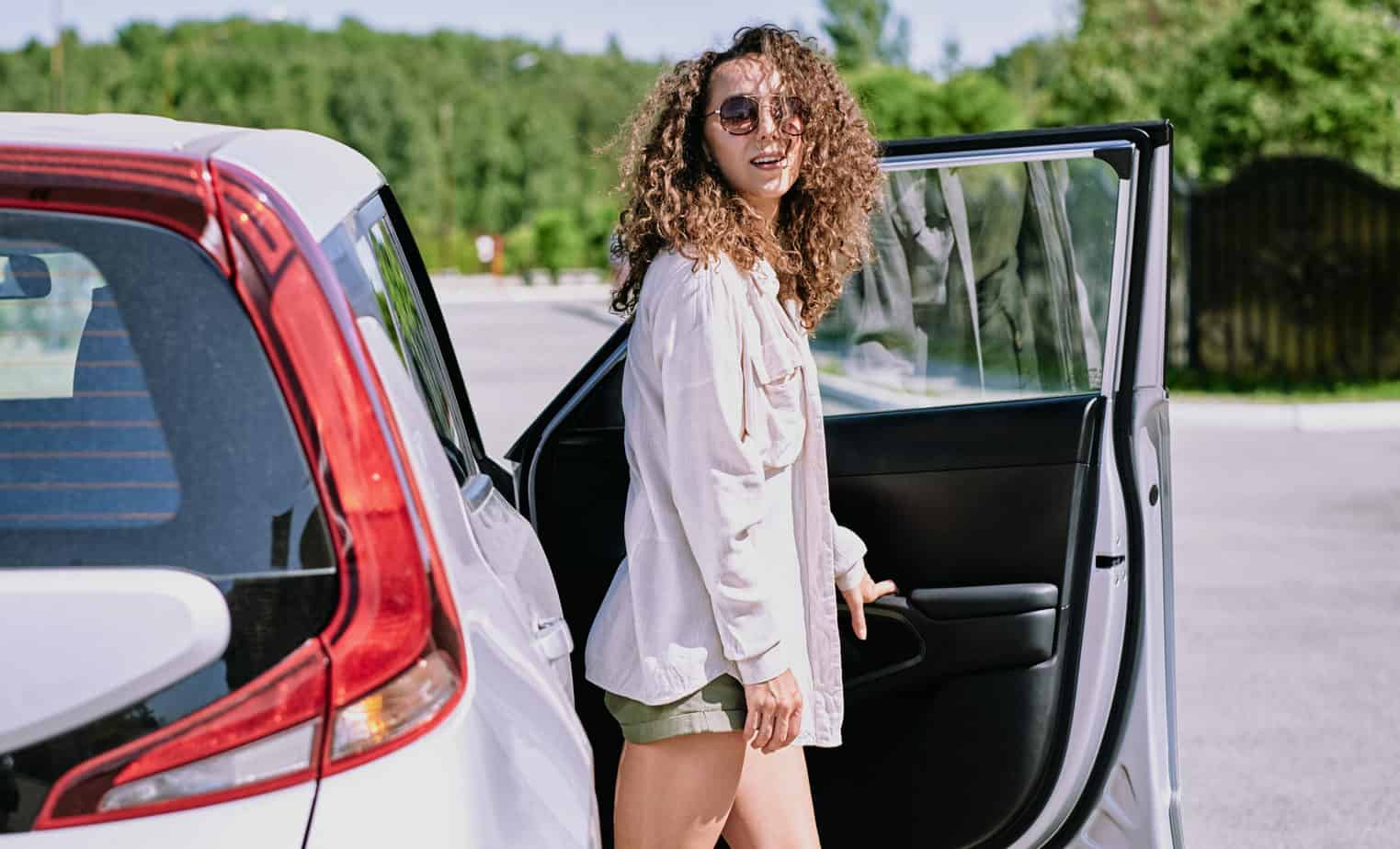 There are simple and, for the most part, obvious ways to determine your hair type.
For Men
Straight, wavy, or curly, the key is the way you style your hair if you want it to look good.
Straight Hair
If your hair is plain straight, then you have type 1 hair. Straight hair has one single texture and sits close to your scalp. For that reason, it can also get greasy quickly. Therefore, men with straight hair might feel the need to wash it more often than those with curly hair.
On the other hand, curly hair comes in many different forms, shapes, and textures. It can be wavy, coiled, or kinky. Your hair must have curves and S-shapes (loose or tight) within 3 inches from the scalp to be categorized as either wavy or curly. If that's not the case, then you have straight hair.
Male celebrities with straight hair are Brad Pitt, Justin Bieber, Tom Cruise, and others. Although this hair type gets greasy, being so close to your scalp, it is also the easiest one to style, shape, and wear.
Wavy Hair
You have wavy hair if your tresses start as straight near the scalp but they become loose curves somewhere on the hair length's middle and all the way to the ends. If you keep your hair too short, you might think it's straight, when in fact you may have wavy hair.
To figure out if it's wavy or not, you must wait for it to grow and measure a minimum of 3 inches. One of the public figures with wavy hair is Adrian Grenier.
Wavy hair is great because it features more volume and it's still pretty manageable in terms of shaping and styling. Another perk is that you can wear it as long as you want.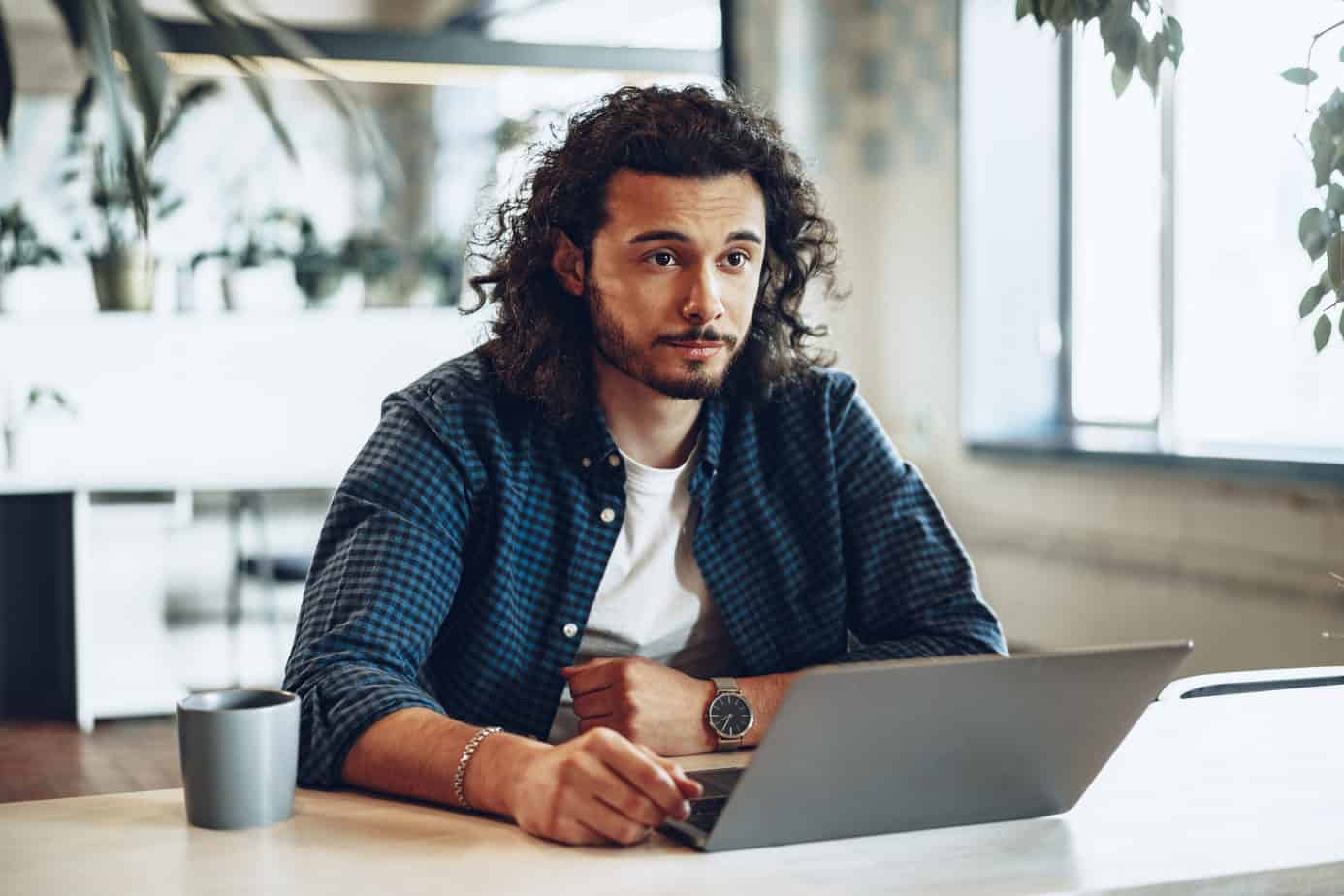 Coiled Hair
Most people believe that curly hair is coiled or kinky, but they forget to include wavy hair in this category. This type of curly hair forms coil-like shapes and the S-shape pattern is tighter. You can see your coiled hair within the first 2 inches from the scalp.
Compared to wavy hair, coiled tresses are more visible and explicit. To form an idea, David Bisbal has coiled hair. To look good, you must always groom your curls and increase their definition, especially if you want to wear a medium or even long haircut. This hair type is hard to style but if you do it correctly, you will attract many people who will try to make a move on you by asking you questions regarding your locks.
Those with curly hair should first use a comb with wide teeth if they don't want to break their tresses when styling the hair. Coiled hair features a lot of natural volumes, even when it isn't styled.
Kinky Hair
The curliest hair type is kinky hair which is also known as the afro look. This type of hair has curls with very sharp curves that look almost like a Z-shape instead of an S-shape. Those with coiled hair can still differentiate their curls and see each curl as an individual hair lock, whereas people with kinky hair will see it as a mass of very curvy hair.
Famous people who have kinky hair are Morgan Freeman, Barack Obama, and Will Smith. Kinky hair comes with a lot of volumes and it is very thick. It is also resilient but, if you want to wear a medium or long haircut, you will have to be very patient. It takes years to grow kinky hair to a level that makes your hair locks hang down naturally.
For Women
I am a woman with very straight hair and I am always struggling when it comes to volume. Straight hair lacks volume and that, in my opinion, is one of the disadvantages of this hair type.
Straight Hair
Women with straight hair have flat roots as well as flat locks. Their hair texture doesn't have any curls, whatsoever, and it is both soft and silky to the touch. Straight hair comes with an oily scalp and it usually lacks volume. Based on the hair's characteristics (porosity, density, and thickness), straight hair can be easier or trickier to style.
Wavy Hair
You have wavy hair if your tresses look like a combination of straight and curly hair. The roots are usually straight and close to the scalp while the ends have a curl pattern that's not too tight, though (like a loose S shape). Three types of wavy hair vary based on their thickness.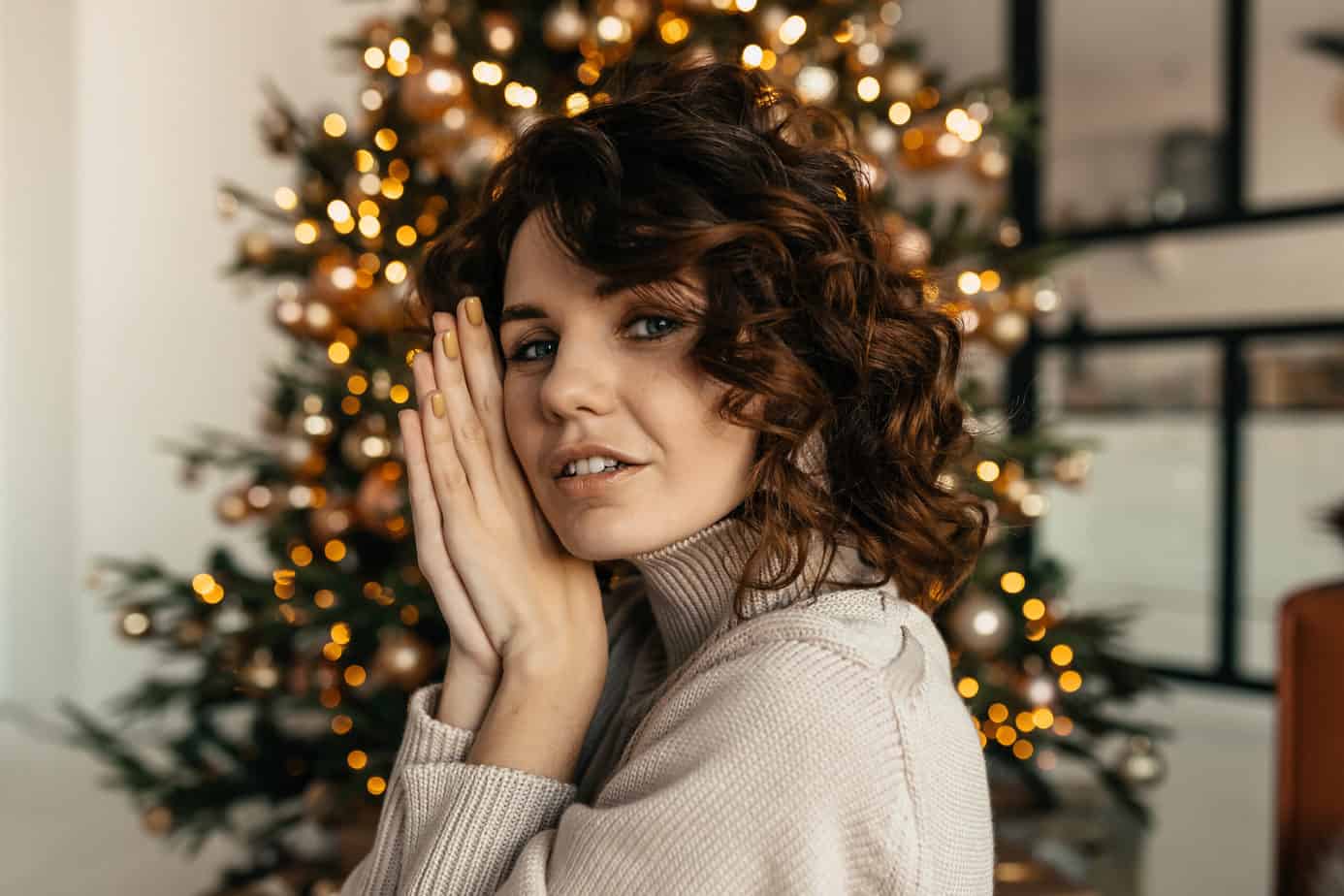 Curly Hair
Curly hair has more visible S-shaped patterns and it stays that way even when you're using your fingers to straighten it up. It is a very beautiful type of hair with lots of volumes but it is also prone to frizz and tangles. There are all kinds of curls, from loose to tight.
Coily Hair
Finally, kinky or coily hair features a Z pattern instead of an S shape. It has curls that form tight zig-zags. This hair type is coarse and rough. Therefore, it can break more easily. Coily hair can be soft, wiry, or extremely wiry.
Best Products for 2C Hair Type
Here are some of the best products suited for 2C hair types. I've listed them in no particular order but I chose them based on reviews.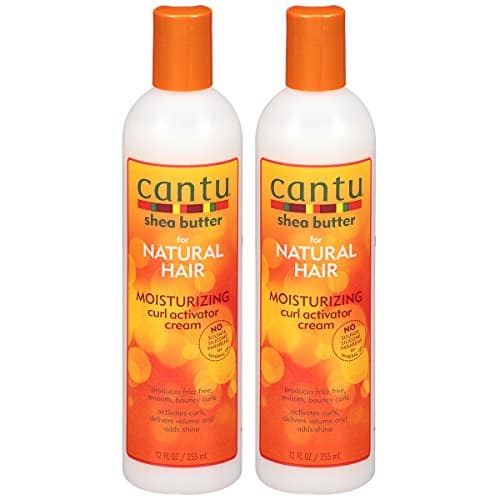 Cantu Shea butter is great if you want to nourish and moisturize your curls. It helps with your frizzy hair and defines your curls' shape. This cream will enhance your curls and waves. It's lightweight so it won't feel heavy on your tresses. After using it, your hair will look full of life and voluminous.
With this Shea butter, you will enjoy naturally bouncy hair. It is free from dangerous ingredients. It doesn't contain sulfates, silicone, parabens, paraffin, and gluten. I could only find one single drawback: some users have said that Cantu moisturizing cream has a rather unpleasant fragrance.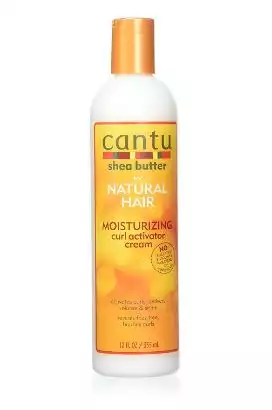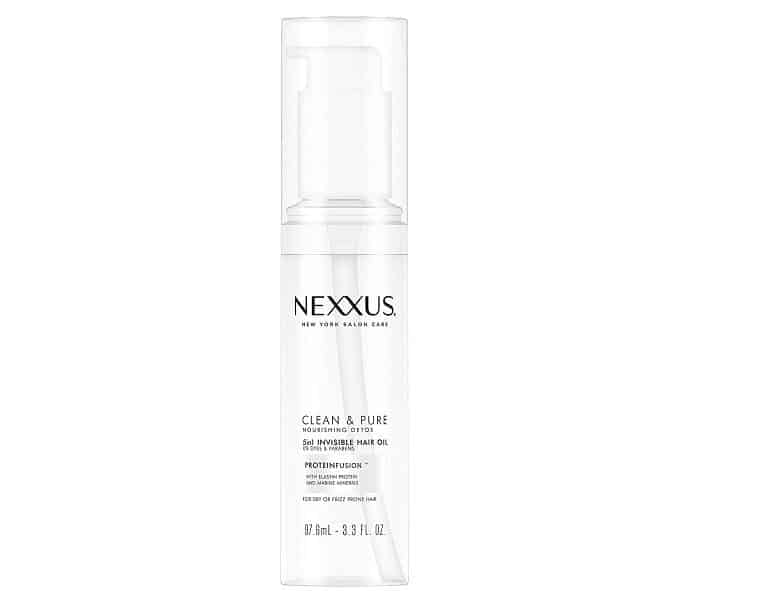 This product is great for wavy and curly hair, providing numerous benefits:
It leaves your hair frizz-free;
It offers extra nourishment to your tresses;
Your hair will become well-moisturized with this product;
It protects your hair's shine and color;
Your hair will look smoother than before.
Nexxus hair oil must be applied evenly all over your hair but you should always avoid using it on your roots. Otherwise, your scalp might become greasy pretty quickly. It is best to use a comb after you apply the product so that the oil gets distributed on all your locks.
With this hair oil, your curls will become bouncy and flawless again.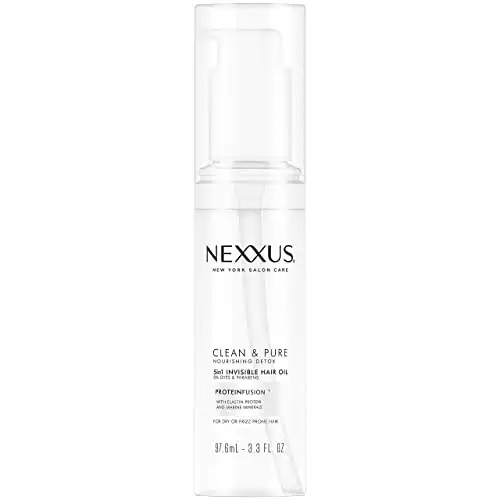 The Malibu C shampoo for wavy and curly hair is completely made of vegan ingredients. It is the best product people with 2C hair could use for detoxing purposes. This clarifying shampoo will help you remove all the buildup from your scalp and hair locks. But, you should only use it once every 3-4 weeks.
This brand is great because it contains natural compounds and it is sulfate-free. Simply put, it is gentler on your hair and scalp. Make sure you don't use this product too often because it can lead to dry hair.
Malibu C Un-Do-Goo pH 9 Shampoo | Amazon
Deliver a deep cleaning detox with this color-safe resin removal shampoo that effectively eliminates styling product buildup with sulfate-free suds formulated for dual-action defense against dehydration.
Buy at Amazon.com
We earn a commission if you make a purchase, at no additional cost to you.
08/03/2023 04:05 am GMT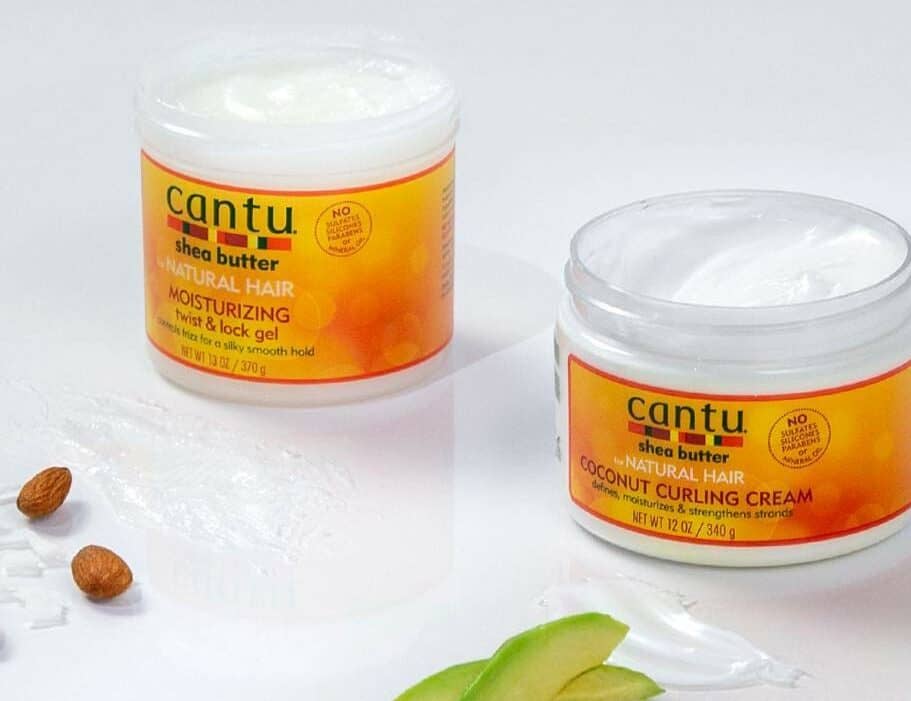 This Shea butter hair gel from Cantu controls frizzy hair and offers a smooth hold and a silky feeling. With this product, your wavy hair will become a lot more manageable. Your loose curls will have more definition and you will achieve boosted volume that starts right from the roots.
It contains many hydrating and nourishing ingredients such as Shea butter, coconut extract, Aloe Vera, avocado oil, almond oil, Jojoba oil, mango seed butter, honeysuckle flower extract, sage leaf extract, grape seed extract, amino acids, and Macadamia seed oil.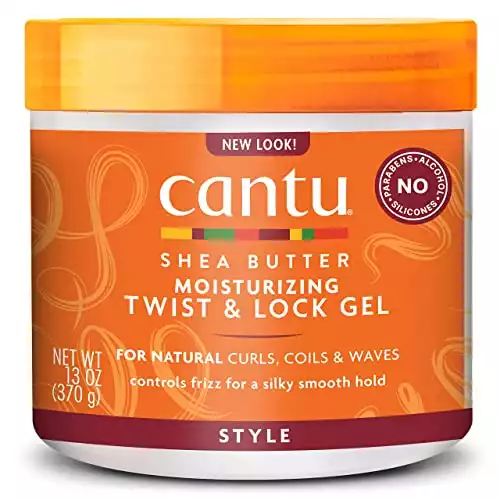 Cantu Moisturizing Twist & Lock Gel with Shea Butter for Natural Hair | Amazon
Cantu Shea Butter for natural hair moisturizing twist and lock hair gel. Controls frizz for a silky smooth hold, no sulfates, silicones, parabens or mineral oil moisturizes, de-frizzes and adds manageability to hair revealing soft, shiny twists and locks, keeps frizz under control for a silky smooth hold.
Buy at Amazon.com
We earn a commission if you make a purchase, at no additional cost to you.
08/03/2023 10:02 am GMT

Best Hairstyles for 2C Hair Type
Having luscious, full, and thick hair is important for one's overall appearance. When your hair looks good, you feel better than usual. I, for one, feel more confident when I enjoy a good hair day which, in my case, it's hard to achieve since my hair is too straight for my taste and it lacks thickness.
For Men
First and foremost, it is crucial to master the proper maintenance routine for your curly hair before figuring out how to style it. If you have this hair type, then you're lucky because you can wear it as short or as long as you want.
Your wavy curls will look just as good, regardless of your hair length. You can also find a lot of inspiring ideas and examples of Hollywood male celebrities like Kit Harington from Game of Thrones, Orlando Bloom, Penn Badgley from Gossip Girl, Matthew McConaughey, and Harry Styles from One Direction.
Remember how Justin Timberlake used to wear his hair back when he was younger? Yeah, well, forget about that! Avoid it and you'll be fine. My personal favorite style would be medium-length messy curls. I happen to find it a very attractive feature.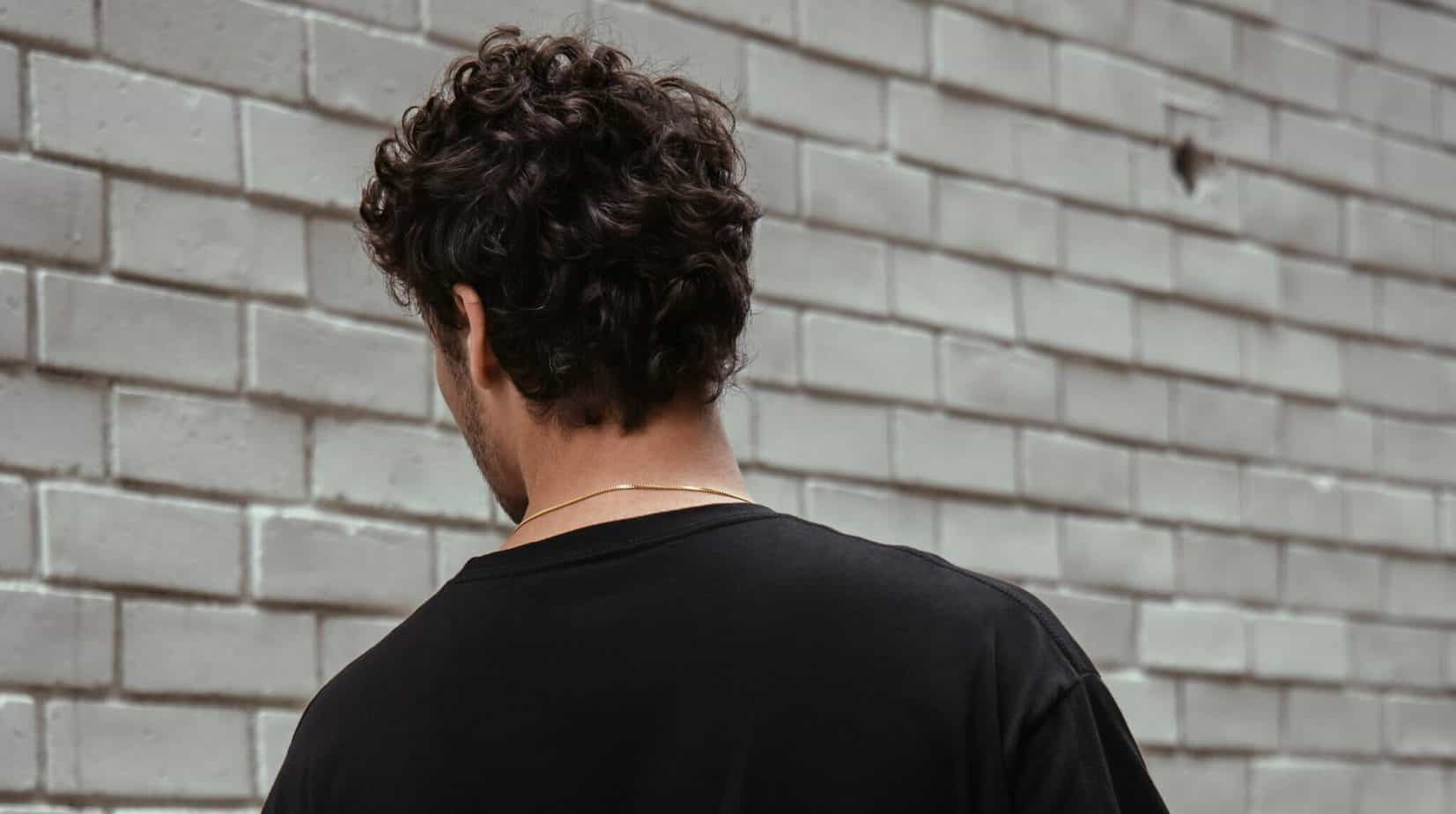 For Women
There are many fabulous looks for women with 2C wavy hair. One idea for bold gals is a pixie cut which will give them a nice Flapper vibe. A loose bob is also a good idea if you're into a cool French look. If your wavy hair has bigger ringlets, then all you have to do is wash it, dry it, and that's it.
A wispy crop, on the other hand, will give your hair the illusion of fullness, thickness, and density. This works great for women with thin and soft hair. Another idea you might like is a rounded haircut with bangs. This is a style for daring women.
This hair type goes well with all kinds of bob-length haircuts, with or without bangs. A beachy lob is also very nice and romantic. Easy waves and a medium length are the ingredients for low-maintenance 2C hair.
How to Take Care for 2C Hair Type
2C hair is wavy but thick and its S-shaped waves start around your head's crown. These tresses tend to become frizzy. Therefore, you should always use a diffuser to blow dry your hair after washing it. Otherwise, the heat will make your curly locks even frizzier.
2C is a little more than a simple wavy hair; it is borderline curly. Of all the three types of wavy hair, 2C is the thickest and most coarse one. At the same time, it is harder to style this type of hair. Some of you, who have full and thick wavy hair, might feel overwhelmed by the styling process.
Keep Things Simple
For that reason, it is always wise to keep things as simple as possible. Embrace your curls by parting the hair off-center. That's the simplest way you can style and wear your thick wavy hair.
Unlike type 3 which is a hair full of spirals and uniformity, type 2C features a more sporadic and random pattern. The focus should be on using hydrating shampoos and sulfate-free conditioners to go through an overall gentle cleansing.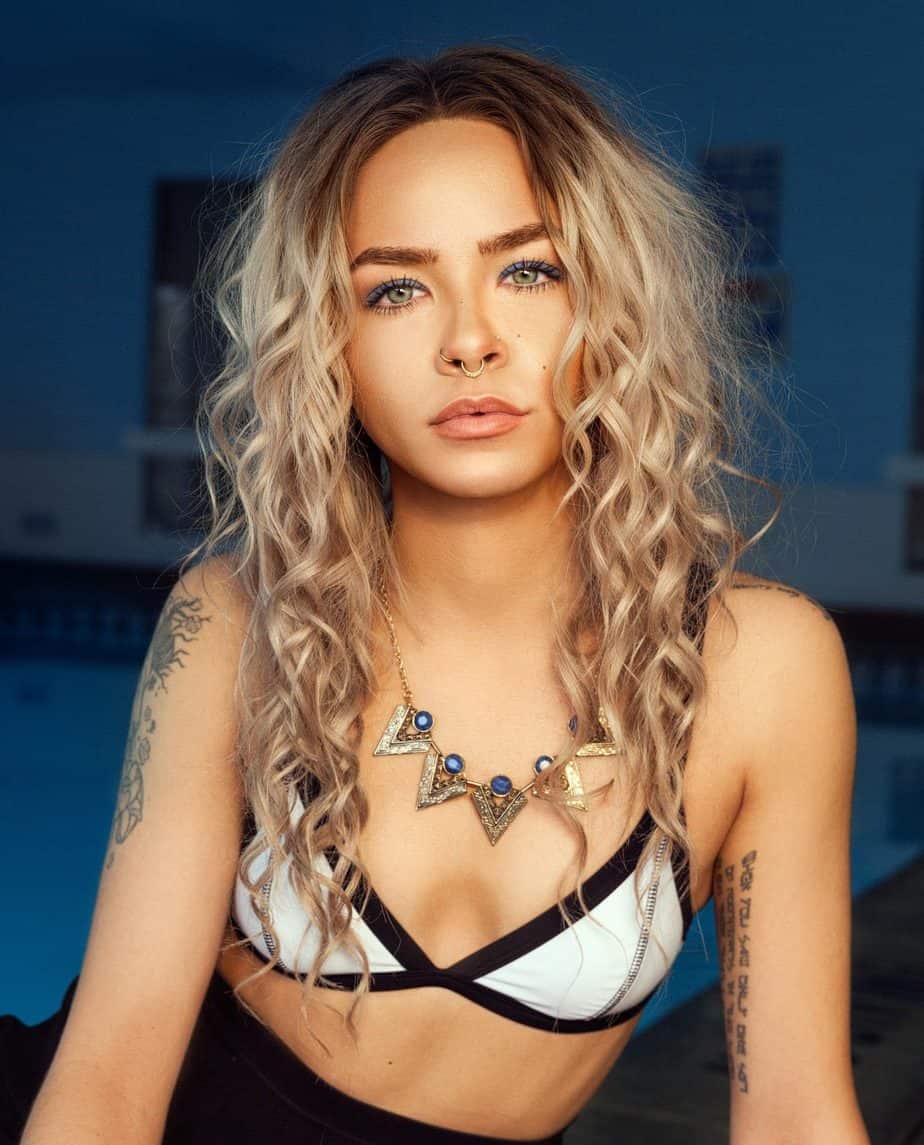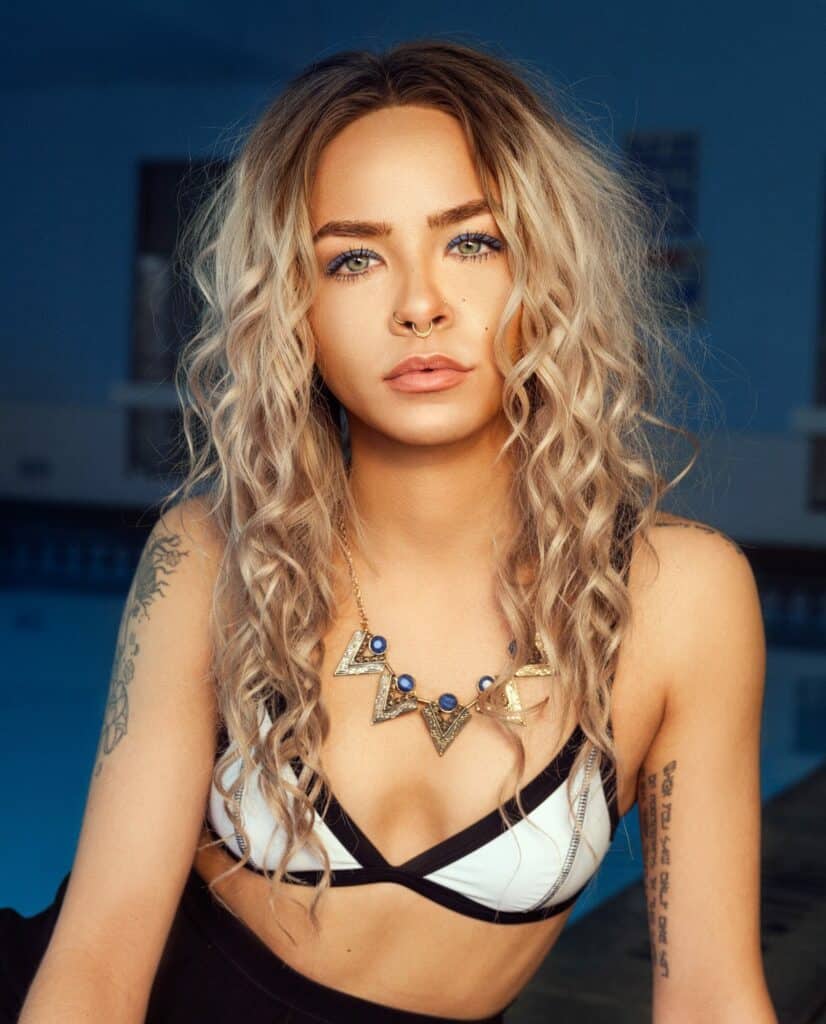 In this case too, like in so many other situations, less is more. In other words, you should try to avoid applying heavy products to your thick and wavy hair. If you want your hair to have more texture and definition, you should only apply a little amount of leave-in conditioner or a gentle daily spray for waves and curls.
Rely on Gentle Hair Products
Other simple products such as sea salt sprays can also boost your natural waves. To bring your hair to life, you must apply the product all over your hair, starting from the roots and all the way to the base. If you add too much product, your waves might become lifeless and weighed down.
Your hair care routine should also include a clarifying shampoo that you can use no more than once a week. Also, don't wash your 2C hair more than three times per week. Finally, avoid aggressive styling or heat tools as much as you can.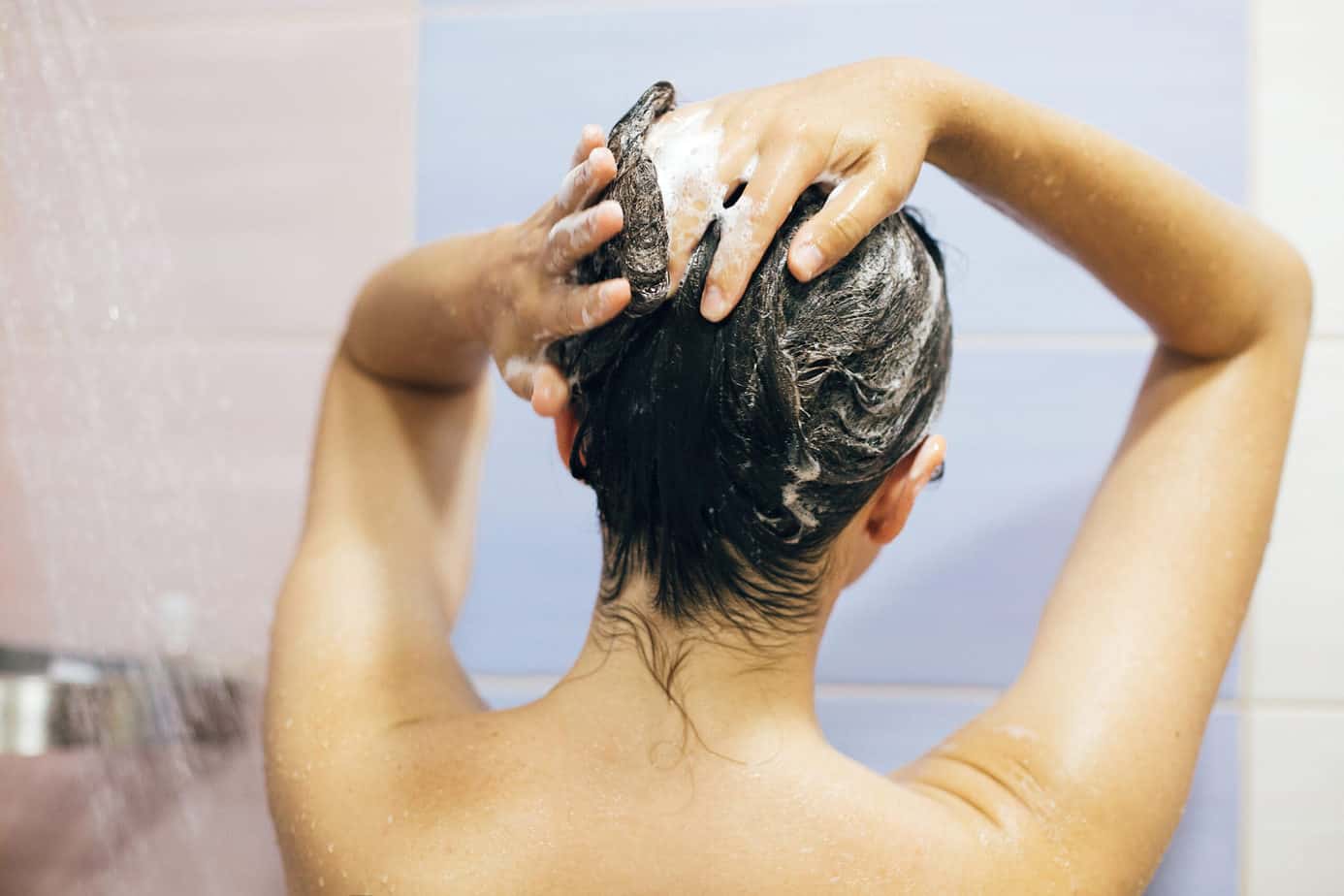 FAQ: Frequently Asked Questions about 2C Hair Type
Question: What 2C Curls Are Supposed to Look Like?
Answer: This hair type features waves combined with more curly hair ringlets. All of them have that well-known S-shape but waves are looser, while ringlets are tighter. Unlike 2A and 2B hair types, 2C has loose curls that start at the roots. By comparison, 2B waves begin around the eye level.
Question: How Should I Sleep to Protect My 2C Hair?
Answer: First of all, you shouldn't wash your wavy hair every single day. It is best to wash it once every 3-4 days or when it gets greasy. To protect your hair during nighttime, you should try one of the following methods:
– Try a high yet loose ponytail that starts on the top of your head. It's also wise to choose a silk or satin pillowcase instead of a cotton one because it can such your hair's moisture and dehydrate it;
– You can also wear it like Heidi, in at least two rope twists because it will provide your hair with definition and protection;
– A loose braid is another way to go and avoid wearing a bun because it can make your waves looser than they are. When you wake up, you can apply some sea salt water all over your hair to recover the shape of your curls.
Question: How Often Should I Apply a Deep Conditioner on my 2C Hair?
Answer: Usually, you should deep condition your 2C wavy hair after every wash. Some of you might perceive that as a big commitment and for others it might not even be necessary to do it so often. Washing your curly hair twice a week should be more than enough. Deep conditioning is good but too much of it can lead to over-moisturized hair which disrupts the protein balance of your locks.
Bottom Line
If you have 2C hair, consider yourself lucky. Your wavy curls will offer you a lot of texture and volume. As long as you know how to take good care of your curly locks, then, every day will be a good hair day. All eyes will be on you. This hair type might be prone to frizz and tangle but it's also versatile and looks beautiful.
It allows you to choose from a wide range of haircuts and hair lengths, from short and bobs to medium and long styles.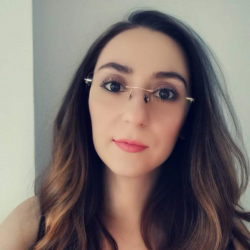 Latest posts by Alexandra Gavrilescu, Home Hair Product Tester
(see all)