Before celebrity hairstylist Andre Walker defined different hair types, few people bothered much about the small details that make their hair different from the rest. Some assumed that hair is just hair and you can pick up just any product to suit whichever type of hair you have.
However, straight hair is very different from curly hair. One person can have curly hair that is completely different from another person's curly hair. 
Hair comes in varying shapes, sizes, textures, colors, and types. Understanding your specific hair type helps to clear lots of confusion especially about the best products and hairstyles to use. There are three main different hair types that most people know.-straight wavy or curly. 
However, according to Andre Walker's hair typing, hair falls into four main categories- 
1-Straight

2-Wavy

3-Curly

4-Kinky
Each of the four categories has three subcategories, grouped as A, B, and C that give more specific and unique hair characteristics. In this article, we focus on one of the subcategories of type 3 hair that falls under the curly look. The subcategory is 3C.
What 3C Hair Type?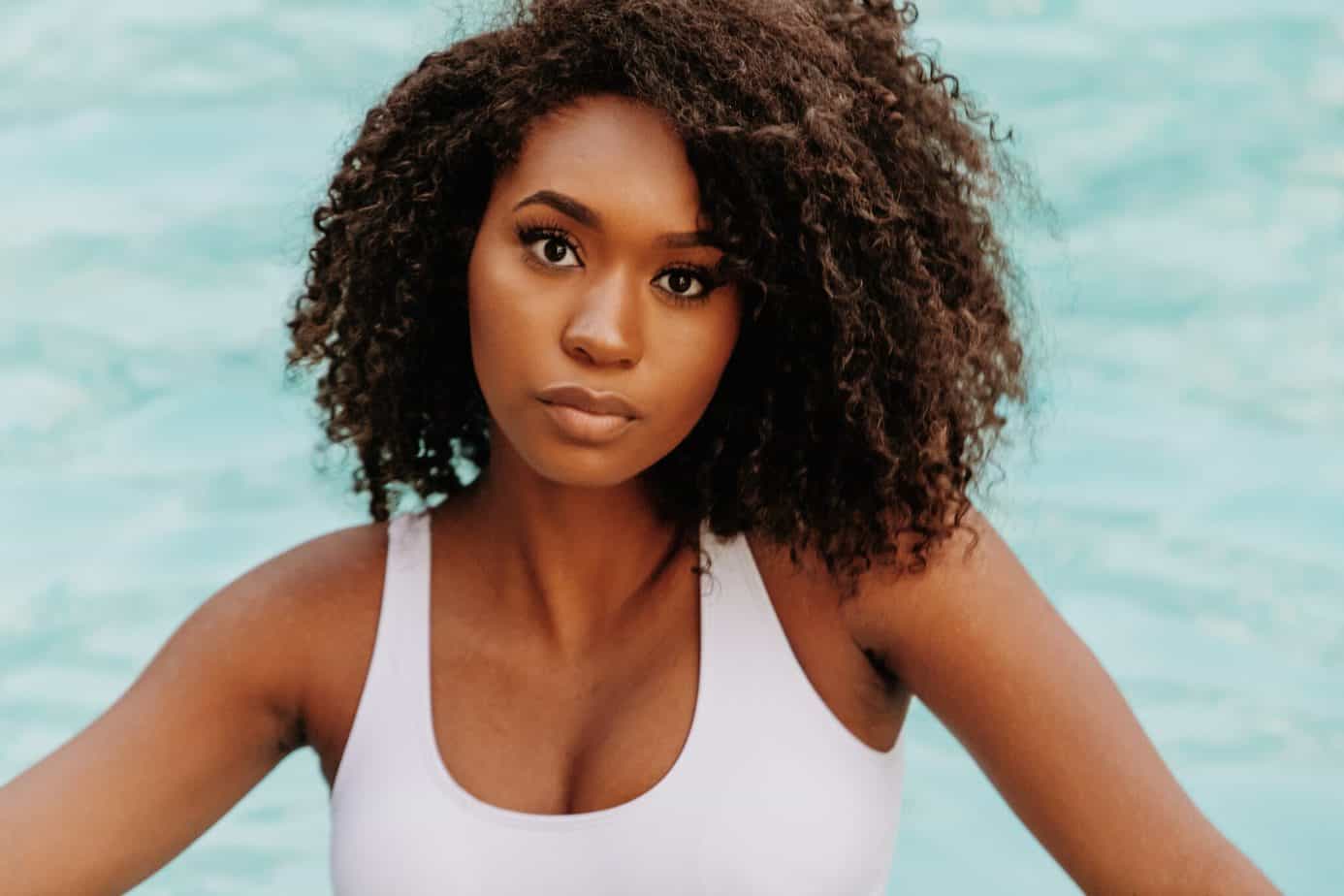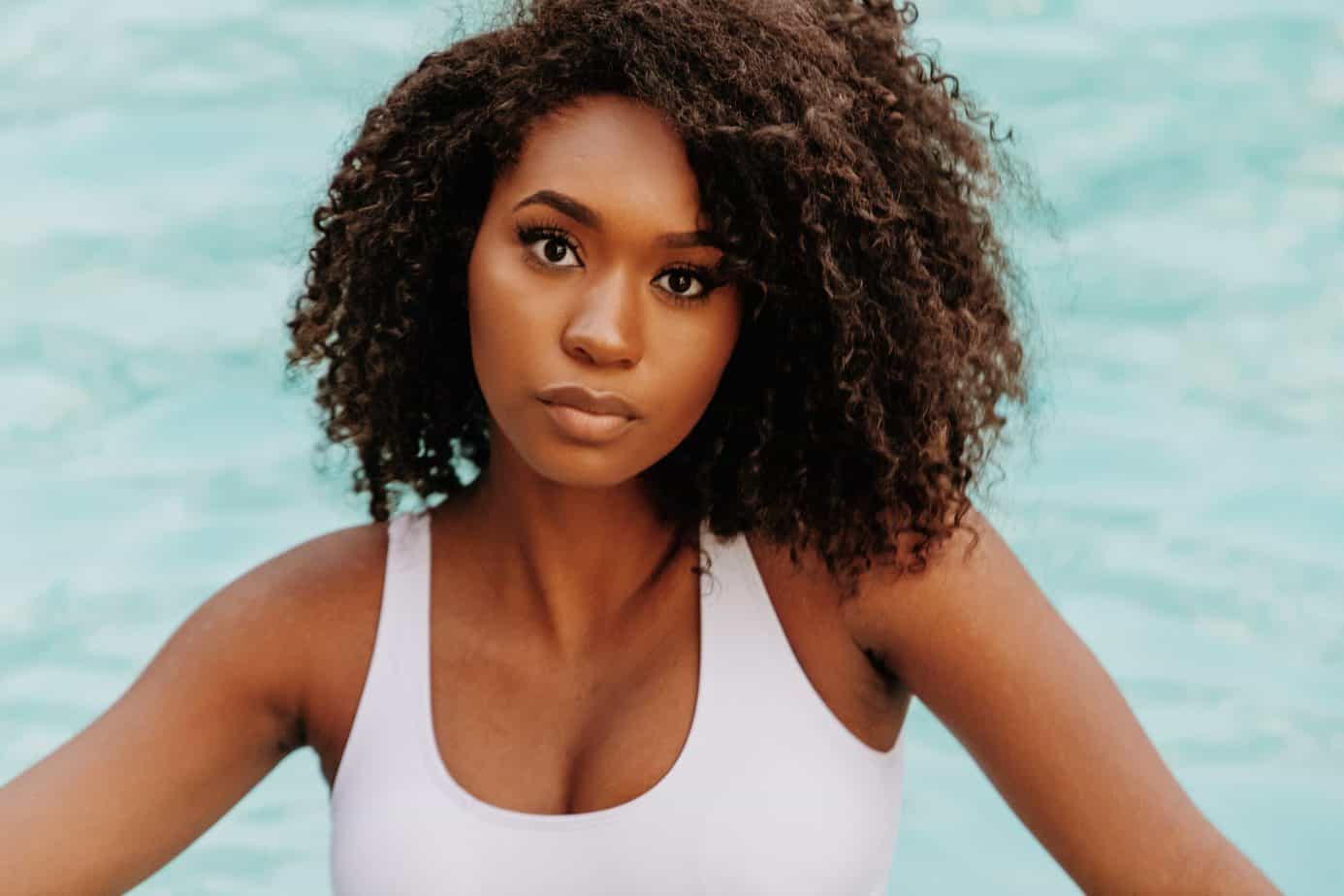 3C is a subcategory of curly hair type 3. The other two subcategories are 3A and 3B. Hair type 3 is curly hair. Type 3 hair curls form what you could call the perfect ringlets and they are super-defined with a springy look.
Another noticeable characteristic that sets type 3 hair apart is the large volume of hair that begins from the roots all the way to the tips. Even though the curls look amazing to the eye, they are a nightmare to manage. 
One of the main characteristics of type 3C hair is its large volume that creates a barrier, which prevents natural oils from distributing evenly around the scalp and hair. Lack of enough natural oils leads to dryness and frizz which is another common characteristic of type 3C curly hair. If not taken care of with good products type 3 hair tends to look lifeless and dull. 
Among the three types 3 hair subcategories, 3C curls are the tightest with patterns that look very similar to the ends of a corkscrew. A strand of type 3C curly hair can also be as long as a straw or a pencil. One of the main ways of identifying type 3C hair is by closely examining it to check the shape of the curls. 
The curls are S-shaped and if you try to wrap a regular pencil around any of the curls, it holds onto it snugly. Some people-both men and women have a combination of more than one hair type, which includes different curly patterns on their hair. 
How to Determine Your Curly Hair Type – Women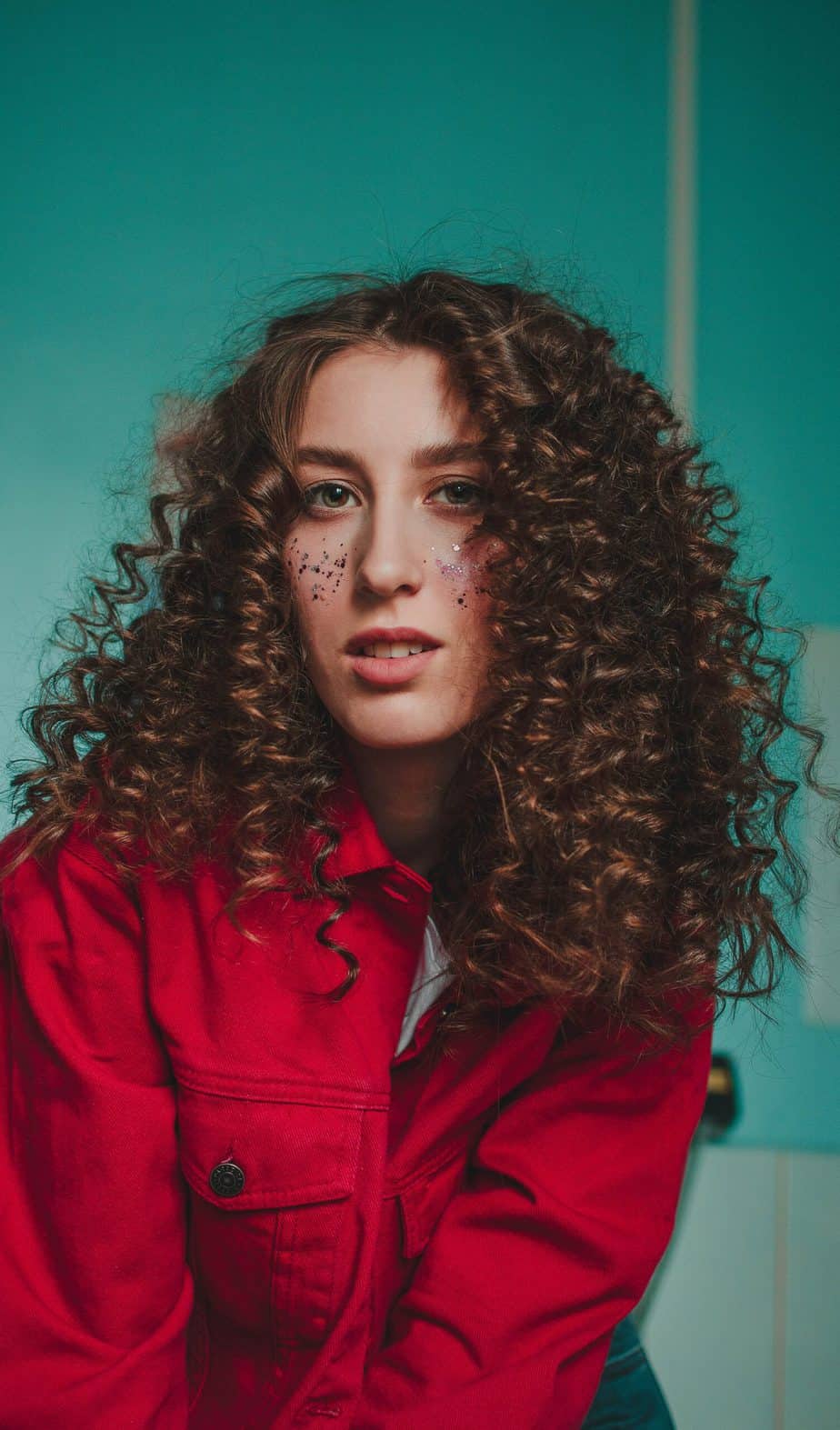 Figuring out what your curl pattern is may sound like a simple thing to do theoretically but in reality, it is one hard exercise. Besides type 1 hair, characterized by straight fine hair, all the other hair types have curly or wavy patterns. Hair type 2 is wavy, type 3 curly, while type 4 is coily or kinky. What factors help determine your curly pattern?
Hair Porosity
Checking hair porosity is one of the easiest ways of narrowing down your hair type especially if you want to get the right hair products and hairstyles. Porosity in short refers to how well or easily your hair absorbs moisture.
The porosity test is also important because some hair types take forever to dry after a hair cleansing exercise while others take a short time. If you have no idea how to take a porosity test, then the following guideline will help you.
Take a cup of water and dip the ends of your hair locks inside. Your hair will either float, sink, or stay in the middle of the water. If it sinks, your hair has high porosity and its absorbency is high. In such a case, you should look for lightweight, water-based hair products. If the hair locks float in between the top and bottom of the glass, you have well-balanced hair with normal liquid absorbency. 
If on the other hand, your hair locks float on top of the water, your hair porosity is low with low liquid absorbency. If you have such hair, you should opt for heavier hair creams that will provide your hair with the moisture it needs for a healthy look. 
Hair Elasticity
Checking the elasticity of your curls is another way of determining your curl pattern. Elasticity simply means how hair snaps back when you stretch it with the fingers. Running an elasticity check is easy. Take a strand of curly hair and stretch it out with your fingers. If it does not coil back to its original curl pattern, then your hair needs moisture from water-based products as it lacks elasticity. 
Some people may want to feed their hair with oils after realizing that their hair elasticity is low but it is not the remedy to go with. Adding moisture to your hair means you are making it wet.
Using oil-based products on wet hair will push the oil to the top of the hair surface, which in turn will deter the absorption of moisture. On the other hand, if after stretching the curly strand it snaps back to its original pattern, your hair elasticity is normal. 
Curl Variation
It is common to find women with more than one curl pattern. For some women, the curls in front may differ from those at the back. For others, curls may have a more defined coily pattern on the top and less defined towards the roots. Actually many people with curly hair have multiple patterns. For such people using the normal products for curly hair will do instead of choosing different products-one for the front and another for the back of the hair. 
How to Determine Your Curly Hair Type – Men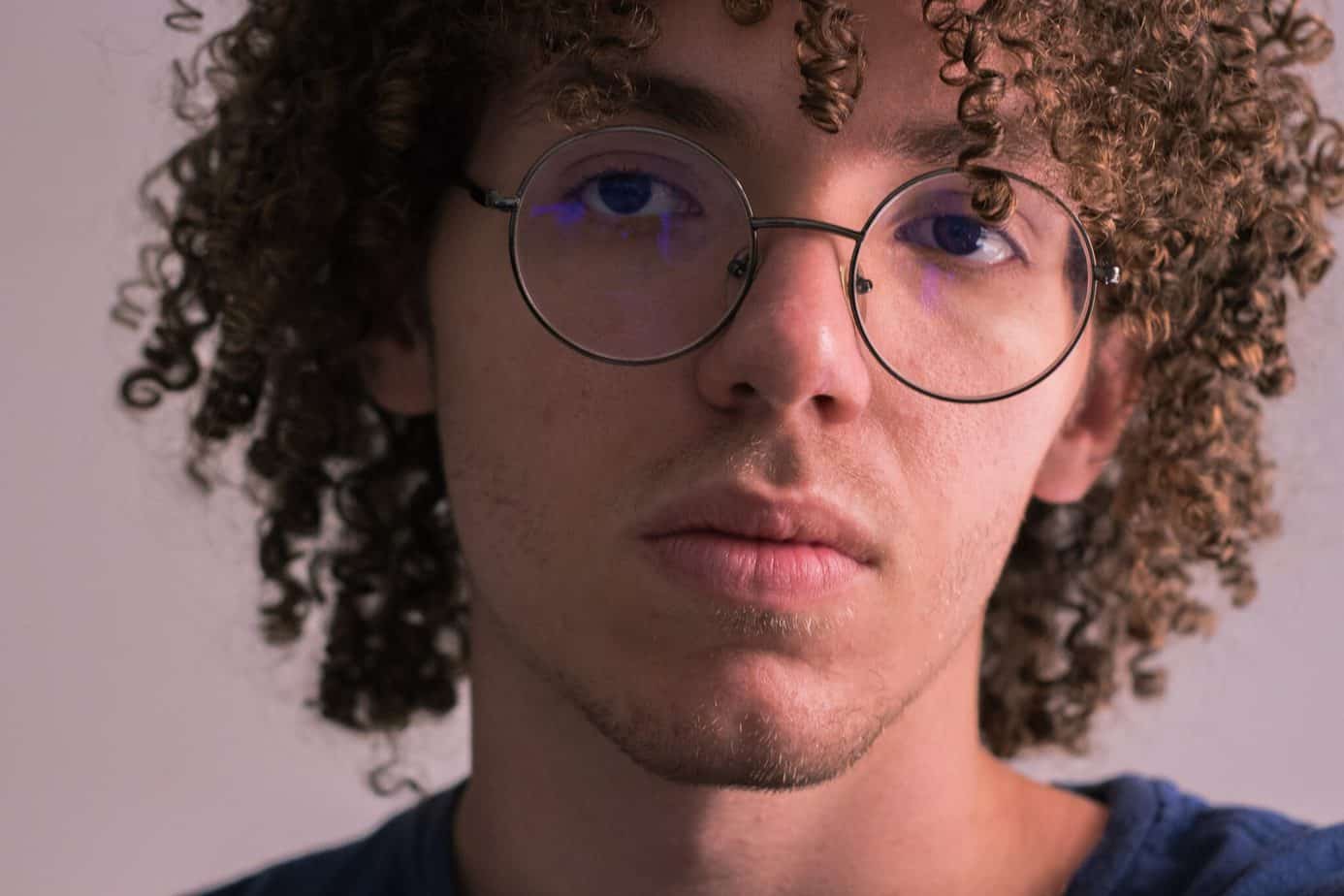 Men generally have two main hair types-curly and straight. However, curly hair ranges from wavy that looks almost straight to tight kinky coils. If you ask most men with curly hair if they know their hair type, you will most likely get a no, mostly because the majority of men do not take hair grooming as seriously as women do.
However, whether you are a man or woman, knowing your hair type is vital as it helps you to stick to hair care and grooming routines that keep your hair looking great and healthy. 
Curly hair patterns differ on men's hair just as they do on women's hair, with the former displaying about five types of curl patterns. Men with Type I curly hair require three inches of hair to firm a curl. If the hair curves at 1.5 inches, it is not easy to notice the curls visibly because it looks straight or wavy. Famous men celebrities with type I hair include Hugh Grant, Antonio Banderas, and George Clooney. 
Men with Type II hair need 1 to 2 inches of hair to form a curl. You can view a curl pattern when the hair is at 0.5 inches. Type ii curls seem straight if the hair is shorter than the 0.5-inch mark but express a curve if longer than that. The same hair type can also display loose curls or tight waves. Some of the male celebrities with type ii are Nick Jonas and Adrian Grimier.
Type III hair curls at a much shorter length than the other two types as it takes between 0.5 and 1 inch to form a curl. When you view the curve pattern of the Type III curl, it has a coiled E shape. The colloquial names for Type III hair are coils, coiled hair, or ringlets. Famous male celebrities with type iii hair include John Turturro, Will Ferrell, and Justin Timberlake. 
Type IV curls are a crunched version of type iii curls. The hair forms tighter E-shaped curls at between 0.125 and 0.5 inches and it is one of the easiest to recognize visibly. The colloquial name for Type IV hair is coiled hair, kinky hair, and curly-kinky hair. Some of the celebrities with Type IV hair include NFL player Troy Polamalu, Jaden Smith, and Corbin Bleu. 
The last curly type of hair for men is Type V that exhibits a Z-shape. Of all the curl patterns, Type V is the easiest to identify as the hair starts curling at less than 0.125 inches. Even with a shave, you can tell that the person has curly hair. The colloquial name for Type V hair is afro-textured hair, kinky hair, kinks, and nappy. Some of the most celebrities with this type of hair include Will Smith and Cuba Gooding Jr. 
Best Products for 3C Hair Type
Unlike the other two types 3 hair types, type 3C is the one most prone to frizz, breakage, and dryness. It is also the thickest and most voluminous of the three, which creates a barrier that prevents even the distribution of natural oils. Without enough natural oils, both the scalp and hair become fragile and dry. 
The best products to use for dry and fragile hair should include hydrating and moisturizing shampoos, conditioners, curl creams, oils, and gel-creams, sprays, and mousses. We reviewed some of the best products for type 3C hair and came up with the following picks.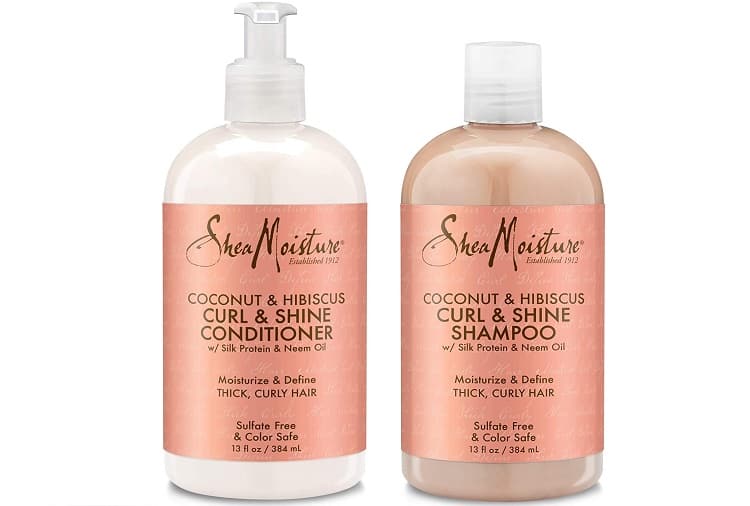 If you have thick curly hair that is one of the best products to use is the shampoo and conditioner set of SheaMoisture Coconut & Hibiscus Curl & Shine. The cleansing and conditioning set provides you with a rich and creamy lather, with an amazing scent that feels silky and smooth to the touch.
Moreover, the set contains handpicked natural ingredients with gentle cleansing properties that improve hair elasticity, reduce split ends, and breakages, detangles messy curls, leaving them frizz-free, hydrated, moisturized, and easily manageable. 
Furthermore, the ingredients contained in the shampoo and conditioner are set to restore the lustrous shine of the curls, and improve the overall health of the hair and scalp.
Some of the most notable ingredients include highly hydrating aloe and rosemary oils, hibiscus flower extracts that help to improve hair elasticity, neem oil that has potent repairing properties, and silk protein for the soft and silky feel and look. 
Pros
Comes in an affordable set of shampoo and conditioner

It has an amazing scent

Lathers well

Sulfate, cruelty, and paraben-free

Hydrates, moisturizes, detangles, and defines curls
Cons
Contains protein that might not go too well with low porosity hair

Another great product for type 3C curly hair is the Kinky-Curly Knot Today leave-in conditioner with moisturizing and hydrating properties for your hair and scalp. The product also smooths the hair cuticles and detangles the hair getting rid of frizz and split ends. Furthermore, it contains an all-natural formula made with herbal-derived ingredients. 
The natural extracts and herbal ingredients provide the leave-in-conditioner with a creamy consistency that smooths over the hair strands easily leaving hair fresh, tangle-free, soft, healthy, and easily manageable. It is easy to apply, has a light and soft scent, and a little of the product goes a long way. 
Pros
With a sweet and light scent

Detangles, moisturizes, and hydrates

Leaves hair soft, smooth, and healthy

A little of the product goes a long way

Easy to use
Cons
When the bottle is almost empty, it becomes hard to get the product out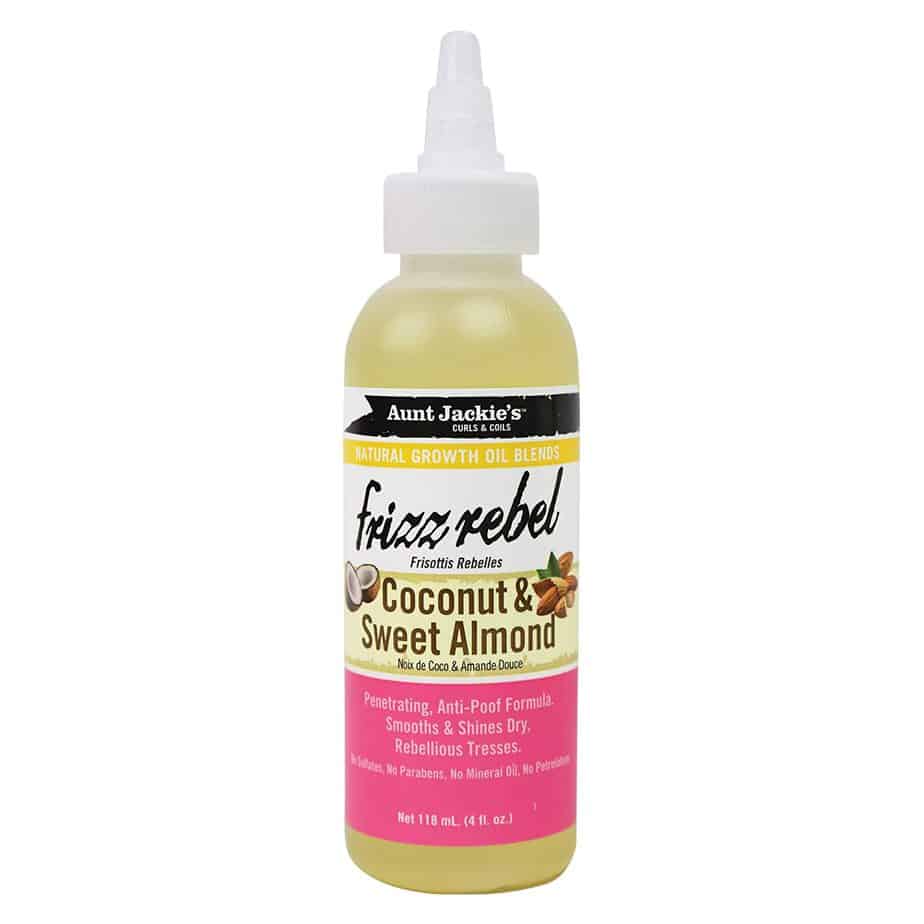 When your hair has high porosity levels, it becomes prone to damage, dryness, breakage, limpness, and dullness. When the porosity levels are too low, the hair becomes prone to product buildup because its moisture and product absorption are not good enough. Aunt Jackie's Frizz Rebel, Coconut & Sweet Almond Natural Growth Oil balances the porosity levels of your hair to improve its overall strength and health. 
Besides the natural oil blends, the product also contains vitamins e, b, and d that nourish, soften, add shine to the hair, and maintain a healthy scalp. The growth oil is versatile as you can use it as a pre-shampoo, hair cream, a leave-in conditioner, a hot oil nourishing treatment, or as your finishing product before styling for that extra shine and softness.  
Pros
Balances porosity levels

Leaves hair soft, smooth, healthy

Contains a natural blend of oils, vitamins, and other ingredients

Versatile

Awesome smell

Coats well over the hair
Cons
Smell overwhelming for some users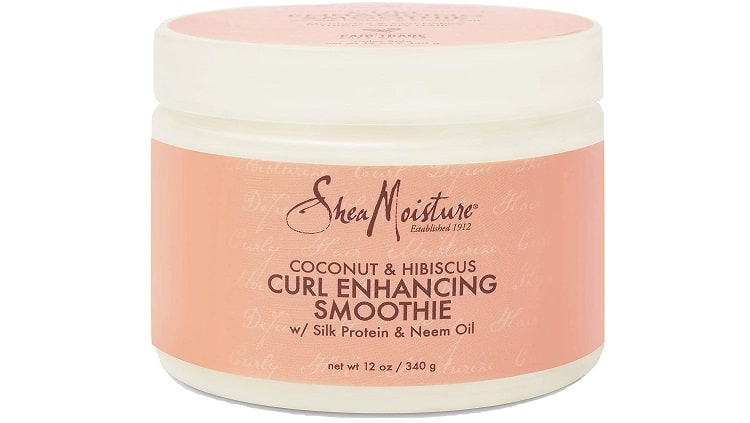 When it comes to the best products for curly hair, you can never go wrong with SheaMoisture. The curl-enhancing smoothie from the company is a defining cream suitable for thick type 3C curly hair. Moreover, the product contains high potent natural ingredients that include Silk Protein, Neem & Coconut Oils, that smooth curly hair leaving it silky, soft, and with healthy bouncy curls. 
It also hydrates, helps to define curls, restores moisture, conditions, controls frizz, detangles, and restores both the scalp and hair without weighing any of them down to create a shiny silky finish. The hair cream formula does not contain silicone, sulfate, parabens, petrolatum, mineral oils, or phthalates. It is also cruelty-free. 
Pros
Contains a natural blend of ingredients

Does not contain parabens or any harsh ingredients

Hydrates and restores moisture

Leaves hair soft and shiny
Cons
The smell is too strong for some users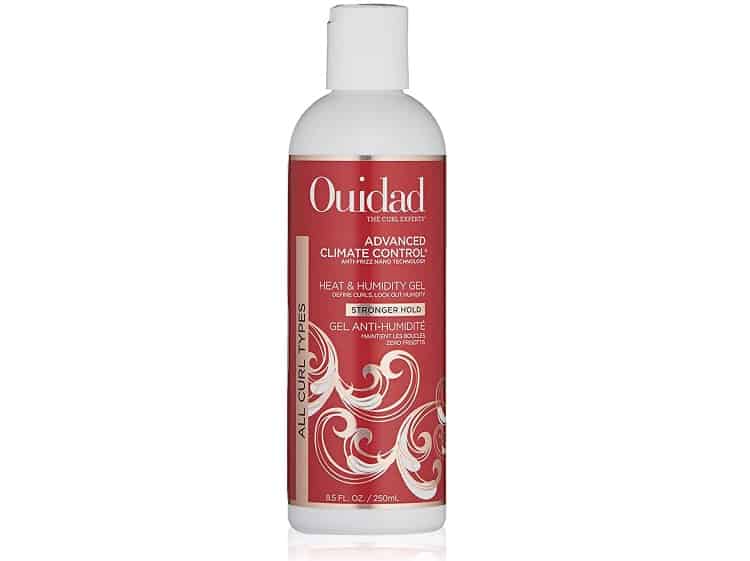 Once exposed to humidity, curls tend to gain unwanted volume and become frizzy due to their unique structure that exposes gaps around the cubicles. You do not have to worry about your curls drying out due to humidity when you have the OUIDAD Advanced Climate Control Heat & Humidity Stronger Hold Gel. 
The gel contains an advanced formula made with anti-frizz NanoTechnology that seals the cuticles to lock out humidity and lock in moisture. Furthermore, the product also comes with a UV filter that protects your curls against any damage from direct sunlight and other environmental aggressors.
A little of the product goes a long way in providing your hair with enough hold that stays strong the whole day. 
Pros
Provides a stronghold

Suitable to wear at all times irrespective of the weather

Made with an advanced anti-frizz formula

Hydrates and moisturizes
Cons
Too much of it can feel heavy
Best Hairstyles for 3C Hair Type – Women
Women with hair type 3C have numerous ways to style their way and look fashionable. Some of the easiest styles include just washing your hair applying the necessary styling gels or cream and walking out without doing anything else. Well, your curls will still look great. However, if you want to go a notch higher to make a statement, the following hairstyles will do just fine with your 3C hair type
Braid out 

Braided topknot 

Buns

Faux Mohawk

High puff

Natural hair extension

Twist out
Best Hairstyles for 3C Hair Type  – Men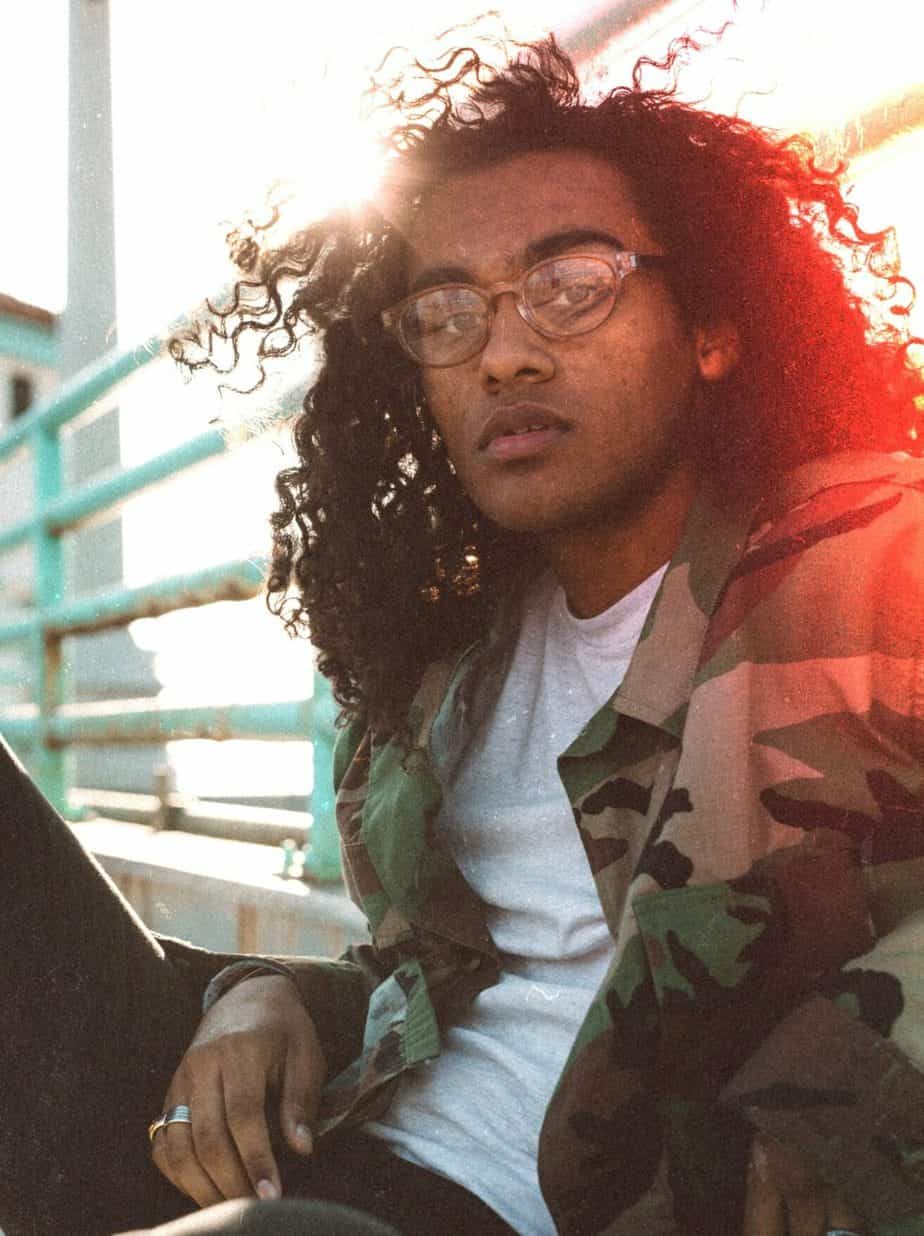 Men with hair type 3C have a wide selection of hairstyles. Some of the most common include the following.
Angular curls

Blow cut

Bob 

Curly fringe

Curly pompadour

Cutting a line along the curls to achieve a hard part

Glossy curls

Hard parted curls

Lob

Long afro

Naturally layered and slept in

Shaved sides with low fade

Short afro

Tapered short afro
How to Care For 3C Hair Type
Taking care of type 3C hair is not a walk in the park because it is prone to dryness, frizz, breakage, and dullness. However once you learn more about your hair type and what it requires to stay moisturized and healthy, then taking care using the proper products and routine becomes easy. The following are tips on how you can take care of your curly hair. 
Cleansing
Washing and conditioning are the first things that your hair needs to stay healthy, tangle-free, shiny, and smooth. However, cleansing curly hair requires products that do not contain harsh chemicals that dry out the scalp and hair such as sulfates, parabens, and sodium Laureth. 
Shampooing and conditioning once a week is enough to keep your hair clean and not strip it of its natural oils. You can also opt to wash and condition twice a week in the case of product buildups. Washing more than twice a week strips the hair and scalp of its natural oils, which leads to more drying and frizz. 
Moisturize with light oils
The secret to growing healthy, thick, and strong 3C hair is by keeping it moisturized and hydrated. You can do this by spritzing your curls with water-based moisturizing creams daily, and light oils at least once a week. Other ways to moisturize your hair include deep conditioning with hair masks or treatments maybe twice or once a week. 
Detangling
Your fingers can also play a large role in taking care of your curly hair. If your hair is too tangled for the tooth comb, use your fingers to separate the curls when the hair is still damp. 
Styling
Styling plays a huge role in maintaining the health of your hair. Some hairstyles may look good to the eye but they are damaging to the hairline and hair strands as they might cause breakages and hair loss. If you have curly hair, avoid experimenting with braids as they can damage the hair. Opt for simple hairstyles that will allow your hair to breathe and feel relaxed. 
Do's and Don'ts of 3C Hair Type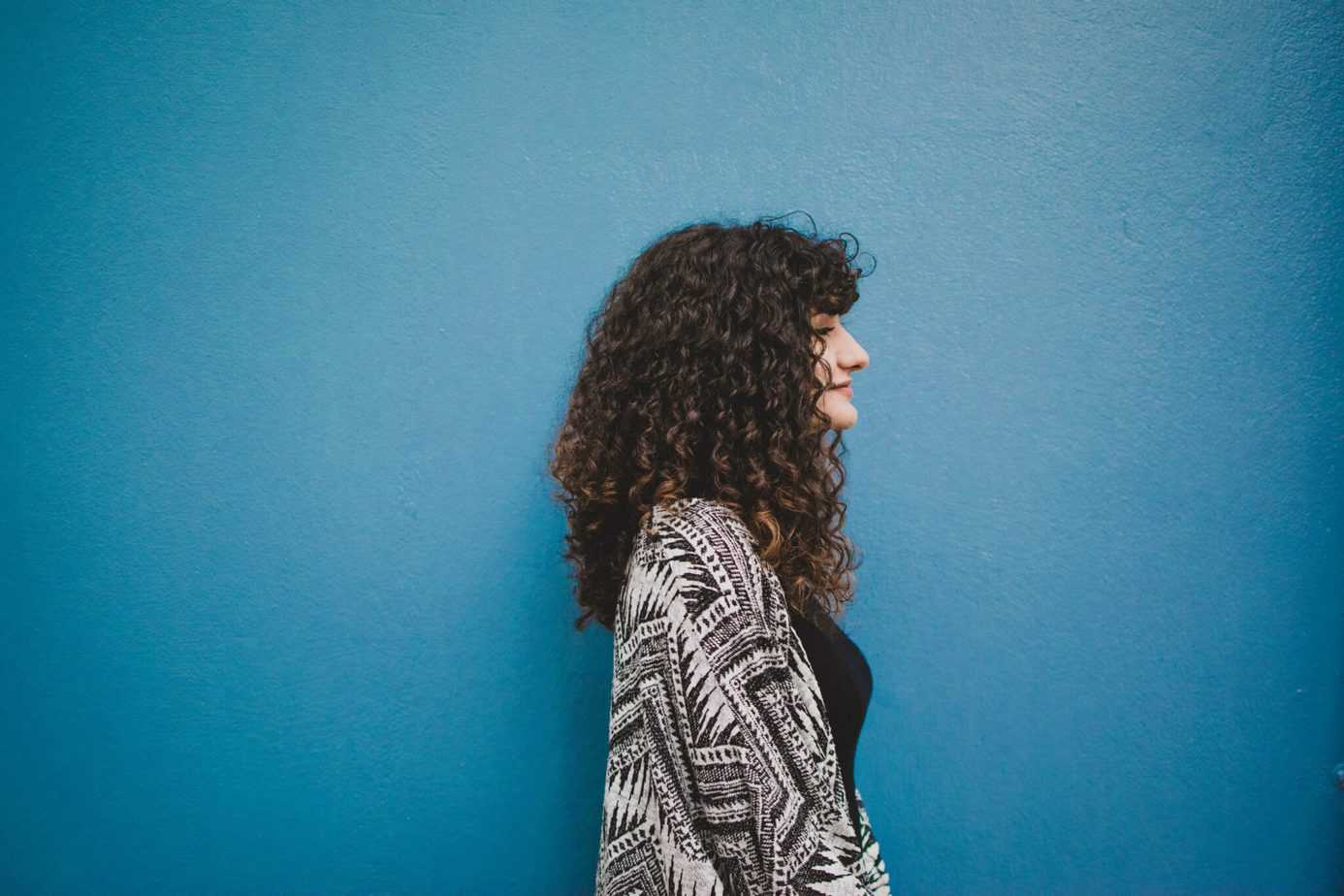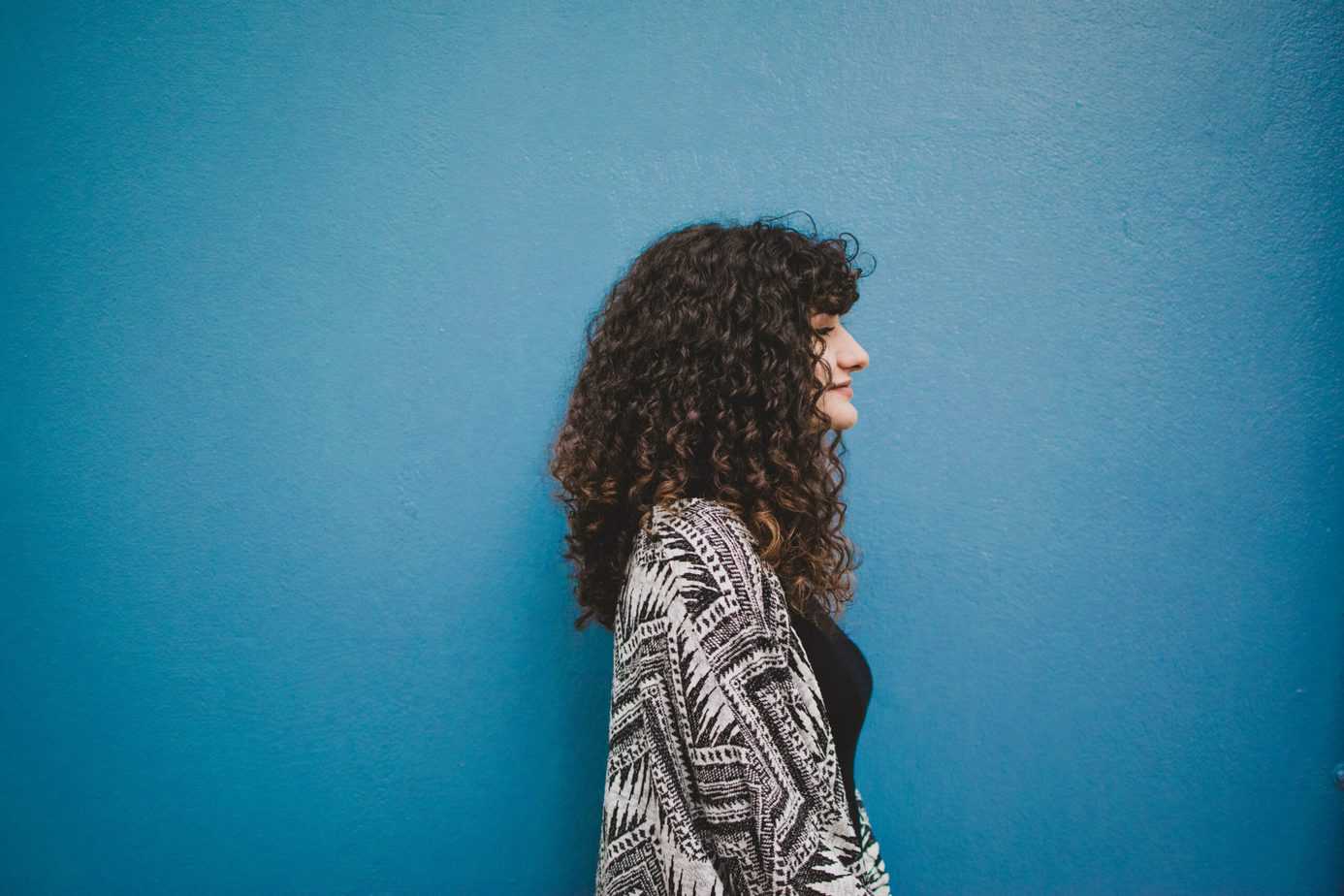 Do's
Always keep your hair moisturized
Use perm rods for softer bouncier curls
Put your hair in a pineapple and a wrap before going to bed to maintain the curls
Don'ts
Use heat methods to stretch your curls
Overlayer your hair with many products
Frequently Asked Questions
Question: Can 3C hair type grow as long as straight and fine hair?
Answer: Yes, with good maintenance, and enough moisture to minimize breakages, frizz, and split ends, your curly hair can grow as long as straight hair. Of course, do not forget to maintain the length of the curls by feeding the hair with all the right products and using only the most appropriate hairstyles. 
Question: If I use a flat iron on my curly hair, will the curls disappear?
Answer: Yes, the curls might disappear for a while but they will eventually get back to their normal curly pattern. You should avoid using a flat iron in your curly hair unless you want to change the hairstyle. 
Question: Will cutting my curls make my hair curlier?
Answer: If you want to make your hair curlier, cutting it is not the solution. It might help to enhance the curl patterns but it will turn you into a miraculously curlier person. Cutting curls will most probably give springier and bouncier curls depending on your hair type and the products you use. 
Question: What is frizz and what causes it?
Answer: The major causes of frizz are scalp and hair dehydration. Curly hair is more prone to frizz because of the uneven distribution of oil across the scalp and hair.
The cause of the uneven natural oils distribution is the large volume of curly hair that creates a barrier around the cuticles. Frizziness is exhibited by hair knots, tangles, and loss of coils and curls. Simply put, it is a mess and not something, you would want for your curly hair. 
Conclusion
3C hair type is a chore to take care of, but ahead with the healthy curls is a beauty to look at irrespective of gender. All you have to do is understand what the needs of the hair type are and use the right products to cleanse, moisturize, and style. A healthy hair routine will transform your dull, dry, lifeless, and frizzy curls into something that you will love to walk around with every day.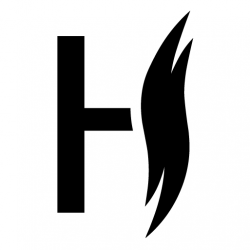 Latest posts by Hair Kempt Team
(see all)